From MMA to skateboarding, Dante Young always searched for an outlet for his energy. Growing up in LA, he discovered fixed-geared bikes and then road bikes. Now he's part of one of the hottest new teams on the U.S. pro criterium circuit, the Miami B1azers. Dante talks with us while at the recent Tulsa Tough races about his varied background in athletics and, as a pro cyclist, making the switch to TIME Pedals.
What's been your experience so far with the Miami Blazers?
It's been amazing. The only other program I've been in that had this much of a natural camaraderie was L39ION OF Los Angeles. Hopping on this team and everyone meshing immediately has been awesome. I already had the pleasure of knowing Frank Travieso and Clever Martinez and Angel Munoz. The other guys I knew of or didn't know anything about. Bet we meshed immediately. From the jump it's been this strong brotherhood and has only grown stronger.
What was it like to visit Miami, Florida, to ride, meet with the local cycling community, and do team promotion?
I didn't really know what to expect, and I didn't know much about the community of cycling in Miami. I have a few friends who live in Miami and race in Miami. I've seen that aspect of it, but I didn't know how rich the actual culture was. My first time going was in December. It was a Saturday, and we were on the bike at 6 a.m. because it gets hot. There were groups of 40, 50, 60 people every quarter mile just riding, all walks of life. Everyone is on a bike, all ages.
When we went a month or two ago as a team, even just the amount of support for a team that's representing a city that they love, it was amazing. I love Miami. I just came back from there this past weekend just to go, just to hang out.
We are meeting here at the Tulsa Tough races. Is this your favorite event?
Tulsa Tough is the first event I try to target on my calendar. It's different racing the Pro-1 event. I've raced the 1-2 event. I've raced the Cat. 3 event, and I've had success with those. The Pro-1 event is a different beast… the style of racing, the spectators, just the overall energy.
The Blazers are affiliated with L39ION of LA. How does your team model and learn from L39ION while still competing with them?
We have some big shoes to fill competing against them. We've had some run-ins with them earlier in the year. I'm based in LA still, so I get to race them quite a bit. I've had some teammates fly in and stay with me and just kind of get their feet wet. More than anything, we're not afraid of them and a few times have been able to take the race to them. We've been focused on creating our own name and not really focusing on the affiliation itself, regardless we're the Miami Blazers.
Indeed, the Blazers have a great look and great looking bikes. Part of that is riding TIME Pedals. What has it been like making the switch to TIME pedals?
For me it was a different pedal, but they've been in the game for a long time. They have the history. They know what they're doing…. TIME has been super helpful. They came to a team camp and gave us a rundown on the pedals, answered questions, gave us any parts that we needed.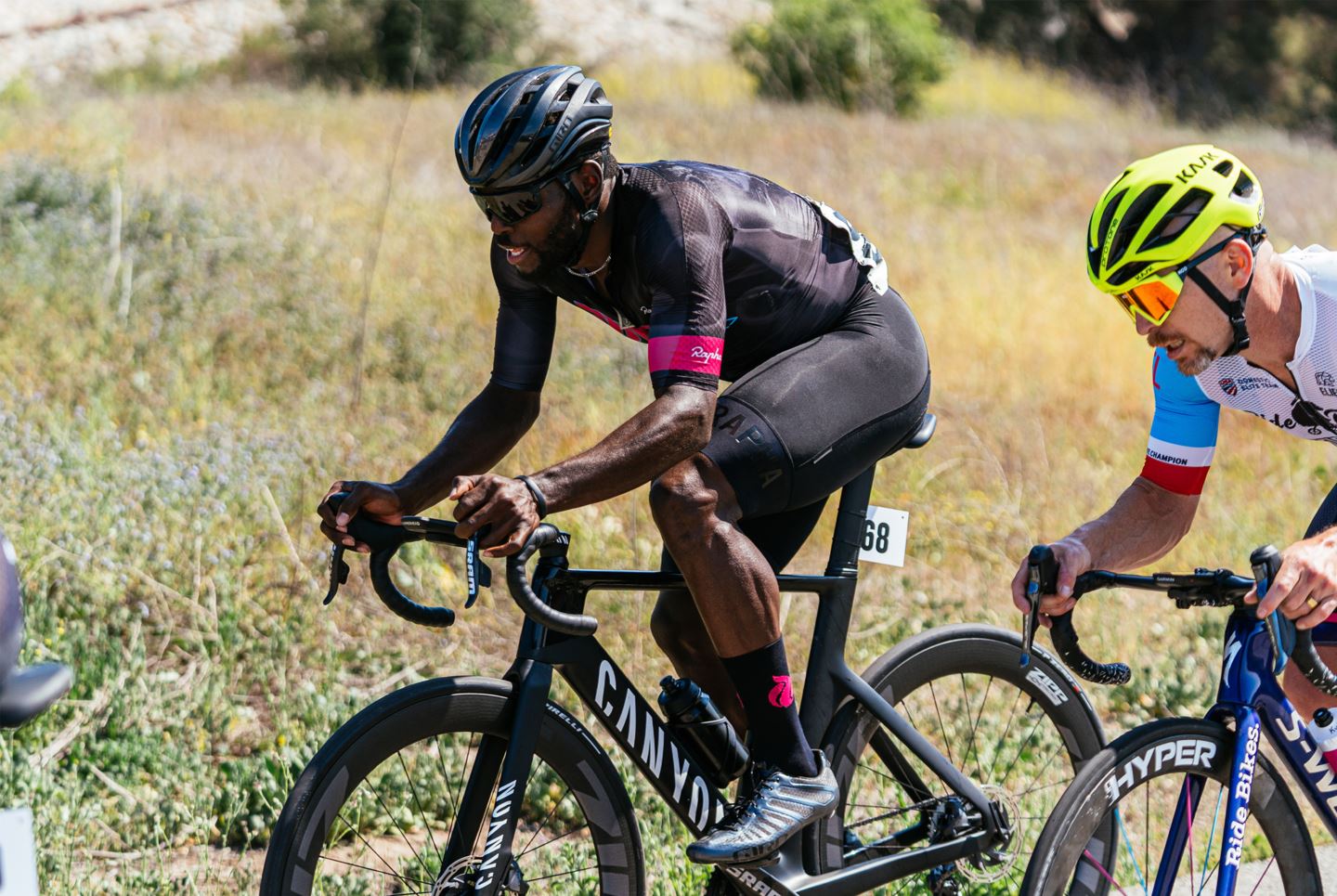 What was the adjustment going from fixed geared to road bikes?
Fixed geared criteriums was all I did before I got onto the road bike. That came in so fast, and it got so big. Before that, I was racing the track, so I had this understanding of how the bikes maneuvered. It's different on a road bike. If you can race a fixed gear bike in a crit, the maneuvering is still the same. You still need that gutsiness to it. Also, the leg speed… Fixed-geared crits you're pushing 90 to 100 rpms average, vs in a crit you're probably doing 85 to 90.
Where do you see American racing going the next few years with criteriums?
It's going to take the culture making that shift. The tradition of cycling is very deep rooted. Everyone wants to be a road racer. But it's time for a change. Getting people to understand, we are Americans. We deserve our own avenue. Criteriums, it's our culture. If you look at every other sport that we love, criteriums go hand and hand with American culture. You can build a lot around that. It's going to be very successful in the next three to five years.
Photos by Kit Karzen