The Philly Bike Expo has a little something for everyone. For one long weekend, every corner of the bike world, from local shops, advocacy groups, small apparel companies, bag makers, to custom framebuilders comes together to celebrate cycling. SRAM has once again partnered with Philly Bike Expo to sponsor the Inclusivity Scholarship, giving framebuilders from groups not traditionally represented in the industry the resources to display their craft. In 2022, four scholarship winners will have a bike in the SRAM booth: B Vivit of HotSalad Bicycles, Eva Kloiber of Liberation Fabrication, WZRD Bikes with Em Karau, and Katrina Leyden as Benevolent Bicycles.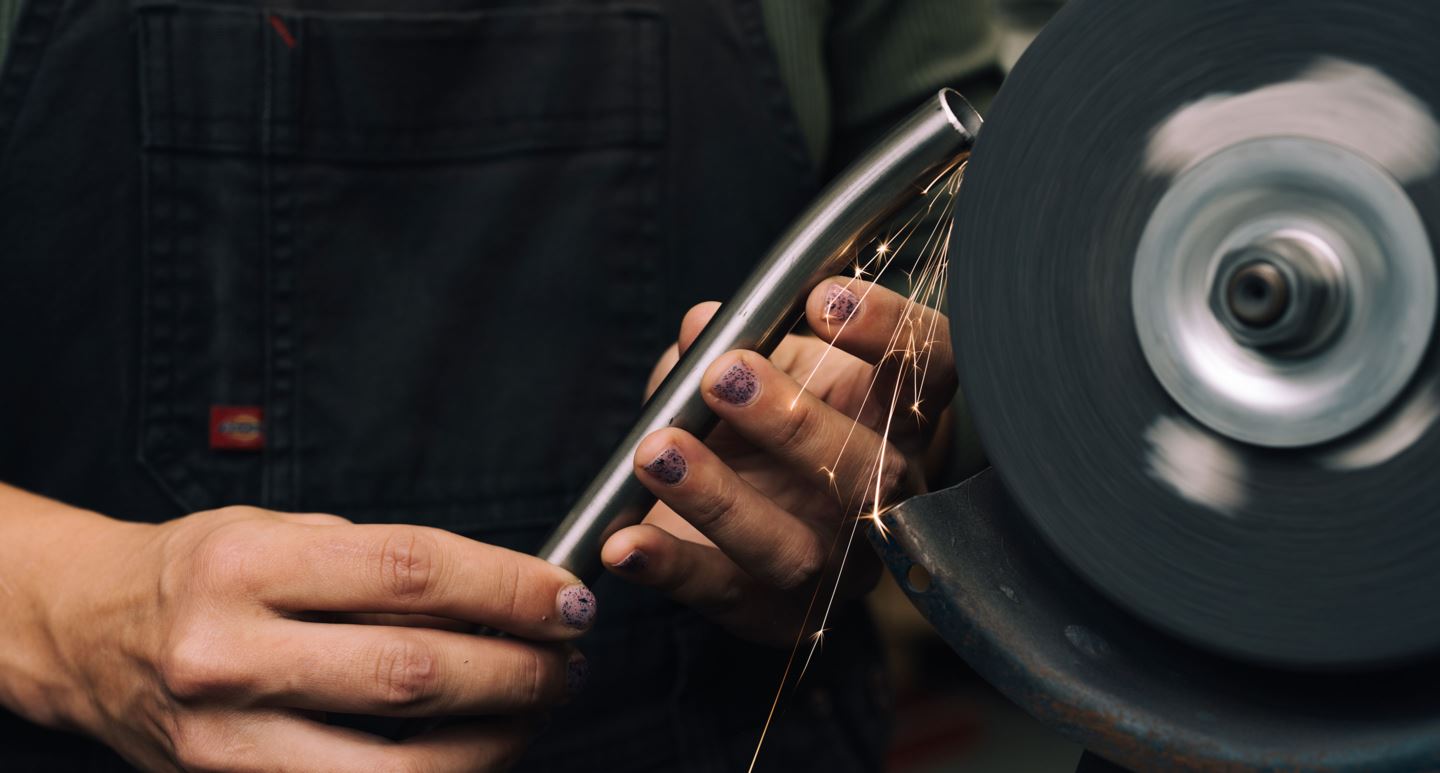 To celebrate the 2022 show, get to know this year's cohort and how they approach their craft.
B Vivit, HotSalad Bicycles
B Vivit's signature style is no signature at all. "No ego; I like not having an opinion in a lot of ways and just listening." They caught the bug early. "I wanted to be a framebuilder for almost a decade. I used to sit at Destroy Bicycles in the Bay Area and watch them build, and wish I was that cool." A bike shop stint in undergrad was followed by welding school, then a framebuilding class, then a mechanic instructor job at United Bicycle Institute. "I really enjoyed being a non-traditional role model especially during the QBP Bike Mechanic Scholarship, but it wasn't enough for my brain. I needed to MAKE something."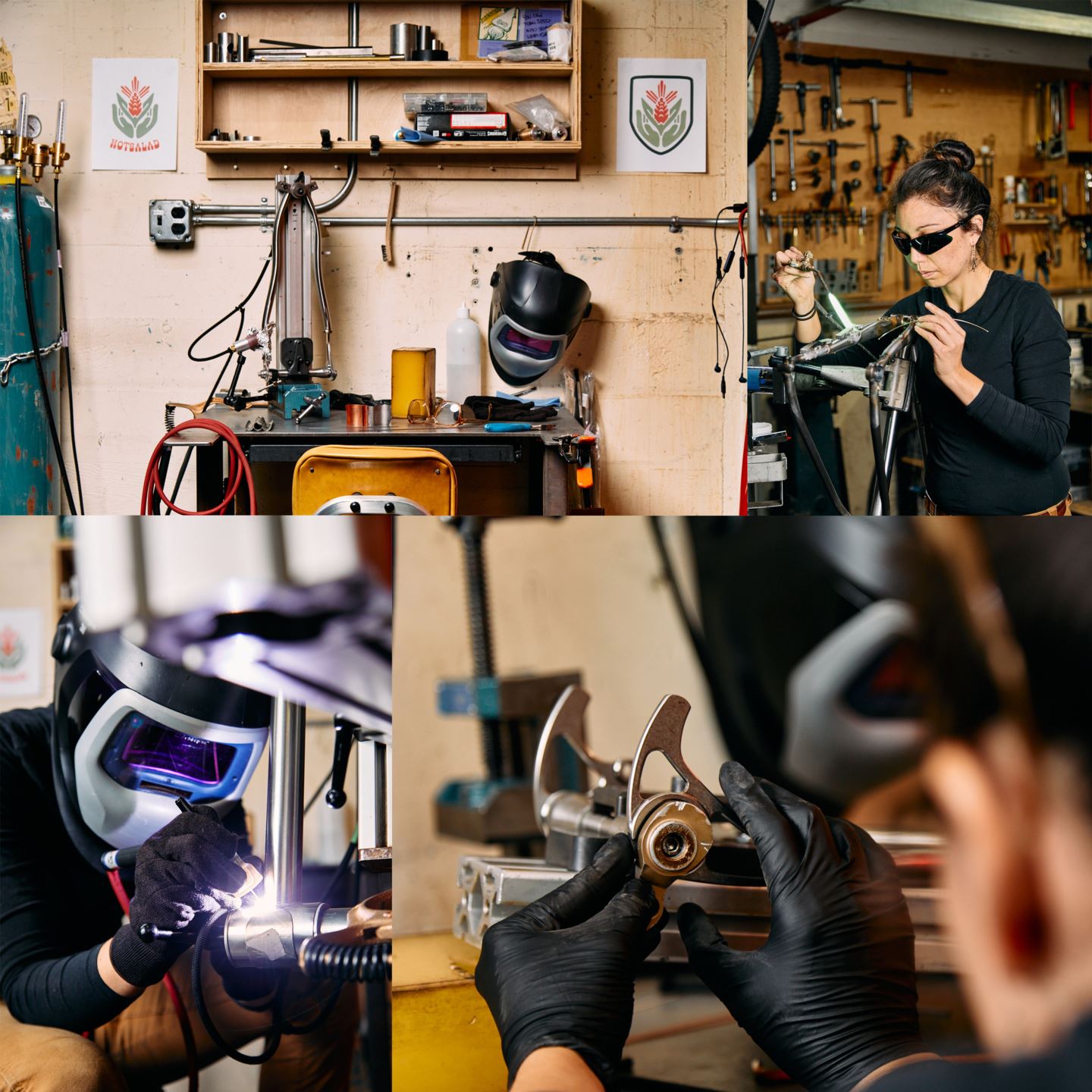 "Everything is about the welding" she says. "It's sad to me because eventually it will be one of the faster parts of the process." B only offers versatile steel on HotSalads for now, usually welded, sometimes brass brazed. But their true love? "I like welding titanium; the light is so soft!" Naturally they'll bring a ti klunker to PBE. "Bikes should make you smile. An old coworker of mine used to tell customers, 'the bike that makes you smile from ear-to-ear, that's the one you should buy.' I'm into dumb bikes, they make me smile. I hope it feels a little like an old-new-stock kind of thing."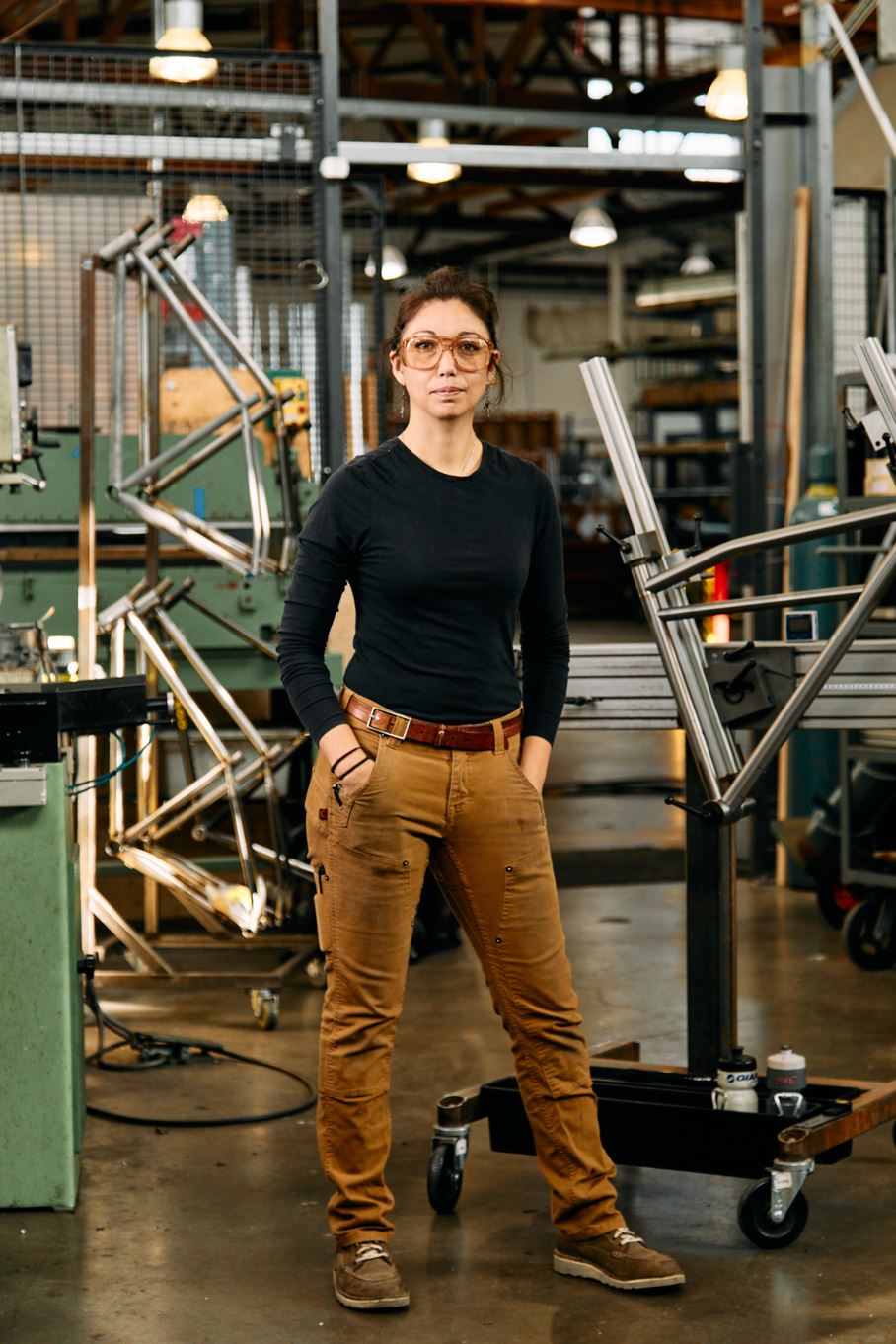 Photos of B by Gritchelle Fallesgon
Eva Kloiber, Liberation Fabrication
"Bikes are ultimately tools of joy to me, so I try to incorporate a sense of playfulness in everything I build," states Eva Kloiber with Liberation Fabrication. Framebuilding was a COVID endeavor for her, attending UBI after a friend told her "you've gotten so deep into bike mechanics, the only thing left is for you to build your own frame." Loving to pore over the design details in CAD, she'll then move on to welding or brazing in ti or steel. "I'm hooked on the perfect blend of engineering, craft, and art," she says. "After the UBI course, I hemmed and hawed around whether I'd ever build another frame. The upstart costs were substantial, but my desire to chase that feeling of accomplishment was stronger. After brazing my second frame, I knew I had to keep making more."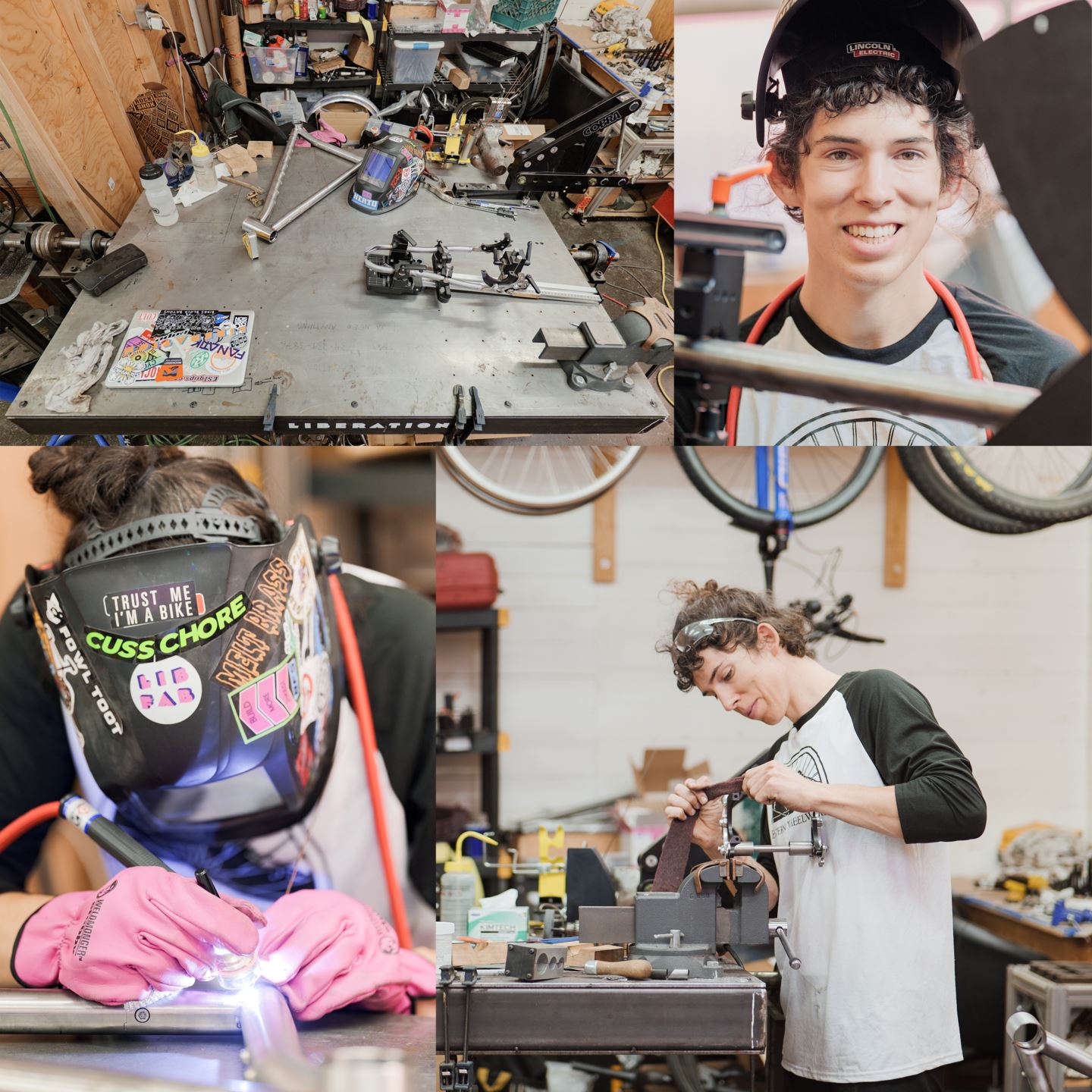 "I was initially hesitant to pursue Liberation Fabrication in earnest after hearing many warnings about builders who couldn't cut it or grew to hate the whole process. But the more time I spent thinking about it, the more I believed I had something valuable to contribute. I am a trans woman which has meant encountering exclusion within the bike industry and frustration in finding gear built with my body in mind. This led me to the empathy-first approach I take with my building and working with my customers."
Eva's PBE bike and its paint looks to her past and future. "It's an XC mountain bike designed for adventuresome endurance cycling. I'm affectionately calling it "East Bound and Down" because this frame was my last build in Seattle before my cross-country move to Pittsburgh. During this big life transition, I've been thinking a lot about how pivotal moments can split my perception of time into "before" and "after." Colors and patterns are mirrored across the front and rear to represent my perception of the past and future. The future is golden with my hopes and aspirations while the past is a reflection I draw inspiration from."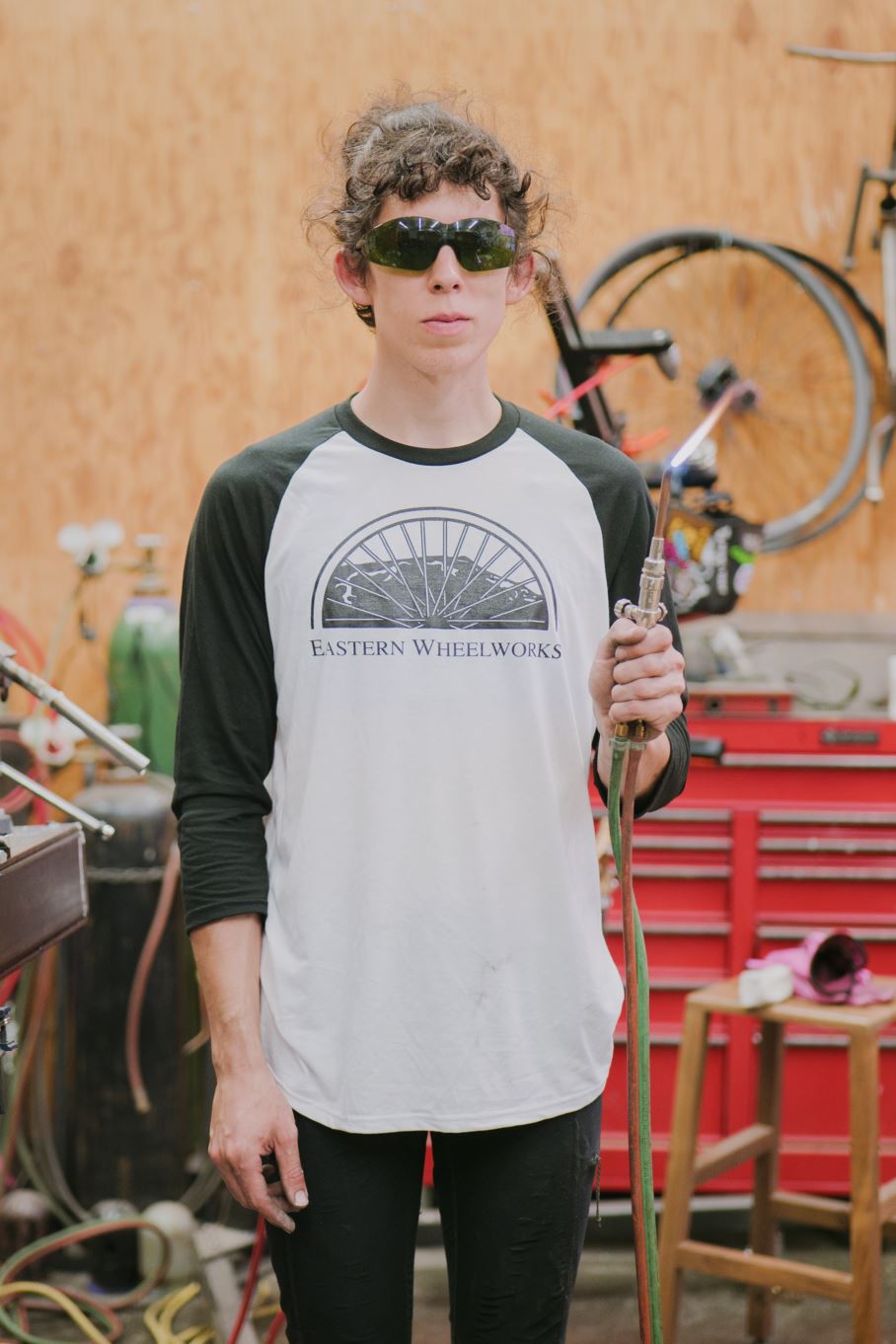 Photos of Eva by Matt Hilger
Em Karau, WZRD Bikes
Em Karau of WZRD Bikes got into framebuilding the way many do. "Building a frame was always something I imagined doing in the far off future - a dream really. The tooling and learning combined always seemed like an insurmountable barrier while grinding it out as a mechanic. But when I started working at Broad Street Cycles in 2018, I found out that one of the other mechanics had a jig and torch hidden in the basement. It took me just over a year to gather up the tubes, draw and redraw my 'dream MTB geo' in bikecad, and then I spent a week building frame number one in November 2019. Since then I have been building a frame or two a month."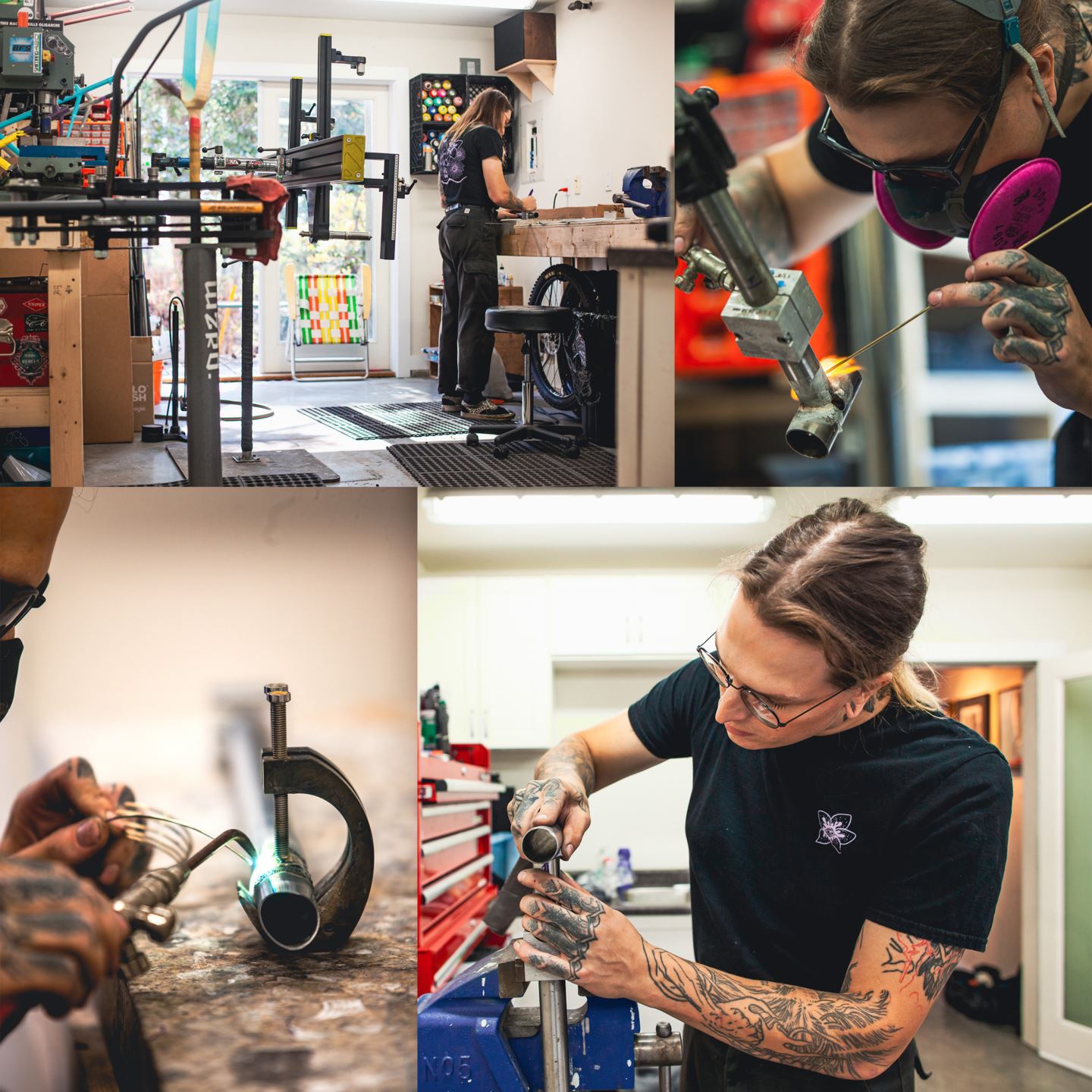 They build brazed steel bikes with a signature five piece segmented seatstay, and will bring an enduro hardtail to PBE. It's a new model for WZRD, and will feature Em's favorite geo, "extra slack, extra long, and extra low."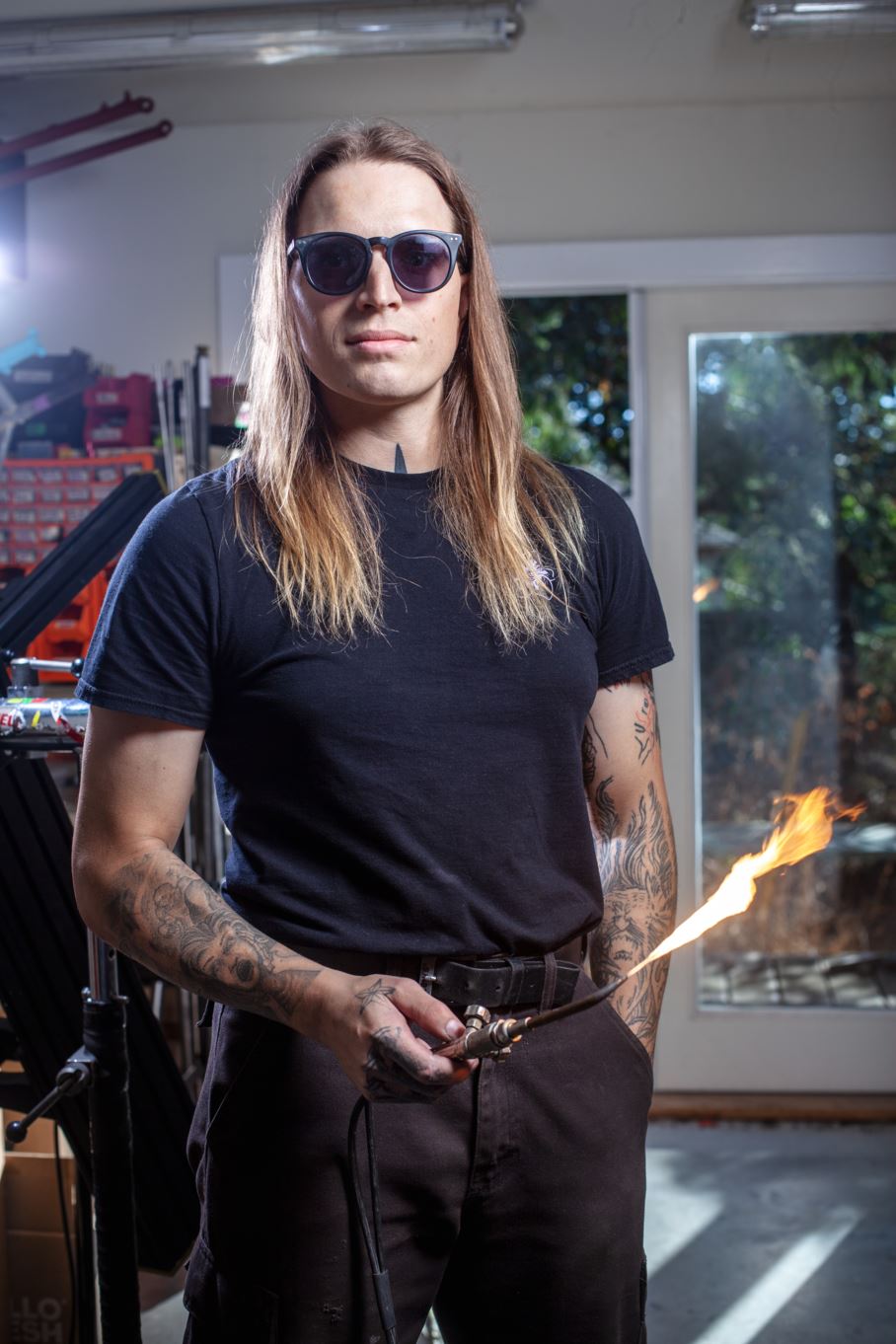 Photos of Em by Mike Zinger
Katrina Leyden, Benevolent Bicycles
"I have been dreaming about building my own bike for the past four years, I love how I feel when I ride my bike, faster than flight, capable of exploring further than if I were on my own two feet. I ended my undergraduate engineering degree feeling like I could solve complex problems on paper but didn't feel like I could do anything, and didn't have the clarity to know what direction to head in either.
"I traded my full-time job for multiple part-time ones and began taking welding and machine tech classes at Laney College in Oakland, CA with the intent of building bikes. The first machine shop to ever hire me was Paragon Machine Works, where I ran CNC mills to make dropouts, hangers, cable guides… components of the bike that I was just getting to know. While I love the immersive environment of shop life, I often need to work through feelings of being "the Only One". I am a mixed-race woman, and in almost all the shops I've worked in I have been the only one. Feeling alone in an environment, especially one involving sharp tools, heavy machinery, very hot metal, and large men, takes a toll on feeling confident or competent. I enter work environments cautious of new coworkers. I wonder if I will be perceived differently because of my identity. And I wonder if I am enough to be here."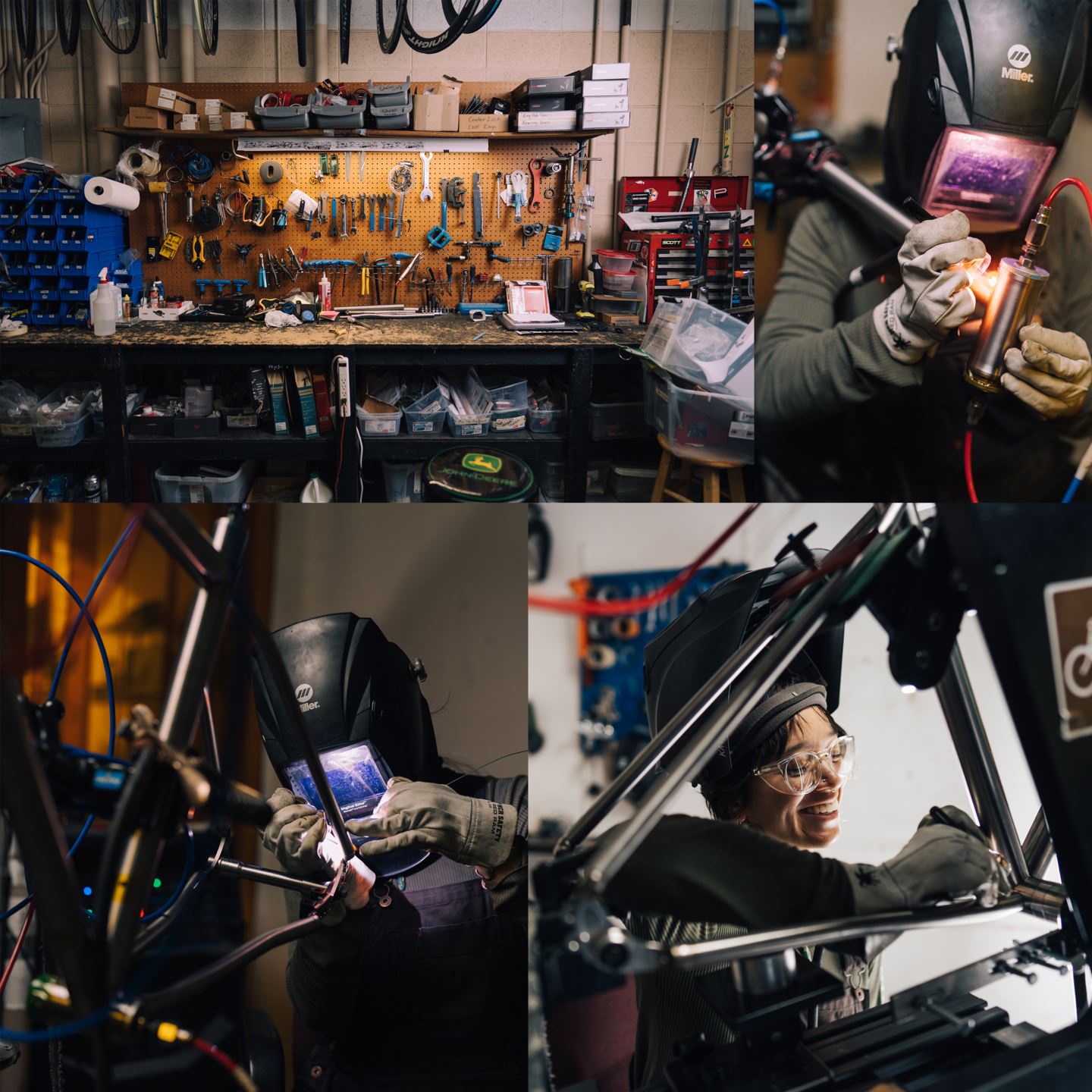 "It is during these times that I come back to the bicycle, the reason my journey into this world began, the most benevolent machine we've invented. Its use offers me freedom in the form of adventure and self-sufficiency, and its fabrication helps me regain my relationship with capability, intelligence, and identity. When I don't see myself reflected in the communities that I am a part of, it is difficult to feel a sense of belonging, and in turn to think of myself as part of these groups. And without the active act of inclusion, it can feel impossible to stay. Receiving diversity and inclusivity scholarships, such as this one, provide access to resources, skills, and networks that I otherwise would not have. But truly changing the culture of framebuilding, fabrication, engineering, and beyond, will take time.
"I have been fortunate to work with people in this industry who have used their power and experience to elevate mine: my teachers, mentors, and coworkers have shared their experiences and lessons so that I may cultivate my own style and craft. I have been framebuilding for about 6 months now, working part-time with Janus Cycle Group (the makers of Dean and Merlin titanium bikes) in Boulder, CO where I am also a graduate mechanical engineering student. I am beyond grateful for the support of their hard-working, creative, and talented team, without which I am not sure how I would've built this frame. It is the bike of my dreams, and quite possibly the nicest one I will ever own: a flat-bar, titanium gravel bike that I designed for long-distance bikepacking. My dream now is to ride the Tour Divide and Baja Divide on it in the next year. Beyond that, I hope to carry the joyful spirit of the bicycle with me as I approach the complex challenges of the climate and energy crisis of our generation."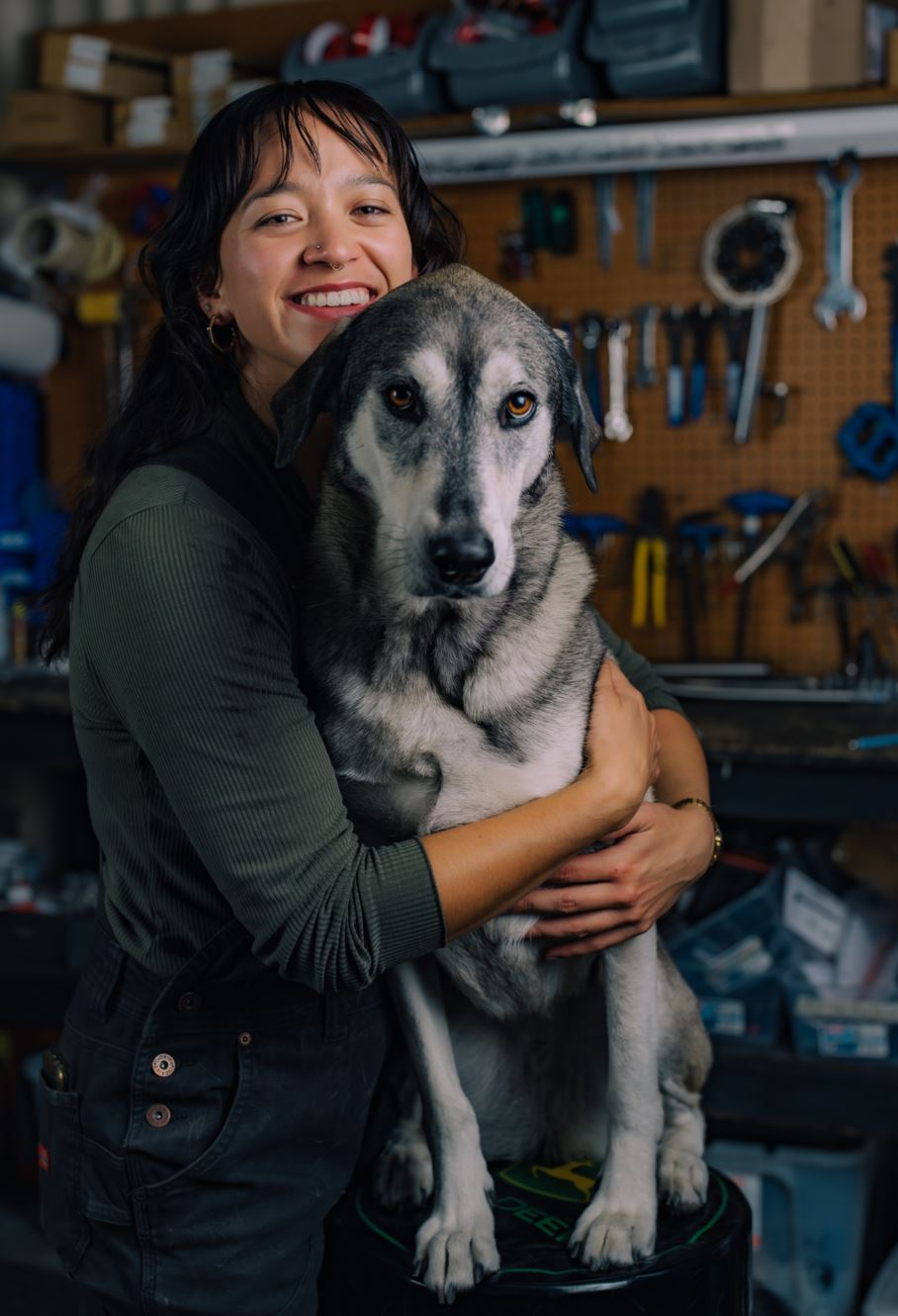 Photos of Katrina by Elliot Whitehead
The Philly Bike Expo was founded by Bilenky Cycle Works in 2010 as a way to promote cycling culture and represent the spectrum of cycling. Hosting nearly 200 exhibitors and 5,000 attendees, it has grown to one of the largest cycling trade shows in the United States.