The places we ride are never just landscapes and roads. They are culture, history, and the memories that originate there.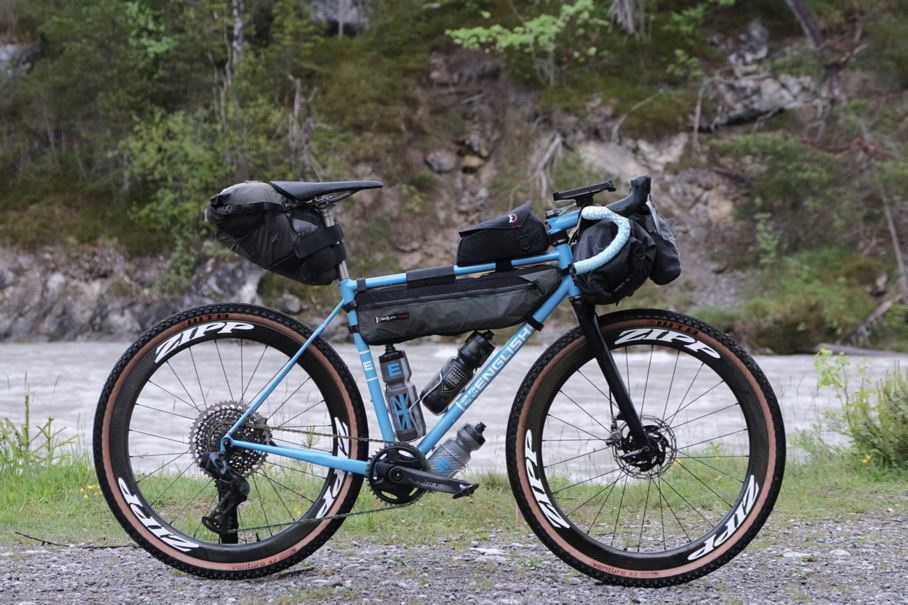 For his trip, Joe rode a mullet group: Force eTap AXS shifters and 1x crank paired with an Eagle AXS rear derailleur, chain and cassette.
We knew our trip from Sarajevo to Zagreb would be more than soaring ridges and unfurling bucolic valleys. It was those things, too, but Bosnia had been in our imaginations for so much and in nine meandering bikepacking days we tried to listen and feel.
I discard the cardboard box and build up the bike at the airport for the ride through town on pleasant commuter paths. The mix of 1960s architecture and spired mosques and early 20th century buildings achieves a strange harmony in its jumble. In the Sarajevo of history books ,Gavrilo Princip assassinated Archduke Ferdinand just over a century ago, creating a pretense for the hostilities that initiated World War I. In 1984, it was the site of the Winter Olympics. In the 90s, the almost four year siege of the city during the civil war led to thousands of civilian casualties. In the background of all of these flashbulb-lit episodes, the Balkans have been between Western Europe and the East in uncountable and wondrous ways.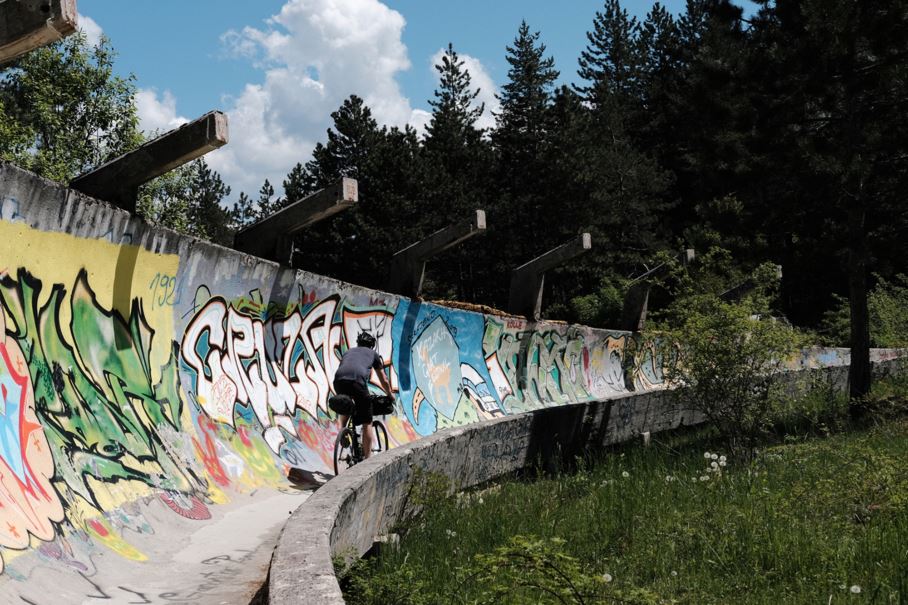 We ride a shiny modern tram up to the Olympic village to do the requisite ride down on the bobsled run. Somehow the cracked support towers and graffiti don't look as dystopian as one might imagine. We are among the tourists enjoying the sunshine, and our tire buzz on banked turns make the place seem alive in its decay. We're aimed north on a broad zig-zag, stopping at village shops for provisions, wild camping every night.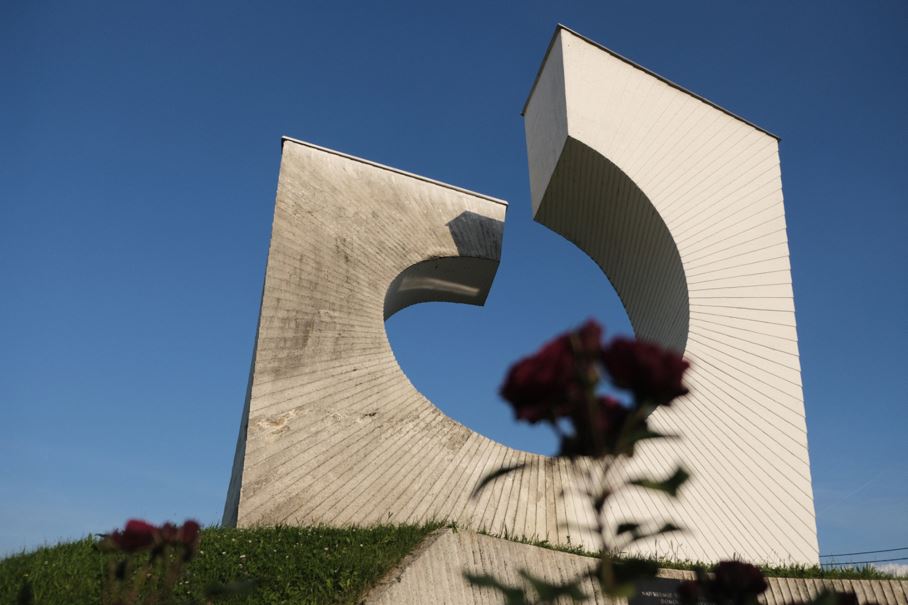 Our route strings together as many Spomeniks as we can. Spomeniks are monuments dating from the 1960s and 70s, and can be found throughout former Yugoslavia. They are often modernist and abstract, otherworldly sculptures. Encouraged by Tito's government but not necessarily under a central design sensibility, local bodies commissioned these installations to remember the partisan communists who fought in WW2 against Nazi and Nazi-supported fascist forces from Italy, Hungary, and Bulgaria. The Spomeniks are futurist, political, architectural, and mnemonic. Usually concrete and steel, they are notable in how their materiality achieves spirituality.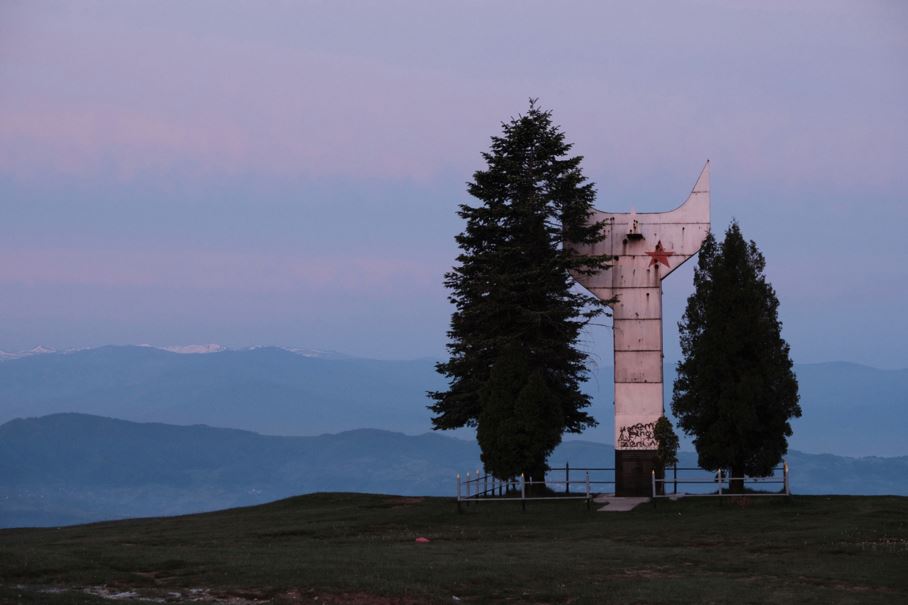 The legacy of the Spomeniks is complicated. They were built during a time when achieving national unity for Yugoslavia was thought essential to its future. The Spomeniks would articulate this mythological unity and serve as gathering sites to reinforce the story of a single South Slavic people. As we know from the breakup of Yugoslavia, the unity narrative was at best a hopeful fiction that obscured the unresolved ethnic and national resentments and tensions of the region.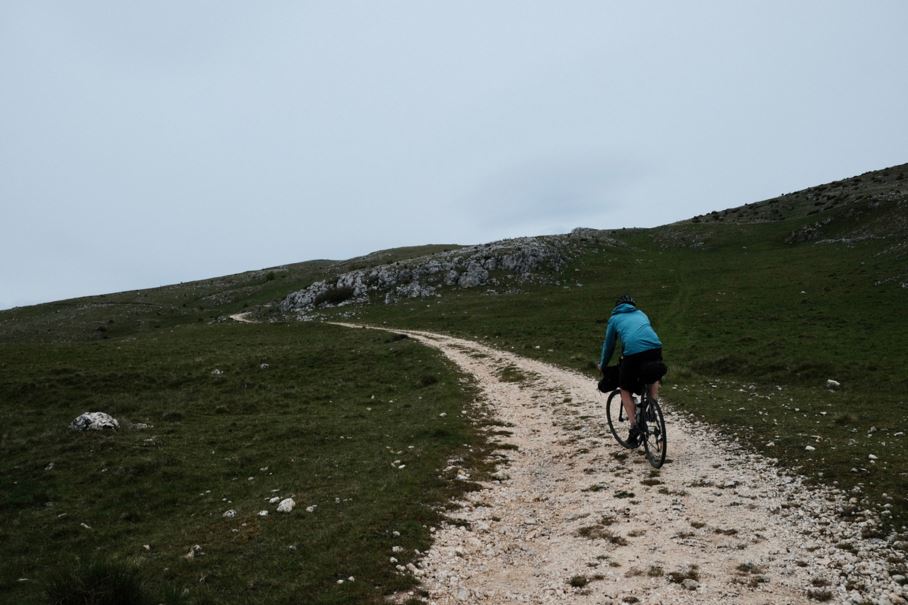 A steady 15% pitch points us into dark clouds, and it is late by the time we reach the ridgeline. There is still plenty of snow in May, and up here there aren't even any bell ringing sheep yet. We're bundled against wind and a stark serenity passing over terrain that could not be more different from the close warm cafes of the valley we left this morning. Freezing rain turns to hail and we're grateful to find the door open to a utility shack behind an otherwise sealed up mountain hut. We spend the night listening to the pelting, shifting our quilts around to avoid the dripping ceiling.
We wouldn't have chosen the wretched weather we have for our trip, but we're committed to not letting our cinched hoods cut us off from where we are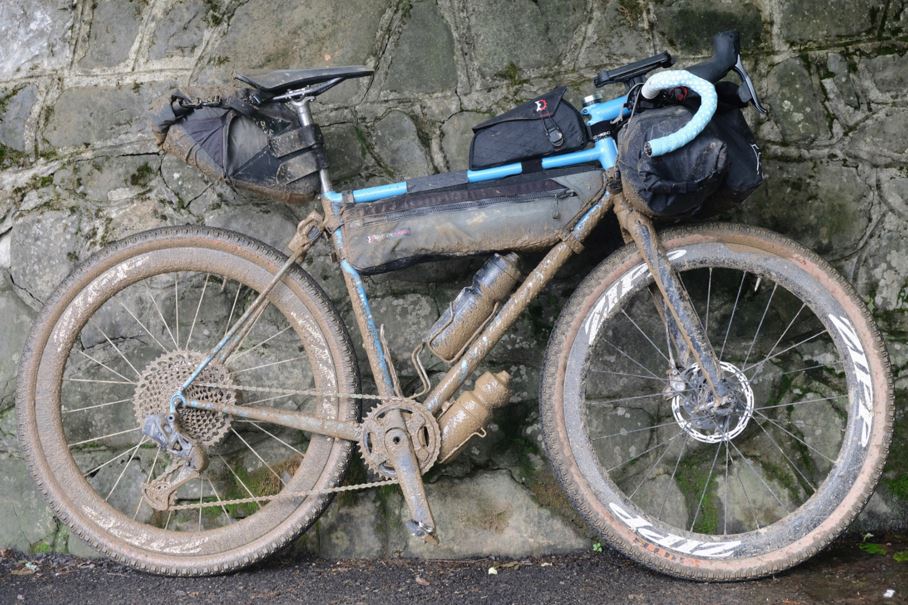 In the days ahead we pass through towns that are a mix of new construction and abandoned disintegrating structures. We stop to talk to Bosnians whenever Jack's German allows a common language. An engineer gardening in his front yard stands relaxed next to his fence and explains that he left his hometown during the civil war and lived as a refugee in Munich, always intending to return home. He's a mixture of optimism and lament. At Novi Travnic, we're waved over to share in homebrew rakia, the local brandy. We laugh along with our host's pantomimed stories through the fruity burn in our throats. Sitting next to youthful mountain bikers with their enduro rigs waiting out another storm, we drink beer and eat pizza dolloped with the local soft cheese.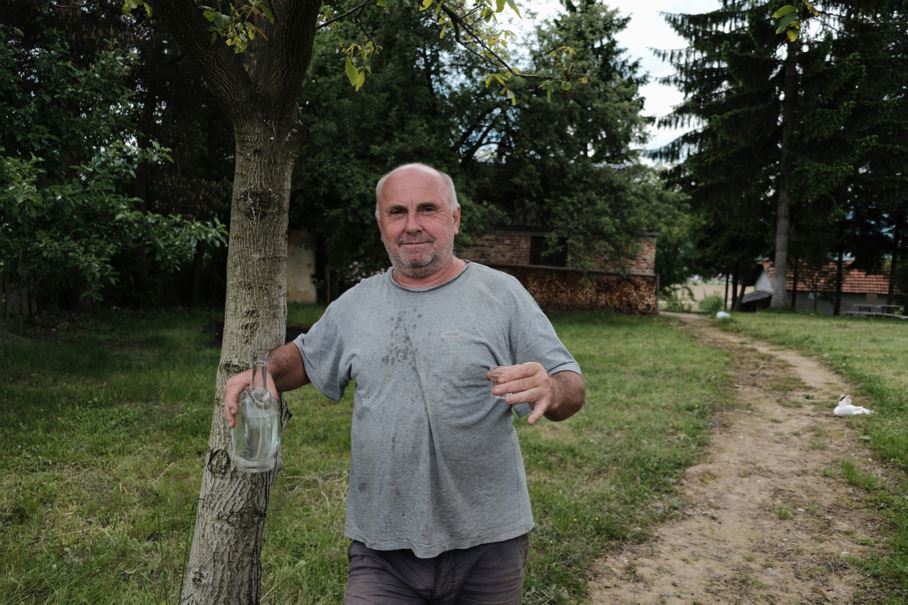 The Bosnian landscape remains plagued by landmines left from the civil war. It is heartrending and raw for us to pedal through the forests and see the skull and crossbone signs on the trees indicating not to stray from the path. Our rule is to ask locals for advice or to ride for at least a half hour past any landmine markers. Of course, that is no guarantee that there are none just ahead so we scout forward before setting up our tents. The government's goal and hope was to have all landmines removed by this year, but experts estimate 2025 as a new target.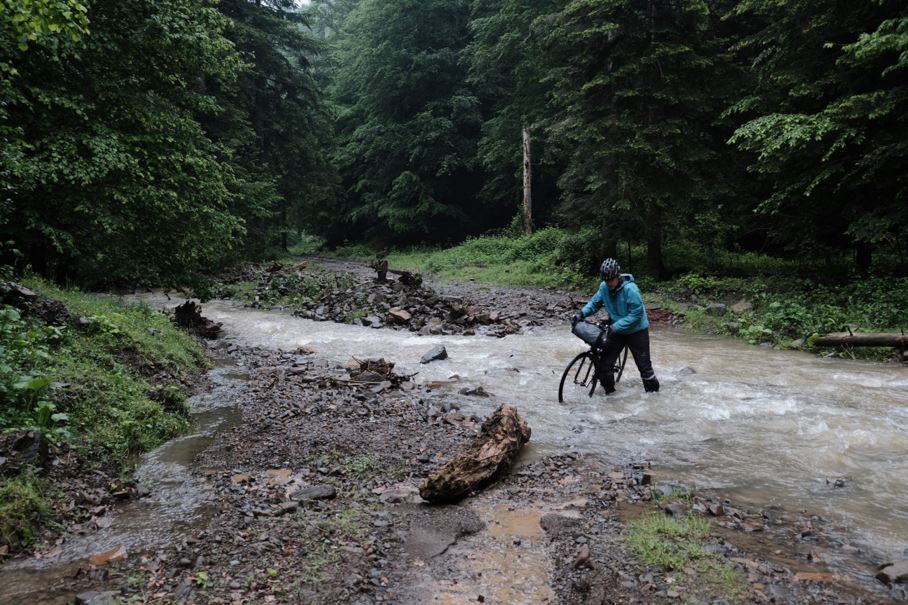 The bikes fishtail in the mud of the backcountry track and we've gotten over being disappointed that our gear never dries. In the misty distance there are figures shuffling in the center of the road, hunched against the elements just like we are and they are the only others we've encountered for many hours. Up closer, it's two young girls using gentle taps of a stick to keep their three pigs moving along. I take a quick phone snap, they part and smile and greet us with bright open delight at the bicycles, and we try to match them in our delight at the animals. This road will take us high onto a mountainside where it turns out we'll hike-a-bike most of the evening. Like so many of the roads we've attempted here, it's on maps and is implied by decades old signage, but on the ground it just disappears.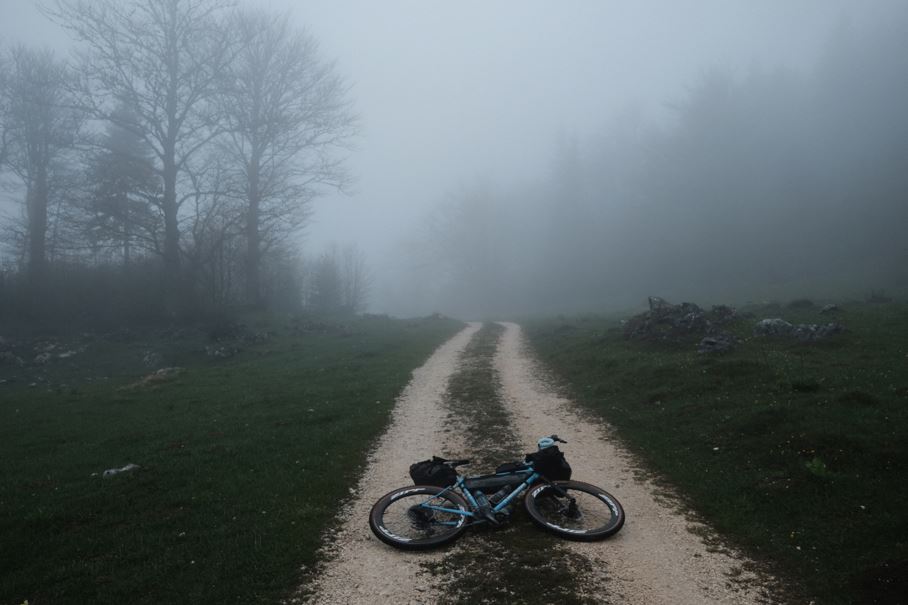 We shiver through a morning packing up camp at Kozara National Park. The Spomenik is a magnificent imposing column that seems monolithic from a distance but that resolves into asymmetries and vertical portals to see through to the other side. It has a timeless unity but it also allows you to see the changing landscape around it.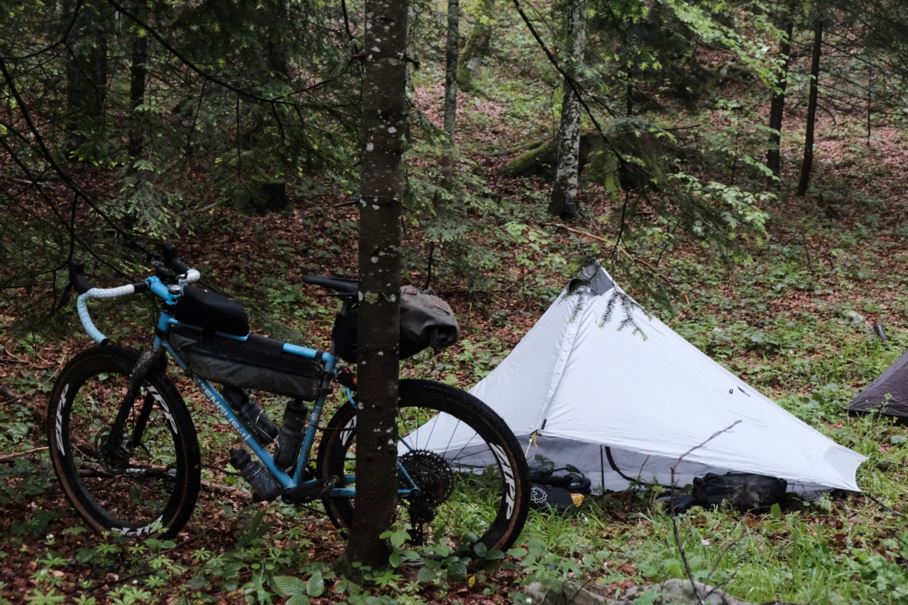 Today we'll cross the border into Croatia and by evening arrive at Jasenovac. The immense concrete flower spomenik there reaches both into the earth and toward the sky, a beacon against darkness. Jasenovac is where over 80 thousand Jews, Serbs, Roma, and Muslims were murdered in a WW2 death camp, one of the largest in Europe. The path leading up to the spomenik is made from railroad ties. Our pedaling over them places our hearts with the victims of the camp, the majority of whom arrived by train. We're much affected and sit quietly.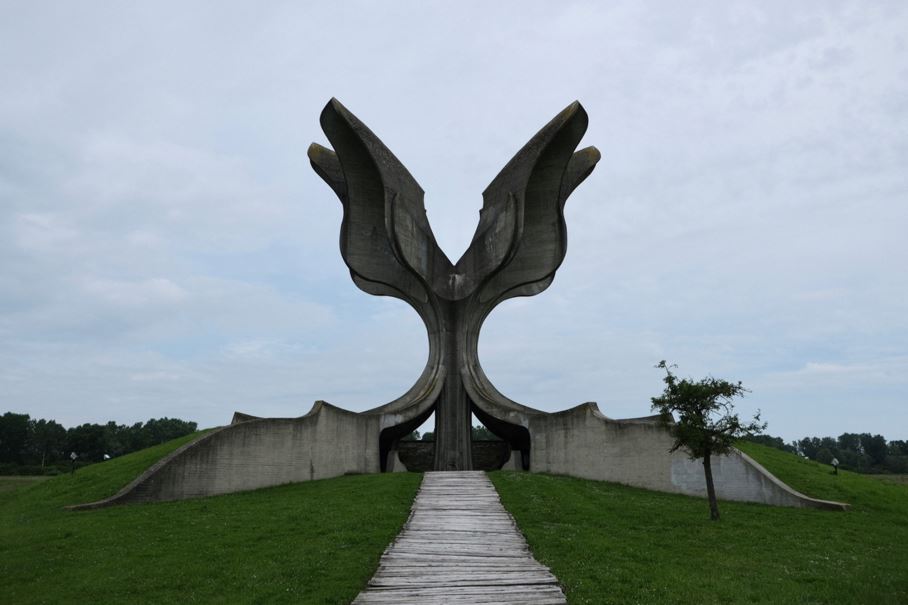 We've been on dirt roads through grey villages that swing from emptiness to joyful life. We've seen centuries old castles, brutalist office buildings, sagging abandoned military vehicles, craggy peaks, remote forests, delicious bread, and monuments to fighting fascism. We ride the next day along the Sava River up to Zagreb.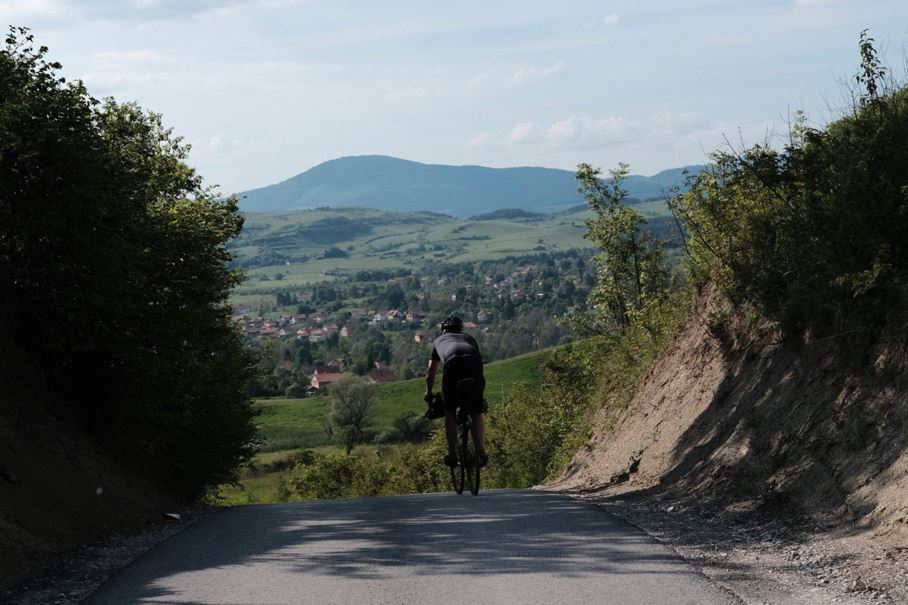 Joe Cruz (@joecruzpedaling) is a lifelong expedition cyclist and professor of philosophy. He splits his time between Vermont and his native New York City.