In an unforgettable race in both the Men's and Women's XCO World Championships, Nino Schurter (SCOTT-SRAM Racing) and Evie Richards (Trek Factory Racing) proved that history can be made for the first time, or the ninth time, and spur the same emotions – shock, joy, disbelief, elation – that no other title can match. Because at the end of the day, there is only one World Champion.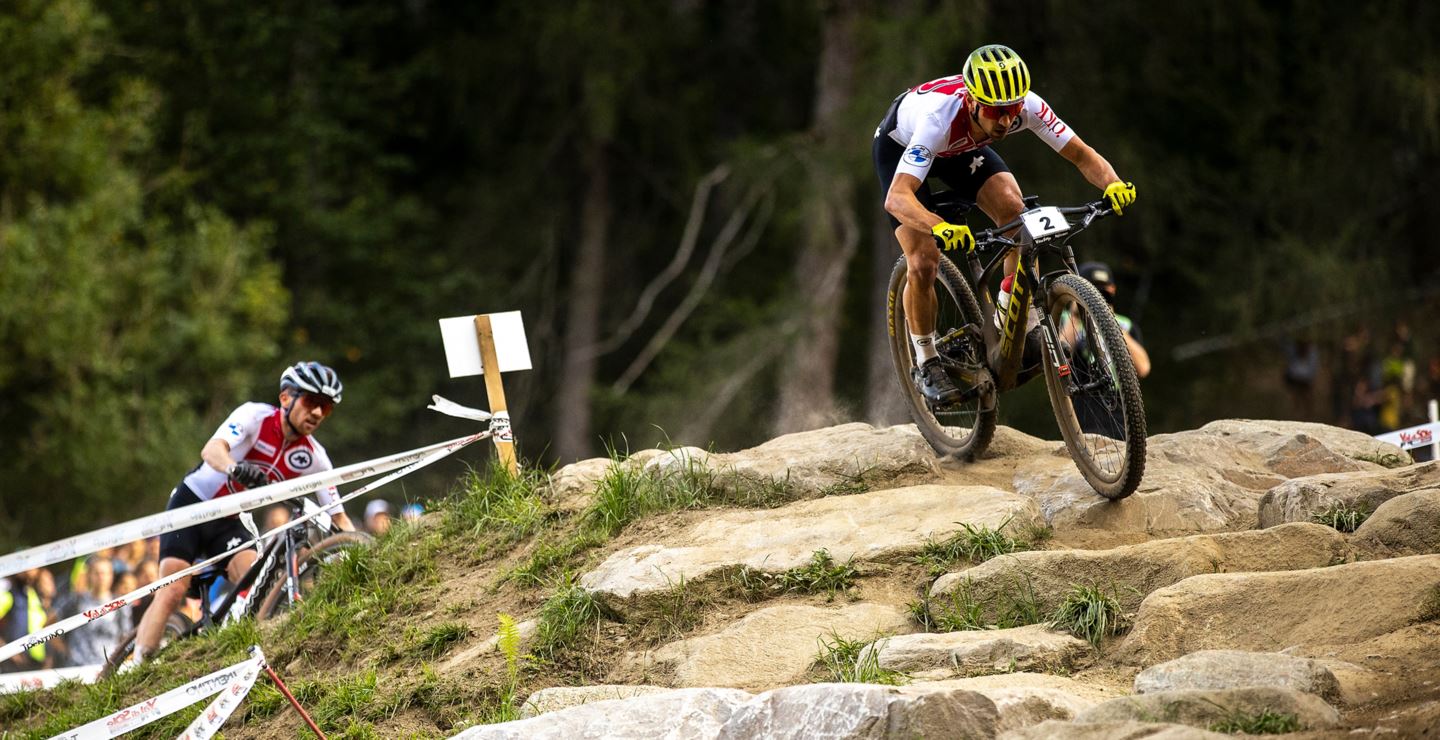 Unbelievable. I wasn't satisfied with my season so far. I was really hoping to make a comeback. It's insane to make it back to World Champ for the ninth time. I'm super happy and super proud.

–Nino Schurter
Nino came into World Championships hungrier that ever after a season of near misses. It was clear from the start gun, that Nino was bringing his breadth of eight previous World Championships to the track, tactfully moving into the front pack. Creating a tempo that the rest of the field could not match, Nino and his Swiss compatriot broke away by the second lap and it quickly escalated into a battle between Nino and Mathias Flückiger (SUI).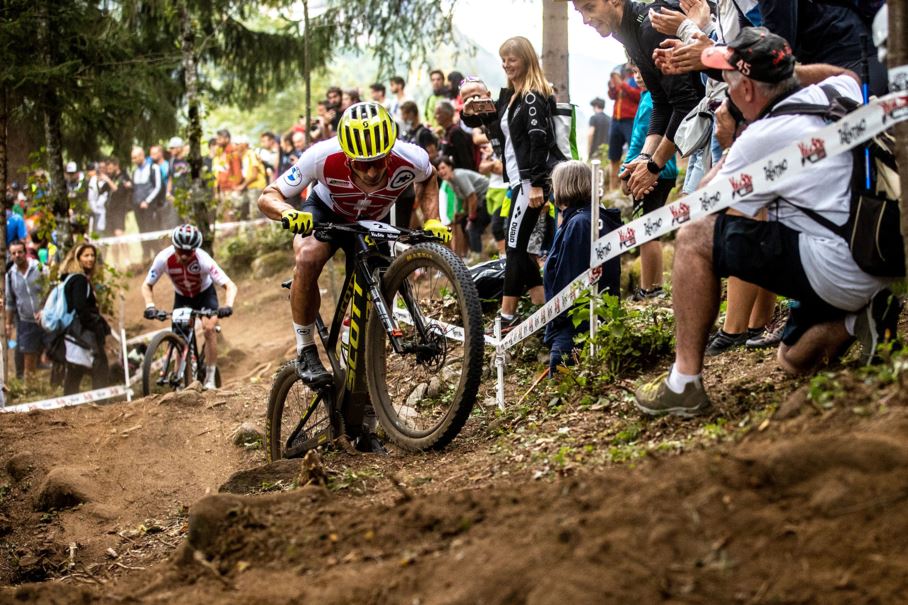 "My plan was just to hang on and try my chances in the last half lap since I know I'm a bit more explosive of a rider than Flückiger. I tried to pass him at the top of the descent, but he knew my plan and went flat out so I couldn't. Luckily in one of the last turns, he took it wide and opened the door for me to pass. I just sprinted as hard as I could and left it all out there."
With three corners to go, Schurter's inside line set him up for a climactic sprint finish that dubbed him the oldest athlete to win a World Championship title, in addition to being the youngest athlete to earn his rainbow stripes in 2009.
This World Championship title is among the most important of the nine I have in the books now. It's not just another title. It's a big release to know I'm still capable of winning big races.

–Nino Schurter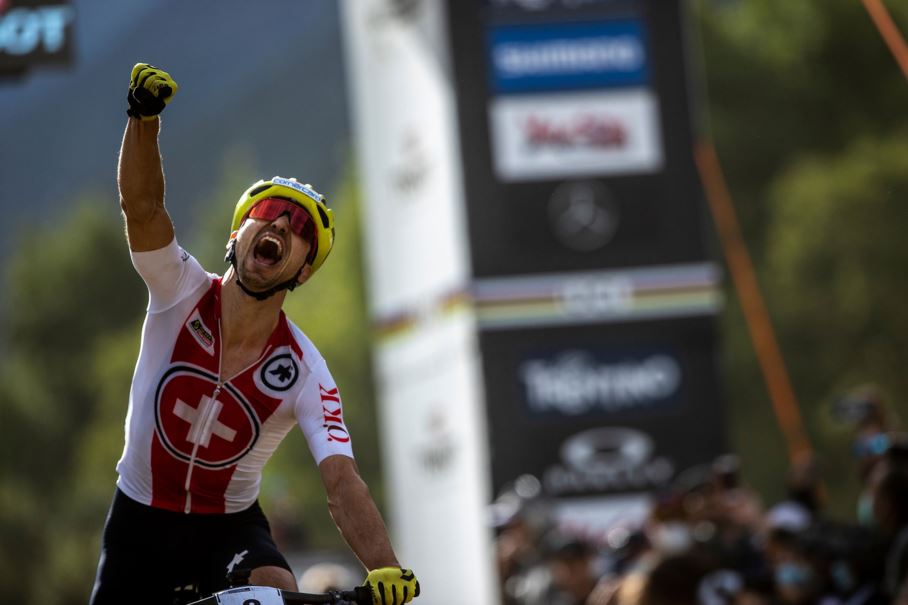 Nino's race-winning Scott Spark RC features 120mm of suspension travel with a RockShox SID Ultimate fork and RockShox NUDE 5 RLC3 rear shock. Combine this with the super technical Val Di Sole XC track and know that the future is now.
A different race played out in the Elite Women's field, but it boiled down to making the right move at the right time. Evie had a strong start riding in the lead group on the first two laps. After Pauline Ferrand-Prevot (Absolute Absalon-BMC) characteristically broke away, Richards put in a valiant effort to reel her back in and make a decisive pass that would stick for the final two laps to come.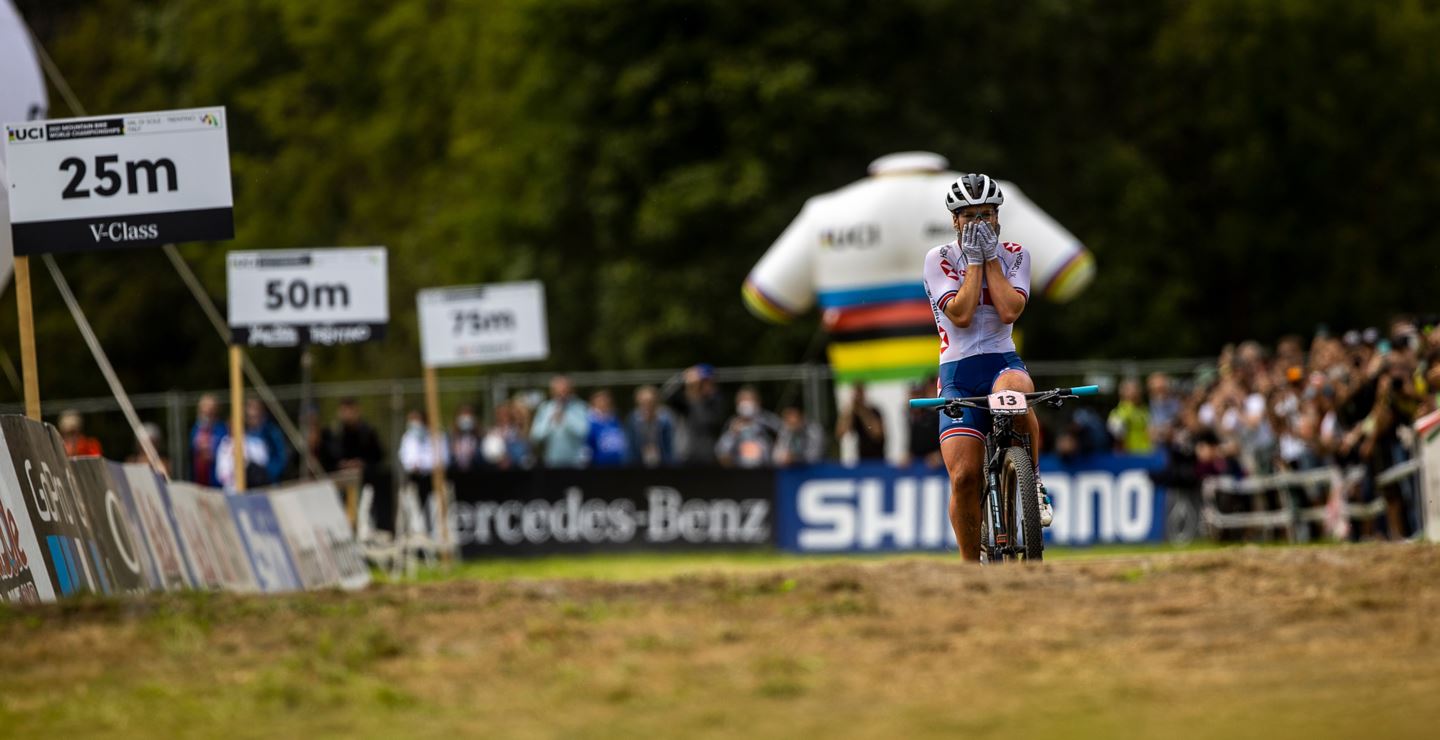 "Going to the front was never really part of my plan, it just happened! I wanted a good start and to be competitive with the front girls on the start loop. My plan was to stay confident and have a smooth race from then on. When I came round the start-finish on one of the laps, it said in the commentary that I was in second place and, I was like 'No way, that is so cool!'"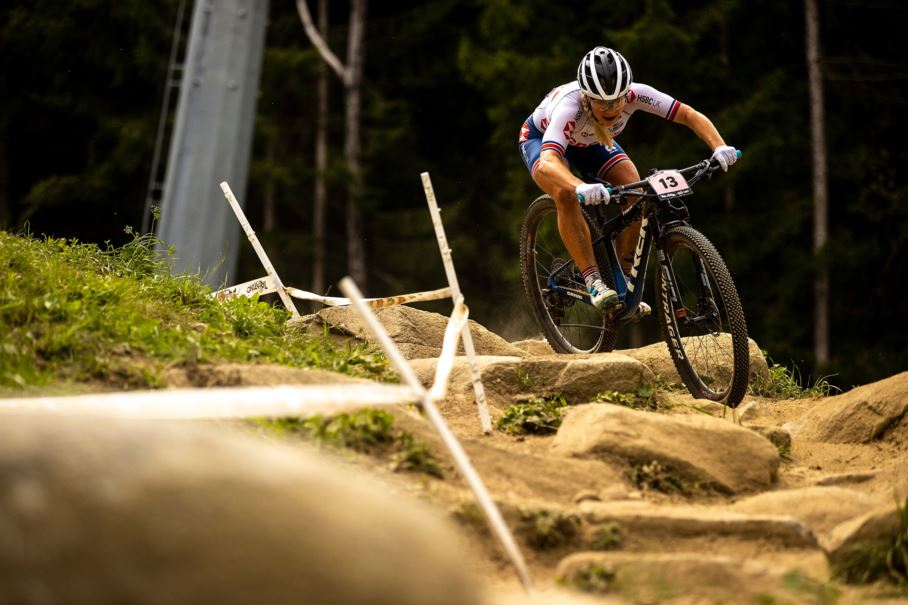 Evie charged ahead, riding fearlessly through the technical descents. For those who thought this course did not favor her riding style and strengths, Evie proved that confidence overrides skepticism.
"I hadn't even won a World Cup yet so to be out in front on my own with two laps to go I was worried someone might catch me. I had lots of people giving me splits on the course and the gaps were getting bigger and this gave me confidence in myself to just keep pushing. I have learned this season what pace I can maintain so I wasn't worried about fading. I was more worried that someone would suddenly find a second wind of energy!"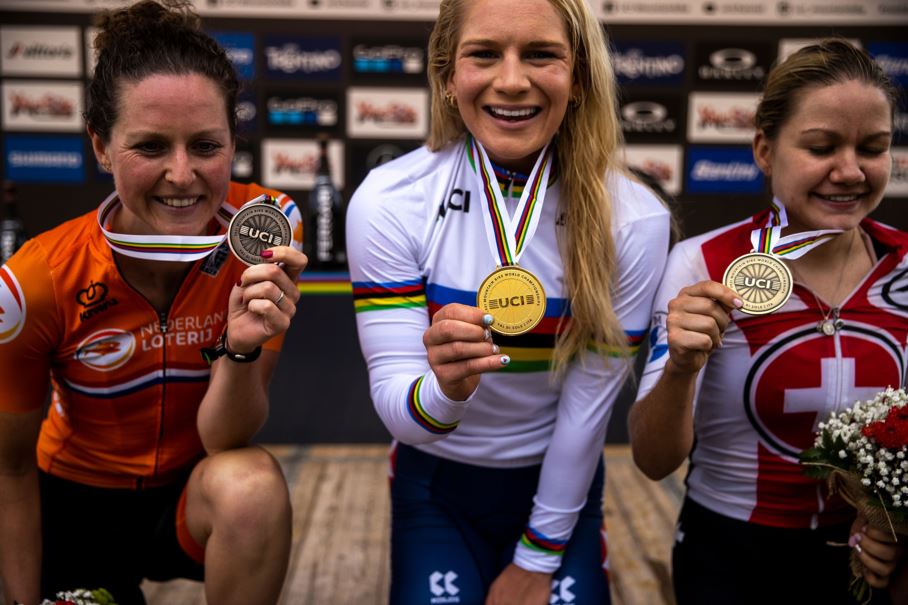 I never thought I'd be good enough to win a race like this. I am so shocked, I cannot believe it. I always say that when I'm happy, I race well. I truly have been happy the last few weeks training at home, so I think that today proves my theory.

–Evie Richards
And at just 24 years old, Evie has plenty more career highlights to come. In addition to being Great Britain's first mountain biker to win the Elite Women's XCO World Championship title, Evie is also a world-class baker. With spirits high, Evie is looking forward to being home and getting back in her groove. "I have got a celebratory dishwasher on order. Once that is fitted, I can get baking again!"
Earlier in the week, the UCI held the inaugural XCC World Championships. Both entering their first World Championships as Elites, Sina Frei (Specialized Factory Racing) and Christopher Blevins (Trinity Racing) claimed the first-ever XCC World Championship titles with gusto.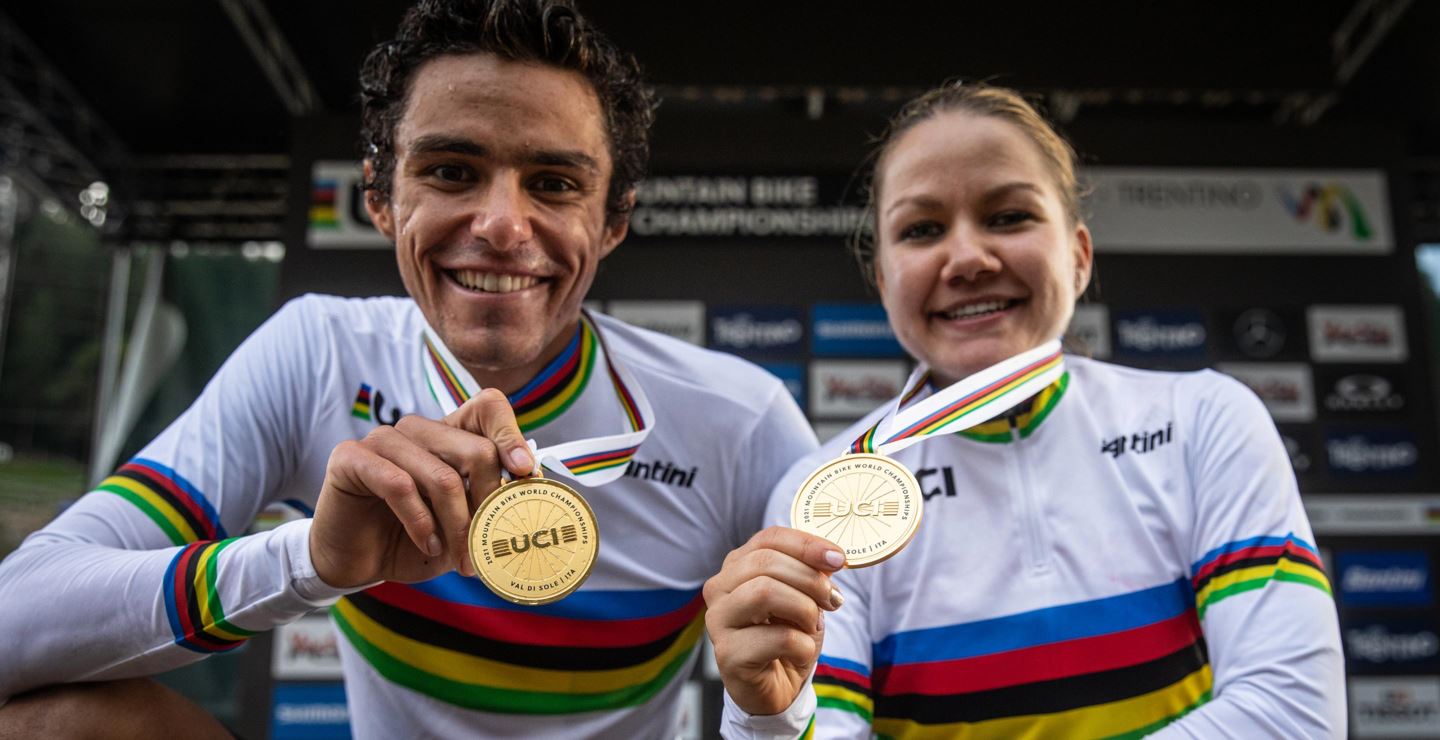 In the Elite Women's short track, Jolanda Neff (Trek Factory Racing) stole the holeshot out of the gate, keeping a group of six including Evie, Pauline, and Rebecca McConnell (Primaflor Mondraker X-Sauce) on the chase. With attacks being thrown throughout the seven laps, Sina patiently waited to make her move on the final lap. In an all-out effort, Sina laid down the watts for a photo-finish win with Evie. Pauline finished one second behind the battling duo for bronze.
It feels super special to take this win in the first ever XCC World Championships. Annika was a huge inspiration for me and being able to take this win for Specialized is very special.

–Sina Frei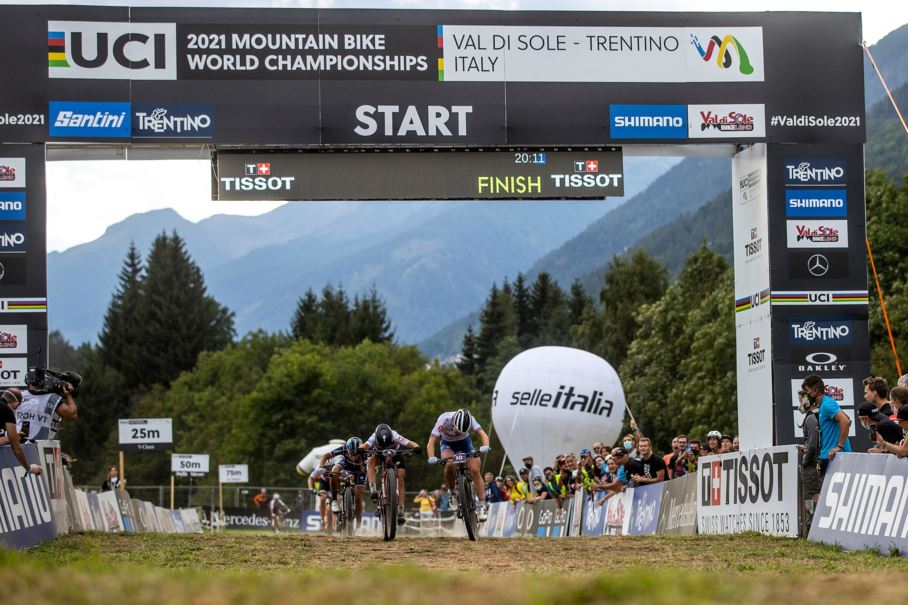 The Elite Men's short track took on a different tone with riders settling into consistent pace as a large group of riders fought for the lead. Colorado-native, Christopher Blevins found himself in the mix, working diligently to stay within striking distance of the leader. With a few laps to go, Christopher attacked and moved into third place where a fierce battle ensued with Enrique Avencini (BRA). In the final corner, Christopher launched his winning move to outsprint Avencini and Maximillian Brandl (GER).
This is the sweetest race ever. I grew up in my hometown with the weekly short track on Wednesday nights, and it was a special way to grow up. It's a special kind of race — you're just out there with all of your friends on a dirt track. It's the same thing that's been brought to the World Cups and now the World Championships, and it's incredible to win this.

–Christopher Blevins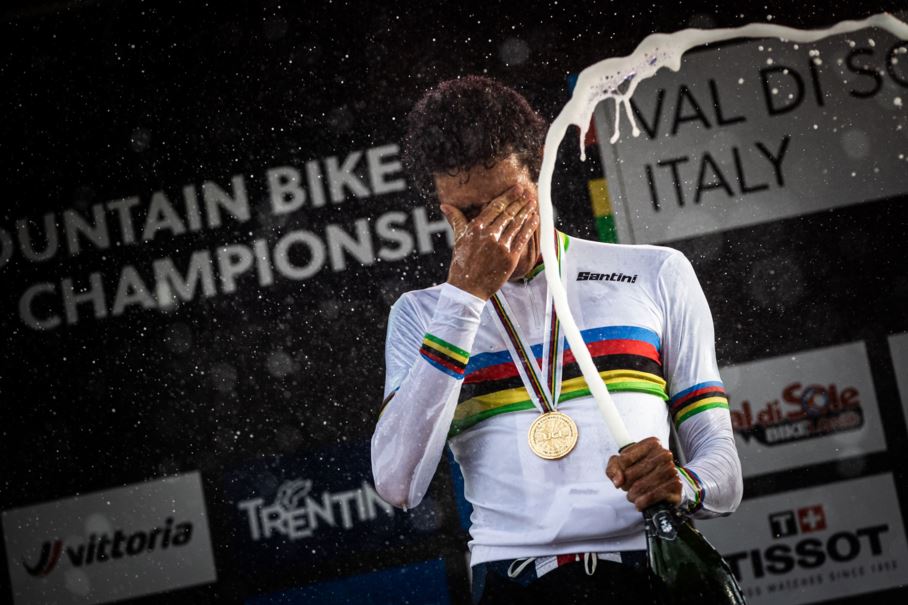 Christopher also won a silver medal in the Team Relay and a bronze in E-MTB making him the first ever athlete to win three medals at World Championships and the first American Elite Men's racer to win a cross-country title since 1991.
2021 World Championships | SRAM/RockShox Athlete Results
GOLD - Elite Men XCO – Nino Schurter (SCOTT-SRAM MTB Racing)
GOLD - Elite Women XCO – Evie Richards (Trek Factory Racing)
GOLD - Elite Women XCC – Sina Frei (Specialized Factory Racing)
GOLD - Elite Men XCC – Christopher Blevins (Trinity Racing)
SILVER - Elite Women XCO – Anne Terpstra (GHOST Factory Racing)
SILVER - U23 Women XCO – Laura Stigger (Specialized Factory Racing)
SILVER - Elite Women XCC – Evie Richards (Trek Factory Racing)
SILVER – Team Relay XCR – Christopher Blevins (Trinity Racing)
SILVER – Team Relay XCR – Kate Courtney (SCOTT-SRAM MTB Racing)
BRONZE - Elite Women XCO – Sina Frei (Specialized Factory Racing)
BRONZE - Elite Women XCC – Pauline Ferrand Prevot (Absolute Absalon-BMC)
BRONZE - Elite Men E-MTB – Christopher Blevins (Trinity Team)
BRONZE - Elite Men DH – Troy Brosnan (Canyon Collective)
With two more venues of World Cup racing just around the corner, there's bound to be more excitement and surprises that unfold between the tape. Now that our World Champions have been crowned, there's one last title on the line – World Cup Overall. Stay tuned into @srammtb and @rockshox for the latest in race coverage.
Lenzerheide, Switzerland – September 3 – 5 (XCC/XCO/DH)
Snowshoe, U.S.A. – September 14-15 (DH) and September 17-19 (XCC/XCO/DH)
Words by Sarah Rawley. Photos by Sven Martin & Michal Cerveny.