After the last eight months of smiles, frowns, up and downs in the (mountain bike) world, we are finally standing on the precipice of one thing we can all agree on — the 2020 UCI Mountain Bike World Championships. Uncertainty plagued most of the season as we all initially witnessed schedule changes, rescheduling the schedule changes, and certain events getting the chop altogether.
After the first two rounds of World Cup XC races held in Nové Mêsto, we saw a glimmer of hope as fans that we would see some semblance of a race series. Now with World Championships here, the inner gearhead in all of us is ready to see some customized race machines.
Trek Factory Racing DH went for the flag-draped approach with paint for their team rides. Charlie Harrison (USA) prominently featuring the stars and bars and Reece Wilson (UK) with the cross of Saint Andrew adorning his ride. Both of them will be racing on the Trek Session 9.9 with SRAM X01 DH drivetrains, Code RSC brakes, RockShox BoXXer Ultimate fork, with Charlie running a Super Deluxe Ultimate Air with a MegNeg air can while Reece is on a Super Deluxe Ultimate Coil rear shock this weekend.
Austria's prodigy, and hometown favorite, Vali Höll will be running the national sporting colors of her native country, featuring subtle lightning bolts, and her favorite cocktail on the rear triangle. Her SRAM | TLD Racing YT Tues DH is equipped with SRAM X01 DH, Code RSC brakes, RockShox BoXXer Ultimate, RockShox Super Deluxe Air, and Descendant bar, stem and seatpost.
Everybody who knows me, knows that I enjoy a good G&T.

–Vali Höll
The Canyon CLLCTV boasts three Australians on their team including Troy Brosnan, Jack Moir, and last year's Junior Downhill World Champion Kye A'Hern. Each Sender is painted a different combination of Australia's traditional sporting colors — gold and green with bespoke words of wisdom and well-wishes surrounding the bottom bracket. And of course, what Australian paint job wouldn't be complete without a boxing Kangaroo?
Canadian Mark Wallace kept the CLLCTV theme with a traditional red, and white-themed Sender with the same words of positivity. The Canyon CLLCTV are all running SRAM X01 DH drivetrains, Code RSC brakes, RockShox BoXXer Ultimate fork and Super Deluxe Ultimate Coil rear shocks. Interestingly, Troy has chosen a Super Deluxe Ultimate Coil Remote, a different choice than his teammates.
Current Elite Women's DH World Champion Myriam Nicole (Commencal/Muc-Off) went all-in on gold with her bike adorned with many customized gold parts including a limited edition cassette, matching chain, and RockShox suspension decals. If the parts or bolts could be made gold, odds are you will see them on this bike.
Rémi Thirion and Thibaut Dapréla are both on a silver-polished Supreme DH with fork and shock decals matching the shine of the frame, as well as silver highlights on the derailleur and crank arms.
The entire Commencal/Muc-Off team is running bikes with a message of unity and tolerance written on the top tube below the headset, rather than specifically calling out each rider's individual country. They will be running SRAM X01 DH drivetrains, Code RSC brakes, RockShox BoXXer Ultimate and Super Deluxe Ultimate suspension.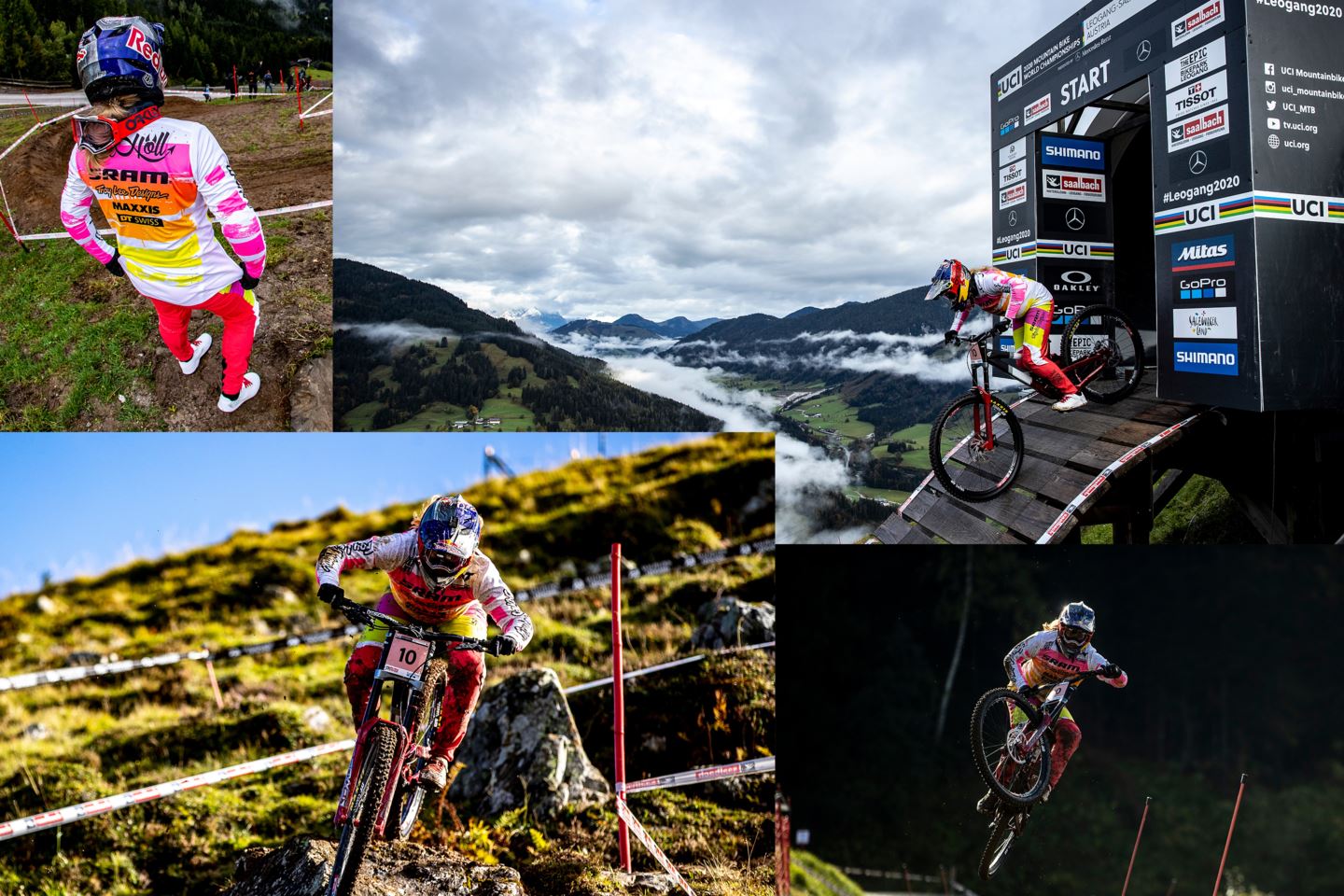 Let's all hope for great weather, clean runs, and tight split times — as fans we've earned it.
Photos by Matt Delorme, Sven Martin, and Boris Beyer. Words by Peter Matthews.