Decal changes are an important way to identify the year of manufacture.
Use this pictorial guide as a way to find the approximate year of manufacture. Please note decal changes were often made in-line and may not always follow model or calendar years. If a wheel is rebuilt on a new hub or a rim is replaced, it may have the latest decals.
Zipp has placed decals on both the rim and the hub. These changes were not always fully synchronized.
Decal colors may become faded and change with exposure to ultra violet (UV) light. Where our decals were molded in, they sometimes turned a dirty yellow due to resin discoloration from UV.
2014
Matte white or back single color, die-cut decals with no reverse color outline. These decals have a cover film that must be removed after application. Individual letters are separate and smaller than those of 2013. These decals cannot be used to cover molded-in decals from the 2005/2006 era as the older decals will protrude through between the letters.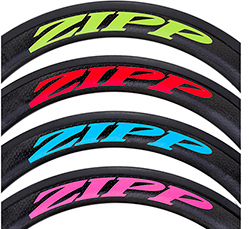 In July 2014 we released 4 colored die-cut decals that cover the range 202/303/404/808/disc. These are only available after-market and are not a choice when purchasing the wheels.
2013
The lower silver "Speed Weaponry" banner is dropped, a choice of white or black decals with reverse color outline is presented. Decals are the same size as before with backing so individual letters are slightly larger.
2012

In October 2012, we changed the wheel and disc decals, dropping the lower "Speed Weaponry" silver banner and increasing the size of the "Zipp" portion. The overall decal sizes remain the same. 2013 decals now have a cover slip that needs to be removed after the decal is positioned. Valve hole decals remain unchanged except for the discs valve cover patches, these now have a "Darth Vader" shape and red highlight. A choice of white or black Zipp decals is available across the line.
2011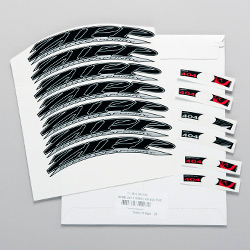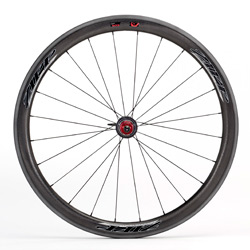 In October, "Beyond Black" decals are offered as an additional option on wheels and discs and may be purchased as an after-market decal kit. For the first time, Zipp has two main decal options: beyond black and 2008 - white/silver/black to choose from without getting a custom wheel set.
Valve hole decals 2008-2011
2008-September 2010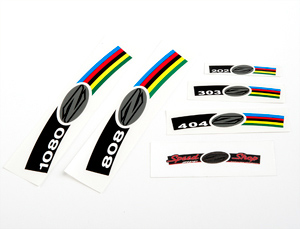 The speedshop decals were discontinued in September 2008 while the UCI worlds (rainbow stripes) continued to September 2010 when they were replaced by the b/w valve hole decals.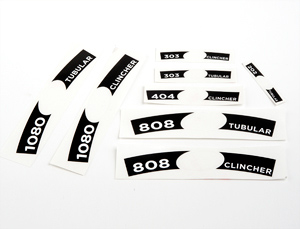 From October 2010 to mid-April 2011 black and white valve hole decals were used on all non-firecrest wheels.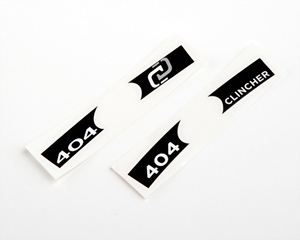 New valve hole decals were introduced to distinguish the all carbon 404 and 808 clinchers from the Al clinchers in June 2010 and December 2010.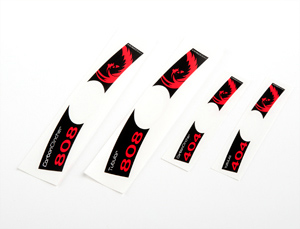 In mid-April 2011 the red Firecrest valve hole decals were introduced (an in-line change) to draw attention to our new rim shape for tubulars and all carbon clinchers. Note the distinctive Firecrest logo on the right hand side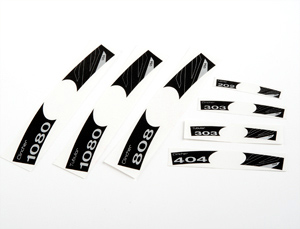 Aluminum clincher decals were then also changed in mid-April 2011 with "USA" and the "Z" on the right hand side
2009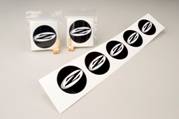 Changed to disc valve hole decal to the oval "Z". Handle bars, headset spacers and stems changed in-line during 2008 to white and silver with Oval "Z". 303, 404 and 808 rims were embossed with Oval Z and "Handmade in Speedway,USA" at the valve hole. Retained the 2008 white and silver look and rainbow valve hole decals for rims, wheels and discs. Introduced separate decals for OEM wheels in various combinations.
2008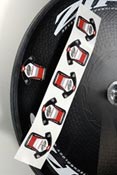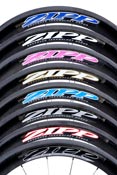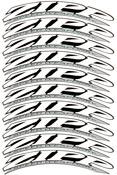 The rim and wheel decal color changed from white and red to white with silver. The 808/1080/disc decal increased slightly in size and was redrafted so a single size could fit across these three products. We introduced royal blue, pink and light blue ZedTech decals and a generic SpeedShop valve hole decal. 202 and 1080 rims were embossed with the oval "Z" below the valve hole and included "Hand made in Speedway Indiana" immediately below the valve hole.
2007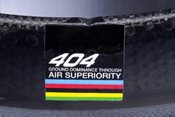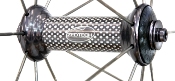 End May 2007, 404 valve hole decals changed to the 'rainbow' colors. Custom ZedTech decal color choices (red, gold, black, gray).
2005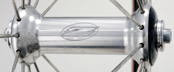 New style logo introduced, valve hole wheel set decals and die cut silver hub decals.
2003

Wrap around 'holographic' hub decal , Clydesdale.
2002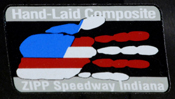 Z3 grey / silver die cut decals, small silver and red background Z3, Si3N4, Made in Speedway IN, small Sapim rectangle.
2001


New decals white Zipp, yellow 'Speed Weaponry', red background. ICT VcLc, M2CM.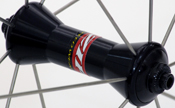 Hubs have white USA etched into center of body.
2000

An oval red on silver theme.
1999
New silver oval with red Zipp surrounded by swoop
1998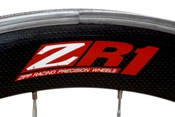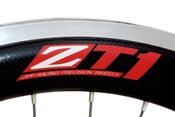 Wheel sets introduced ZR1, ZR, ZV, ZV1
1997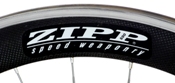 The Zipp introduces 700c clinchers (530 & 500) for the first time into the Zipp line. All white decal on black background which was molded in. Decal placement remained the same, i.e. 3 & 9 o'clock two per side. Smaller decals were placed at 12 and 6 o'clock below the valve hole.
1996
Pure white letters on black background
1995

Red fade decal on rims
1993
Decals molded in with 440 rim type at 3 and 9 o'clock positions. Bight green fading to yellow or yellowish / green.
1992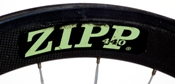 The Zipp 440 was a 700c carbon rim. These decals presented the same issues as the 400's, bad fading and dyed resin flowing over the top.
1991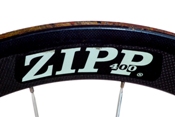 The Zipp 400 decals were molded in, two per side at 3 and 9 o'clock. They tended to fade rather quickly and change from a bright green to light greenish-yellow.
1990

Zipp 3000 came with different lettering or no lettering on the hub flanges. The logo colors varied with the color of the painted wheel and were adhesive.Placement of the 3000 was sometimes below the "Zipp" with a single decal on one tri-spoke per side.
1988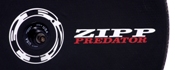 Predator disc in black