Jonathan Jacob works on SRAM's Velocio brand and is a two-time national champion. He's been on the podcast before, discussing criterium racing and his time spent in the wind tunnel. JJ is compelling and entertaining, providing valuable insights into cycling gear, strategy, and performance. He recently competed in Unbound in Kansas, so this is a perfect time to sit down and talk with JJ about transitioning from road to gravel. The move to gravel put some of JJ's old-school roadie ways to the test. Listen to find out more.
Below are edited excerpts:
What makes a good gravel racer?
You have to be good at riding this tempo-type effort. Not like so hard you're going to come unraveled in the next 40 to 60 minutes, but a hard pace you can maintain for hours. That ability will serve you well in gravel.
People who can 'manage' themselves well. Like a triathlete is a good example, an athlete who must manage their effort over a long period of time. And, if something happens to you out on the road, not freaking out…. Being able to get through that crisis, get sorted and get going again. That's a very good attribute in a gravel racer.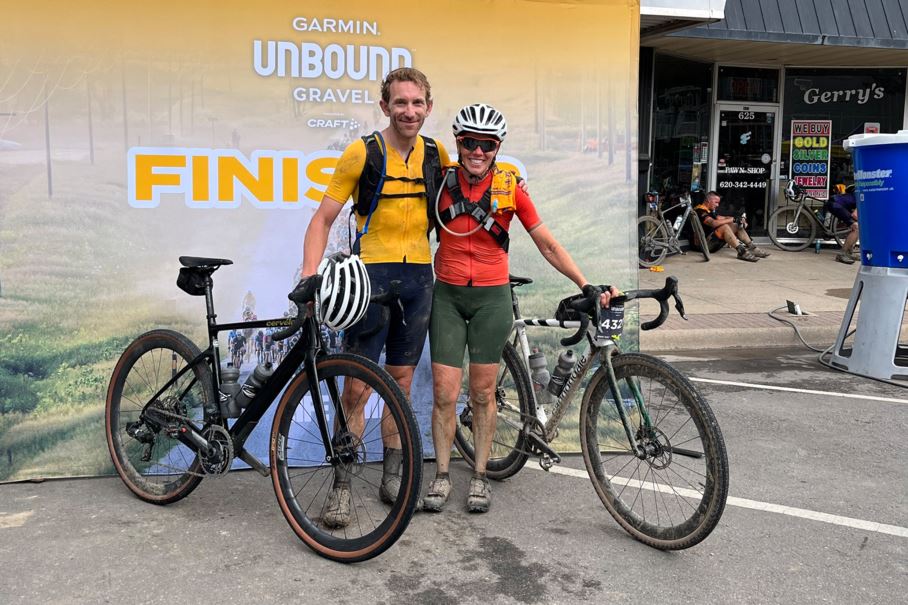 JJ with Shannon embracing gravel.
What makes a good gravel bike?
Tire clearance is a big deal. With gravel bikes, you have to find what works best for you. Do you like more of relaxed geometry? Me personally, I spend a lot of time on the road so I wanted something similar to my road geometry.
What specific equipment choices did you make?
If I had it to do over again, I would switch to 1X. I've been kind of a 2X or die guy for a long time! You see this evolution of bikes. I feel it's pushed everyone in the industry to think of things differently. I have my bike set up as a 48-35 on the front and 10-36 on the back. If I had a frame where I could go a larger 1X chainring, I would probably run a true XPLR group, like 46 with a 10-44 is ideally what I would have gone with. I see the draw the 1X (with mud in gravel). I use 303 Firecrest on gravel and have great luck with those. For handlebars, I run the SL-70, 42cms. I kind of like having a wider stance on the gravel.
What attracted you to gravel? You already have a busy schedule of racing criteriums. Why make time for gravel?
My partner, Shannon, she'd been very interested in gravel. It's a way for us to go to a race. She's involved, too. She's got her own race, her own goals. That's been really cool. Another thing that has drawn me to gravel, road racing (not criteriums) are few and far between anymore. For me to get a three or four race-type effort in, gravel is a good option.
You need to find a bike that makes you feel comfortable for a long period of time.

–Jonathan Jacob, SRAM and Velocio
What is a difference in mindset between gravel and road?
After I've done a few gravel racers, I kind of feel like racing on the road is luxurious! If you're in a crit, you have a wheel pit for spare wheels in. If you have a slight mechanical, you can go into the pit have someone help you out in a lot of races. In a road race, you most likely have a wheel truck. If you flat in the middle of nowhere you can get a spare wheel. I guess I never really appreciated that until I started doing gravel. That to me is a big difference – you're kind of your own with gravel. It's cool, but it's also a little frightening at times.
Where does speed come from in gravel?
At the front of the group, a lot of those riders are able at these critical points, either through their technical skills or physical abilities, they're able to make the selection. That is not unlike on road or MTB. There are points that are going to cause a split. But if you're just an individual out there and you can get into a group. Maybe you feel it's going a little slow. Maybe stay in that group for a little while and get your face out of the wind. Getting some rest from the wind in gravel is a big deal.
Speed in gravel, a lot of it comes down to managing yourself. The more experience you have with riding on the red line, the more you learn about what you can and can't do. Learning how you feel—that is where I feel speed comes from in gravel—there is a lot of self-management there.
Speed in gravel, a lot of it comes down to managing yourself. The more experience you have with riding on the red line, the more you learn about what you can and can't do. Learning how you feel—that is where I feel speed comes from in gravel—there is a lot of self-management there.

–Jonathan Jacob