BoXXer Ultimate
Ships after .
Currently out of stock until .
Description
Find a Dealer
More than 20 years ago, BoXXer changed the DH world when it hit the scene, featuring Charger™ 2.1 damper for unrivaled control between the tape. Ultra-low friction SKF wiper seals and race-proven Maxima Plush damping fluid all work overtime to reduce friction, noise, and provide lasting fork performance all the way to the finish corral.
Features
Completely re-designed to reduce hand fatigue and fight unwanted friction, the new Charger™ 2.1 damper increases confidence and control over every trail
Charger™ 2.1 RC2 damper featuring independent high and low speed compression adjust
New ultra-low friction SKF wiper seals provide long lasting fork performance and improve overall suspension feel
New Maxima Plush damping fluid reduces friction and silences damper noise
New foil graphics
BoXXer Red Signature color option
Highly tunable DH-specific DebonAir™ spring offers a coil-like consistent feel throughout the travel
See more features
See less features
Some variations of this product featured on this page are not available for purchase and are installed on bicycles as complete bikes only. See your dealer for details.
Bottomless Tokens
Bottomless Tokens allow you to easily custom tune your air-spring performance to best match your riding style and suspension preference. Adding the easy-to-install Bottomless Tokens changes the air-spring curve to resist bottom-out after a big hit, giving aggressive riders the power to attack the trail harder. Removing Bottomless Tokens makes the air-spring curve more linear, enhancing suspension feel for certain types of terrain or trail condition and ensuring riders who are less front-end aggressive benefit from 100% of their fork's travel.
DebonAir
A lightweight, highly tune-able air spring designed to offer a coil-like consistent feel throughout the travel - effortlessly soaking up the smallest hits and tracking the slightest changes in the terrain.
Sag Gradients
Measurement gradients indicating the current sag and travel settings are conveniently located on the upper tubes so that you always know how much travel you are running. You won't find this anywhere else but RockShox.
BOOST
BOOST is the standard wheel and drivetrain specification that opens the opportunity for improved frame geometry with shorter chain stays, wider and stiffer suspension pivots, wider range of chainring options, as well as more clearance for bigger tires and wider, stiffer wheels.
Charger 2.1 Damper
Completely re-designed to reduce hand fatigue and fight unwanted friction, the new Charger 2.1 increases confidence and control over every trail.
Maxima Plush Fluid
Developed with the world's fastest racers, on the world's toughest circuits. Maxima Plush Fluid is designed to protect from suspension wear, reduce friction, and silence damper noise while maintaining a consistent feel in all temperatures.
SKF Seals
Everyone loves a good collaboration, which is why we've been working with SKF, the world's highest-performance seal manufacturer, for over 5 years. Together we'll provide ultra-low friction wiper seals, less fatigue, and unmatched suspension feel, all while keeping the dirt where it belongs- because no one wants dirt in there.
Specifications
| | |
| --- | --- |
| Wheel size | 27.5", 29" |
| Travel (mm) | 180mm, 190mm, 200mm |
| Steerer | 1-1/8" Aluminum |
| Axle | 20x110mm BOOST™ |
| Spring | DebonAir |
| Fork offset | 36mm (27.5"), 46mm (27.5"), 46mm (29"), 56mm (29") |
| Maximum Rotor Size | 220mm |
| Upper tube type | 35mm straight wall aluminum |
| Max Tire Width (mm) | 81 |
| Minimum Rotor Size | 200mm |
| E-Bike Approved | E-bike Approved |
| Damper Type | Charger 2.1 RC2 |
| Volume reducer | 0/6 Tokens, 1/6 Tokens, 2 Tokens, 2/6 Tokens |
| Color (FS) | BoXXer Red, Gloss Black |
| Fender Compatibility | n/a |
| Weight (g) | 2565 |
| Weight Based On | 27.5" BOOST, 200mm, Maxle Stealth, Short Crown |
Service
Installation. Service. Compatibility. Find all the documentation needed to set up, use, and maintain your components in the SRAM Service hub.
Visit product service page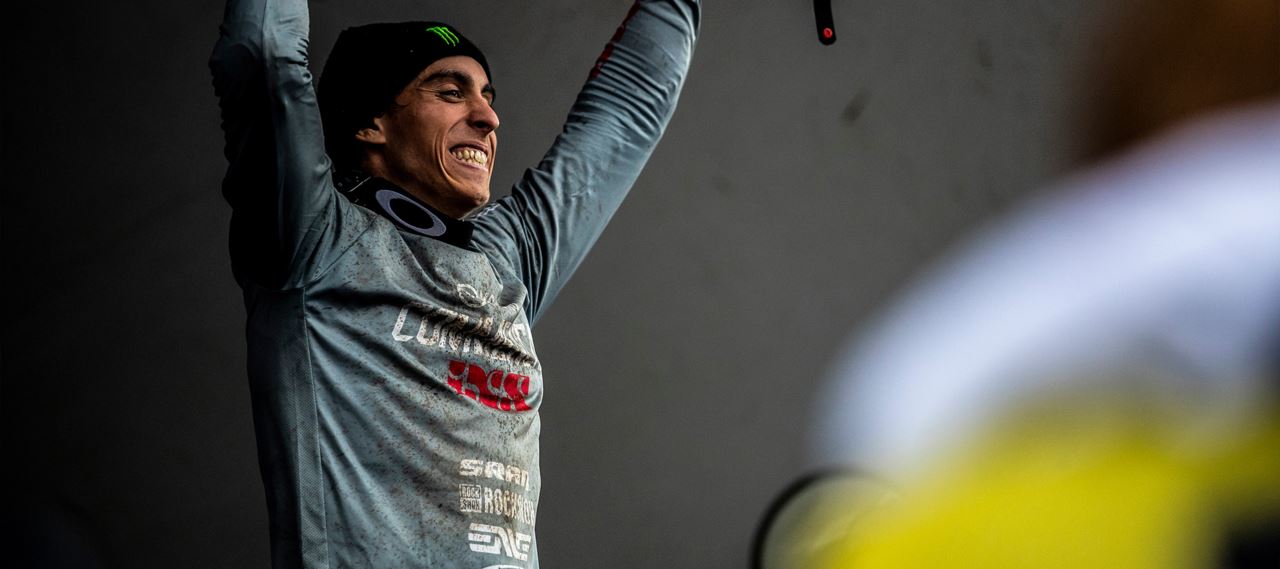 PUSH HARD, GIVE EVERYTHING, AND THERE IS NO REGRETS.
RockShox Life
Related news
Old Track, New Riders
SRAM / RockShox Junior Athletes Dominate at Maribor World Cup DH
Read the full story
Trailhead App
suspension set up starts here
It's like having a personal tuner in your pocket. RockShox TrailHead App is the starting point to get your suspension dialed in for the perfect ride. Tuning recomendations, upgrade information, and service support all in your hand.
rockshox trailhead