If your bike is AXS-equipped, you have at least one rechargeable SRAM AXS battery. Capable of powering a whole host of AXS components, these tiny power units are interchangeable between parts on your bike, easily swappable during a ride, and fully rechargable in an hour or less. The same battery is compatible with front and rear eTap AXS derailleurs, Eagle AXS derailleurs, Reverb AXS seatposts, and Flight Attendant suspension.
At just 24 grams, an AXS battery is lighter than the energy gel in your cargo bib pocket. So should you carry a spare? Can you just order a generic one online? What's the best way to travel with batteries on board? What about the batteries in shifters and power meters? We're here to answer all your battery questions.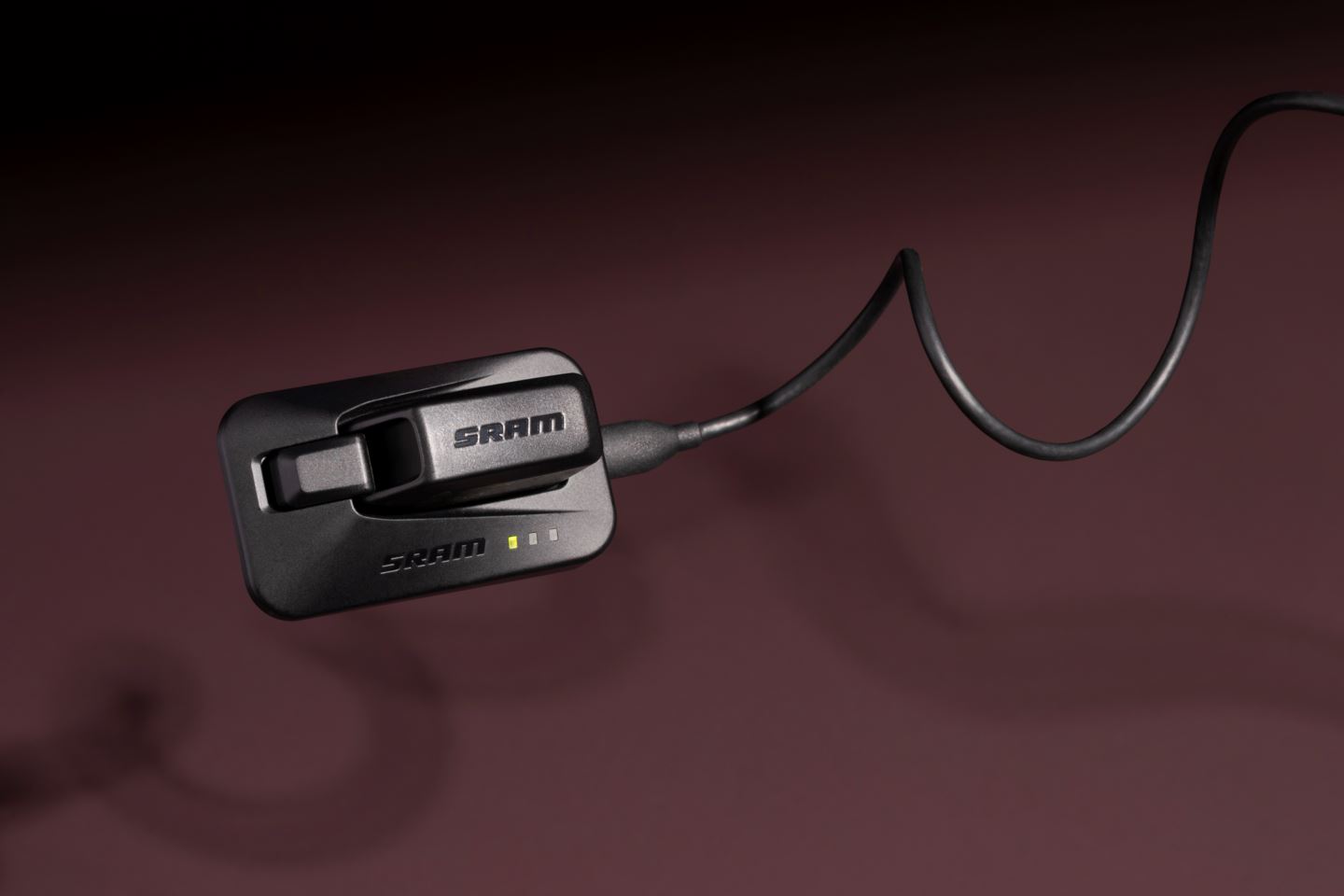 "What are the red things?"
When you picked up your new bike at the shop and the mechanic handed you a bunch of red plastic pieces, you might have tossed them in the junk drawer. These are actually important little bits called battery terminal covers and battery blocks. When you remove a battery for storage, cleaning, or travel, you'll need both of them. These protect and preserve your batteries and components when they are not in use.
Tech tip: Use the adjustable dial on your battery cover to help you remember a battery's charge level.

"What about washing?"
Your AXS system is completely waterproof, but aggressive washing techniques combined with acidic or grease-dissolving cleaners can damage your electronic components and batteries without use of the battery terminal covers and battery blocks. Remove your batteries, reinstall those red things, and wash away without worry.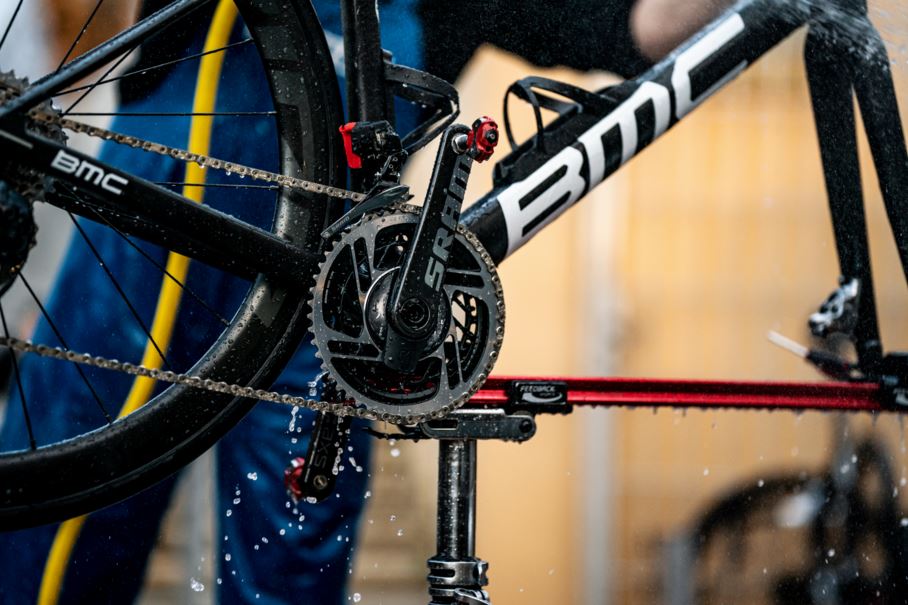 "Do I remove batteries for travel?"
Whether you're traveling by plane, train, or automobile, removing your batteries during transit will prevent battery depletion. The longer the trip, the more neccessary this becomes. When your battery is installed, your AXS system goes into power save mode only when the bike is stationary. As soon as your bike moves, the system awakens. When traveling, your bike will think it's moving, so you'll want to equate transport time to ride time. Driving 30 minutes to a local trailhead may not require battery removal, but a cross-country excursion certainly does. When in doubt, take the batteries out and replace them with blocks.
Tech tip: Keep your batteries in your carry-on baggage for air travel, as lithium batteries pose safety concerns if damaged during a flight. Your batteries could be confiscated by security if left in checked baggage.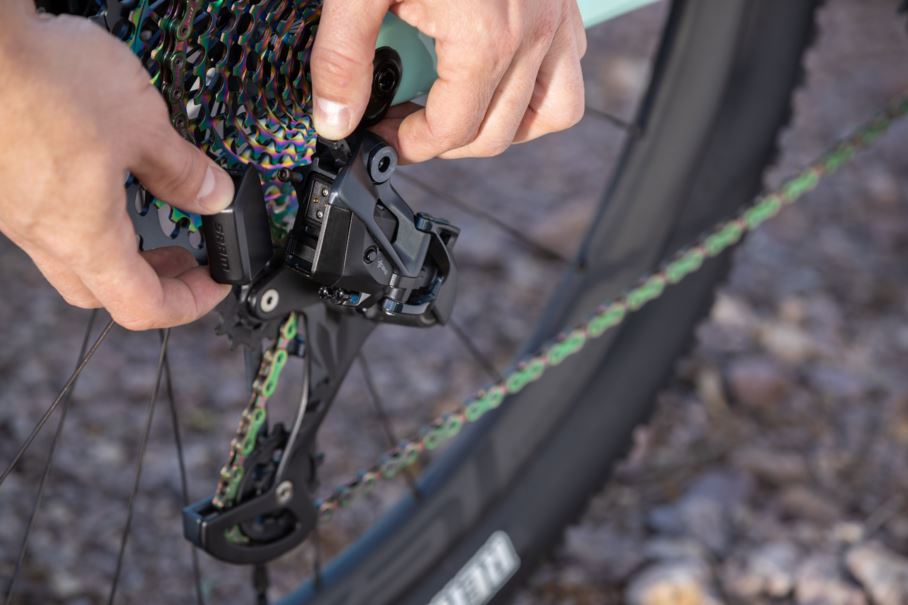 "Do I need a spare?"
Think about spare batteries like you think about ride snacks. Do you need a bag of gummy bears on every ride? No. Does it save the day when you feel the bonk coming? You bet!
Your AXS batteries bonking mid-ride is unlikely, as they will last hours upon ride hours depending on component:
Road derailleurs: 60 hours
MTB derailleurs: 25 hours
Dropper posts: 60 hours
Suspension: 20-35 hours
For such a small package, an AXS battery packs a big punch in terms of power, so why not have an extra on hand in case of emergency. Toss one in your tool roll, bar bag, or pocket. You'll hardly notice it's there...it's only 24 grams after all.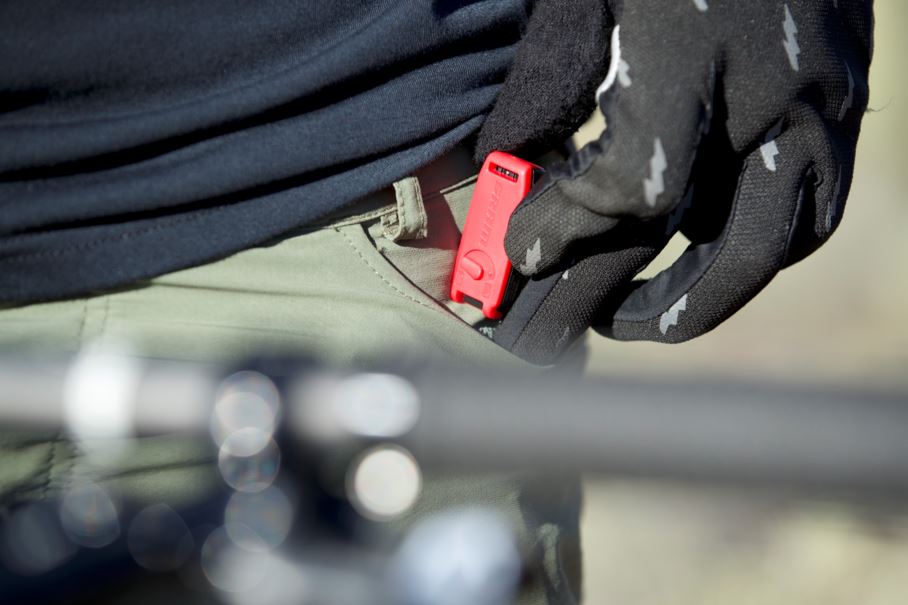 "Do I need to stick with the SRAM brand?"
While inexpensive generic options are tempting online, they are not worth the risk. These copycat batteries and chargers do not hold up to SRAM's performance standards for capacity, safety, and reliability. Genuine SRAM parts are designed and tested with a priority on safety and optimal performance. Avoid any other manufacturer's offerings, as using them will void SRAM's warranty.
We have compared the copycats to the real deal and found plenty of reasons to beware of these off-brand batteries and chargers:
"What's the best way to charge?"
Your SRAM battery charger will come with a USB cable. If you're using a USB AC adapter, make sure that it supplies a minimum of 1A at 5V. If you're plugging into a computer or laptop, make sure it has a USB 3.0 or later charging port.
When the battery is properly installed in the charger, the amber LED indicates that it's charging. When it turns green, it's good to go. A full charge takes no more than an hour.
Tech tip: If you see a red LED on the charger, an error has occurred. Just remove the battery from the charger and reinstall it. Then disconnect and reconnect the charger.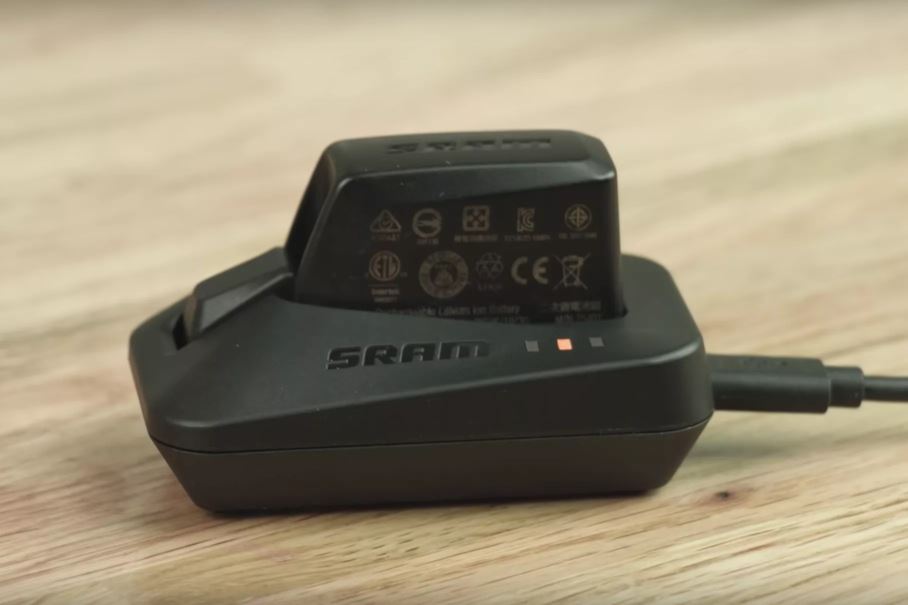 "Can I charge multiple batteries at once?"
Now you can! The new Four Battery Charger is what you want when you need a bunch of AXS batteries charged in a hurry. This USB-C powered charger will fill four batteries in the same time as a single charger, with charge time even faster if only one or two batteries are being charged. It also has a fast charging feature that gets the batteries to 75% extra quickly.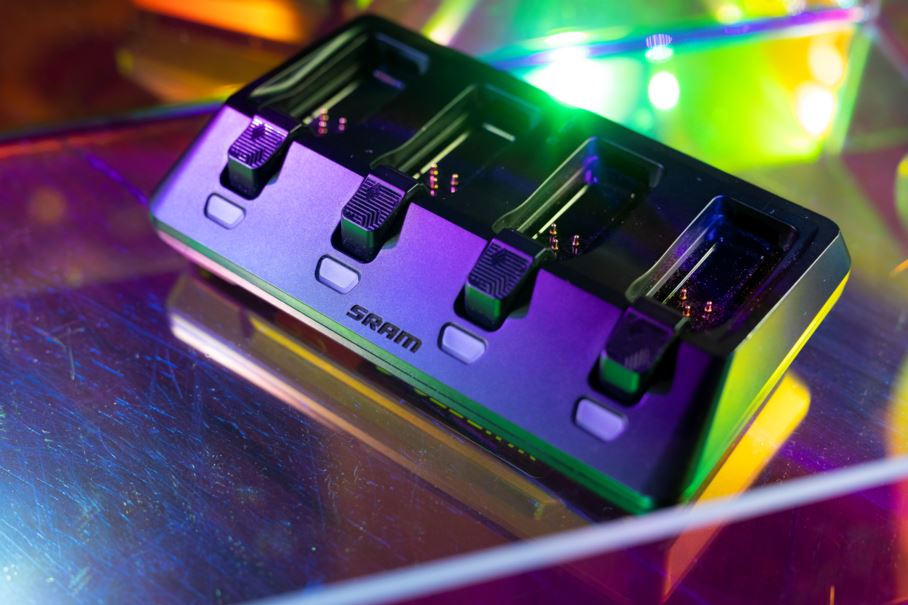 "What's the easiest way to see my battery status?"
Check your charge levels with the push of a button. Literally, it's that simple. Press and release the AXS button on a component and watch the LED next to it:
Green = up to 100% battery charge remaining
Red = 10-25% battery charge remaining
Flashing Red = less than 10% battery charge remaining
You may also monitor battery status using the AXS app. If you ride with a head unit, pair it to your AXS components to get charging reminders directly on your screen.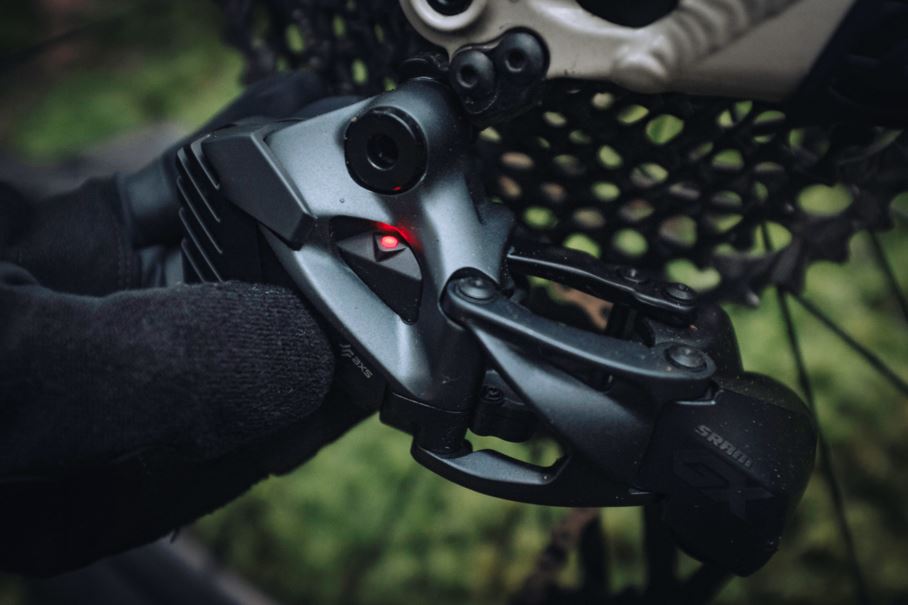 "What about the batteries in my shifters?"
Each AXS shifter uses a CR2032 battery. These coin cell batteries last about two years under normal use and are easy to replace.
Tech tip: For best performance, choose replacement batteries without a bitter child-safe coating ring. This ring can cause interference between the battery and terminal, resulting in potential perfomance issues.
"What kind of battery is in my power meter?"
AXS power meter spiders also use CR2032 coin cell batteries. These last for 200 ride hours, and require no tools to swap. Again, choose one without the child-safe coating when it's replacement time to ensure your power meter performs as optimally as possible.
If you have a spindle-based power meter, you'll get 400+ hours of ride time from the AAA lithium battery inside the battery sled.
"Should I worry about riding in bad weather?"
Snow, sleet, or creek crossings...bring them on. Your AXS system is completely waterproof to the IPX7 international standard. There is no need to hesitate about heading out when the weather looks wet.
Your AXS batteries have a polished surface that ensures a solid seal between components. When a battery is installed properly, contaminants can't get in, meaning you can get out on your bike whenever you want.