When Zipp engineers head to the wind tunnel, they bring Jonathan Jacob along for the ride. Jonathan, or JJ as everyone calls him, is a two-time national champion bike racer and SRAM employee. You also could call JJ Zipp's unofficial wind tunnel test "dummy," the model rider when Zipp goes to the wind tunnel. What is it like to ride in the wind tunnel hour after hour? What has JJ learned about time trialing from the tunnel? How does he stay still on the bike? Find out below, and for more time trialing and wind-tunnel insight, listen to the Zipp Speed Podcast with JJ and John linked below.
ZIPP SPEED PODCAST ON LESSONS FROM WIND TUNNEL
JJ's TUNNEL TIME: BY THE NUMBERS
11+
hours of riding
4
months of testing
300
miles pedaled
180
average wattage to pedal during sessions
14 to 20
minutes average time per testing session, short break followed by the next session
3 (or more)
doughnuts (or apple fritters) consumed per day in the tunnel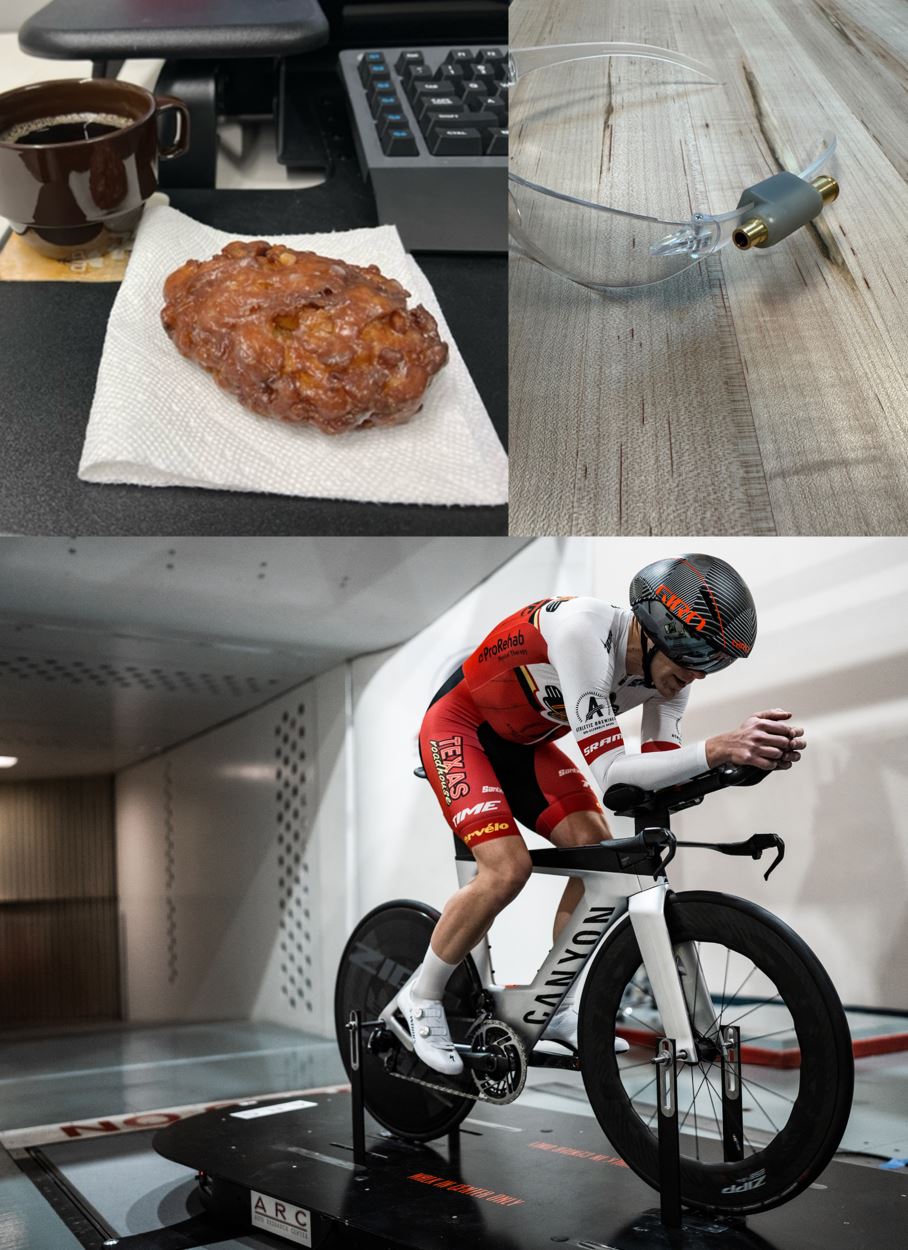 JOB 1 IN THE WIND TUNNEL IS TO STAY STILL
Think of a rider attempting the hour record. One of the keys to success is a static aero position to maximize every potential aero gain. Any excess rider movement impacts aero drag. The same is true in the wind tunnel. Rider movement can throw off the data as engineers compare one wind tunnel run to another. JJ uses a simple laser point with a custom 3D printed mount as a trick to maintain a static aero position on the bike.
It's difficult to stay focused and not move in the tunnel. Zipp engineers John, Dave, and Ben came up with the idea of affixing a laser pointer to a pair of factory safety glasses. I wear those glasses (under the face shield) with the laser point aimed at my hand. The red point gives me a reference point to keep my head as still as possible. A lot of the time, I'm just watching that laser to make sure my head Is not moving very much.

–Jonathan Jacob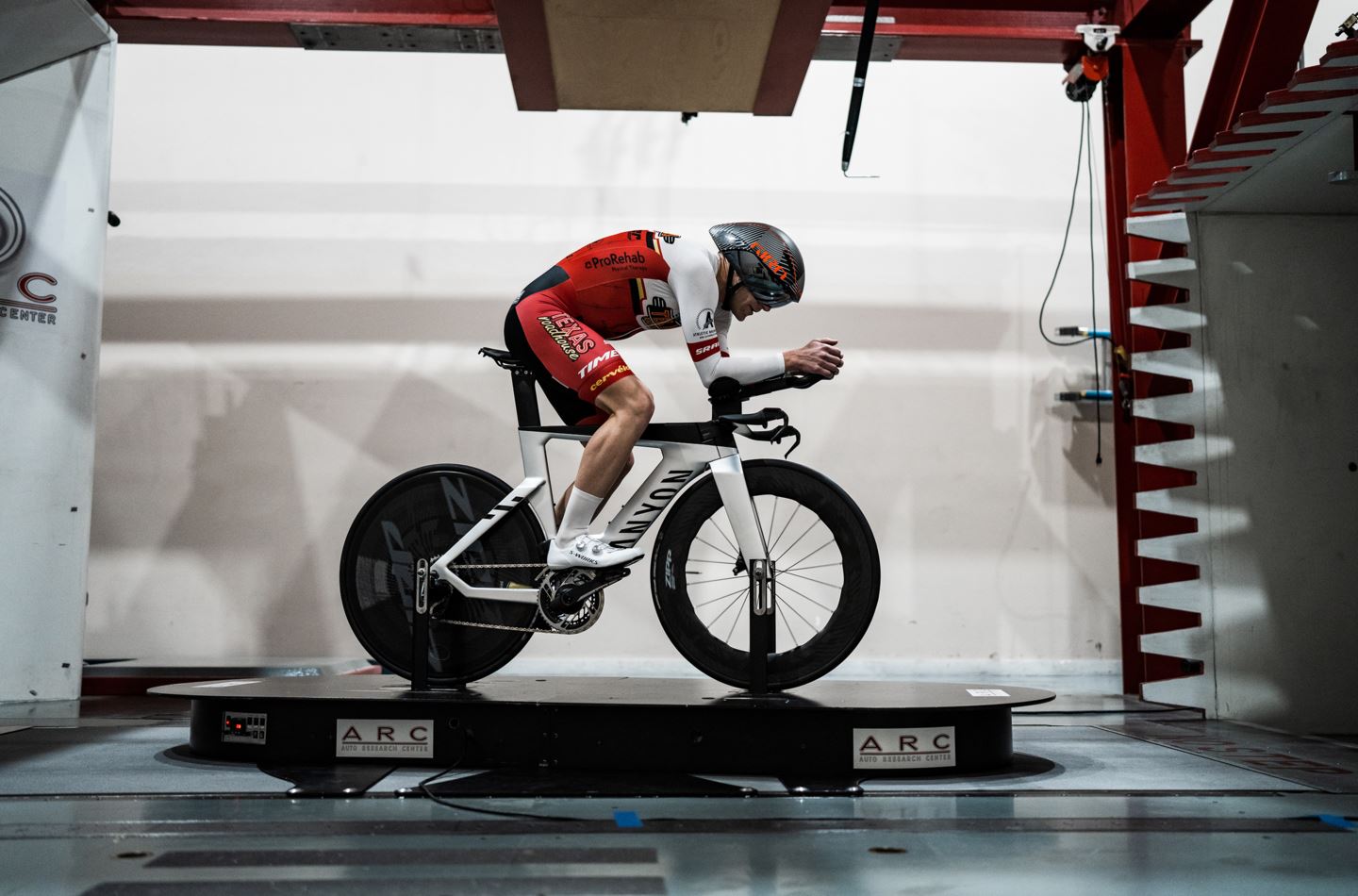 WHAT IT'S LIKE TO RIDE IN THE TUNNEL
After you do it for a while, you learn the nuances and noises that the tunnel makes. We do a set of sweeps at first, with no wind. It's just to calibrate the platform. Then you hear the fan kick on, which is the second half of the sweep.
It is a little chilly at first.
ON RIDING POSITION
One of my struggles is closing off my front end. I feel like I have some exposed area up front between my bars and my chin I could close off…. My evolution has been bringing pads up and trying my hands more in front of my face, even though I still have a ways to go. On the road, with a standard road bike, keep yourself as low as possible if you can generate that power in a lower position, especially if you're in a breakaway trying to stay as low as possible.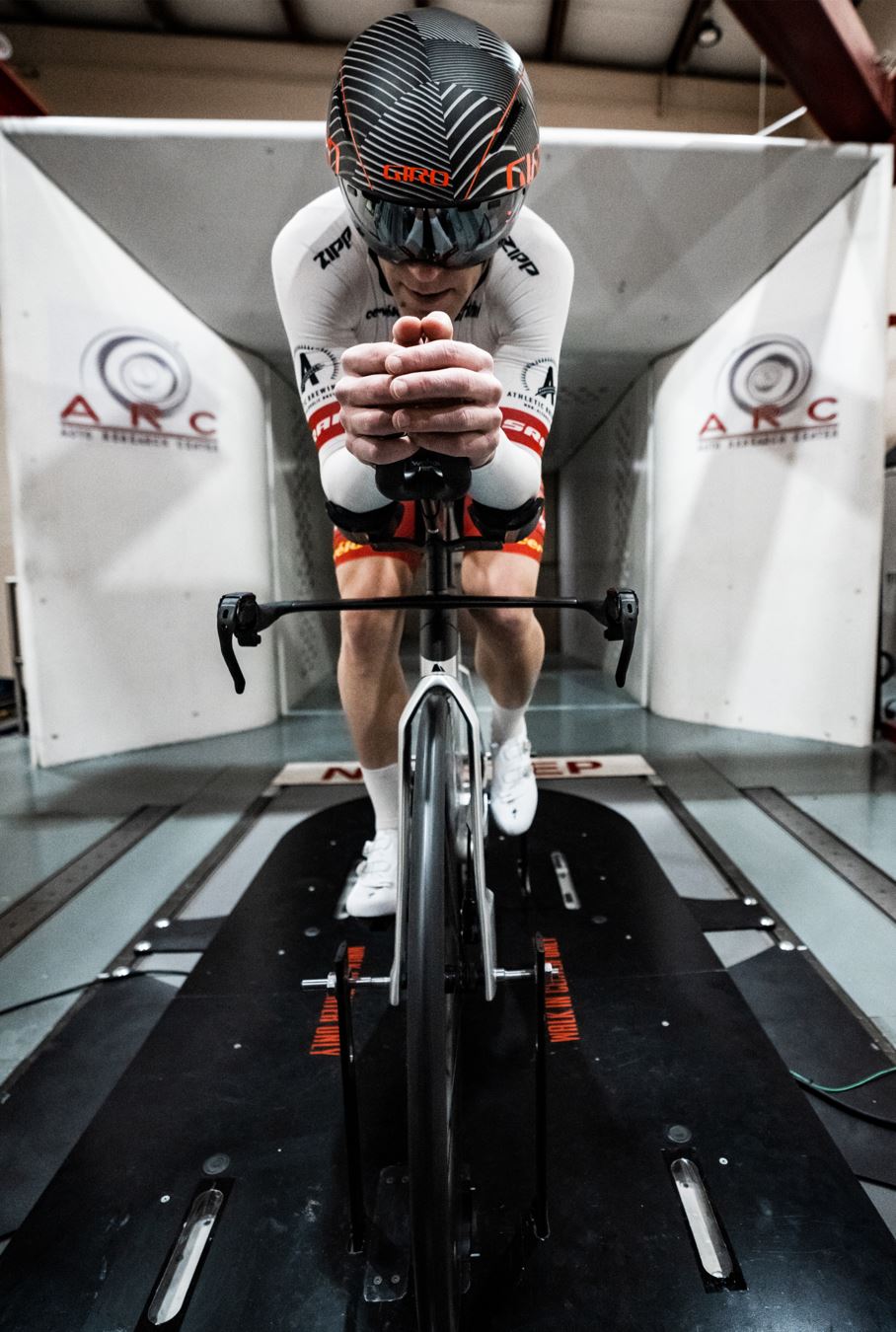 On wearing an aero helmet
I have a curvature in my back, so having a helmet with an extension (tail) helps fill the gap. Some people have a flat back; I do not have that.
Other aero considerations
If the TT is less than 20 minutes, I wouldn't think about drinking. I always have a bottle on the bike. It's always been my understanding that as much space you can take up in that front triangle is the best.
Wind tunnel photos © Jake Rytlewski