Domestique is one of those typical words in the cycling language. It's a helper, a gregario, a knecht, a wasserträger, an aguadeiro. Someone who literally carries water for the team leaders. The leaders are always the ones in the spotlights, but the helpers are essential to their success. That's why cycling is a team sport. One of those vital riders is Carlos Verona of Team Movistar. At the side of the team's Grand Tour leaders Enric Mas, Marc Soler, Alejandro Valverde and this year also Miguel Angel Lopez, Verona will be there when the leaders need him the most.
"As a helper, you add value by always being ready when you need to be. The team leaders can really customize their racing schedules, but I always need to be at least 80 percent of my strength to be ready. One of the greatest examples of that is Imanol Erviti. He knows he can be called up from the season start to the last races. And he is ready when they call him. That adds huge value to a team," Verona explains.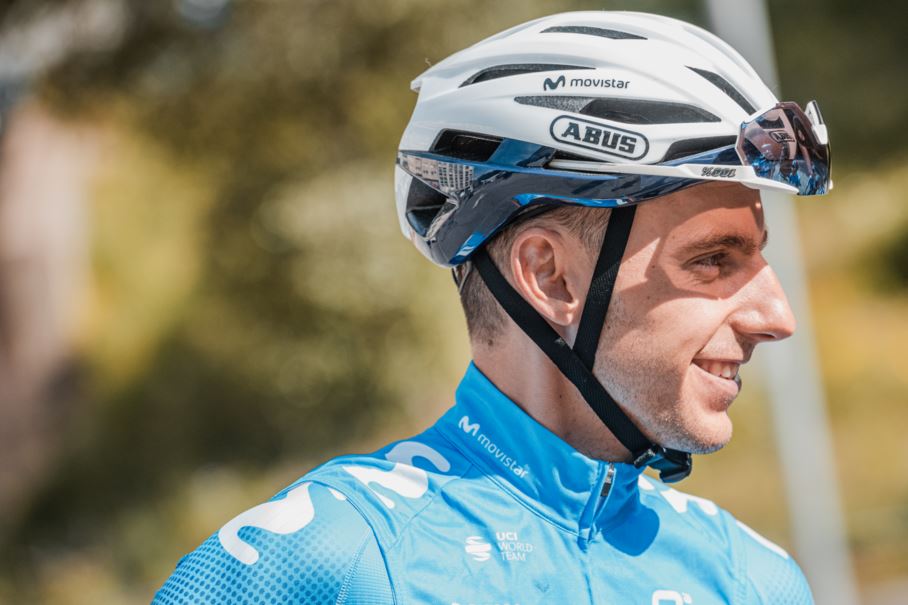 Photo by Fidel Bagan
Carlos Verona started his career 10 years ago with the small team of Burgos at just 18 years old. He earned his place there after ending up at the podium of the Spanish junior road championships twice, a bronze at the road race and a silver medal in the time trial. In 2013 he joined the Belgian team Quickstep and then moved on to Orica-Greenedge in 2016. Verona joined Team Movistar in 2018.
"For a Spanish rider, this is a great team. You can always be yourself. Movistar is a family team but also the staff, the sports directors, and the management are Spanish. That defines the culture of the team. At Quickstep there was the same family atmosphere, but you always are a foreigner. I must say that I love how Movistar is now becoming more and more international. That's a great development for the team, but in the end the non-Spanish adapt like a Spanish rider adapts in a foreign team. It's a team with a Spanish culture first and foremost," he says.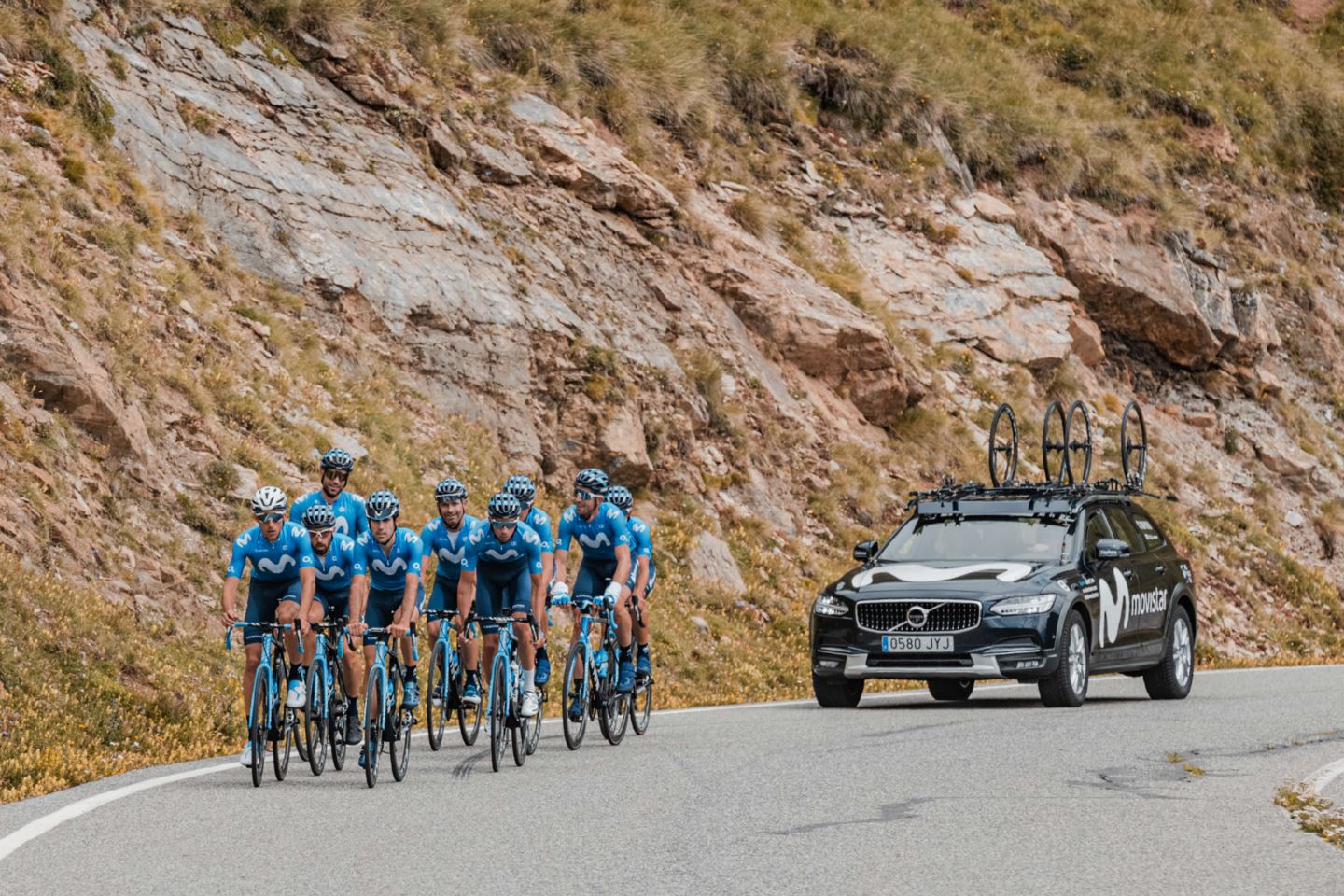 The now 28-year-old rider is an avid user of YouTube and shares his experiences in the pro peloton with an enthusiastic audience. At home in Andorra he also has some fans: his wife Esther, daughters Berta and Nina, and son Leo.
"Leo is always walking around the house wearing my helmet," Verona says with a smile. "They see me leave the house on the bike and are interested in what I do naturally. I would love for them to experience the same love I have for cycling. There are dangers in this sport, but you can never let fear determine your life. I wouldn't want to change my current job, my current lifestyle for anything in the world. If my children would go into cycling, they would learn so many values that will help them the rest of their lives."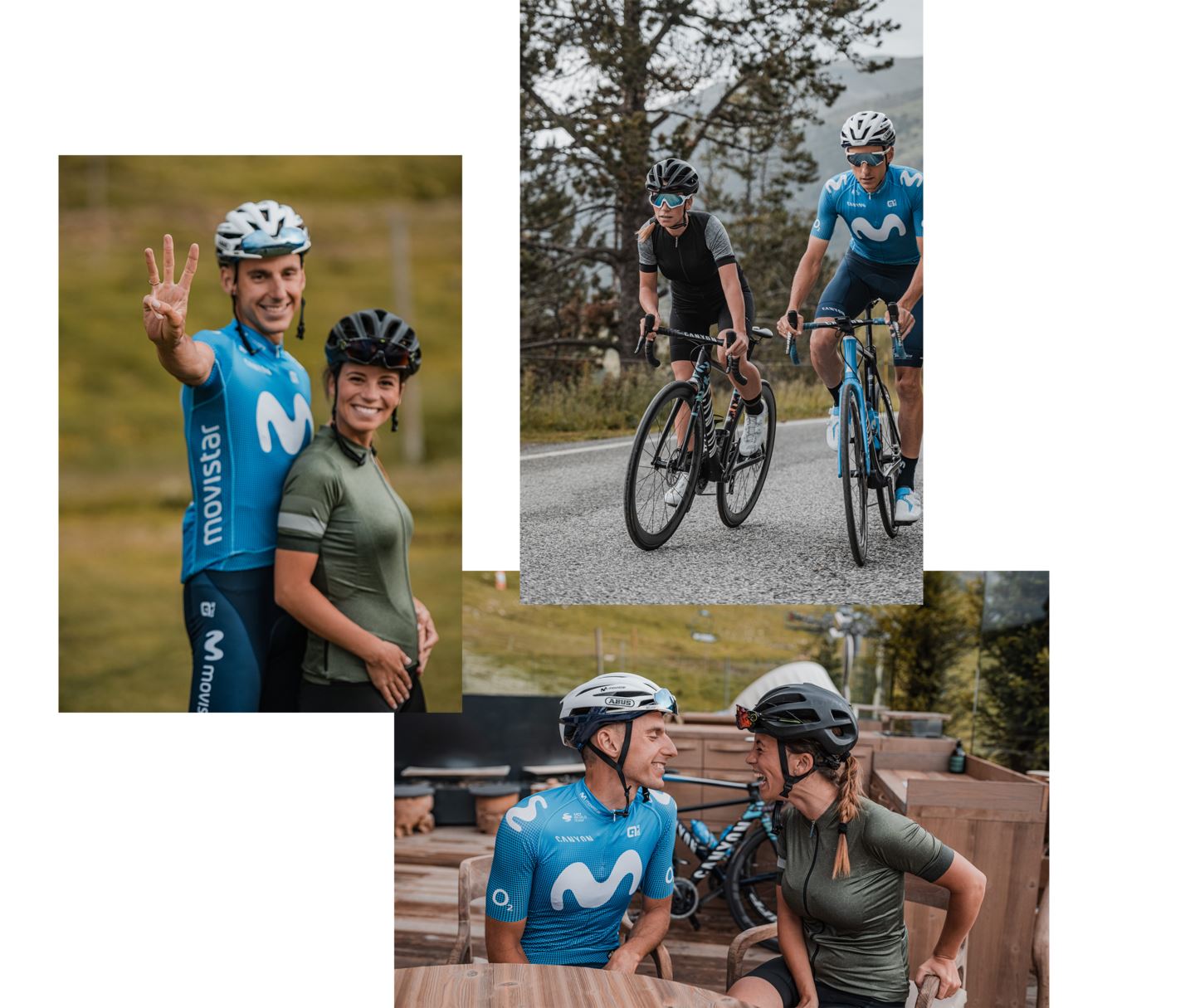 One of the YouTube clips Verona uploaded to his channel is of his wife Esther. With a friend, they build up a Canyon frame in the colors of the Canyon-SRAM women's team and equip it with SRAM and Zipp components. Like a true salesman he explains the benefits of SRAM to his viewers. As a pro rider, he also sees the advantages of the SRAM eTAP AXS.
"I have ridden with SRAM at Quickstep for a year, but that was all mechanical," Verona remembers. "When we started on SRAM eTAP AXS in 2020 it was therefore all new. It has not disappointed me one day. The wireless technology always works great and with the batteries being so easily replaceable, we never have issues. If you have a flat battery you just switch the battery from the front derailer to the back. I always take a spare battery on my rides. We also always keep spares in the team car of course. The 12-speed system is great for almost all terrain. Sometimes it gets so extreme in the Vuelta for example with 20+ gradients on the Angliru and super-fast downhills where you spin out of control, but I normally ride a 10-33 and it gives me zero problems."
In his 10th year as a professional rider, Verona experienced his best season so far in 2020. He finished 19th in the general classification of the Tour de France and was usually one of the last riders with Enric Mas, who finished fifth in Paris to win the team classification.
In the Vuelta a España Verona was also part of the team helping Mas to achieve another fifth place. On the Plaza de Cibeles in Madrid the team won the best team classification for the third time in a row. Verona himself was 30th in the general classification and had yet again proven his tremendous value as a helper in a Grand Tour: the eighth one he started and the eighth one he finished.
"In my development I have always taken small steps, but in 2020 I reached my best level at the Tour de France. Before this year I had reached that level in smaller races but never in the Tour. Last season was important for me because the Tour de France is an important and beautiful race. The countryside in France is amazing and the fans are always enthusiastic. There is always a lot of pressure in the race, but to me it's also the best race."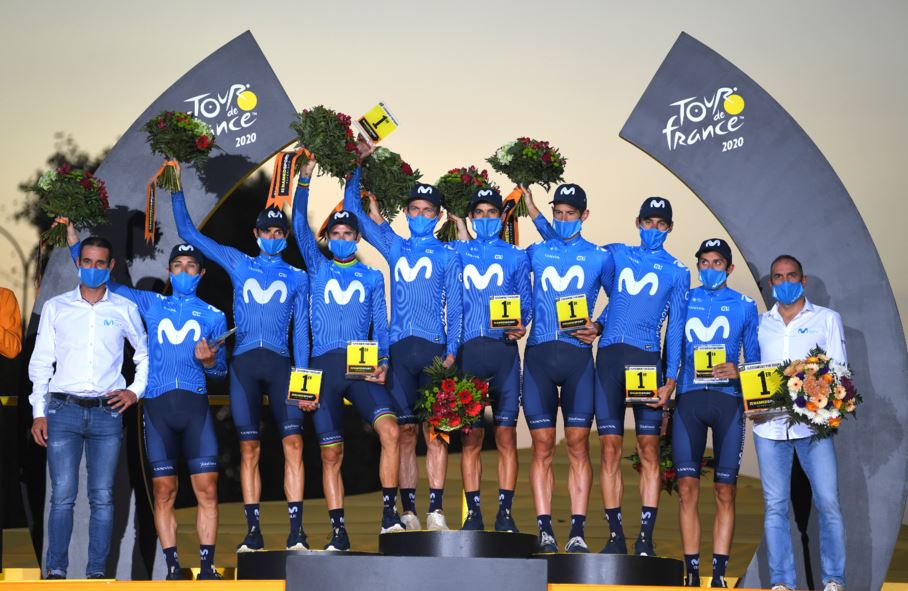 Photo by Getty
Verona is a rider for the Grand Tours and is already on the shortlist for this year's Tour de France. He hopes to one day win a stage. In 2020 he was part of the decisive breakaway in the mountain stage to Loudienville. He eventually finished third that day in the Pyrenees.
"I was close to winning last year. Winning a Tour de France stage would be an absolute dream. I can say I would love to win a Classic like Liège-Bastogne-Liège or become world champion, but I know that's not realistic. A Tour de France stage is realistic. We train in COVID bubbles now and I am in the Tour de France one, which means I am in the pre-selection. I hope to return to France this year."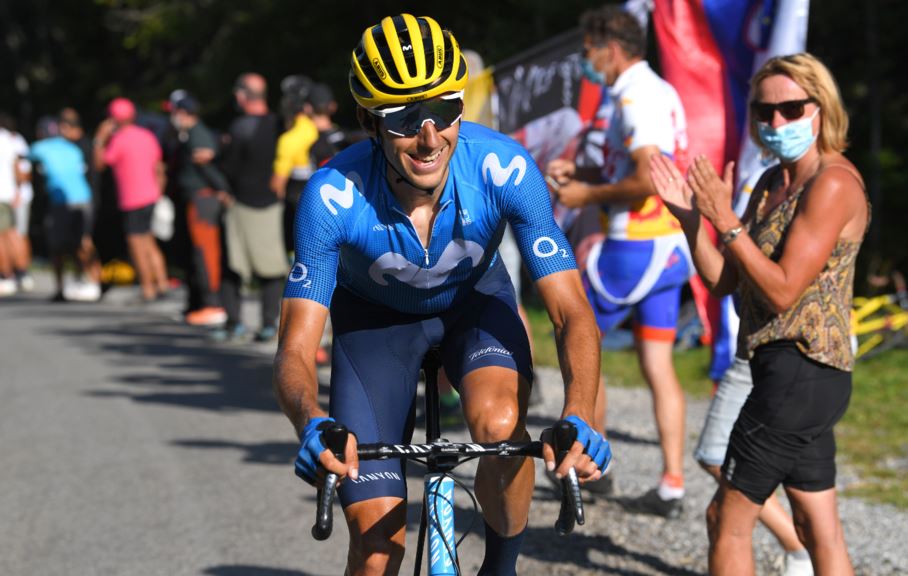 Photo by Getty
His best race memory comes from another Grand Tour though. In 2015, the penultimate stage of the Vuelta a España started from the town that Verona was born in: San Lorenzo de El Escorial, not far from the Spanish capital Madrid.
"We started in front of my school and there were so many friends and family there. I made it into the breakaway that and finished sixth in the stage," Verona remembers fondly.
As a Grand Tour helper, his race program is usually limited to stage races. In 2020 Verona rode a single one-day race in Liège-Bastogne-Liège. Being part of the Grand Tours rules out a program with the northern classics, although more and more Grand Tour specialists turn up on the cobbles in the spring nowadays.
"I want to be of value to my team, and I have value in the races I do now with our Grand Tour leaders. I really look forward to riding with Miguel Angel Lopez [who finished in the top 8 of all the Grand Tours he finished]. He was a rider we needed to be able to have great rosters for all Grand Tours this season. It means that for now I won't be able to discover the northern classics, but maybe one day in the future, just before I retire, I can go there and be part of those historic races as well."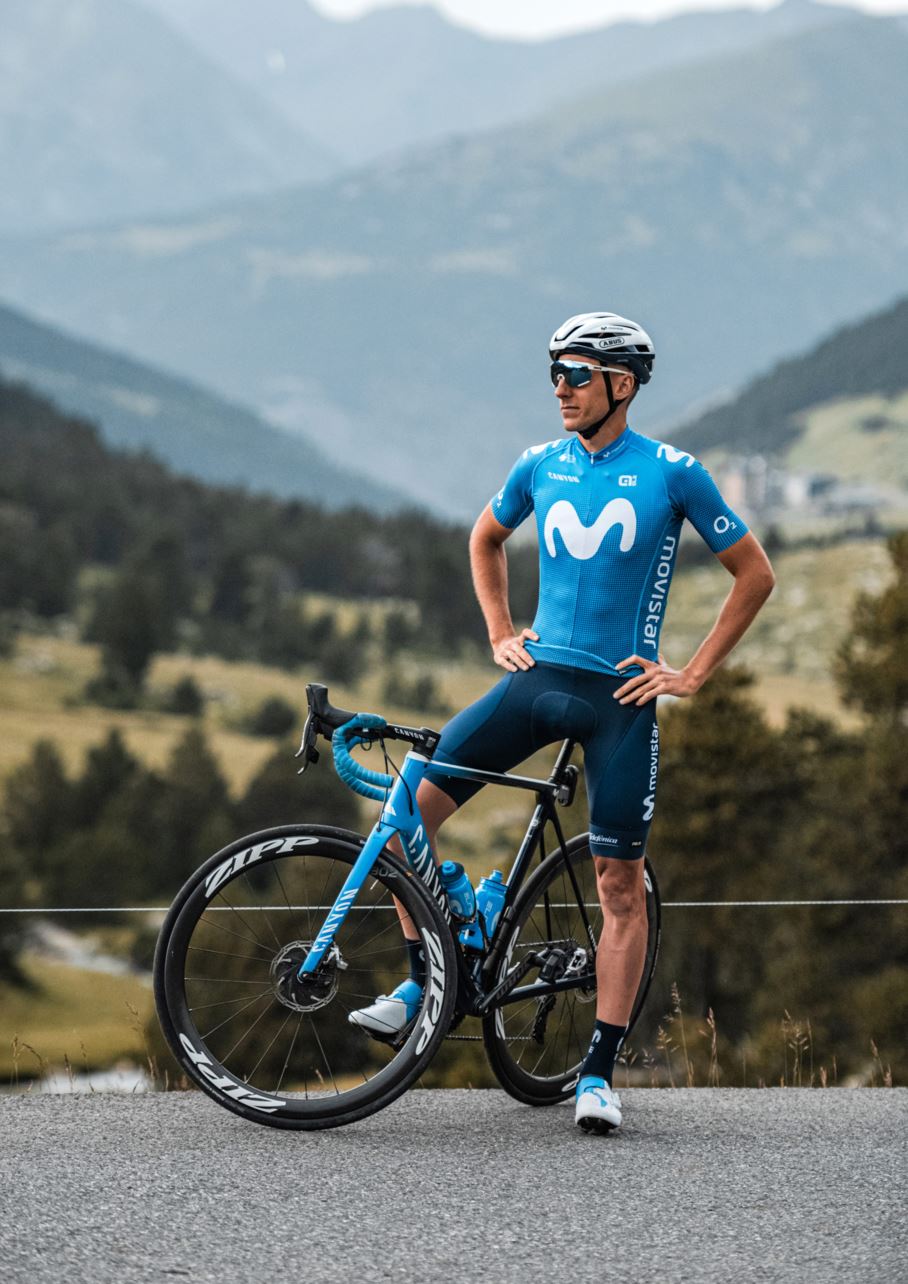 Photo by Fidel Bagan