It's early, real early—I think sometime just before 5am. We're surrounded by jagged peaks and a herd of frothing dairy cows. The farmers and their herding dogs observe suspiciously as we unload our bikes. There's something about leaving this early—it leaves no question that we'll be getting to the goods before sunrise.
I'm the person who is going to be ready last. Every group has one, and it's usually me. This morning's ride is no different as I'm scrambling to get all my shit organized and onto my body. It has overwhelmed me, and I am unable to keep tabs on Kenny and Casey as they get ready.
Once I finally sort out my situation, I hop on my bike and take a survey of everyone else.
Wait, what? Is that a plum? Is that a plum with legs? I know I said it's early, but I've had some coffee and I can't be hallucinating. So, what is that? Kenny is wearing maroon from head to toe. I lose it. Kenny is one of the finest guys you'll ever meet but today he looks like a hillbilly going to court.
We set off and, for the first 300 meters, we all laugh at Kenny choosing his kit in the dark. But the laughter stops when we reach the trailhead and realize that the route we're to follow leads from the valley floor straight to the stratosphere. We're going up—way up. Our guide Ash basically points to the highest cliff we can see and says, "We're going there."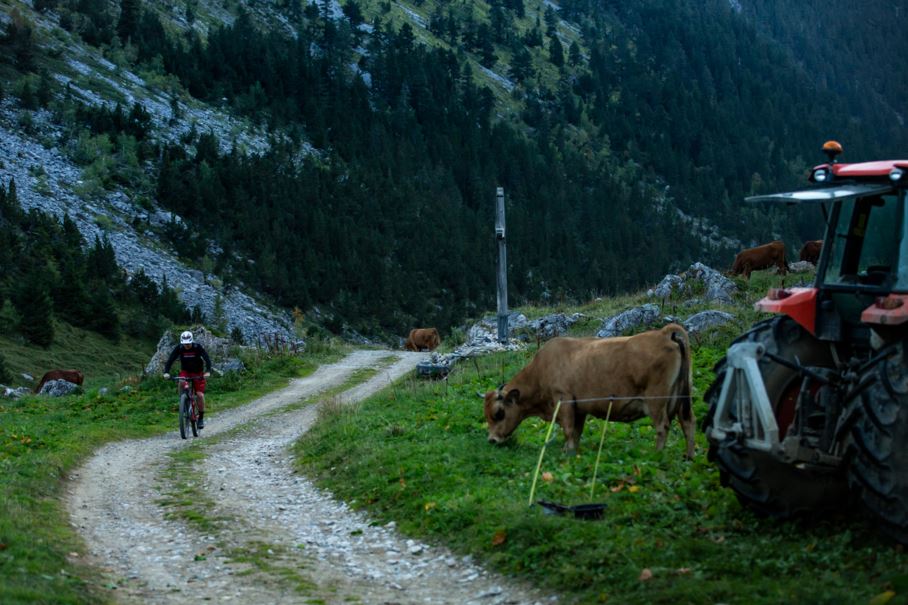 We've been hiking, bike overhead, for nearly two hours, and we can no longer hear the cowbells echoing from the valley below. The pressure is building from balancing my bike in the same spot on my shoulder.
"Which way?" asks Kenny, as we reach a split in the trail. "Oh man, cows seem like the laziest animals, so we should follow their hoof prints." I don't even know if this is a logical decision, but Kenny bites—hook, line, and sinker. We could wait for the guide, but we're far ahead of him and I'm covered in sweat—not a dry thread on me. Kenny looks like a wet dish rag—one that was just used to clean up a spilled bottle of wine.
The cow-trail decision has put us on the steepest path, but we're finally getting closer to the top. It's at the point that Kenny starts to yell something about how "We're really doin' it! We're really doin' it!" He's being ridiculous and I'm finding it funny for no reason. With my bike balanced on my back, I'm having to do some anti-gravity laugh-crouching as I try not to fall backward off the face of earth. Kenny is going on about "REALLY DOING IT" and I can't control my laughter any longer.
I finally collect myself and finish the last few switchbacks. When I catch up to Kenny, he's perched himself at the perfect vista — a sound choice considering he was being so ridiculous just moments earlier. I pull on a windbreaker, whip out a baguette with cheese and we play wow, look at that cool shit—an adult's version of I Spy.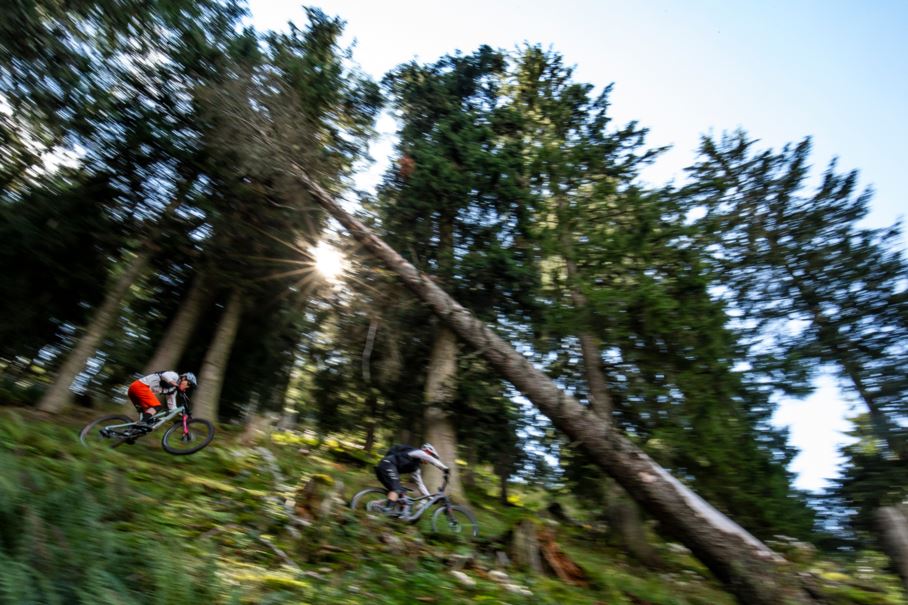 When Casey gets to the top, she tells us about a herding dog that had joined her. She says it made her so happy to take her time and chat with a French doggo. She says the dog stayed with her until just about back there. She points back down a few switchbacks and there it is, watching to make sure our herd all arrive at the summit. Getting to the top was a 1,000-meter slog, and we've still got time before the sun makes its appearance. We sit and enjoy the view. We are above everything. We're able to watch from above as planes land at the high-alpine airport in Courchevel.
For the next five hours we make our way along the ridge. The trail we're following will lead us to Planay, the village down the opposite valley. There are definitely some tense moments with the jagged trailside rocks that looked like pillars of coral reef and the deep sinkholes to the center of the earth. We are all adapting to the nuances of French riding culture, picking our way through the tight switchbacks, taking turns at taking turns, French lessons for us three.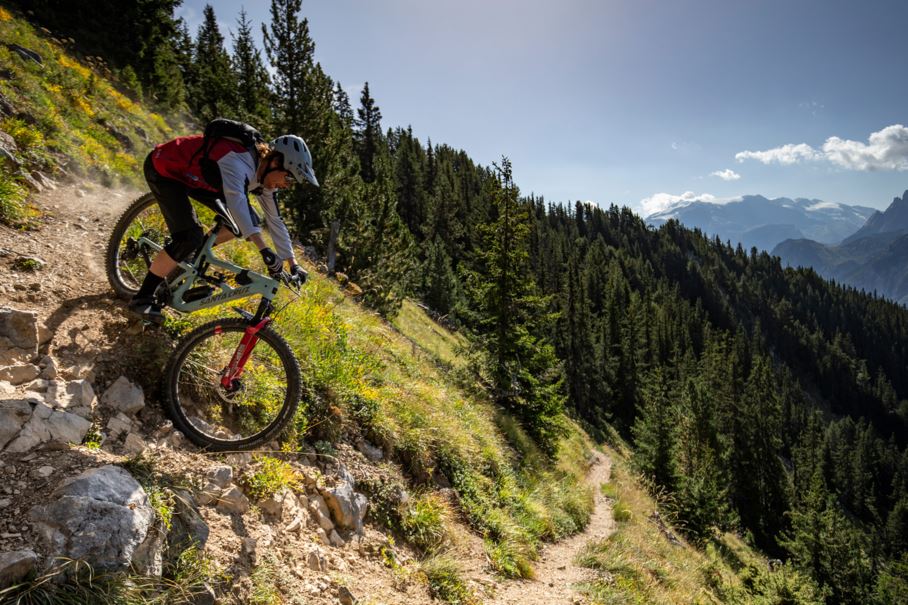 We pause and watch. Each switchback is performed to an orchestra of shit-talk and heckles. The balance. The front brake feathering. The lift. The stoppie. The pivot and then the fun of a challenge completed or the slow-speed terror of going over the bars down a steep hillside. This is fun—I mean, this is great. We're learning to navigate these switchbacks from scratch. At this moment, here in the Alps, the ride has definitely becomes the switchback challenge and we all are having our moments of glory.
This is a glimpse into a morning mission up to the Col de Mey—a high alpine ridge that has a narrow window without snow. It was mid September and we were granted a sunny day and low winds. When we made our way down the ridge to Pralognan-la-Vanoise we enjoyed a lunch at a local cafe called Le Pré du Coin. We ate in the shadow of the Col de Mey, where it was fun to point up to where had been. We really did it.