Zipp was founded in Indianapolis for a reason—the city's deep history and expertise in the pursuit of speed. For decades, we've drawn on the secretive and relentless drive for innovation that's a hallmark of motorsports. "The processes used here aren't the easiest; they just produce the best wheels," says Simon Marshall, a Zipp engineer who came here after designing two winning Indy 500 cars.
This May, with the running of the famed Indianapolis 500, these deep ties are worth exploring to understand the Zipp way of designing, building, testing, and riding wheels.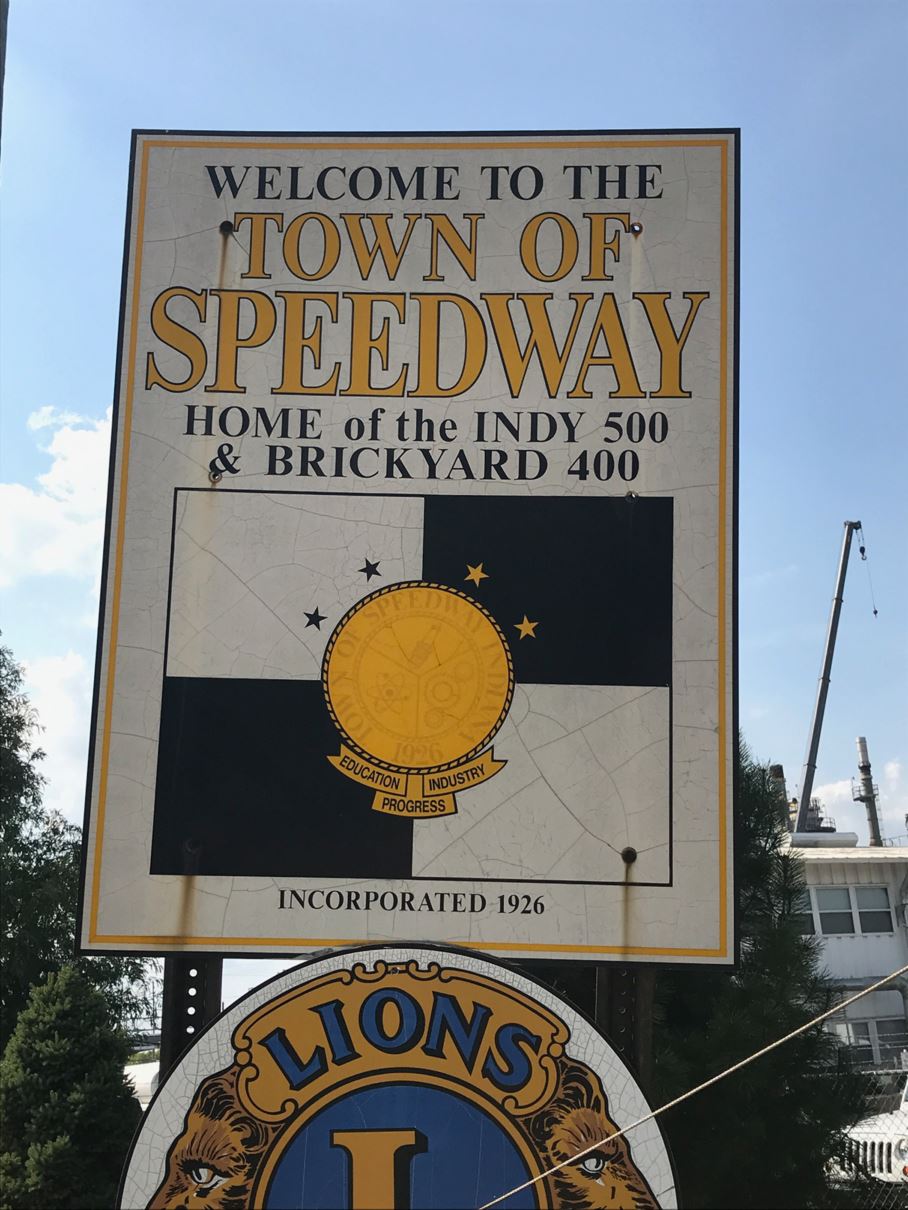 The place where Zipp grew up...
Built on the Pursuit of Speed
Romain Grosjean, a veteran of 180 Formula One starts, recently made the switch to Indy Car. Like many drivers, Grosjean is something of a cycling fanatic. He's ridden Zipp wheels for years, so on a trip to Indianapolis he made sure to drop by the Zipp facility to tour the factory and participate in the lunch ride. Some Zipp engineers described the pace of the ride as "chippy," so it must have been a great stress reliever for Grosjean. In the days after, he qualified for pole position and then finished second in the Indy Car GMR Grand Prix at the Indianapolis Motor Speedway.
Grosjean of France is part of a continuation of a more than century long kinship between motorsports and bicycles. The linkage between the two is a pursuit of speed through technological innovation.
This deep tie between innovation in motorsports and in bicycles has been part of Zipp since its founding 30 years ago. The front of Zipp's building even features a checkered-flag inspired design. Make no mistake, Zipp grew up in Indianapolis because the city is a hotbed for racing technology, specifically carbon composite expertise. For many years, Zipp was headquartered in Speedway, home of the Indianapolis Motor Speedway. Even now, at Zipp's current location a few miles away, you can hear the buzz of Indy cars in May.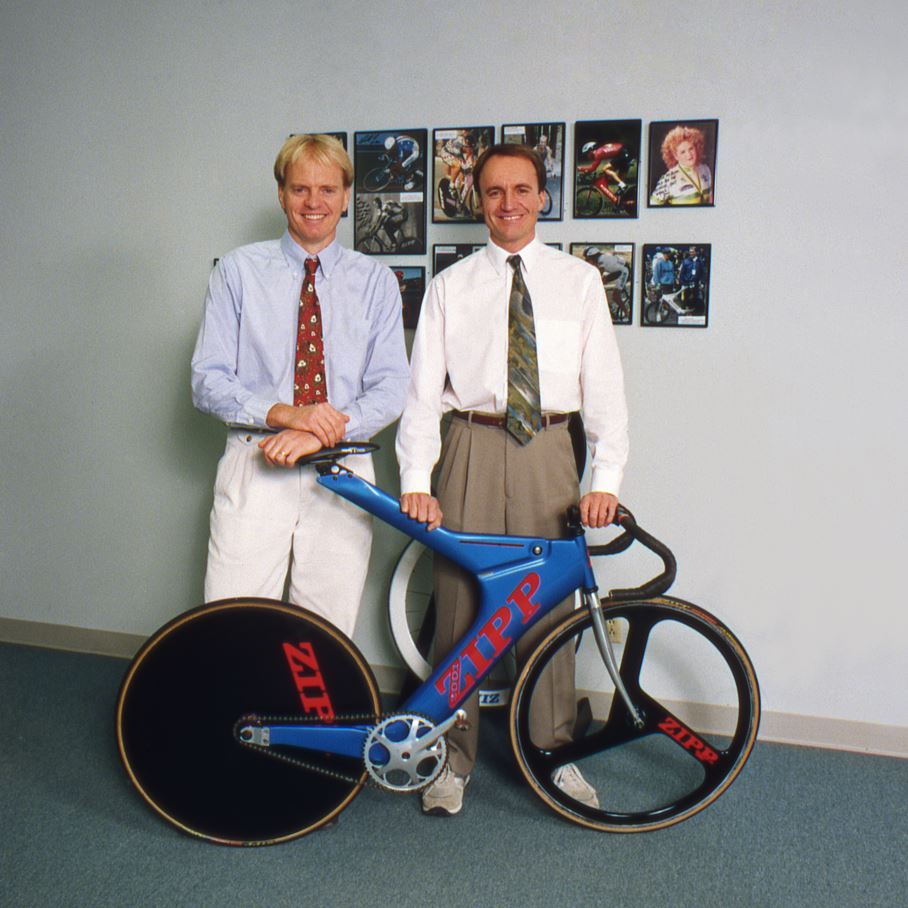 Zipp founder Leigh Sargent (right) with Andy Ording, who joined Zipp in its early days as a vice president and later became its longtime owner before selling the company to SRAM in 2007.
Motorsports engineer Leigh Sargent founded Zipp, registering it as a trademark in 1988. Sargent specialized in the repair, modification, manufacturing, and aerodynamic design of Indy 500 cars. Early on Zipp tapped into a motorsports mindset in developing products, helping to pioneer the use of the wind tunnel in the bicycle industry. Today, Zipp employs multiple motorsports veterans, including top engineers.
Zipp also partners with motorsports ambassadors worldwide. In addition to Grosjean, AMA Supercross' Justin Barcia, IndyCar's Tony Kanaan, Scott Dixon, Felix Rosenqvist, and Conner Daly, and MotoGP's Cal Crutchlow ride Zipp wheels. The motorsports mentality of secretive innovation, pit-crew like teamwork, pushing limits, and a simple love of speed remain a vital part of Zipp's own internal culture in Indianapolis.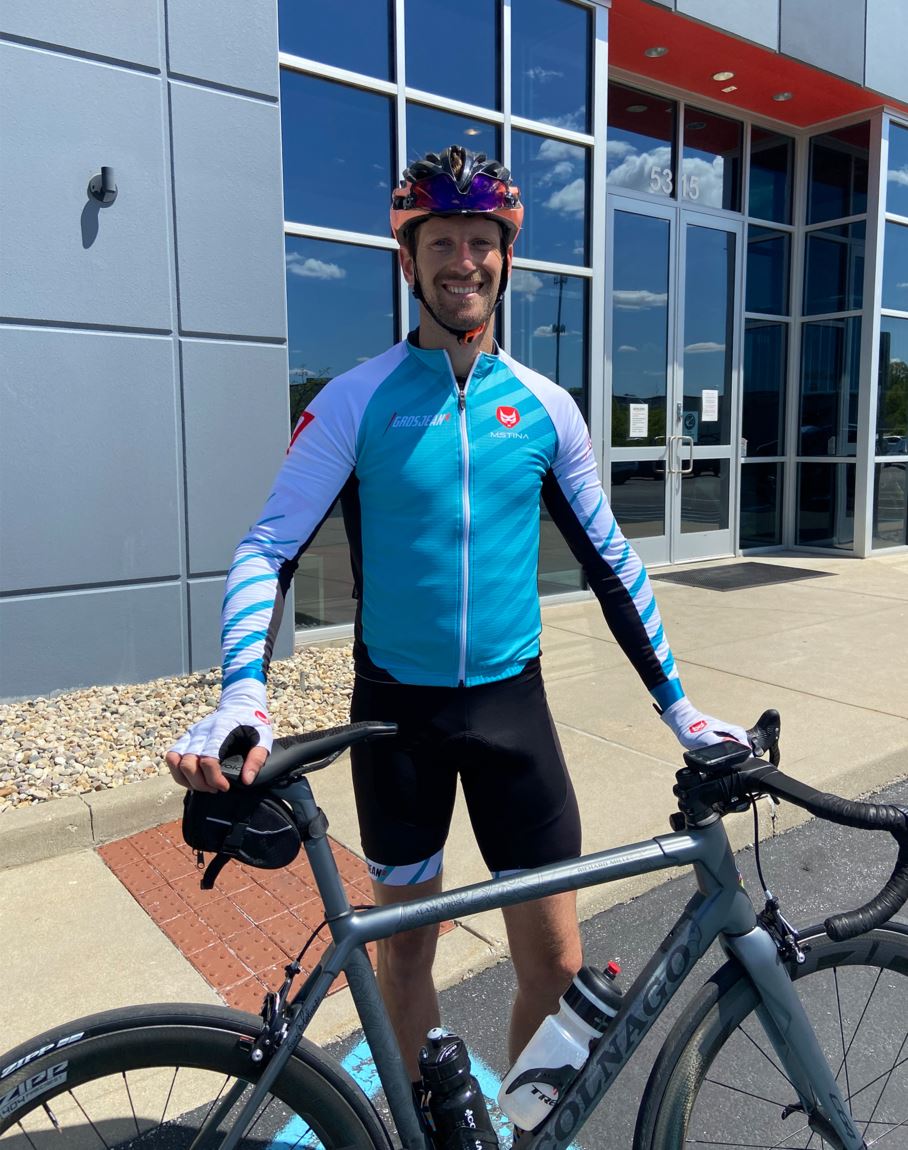 Current IndyCar and longtime Formula One drive Romain Grosjean stopped by Zipp for a lunch ride while in Indy to race.
Learning Aerodynamics from Motorsports
"BRAAAAAAAAAP, BRAAAAAAAAAAAAAAAAAP, BRAAAP!"
The sight and sound of a full-throttle motocross bike gives Michael Hall a nostalgic flashback.
Hall, Zipp's longtime head of advanced development, remembers when he was an engineering student trying to break into motorsports. He was interviewing for an unpaid position with a Trans-Am racing team. They were sitting in the team's warehouse in Columbia, Mo.
"I am sitting there talking with him and he's saying, 'yeah, we'll probably have something for you. We can't really pay you anything, but if you want to help out and learn, that's cool.' I was like a sophomore in college, so it didn't really matter," Hall said. "All of a sudden I hear this motorcycle. It was winding up…. You could hear it coming closer to the door. Then it goes by the door at probably 50mph."
I'm like, 'I'm going to like this place. This is crazy.
Carl Edwards, who'd go on to be a NASCAR star, was the guy on the motorcycle that day. "He grew up in Columbia. He was like 18 years old. He was also just hanging out at the race shop trying to figure out how to get into racing," Hall said. "My first couple of weeks, I slept on his parents' couch."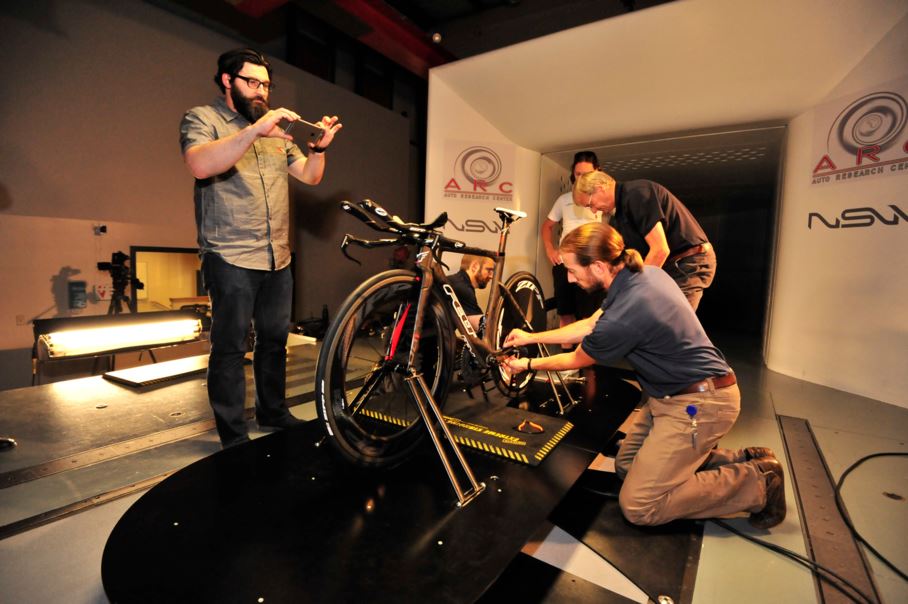 Zipp Advanced Development Director Michael Hall (standing with camera) loves to tinker, whether it's in the garage or in the wind tunnel.
Hall grew up as a car guy in Arkansas. His dad restored both a 1940 Ford sedan and coupe. As a teenager, Hall spent two years with his dad rebuilding a '67 Camaro, taking it down to the bare metal and repainting it. "I've had it for 20-plus years," Hall said. "I really got to understand all of the ins and outs of working with my hands."
Heading off to college, Hall envisioned a career with one of the Big Three automakers. He was active in a campus chapter of SAE International, a professional association of engineers. From his youth in the family garage, he loved getting his hands dirty building something from start to finish. From the classroom, he loved the brain-game of innovation.
Yet as he learned more about automotive design, Hall rethought his career goal. Auto design and production was such a massive endeavor that Hall decided he would likely end up working on a single part of the car and have no input on the bigger picture of bringing together the entire automobile. So, he fixated on motorsports. Small tech teams, working on tight budgets and deadlines, looked over the entire car. He worked in the racing hotbeds of Charlotte, N.C., and Indianapolis on Sports car teams and Indy car teams. As part of GM's aero program, he spent many hours in the wind tunnel.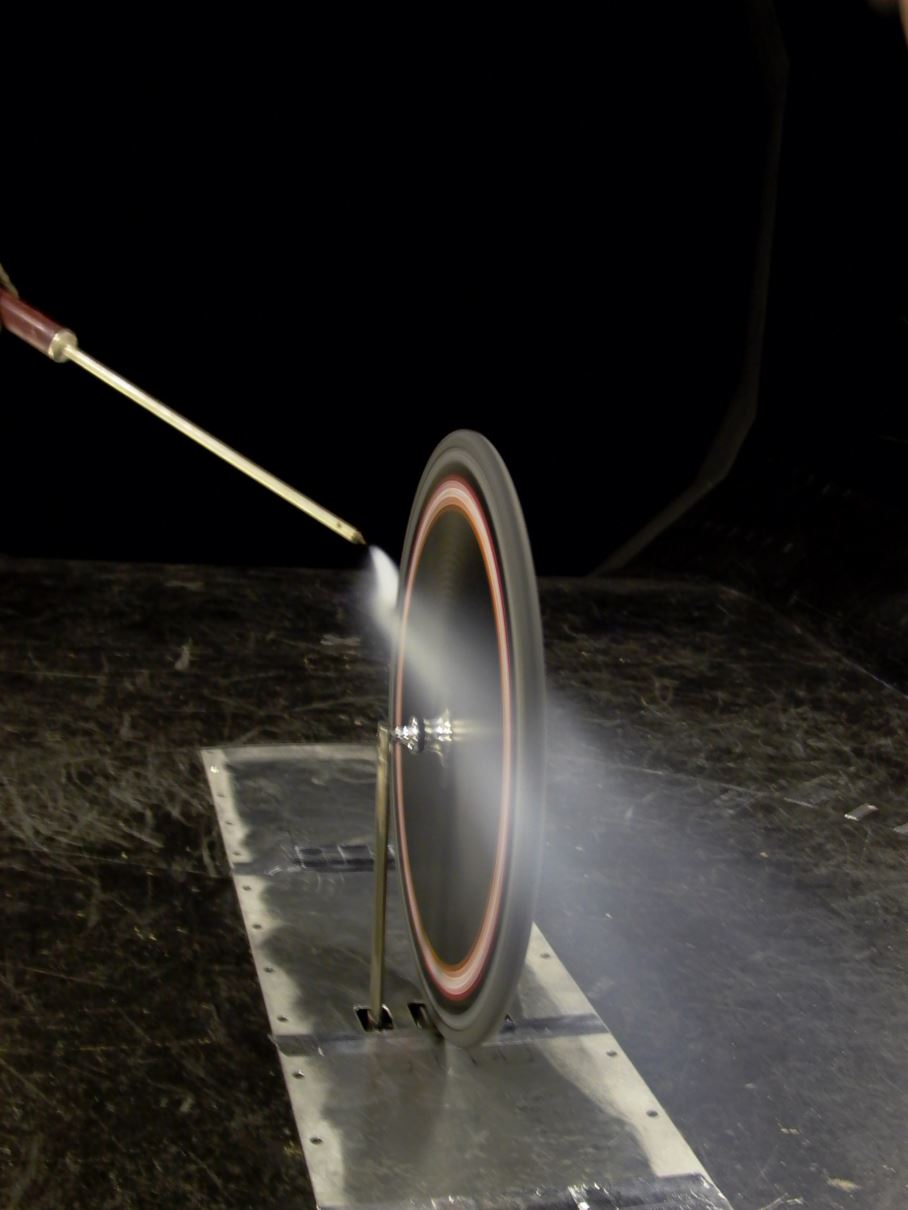 An early trip to the wind tunnel
"The guy I was working with in the GM aero program was really a great mentor. He taught me to think outside the box and not be afraid to try things and really explore my creativity," said Hall, who now focus on innovation and continuous improvement across SRAM. "A lot of aero development, sometimes you can't necessarily explain the result. So it's about perseverance and testing and a lot of times it's trial and error. You learn something, it builds a little bit of knowledge, and you continue to evolve."
Downforce and Side Force
Working within the tight car specifications of Indy car, Hall looked for any aero advantage. For a time, mirrors were outside of the required car specs. So, Hall and his team started making the racing car's mirrors into aero wings.
"We were able to create considerably more downforce on the car by treating the mirror as a wing," Hall said. "That was kind of a highlight. What we did really spawned development across the whole grid and made them actually change the rules. Now there's a certain dimension the mirrors can't exceed."
Hall was determined to find new challenges, a search that eventually led him to apply for an engineering position with Zipp in 2005. He immediately saw motorsports' influence on the company. "I was really intrigued by what they were able to do in the factory. Zipp had developed a manufacturing process from scratch, built their own machines, really tailor-made for the production of carbon wheels," he said. "Zipp grew up in the same city with all these other really creative, industrious people."
In joining Zipp, Hall evolved from a car guy to a bike guy. Designing bicycle wheels, he looks to lessons learned from the motorsports. Thinking back to how he had to account for "dirty air" in auto racing, he started considering the effect of the turbulence caused by pedaling and crosswinds. This prompted him to study the back half of the wheel, or as Zipp refers to it, "the second leading edge." That focus resulted in Firecrest rim technology, first introduced in 2010.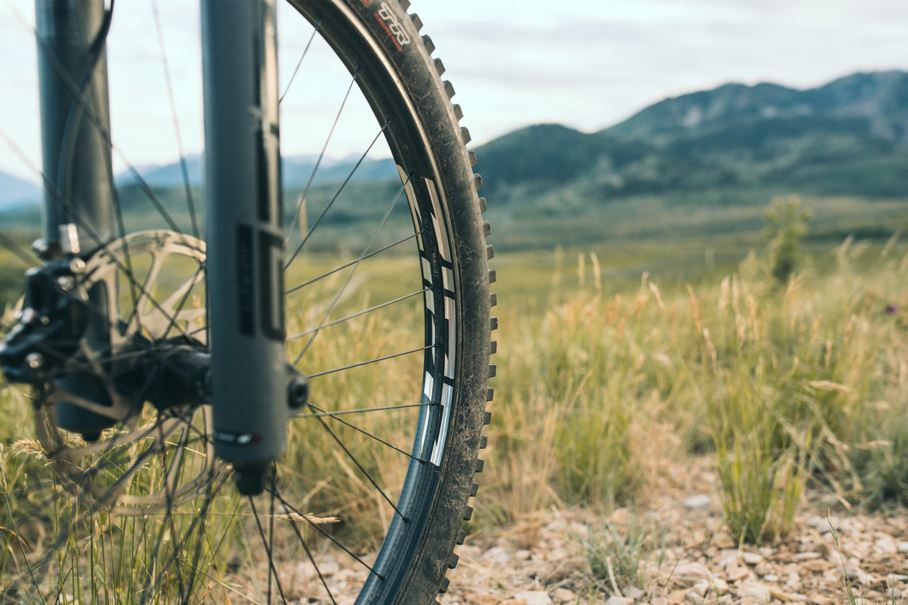 Zipp looked to motocross in developing the single-wall design of its 3 ZERO MOTO enduro/trail wheelset.
Years later, the undulating shapes Hall had seen on wings used in motorsports spurred him to study biomimicry, specifically the tubercles on humpback whale fins. This led to the 454 and 858 NSW with their Sawtooth rim shapes.
"If you think of most of the aerodynamic surfaces on a car, you are really talking about drag and lift… drag and downforce. But on a bicycle, that aerodynamic surface is mainly turned vertical. So now your two big forces are drag and side force. Really, you're basically looking at the two components in very similar ways," Hall said. "On a race car, you're trying to optimize downforce while not adding too much drag. On the bike, you're basically doing the same thing. You're really trying to reduce the side force and the disturbance on the rider while at the same time not increasing drag too much."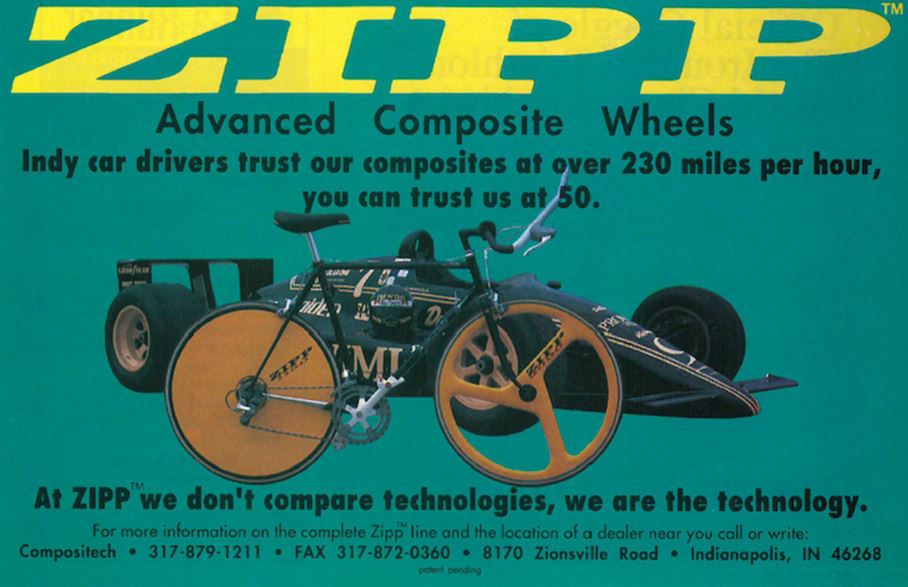 A Zipp magazine ad circa 1990 makes a clear linkage between Zipp innovation and motorsports, something that exists to this day.
Learning Carbon Fiber Expertise from Motorsports
In modern auto racing and modern bicycle racing, carbon fiber is the material of choice.
The challenge is carbon fiber is expensive and can be difficult to work with. In auto racing, engineers design a very small number of highly specialized products. In bicycle wheels, prototypes are just the beginning. Of course, the end goal is to design a wheel that's cutting edge, but can be manufactured efficiently in the many thousands.
"If you're set up with the right equipment, you can make absolutely anything with carbon fiber. It's all down to the labor and the infrastructure," Zipp process engineer Simon Marshall said. That combination of labor (highly trained manufacturing workers) and infrastructure (custom machines and processes) make Zipp's Indianapolis factory a highly secretive place.
Marshall, a native of London, spent years working in motorsports. He worked as a chief car designer of Gil de Ferran's Indianapolis victory in 2003 and Buddy Rice's in 2004. He was also part of the highly innovative DeltaWing concept considered for Indy car. When he interviewed for his engineering job at Zipp, he noted just how tightly Zipp guarded its manufacturing methods. Once Marshall was on the inside of Zipp, he saw how processes had been established over many years and adapted to new products. He was used to motorsports, where a small group would create a chassis. At Zipp, because it's a factory producing thousands of wheels instead of a few specialized cars, the process had to be broken down into manageable chunks.
"The processes used here aren't the easiest, they just produce the best wheels," Marshall said.
Daredevils and Tycoons
In the early days of Zipp, carbon bicycle discs and wheels as well as auto racing parts were manufactured in the same building, with founder Leigh Sargent's Applied Composites doing the car work and Compositech operating as Zipp.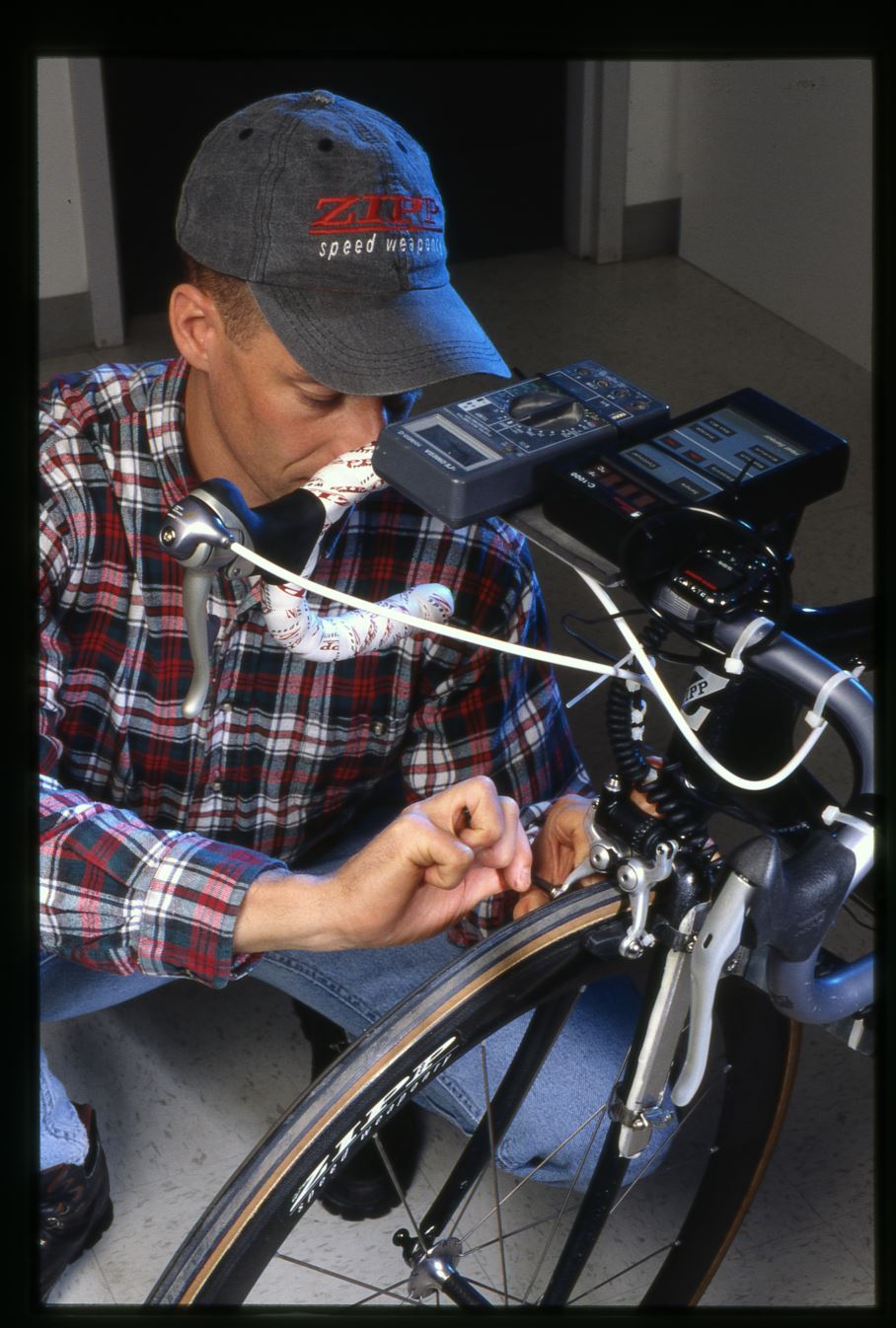 Todd Winget, who joined Zipp in 1992, (left) sets up a brake testing device years ago.
"You'd walk into Zipp's production area, we had our spots and out on the shop floor you had people working on underwings, wings, and body work. Chassis would be rolling in," said Todd Winget, who joined Zipp in 1992. "You had folks walking around doing repairs on auto racing parts next to a mold for a three-spoke wheel." In his first year at Zipp, Winget even hand delivered to star driver Emerson Fittipaldi a Zipp 2001 bike custom painted to match his Indy car.
Zipp's culture formed around the hypercompetitive get-it-done now ethos of motorsports, Winget said. "You race your car one day, maybe it's OK, maybe it's damaged. You have to get it fixed in order to load it on the transporter, which is probably leaving the next morning to go to the next race venue," he said. "There's a high level of ingenuity of using tools and materials because you can't wait for the store to open in the morning, you have to figure out how to do it with what you've got now."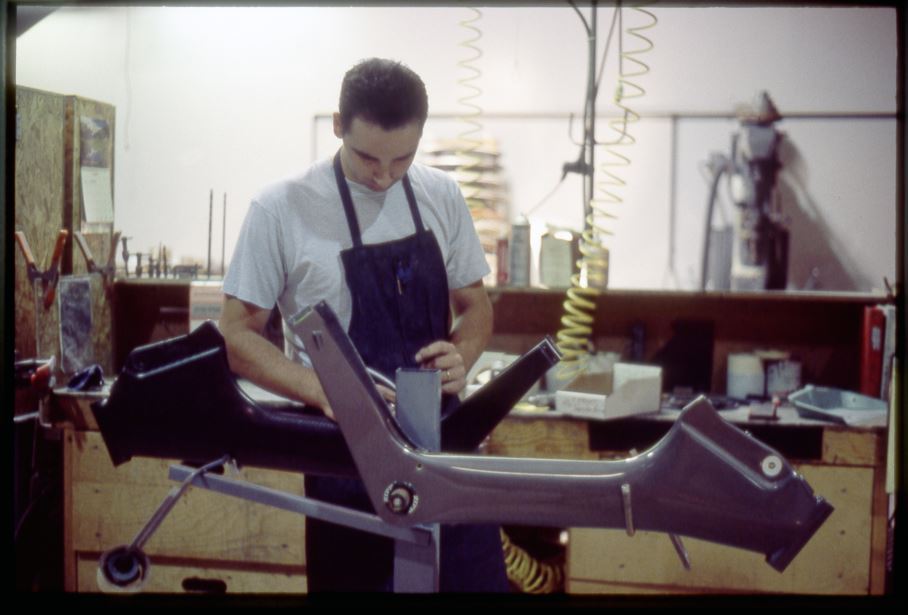 In the early days, Zipp manufacturing was built around lessons learned from working with carbon for motorsports.
From Paris-Roubaix to Indy 500
The Indianapolis Motor Speedway was founded in 1909. Its founders were deeply involved in the bicycle craze of the late 1800s. Speedway founders Arthur Newby, James Allison, and Carl Fisher were members of the Zig-Zag Cycling Club of Indianapolis, according to the Indianapolis Star. The Newby Oval in Indianapolis was one of the nation's fastest cycling tracks, drawing racers including a teenage Marshall "Major" Taylor, a pioneering African-American athlete from Indianapolis who'd go on to become a world champion.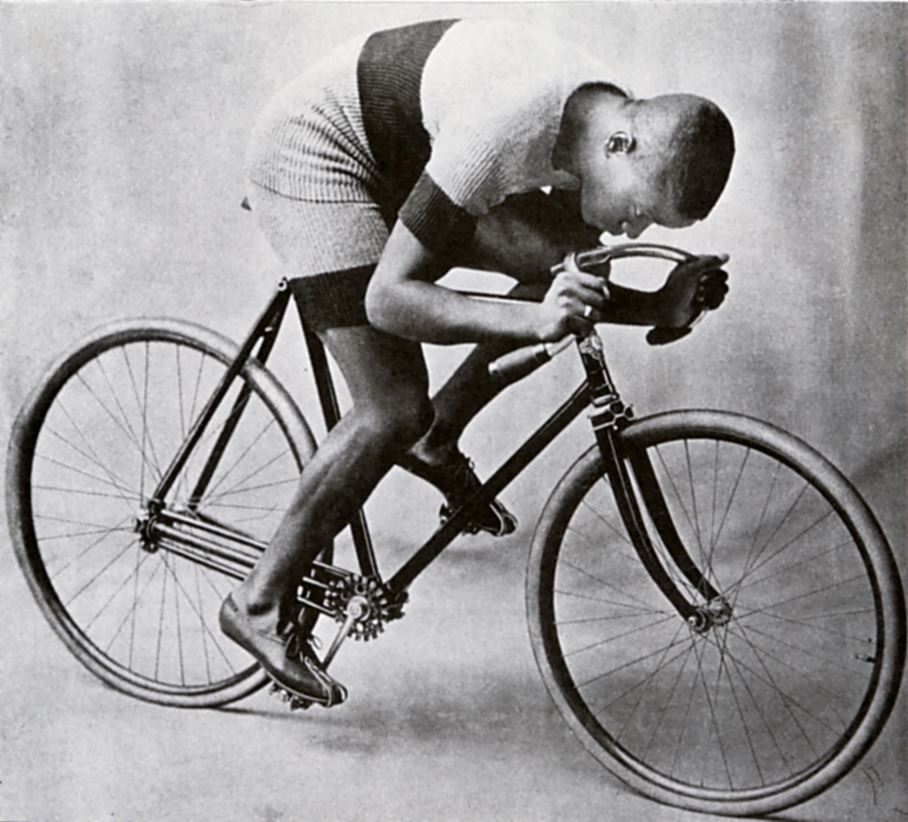 Indianapolis native Marshall "Major" Taylor, who'd become a world champion in 1899, as a young racer was part of the Indianapolis bicycle craze. In the search for speed more than a century ago, that bicycle craze gave way to the motorsports craze. Photo courtesy of the U.S. Bicycling Hall of Fame.
While Indianapolis was a hotbed for cycling and auto racing a century ago, it was hardly alone. In the United States and Europe, daredevils and entrepreneurs pushed human limits, technically and physically, in search of fame and fortune.
In 1899, young Frenchman Albert Champion won Paris-Roubaix. It was just the fourth edition of what is now known as the "Queen of the Classics." As a bicycle racer, he'd go on to set more than 100 world records, according to "The Fast Times of Albert Champion" by Peter Joffre Nye, a noted cycling historian. He'd then become the first to ride a motorcycle 1 mile in under a minute. Champion, according to Nye, would use his prize money to become a tycoon in the burgeoning American auto industry, founding AC Delco and Champion Spark Plugs.
Champion played a historic role in the Indy 500 as well.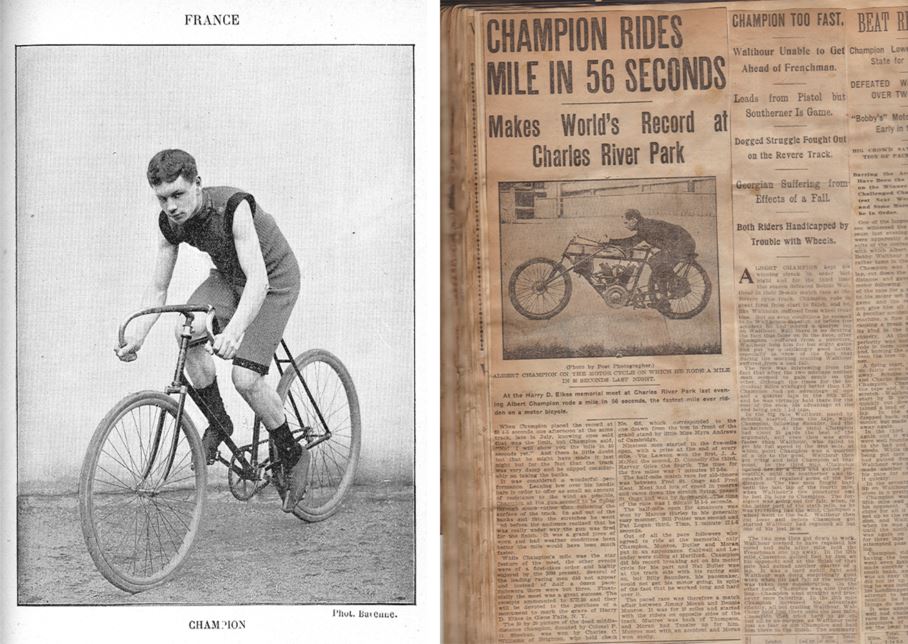 Albert Champion won the 1899 Paris-Roubaix as a cyclist and later broke barriers in motorsports and in the auto industry. Photos from the book "The Fast Times of Albert Champion" by Peter Nye.
"Albert Champion was a critical ally, financier and pal of the Duesenberg brothers, Fred and Augie, and purchased lots of their cars for drivers in Indy, including the 1925 Indy 500 when Peter DePaolo was the first win at an average of 100 mph," Nye said. "DePaolo was so happy about his victory that he served a stint as Champion's chauffeur—relegating Champion's own full-time chauffer to the passenger seat to teach him tricks of the trade on the commute between Champion's mansion and his factory in Flint."
Almost a century later, there'd be another interesting historic connection between Paris-Roubaix and Indianapolis. In 2010, Swiss star Fabian Cancellara won Paris-Roubaix aboard Zipp 303s, the first time the most famous cobblestone classic was won aboard a carbon wheel.
'If the race car drivers do it, it must be cool'
Zipp engineer Simon Marshall—back when he was working in motorsports, before he was into cycling—noticed a common thread among numerous drivers. They were bike nuts.
"They'd whip up the engineering staff into getting cool bikes and riding around the racetracks as well," he remembered. "If the race car drivers do it, it must be cool."
For motorsports athletes, the bicycle offers an effective training tool and a seemingly contradictory blend of high tech and simplicity. They geek out on deep-section wheels and electronic shifting, and they love the tranquility of riding alone or with friends down a country road, no pitstops or race radios.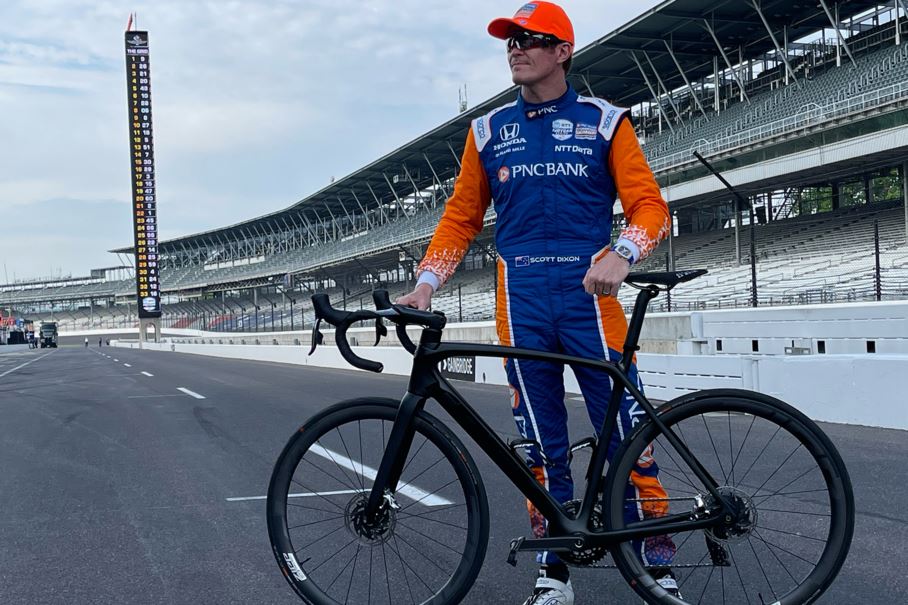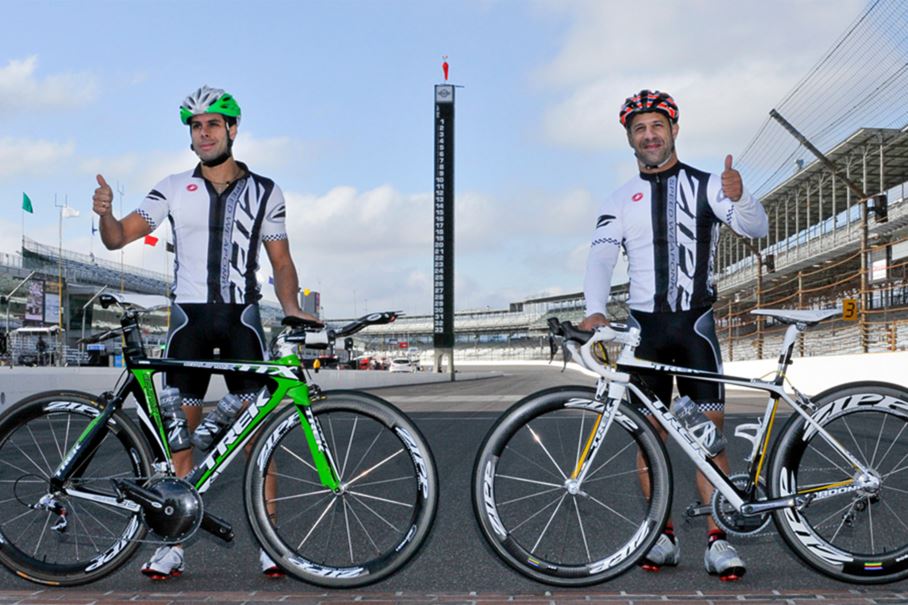 Cycling passion over the years: In 2021, pole sitter Scott Dixon (top image) took time to pose with his bike at the track. Below, in 2010, IndyCar drivers Vítor Meira, left, and Tony Kanaan, with their bikes at the Indianapolis Motor Speedway. Kanaan is a longtime Zipp ambassador.
Michael Hall discovered a similar thrill when he left motorsports for Zipp's engineering staff. The bike offered everything.
"When I went to motorsports I could design anything on the car, but I couldn't experience the car," Hall said. "When I got into bicycles, I could design the components, I could build the components, and I could test the components and get first-hand feedback. That's kind of the holy grail of being a design engineer.
"I can design and build and experience this high performance product that's attainable for the public."
Influenced by motorsports, Zipp is still made in Indy