Team's expanded junior program creates new opportunities for female cyclists.
Nicola Cranmer, Founder and General Manager of Twenty24 Pro Cycling, looks at her job in four-year blocks. She formed the team in 2005 to help prepare women cyclists for the Olympics and other global competitions. Each quadrennial, the team's name changes, and the process reboots. Athletes of TWENTY12, and TWENTY16 and TWENTY24 scored 14 Olympic/Paralympic medalists, 17 world champions, and countless national champions hailing from the USA, Canada, Cuba, and Mexico. A further five team alumni have represented Team USA in the past three Olympic Games.
For TWENTY24 post Tokyo with Jennifer Valente scoring a bronze and USA's only gold cycling medal, Nicola expands her vision for development with junior race and club teams with an increased emphasis on gravel racing and a global ambassador club will launch in 2022.
TWENTY24's teenagers shined at this USA Junior National Championships. With seven athletes racing on the road and track across three age group categories (11-12, 15-16, and 17-18), TWENTY24 came away with 4 National Championships Titles, 10 Silver medals, 3 Bronze medals, plus two top-5 finishes.
Nicola below tells us about her plans for providing more opportunities for young female cyclists. Then, we hear from the TWENTY24 teenagers: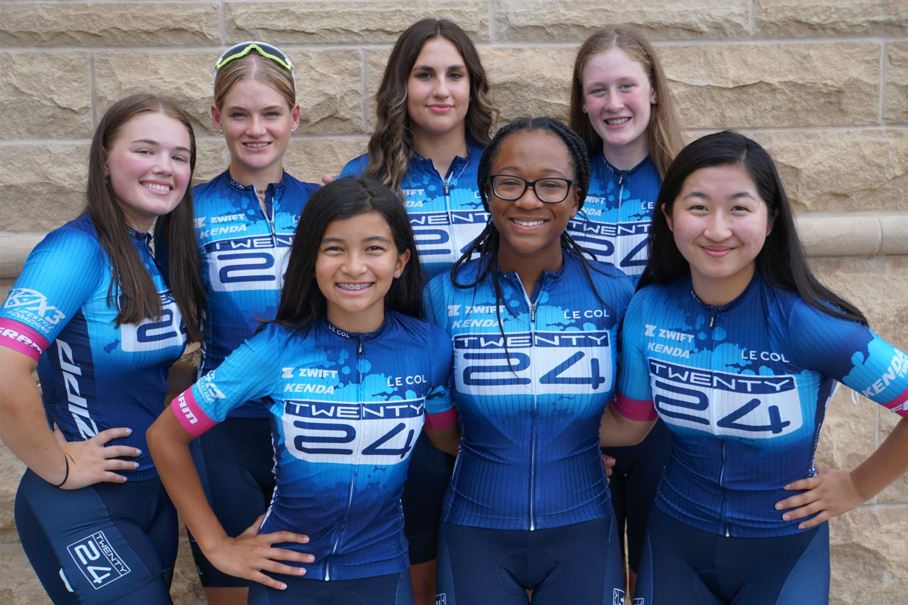 How have you reinvented your team to put a greater emphasis on juniors?
I wouldn't say we are reinventing as we are still focused on high performance at a professional level and we have always supported junior athletes including girls that went on to become some of the best riders in the world; Coryn Rivera, Kaitie Keough, Ruth Winder, Jennifer Valente and Chloé Dygert to name a few. We need to bolster our program to make sure these girls have a good pipeline for the next two years after missing opportunities to race in 2020. Junior athletes progress very quickly, sometimes seeing vast improvement from week to week so taking a year off leaves them a little behind in development.
These young women really showed up at Junior Nationals this year and they performed as a team even though several of them had not met in person. During 2020 we scheduled regular conference calls and also racing and riding on Zwift both of which really brought them together when there was very little racing. The off the bike coaching is equally as important as on the bike coaching and we did this with the help of KX3 Lifestyle and Coaching. The girls have created a culture within the junior program, a supportive environment where they elevate one another and support each other.
How did you discover these new junior riders?
The team is known for supporting juniors for over fifteen years, so we receive lots of resumes. We have a race team, and then we'll have a junior club team. Most of these girls won't go on to be professional cyclists, but they want to be part of something. We've had applications from girls as young as nine years old. One of the things I'll say to the girls when we have a meeting is, 'I'm not here to help you become a professional cyclist.' If you can get past me saying that and you still want to be one, then we can talk. We encourage balance, always school first. I'm just the reality check.
What draws these young women into cycling?
For some of them, it's injury from other sports like running, basketball, rowing and soccer. Some discover the bike through rehab and quickly learn how fun it is. Other times they have an older sibling who's into cycling or a parent. Nowadays, because of NICA (National Interscholastic Cycling Association), they are exposed to competitive cycling in high school, which is fantastic.
For some the bike is a pathway to an education, many colleges in the U.S offer full and partial scholarships for cycling. TWENTY24 is recognized as a valued recruitment platform for young athletes heading to college.

–Nicola Cranmer
Which cycling disciplines interest them the most?
As young athletes I encourage them to do everything including the new gravel discipline, where they can gain valuable experience. They're racing with boys, which is great, they learn to dig deeper than they normally would, learn bike handing skills and are also very empowered as these races are self-supported, so they need to know how to take care of their bikes during a race. Frankly I believe this will prepare them if they do want to race in Europe. Junior National 15-16 Time Trial Champion Lilly McLeod entered The HEMI Gravel race in Kansas this past weekend, winning the junior category and taking 2nd overall in the open women's 50-mile event. This was her first gravel event. The Weigel twins who are age 15 finished 4th and 6th in the open women. Most of our junior athletes race or ride road, MTB, gravel, track and Zwift.
MEET TWENTY24's JUNIORS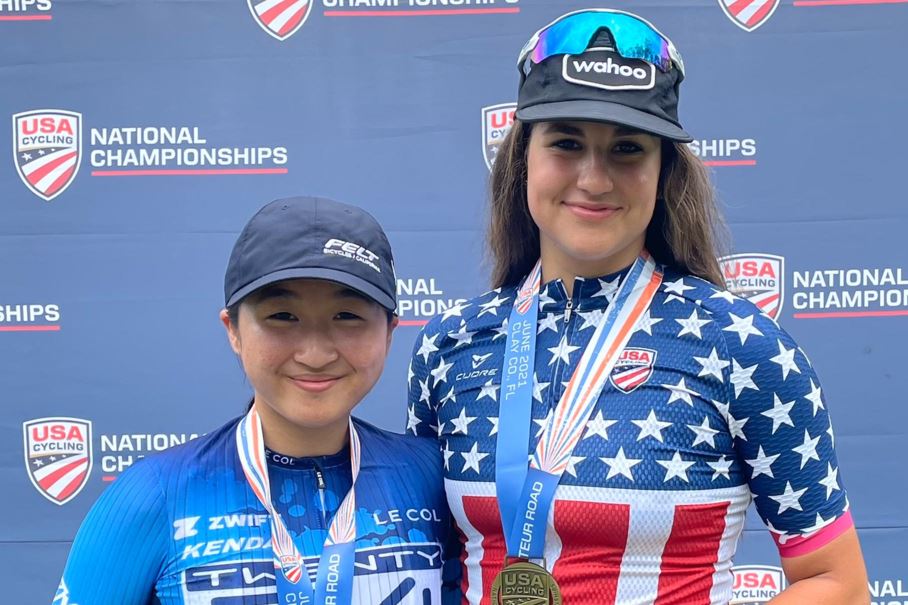 Homare Yamashita, left, with Lilly McLeod
Lilly McLeod, 16, Brookeseville FL
"Participating in this Nationals was one of my favorites. I am proud to say, that all my hard work paid off with my win in the time trial. Even though that is a big accomplishment, and I am proud of my results, that wasn't the best part of this nationals. The best part of this nationals for me was being able to work with my teammates and help them accomplish their dreams. I was so happy to see them succeed and win their first national titles, make it on the podium, and work extremely hard in every race."
Homare Yamashita, 16, Breinigsville PA
"Getting on the podium three times and consistently getting 2nd place was an amazing accomplishment for me at road nationals. I was able to learn what I needed to work on and improve for next year. I earned a national jersey in the team pursuit at track nationals and medals in all of my other events. This couldn't be done without my amazing teammates, Nicola, our sponsors, my family, and my coach!"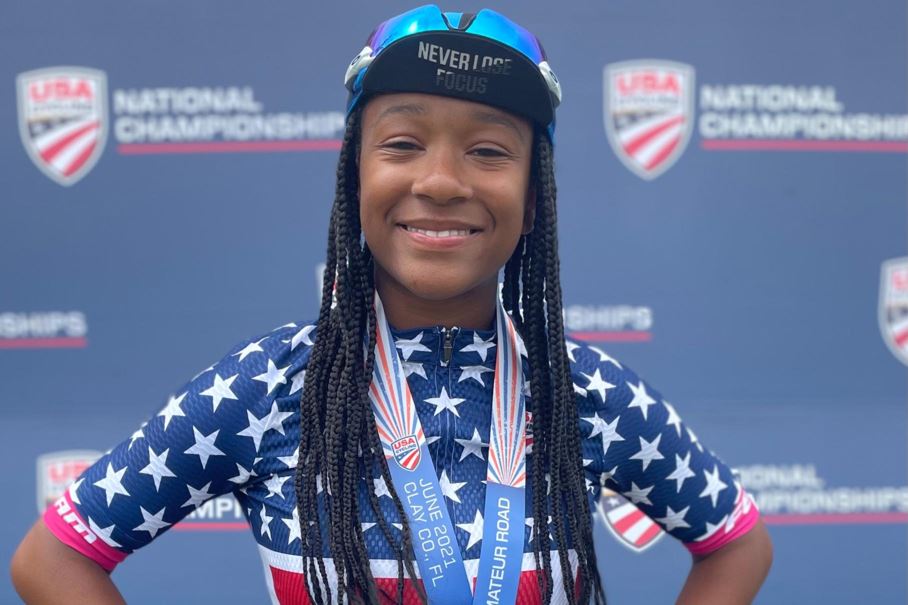 Maize Wimbush
Maize Wimbush, 15, White Plains, MD
"To be a National Champion, I feel no different except I have a title that will forever stick with my name. Me winning the National Championships, I feel that it has given me a confidence booster. I am also honored to be informed that I am the first African American female Junior National Road Champion. This win has put me in position to be one step closer to my Olympic goal. And it has inspired me to train that much harder and remain humble."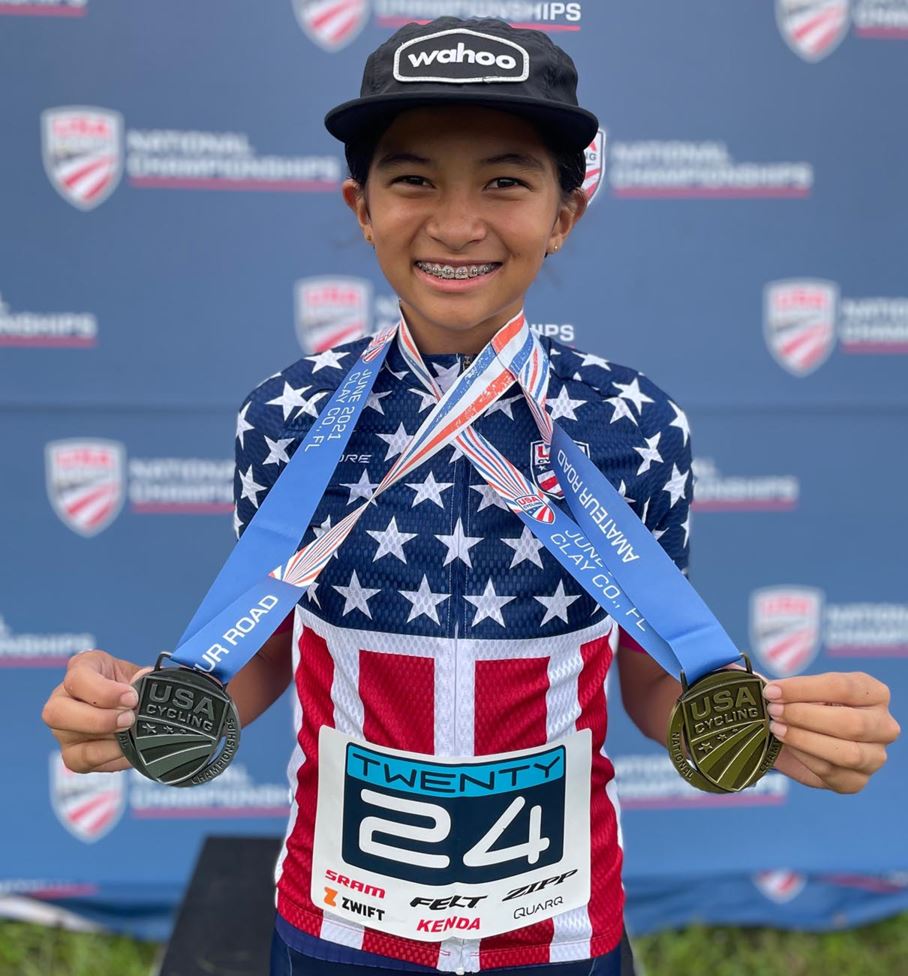 Sarah Vargas
Sarah Vargas, 11, Rancho Palos Verdes, CA
"It's an unbelievable feeling to have accomplished this goal. With hard work and support from family, friends, and a great team you can achieve anything. Being surrounded by such accomplished teammates has pushed me to be my best and I couldn't have done it without them."
Addie Slutz, 15, Massillon, Ohio
"Racing at the National championships was a huge eye opener for me. I definitely was not prepared nor did I get the results I was hoping for. However, I love racing my bike and I am motivated more than ever to put in the work to achieve better results next year. The highlight this year was getting to know my new teammates and all the support they gave me."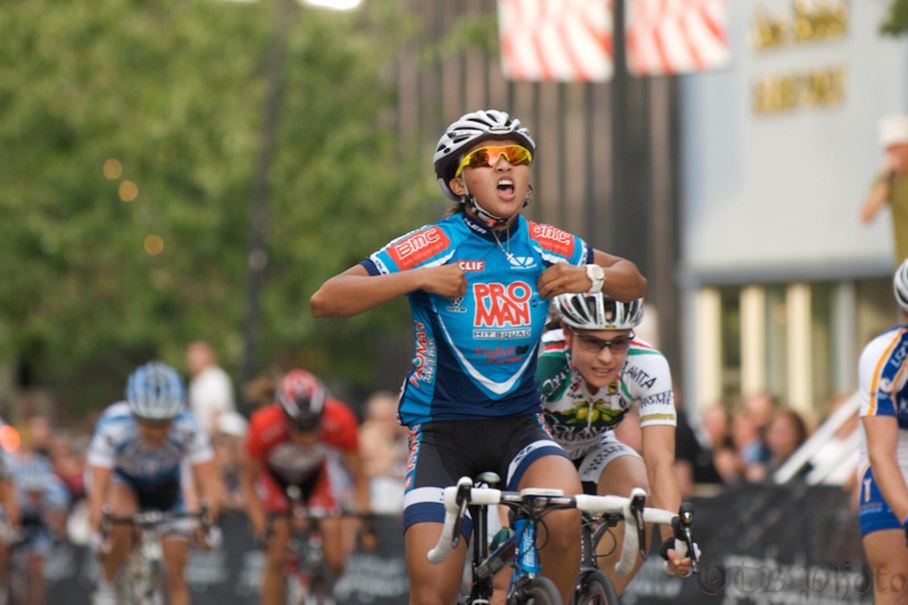 Current pro star (and former SRAM intern!) Coryn River winning as a junior on Nicola's team.