French legend Gilbert Duclos-Lassalle recalls winning Paris Roubaix in '92 and '93 aboard TIME and RockShox.
Three decades ago, Duclos-Lassalle achieved his lifelong cycling goal: to win his most beloved race, Paris-Roubaix. Then he won again the next year, in 1993. We caught up with the charming and insightful 67-year-old Frenchman to talk about his career, favorite teammates, and cycling innovation in the 1990s and today. Below is an edited transcript:
You had a legendary career and are still involved with cycling. Could you please tell us about your involvement in cycling today? What type of riding do you do most, and where do you like to ride?
Oh, I'm going to disappoint you: Personally, I don't ride anymore! I kept a couple of bikes, including the Lemond Tour de France bike that the team had won with Greg, and the last one of my career, a 1995 Eddy Merckx. They hang in my garage!
However, indeed, I kept a foot in cycling. I am the organizer of an Elite National stage race, the Tour du Piedmont Pyrénéen, which takes place at the beginning of July, in three days and over four stages. Mauri Vansevenant, current rider of the Deceuninck-Quick Step, won in 2019. Julian Alaphilippe, also, when he was riding for the Army, won several stages. The rest of the year I am the president of Lescar Vélo Sprint, a DN3 club (DN = Division Nationale). So I'm at the races, not all, but from time to time. It's a club to develop riders. It's pretty broad, road and mountain riders, cadets, juniors and seniors. But above all, we seek to find the best talents locally and in the region. Our classification in DN3 allows us, for example, to go to beautiful races which young riders who come out of the junior category (U19) and who have not yet been detected. Our role is then to bring them to the next level.
How did you first get into cycling? Did you start racing at a young age? Who were your cycling heroes?
I started cycling completely by accident. When I was very young, I wanted to be a mechanic and I dreamed of working on race cars. Then I met the manager of a club. I didn't do much sport at that time. Here in my region, the popular sports were rugby and basketball. So I started cycling at the age of 16, and at 21 I was pro, for a fairly long period, 19 years.
During my first year, I didn't win any races, but I always finished in the top 10. The following one, I won two races. The third one, I was champion of my department (region). The fourth year, I was at the best amateur level. Then I joined the Bataillon de Joinville [in the context of compulsory military service] where I have contacts to race with Pros. That year I took really nice victories in the Tour de l'Avenir, the Tour of Austria, the Tour du Béarn.
My hero was Eddy Merckx, I had my bike painted in the same colors as his, I wore brown tape like him. But that's after I was immersed into cycling. Before that, as a kid, I wasn't particularly interested in it, I didn't have the cycling culture.

–Gilbert Duclos-Lassalle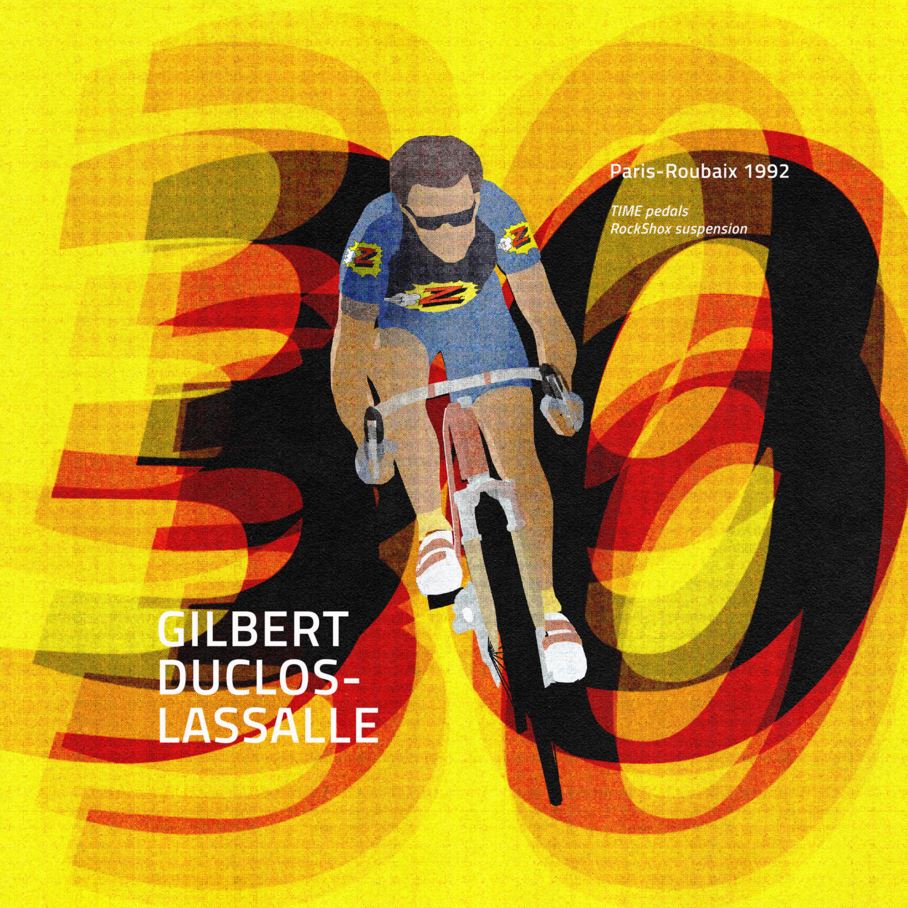 Illustration by Ann Escamilla
What is the cycling culture like in Lembeye? Did you race much in Spain as a youngster?
Yes, when I was young we went to race in Spain - and today, I still drive the young riders of the club there. From the Pyrenees we only had to cross the border, and all the great races were within reach. There was the Tour de Béarn-Aragon, in four days, very mountainous, and where I performed well. I think I was ranked fourth overall and second in the points classification. In the other direction, towards the North, you had to cross France to race the very interesting competitions, it was more complicated.
You raced professional from 1977 to 1995, a very long career! What contributed to your longevity?
Let's first say that I thank God for giving me good health, because I don't know what tendonitis is, or a strain; that I could cope very well through the cold, and that the heat did not bother me. So that's what allowed me to have a long career—and then the seriousness, of course. But even when I had won my best races, like Paris-Nice, or Bordeaux-Paris, or the Tour of Sweden, the Midi-Libre, the GP de Plouay, at the end of the year, I always put the counter to zero: I wanted to leave with the idea that I hadn't won anything, that I still had everything to prove. It created a sort of state of emergency, which motivated me.
I loved my sport and the life it allowed me to have, I loved training. I like to consider my long career as a pyramid, at the top of which stand two magnificent trophies, my two victorious Paris-Roubaix.

–Gilbert Duclos-Lassalle
You were 37 years old in 1992 when you first won Paris-Roubaix after twice finishing second. How did that victory change your life?
Before winning I had already collected quite a few good placings in this race—in all, I must have been in the top 10, 12 times, out of 17 participations. I was riding with all my soul after this victory, it is true, but I came so close to achieving it so many times that my victory was not a radical upheaval. For me it was part of a logic of progression, and the tenacious aim of a goal. Previously I had made some youthful mistakes, like the time I finished second behind Francesco Moser. With Paris-Roubaix, I was in a kind of known place. When you start a career, some races appeal to you more than others. I loved Paris-Roubaix from my first experience: I found it astonishing. In the showers after the finish—I was ranked 25th, but I had finished, and Jean-Pierre Danguillaume told me: there, you have arrived in the big league.
How different was the experience to win Paris-Roubaix for a second time, when you won in a close sprint in 1993?
After my first victory, I felt a certain level of frustration: It is true that it was normal that I ended up winning, since I had become a good specialist in the race. But, the press seemed not to make much of it. Duclos won, it's fair, it's normal, but nothing more... as if there was nothing to celebrate. So I reset the counters to zero, and I have to win again. Well, in 1993, I found myself in the breakaway again—luck is with me, which had eliminated a few riders with punctures and allowed me to come back. Further on, when I get out of the Carrefour de l'Arbre with only (Franco) Ballerini, I had already won my bet: worst case I'll finish second, but anyway I confirmed that my first victory was not a coincidence. So, beating Franco in the sprint was a huge joy. What I proved with this second victory was that I was not only this racer with panache, but that I was also a fine tactician, a captain of the road who knew how to maneuver with his opponents. I won in two different ways, basically.
What characteristics and qualities make a rider great for Paris-Roubaix? Is it different from all other races, even other cobbled races?
Well, obviously you need to be powerful and have a certain body size. Then it all depends on which Paris-Roubaix we are talking about: dry or wet? If it's dry, you need this power, and moral strengths: never give up despite falls, punctures. It is a race where everything can happen until the end. And when it's wet, in addition to the rest, you have to be a bit of an acrobat. I was not afraid. I wasn't braking, and I was relatively agile thanks to my track experience. Track is the best school, why: because you have no brakes! The experience gained in Six-Day races has been very useful for me on the road.
What did you think about the 2021 Paris-Roubaix in the mud of autumn?
Of course, I watched it on TV. Riders may be getting smarter, or more skilful, but racing remains true to itself. It is a race where we benefit from technical progress on the equipment, but whose "heart" is immutable, and which will always require the same strengths. In addition it is a race that always represents a big risk, you can end your season there. The emotional charge, the dramatic intensity remains the same.
What was your first experience with TIME pedals like? What different did you notice about them?
As soon as we have been able to try the TIME pedals, I never look for anything else. I immediately adopted the pedal-and-shoe combo. Honestly, the angular freedom was great, but most important was that the performance was perfect, because there too, we were 3 or 4 mm from the axis, and above all the safety was much better, which gave us confidence. So, a no brainer.
What advantages did clipless pedals first bring to cycling in the late 80s vs. old fashioned pedals with toe clips. What features today do you believe make for a great clipless pedal? Did you have a favorite model of TIME pedals from the 1990s?
The advantages over toe clips are immeasurable, on all fronts: efficiency, safety, ease of use. With the toe clips, you had to adjust your cleat under the shoe, and when I started the cleats weren't even removable: they weren't screwed but nailed! You couldn't mess up regarding the depth of engagement of the foot or on its orientation. However, I was not one of those riders who have trouble adjusting the orientation, because it is not identical on one side and the other, for example.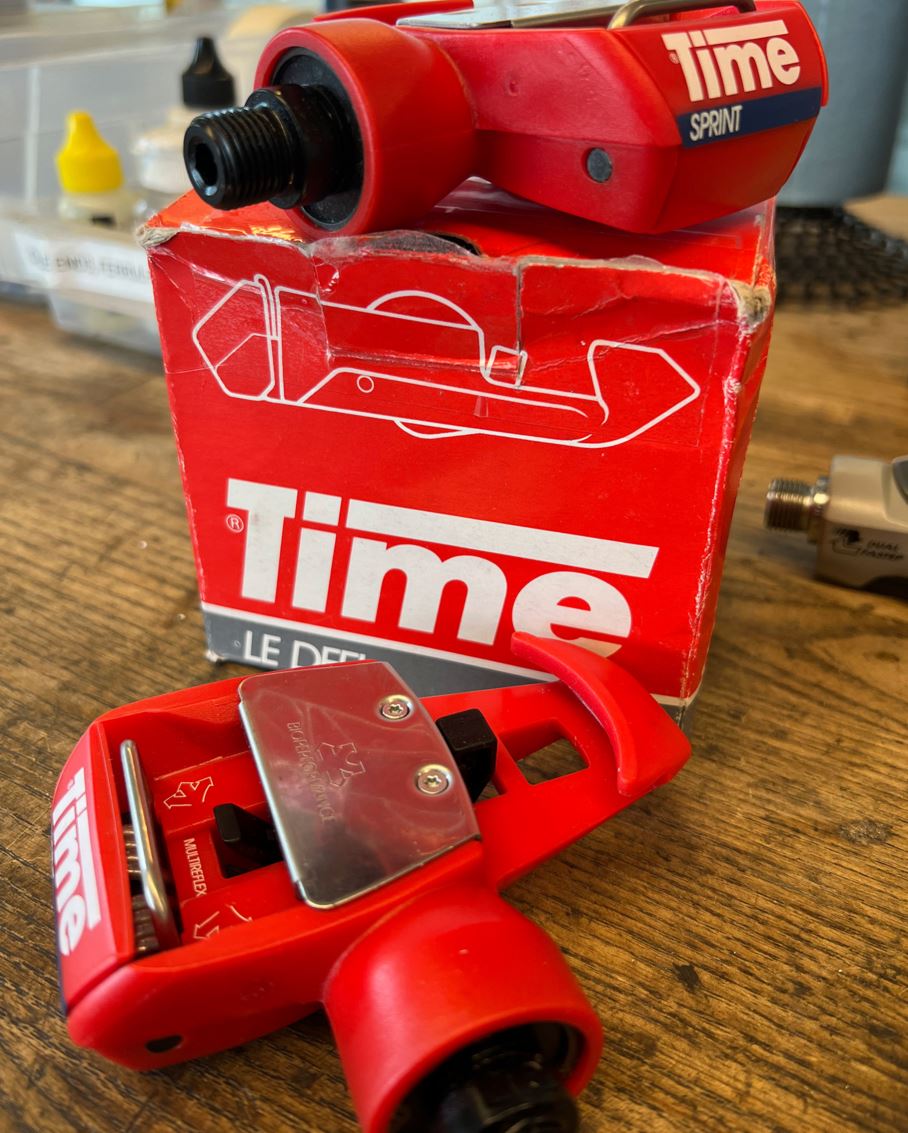 The clipless pedals changed our lives, that's for sure. For example, because the toe strap cut off our blood circulation: when you tightened it down before a sprint, it hurt your foot. I had calluses on my feet where the strap was. I even lost a stage of the Tour de France in Roubaix because of a toe strap.

–Gilbert Duclos-Lassalle
What do you think the TIME brand and style added to cycling? These pedals and shoes certainly made a big impact on cycling in the early 1990s.
I had quite a few, in white color, with the two red scratches. I've always liked having clean shoes—it's a matter of respect, respect for the brand, and respect for yourself — so white shoes, from that point of view, are the best. If it was possible, I jumped the puddles so they would remain clean. Even in terms of style, after the black shoes with laces, it was a real change of era, and which paved the way for the creativity of the manufacturers.
You famously rode RockShox forks to victory at Paris-Roubaix. What made you decide to use RockShox? Does it now seem natural that gravel bikes have suspension systems from RockShox?
One day in 1991, we were in Neuville-en-Ferrain, as part of a Belgian racing campaign, Roger [Legeay] asked us to get off the bike. Greg was on the team already. An engineer from RockShox was there, with a complete bike, fitted with the fork. In the street in front of the hotel, he pointed at the sidewalk and told us to jump on it with full speed, saying, "You will see, you will not feel it." I tried it and found it great. Then he put a fork on my bike, and adjusted it according to my weight and my riding style. For us it was a bit of a mystery. And he showed me: there was an adjuster graduated 1 to 5 on each side of the fork, at the top of each fork leg, which I only had to adjust according to the feeling I had on the cobblestones. During the race I kept adjusting from one cobblestone sector to another. The first year, I make my own adjustments, tests etc. I show up at the start of Paris-Roubaix, everyone was asking me questions. I finished seventh. At the end of the race, my wrists did not hurt - that says a lot about the advantage gained! In 1992, I won Paris-Roubaix, the greatest classic on the road, with a mountain bike fork: I imagine that for RockShox, the publicity stunt was fabulous. After that, they tried to build a full suspension bike for me: it was beautiful and pioneering, but the rear triangle was not locked enough, and it was not conclusive.
We had an exclusive contract. Tchmil only used it after 1995, but he had tried a competing model as early as 1993. He had come to ask me for advice on the settings, but I had given him the wrong instructions (laughs)!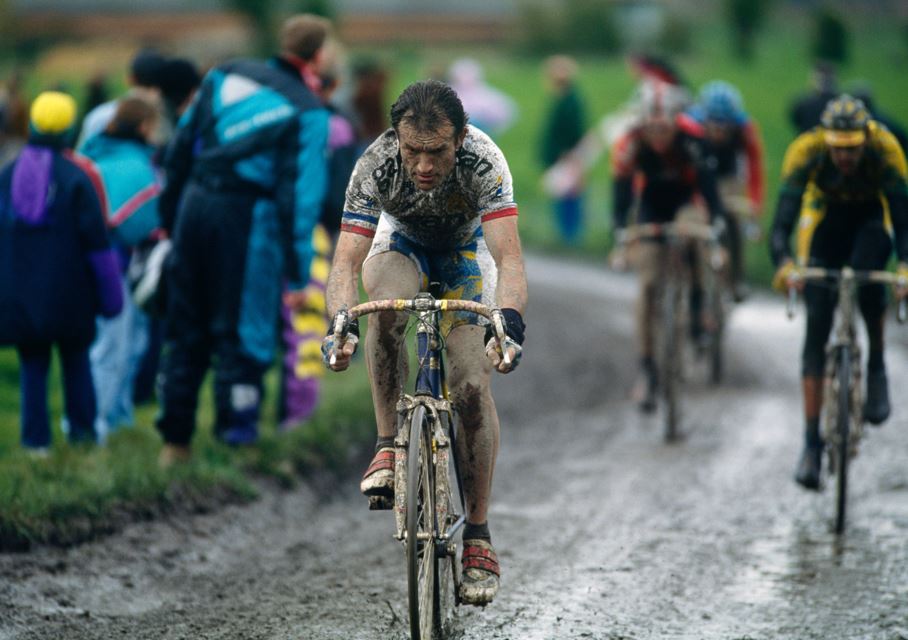 Duclos-Lassalle Photos © Getty Images
What do you think are the biggest current innovations in road cycling? Tubeless tires? Wider tires?
After the pedal, the electronic derailleur is the best innovation for racing—not only is it fast and you can adjust your gear in full sprint, but I'm also thinking of the cold: with frozen hands it was difficult to operate with mechanical levers.
We had Michelin tires, but we didn't ride with them, they weren't yet at the same level of performance as the tubular tires. I went with Francis Castaing to Michelin, where I tested tires "blind" on their test track. At the time, their competitive advantage was the quality of the rubber, but the casings were not yet flex enough. As for changing tires in the middle of a race depending on the weather, it's not easy. Especially since at the time - except on the Tour—there was only one sports director's car per team, and ten riders per team.
Regarding the section of tires, I have never put bigger than 23mm, and only on Paris-Roubaix. But De Vlaeminck, the greatest specialist, only rode 21mm. Today I hear riders say that the performance is better with 26 or 28mm, but I find it hard to convince myself. I wonder if the increase in tire sections does not compensate for the excessive rigidity of the bikes. Only the tire remains to dissipate the shocks. Current bikes have extraordinary responsiveness, but the downside is that they bounce off the slightest bump.
Do you see tubeless tires as especially advantageous in Paris-Roubaix?
Absoutely ! Although I have never personally tested tubeless tires, I think so. This is even what I told the Michelin engineers during this visit in 1983: "Your tires will have a chance of replacing the tubulars when they are tubeless"! However, at the time, the obstacle to achieving tubeless was the narrowness of the rim.
Who were some of your favorite teammates? What was it like to race with Greg LeMond?
I played a role of road captain with Greg. He had won the Tour at ADR without a teammate. With us he was well surrounded, I even believe that he owes this second victory to the team (LeMond was back-to-back Tours in 1989-90; he also won in 1986), and I am proud of it. Greg, despite his status, was listening. Afterwards, you know, teammates are work colleagues! (laughs)
Beyond Paris-Roubaix, what is another favorite race of yours?
Difficult: I place Paris-Roubaix so much above the others! But, of course, there were other events that I liked to race: Paris-Nice, for example, even if it was part of my build-up around the second Sunday in April. And then, I have always liked Monuments—questions of respect in relation to my sport. I am attached to certain traditions and, for example, it saddens me to see that we distort Paris-Tours, with these gravel paths. Paris-Tours is the race for sprinters, why do you want to changeit? Finally, the transformation of Bordeaux-Paris affected me a lot. By opening it up to Amateur cyclists, we have demystified it.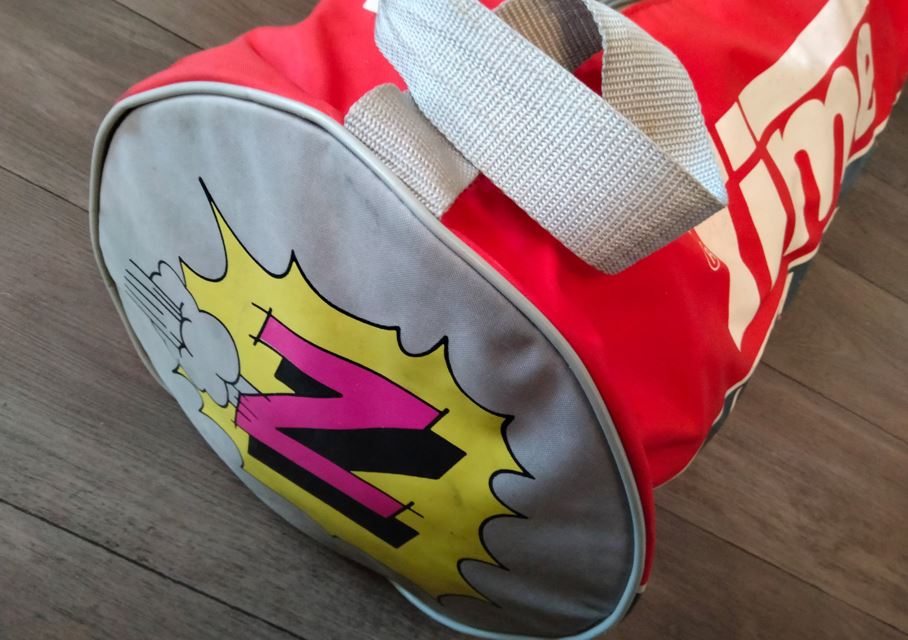 What was the favorite team kit of your cycling career? Zed? Peugeot? You rode for some iconic teams!
I especially appreciated the transition from wool jerseys to synthetic jerseys! Before, you had to wash your shorts and jersey by hand in cold water to prevent them from shrinking! (laughs)
It changed our lives, as much as switching from toe clips to clipless pedals! Afterwards, of course, the Z (Zed) outfit marked a change of era—this is the beginning of the history of communication in the bicycle. Mr. Zannier (Z's founder) has shown the importance of being clearly visible, of standing out.