I've made the long and beautiful journey to the Scottish Highlands many times—passing through Glasgow, the Trossachs, past the Green Welly stop, and the iconic Glen Coe, before finally landing in Fort William—home to the UCI World Cup Downhill. The journey has become a pilgrimage for many cyclists.
But hang on… what about the two and a half hours of driving between Glasgow and Fort William? What's out there?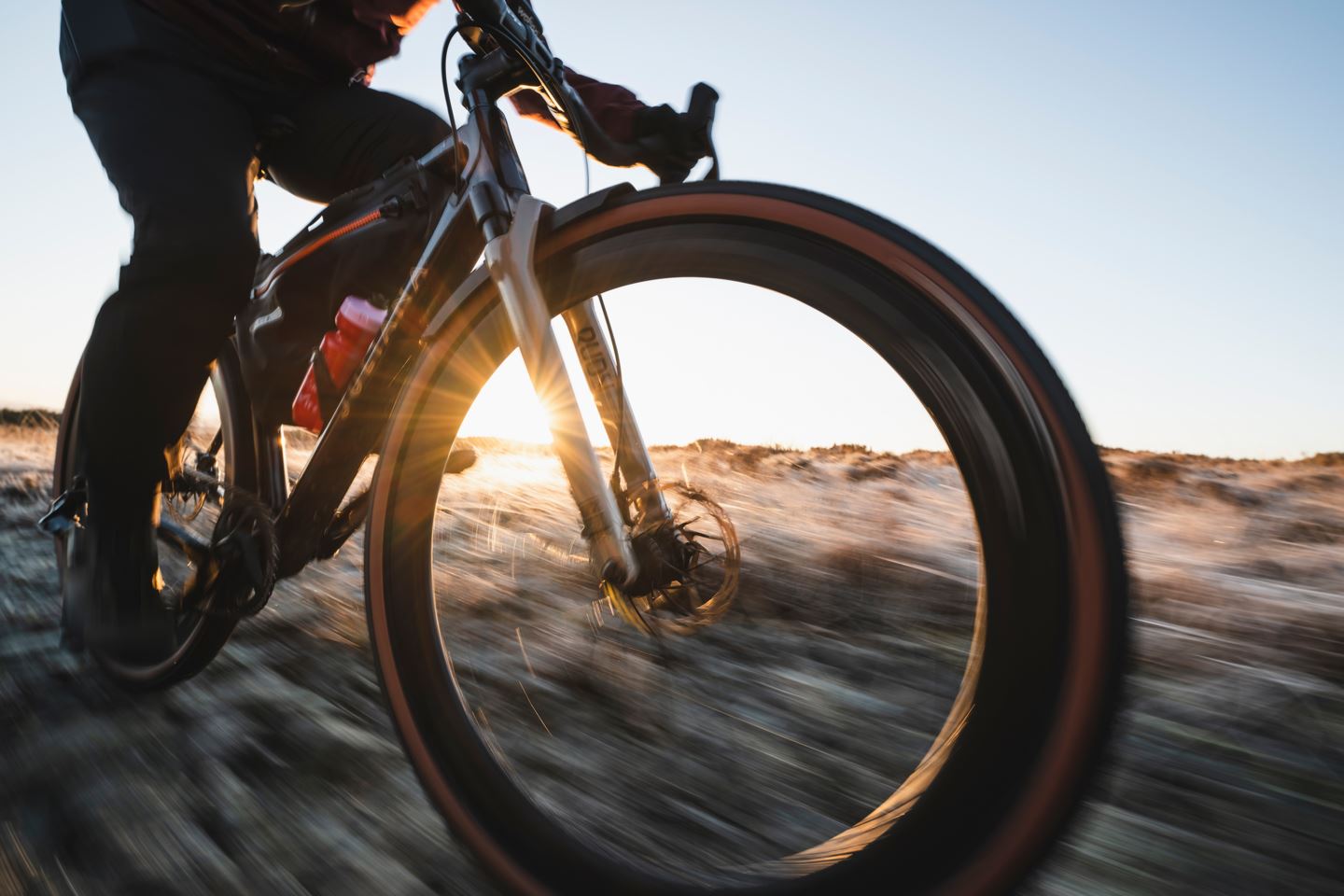 Gravel events such as Grinduro and The Dukes Weekender have showcased the phenomenal riding this region has to offer. I've been lucky to attend both events and sampled what lurks in those hills. However, the space between those two events is filled with miles of coastline, hills, and glens that I'd never really noticed.
Using maps and Komoot highlights, a rough route came together as we balanced covering ground (due to time constraints) and leaving time to explore a multitude of off-road options. Gravel bikes with a little help from suspension seemed like the ultimate option. Living in the south of England, the Caledonian Sleeper train from London is the best way to travel to Scotland with bikes.
This is where our journey begins.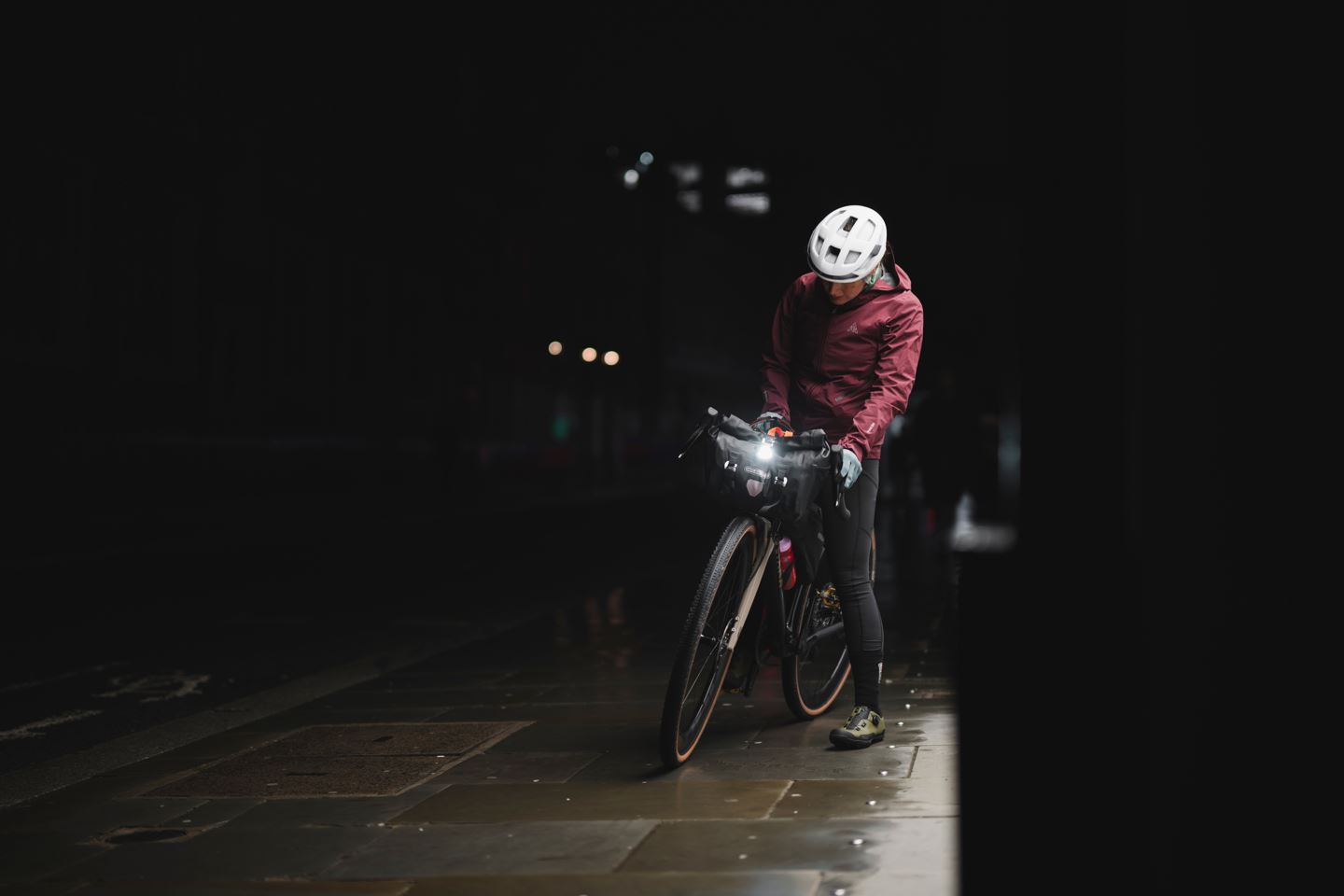 4 PM
From our sleepy Surrey town of Haslemere, we jump on the train to London and step out into the late afternoon big city buzz as commuters rush to get home and socialites are just getting started. There are bright lights, cars, people, and cyclists everywhere, battling to make their way through the city. Riding a few kilometers on flat ground suddenly becomes equal parts fascinating and intense.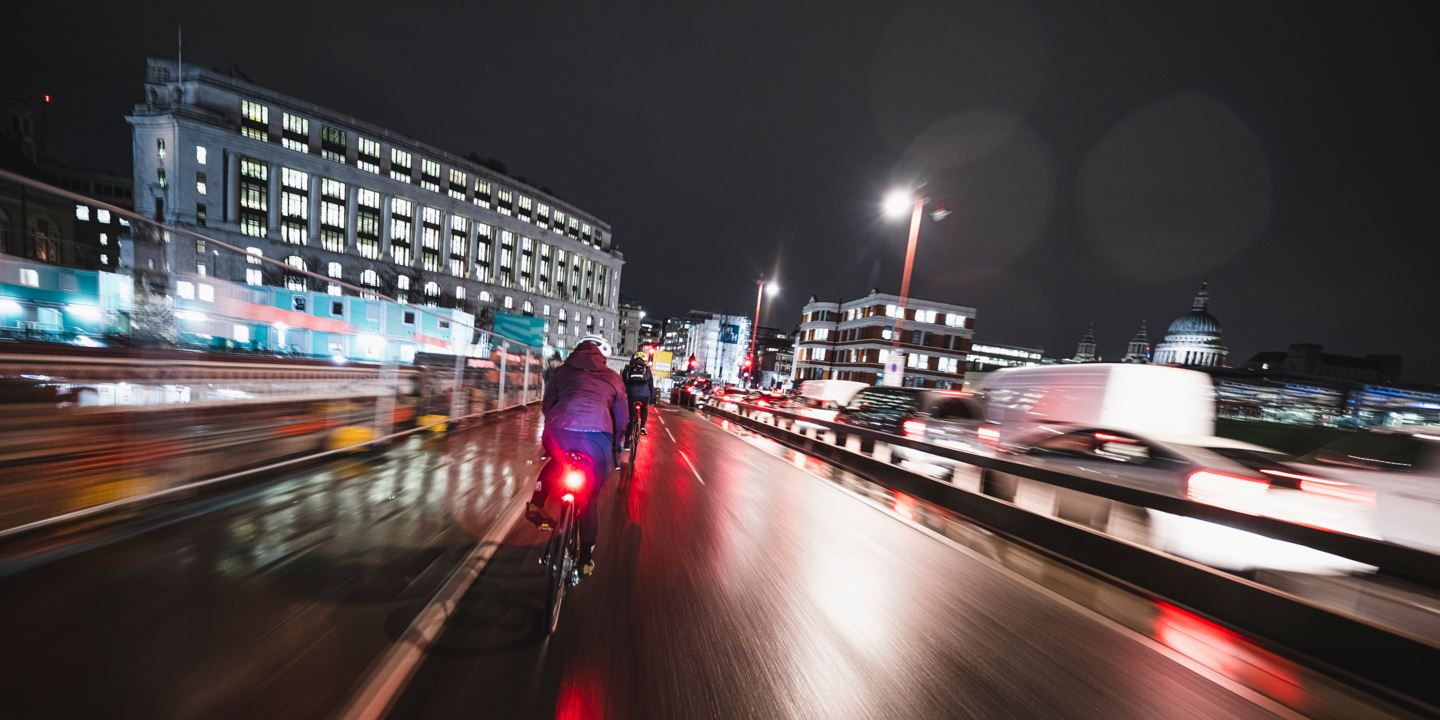 9 PM
We load on the sleeper train and head straight to our room to jump in the cozy bunk beds. I'm tired but can't sleep despite the repetitive rocking of the train. Our senses are alert, knowing we're heading to Scotland but not really knowing exactly what we'll find.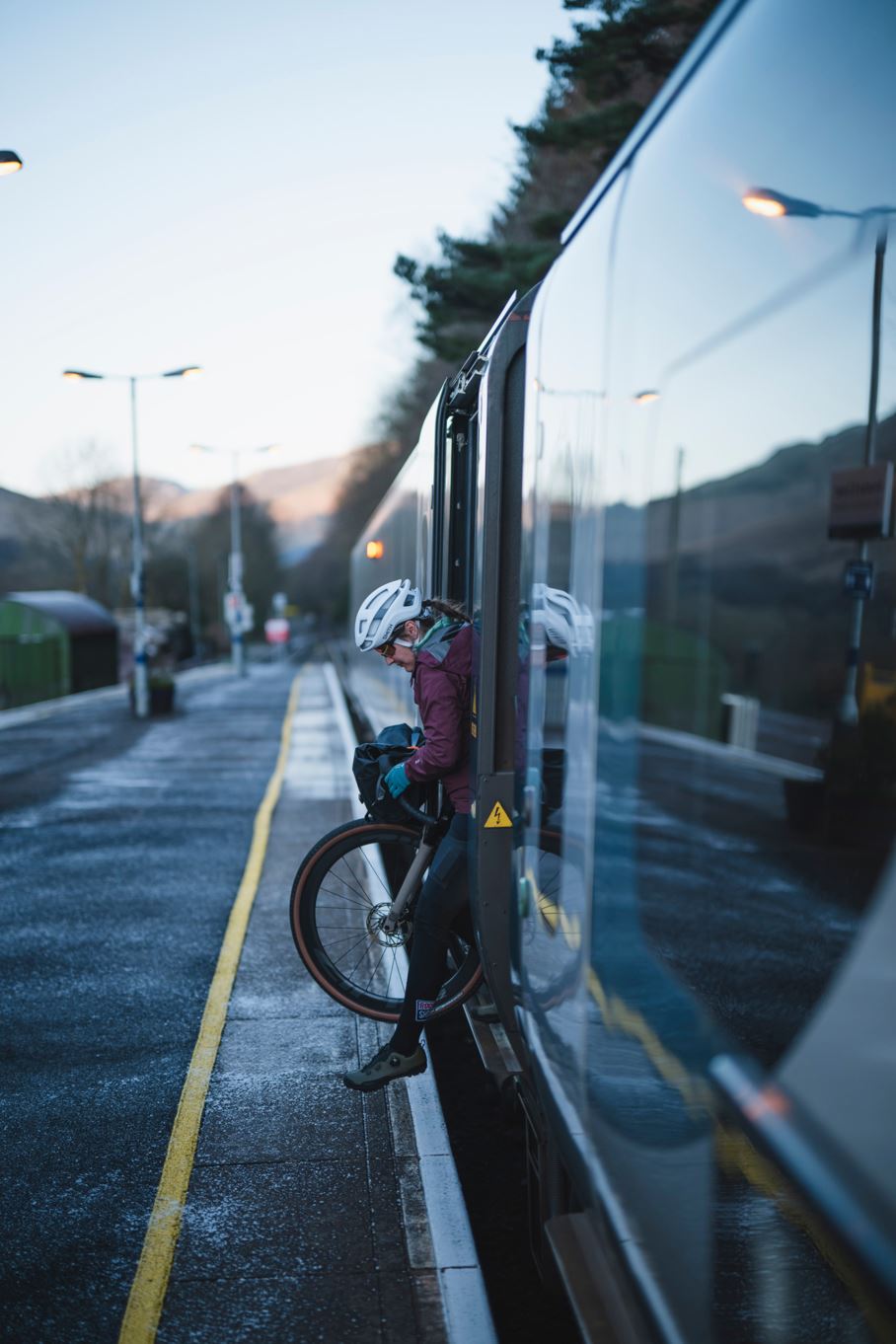 6:30 AM
We've had breakfast in bed, so we're changed and ready to go. Outside, the urban jungle of London has been replaced with breathtaking scenery. When we first slide the blind up, we watch sunrise hitting the snowy peaks above. The loch below looks icy cold. Could it be any more Scottish?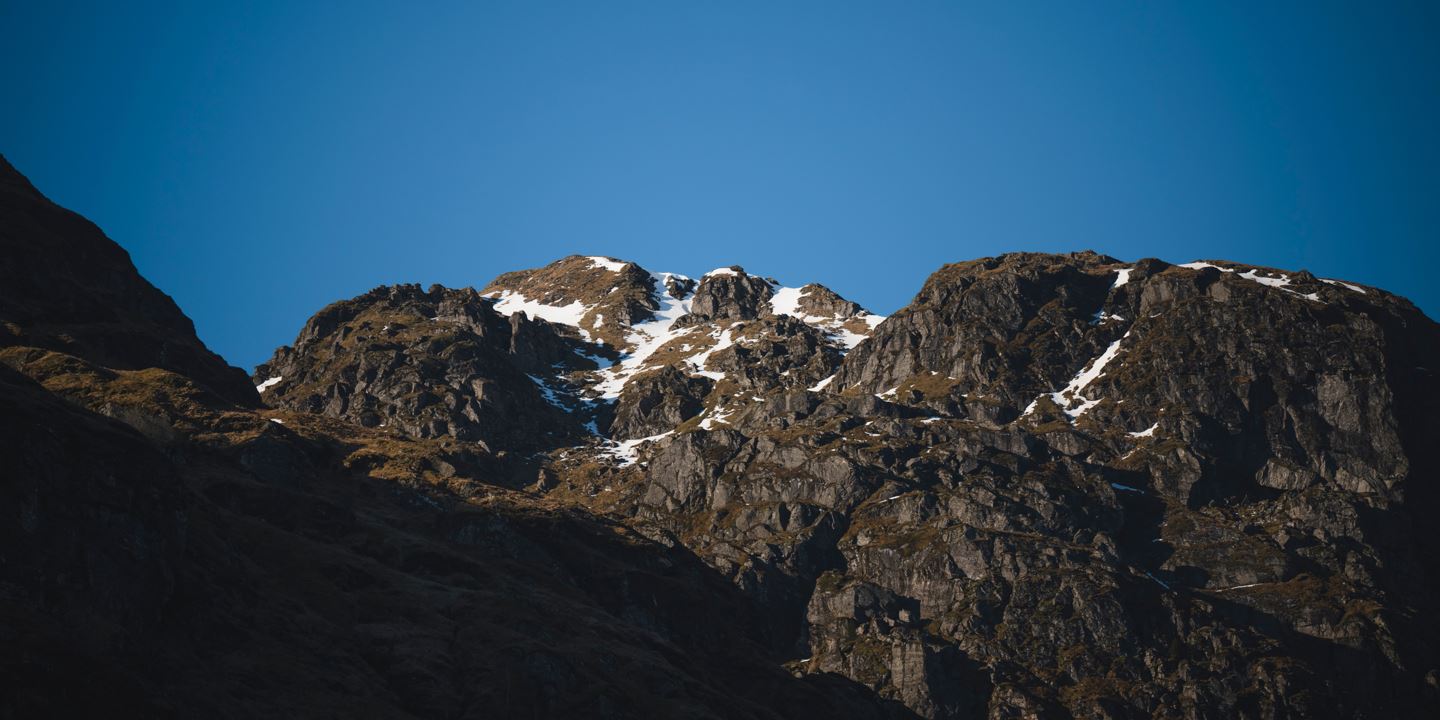 There's a hard frost; I can see the cold and become excited to start our journey. We get off the train at Tarbet and start our descent towards Loch Long. Utilizing tarmac, we're on a mission to cover as much ground as possible today and get away from cars and crowds. Forks locked, we move fast. In the sun it feels pleasant and almost mild but it becomes bitterly cold as we drop into shade. We're pleased to have gravel tires as we hit multiple ice patches.
The descent towards second breakfast is breathtaking—Loch Fyne gradually coming into view and mirror images of the surrounding mountains bouncing off the water; it's difficult to decipher where the loch finishes and the hills start. As we dive into the shade of the mountains, the kilometers tick slower. Dodging the ice patches, all I can think about is my feet and the fact that I can no longer feel them.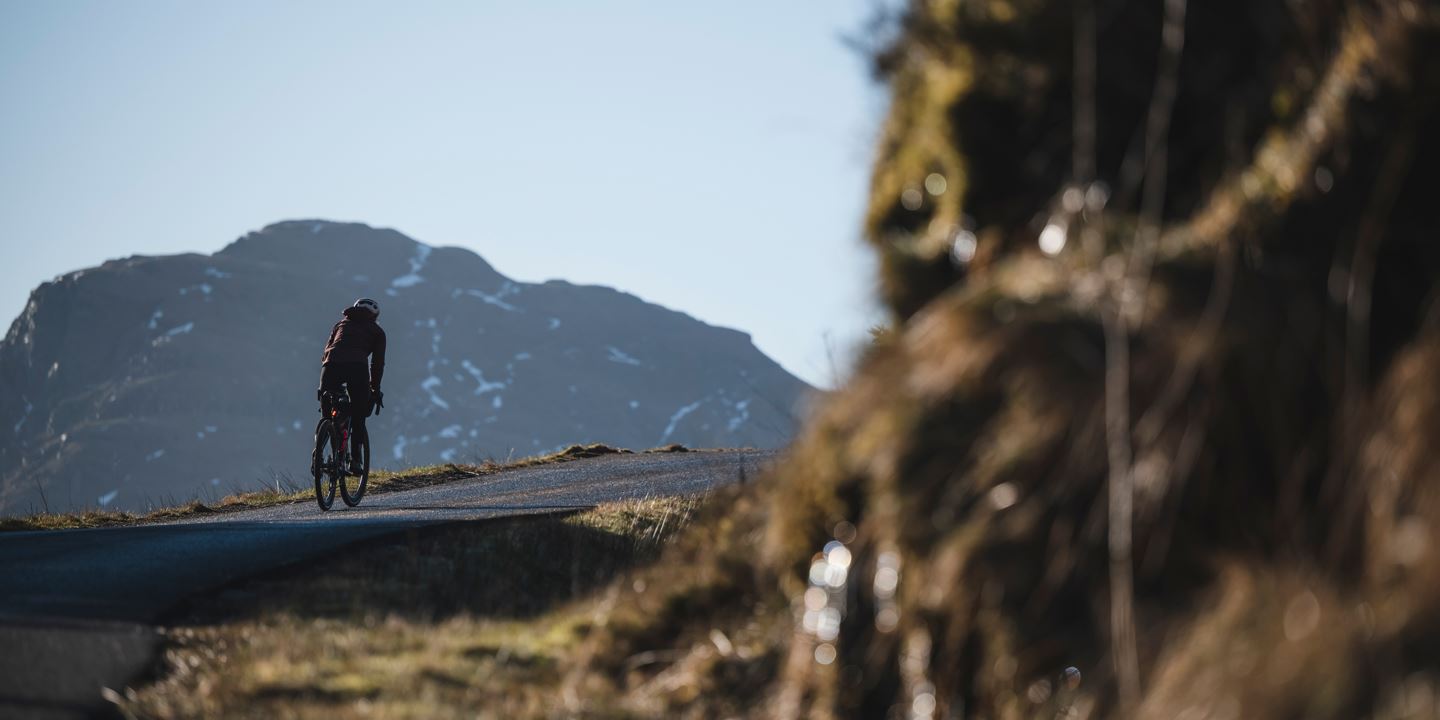 10 AM
We find a quiet tea room in Strachur. Spot on! Breakfast rolls and hot chocolate elevate our levels and we bosh on, conscious that we need to make the ferry to reach our accommodations for the night. The road towards Portavadie is what I'd call "updulating", smooth, and with spectacular views.
I laugh and think how lucky we are to have this weather. I've had so many incredible adventures in Scotland, where you have every season in the space of an hour. And many more adventures where every hour of every day is winter. Not today!
The air is cold, but the sun is warm. As we ride through the valleys, we see dirt roads venturing off in all directions, teasing us with what's out there, willing us to explore. We make note of what we pass but save them for another trip; today, we need to get to the ferry from Portavadie to keep pace with our plans.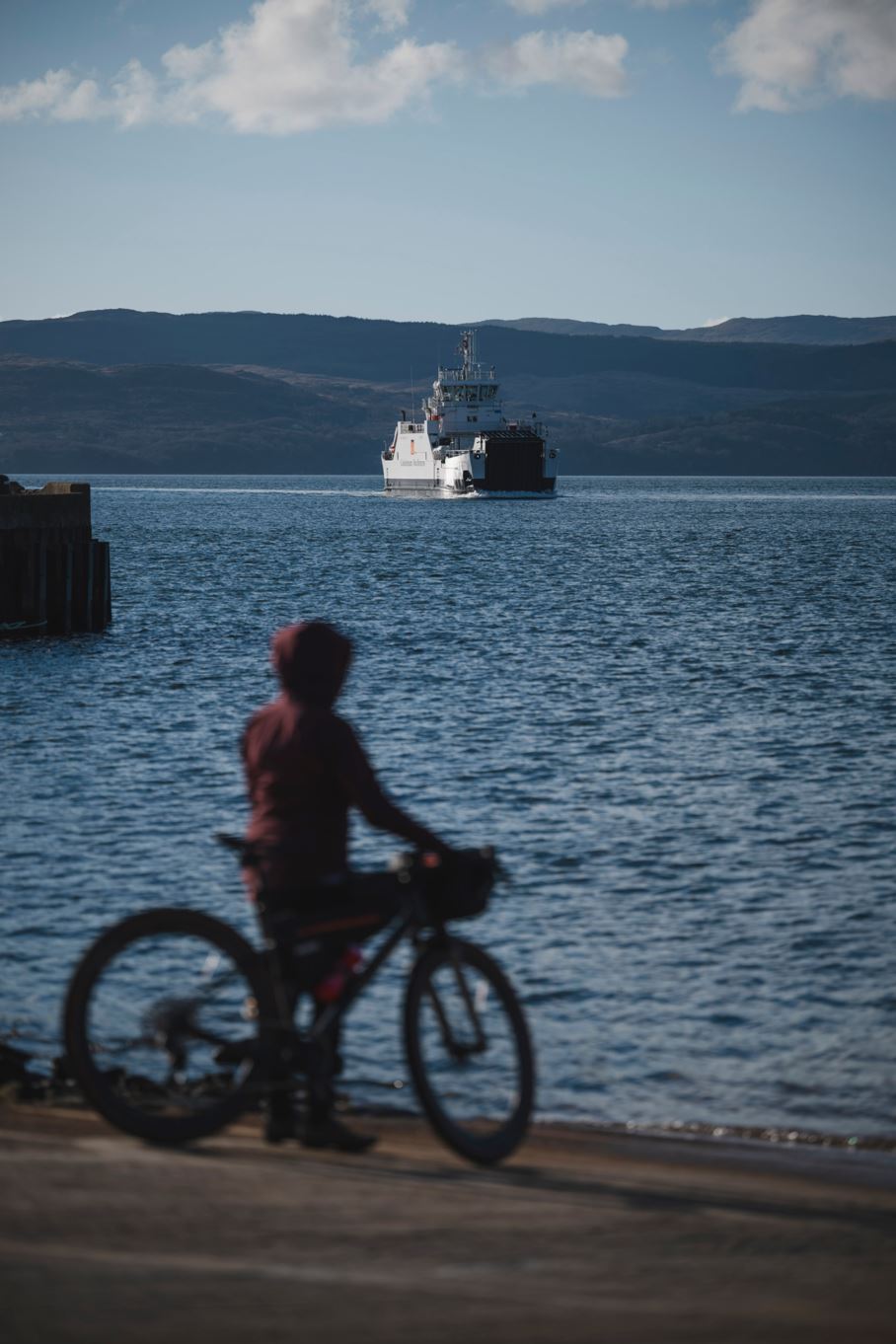 4:30 PM
We arrive at the ferry, joining another couple. We're all confused, there isn't another ferry for nearly two hours, whoops! We must have all looked at the wrong timetable. No, bother; the sun is shining, and there are woods nearby. We explore the nearby singletrack and make the most of the weather sitting in the sun and listening to the waves. The crossing is just 30 minutes and lands us in our second Tarbet of the day. We keep moving before daylight deserts us and find a spot to refuel with some well-earned fish and chips by the loch in Ardrishaig. It couldn't be more perfect.
We decide to base ourselves here for two nights. After covering ground on the front end, it's time to ditch the bags and explore off-road. We don't know what we'll find, but that's half the fun. Having a little bit of suspension gives us the extra confidence to explore and see what's out there.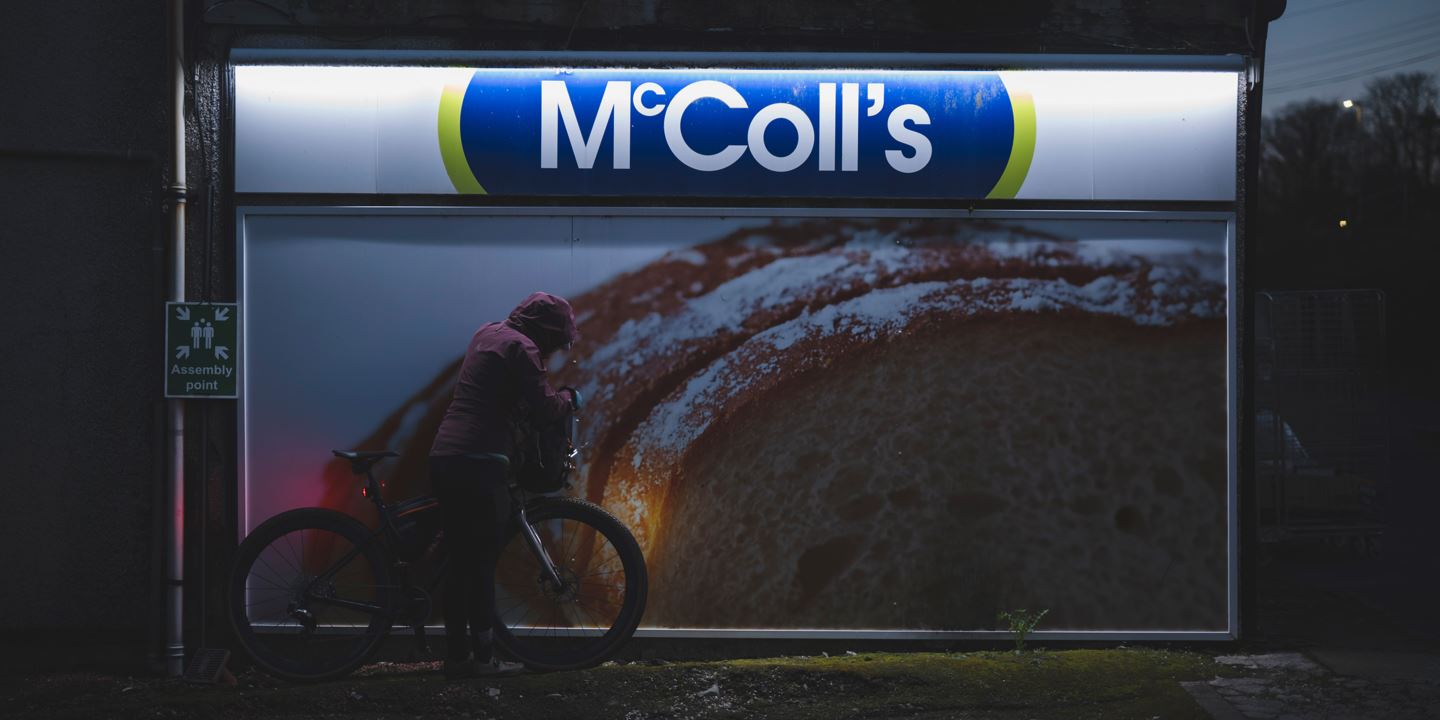 7:30 AM
Whether it's the excitement of a new location, or the early start from the sleeper train yesterday, we are wide awake first thing and decide to head out into the hills to catch sunrise. It's cold again. I can see my breath and about feel my hands. With no one in sight, we use a canal path to link up to dirt roads above Ardrishaig. We're in a race against time, aiming for the top of the hill to greet the sun. Knowing we have a few hundred meters elevation to climb, we've got to get there in time; failure is not an option.
In reality, there is zero pressure. It's just a fun little challenge to wake us up! We time it perfectly, and the sunlight is beautiful and fresh as it bathes the hills around us as our tires beat along the frozen ground.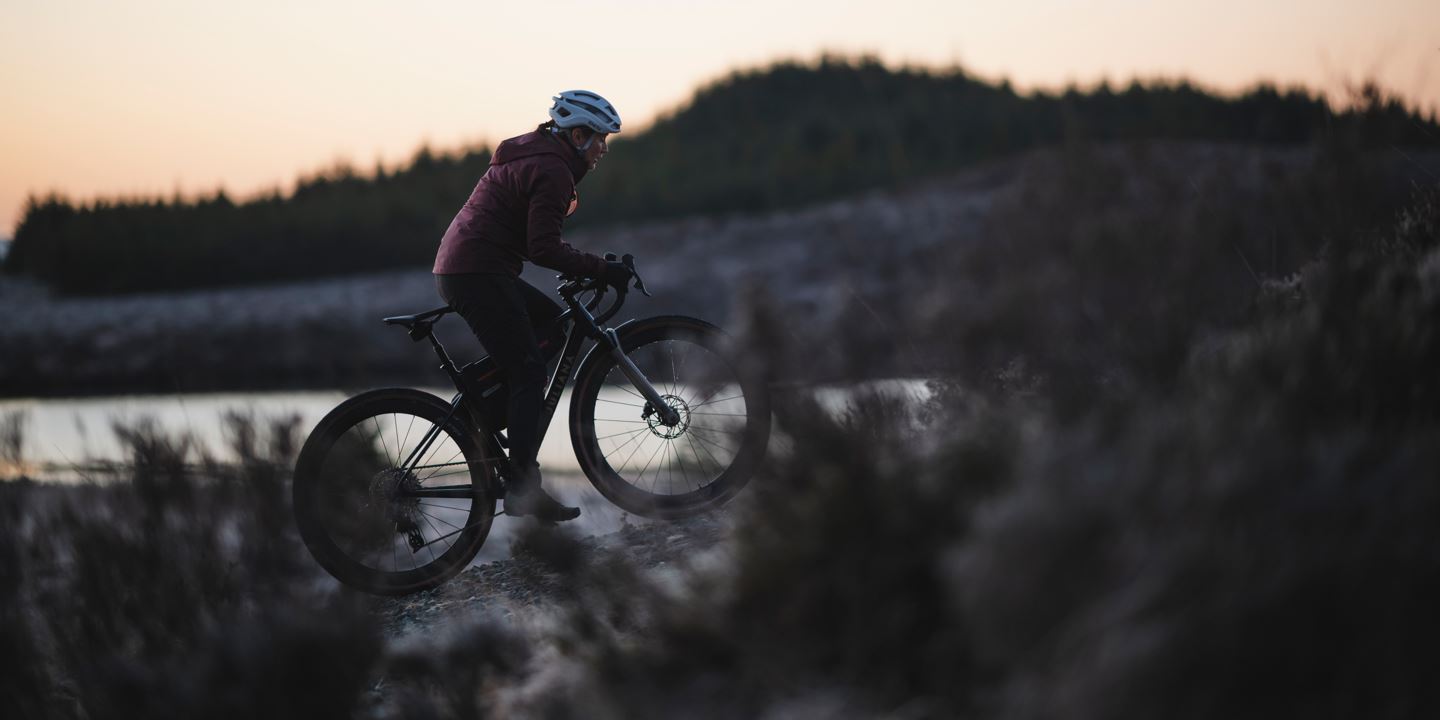 What do you call gravel roads when the dust and pebbles become 3-inch rocks? No worries; the Rudy helps ease the jarring as we pedal, making the ride smoother. We stop and enjoy these peaceful moments being the only humans in sight.
Upon descending back to the accommodation for the second round of porridge, we analyze the map. We've set aside the day to explore off-road with no defined route. Scotland is unique with the freedom to roam; since the Land Reform Act 2003, any path or track on the vast majority of Scotland is fair game for two wheels.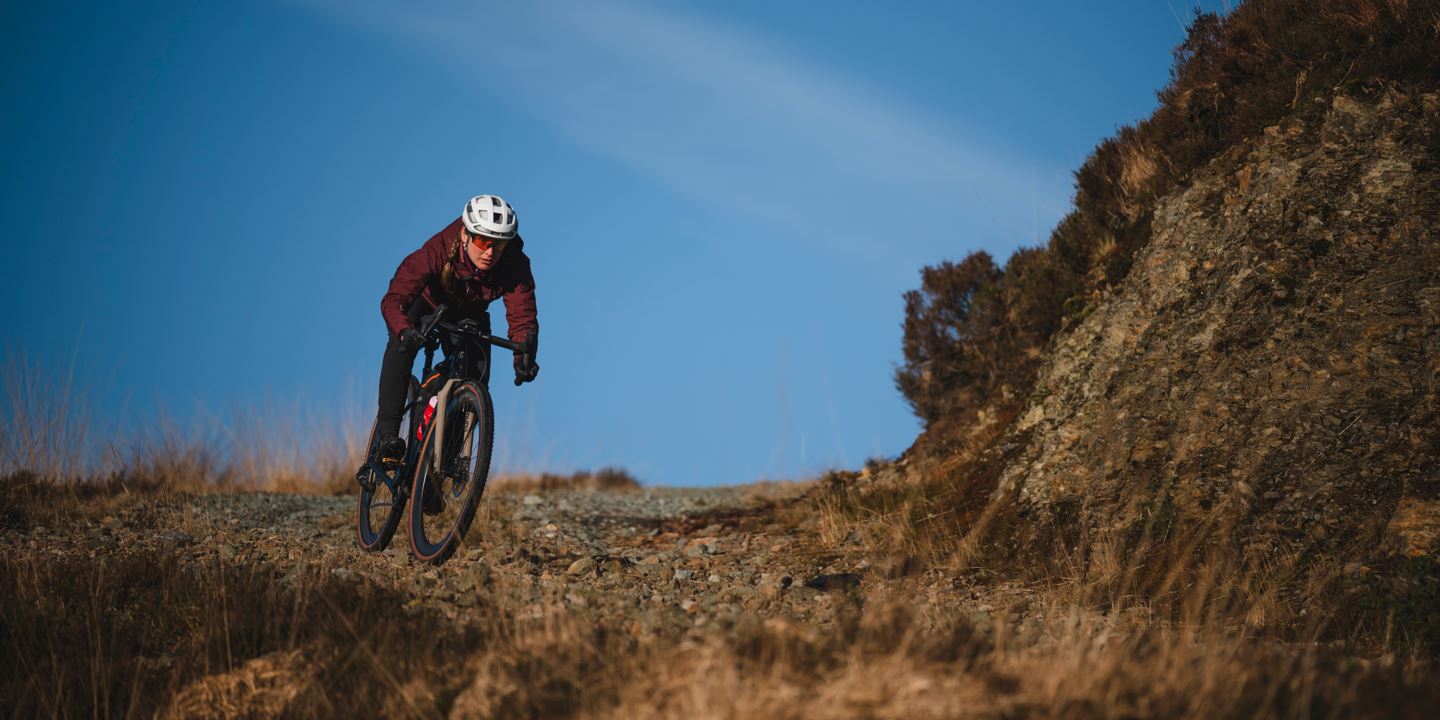 We pinpoint the woods where we saw some squiggles on a map and realize there must be incognito trails waiting to be explored. Using the forest roads to wind up high, we come across red grade singletrack (Difficulty 7-9) and know it will be on our bikes. The first trail is called "Rock & Roll," part of the Firetower trails. We check out some of the techy, rocky sections, sizing up if they're rideable on gravel bikes. I love the challenge of riding gravel bikes off-road; they spice up sections that might be a little tame on mountain bikes, changing your perspective of a trail. Simple challenges become so much fun.
We don't know what we'll find, but that's half the fun. Having a little bit of suspension gives us the extra confidence to explore and see what's out there.

–Rachael Walker
At the top of the forest, the woods are vacant and there are no signs of other riders. We jump onto the trail and find a gravel trail laced with berms, small rocks, rooty sections, and more banked berms. FUN! On the drops, I'm concentrated on the trail, remembering how quickly gravel bikes pick up speed on the descent. I can't help but laugh out loud at what we're able to ride on these little bikes with 30mm of suspension. Quite serendipitously, we're on what feels like purpose-built trails for an aggressive gravel bike; there is no point where the features become too much to handle. We're losing light, and the mercury is dropping; a small swarm of midges appears, which means it's time to get out of there!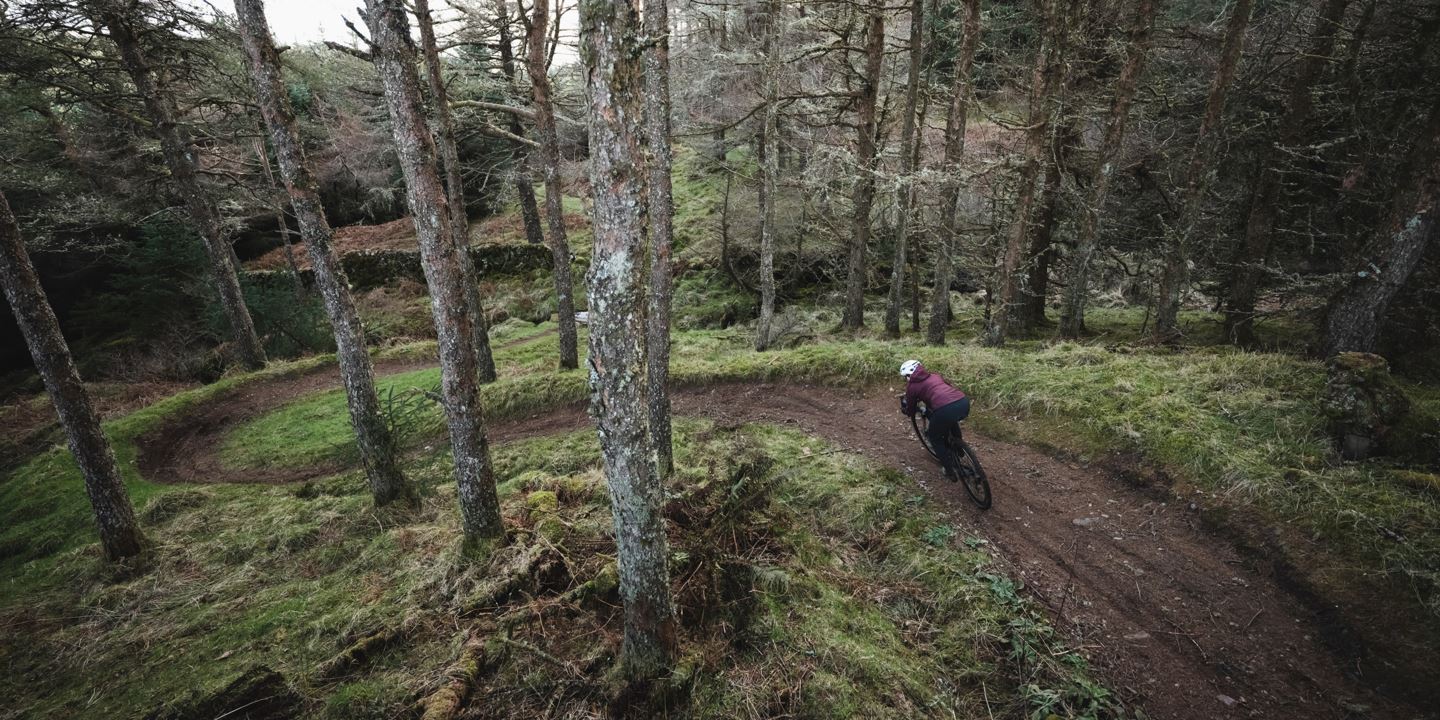 5 PM
Day 3, and we're making our way back to the first of the Tarbet's with loaded bikes to catch the Sleeper Train back home. The journey home has a mix of some larger roads, old military roads, and forest fire roads to wind our way back. We have a strong, cold headwind that takes its toll on us after some time, requiring a double cake cafe stop in Inveraray. I'm not complaining!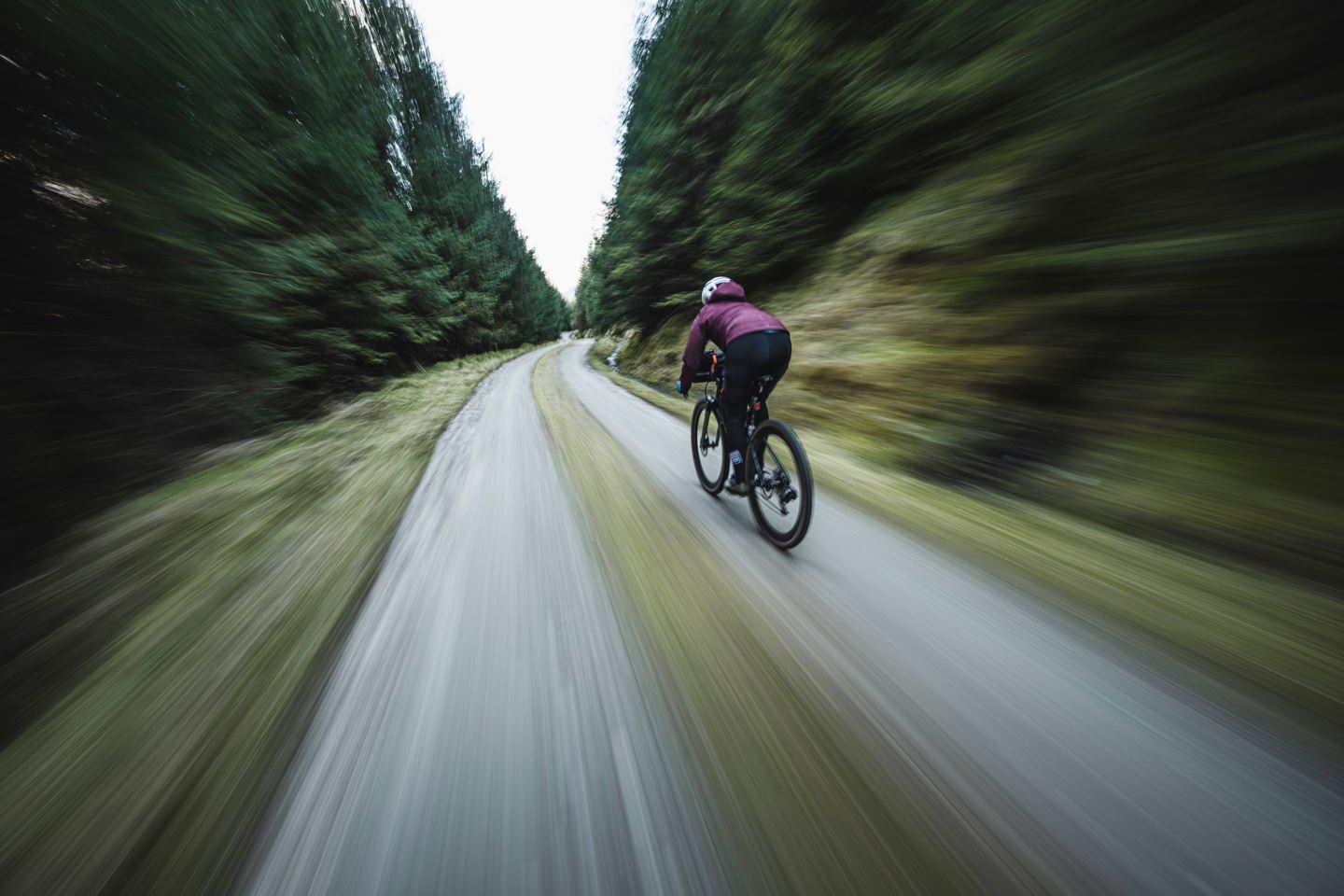 After a few hours of swiftly cruising along tarmac, we transition to aged military roads in disrepair, mountain passes, and forest roads through mossy woods. Arriving back at the head of Loch Long, we find the welcoming Ben Arthur Bothy Inn and settle in for the evening while we wait for our late-night train home. Tingling legs are accompanied by views of the mountains and loch through a window decorated with fairy lights. 80's music is blaring from the television in the corner, locals turn up, quench their thirst, and bottles of wine are emptied.
The perfect place to reflect on this little adventure.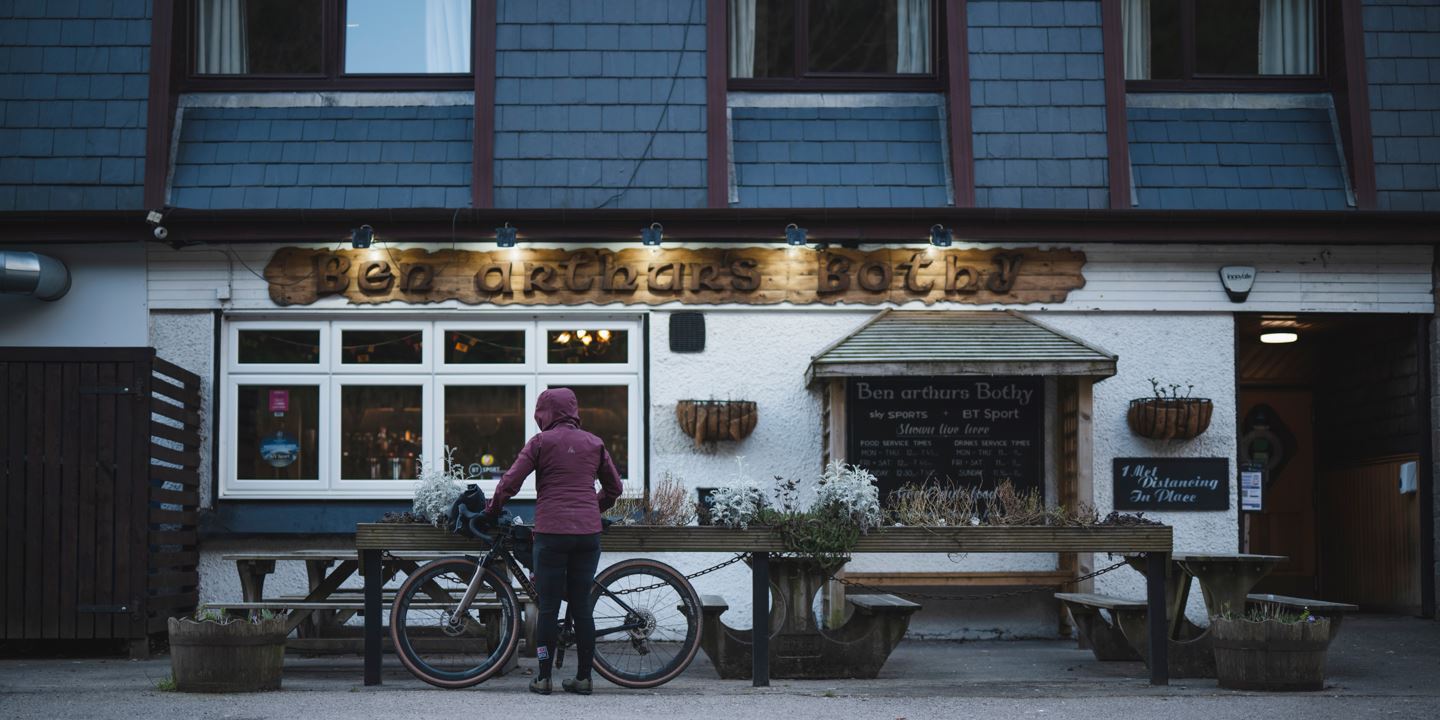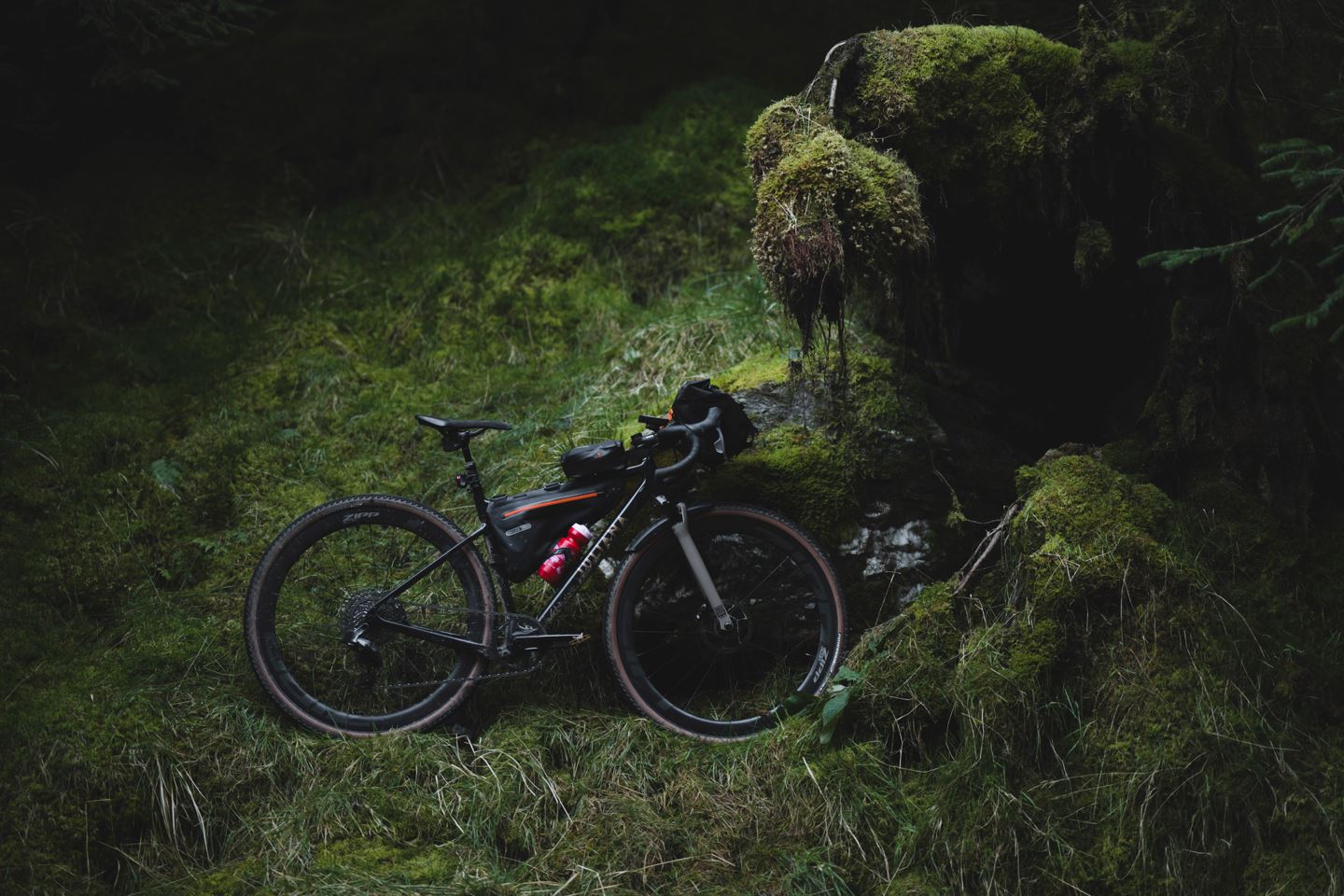 Give Gravel Some Travel
"The lightbulb moment for me came when we did our sunrise mission and were riding over the loose rock gravel paths. I realized how much smoother my ride was and how much more speed I was able to maintain compared to if I had been on a rigid fork. The same on singletrack—just that little bit of suspension took the jarring out and made the bike so much more versatile. Then being able to then lock out the fork and bash out road miles quickly was great."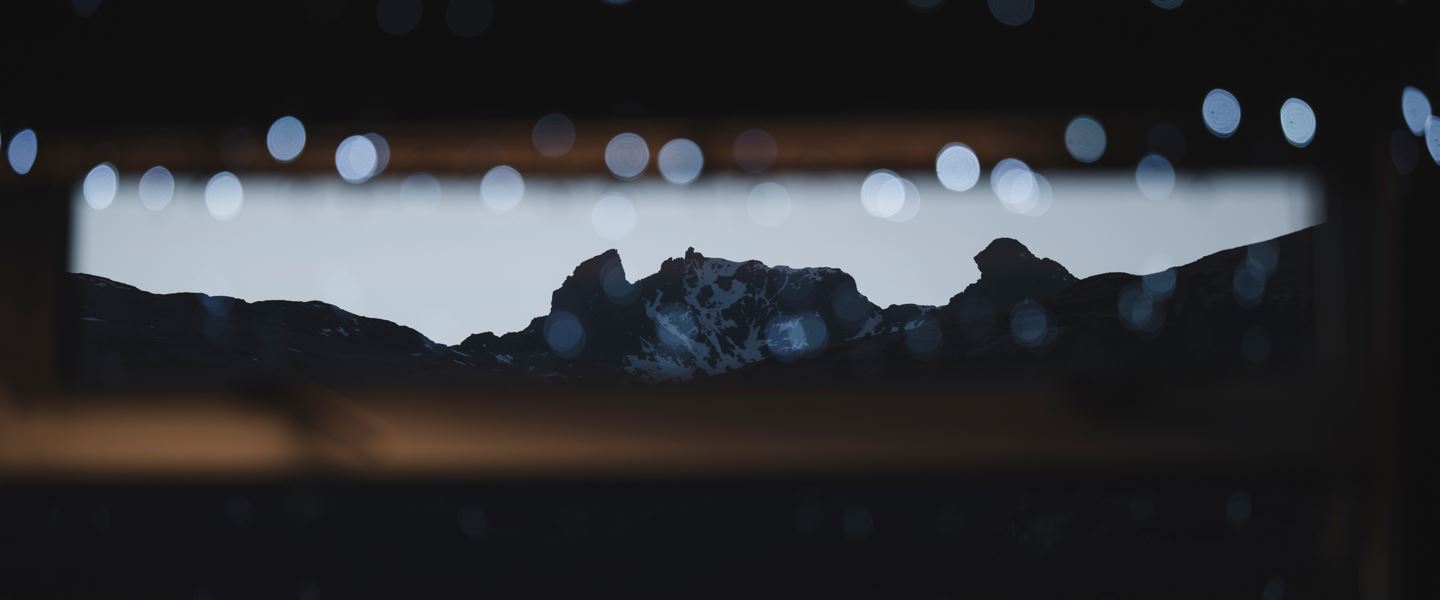 Photos by Roo Fowler. Words by Rachael Walker.