Last year I took part in Prudential Ride London with SRAM. A 100 mile closed road sportive was the perfect way to ride my first century, starting at the Olympic Park in East London and finishing along the Mall in front of Buckingham Palace. I was looking forward to giving it another go this year, but the world has been shaken up by a global pandemic and many events have been cancelled.
I was still keen to ride the route, but I knew it would be a very different experience being self-organised. Maybe I'd find it easier having worked on my endurance more during lockdown? I mentioned the idea to a friend Catherine, who said she'd love to join. She roped in two more, Heather and James, to come along for the ride.
Flashback to RideLondon 2019 with thousands of people
We prepped, rerouting the sections of the ride that would have taken us on major A roads or the wrong way down a one-way system. It took several hours sitting with two screens: one with Google Street View and one with Strava. Then planning the café stops because food is important! Finally, kit. Should we wear matching socks? Complete outfits? There was maybe a bit too much discussion about this.
When the day came, my alarm was set for 3:35 am, and kit was ready to go. Front light taped to my bars because I couldn't find the mount. Last year I had stashed all my snacks in my cargo bibs. This year they were all in a bar bag including an emergency Snickers bar. The 25km ride over to the start in Stratford was incredibly quiet and peaceful. It was already 20° C (68° F) when I arrived at 5:20 am. Today was going to be HOT.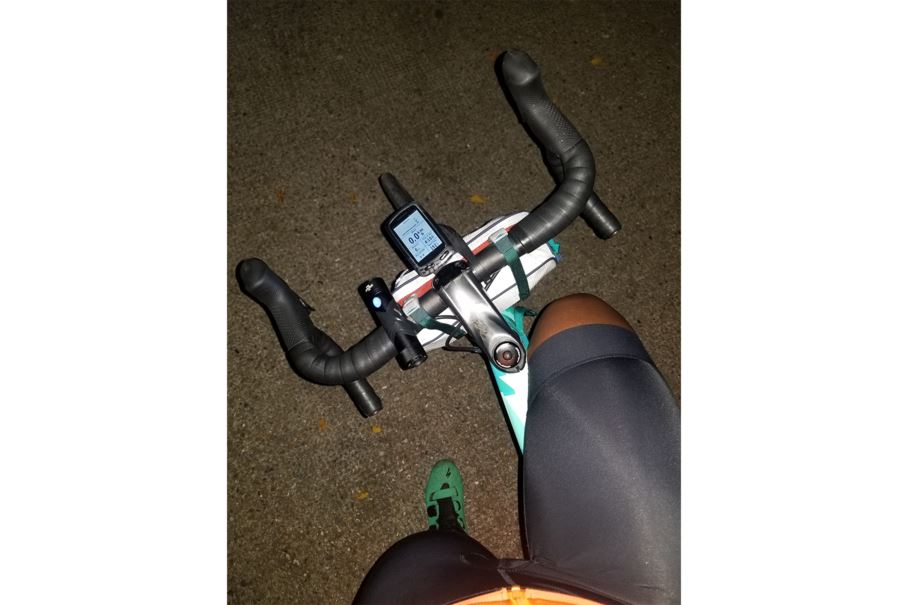 The rest of the group arrived after being delayed by a puncture and we set off just after 6 am. We were really doing this! It already felt so different without the mass start— navigating other cyclists turned into navigating vehicles. This time I was much more aware of my surroundings, maybe because I had laid out the route myself. Covid-19 and social distancing has meant changes to road layouts in Richmond Park. Cycling through it was absolute bliss with only cyclists and pedestrians. It was almost like riding the event last year!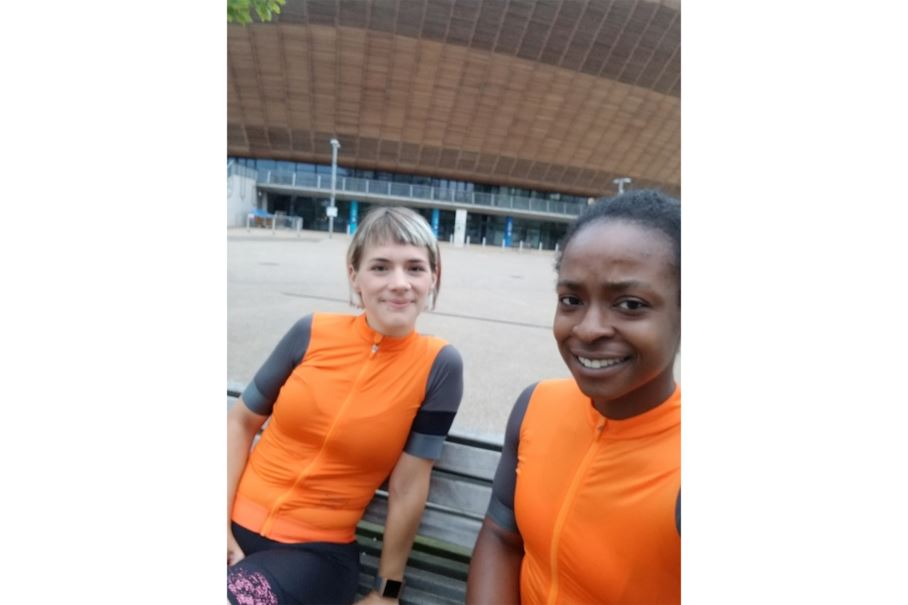 Hubs and aid stations were replaced with café stops. We reached our first one, Dish in Molesey, 40km from Stratford. I told myself, "I'm going to have something savoury and save coffee for later." Famous last words as I walked out with a mocha and a custard pastry!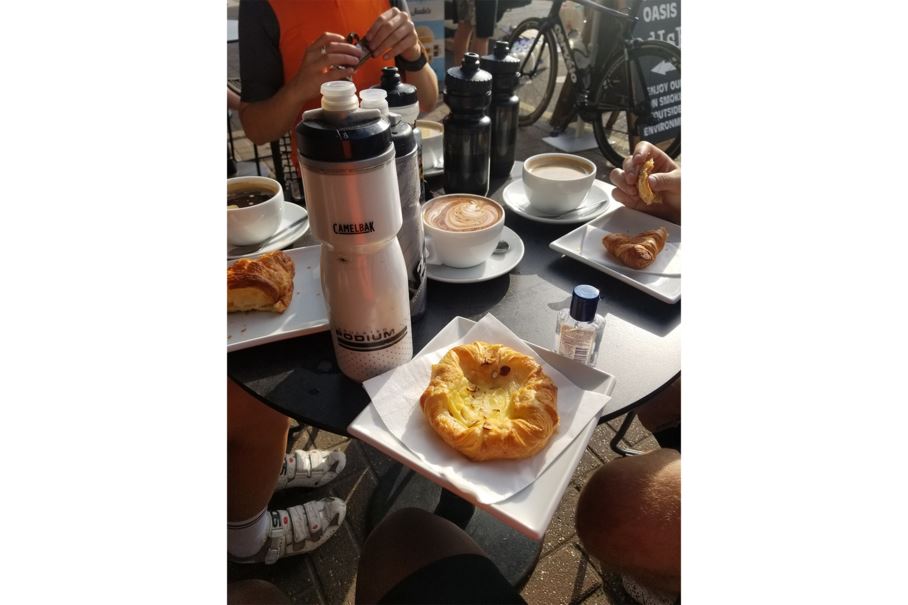 On the move again, some of the false flats were really taking it out of my legs, but a quick stop on the side of the rode to stuff my face full of sweets after 100km did the trick. I couldn't wait for the second café stop to come. 25km later and we were at Heartwork Coffee, a cute coffee truck surrounded by hay bales for seating. Most importantly, they served ice cream! It wasn't even midday but it was already pushing 30° C (86° F) and I desperately needed something cold. It did the trick, for all of about two minutes.
Then, it was time to face the Surrey Hills. Without a cyclist traffic jam, I actually had to stay on my bike going up Leith Hill. It completely ruined me. I was questioning how on earth I was going to make it to the finish. But I'd set myself a challenge and I had to keep going. After the descent we were joined by another rider, Paul, whose local knowledge meant we could avoid the fast roads heading towards Box Hill. Ah, another draggy climb, so many times I just wanted to stop and sit on the side of the road! But I made it up to the top in one piece and had a little sit down there.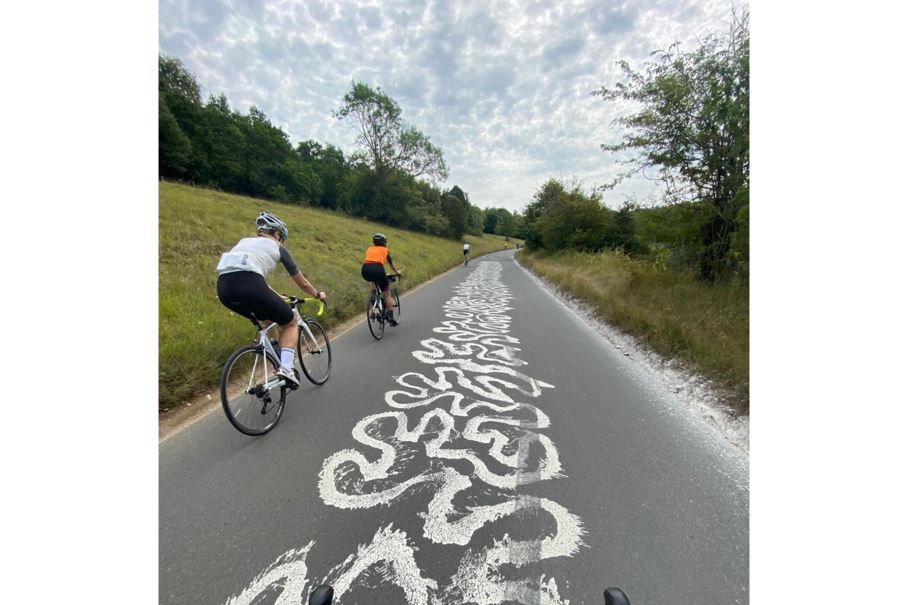 We hit our final café stop, Giro in Esher, around 1:30 pm, 155km from home, 25km from the mall. It was already nearly my longest ride. I don't know what they put in their iced green tea and cherry slices but it was just the thing I needed to get going again. Well, if it wasn't for my legs cramping up. I'd forgotten how painful that could be. Thankfully I managed to make the pain go away so I could get back on my bike.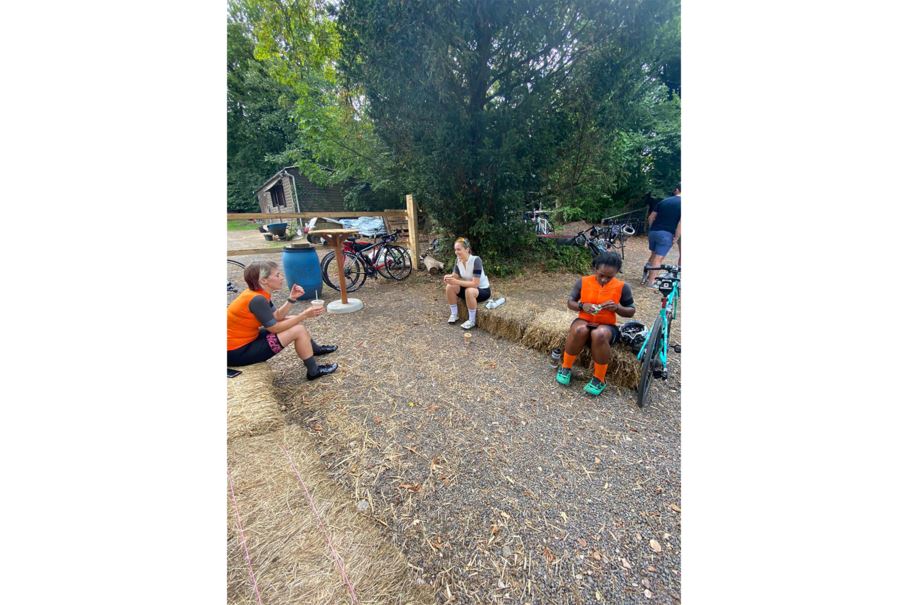 And there it was, home stretch to The Mall, the end was in sight! Well, almost. All we could manage was a celebratory selfie sat in front of Buckingham Palace before riding back to Putney to finally eat something savoury: Pizza! I really struggled to eat—was it because I had eaten so much sugar or because I was thinking about the ride home? I rode from Putney back up north towards home, with the odometer ticking over 200km on the way!
The end was almost in sight, but a couple of close calls with drivers sent me over the edge and into a mini panic attack halfway up a hill. Even though I felt physically fine, the emotional toll of the day had finally got to me. But I made it home in one piece, having been on my longest ever ride, an achievement I was really proud of. And I had a second, more successful attempt at eating pizza. I'm not sure I could have done it without everyone who rode with me.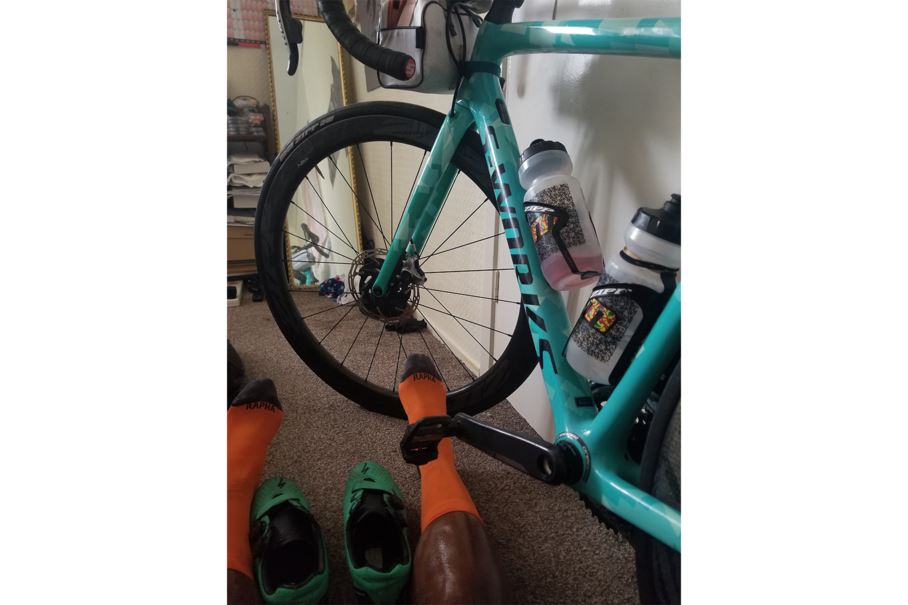 As much as I missed the structure of the official event, it was nice to make it my own.