With the recent cancellation of Paris-Roubaix, Chantal van den Broek-Blaak has only one race left this season: the Ronde van Vlaanderen. The Boels-Dolmans rider has dreamt of winning the Ronde van Vlaanderen, a race that that has held a special place in her heart since she joined the pro peloton at 19.
The goosebumps you get when you ride on the Oude Kwaremont or the Paterberg with all these people cheering for us hours before the men's race. We ride that race equal to the men in terms of media attention and fans, not as a side show. There is nothing that compares to it.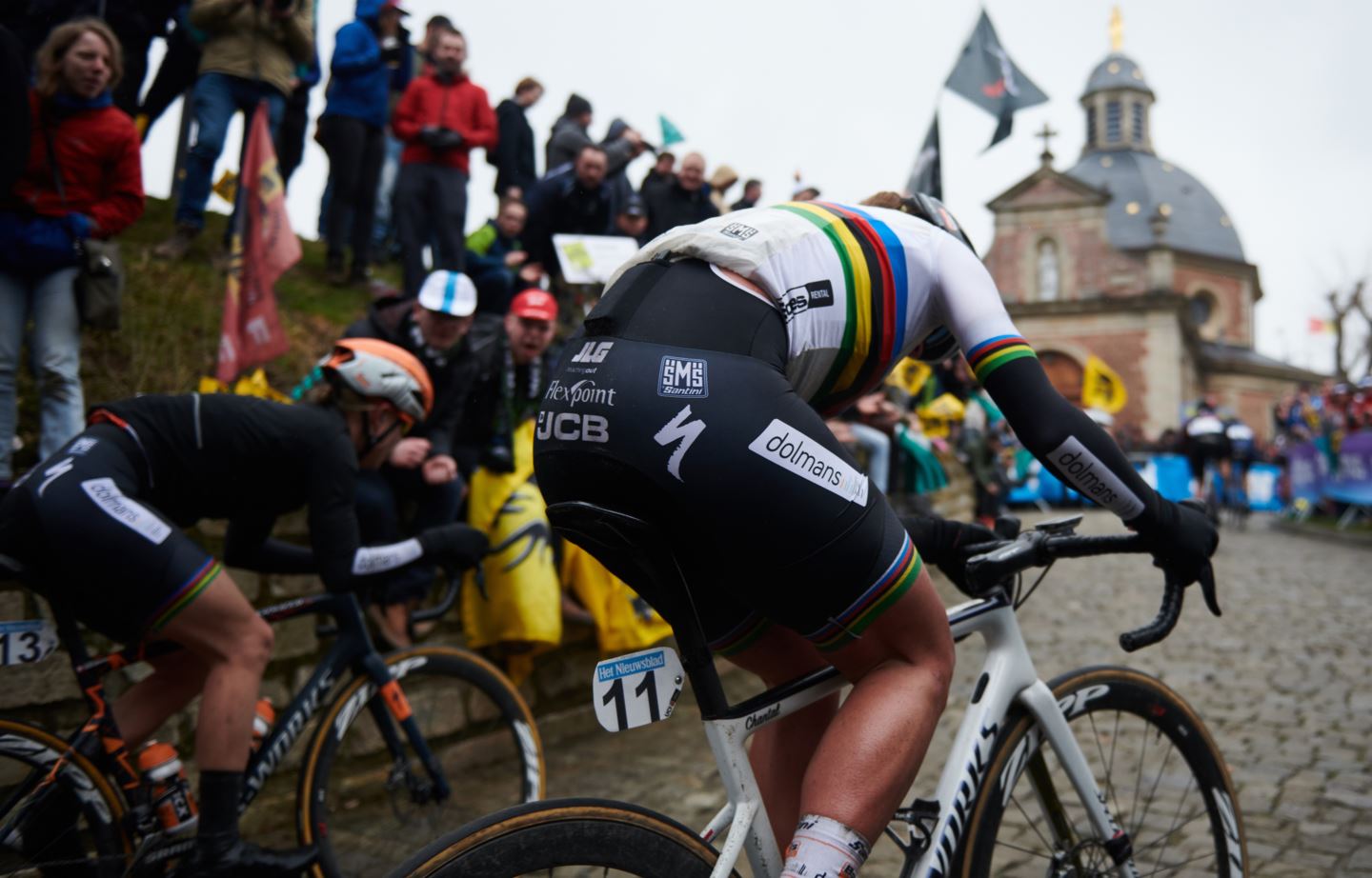 Chantal on the Kapelmuur in the rainbow jersey during the 2018 Ronde.
"I have been close to winning Flanders and really would love to finally win it. What you need is top form which I do have now. The race needs to be tactically perfect too. That is something I have been thinking about a lot: how can I actually win the Ronde van Vlaanderen? What does it take? The answer is still not clear. It all comes down to that day and all the different variables," she says.
Van den Broek-Blaak started 'De Ronde' eleven times already, almost every year of her pro career so far. She finished in the top ten six times and was on the podium twice. The first women's Paris-Roubaix has now been moved to April 2021, but it is still on her mind.
"I would also love to win such a prestigious race," she smiles. "In theory it should suit me very well but there are still a lot of unknowns about that race. I, and everyone in the women's peloton for that matter, don't know what it will be like."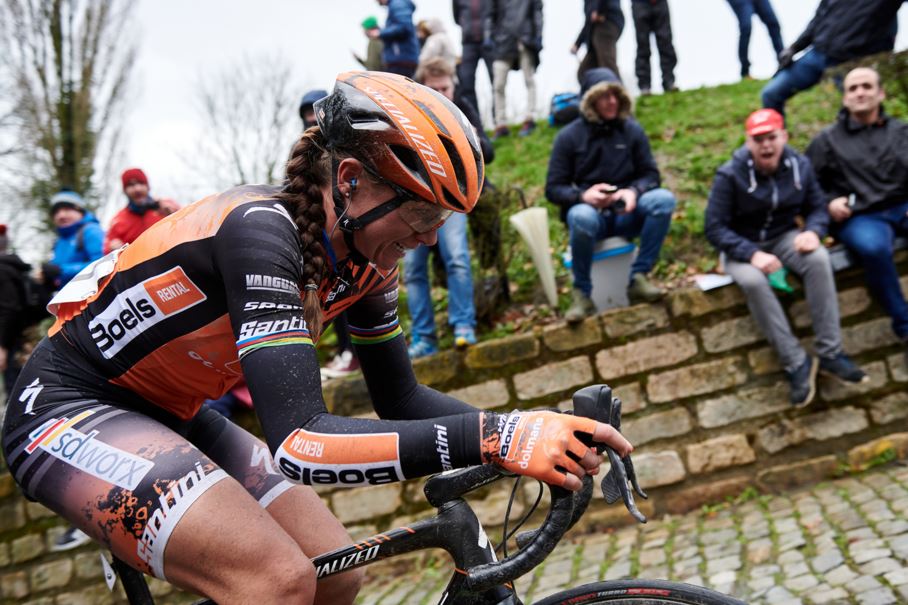 Chantal takes on the cobbles of the Kapelmuur during the 2020 Het Nieuwsblad
Roubaix cobbles are not the same as Flemish cobbles. It's all much more irregular. We did a recon in dry weather before and it takes a lot of skill.
"There is this one little part on the side of the road you can ride but you have to know exactly where you can do that and most importantly where not. I hope to do another recon before the race."
The 2017 world champion echoes the words of her Boels-Dolmans teammate Anna van der Breggen and stresses as well that she hopes everyone will come prepared.
"Maybe you should first look at yourself and decide if you actually want to ride this race. I am not a lightweight rider, not a climber's type, so I should be well-suited for Paris-Roubaix but that doesn't go for everyone. The course is unlike anything we have ever seen which is both incredibly exciting and also a bit scary. I hope everyone comes fully prepared and that riders are honest with themselves whether they should actually ride it. That is safest for all of us."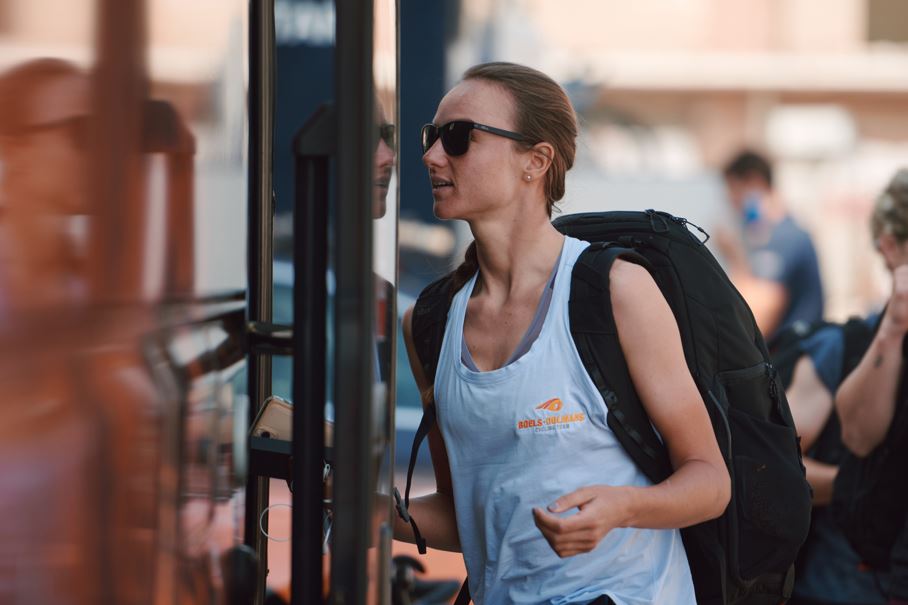 Van den Broek-Blaak is an allrounder. She has a fast finish but is not a pure sprinter. She can ride long solos but is not a time trial specialist. She has the drive to win every race but is also fully at peace with working for others. She hopes to discover Roubaix and feels she should do well. There is one thing she feels she needs to improve on.
"It's the kind of race you just have to keep on giving the entire day. Crash? Get back up and ride. Mechanical? Get back up and go again. That's me as a rider. The positioning is something I am more scared off. It's not my best trait, especially not at the beginning of the race. When I am there in the final, I can do really well but Roubaix looks to be a race where positioning is very important all the time."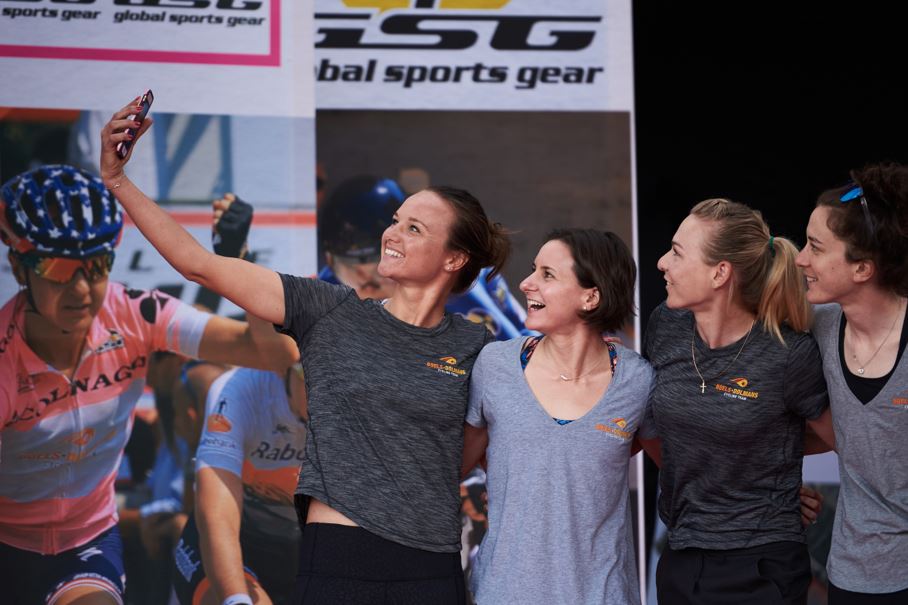 Boels-Dolmans is a tight-knit squad where the riders support each others' ambitions
As a former winner Van den Broek-Blaak was especially looking forward to the Amstel Gold Race, the only Classic on the women's calendar in the Netherlands. That race got cancelled due to the COVID-19 measure where any public for sports events is now forbidden.
"Those are the kind of races I get myself motivated for, the races I trained for during lockdown, but I was at a point in my career that this doesn't go for all races anymore. I still love training a lot but I found myself thinking of some of the races on the calendar: not that race again, not in a hotel again. Races that start to feel like work are more common now. So, when the opportunity came along to become a sports director, I said yes."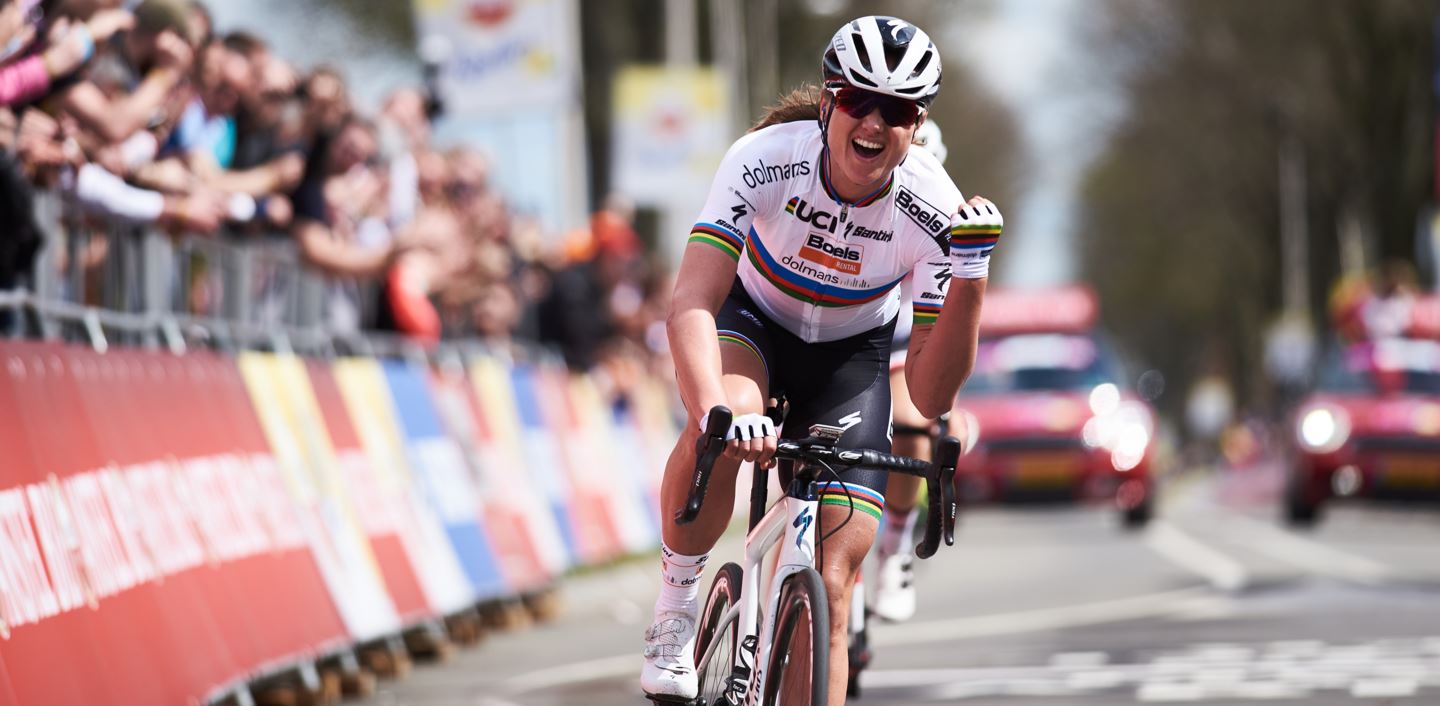 Winning in the World Champion jersey at 2018 Amstel Gold
She turns 31 just after Flanders but has already announced the end of her career after the 2022 season. Just like her teammate Anna van der Breggen she will continue her work in cycling as a sports director for Boels-Dolmans, which will be called SD Worx in 2021.
"I am still very much a rider at the moment. Anna is much further in her process towards retirement but I have a year longer. I want to be rider among the riders first and foremost and not wear two hats when sat at the dinner table. Maybe after next season, so in my last season, this might change but for now I still love being a rider. Also, I am not the kind of person who is interested in the UCI rulebook. I feel I will be a sports director more focused on coaching riders, especially the young ones, than on the technical side of things."
Anna and I will be very complementary. She is always very keen on finding everything out to the last ounce of information available and I am more focused on the emotional antenna in the team, EQ vs IQ so to say.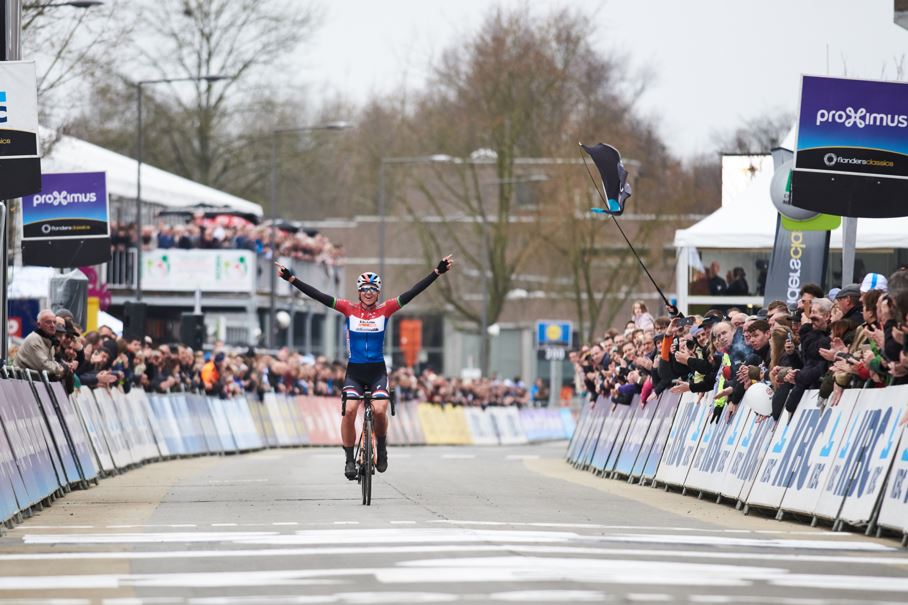 Victory at 2019 Gent Wevelgem
But first she has three more Classics campaigns to go. She stresses she wants to give her all in the remaining seasons but also looks forward to more quiet times at home. Now after almost twelve seasons in the pro peloton, she also looks back at her career. The 2017 world championship is naturally a highlight.
"It was unexpected. That year I won my first national title which was already a dream come true. I didn't go into the world championships with a lot of pressure. The team plan was to work for Anna van der Breggen and Annemiek van Vleuten and I am always happy to do that. I also knew that when I found myself at the front, I would go for it. I already had that feeling that something special might happen that year. That day I rode with confidence but actually winning the world title was amazing. Maybe winning the Tour of Flanders can beat that feeling of that day in Norway in 2017. All I need is that peace of mind in my head and on the bike and one of those very special days again."