Interview by José Been; Photos by Balint Hamvas
Clara Honsinger, only 23 years young, ended a 15-year streak by Katie Compton to become the USA national cyclocross champion in 2019. She wears the jersey with pride but is also fully aware that being one of the best in the United States doesn't mean you get results on the European continent, and especially in Belgium – the heartland of cyclocross.
"Racing is so much more aggressive here. The field is deep and every rider lining up for these races is really good."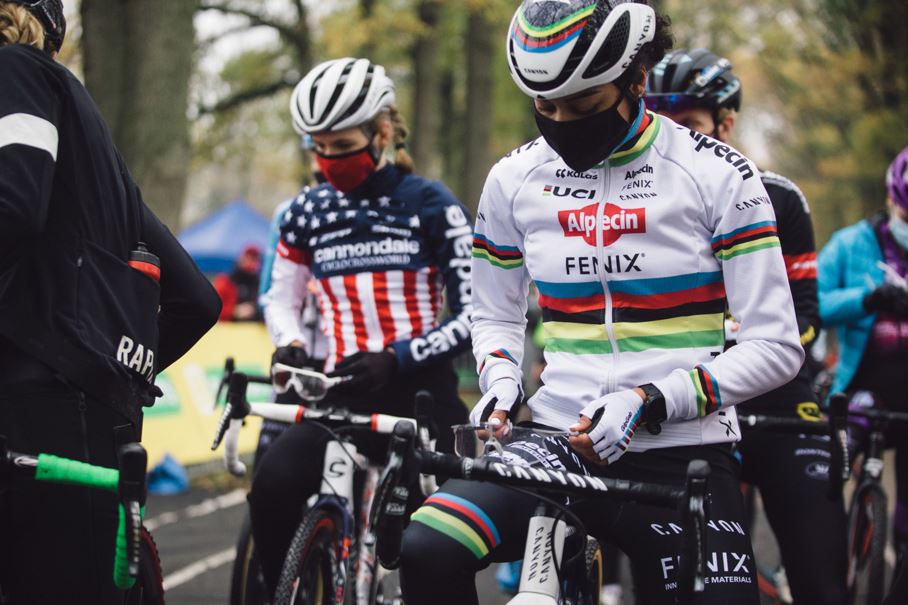 Before I travelled to Europe in early November, I hadn't done a single race apart from some local masters' races. I lack the aggressiveness to race here. The pelotons are big and you have to fight for every inch and not let yourself be pushed aside. That is the hardest transition.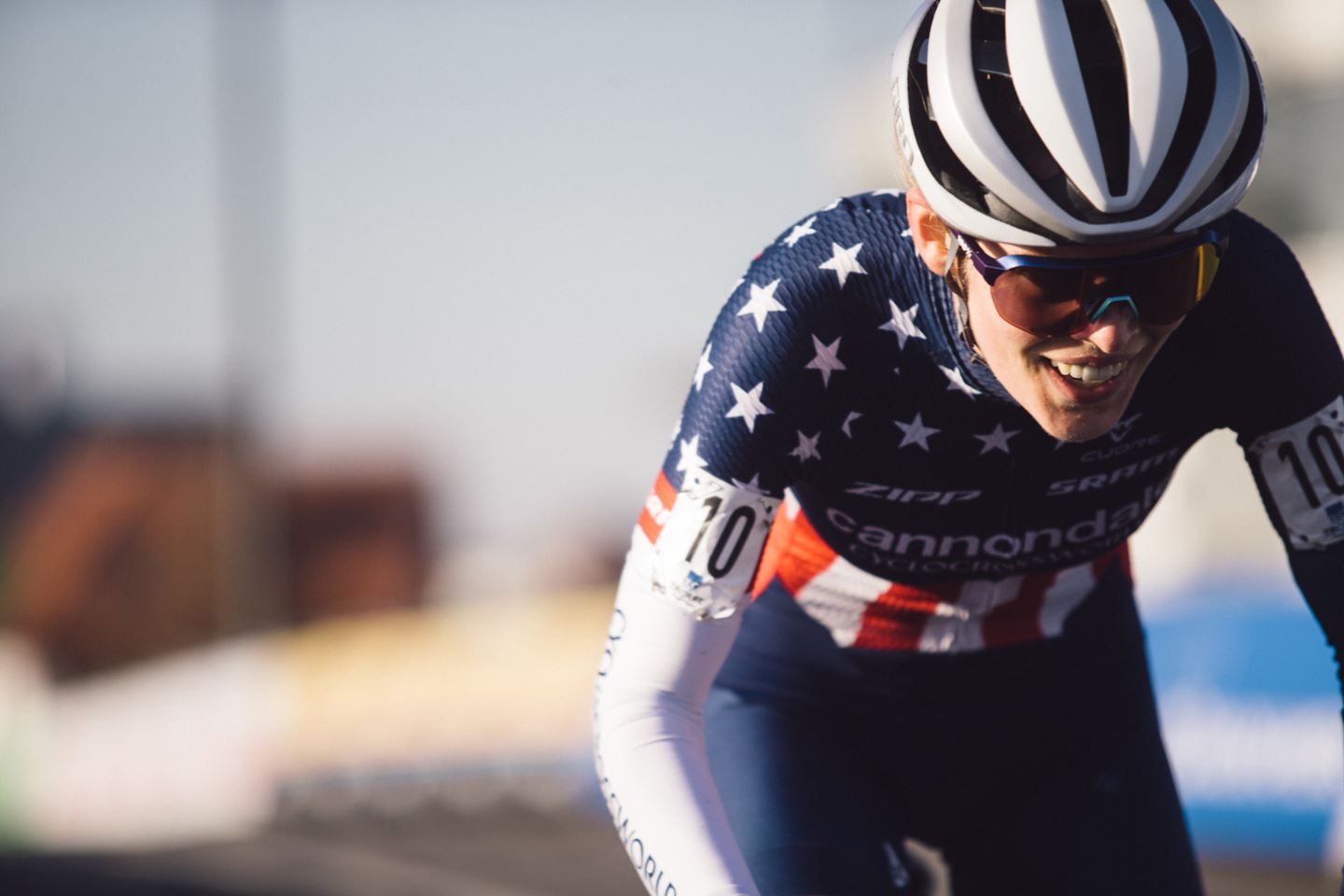 "I have the fitness to race but you learn proper racing by racing here. I need to get that race attitude on," she says from her Cannondale-Cyclocrossworld team base in Watersley, the Netherlands.
Cyclocross continues this winter in Europe, while all races in the States are cancelled. This means Honsinger gets to keep the national champion's jersey another year. The season she now faces in Europe is also curtailed, but at least there is racing.

"I needed some time for acclimatization in early November after not having raced for so long. The benchmark is now around the 20th place. That's a starting point but not the standard. I want to be ambitious and aim for a top ten spot in European races. I need to become more consistent in my riding. Wearing this national jersey also comes with the expectations. Katie wore it 15 years and people already expect me to be as good as her now," she explains.
In 2019 Honsinger had a very successful period of racing after she won the American championships in Tacoma, Washington. A week later she rode to a sixth place in Namur, one of the hardest races on the calendar.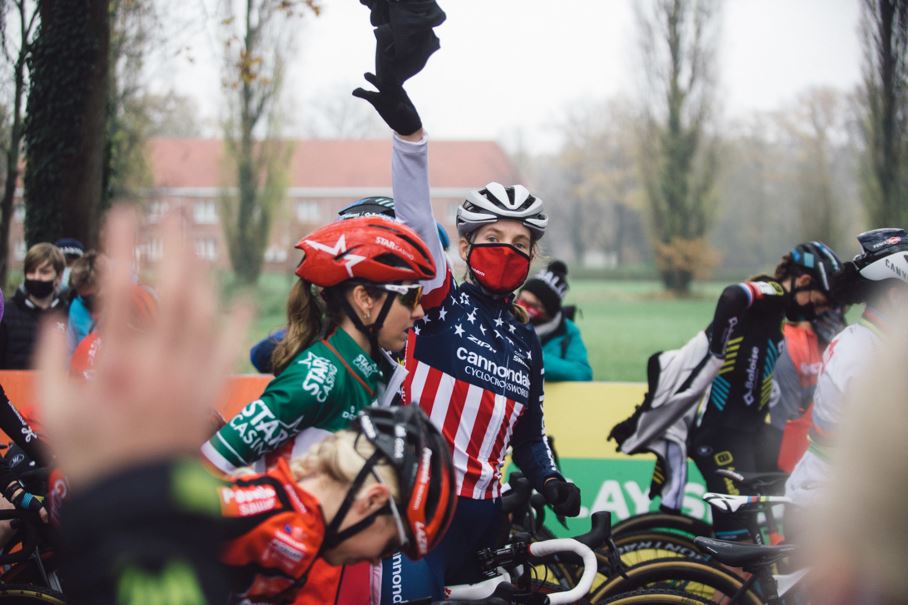 "The World Cup in Namur was extra hard in 2019 because of all the rain and the mud. It was ultimately a mountain bike race on cyclocross tires. It was technical and I did really well that day. I also got sixth in the World Cup race in Nommay in January. That day I saw how the circumstances would change suddenly, from a frozen surface to super muddy, and chose the right tires."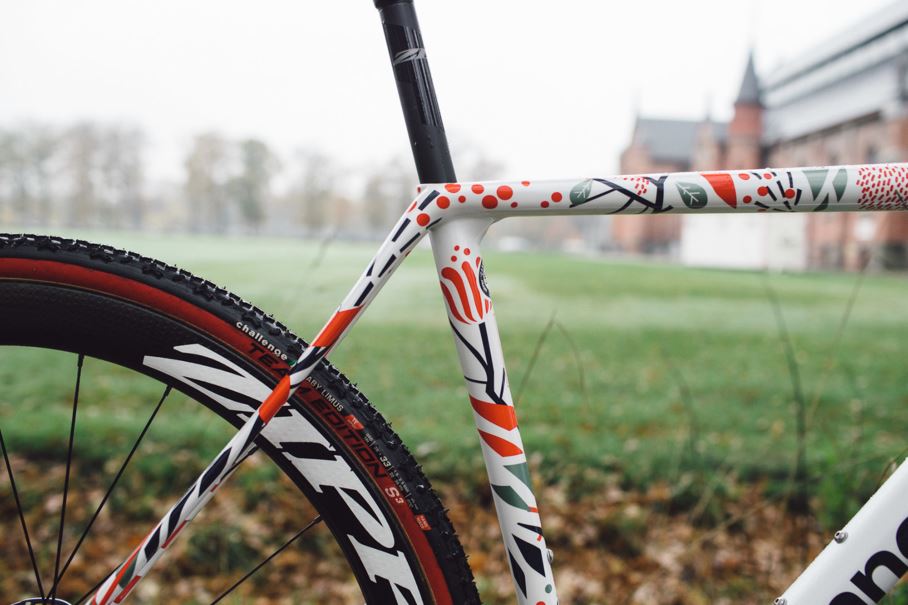 Cannondale-Cyclocrossworld glues Challenge tires to their Zipp 303s
This year, in her first full European season, she is looking forward to discovering the races she doesn't know yet, like the Urban Cross in Kortrijk on an inner-city parcours. It resulted in her first top ten of the season.
"It was a really fun course with the city's infrastructure built in. I need to be lighter on the transitions, though. I flatted on a curb towards the end of the race. I'm happy to have moved up on the results sheet but still driven to perform better, especially in the starts. Kaitie Keough has been helping me a lot with start tactic and technique, advising me where to line up and pushing me to be more aggressive," she says.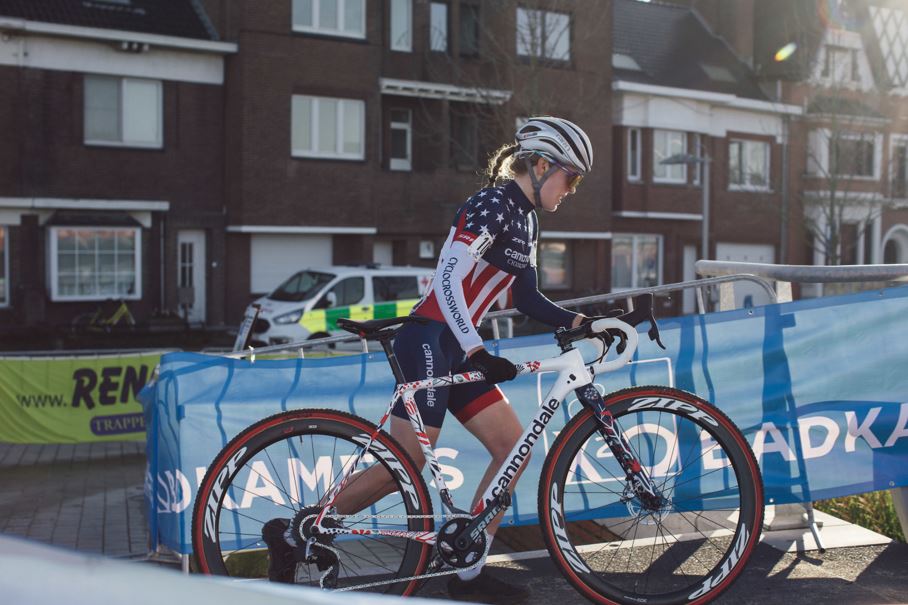 Urban CX in Kortrijk
Honsinger is still young and wants to keep racing as long as she has fun doing it. The technical side of things appeals to her. She has worked as a mechanic in a bike shop in Oregon and knows her bikes.
"I know how to service bikes and this is really helpful when working with our Cannondale-Cyclocrossworld mechanics. You could say we speak the same mechanical language, so I can tell them what on the bike is working well and what needs to be adjusted. Overall, they are extremely meticulous and precise, and they do a phenomenal job keeping us rolling."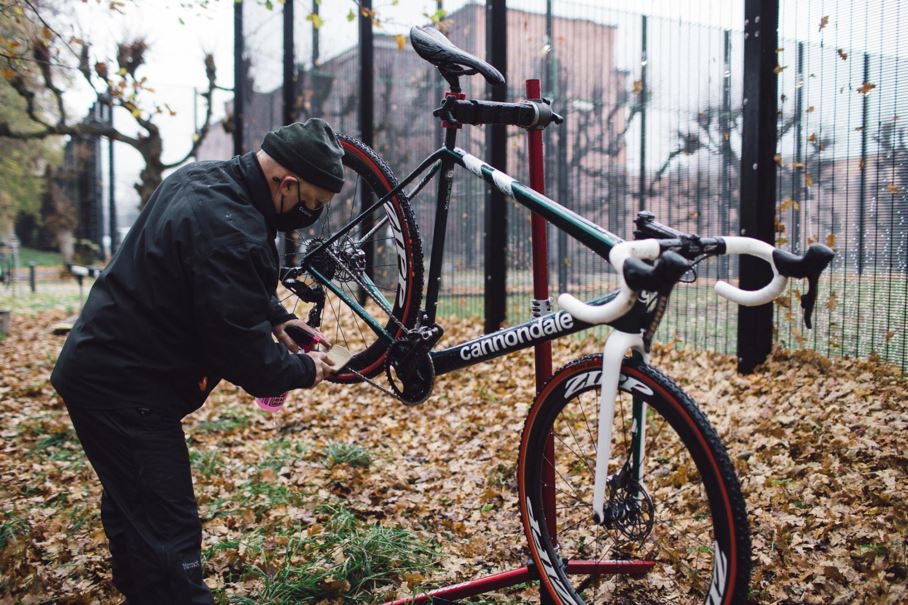 Gary Wolff is one of the superb mechanics on the squad
I like the simplicity of the shifting paddles. You never have to worry about hitting the wrong button, especially in the wet and cold when your fingers are numb.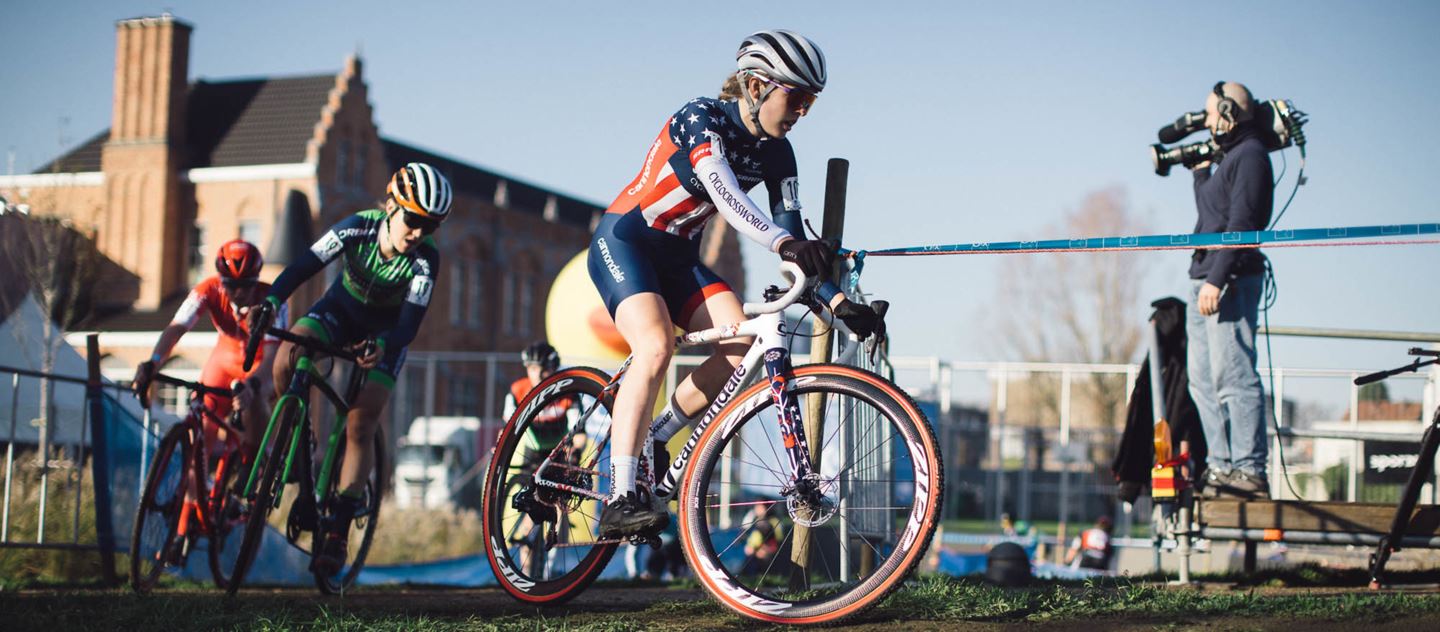 "The brake levers are also easily adjustable, so I can dial in the reach and pad throw for my smaller hands. I have been riding with a 38t chainring in the front and a 10-33t cassette and have found that it is the perfect gearing for the sharp pitches and fast straightaways of a cross course. I also love the Zipp wheels we ride. They are super light and nimble, yet wide and durable for low tire pressures we ride in cross. I flatted a tubular in my second race and had to ride to the pit, but the wheel was totally fine!"
Cannondale made Honsinger a custom painted cyclocross bike with plants and trees from the forests she so dearly loves and mementos of three important mountains in her career and life.
"We made the design together because I didn't want the standard stars and stripes theme. The floral theme has a Henri Matisse feeling to it. The three mountains are Mount Shasta in northern California where I rode a lot because I am from the south of Oregon, not far from the border with California. Mount Rainier is near where I won the national championships and Mount Hood is near where I live now in Oregon."
The reference to 'Lil Clara' on the top of the frame refers to Honsinger (still) being the youngest of the American riders and the fact she already raced with elite riders when she herself was only 17.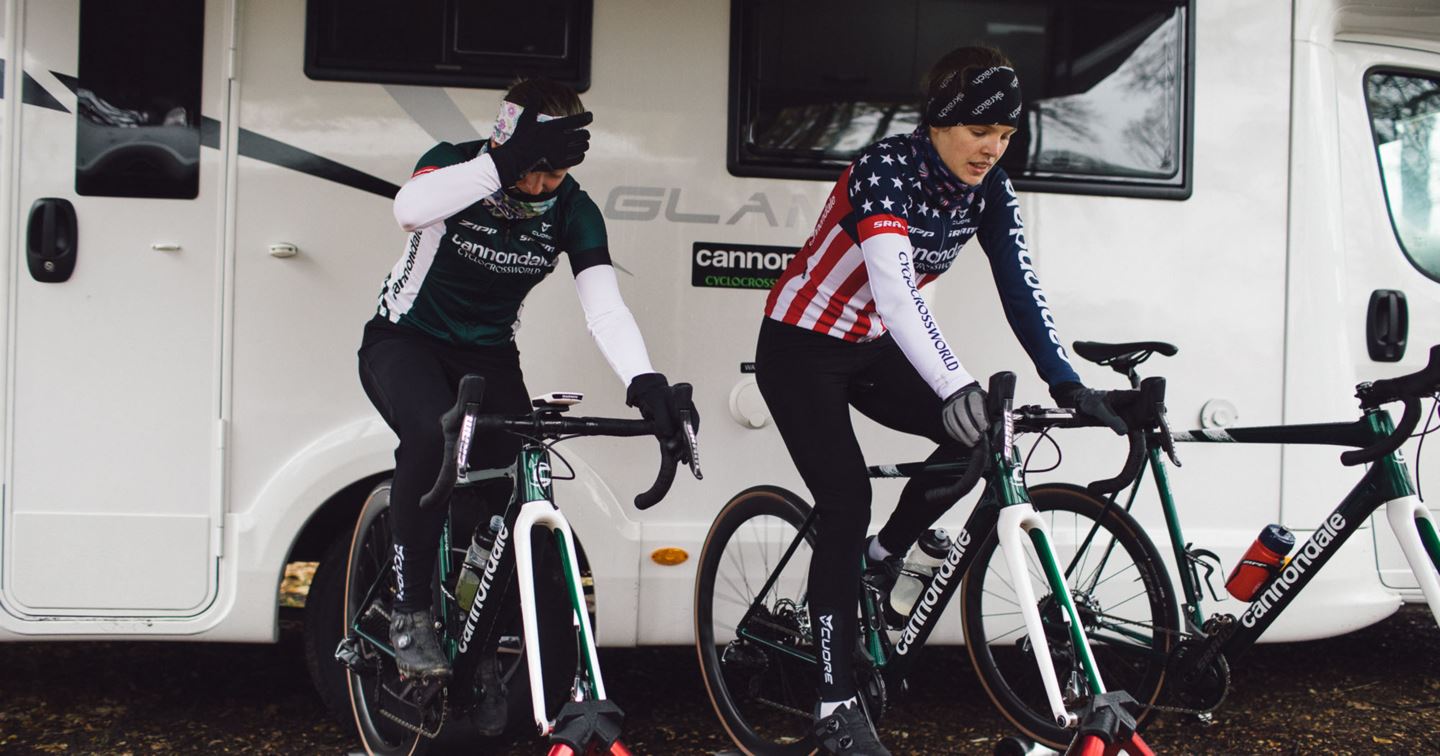 Honsinger has a long career ahead of her. She aims for consistency in her cyclocross results now that she is riding her first full season in Europe. She also joined the Tibco-SVB team for a road program next summer.
"I want to focus on road racing to grow that engine as they say. I also need to gain more experience in bigger pelotons of riders because nowadays our start fields in cyclocross can be up to 80 riders too! The plan with Tibco-SVB is to race a domestic program. I do hope we will have some races in the US. There could be opportunities to race in Europe because I am on the roster but the plan is domestic racing first."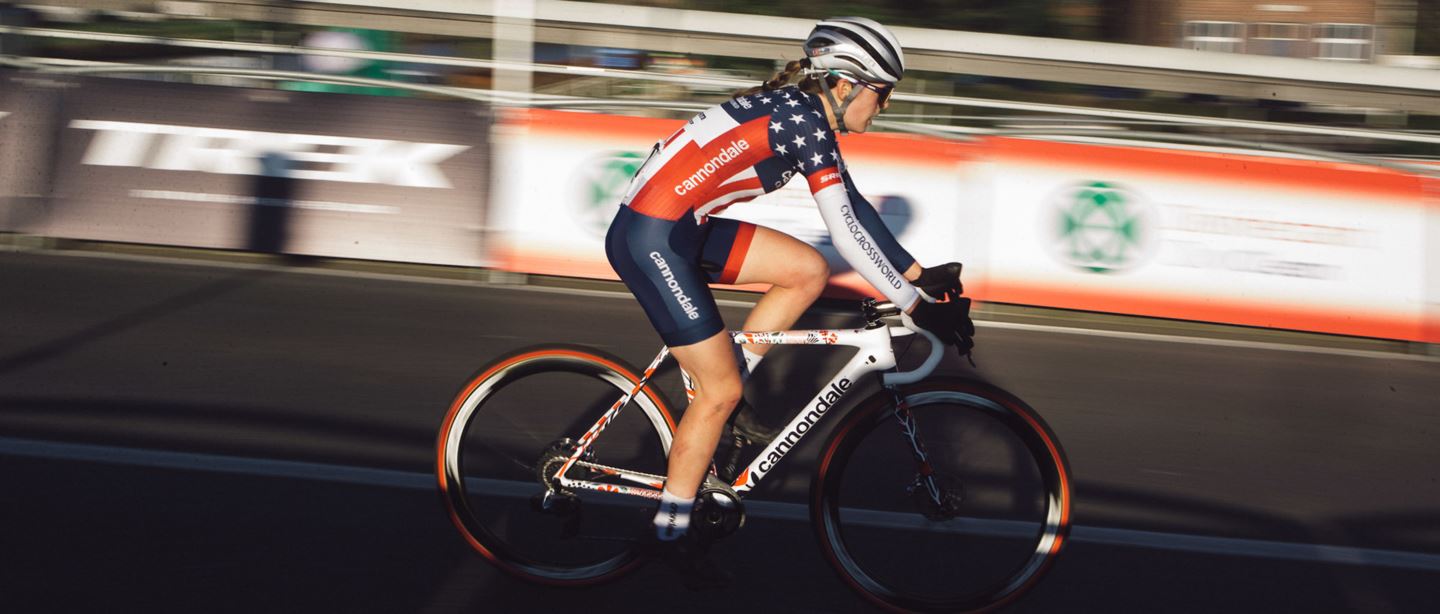 Honsinger is a rider who thinks in opportunities and not in impossibilities. She sees opportunities to become a better cyclocross rider but also wants to expand her horizons and test her potential on the mountain bike and the road. She'll stay in Europe until the World Championships in Oostende, Belgium at the end of January. In 2022 the World Championships will be in Fayetteville, Arkansas, an event she already looks forward to.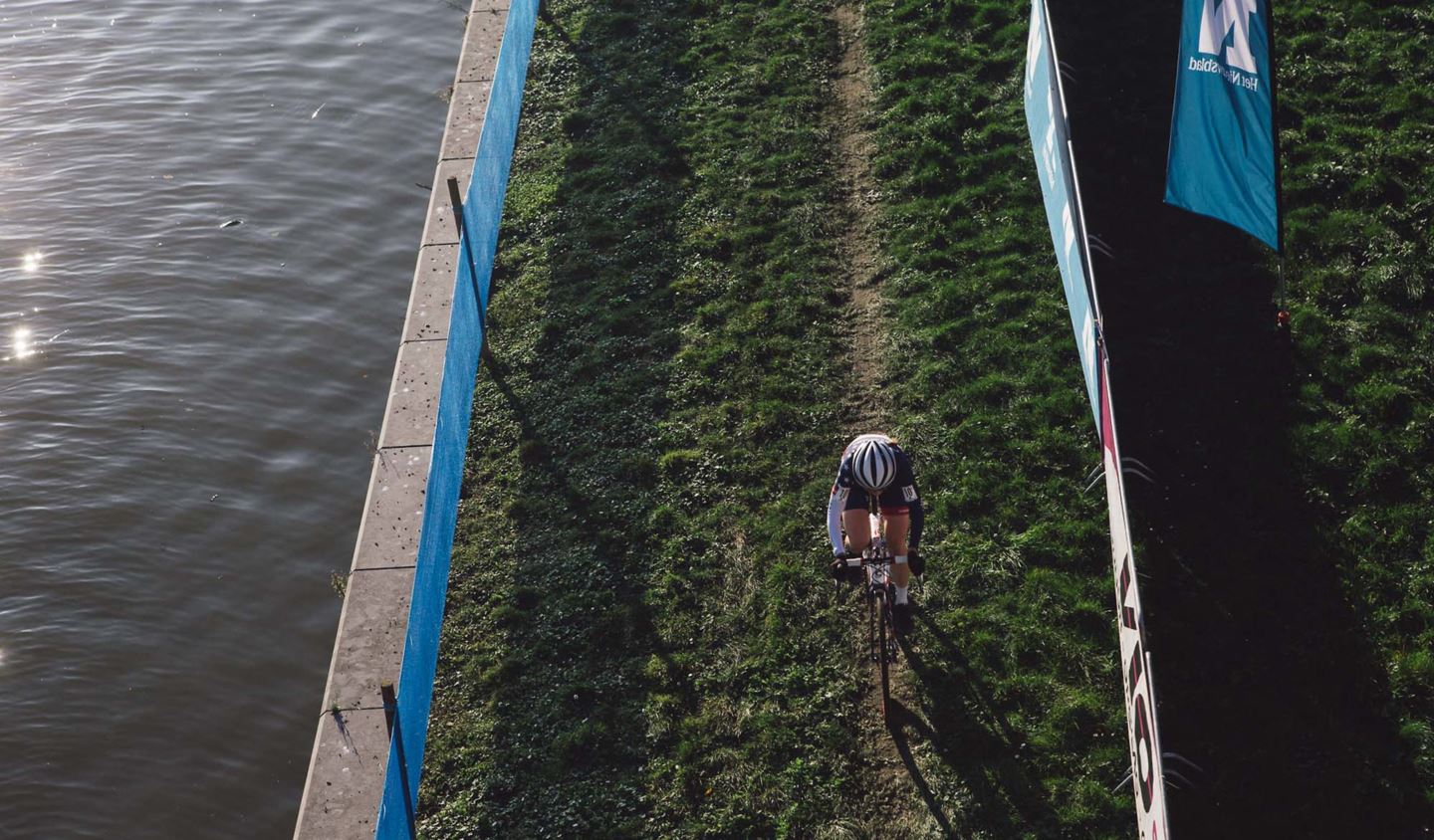 "Next season will be important in two respects. Our UCI points go back to zero after this season so we need to get all our points next year. It's a start from scratch and I want to raise my game straight away. Plus, it's going to be in the United States, which is not only important for US riders, but also for US fans. I remember the atmosphere last December in Tacoma, Washington, when I won nationals. It felt like the roar of the crowd was carrying me to the finish line. I could hear the cheers of the Pacific Northwest community that had supported me in racing since I was a junior. To me it's a dream in itself to do well in Fayetteville in 2022 and a home crowd like I had in Tacoma is just amazing in its own right."