"Cycling was a foundational part of my family's story" says Isabel Reyes-Todd. Coming from a family with a long tradition in road racing, Isabel, a 2020 SRAMbassador, fell in love with the atmosphere of CX and gravel. Not content with being a mere participant in the cycling world, she's been a driving force in creating a welcoming and inclusive Chicagoland gravel community. As the world sees a huge growth in new riders, we chatted with Isabel to get her thoughts on the barriers new riders face, and how we can remove those barriers to create bigger and better cycling communities: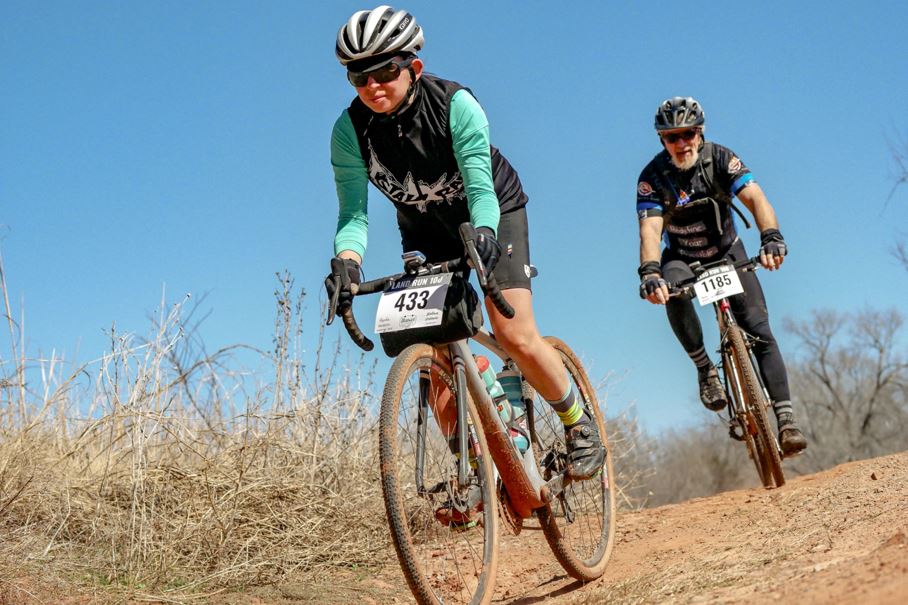 A dry 2019 Mid South
How did you originally get into cycling?
I was born in Mexico and raised in central Illinois, after my parents immigrated to the U.S. when I was three. Cycling was a foundational part of my family's story. My uncles and dad grew up racing in Mexico, and I came of age watching my dad's aspirational efforts in road cycling after we relocated to the States. I deeply value that heritage, and I started racing CX and gravel in my late 20s (after years of rock climbing and marathons).
What drew you to gravel?
I learned about a gravel event called "The Gravel Metric." It was a free grassroots gravel race held in Dekalb, IL. In 2013 I trained and participated in the metric century. I was following my dad and brother racing crits, CX, and MTB but I did not know anything about gravel racing. The self-sufficiency and adventure are what drew me in. The vibe was very welcoming and friendly. I thought it was something more unique than what I was used to.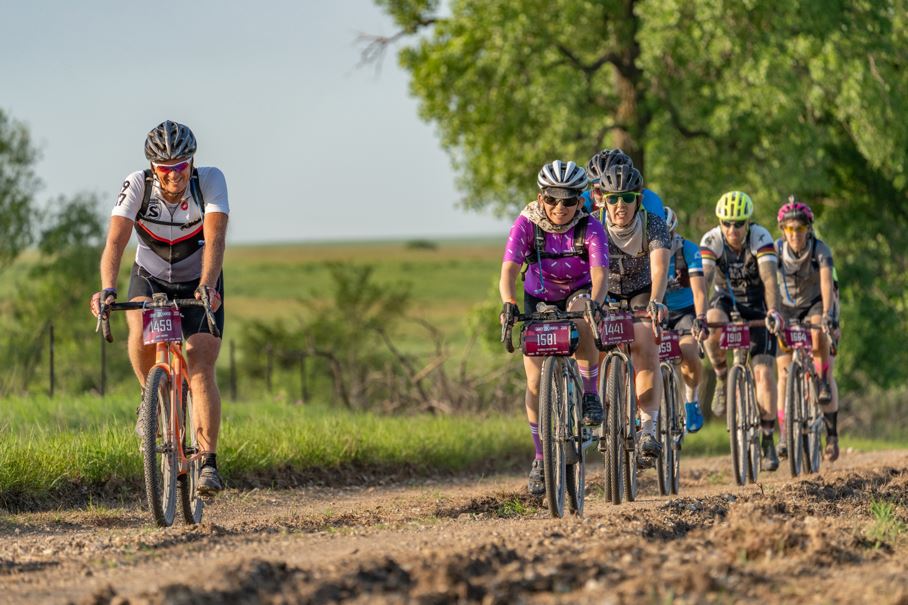 A big day at Dirty Kanza
What is it like being in a family that's all a little crazy about riding?
There is never a lack of talk about cycling, or a person to ride with. My dad joined me on my first ever gravel race. My brother (a SRAM design engineer) is very supportive of my endeavors, and he even lets me borrow some gear so I can try it out before I buy it. My husband has finished some serious gravel events like The Heywood Ride and Dirty Kanza 200, so he has shared his knowledge from experience. He is my logistical and emotional support. My entire family hopes to be the best role models for my 5-year-old son who is starting to pedal on his own.
Is there something about gravel specifically that makes it feel more like a community?
Whether it is a solo ride or an organized event on gravel, the feeling of accomplishing the course is rewarding. When you get to share that experience with friends, or other participants (sometimes you even meet a new friend along the way) it makes for some great memories. When you return to some of the events year after year and see your old and new friends there is automatically a sense of community. It's like another family you never knew you had!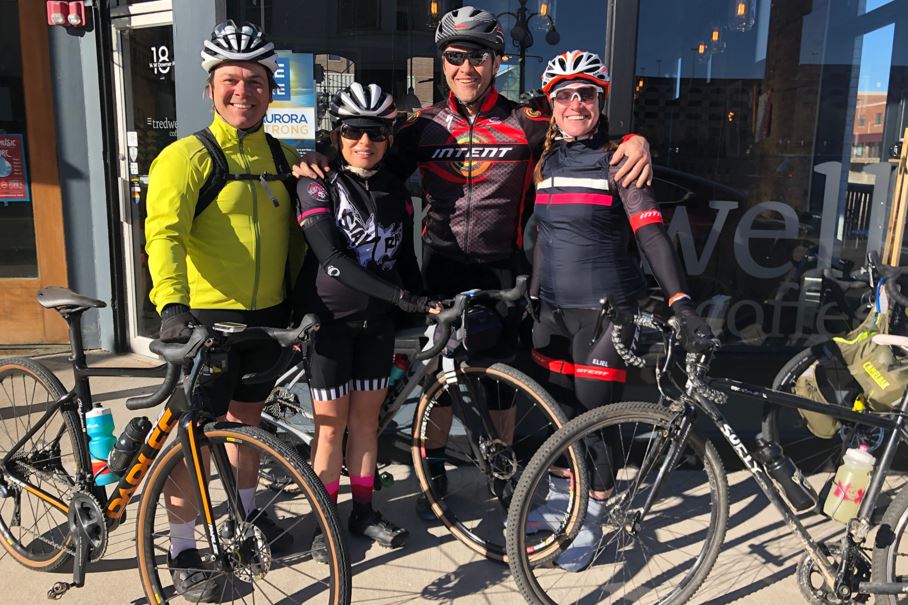 The Chicagoland riding community is a tight one
What inspired you to work to build the gravel community the way you do?
My first ever gravel ride was a training ride where I lost the group and I got lost myself. I had a discouraging experience. I know that for women, especially, there are some barriers to overcome such as family responsibilities, lack of equipment, or lack of knowledge about all things gravel. I decided to organize some free and chill rides so that women could experience gravel riding and take on some of the skills needed to navigate and finish together. I feel like making the ride both welcoming and also a learning experience is key to draw people into gravel.
While I believe that free, exploratory rides are helpful to build someone's confidence and grow the community, clinics are also a great activity to grow interest and growth in gravel. I just attended a virtual gravel clinic for women hosted by BFF Bikes and having a discussion about all things gravel was helpful for the participants. Sometimes being off the bike is a great environment for learning and growth.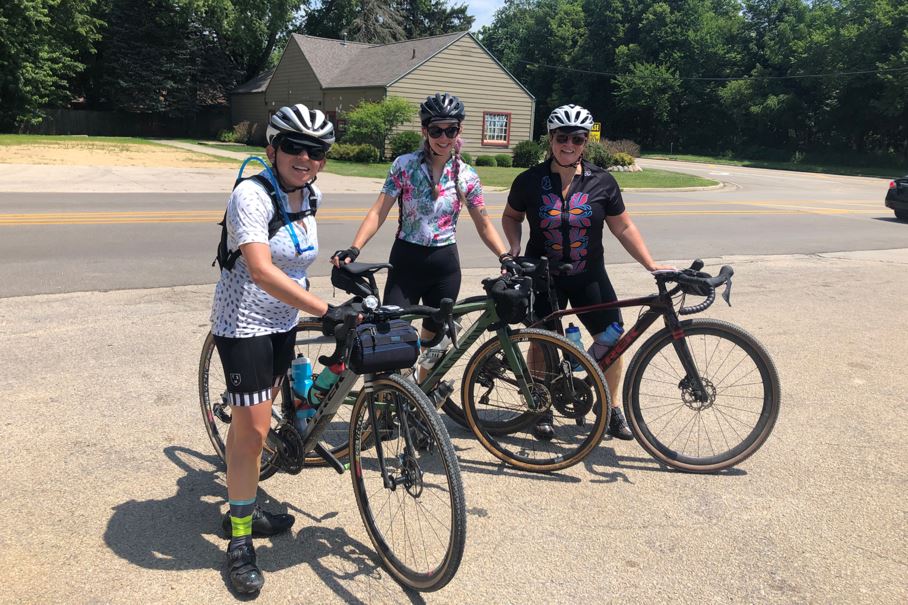 Giving some new riders their first Driftless experience
What are some of your favorite rides or races and what is it that makes you love them so much?
There is a misconception that Chicagoland riding is boring and flat. I have followed some routes within a one to two hour drive that cover some seriously hilly terrain. Drive to Oregon, IL or to Freeport, IL in the Driftless area and you will forget all about Illinois being flat and boring.
My favorite organized events are the Frostbite 40 and the Ten Thousand. They are both free events in the Illinois Driftless. The Frostbite 40 is the kick-off to the gravel season. It may sound like a short distance, but often you are faced with frigid temps, a mushy ground waking up from winter, or a chilly and dry/frozen ground to ride on. The Ten Thousand is 100 miles and 10,000 ft of climbing in one day. These events are free, and the organizers put in their passion and time to ensure everyone has a great experience. I enjoy organized events such as Mid South and Dirty Kanza. While they are large-scale events, the organizers pour their passion and energy into these events. They draw people from all over the world. The community that shows up year after year is what draws me back to them.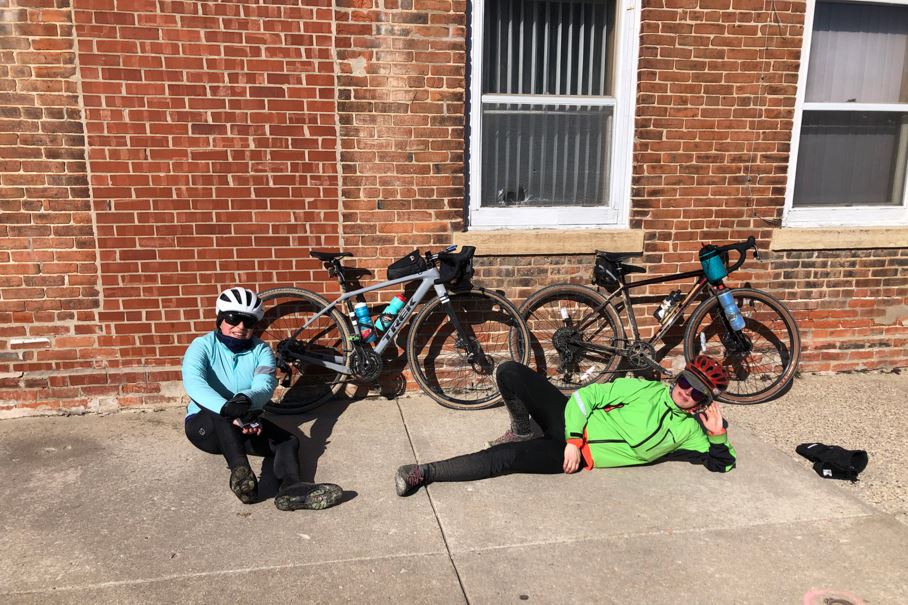 Staying warm on cold rides is key in Northern IL
Speaking of Mid South, super low gearing isn't necessarily a requirement when conditions are dry. But with all the heavy mud this year, how helpful was it having the new Force eTap AXS 43/30 chainrings and 10-36 cassette to race on?
Mid South is 6,000+ ft of climbing but it is mostly rollers that you can push through. This year with the tacky mud, I did find myself in the small chainring in the front and the larger cogs in the back. You need to keep a cadence to keep going up the hill. I found a balance and even rode on some mushy mud that I would not have been able to ride on before!
What have your rides been like during the pandemic?
I am a full-time supply-chain professional and a mom of a 5-year old, so I have always found myself training alone due to my schedule or childcare scenario. Pre COVID-19, my training routine was indoor trainer sessions (even when the weather is nice) or solo rides in the Du Page Forest Preserves (near home) and in the Driftless area. When COVID-19 kicked up, I kept a similar routine. While I am used to riding alone, I did miss the opportunity to socialize with others.
Now is a great chance to re-group, recalibrate and plan for the future. I 'm looking forward to solo gravel rides and finishing the Ten Thousand course this summer. At the same time, I hope to continue to grow the grassroots gravel community, especially among womxn, moms, and People of Color.
What are the bright spots you see that give you hope we're moving in the right direction?
I recently helped answer questions at a virtual FTW gravel clinic, and there were about 6 new faces on the call. The Chicago cycling community is tight, so seeing so many fresh faces was awesome! The fact that there are people going out of their way during a pandemic, joining a Zoom call to learn more about gravel was encouraging for me. Also, I have been returning to the same events year after year and I see the numbers grow. This year at the Frostbite 40 people came in van loads from all over the Chicago area. In early March, (not a warm day either) I showed up to a free gravel training ride in Aurora, IL and the turnout was about 50 people or more. The participants were of Hispanic descent, and a handful didn't speak English, so I was happy to translate. Gravel is growing in all demographics and gender.