Words and photos by Jeremy Dunn
To celebrate our collaboration with Tosh Clements on SRAMnation, we went straight to the source. Santa Barbara, California is home to lots of things—the legendary cycling climb Gibraltar, fantastic coffee named after said climb, a cadre of surfers and climbers, runners and cyclists along with artists and bakers and makers. And at the center of them, with an eye on it all is Tosh Clements.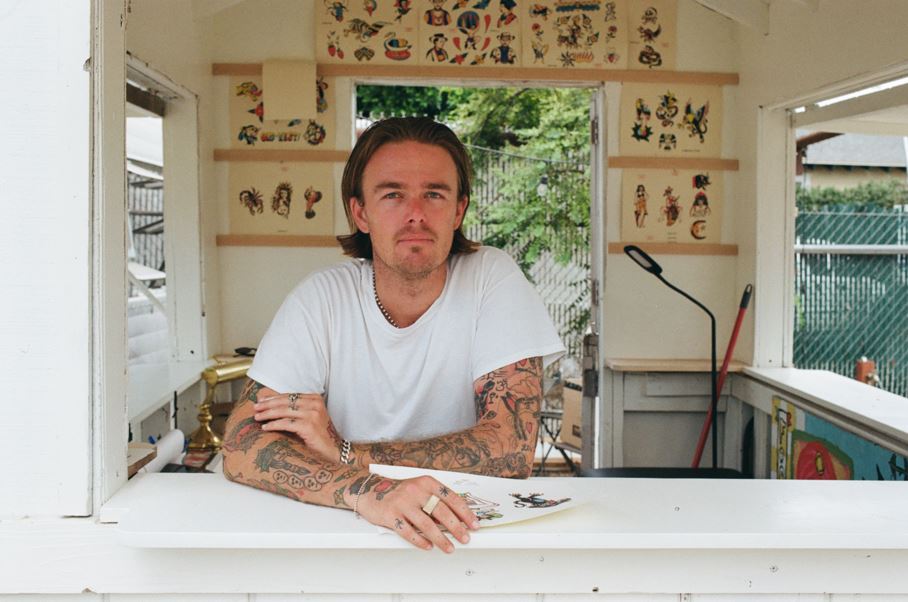 We could go on about how he got his start in the cycling world—convincing a judge that he was an Olympic hopeful, on the path to the games, and then actually made a run at it by securing a professional contract. But, that would be deceiving because it starts, as so many cycling things do, to put him into just that pigeon hole, and as it turns out, he's so much more. So, let's just spend the day with Tosh and the revolving cast of characters that surround him.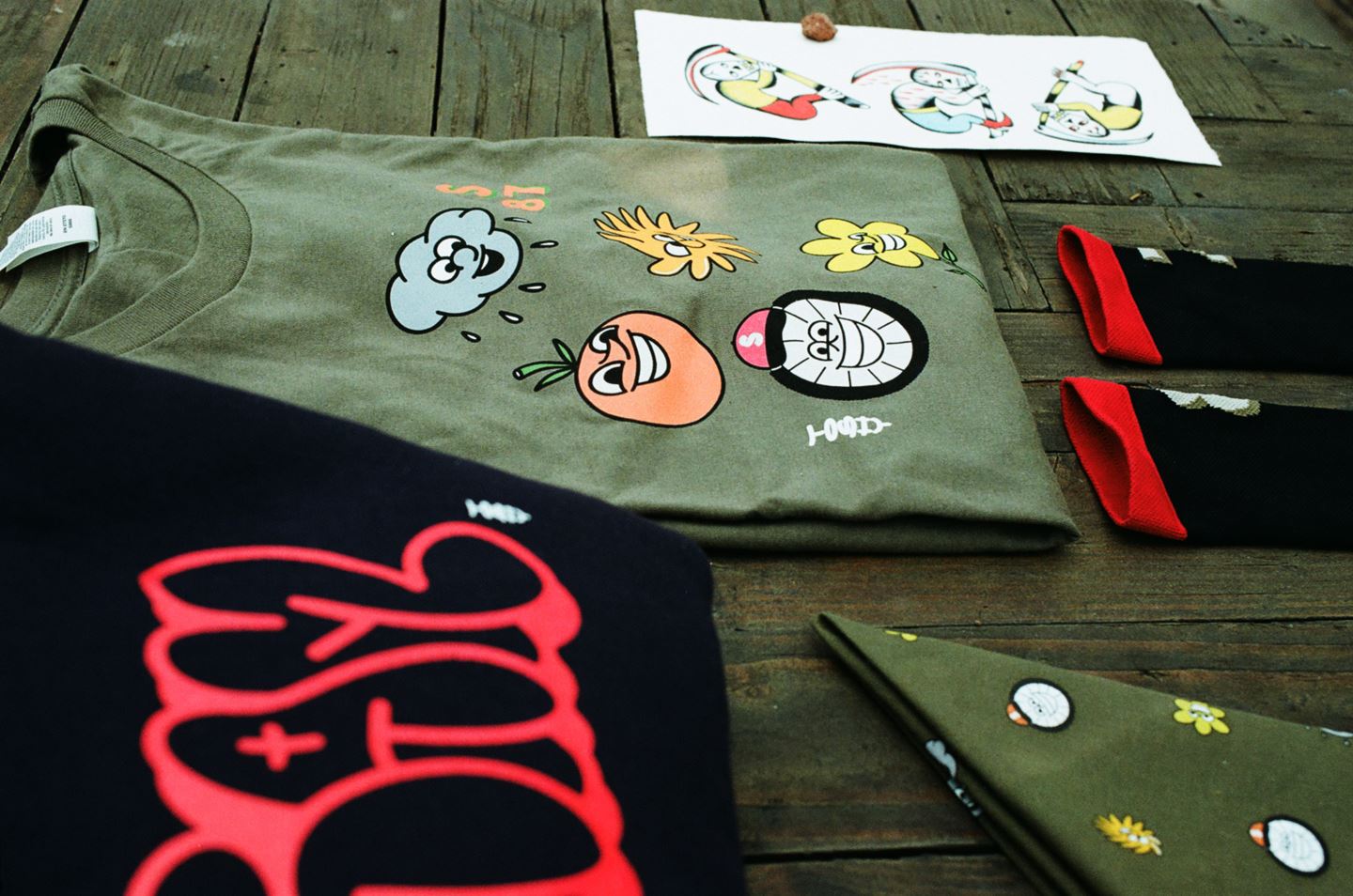 2:00 PM - Mollusk Surf Shop
Great light. Fun, young people hanging around talking about surfing and cars and anything else that comes up along the way. Tosh says it almost as a side note while he's introducing everyone, but it sets the tone as to what's going on here: "This is like Santa Barbara's Cub House, a place to hang out." Just as soon as I've arrived, we're back on the road.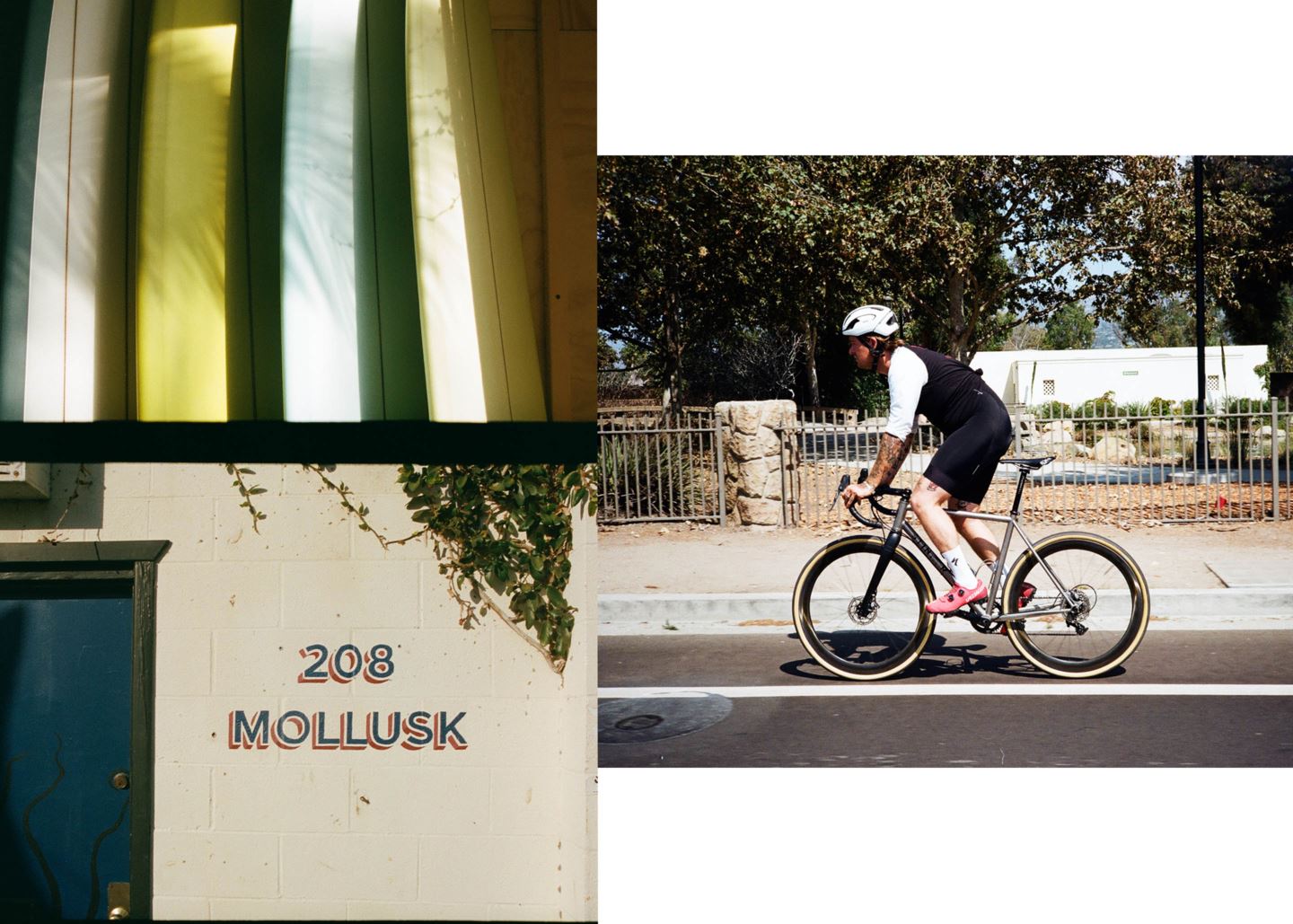 3:00 PM - Stinner Frameworks Headquarters
There is a hardtail mountain bike in the works for Tosh. Not his first Stinner, but one that means so much more. The frame itself is completed, he just needs to put his own personal touch on it before it goes to paint. Or doesn't as the case may be. His touch is done with a sharpie on the downtube and is a tribute to his late father, Pepper Spray Pete, "because he always carried a can of pepper spray in his jersey pocket when he rode around. And he used it too." It is obvious that the grief and associated wound is still raw. His father passed while climbing the Rocacorba just outside of Girona, Spain on a cycling holiday. The paint they have decided on is a simple clear coat, one that won't hide the markings from the sharpie.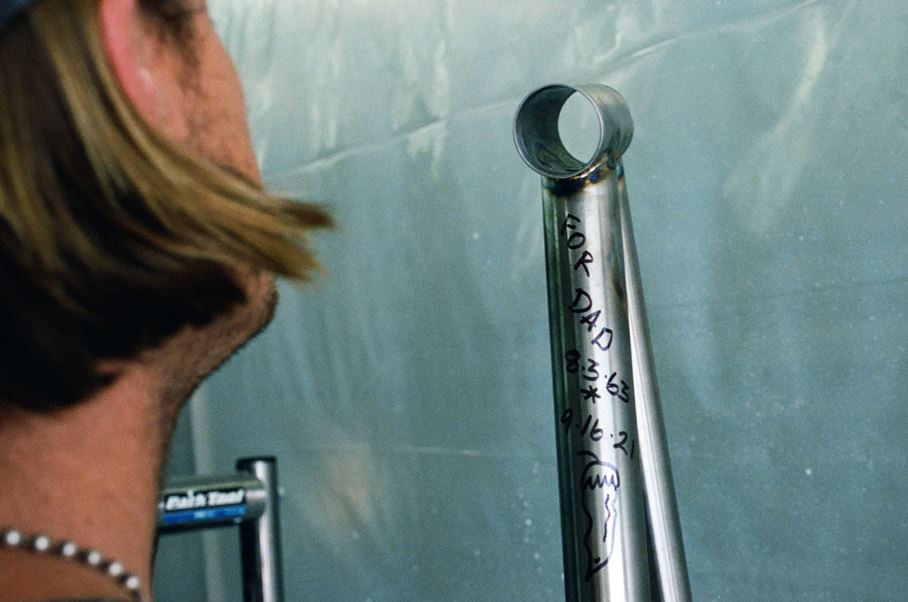 Aaron Stinner, the founder and proprietor of Stinner Frameworks has put together a "gravel team" (his airquotes not mine), and he laughs when he says this. He wants Tosh on it, and he's adamant that he get back out there. He tells us this as we watch a customer's bike—a uniquely flavored Ska-inspired paint job—unmasked just outside the paint shop. Bright pinks and checkers reveal themselves as the painter carefully peels back layers of tape.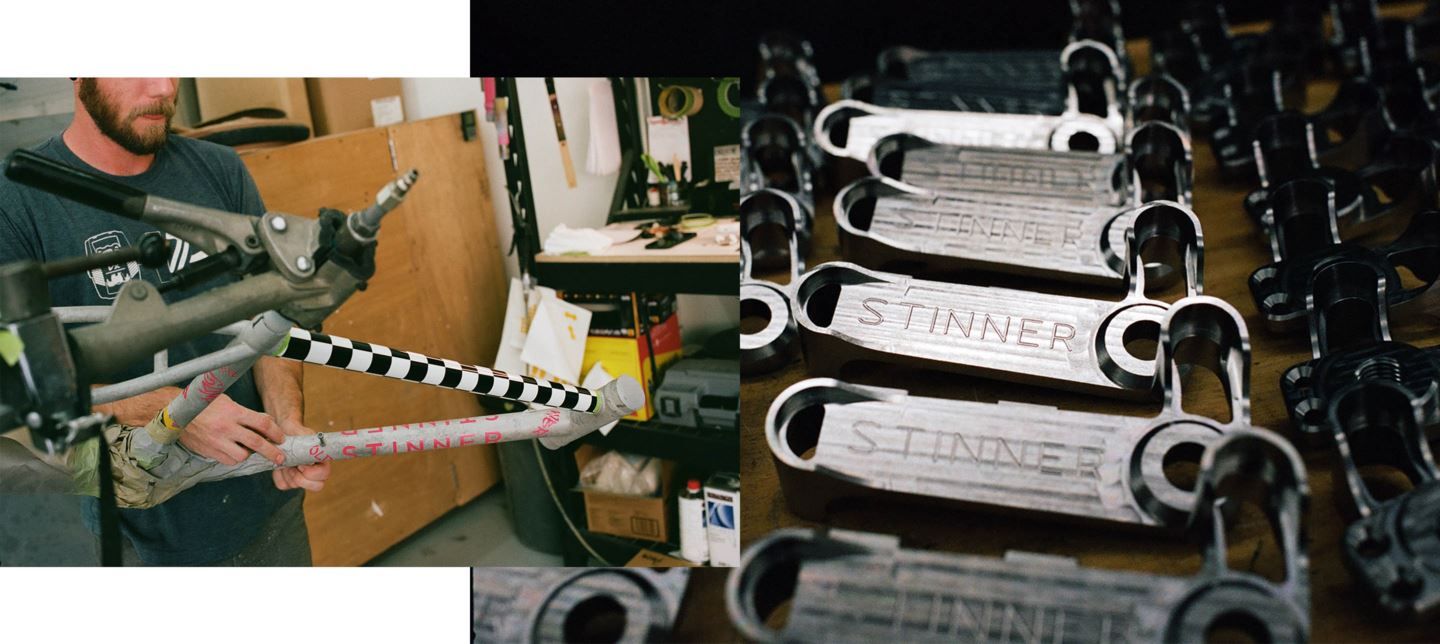 4:00 PM - Back at Mollusk Surf Shop, out back on the deck.
There is a short debate on whether or not we'll make the BoomBoomRoom's weekly ride later, but then decide against it when the conversations start flowing. Between us, surely, but there is also a steady flow of people coming just to enjoy the late afternoon glow as the sun starts to dip. The days aren't getting any longer, and even though the temperatures and blaring sunshine cease to amaze year round, it will be winter soon.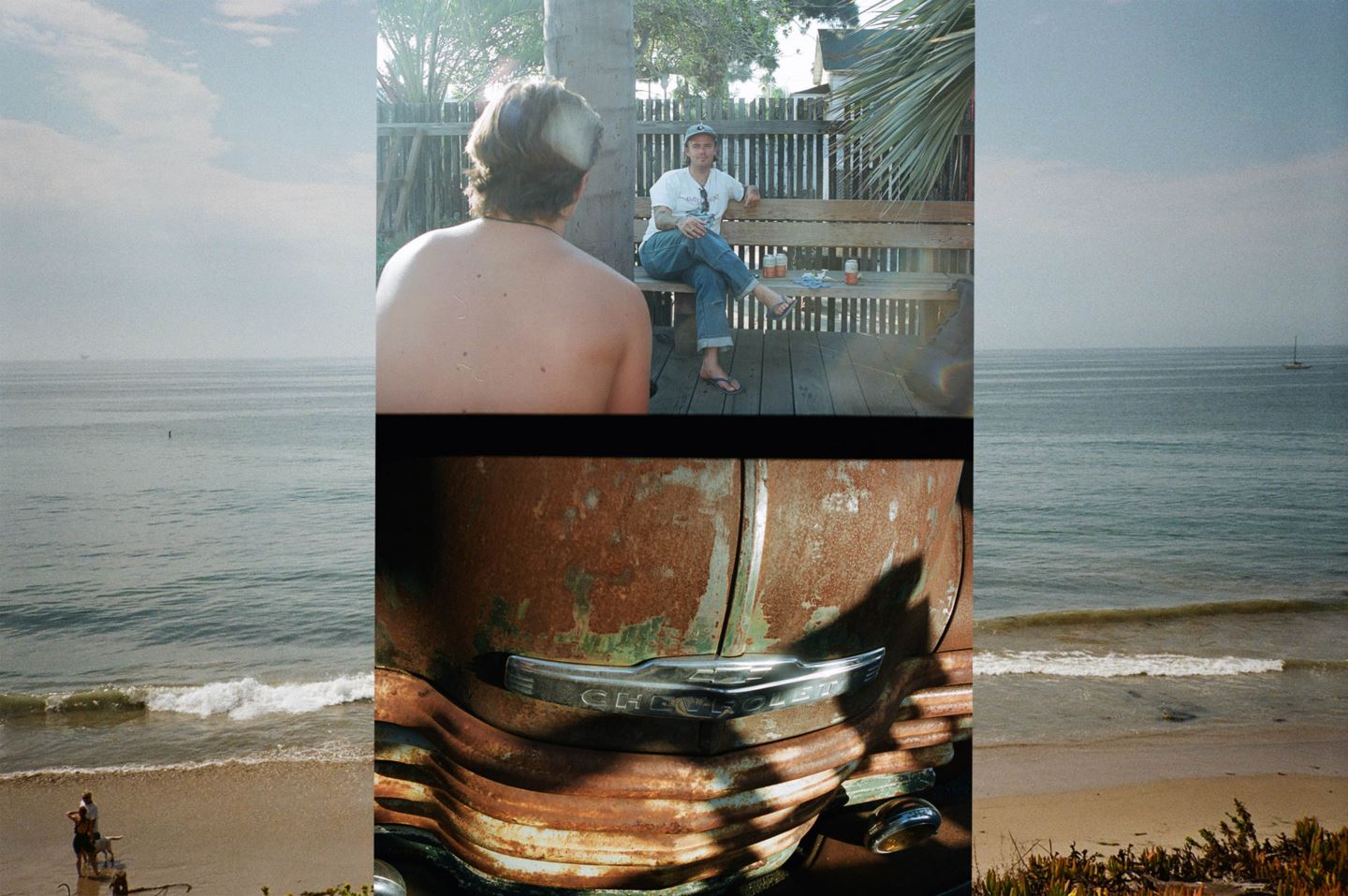 6:00 PM - Mom's House
Lucy, or LuLu as she's known affectionately, is waiting to be picked up from Mom's house. Mom is the head baker over at the Handlebar's most recent location. It's just around the corner and she tells us with gusto that the fritters will be on the menu tomorrow, this is a rare feat, it should be noted because they're typically reserved for the weekend. They have become such a draw that she's turned them into a daily occurrence. "Save us one," we shout as we make our way out the door with Lucy in tow, but not before digging out the boxes of product from this very collaboration.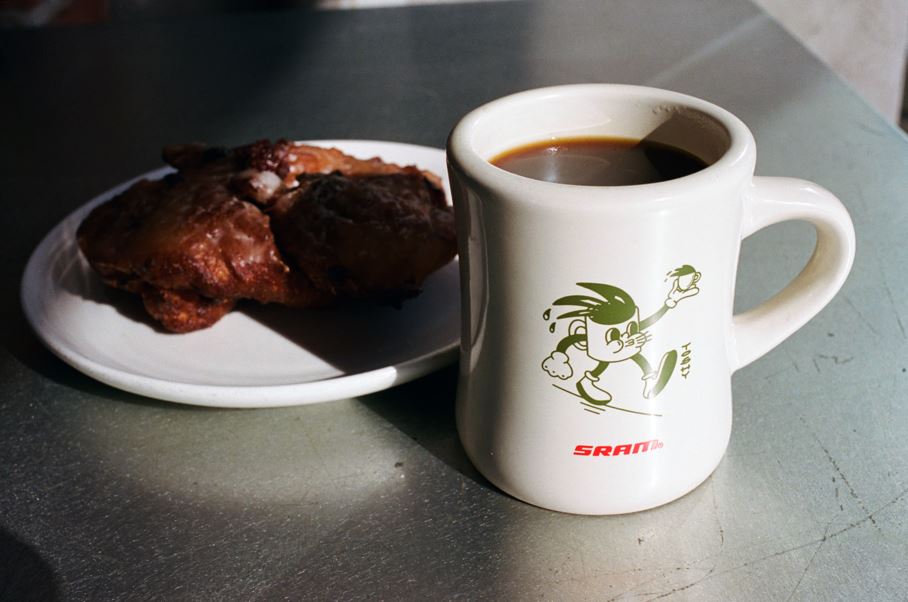 Tosh did a stint in Mexico recently and the product arrived while he was away. We open the cellophane packages and admire each piece as it comes out of the package. Lucy gets the bandana straight away and Tosh puts on a t-shirt with an "S" that he drew on the pocket.
"I'll wear this baseball tee when we ride tomorrow. I'm all about riding in t-shirts these days."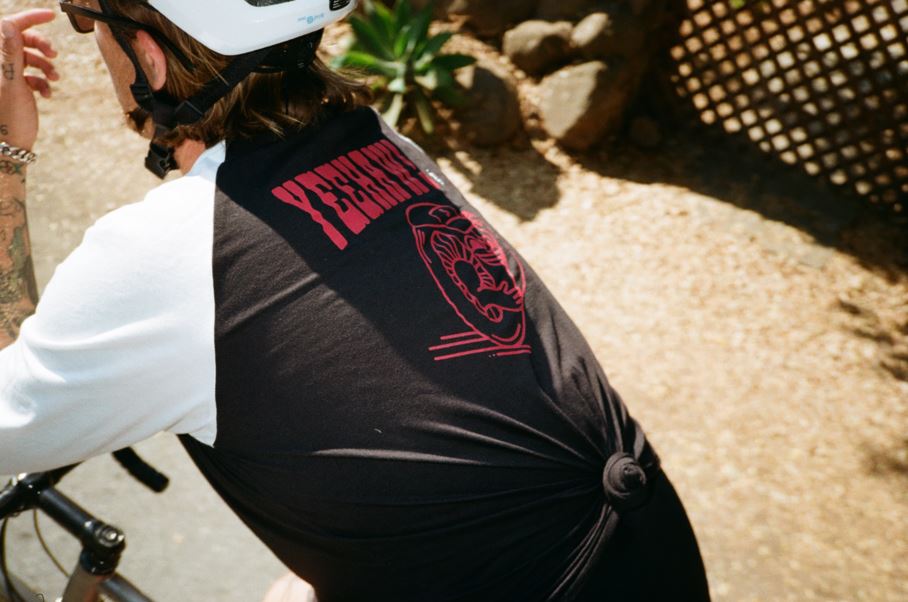 8:00 PM - Montecito
Montecito feels like a different country than the quaint streets (they're anything but quaint) of Santa Barbara below. House sitting here provides that necessary stop-gap between moving back from Mexico and finding a permanent situation back in California. This is the way to do it, on a hill overlooking the ocean, with an airstream or two to pass the time. Except for the fact that it's hot. Like, the kind where it doesn't matter if the windows are open or not. Here, in the darkness the stories seem to flow much easier.

It starts with tales of Mexico. Luchadors, tattoos and the unique cycling community that is thriving and evolving in Mexico City. Surfing, riding, knee injuries, and of course my fear of water are all topics that are broached and what is apparent is that Tosh doesn't mind doing it all. With each reinvention—professional cyclist, coffee entrepreneur with Breakfast, manager at the historic Handlebar Coffee—he throws himself into, becoming the master of his surroundings. It's no surprise that his recent adaptation from visual artist to tattoer has taken place relatively quickly. Or at least quickly in the sense that it looks that way from the outside.
Sleep doesn't come quickly as the sweltering heat in the hills surrounding Santa Barbara is something for the ages. When it finally comes, it's a weird fever dream of surfing, riding, and tattoos which seems appropriate.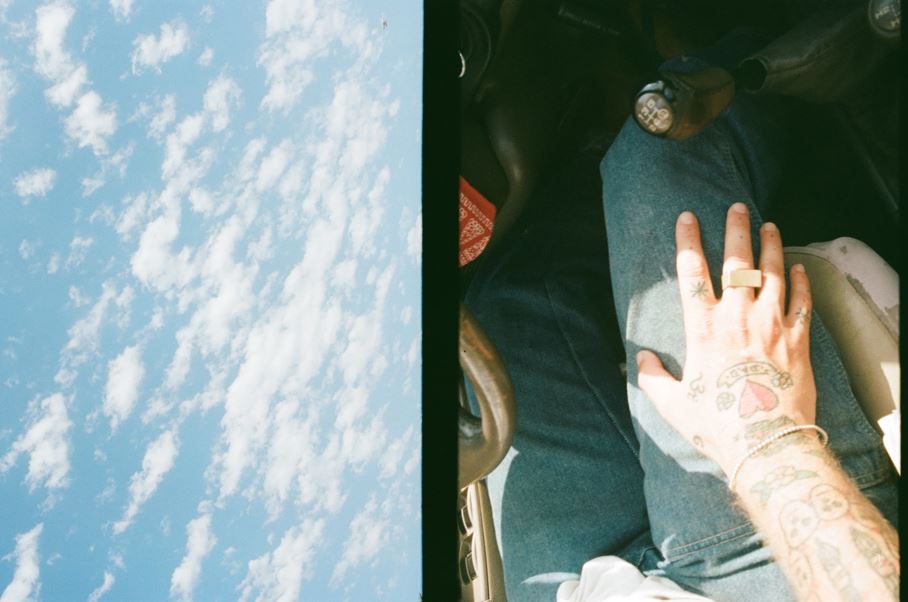 9:00 AM - Handlebar Coffee Roasters
It's hard to avoid this place. If you're a fan of cycling, or coffee and you're in Santa Barbara, it is the place to be. You may see professional or former pro cyclists hanging out. Or, as the case on this day, Tosh's Mom may hand deliver your fritter to you and show off the tattoo of the cowgirl that he recently did on the inside of her arm. So, how do you encompass what this place means to Tosh and his family? It's hard to do because clearly it's a lot. It's been part of every conversation that we've had over the past day and since he's trying his hand at making bagels there ("there really are no good bagels in California") it seems as though his comings and goings are a permanent fixture.

11:00 AM - Riding in the hills
Soon enough we're rolling. Tosh's baseball shirt is tied in the back to prevent flapping. And just like that I'm on another immaculately described tour of the city. The cutty gravel spots that he used to ride on his road bike, back before we all got wide tires. Training grounds for the Redlands Classic—loops that are a near perfect mimic of the circuit course there. And of course, a breakdown of the Thomas Fire and subsequent flood that put a stop to things back in 2018 when the fire ravaged the area and then a heavy rainfall caused an extreme mudslide taking out houses and businesses that had just been saved from the fires.
Tosh even points out the beach where a taxidermied bear was found near a Hummer SUV that had rolled down the hill out of the driveway of a home. There is still construction happening to the roads and through the village which acts as a clear reminder of what could happen at any moment.
I ask if he ever thinks about leaving here. He doesn't skip a beat. "No, I tried that a little bit with this Mexico trip, but it only reinforced that this is where I need to be."
It's a tidy loop that we've ridden, almost exactly an hour and just to cap it off we roll back through the parking lot of the Handlebar once again. Then we pack up and head over to spend some time with the vocation that has filled his life with renewed meaning—tattooing.

12:30 PM - Toshy's Tattoo Parlor
Ok, so maybe it's not really a parlor per se, just a shack on the beach, and he hasn't been there more than three weeks at this point, but it is immediately apparent that this is where he feels the most at home currently. The shop is situated behind some warehouses, including a legendary surfboard shaper, and one of the locals pops out to say hello and Tosh offers to tattoo him at some point. Something I've seen him do a few times already. But they never feel like a push or a plug, more like a friend offering to share his artwork with a ready and willing participant.
It is a quick and relatively painless affair with all three of his neighbors checking in to see how it's going. A ceramasist, commercial musician, and a textile distributor all offer hellos and make for a pretty great little spot to sit and get tattooed. We talk a little bit about other tattoo artists that have inspired him and how this version of him feels like the best way to combine all his talents into something he calls pull of himself. A little bit entrepreneur, shop owner, artist and community leader all rolled into one.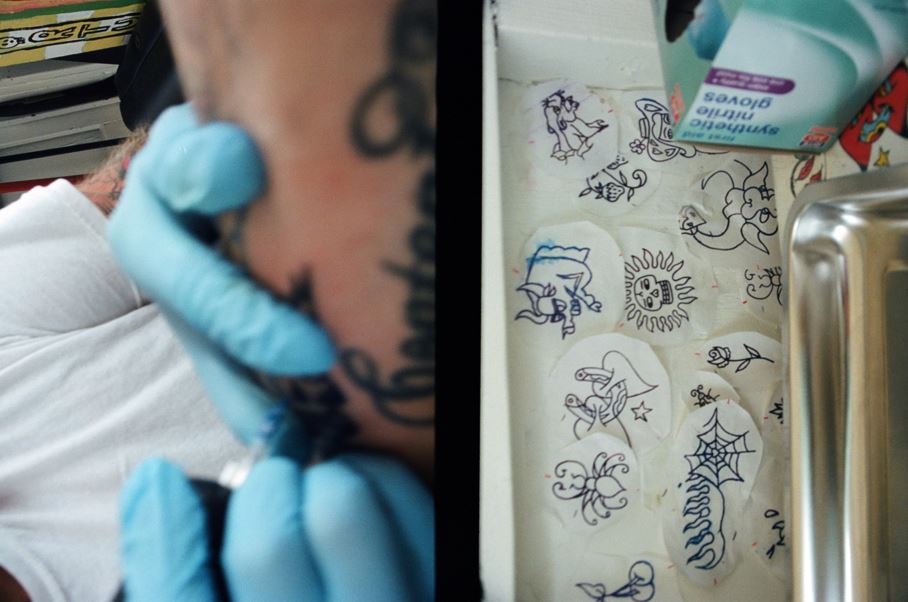 2:00 PM - The Good Plow Ice Cream Window
If you're thinking that ice cream seems like the best thing to have after getting a tattoo, you're right. It's overcast now, but the heat still lingers and the frozen milk treat does its job. We're saying our goodbyes, and just like that the 24 hours experiencing Tosh Clements' version of Santa Barbara, California is coming to a close. What have we learned here? If nothing else, that there's a lot going on with Tosh Clements.