1988
Zipp is rooted in Indy's auto-racing scene. Motorsports engineer Leigh Sargent specialized in the repair, modification, manufacturing, and aerodynamic design of Indy 500 cars. But after examining disc wheels for bicycles in the 1980s, he saw the potential to design something better and faster. He registered Zipp as a trademark and set to work. Zipp's first product, the disc wheel, is designed for seven-speed freewheels and is available in four colors. These carbon products were designed right alongside auto-racing parts. The goal for each the same: creating Speed Weapons.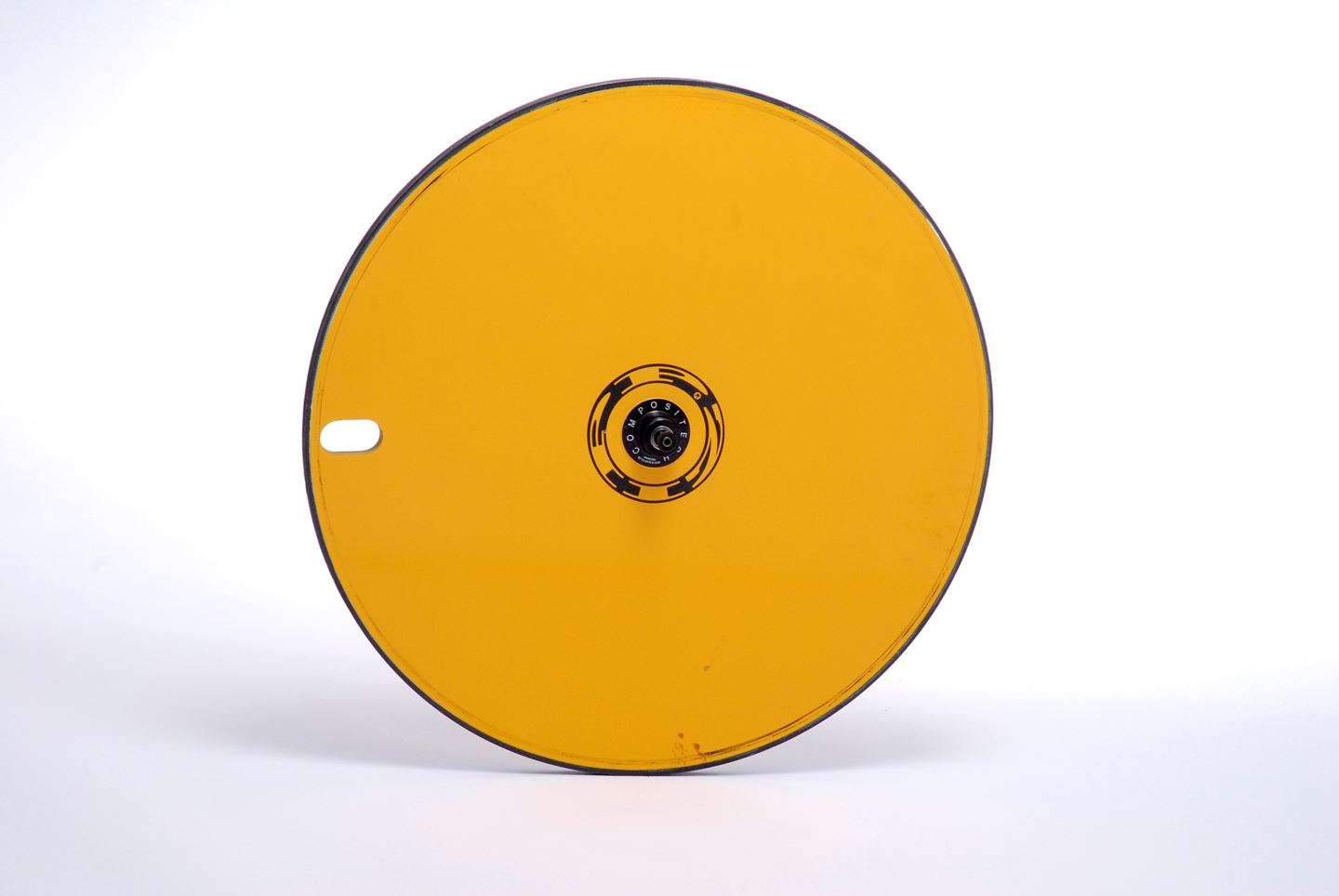 1989
Zipp introduced the first three-spoke carbon wheel, the Zipp 3000. Like the disc wheels, it is available in four colors. This product is dropped as Zipp found faster designs.
1990
In 1990, just two years after our founding, Kona legend Mark Allen became the first winner to ride Zipp wheels. Zipp's early products including the tri-spoke, Zipp 440 deep-section wheel, and the Zipp 2001 bike became aero weapons of choice in the early 1990s.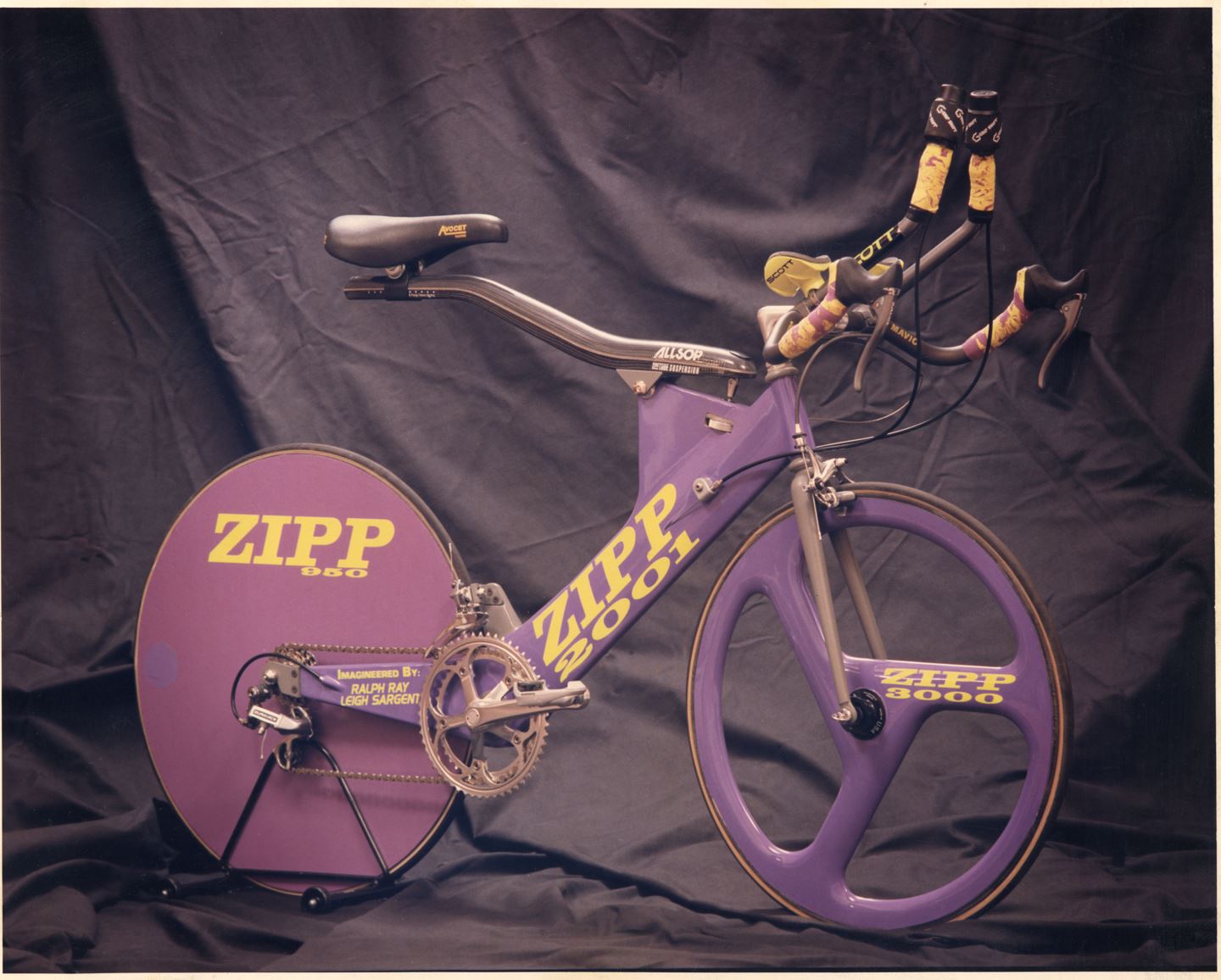 1991
The Zipp 400 wheelset goes into production. This spoked wheel is the foundation for later innovations including the Firecrest and NSW lineups.
1995
The two men who helped build Zipp in its first two decades pose together. Engineer Leigh Sargent with entrepreneur Andy Ording, who became the owner of Zipp Speed Weaponry in 1999.
1997
Zipp continues market gains in triathlon and road racing by focusing on wheels. In that first decade, Zipp tapped into a motorsports mindset in developing products, helping to pioneer the use of the wind tunnel in the bicycle industry. Zipp still employs multiple motorsports veterans, including top engineers. Zipp's iconic 2001 and 3001 framesets become iconic symbols of high-performance speed. Even after being discontinued at the end of 1997, these framesets remain highly coveted items.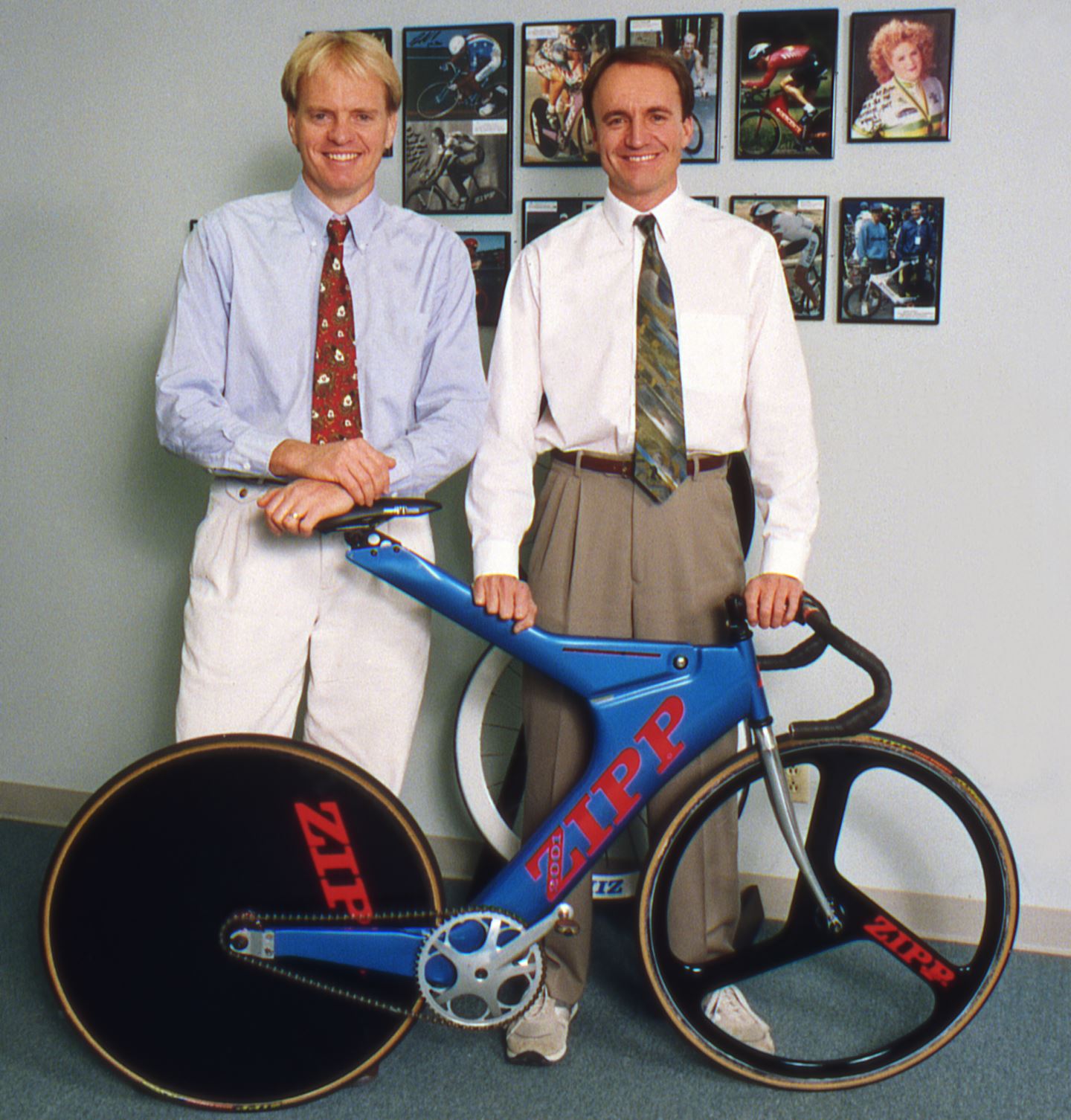 1999
Zipp moves into a dedicated climate-controlled manufacturing facility on Main Street in Speedway, Indiana, just down the street from the world-famous Indianapolis Motor Speedway.
2000
Zipp signs with the Belgian Lotto-Adecco team. This is Zipp's foray into official sponsorship of a top Tour de France-level team.
2003
This was a big year. Zipp signs as a sponsor of the powerful CSC team. The team wins two stages and overall team classification at the Tour de France. Yet beyond results, CSC becomes a valuable partner in wheel development. This including providing Zipp engineers and master wheel builder Nic James with invaluable feedback on improving wheels to be fast and durable. What's more, this is the year that Zipp introduced its now iconic disc wheel with dimples.
2006
Zipp engineers worked with sponsored pros from the CSC team to test prototype carbon wheels in the Arenberg Forest, the most famous cobblestone sector of the Paris-Roubaix. Zipp's goal was to design a carbon wheel capable of winning Paris-Roubaix. Team CSC members, from left, Lars Michaelson (Denmark), Fabian Cancellara (Switzerland) and Allan Johansen (Denmark) inspect a wheel. The tests were crucial in developing the Carbon Bridge™ technology that made for carbon wheels durable enough for the Zipp 303 to win Paris-Roubaix and Tour of Flanders.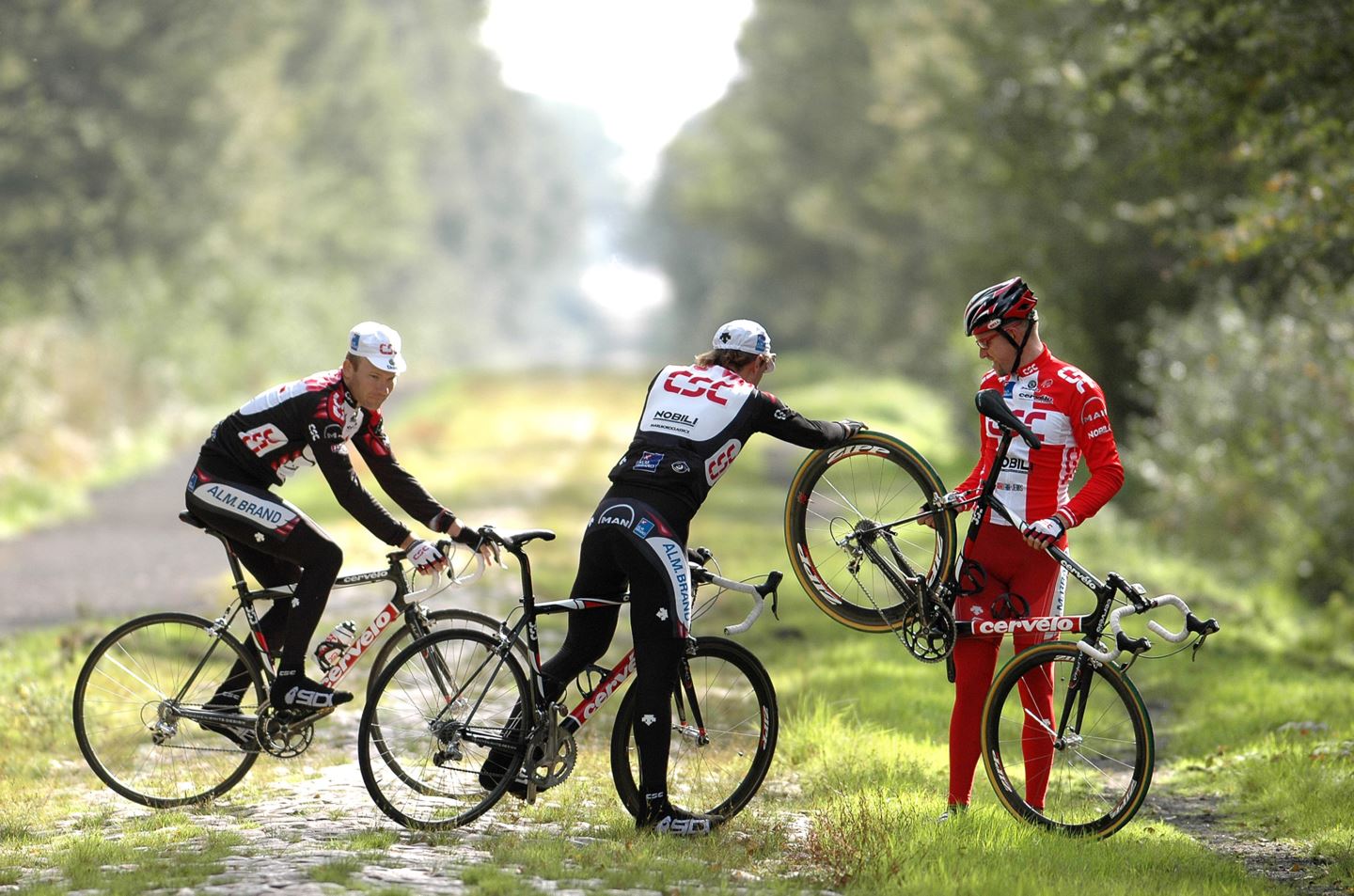 2007
SRAM acquires Zipp, providing Zipp with additional expertise and resources.
2008
Carlos Sastre of Spain wins Alpe d'Huez, taking the yellow jersey and setting up his Tour de France victory. We still display his yellow jersey in our Indianapolis office.
2010
This is one of Zipp's most significant years. In April, Switzerland's Fabian Cancellara wins the Ronde van Vlaanderen (Tour of Flanders) and Paris-Roubaix in commanding style aboard Zipp 303 wheels. This accomplishment was a monumental moment in Zipp's history, as it marked the first time carbon wheels were ridden to victory in the two most famous cobbled Spring Classics. Late in the year, Zipp introduces its Firecrest design including the Firecrest Carbon Clinchers. Its wide rim design proves faster and more stable in crosswinds. The resin system in the carbon clinchers successfully manages heat on even the longest mountain descents. Firecrest technology would become the foundation for Zipp's modern wheel innovations.
Zipp athletes also shine. At the Road World Championships, Zipp swept the podium in the road race with Norway's Thor Hushovd, gold; Matti Breschel (Denmark), silver; and Allan Davis (Australia) bronze. Fabian Cancellara (Switzerland) and Emma Pooley (Great Britain) won time trial gold medals. In triathlon, Australia's Chris McCormack won the men's and Mirinda Carfrae the women's Kona World Championship.
To cap off this amazing year, Zipp (along with key SRAM functions) moved into a purpose-built new facility at 5315 Walt Place in Indianapolis, about 5 miles northwest of our old Speedway factory.
2012
Tom Boonen of Omega Pharma-Quick-Stepp enjoys one of the most successful Spring Classic seasons of the era, winning the Tour of Flanders and Paris-Roubaix on back-to-back Sundays aboard Zipp 303s.
2014
Dutchman Niki Terpstra launched his ultimately successful solo attack with about 6km remaining in the 2014 Paris-Roubaix.
2016
American Evelyn Stevens of Boels-Dolmans Cycling Team sets the women's UCI World Hour Record, covering 47.980km in 60 minutes aboard a front Zipp 900 disc and rear Super-9 track disc.
Zipp introduces the 454 NSW Carbon Clincher, the cycling industry's first major product to be designed using biomimicry. The 454 NSW's undulating fin-shaped HyperFoil™ nodes are developed in part by studying the fins of humpback whales.
2018
Belgian Wout van Aert wins his third straight UCI Elite Men's Cyclocross World Champion, all riding Zipp wheels, in the Netherlands.
Ted King puts Zipp atop gravel's biggest event with his victory in Kansas' Dirty Kanza 200. He rode the Zipp 303, making this wheelset a winner on pavement, cobbles, mud, and (now) gravel.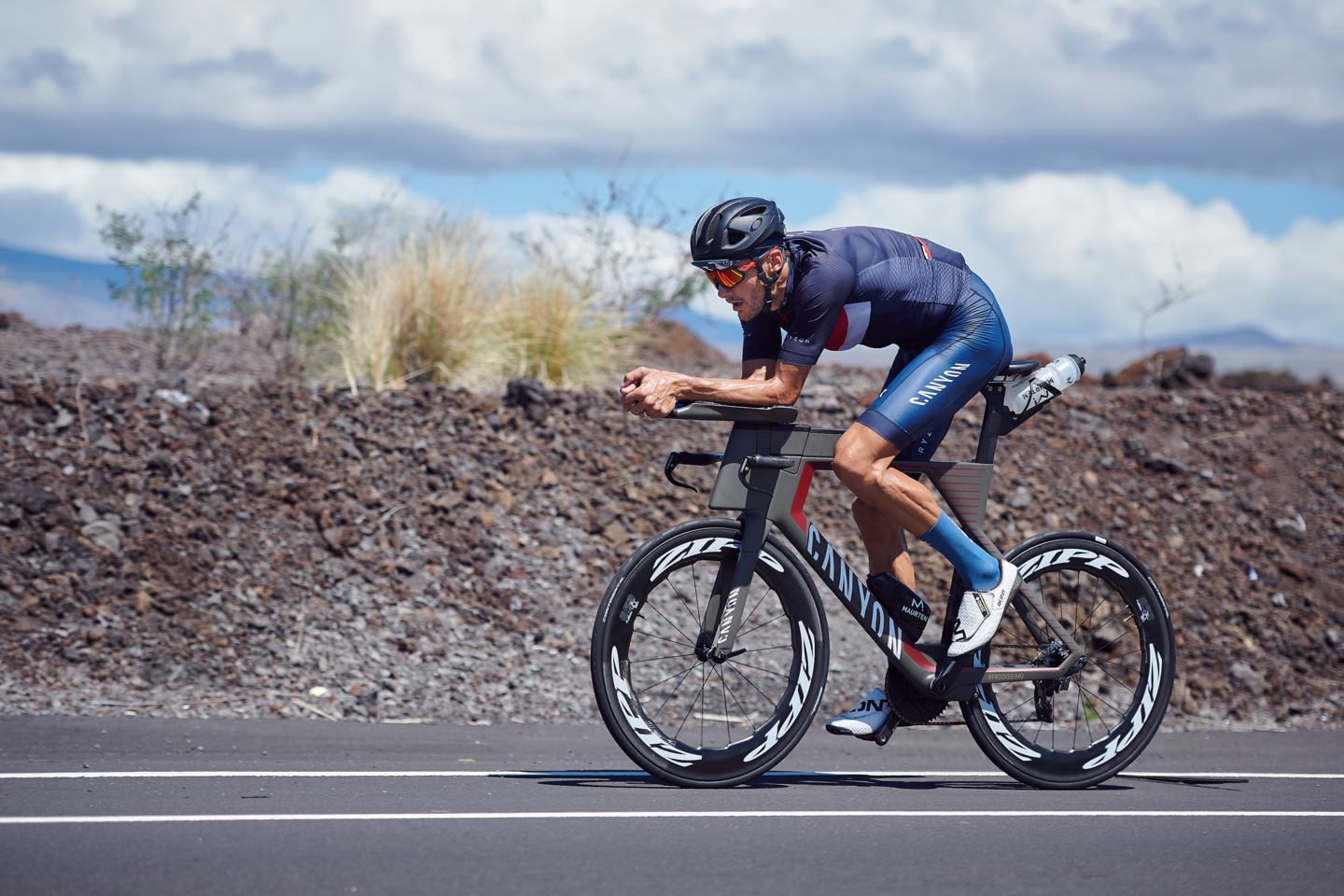 2019
Zipp offers its first mountain bike wheel in more than two decades. The 3ZERO MOTO carbon 27.5 and 29 enduro/trail wheelset, is inspired by moto to provide riders with the control and durability required for pure speed. The single-wall approach, Zipp's Moto Technology™, allows the rims to "pivot" from either side of the spoke bed while traversing rough terrain. This effect became known as "Ankle Compliance," an analogy to how a runner's ankle pivots to keep the foot on the ground as the runner rounds a corner.
Zipp's history goes on into its fourth decade with our sole mission unchanged: Making You Faster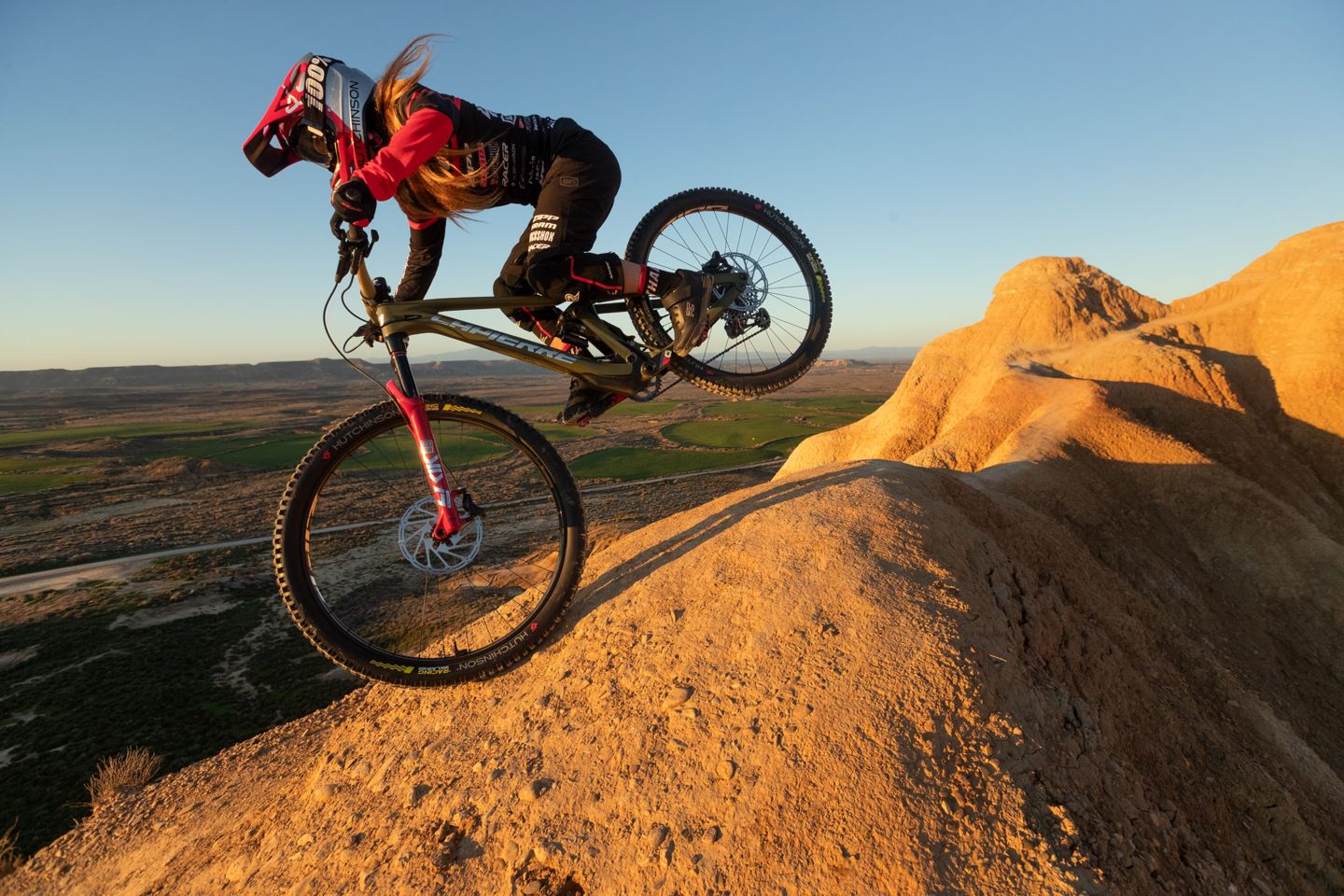 2020
Zipp makes strides in speed and style. Kicking off an upgrade to our wheel lineup, Zipp introduced the redesigned 303 Firecrest Tubeless Disc-brake wheelset featuring our new Total System Efficiency design approach. Total System Efficiency goes beyond looking for speed gains from aero efficiency to focus on the four barriers to speed on a bike: wind resistance, rolling resistance, gravity (weight), and vibration losses. What's more, Zipp also introduced the highly popular and versatile 303 S wheelset. Zipp also sponsored its first MTB team, Enduro powerhouse Lapierre Zipp Collective riding the 3ZERO MOTO.
The Vuka Shift AXS 90 became Zipp's first electronic shifting system.
Zipp also updated its logo branding on all wheels, bars, stems, and seatposts and established "Making You Faster" as its mission statement.
2021
Zipp expanded the availability of wheels featuring Total System Efficiency to include the 404 Firecrest and 454 NSW. We also introduced our first gravel-specific wheelset, the 101 XPLR, part of SRAM's XPLR Collection.
Annemiek Van Vleuten of the Netherlands won gold in women's time trial at the Tokyo Games. Team Australia won bronze in the Team pursuit aboard the Super-9. What's more, Isabeau Courdurier and Adrien Dailly of the Lapierre Zipp Collective each won Enduro World Series events, historic first for the 3ZERO MOTO wheel.
Also, Zipp athlete Ashton Lambie electrified the cycling world by setting the UCI 4km pursuit world record on the velodrome, covering the distance in 3:59.90. He is the only rider to break the four-minute mark in the 4km pursuit. Lambie then won the world pursuit title.