Whether it's your first World Championship title or your tenth, becoming a World Champion is indescribable. Just ask Vali, Pauline, or Nino.
All three pulled off show-stopping feats at the 2022 World Championships in Les Gets, France. Surrounded by the most passionate cycling fans in the World, their performance across Short Track (XCC), Downhill (DHI), and Cross-Country (XCO) are not only markers of their pure talent and ferocity to lay it on the line, it speaks to their evolution as athletes who continue to rise to the top of the sport as the bar is raised higher and higher.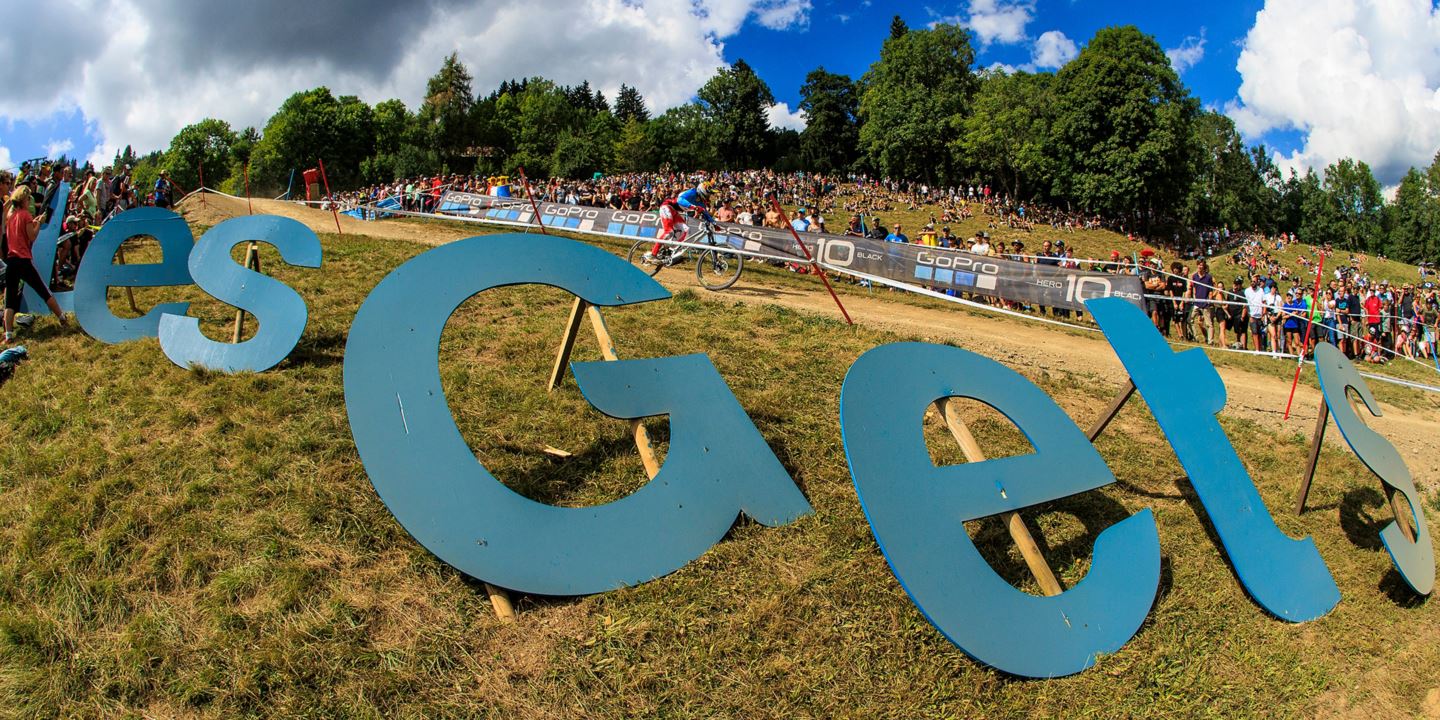 Les Gets, France
Cycling and French culture go hand-in-hand. There is no other country in the world where fans flock to the sidelines in sheer numbers with a symphonic atmosphere of horns, chainsaws, smoke erupting in red, white, and blue. If there was a World Championship for venues, Les Gets would wear the rainbow stripes.
Les Gets last played host to World Championships in 2004. Back then, familiar names like Julien Absalon, Cedric Ravanel, and Thomas Frischknecht stood triumphantly on the Elite Men's XCO podium. Nino Schurter won his first Junior XCO World Championship title and Fabien Barel, Greg Minnar, and Sam Hill hurdled down the DH course in head-to-toe body armor on 26" wheels.
While we still see many of these names in the sport as coaches, industry figures, and racing, it's rare to see the same names rising to the top over the span of nearly two decades. Nino Schurter is that special breed.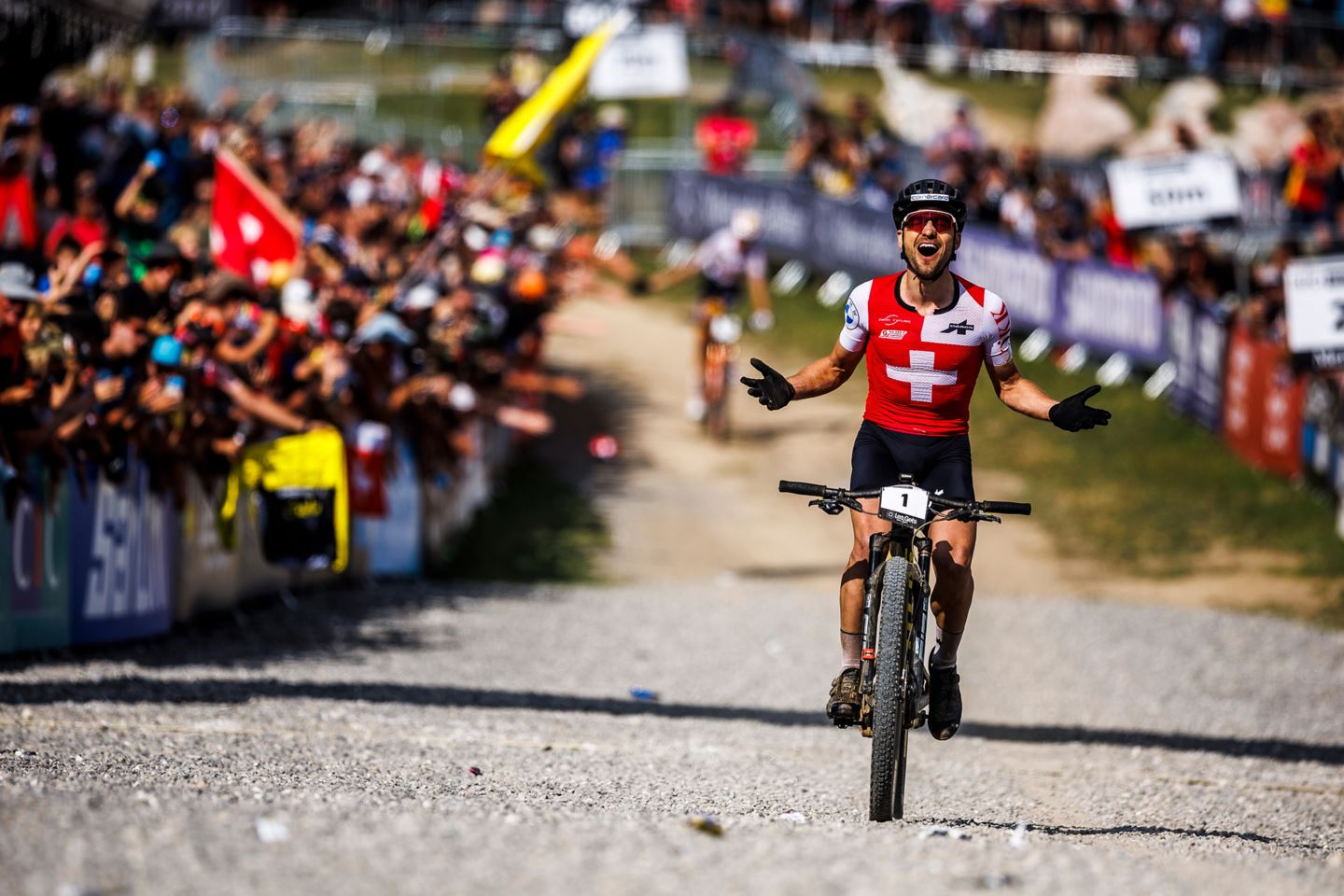 Prost auf den Zehnten // Nino Schurter
Nino (SCOTT-SRAM MTB Racing Team) has rightfully earned the right to carry the honor of the G.O.A.T. Now with 10 World Championship titles, 33 World Cup wins, 7 World Cup Overall titles, 3X Olympic medalist, and countless World Cup wins and podiums to his name, Nino has won more international titles than any other cross-country racer in history. And to keep the record straight, Nino also holds three additional World Championship titles as a Junior and U23 in addition to multiple Team Relays. But who's counting?
It's crazy, this place is magic for me. I won my first title here, and now as the oldest rider ever, my tenth title. It's just unbelievable.

–Nino Schurter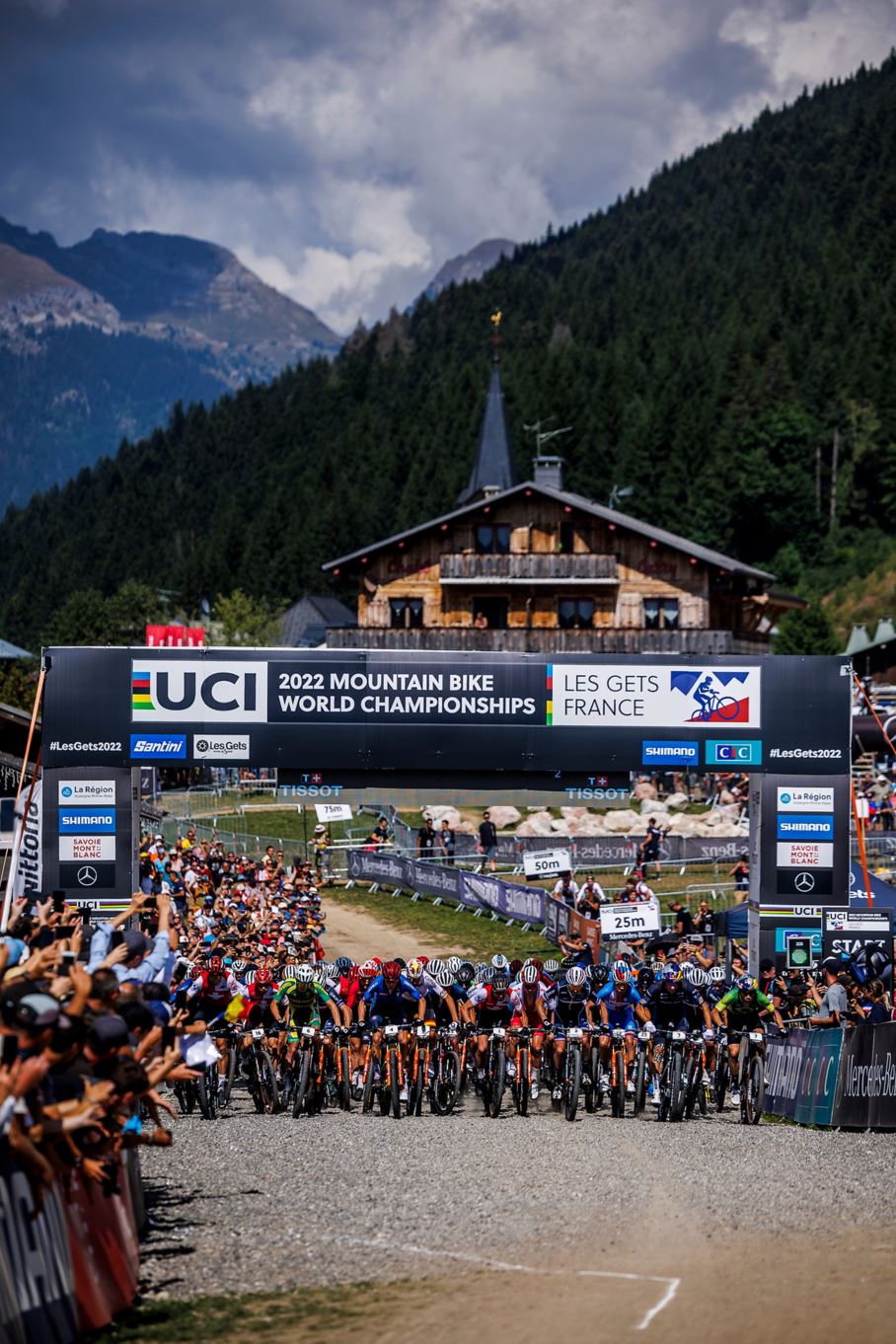 While Nino is always a threat to any start line, it was a battle from start to finish. Nino took command of the race early on, heading into the second lap at the front of pack. A crash in a loose corner resulted in a chase on display for the thousands of enthralled spectators. Nino found himself back in the mix with Tom Pidcock, Luca Braidot and David Valero Serrano, and rode strategically to the front to control the pace until he was ready to make his move.
"It was a tough race, I really tried to take it over from the start to make it a hard race, so that Pidcock couldn't get to the front too easy. In the end, it was Velaro and I in the front. I took my chance to force him to make mistakes, and he luckily made one in one of the last technical bits and I got away. And from there I went full gas and… I still can't believe it."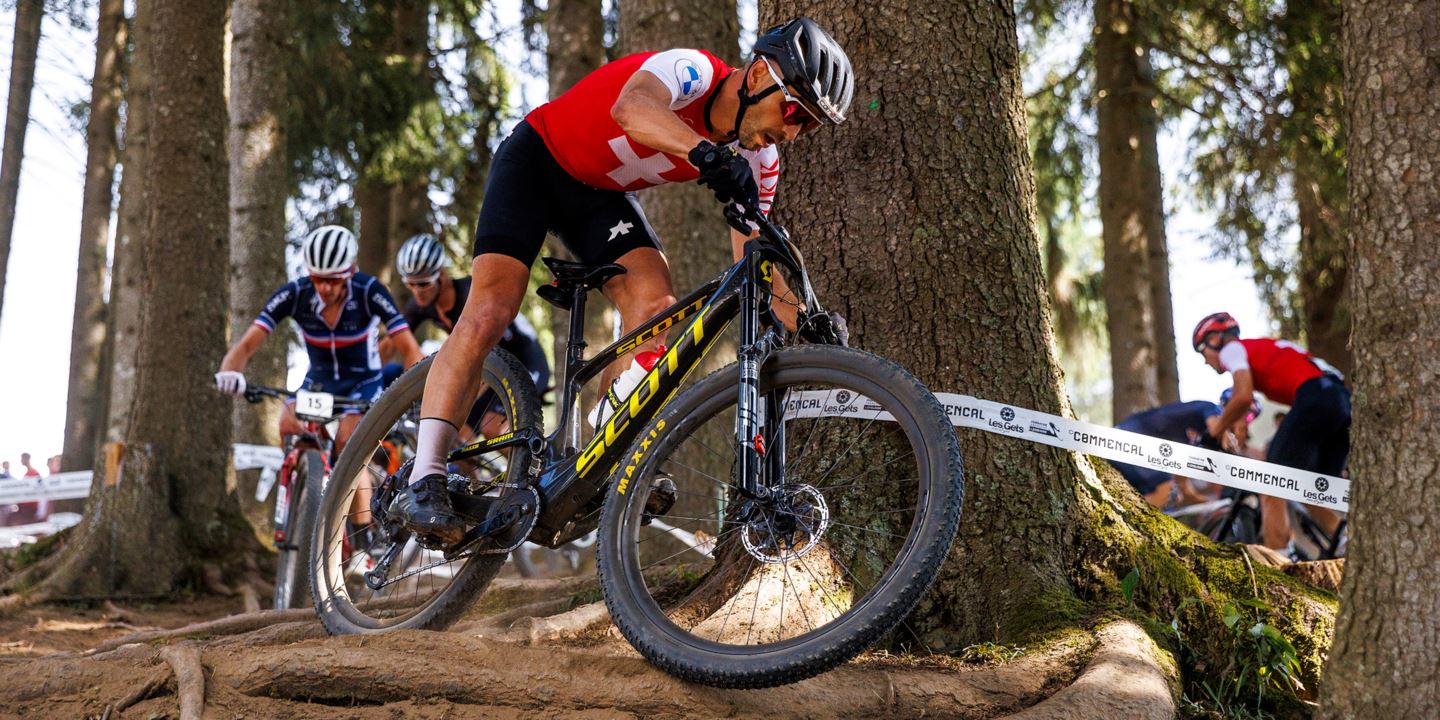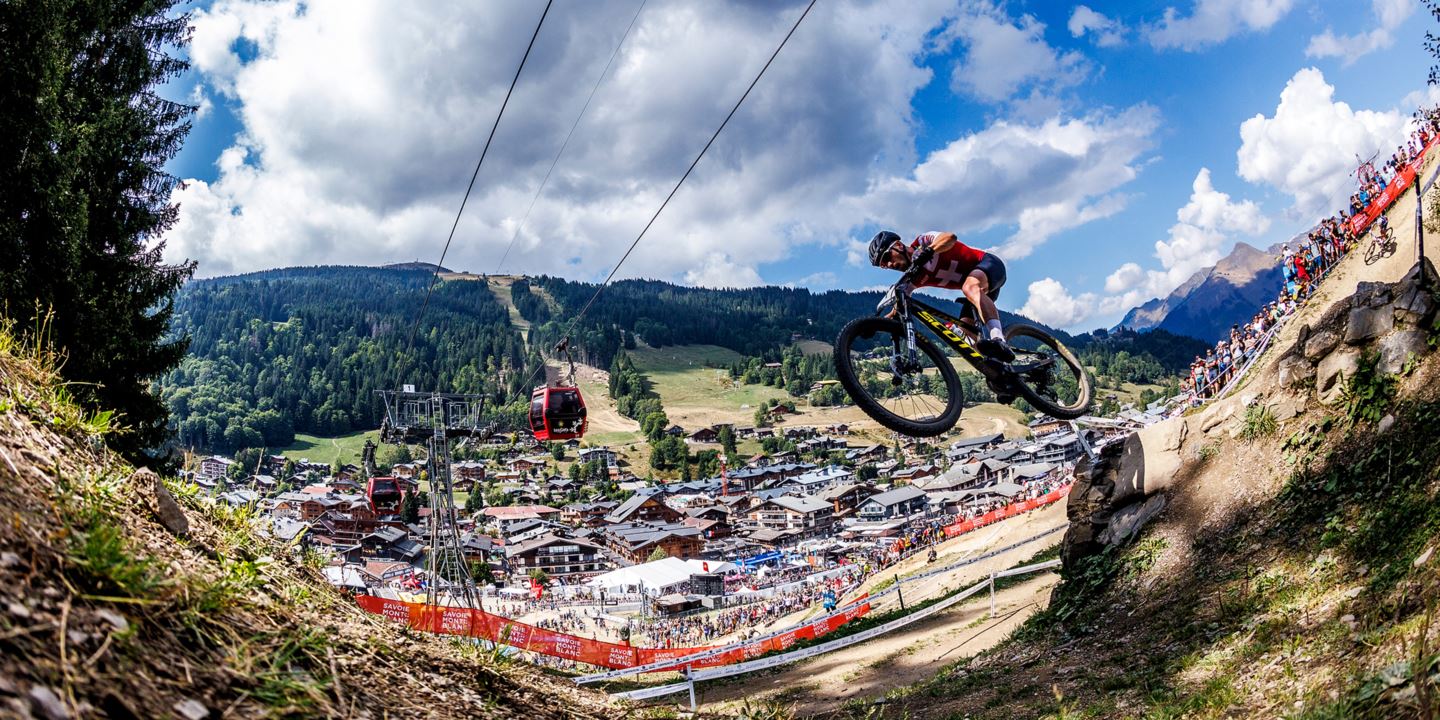 While Nino is still on the hunt for his 34th World Cup win since winning the first XCO of the season in Brazil, his ride at World Championships only reinforces that Nino's reign in cross-country is as strong as it's ever been.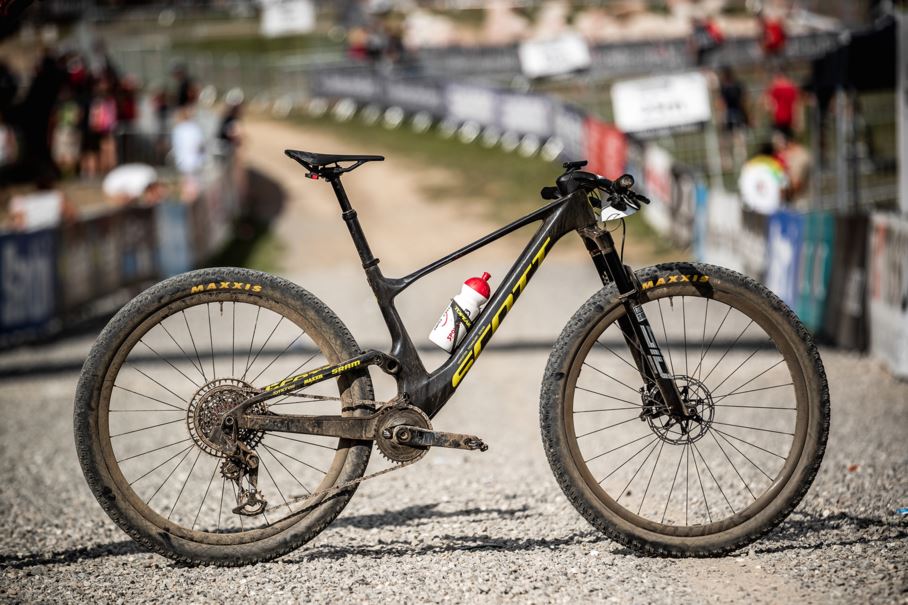 Just as he had nine previous times, Nino was aboard a Scott mountain bike for his 10th World Championship title. In this case, a sleek black and yellow Scott Spark RC with a RockShox SID Ultimate up front and a Nude 5 RLC3 rear shock integrated inside the frame. Keeping Nino in control was SRAM Level Ultimate brakes with mix-matched 180mm front and 160mm rear Centerline-X rotors. A BlackBox Transmission with a 38T chainring translated his watts to the rear wheel.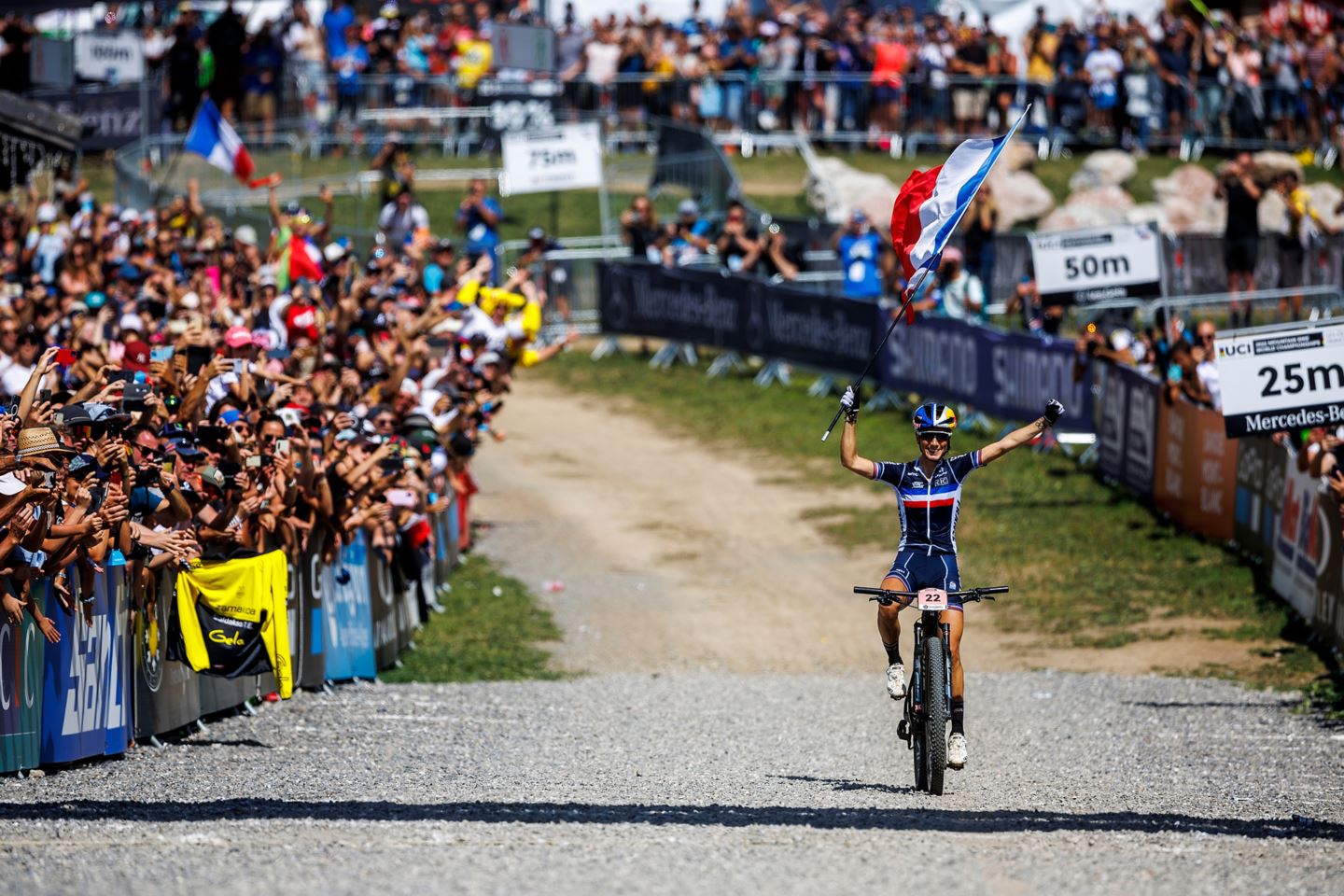 Arcs-en-ciel Doubles // Pauline Ferrand-Prevot
Pauline Ferrand-Prevot (BMC MTB Racing) came into World Championships with a plan. A plan to win. There was no questioning Pauline's strategy in either the XCC or XCO. She would break away from the pack early on and create a sizeable gap that would make the remaining laps a race for silver and bronze.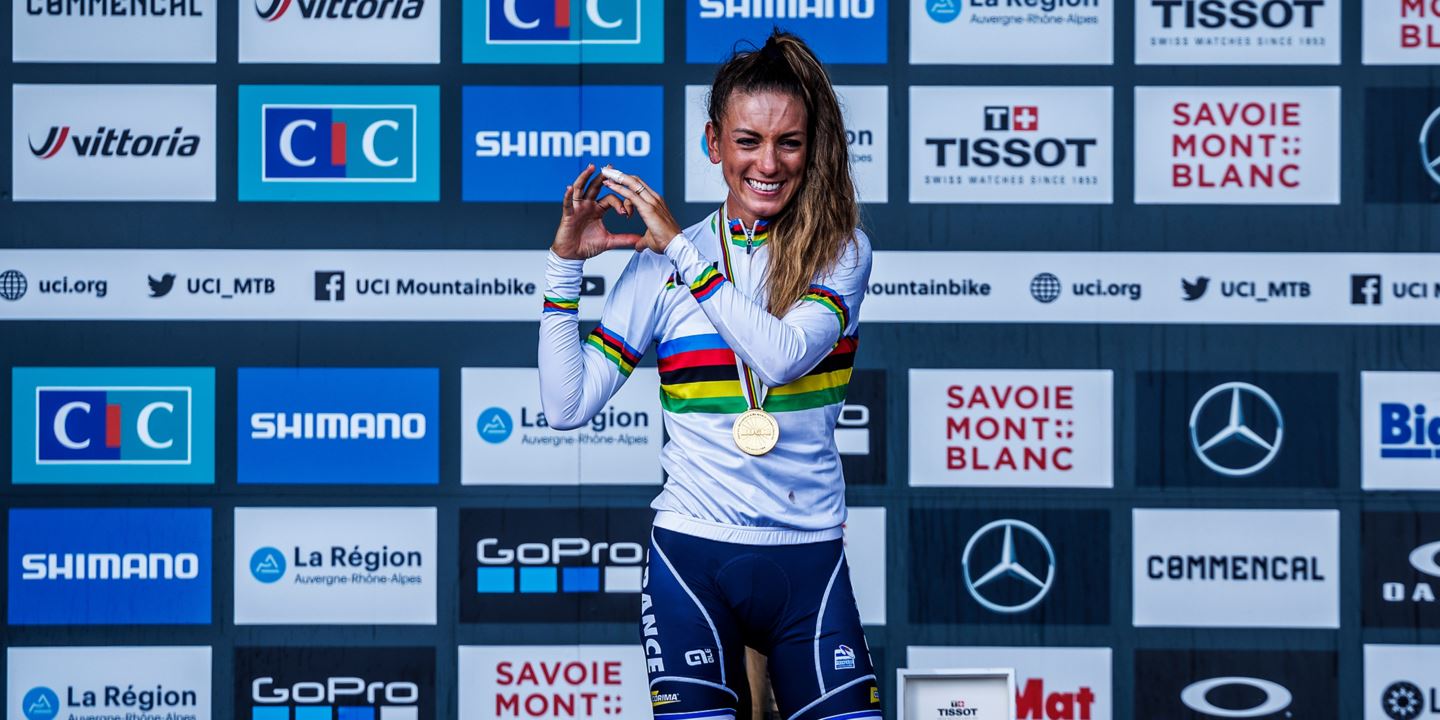 It's hard to realize because it still feels like a dream. I want to see my parents and my friends, and then I will realize it.

–Pauline Ferrand-Prévot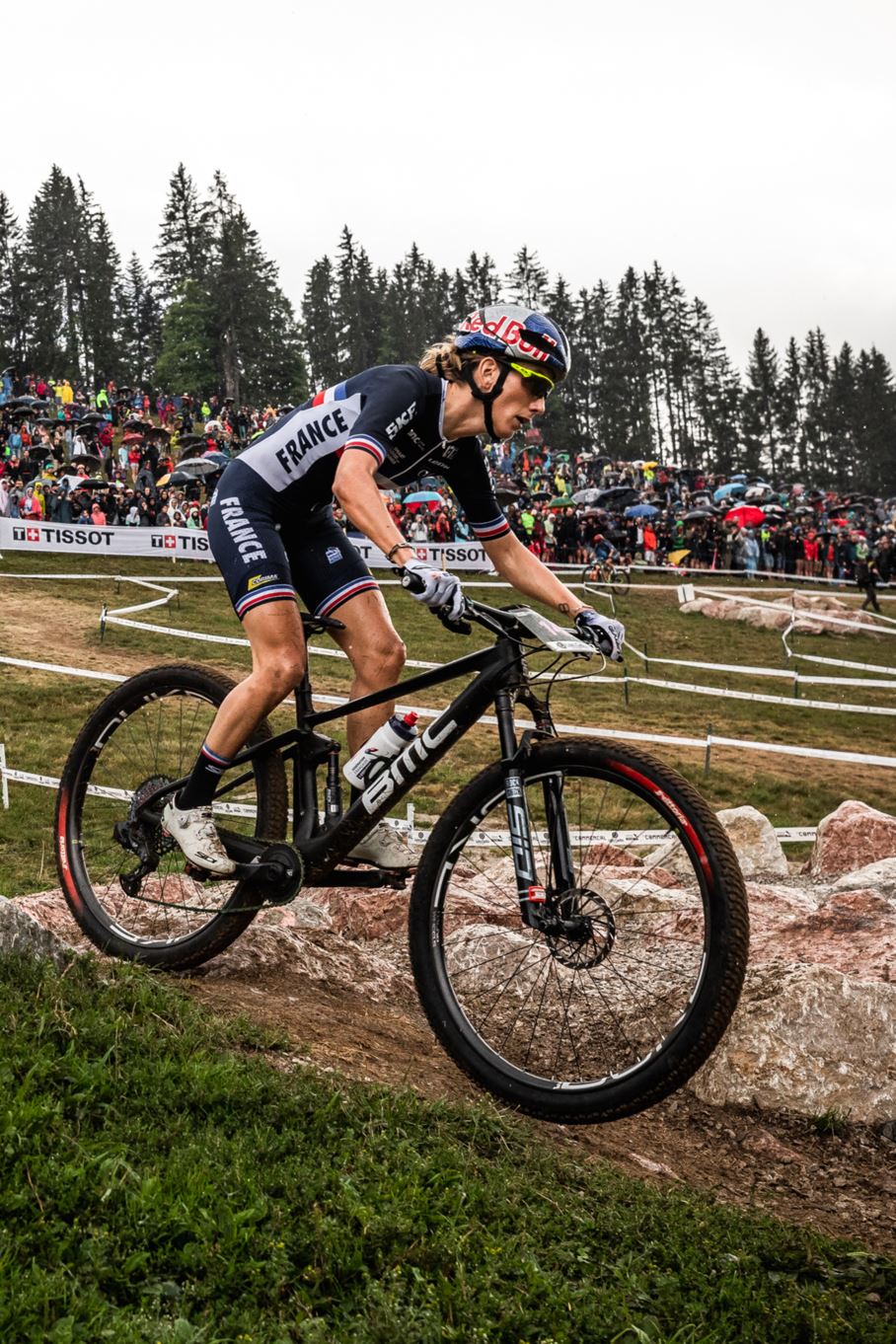 Short track made its debut in the UCI Mountain Bike World Championships in Val di Sole last year. Not all racers choose to race both events as the result in XCC has no effect on the starting line for XCO. But Pauline's closet of rainbow stripes including Road, Cyclocross, Cross-Country, Team Relay was still missing Short Track. Her strategic breakaway in the second lap was never refuted, adding an individual seventh World Championship to her collection with eyes on her eigth World Championship title which would make it her fourth XCO title.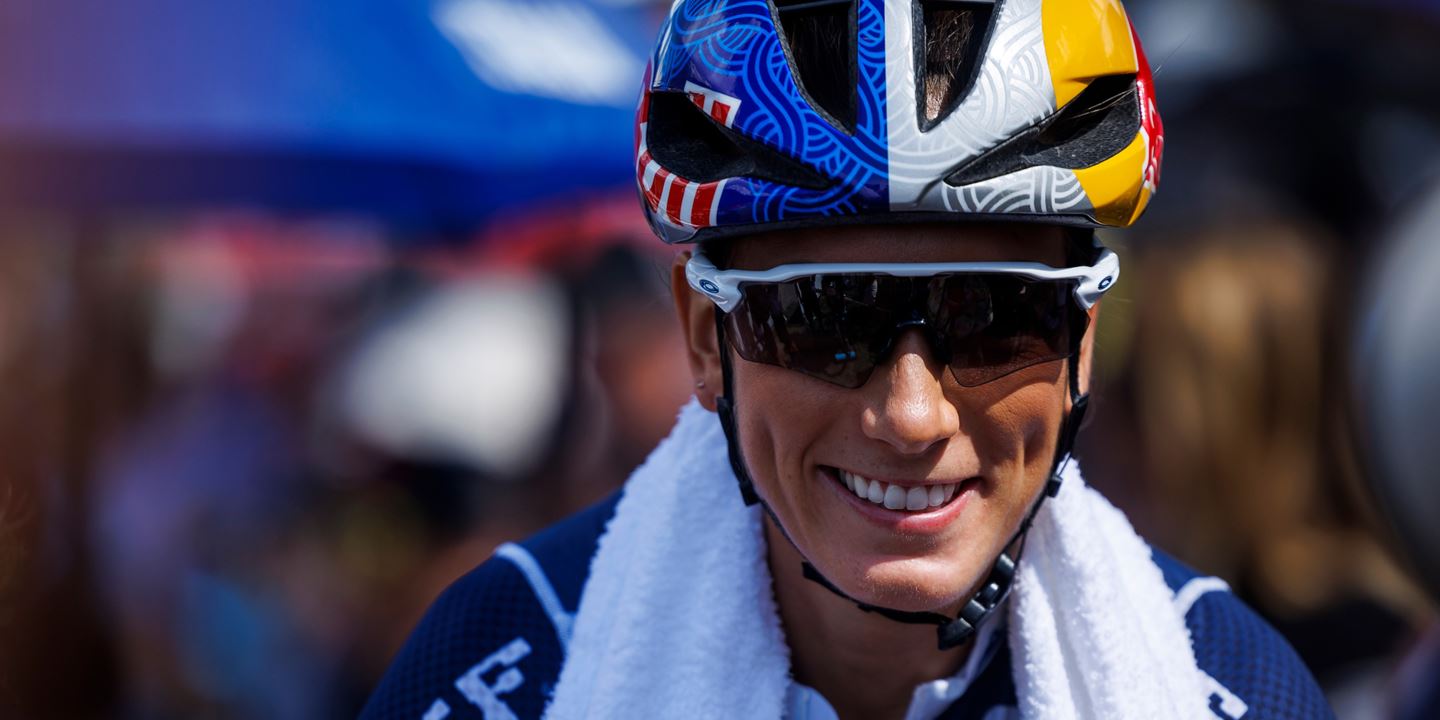 In front of their French fanfare, the two favorites lined up to the start of the Elite Women's cross-country event: Pauline and Loana Lecomte (Canyon Cllctv). Loana sat out racing in the last two World Cups in North America and the XCC on Friday all for this day. With the blast of the start gun, Pauline wasted no time, leading up the first climb of the course with Loana and Jolanda Neff (Trek Factory Racing) on her heels. While Neff caught up to Pauline during the first lap, the Frenchwoman extended her lead to 22 seconds the first time through the start/finish chute.
"I made the choice to start with the hardtail bike because I knew I could go fast on the climbs, and it was a bit risky, but I wanted to go straight from the start, to go full gas, to make a gap, and I did it. From there I tried to be soft and clean on the downhills, and I made it. I can't believe it."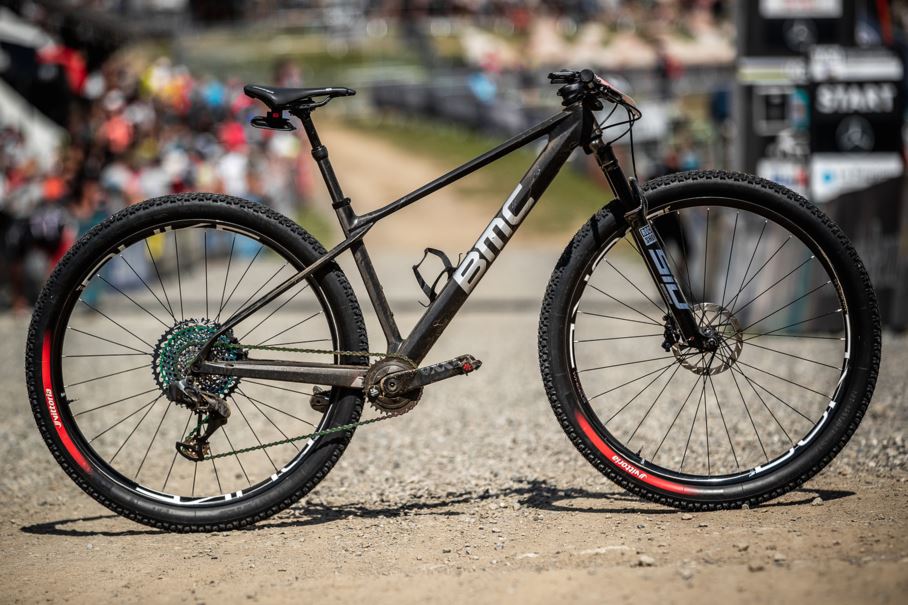 PFP raced the BMC Fourstroke full suspension to the XCC title, while a hardtail BMC Twostroke was the ticket for the XCO. Strategically chosen to power up the long smooth climbs as efficiently as possible, her Twostroke featured a RockShox SID SL sporting 100mm of travel, SRAM Level Ultimate brakes with 160mm HS2 rotors, and an SRAM XX1 Eagle AXS drivetrain. Connecting her to the bike were TIME Atac XC 12 pedals.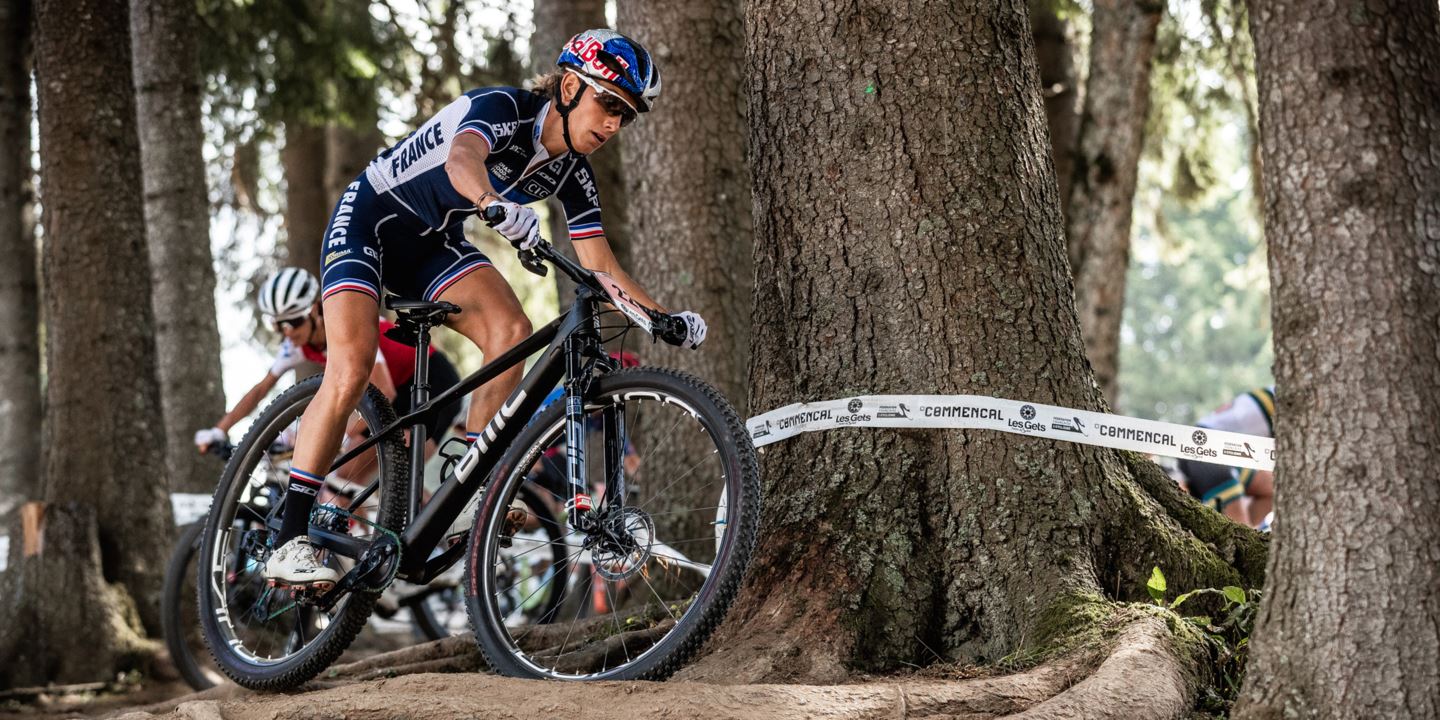 Once she was securely in the lead, Pauline never let up. With every passing lap, she rode strong and faster than before finishing 1:35 ahead of Jolanda who fought hard for second place with Haley Batten (Specialized Factory Racing) 48 seconds behind riding for a career-best bronze medal at World Championships. Loana rode a technically-sound race for fourth place.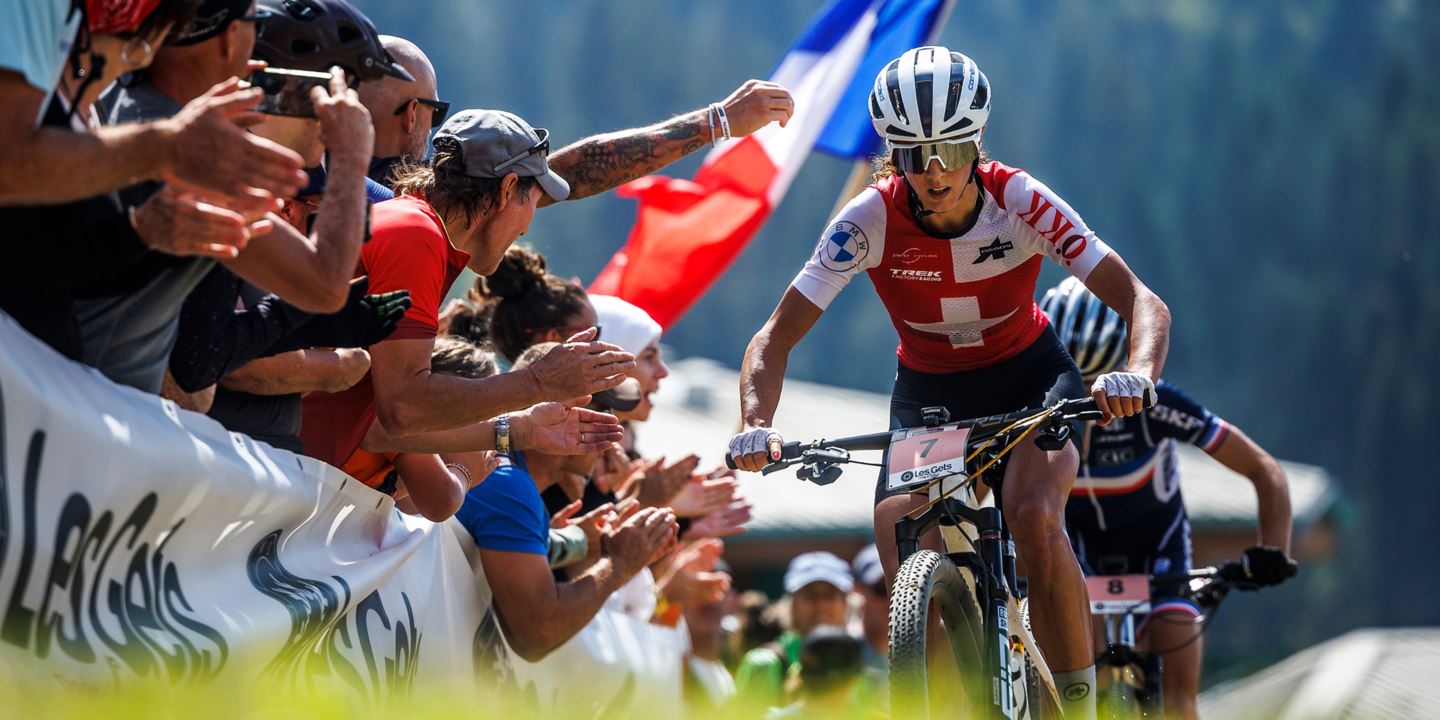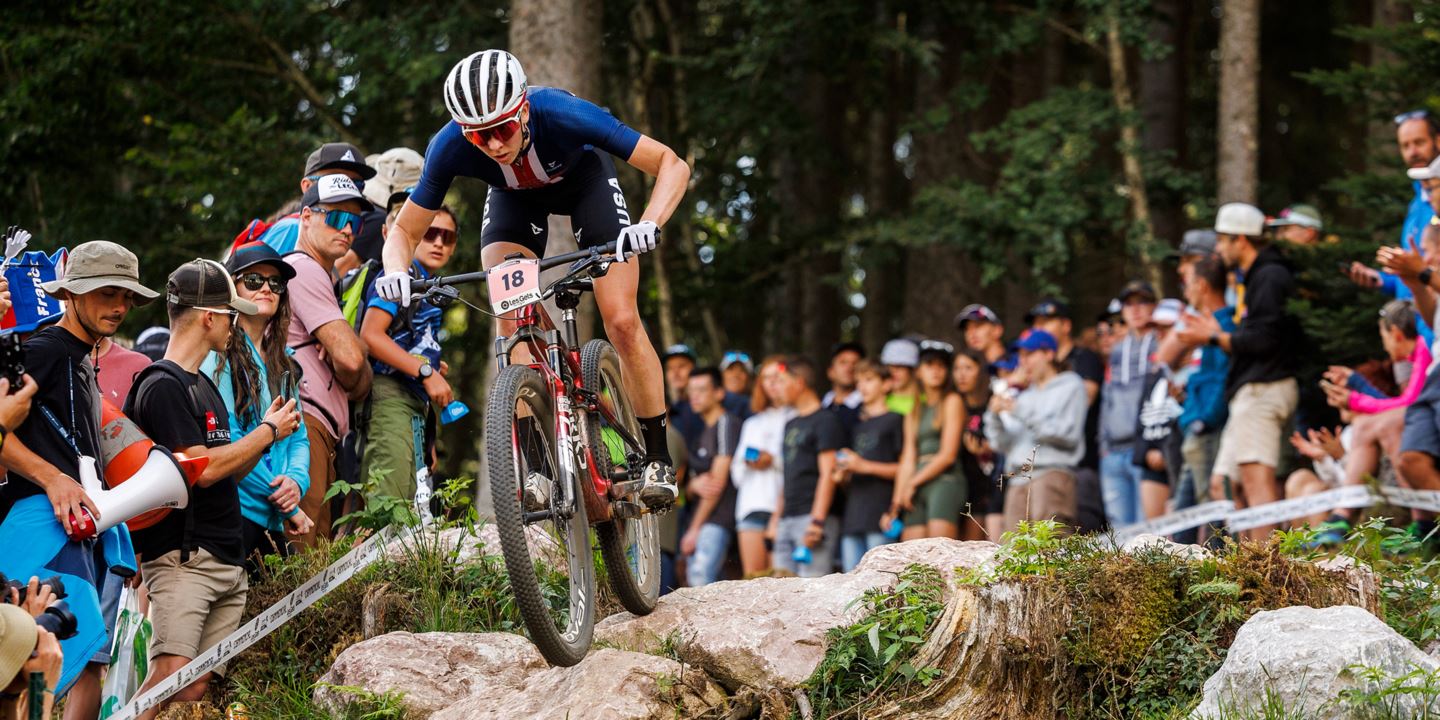 In the U23 Women's race, Loana's teammate Line Burquier took cues from her French role models and led the race from the get-go ultimately taking the win by 45 seconds in front of her friends and family on home soil. The fairy tale ending to Line's first year racing as a U23.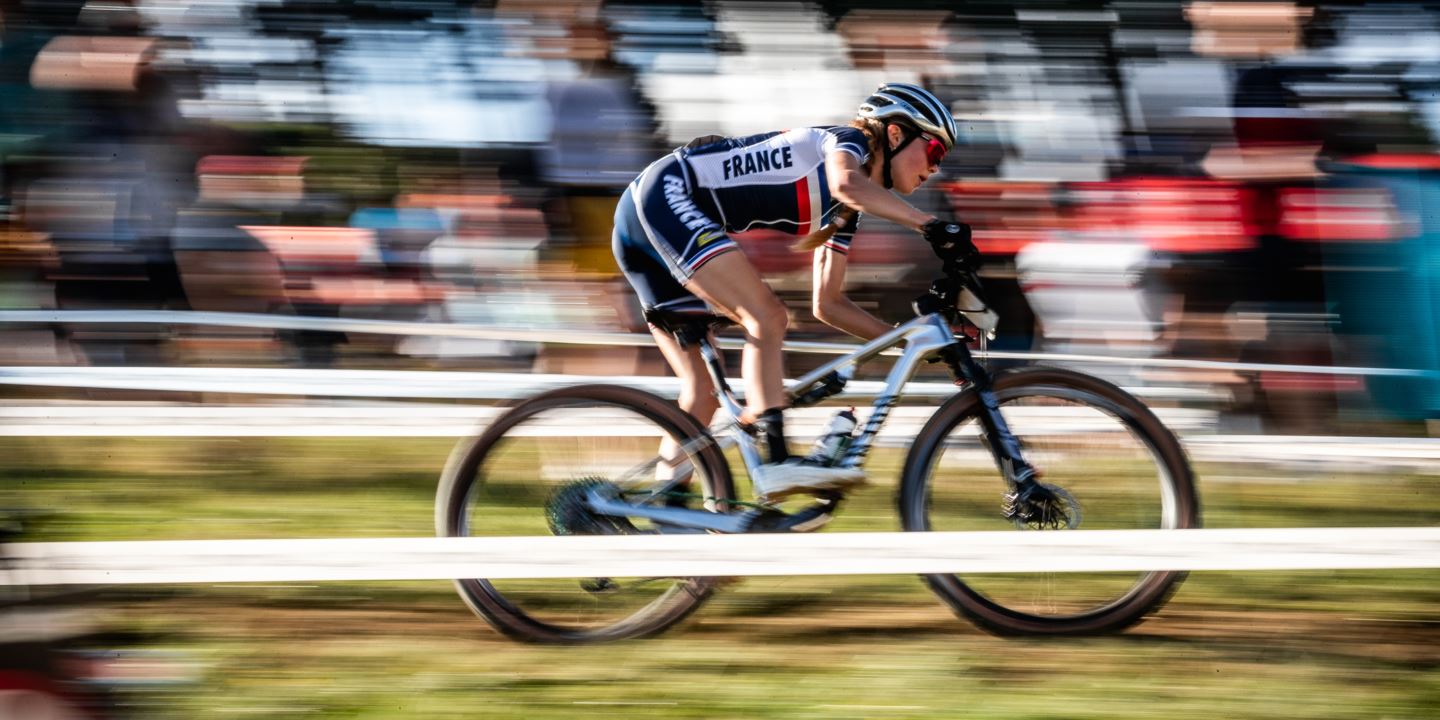 REGENBÖGEN SIND FÜR IMMER // VALI HÖLL
Vali Höll (RockShox Trek Race Team) emerged onto the Elite Women's scene two seasons ago with two Junior World Championship titles on her resume. The jump to Elite's has been filled with the glory of winning the 2021 World Cup Overall title and now four World Cup wins with the disappointed of crashes in Finals runs. To say Vali's nerves were heightened going into Worlds is an understatement.
"I was sitting after the podium in Mont-Sainte-Anne with Jamie, and he was recording me to say something to future Vali who was gonna race Worlds, because he knew I was gonna stress out. I tell myself to chill the f*ck out, because I am actually riding pretty decent, and that I should believe in myself. I just watched it before my race run."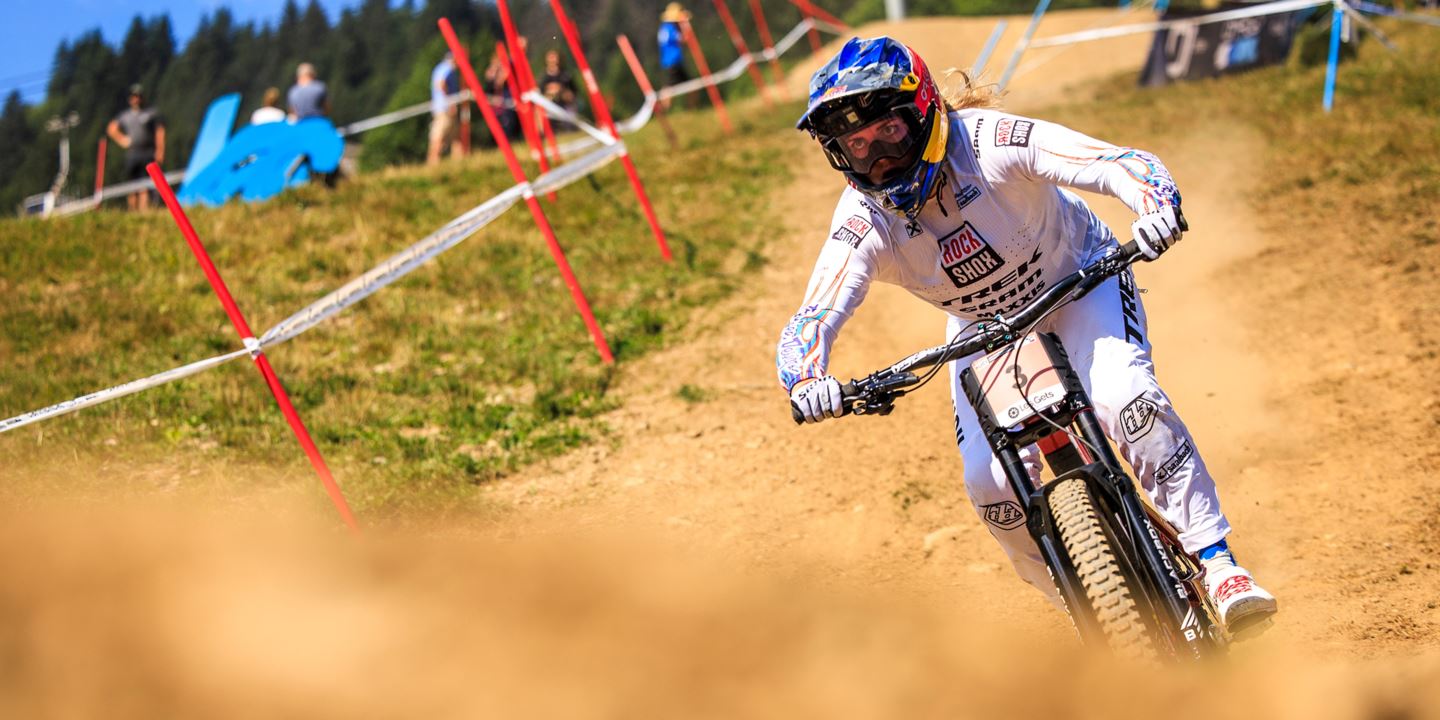 Lining up to a DH run is unlike any other form of mountain bike racing. Barring crashes or mechanicals, there is no immediate feedback where your splits are landing. Your audience knows more about your run than you do until you cross the finish line. Vali knew she made some rookie mistakes in practice and her P4 in Qualifications only lit the fire to race faster.
"I thought I had a decent run in Qualis and got smoked by Pompon, and I was like, 'Oh, this is going to be hard. Then this morning I was so stressed and made the same mistakes as the day before. And I was thinking, 'Well, if I get a third place, that would be amazing, just to medal at World Champs.' I never would have thought I'd be able to win here."
If some of the other races were indicative of French pride coming out, Vali knew that her greatest competition was with Myriam Nicole, who held two World Championship titles since 2019. Vali lined up for her race run and knew she need to ride the best she could. Her best, was the best, when it mattered the most.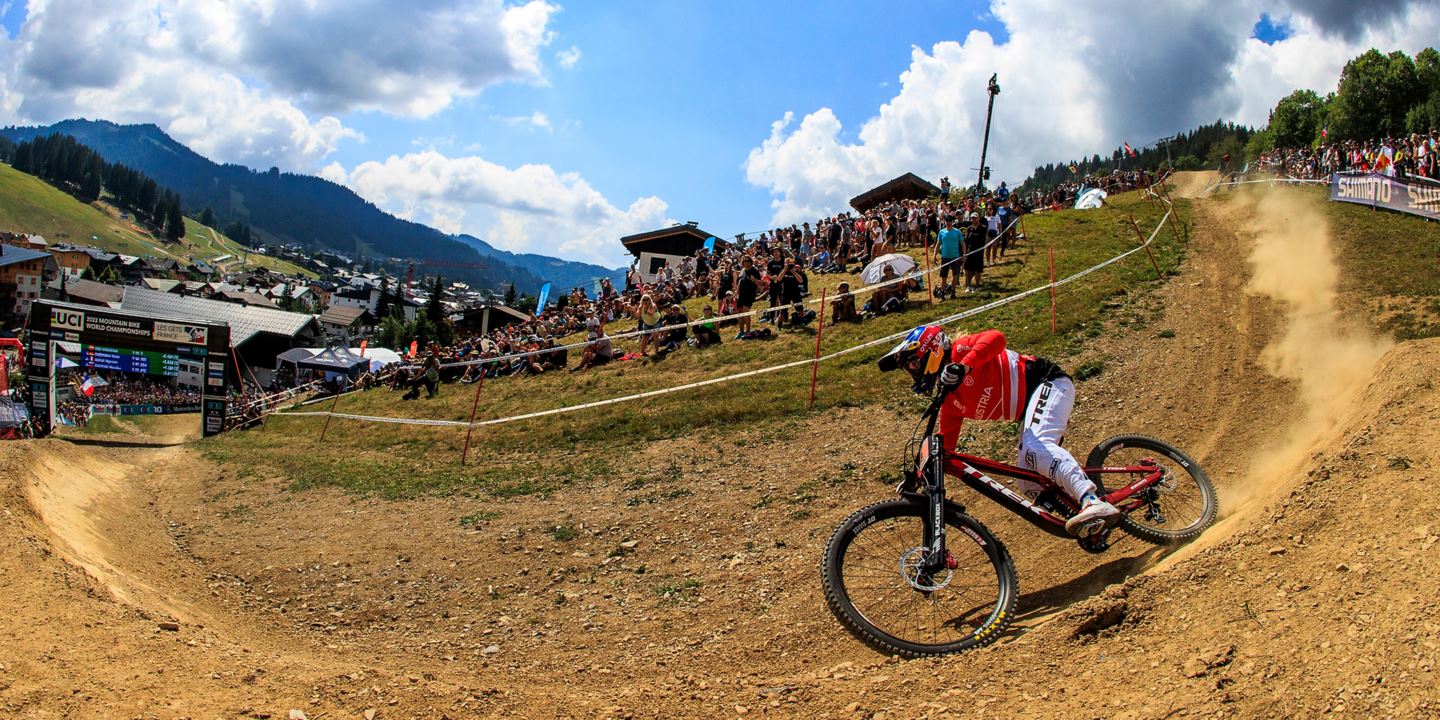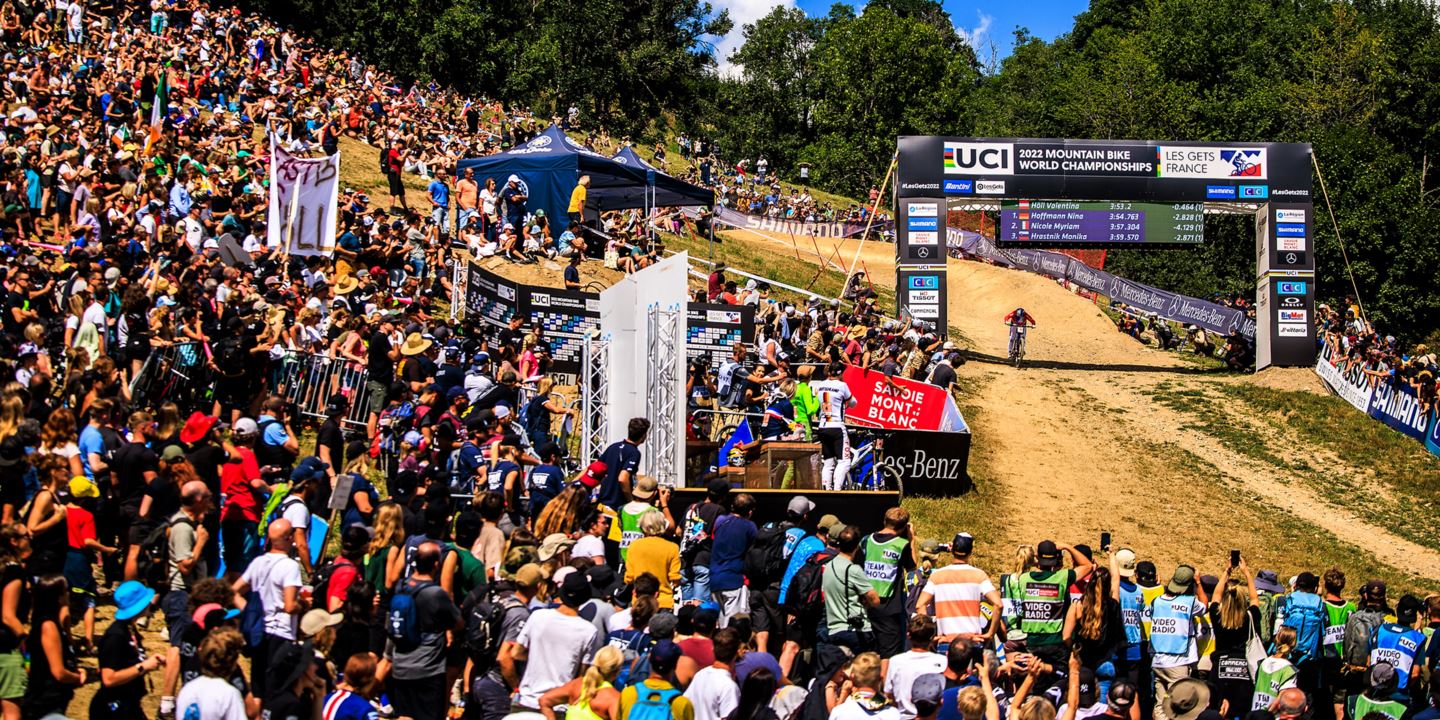 "Today, beating her [Myriam Nicole] without seeing her crash, I wouldn't say it feels better but I'd say there was no luck involved. I just rode the best I could, and it was somehow faster than everyone else's run."
Surrounded by her team, friends, family, sponsors, and biggest fan, there were many tears shed. "It's so nice to have so many people just think about me. And it means so much that they care so much. I saw Mat [Gallean] crying for the first time today because of what I had achieved. And then at the same time I have Cecile Ravanel by my side, my coach, and it's incredible the people all around me."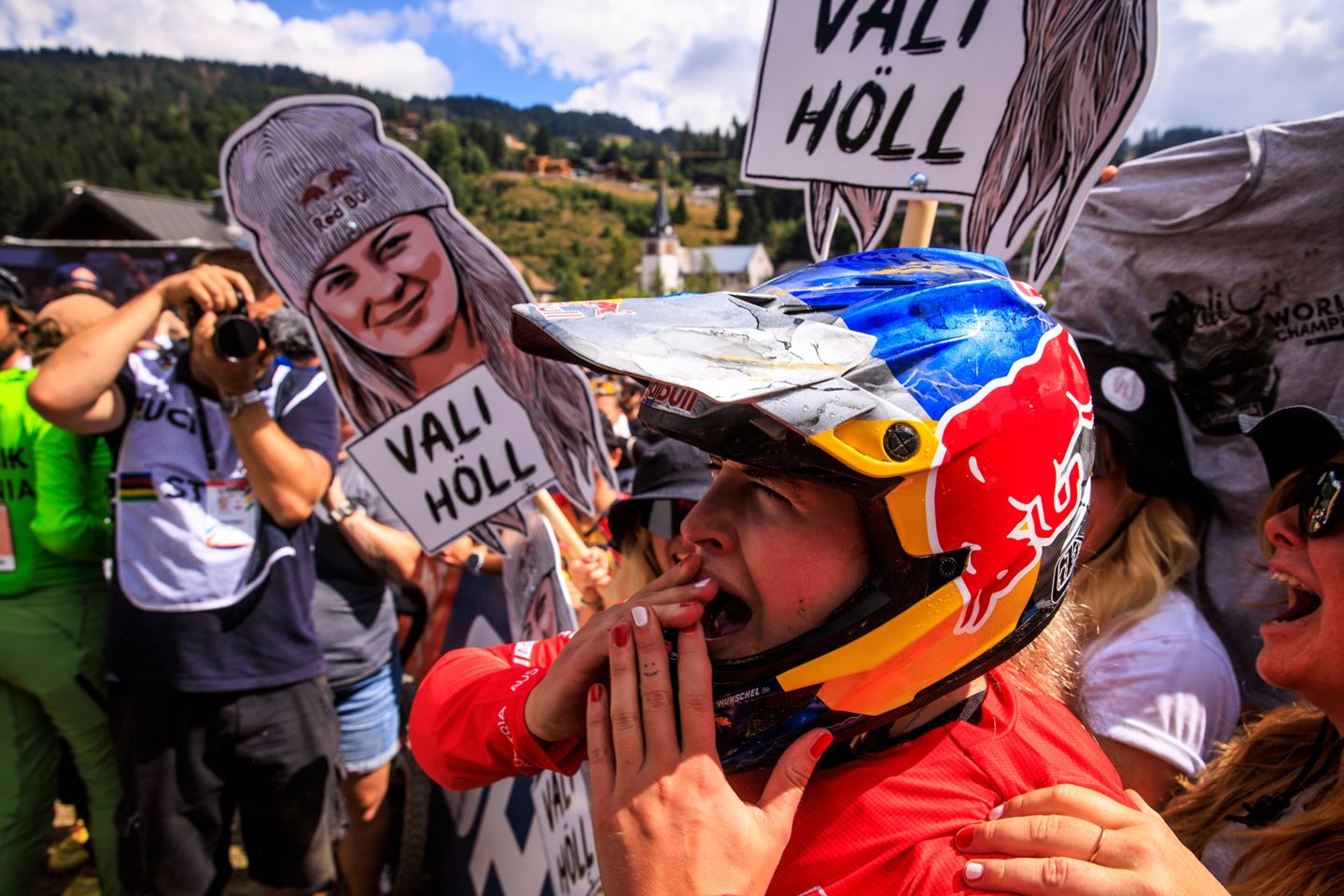 Today is the first time I am actually crying because of joy. It's amazing, it feels way better.

–Vali Höll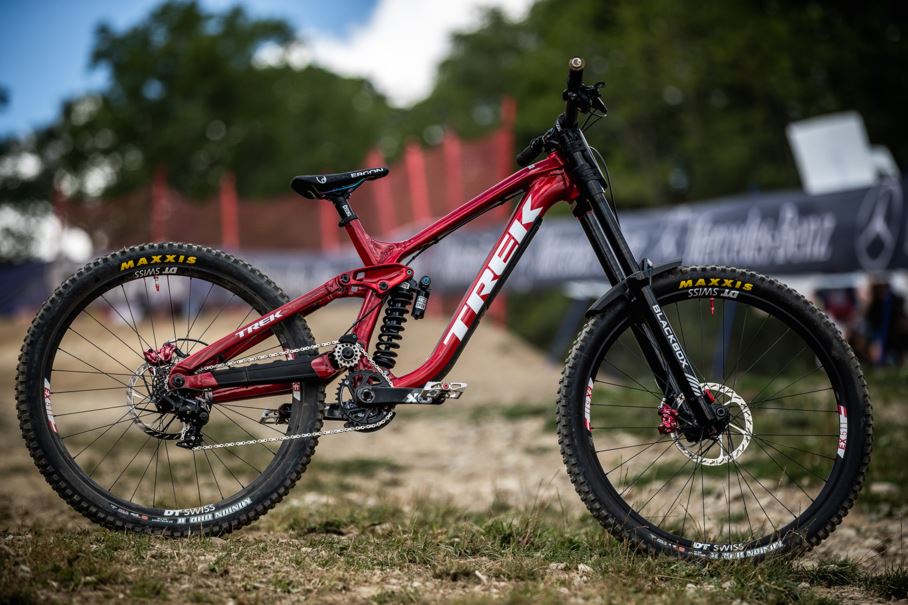 Vali piloted her custom Austrian flag-painted Trek Session to a winning time of 3:53.857 on the Mont Chery Downhill track, known as one of the fastest and roughest on the circuit. Her bike features BlackBox front suspension as well as BlackBox brakes paired with 200mm HS2 rotors. Taming the course is a RockShox Super Deluxe Ultimate DH Coil set up with a 450lb spring, -1 LSC, -1 HSC, and -8 clicks (from closed). A SRAM X01 DH drivetrain keeps the pedals turning, while 165mm cranks keep them out of the ground.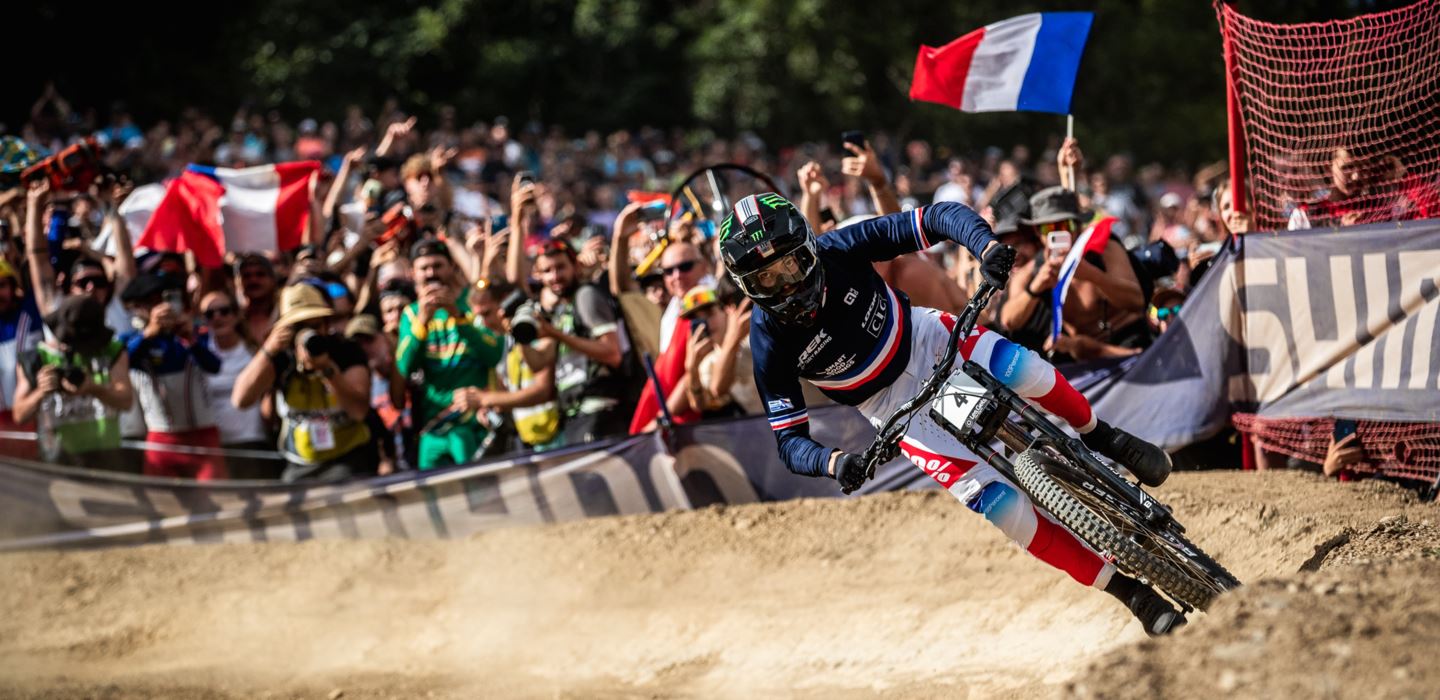 The Elite Men's Downhill race could be heard from the peak of Mont Blanc and back. As the Top 10 careened down the ski slopes, the crowd only got louder with each passing Frenchman. Loris Vergier (Trek Factory Racing) came into the race just weeks after a fractured shoulder in Mont-Sainte-Anne. Battling pain through practice and a P14 in Qualifications, Loris rode clean and fast, securing third place by 0.8 seconds behind fellow compatriots Amaury Puerron and Loïc Bruni.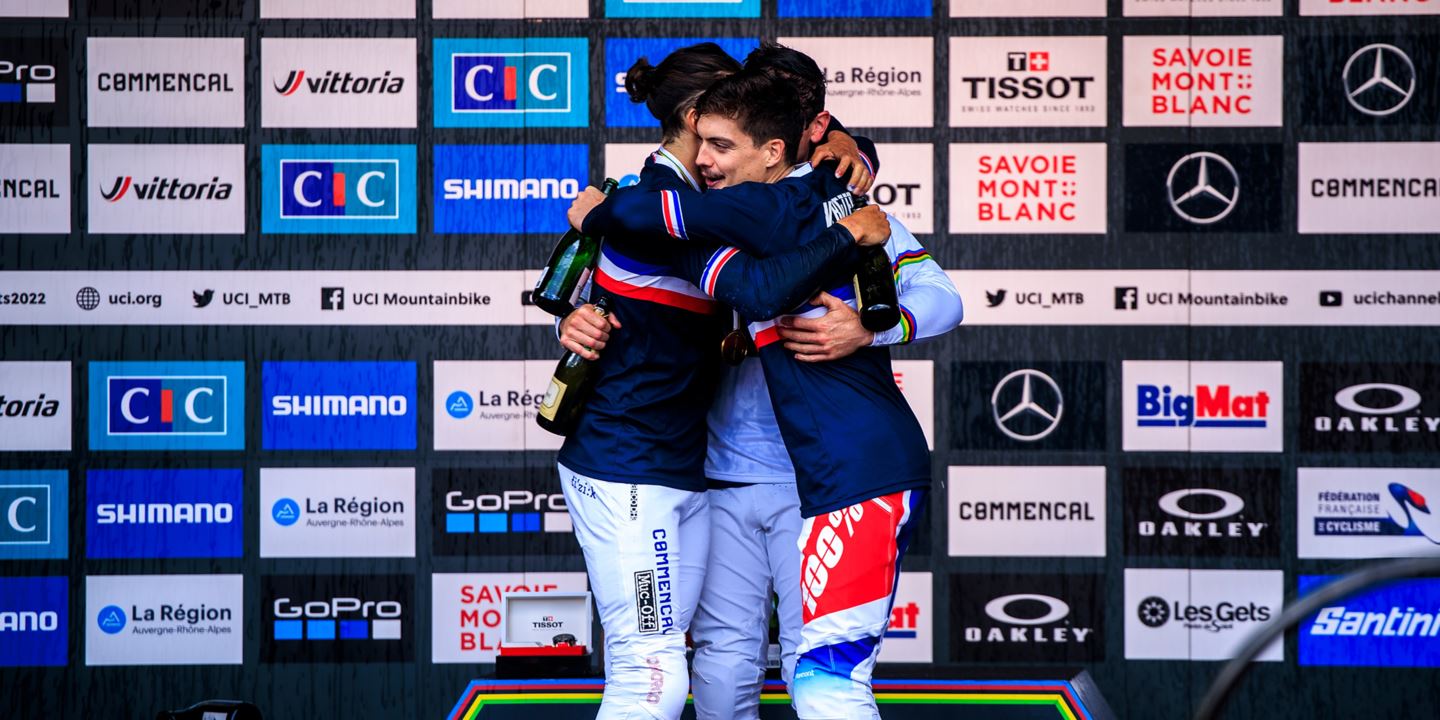 Three Frenchies. Insane crowd. For this spot, I think it was probably the best day ever. I'm really happy about that. And hopefully we can get some speed for the next round in Val di Sole and end the season well.

–Loris Vergier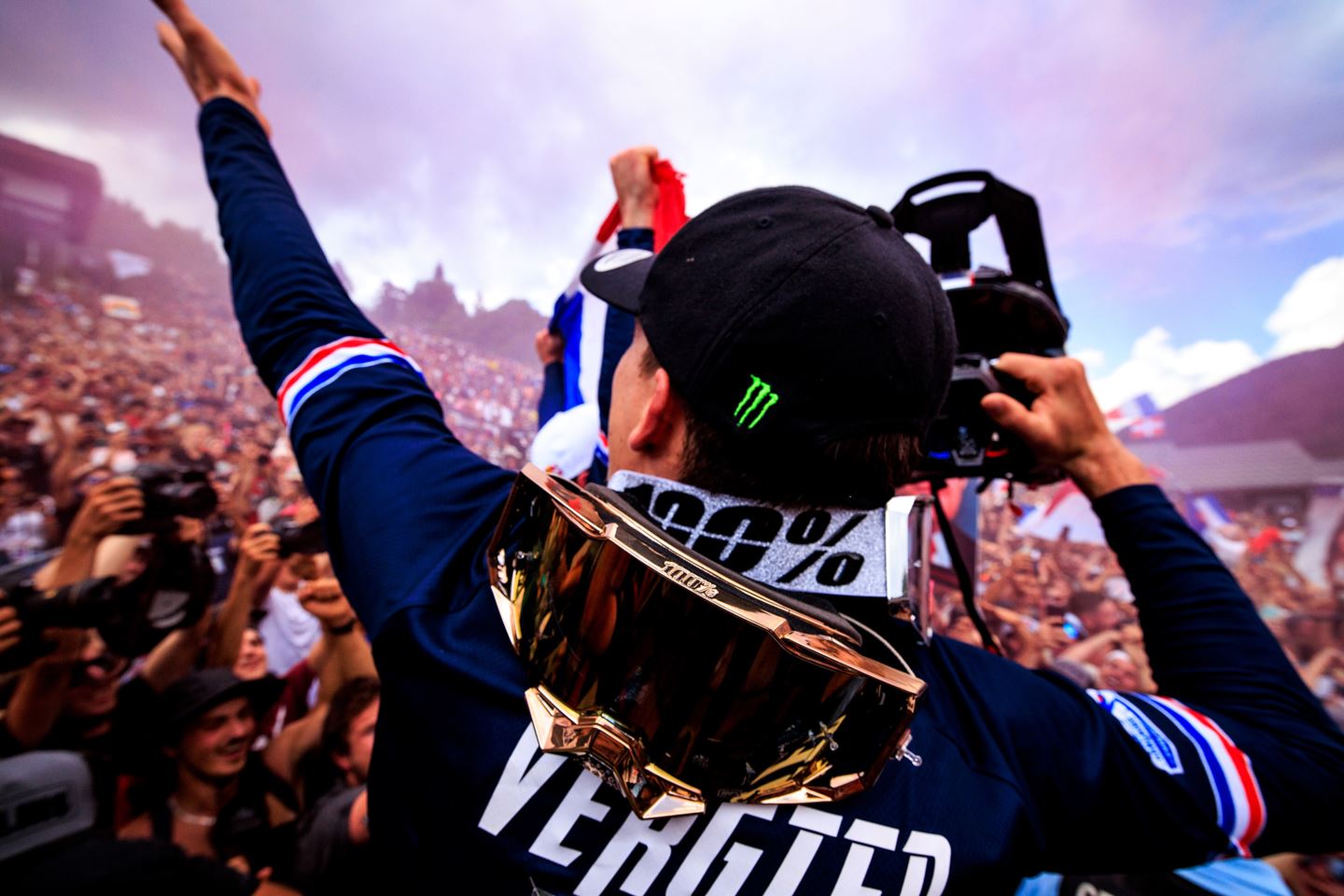 World Cup Finals // Val di Sole, Italy
While team jerseys are being reprinted with rainbow stripes overnight before World Cup Finals ensue this weekend, athletes are making a swift recovery and six drive to Val di Sole, Italy to wrap up their seasons and determine who will take home the Overall.
With such a quick turnaround between World Championships and World Cup finals, there is little time to sit back and indulge in the sweet victories that left our athletes at a loss for words. But no matter what happens next, we know that rainbows are forever. Once a World Champion, always a World Champion. Your SRAM and RockShox family are incredibly proud of you all.
Medal Count
Gold
Nino Schurter (Elite Men XCO)
Pauline Ferrand-Prévot (Elite Women XCO)
Line Burquier (U23 Women XCO)
Vali Höll (Elite Women DHI)
Pauline Ferrand-Prévot (Elite Women XCC)
Jerôme Gilloux (Men's eMTB XC)
Silver
Jolanda Neff (Elite Women XCO)
Remy Meier-Smith (Junior Men DHI)
Gracey Hemstreet (Junior Women DHI)
Filippo Colombo (Elite Men XCC)
Justine Tonso (Women's eMTB XC)

Bronze
Haley Batten (Elite Women XCO)
Loris Vergier (Elite Men DH)
Gwendalyn Gibson (Elite Women XCC)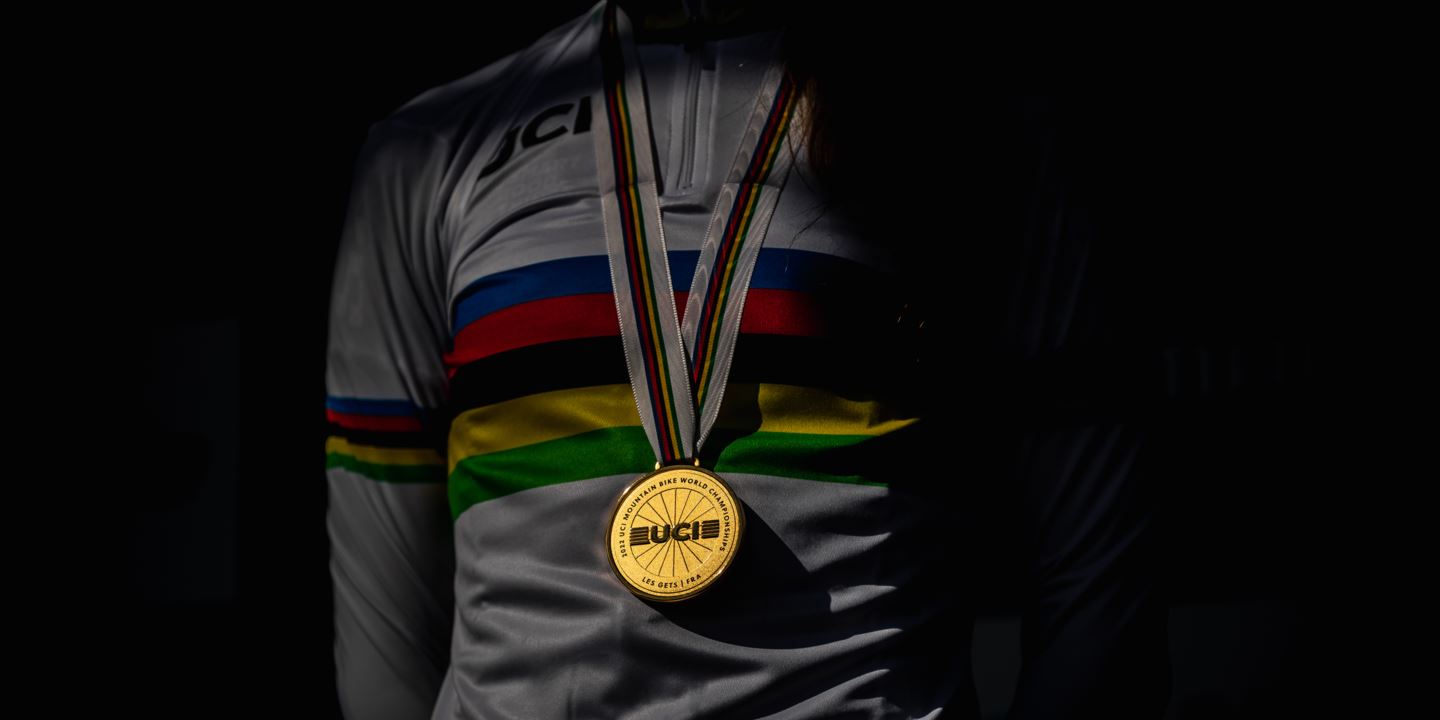 Photos by Sven Martin and Ross Bell. Words by Sarah Rawley.