2014

In February 2014 we upgraded the disc valve adaptor from the silver to this no-hold black version from Silca.
Zipp 900 front track disc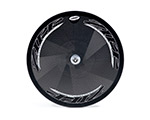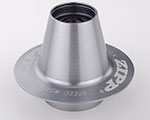 In early August 2014, the long-serving 900 tubular track front disc was discontinued after over 20 years in production. The 808 Firecrest front wheel with a track legal skewer is now faster and lighter and suggested as an ideal substitute.
2013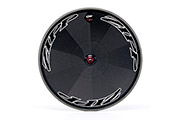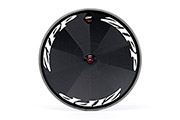 Launch the first carbon clincher disc in the market. The new Super-9 carbon clincher tested as the fastest wheel ever run in the wind tunnel. At 1175g, this flat 27.5mm wide disc has sloping brake tracks to allow for a smooth transition from tire to disc at both leading and trailing edges. Available in January 2013 in 11 speed, the Super-9 carbon clincher makes for easy tire matching to pavements and is the weapon of choice for time trial, track and triathlon.
11 speed comes to Discs




In January 2013 we released 11 speed versions for all discs. The silver 182 disc hub used on the 900, 840 and sub-9 changed to a black hub with different flanges and a new track axle conversion kit. The 188 silver disc hub used on the Super-9 discs also changed to black.
Note older disc models (silver hub flanges) cannot be upgraded due to very different dish requirements for 11 speed. Track axles are no longer compatible between the silver and black disc hubs across all the discs.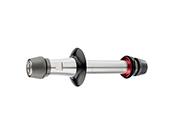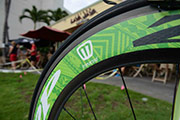 In November 2013 we shipped the first limited edition Impress Super-9 clincher discs. This new technology allows Zipp to print multi-color graphic images directly on the carbon surface giving unlimited future flexibility, customization and weight reduction.
2010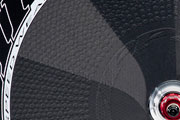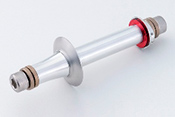 Super-9 flat dimpled disc is introduced in November 2009 for time trials and track racing. 27,5mm wide and 995g, this disc performs at the same level as the sub9 with 21mm Zipp Tangente tires. The Super-9 has the new 188 disc hub with a 17mm axle, aero clinch nut and is track compatible. The Super-9 fits the chain stays of most TT bikes, but is too wide for the integrated brake calipers on the Cervelo P4. This disc delivers 16 seconds time savings (5 watts) over 40K when compared to the fast and thinner 21.0mm Zipp 900.
2008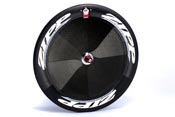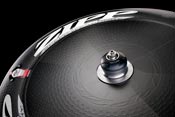 Introduce the sub9 (1036g), and ZedTech sub9 (1000g) - a bulge road only disc that tests a negative 80g in the wind tunnel. This disc, a radical departure from industry norms, features a 80mm toroidal bulge with Carbon Bridge technology, proves to be very comfortable for longer distances due to the additional side-wall flex.
Zipp launches the wireless PowerTap disc with a custom torque tube for the 900 tubular, 900 clincher and the new sub9 (1152g).
2007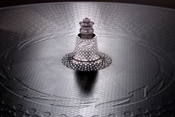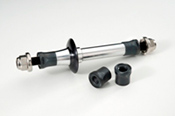 In 2007 we introduced the 182 disc hub with colored (red / blue) free hubs and a revised track axle that is not backwards compatible.
ZedTech dimpled hub and road disc introduced. This hub cannot be converted to a track version. A ZedTech disc weighs 35g less than the normal dimpled Zipp 900. Clincher disc production increased with new molding tools. Cut-out increased to accommodate 50mm valve connectors.
2006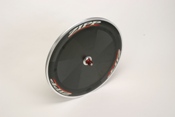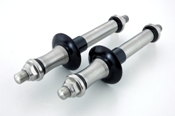 Clincher disc with bulge on OD introduced. Modified pie pieces designed to reduce weight, track axle design changed to 3 piece to reduce weight. New autoclave commissioned and disc hubbing machine capacity increased.
2005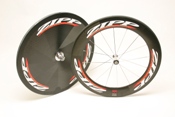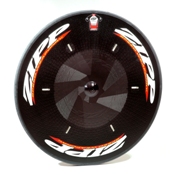 ZIPP 999 and ZIPP Z99 wheel sets introduced. New hubbing machine operates in August. Decals change from square to arc shape and yellow color is dropped.
Note the jersey valve hole patch as introduced in 2006.
2003-2004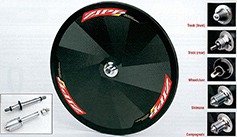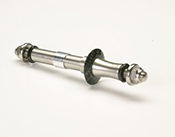 Launched the flat non-dimpled tubular Zipp 900 with the silver disc 202 hub in 2003. This disc was convertible between road and track and available in 700c and 650c (model 840). In mid-2004 we introduced dimpling for the first time.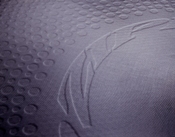 Dimpled surface helps improve aerodynamics. Zipp patents surface textures on wheels and discs. Dimpled disc and ABLC incorporated in design. Introduce the ZIPP 182 combination road / track, 9/10 speed disc hub with silver hubs and carbon ring. ZIPP Z9 and ZIPP Clydesdale 909 launched.
2000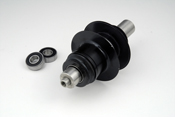 Zipp black rear track hub introduced.
1999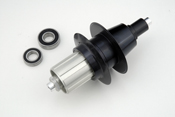 Introduce the 909 ZIPP wheel set with a 404 all carbon front, switch to 282 style black Zipp hubs for road disc
1997-1998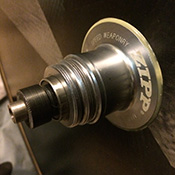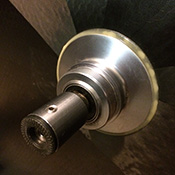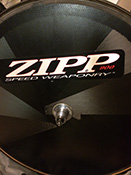 Zipp 900 smooth tubular disc. During this time period we had two disc hub options - the 217 hub for road use only and the 7/8 free wheel disc hub which had a track axle conversion option (shown above).
1996
Wheel chair discs are introduced
1995
Launch the 217 ZIPP conical brushed aluminum disc hub giving 8/9 spd. 1150 discs are discontinued.
1994
Launch the front track disc, change the shape of the hoop edges from sharp to round
1993
First heated hubbing machine introduced
1992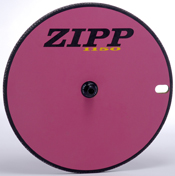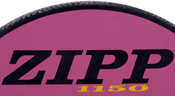 Introduced the 870 – a 650c disc, produced the first catalog. – changed to disc hoop laminates from Kevlar / carbon pre-preg braid to glass / carbon wrap.
1991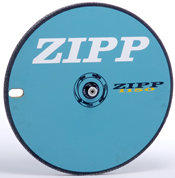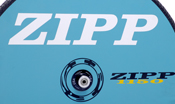 Introduced the lighter 950 disc without the glass sheet on the outside that replaced the 1150 model.
1990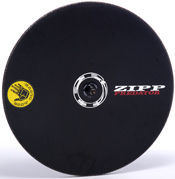 Changed from painting (gloss) to Vinyl (matt) 7spd red and 8spd gold freewheel screw-on cassettes. Example has Kevlar on outside carbon hoop. Note this is a Zipp valve hole patch.
1989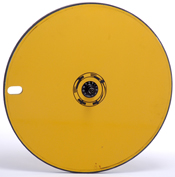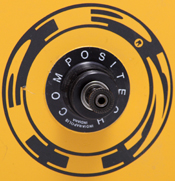 Early discs had sharp rim edges with perpendicular segment joints. Renamed the 1150. Available with 7/8 spd screw on freewheel hub bodies. Shown here is a 7 spd version. The outer hoop was made with plainweave and sometimes Kevlar.
1988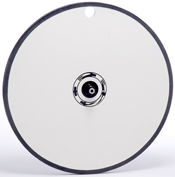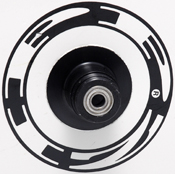 First discs with circular ZIPP logo on the disc launched as the initial ZIPP product, mostly black and white, many with aluminum core rather than Nomex. Had 7 spd freewheel threaded axles, black flanges and were road or track reversible by undoing and reversing the track nuts. Please note the circular value hole.