The evolution of drop bar bikes and the changing terrain they encounter have led to new requirements and component evolutions, including Wide cranks for road bikes. The gravel scene, in particular, has seen drop bar bikes being used on technical and rocky terrain traditionally reserved for mountain bikes. As riders push their own limits and explore more challenging terrains, the need for wider and knobbier tires has become evident. However, widening the chainstays to accommodate these tires is not a simple task, as the drivetrain, specifically the crank, occupies that valuable space. This is where the Wide crank comes into play.
Wide cranks allow frame designers to create frames that can accommodate wider tires while providing ample mud clearance. To ensure compatibility with your bicycle and to fully benefit from SRAM Road Wide, please consult with your bicycle manufacturer to determine the spindle size your bike requires.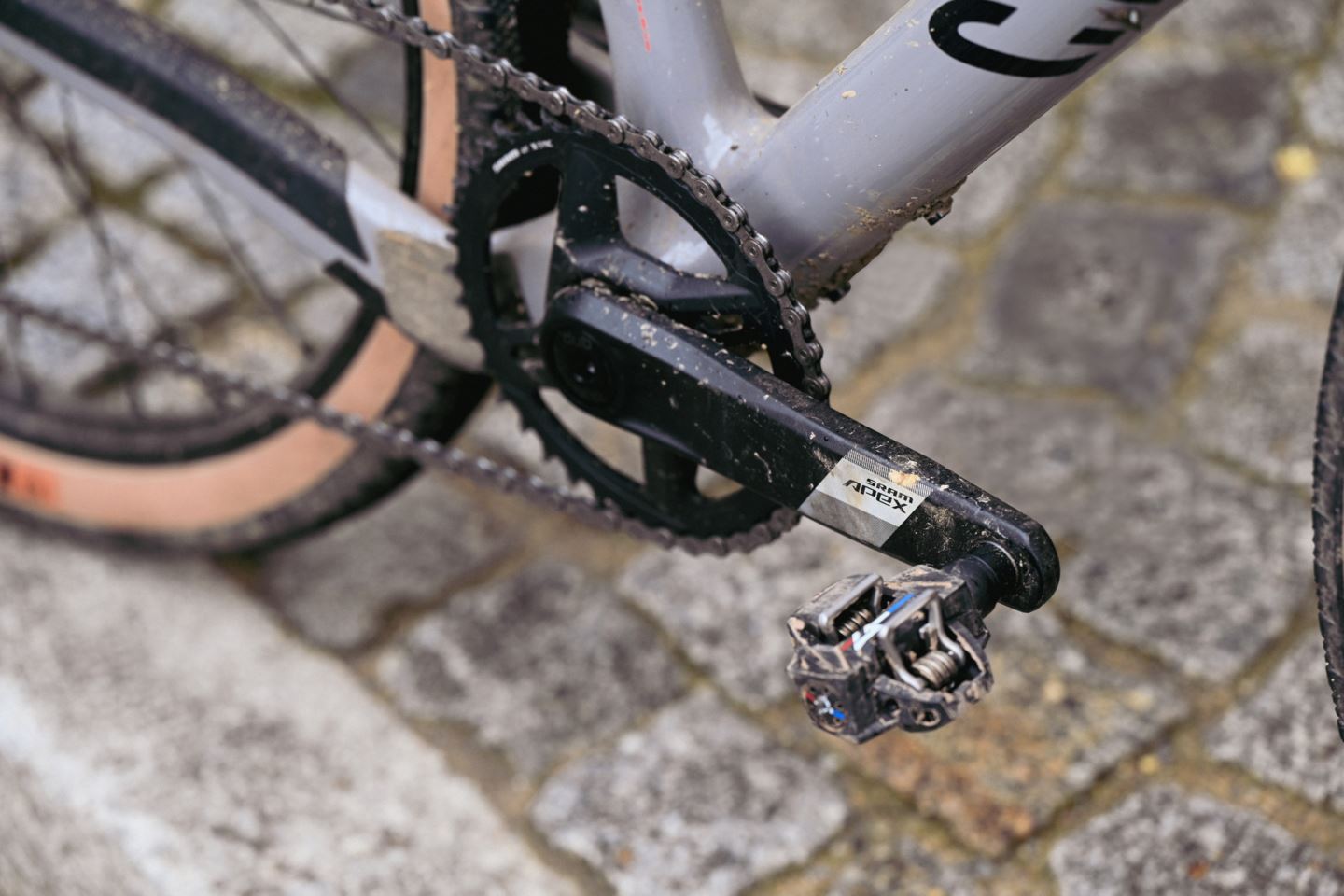 What's the difference between Wide and standard cranks?
At SRAM, the Wide option is designed to provide frame designers with approximately 2.5 mm of extra space on each side of the bottom bracket. By shifting both crank arms outwards by 2.5 mm, this additional space is created, primarily on the drive side where the chainrings are located. This widened stance is achieved by increasing the spindle width of the crank, allowing room for the wider tires that are becoming more popular among riders.
However, it's essential to note that this increase in spindle width affects both the chainline and the Q-factor of the crankset. In a standard road bike crank, the chainline is 45 mm, while the Wide crank increases it to 47.5 mm. As for the Q-factor, a standard road crank has a measurement of 145 mm, while the Wide crank setup increases it to 150 mm. Although the increments may not seem significant, it's crucial for riders to be aware of these changes to ensure the compatibility, bike fit, and performance of their bikes.
If you're considering a 1x setup, not much changes apart from the ability to accommodate wider tires for various adventures. However, if you desire the extended range of a 2x system, it's essential to use a wide specific front derailleur. Due to the 2.5 mm increase in chainline, the front derailleur must move over the same 2.5 mm. Without this wide-specific front derailleur, proper shifting won't be achievable.
Where would 'Wide' be needed?
Road Wide cranksets are required in the following situations:
If your bicycle specifies a 47.5 mm chainline.
If using SRAM Eagle Transmission on a gravel or road bike.
If using 43/30T crankset: Our 43/30T crankset comes as fitted with the Road Wide spindle.
Please note, that a Wide specific front derailleur will be required for Wide spindles.
Unmatched compatibility
This increase in width does open some opportunities, as the longer DUB crank spindle accommodates both Road and some wider 73 mm or BB92 width frame bottom bracket standards for unmatched cross-compatibility across frame manufacturers (will still need to be paired with a maximum 142mm rear end). SRAM Road Wide allows for even more mixing and matching between components and setups to dial in the perfect bike for your future endeavors.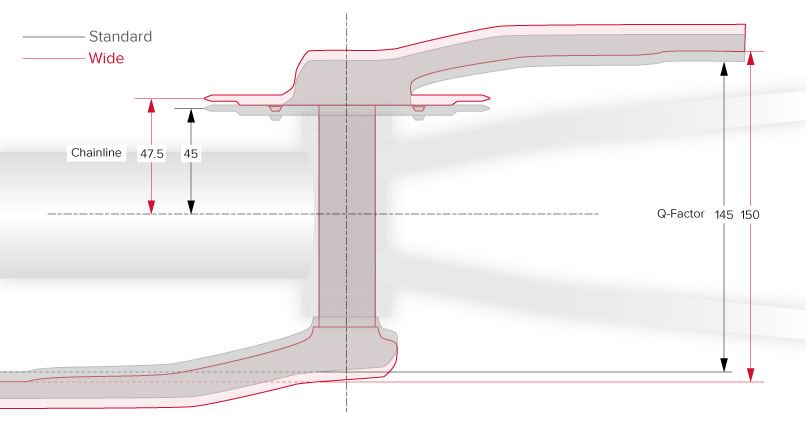 DUB v.s. DUB Road Wide
Which DUB Spindle do I have?
'DUB' = Standard Road for 45 mm chainline
'DUB' + 'Wide" = Wide Road for 47.5 mm chainline
'DUB' + 'SL' = Super Light cranks, these come on our RED level of cranks.
'DUB' + 'Ai' = Specific Cannondale Spindle for bicycles like the 2019 Topstone and other models.
How do I select bottom brackets and spacers?
To make sure you have the correct bottom bracket and spacers for your Road Wide setup, it's best to consult the user manual or refer to the DUB Bottom Bracket finder on sram.com/service. For a wide setup, you'll need 2.5mm wider inboard and outboard spacers.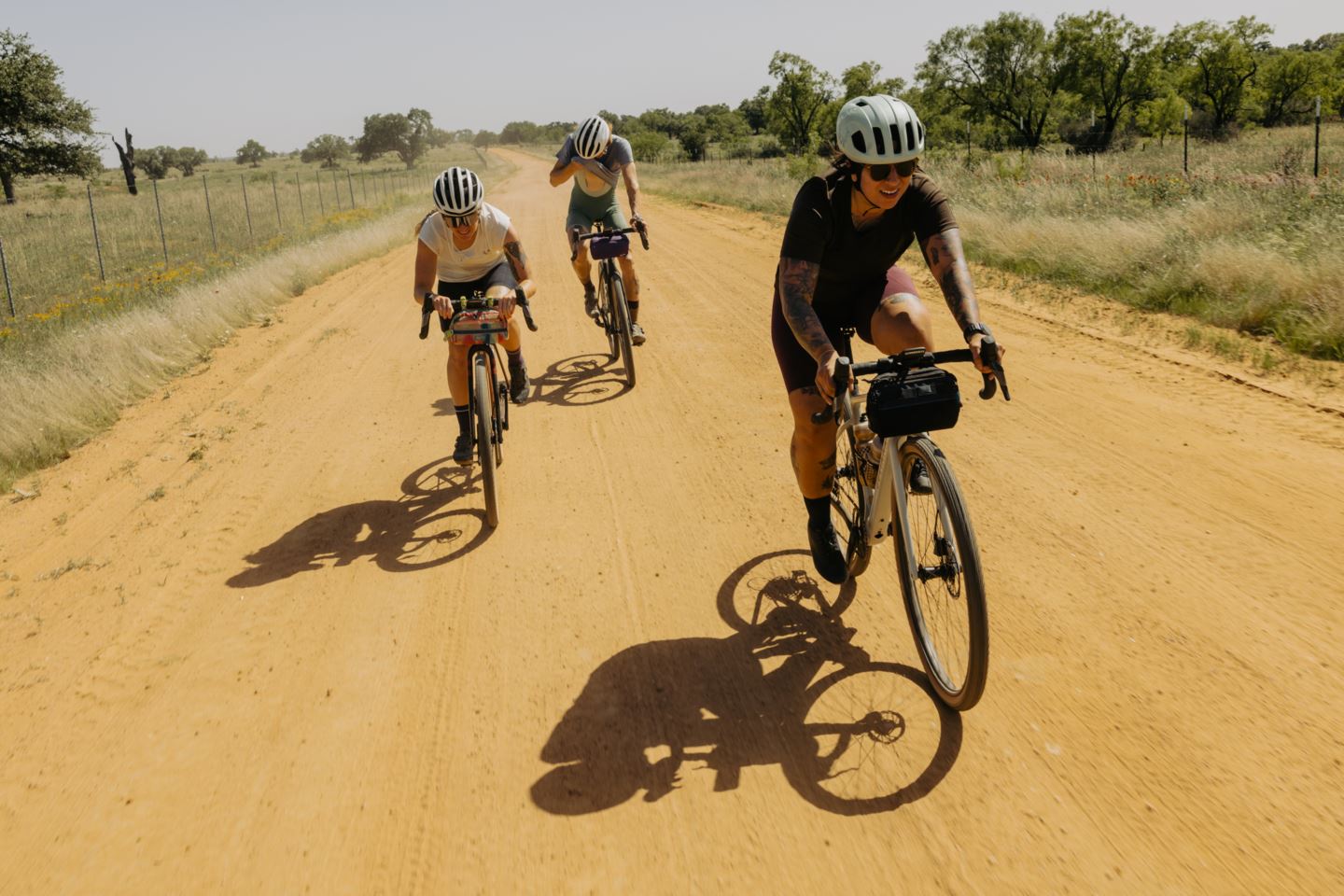 Q-Factor for DUB Wide
In cycling, the Q-factor refers to the distance between the pedals on a bicycle. Specifically, it is the measurement from the outside of one pedal attachment point to the outside of the opposite pedal attachment point. The Q-factor is an important consideration as it can impact a rider's comfort, efficiency, and potential risk of injury.
Standard road cranks typically have a Q-factor of 145 mm, while Wide road spindles have a Q-factor of 150 mm. The difference in Q-factor can affect the bike's fit and how the rider feels while pedaling. The optimal Q-factor for an individual rider depends on various factors, including body shape, riding style, and personal preference. If you have specific dimensional requirements or concerns, it is recommended to consult a professional bicycle fitter who can help determine the best Q-factor for your needs.
Can I switch my 43/30T wide set up to a standard 2x configuration (46/33T, 48/35T or 50/37T)?
Simply no, there is no conversion possible that will use existing parts. The Wide front derailleur was designed and tested specifically around the 43/30T chainrings. To do a proper conversion we would suggest replacing the crankset, front derailleur, and bottom bracket spacing to suit.
The first thing that you will need to check is whether your bicycle is compatible with a narrower chainline. Converting a 43/30T set up to larger gearing will involve changing multiple parts that will support a 45 mm chainline instead of a 47.5 mm chainline.
Looking for more information?
SRAM has fantastic learning resources, such as our service website and SRAM Tech YouTube channel. Our Rider Support team is also there to assist if you need more.