2014 V9 rear 188 hub and spoke count upgrade



In September 2013 we upgraded the 11 speed rear hub across the wheel line. The new V9 188 rear hub has virtual 3x lacing on both drive and non-drive sides, a larger non-drive flange and improved spoke geometry to build more durable and stiffer wheels. The spoke count moved to 18/24 across all wheels (except the disc brake 303 which is 24/24) and the decals are die cut matte white or black with no reverse outlines. No changes to the Zipp 30/60 wheels.
In February 2014 the front hub (V7) was upgraded to V9 as an in-line change. Spoke retention rings were discarded, spoke slots made deeper, hub flanges stronger and the durability increased.
Brake pads updated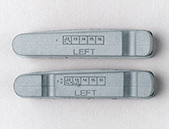 Zipp gray Shimano Platinum Evo Pro brake pads were updated to accommodate Trek Madone (integrated) and Shimano 9000 brakes (BR-9010). A second notch was added to the back side of the pads at the start of February 2014. Lower pad is the updated version.
2013




In October 2012, we launched the 202 Firecrest carbon clincher – a 32mm deep road racing wheel set, with modified low weight/ high temp resin and 1375g in weight. This is the ideal wheel for climbing, may be used for cyclo-cross and as an every-day go to wheel. Rear hubs are updated to accommodate Shimano 11 speed, decals are changed, the "Zipp" portion enlarged and the silver banner dropped, available in white or black. Inner tubes are included with all carbon clincher wheels, redesigned Evo Tangente brake pads and the external valve extenders replace the black traditional Zipp extenders. Hubs are now only available in black. All rims are laser etched (September 2012) with 2D bar code and serial number opposite the valve hole on the spoke bed. The white linear bar code & serial number is moved to the tire bed from the rim sidewall.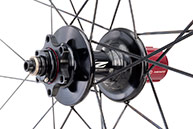 In July 2013 we introduced the 303 Firecrest disc brake wheel set - available in tubular or carbon clincher with white or black decals. New front and rear black Zipp disc hubs, 24/24 spokes with no sand blasting on the rims. Note the spoke angles for disc brake wheels are different from regular road brake wheel
2013 – Zipp 30 and Zipp 60 Clinchers




In March 2013, we started shipping these entry-level, price-point, clincher wheel sets. They both use new Zipp designed black hubs (122/249) with high quality stainless steel bearings. The Zipp 30 is a 30mm deep all-aluminum toroidal rim with 20.4mm wide parallel brake tracks and weighs 1655g. This wheel set, with matt black hubs, is ideal for training and entry level racing. The Zipp 60 is a hybrid, dimpled aluminum / carbon rim, 58mm deep, parallel brake tracks (18.6mm wide) hybrid toroidal shape aero rim and weighs 1820g. This aero wheel set, with shiny black hubs, provides access to Zipp rim race technology at a very affordable price. Both wheel sets have 18 front and 20 rear black Sapim racing spokes, are 11 or 10 speed (with ring spacer) compatible and come with either SRAM/Shimano or Campy free hubs and white decals only.
2013 - Tangente EVO Pro carbon brake pads

Gray Tangente Evo Pro brake pads, designed for carbon braking surfaces, have a modified shape to increase air flow, improve water dispersal are 1mm thinner with 10% increase in surface area for longer wear. These new pads run 12 degrees cooler than others tested in our lab. Shimano pads were released in November 2012 and Campy in January 2013.
2013 - 404 650c Firecrest carbon clincher

In mid-March 2013 we started to ship a new 11 speed 404 650c dimpled Firecrest carbon clincher. This wheel set offers smaller athletes superior aerodynamics, stability, durability – and proper fit. It replaced the smooth hyper-toroidal tubular and hybrid aluminum clincher, gives savings of 5 watts and weighs 1465g. Firecrest rims have a near-constant width from brake track to spoke bed. That shape more effectively controls airflow and the wheel's center of pressure to result in greater aerodynamics, improved handing in crosswinds and overall ride quality. We offer a choice of white or black decals with black hub and spokes.
2012
Introduce 45mm deep, 303 Firecrest tubular and carbon clinchers with a 2 watt improvement over previous 303 (V4) tubular models (October 2011). The 303 (October 2011) then 404 and 808 aluminum clinchers are discontinued and production of these products is halted in Indianapolis (July). Zipp will continue to support these products for at least 5 years.
2011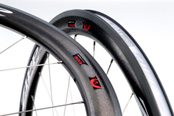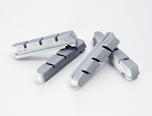 1080 AL clincher wheel set withdrawn in January - replaced be the faster and way lighter 808 carbon clincher. Redesigned red Firecrest and other valve hole decals introduced in April. The new 303 Firecrest carbon clinchers and tubular wheels are launched in October along with hub and color changes.
October 2011 - The 1080 tubular is withdrawn as the 808 tubular and all carbon clincher Firecrest wheel sets are lighter, 2 watts faster and handle better in cross-winds.
Older toroidal rim shapes are discontinued along with all MAX and CX wheel sets as the Firecrest wheels are now stiffer, stronger and more durable. Rider weight limits are increased. New silver Platinum Pro brake pads released for all carbon braking surfaces - perform better in the wet and wear longer.

Rear 188 hub improved and customers given a choice of gray or black color styles. The silver hubs are discontinued and ZedTech custom wheels dropped for 2012.
2010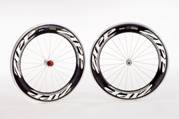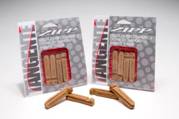 Launch the Zipp 101, an all aluminum wheel with 18/20 spokes, 30mm deep, 24.5mm aero width and toroidal braking surface. Drop the Clydesdale sub-brand and rename the 24/24 spoked 404 and 808 MAX. Introduce new CNC cork brake pads for all carbon wheels.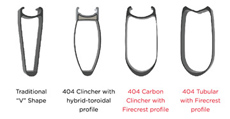 Launch all carbon clinchers for the first time with new Firecrest rim shape. This shape is faster and easier to handle in cross-winds - it captures air at the wheel trailing edge. 404 CCL introduced in April, 808 CCL in October. Firecrest tubular wheels introduced in November (808) and December (404).
2009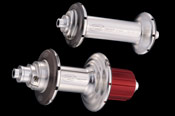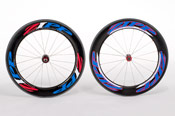 Road hubs change to 88/188 with colored hubcaps, pinch nuts and retaining rings, slotted spokes, 17mm axle, 2 x cross non-drive and radial drive gives improved wheel stiffness, there are adjustable preload and higher flanges. Lower spoke counts 16/20 for 404/808/1080 and 18/24 for 202/303 across the wheel range, new toroidal rim shapes for 303, 404 and 808 tubular rims and 21mm tire bed. Optimized dimple patterns for 303 tubular and 404 & 808 tubular and clinchers, while we revert to external nipples for 202 and 1080 wheels.
Custom ZedTech decals (for color and material), multiple choice hub cap and hub nut colors, also an option to purchase Sram red cassette. Flash-Points get new silver stickers with a red flash. Zipp makes the Sram S40, S60 and S80 carbon wheels.
2008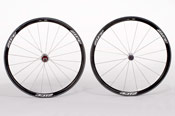 Decals change to white with a silver banner, launch new 202 (32mm) and 1080 (108mm) wheels with a wider 21mm tire bed. Switch to internal nipples on these new wheels and flash-points, Flash-points get new decals, KT hubs and wide custom bladed spokes. The new FP80 and FP60 650c wheel sets are launched.
2007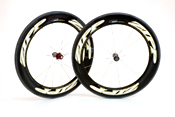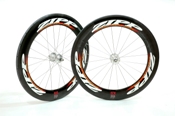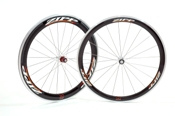 ZedTech custom wheel program launched with laminate choices, dimpled hubs, colored decals and nipple options. 808 and 606 track wheel with 20/24 hole hubs, and 343 wheel set (303 + 404) introduced after testing by pro teams. Wireless Powertaps launched and a demo program to give customers a chance to experience ZIPP wheels gets underway.
2006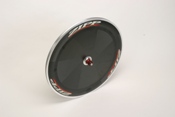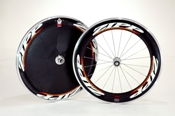 Flashpoint brand launched. Uses DT Swiss spokes and modified Joytech hubs. CSC clincher Aluminum wheelset introduced. Traditional flanged hubs (108/208) are redesigned and made lighter by 60 grams per set. Clincher disc, 909 and 999 wheel sets introduced. New laminate structure reduces impact damage across all carbon wheels. Wear marks included on clinchers and brake track tolerances tightened for superior braking performance.
2005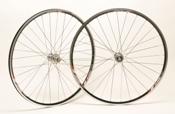 Team CSC aluminum training wheelset and Powertap wheels are introduced. ZIPP introduces 606 wheelset combining 808 rear wheel and 404 front wheel. New ZIPP 808 in 81mm deep section rim in Tubular and Clincher. Very different shapes. All Deep and Very Deep section wheels are now Dimpled: ZIPP 404, 606, 808, 909 and 999 Disc wheelset. ZIPP introduces late in year 44mm deep, dimpled 303 wheel with hybrid-toroidal rim shape resulting in superior aerodynamics to 404 wheels sold prior to 2001 New hub design (82 / 182) is 38gm lighter and colored cassette bodies distinguish Campagnolo (blue) and Shimano (red) hubs. Improved track disc and track hub systems released
2004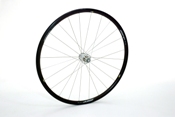 Z2 and ZIPP 202 featherweight wheelsets introduced. 202 wheelset on new ZIPP 95 front and 220 traditional flange hubset. Also available is new ZIPP 404 Track wheelset on new redesigned high flange "j" bend spoke hubs. Complete Tubular line up of Z Series wheels available: Z2, Z3, Z4, and Z9. ZIPP Develops Rim Tool dimpling technology leading to dimpled 808 and later dimpled 404 rims.
2003
Z4 and Z3 wheelsets introduced. All regular wheels feature Bright Silver Model 84 (84g) front hubs and Model 202 (202g) rear hubs. ZIPP 404 and 303 wheelsets have Red background with White ZIPP and Yellow Speed Weaponry decals. New style rims throughout. Complete Clydesdale line introduced: Clydesdale 404 in Tubular and Clincher and Clydesdale 909. 95/220 Traditional Flanged hubset developed. Sapim CX-Ray spokes are used through out wheel line up.
2002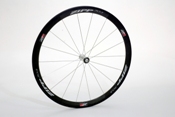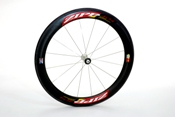 Z3 wheels with die-cut decals, Si3N4 silica ceramic bearings and lower spoke counts are introduced as the result of a no holds barred approach to ultimate wheel design. Grey/silver decals on Z3 wheelset with small Silver and Red background Z3. Z3's have carbon fiber axles: Model 70 (70g) front hub and Model 175 rear (175g) wheels. VCLC technology developed reducing shock and road vibration by 10%. All other decals are Red background with White ZIPP and Yellow Speed Weaponry. ICT Technology is introduced: Different material in rim sidewalls, the look is now smooth uni-directional fibers without any weave. 404 wheelsets introduced with smooth ICT sidewalls as well as 303 wheelsets. Track specific 404 wheelset introduced with Black straight pull spokes. 84/202 hubset (84g and 202g) developed for all wheelsets except Z3. Bright Silver with carbon fiber end caps, available in Campagnolo and Shimano. Z3 hub set with Si3N4 ceramic bearing and carbon fiber axles introduced. Front model 70 (70g) and rear model 175 cassette (175g). Only 200 sets of Z3's were made.
2001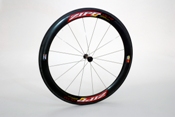 New redesigned 202 hubs introduced are now made in the USA by ZIPP, these are marked with a 'USA' brand in the middle of the hub body. Parts are not interchangeable with the previous Edco (Swiss) version. New decals with red background, white ZIPP with yellow Speed Weaponry. M2CM process allows for the first structural carbon rim with machined aluminum. ZIPP develops ICT technology reducing rim weight by 25%. New more aerodynamic rim shape with the bulge shifted more towards the hub is introduced. Rim manufacturing system is completely reinvented.
2000
ZIPP 101 Aluminum wheelsets and ZIPP 303 Aluminum clinchers discontinued at the end of this year. Rims with woven carbon fiber are discontinued at the end of the year in favor of lighter unidirectional segments.Sapim CX-ray stainless steel spokes are introduced across all wheel lines.
1999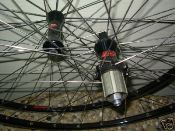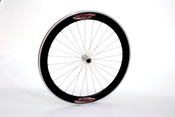 909 wheelset released with a 404 front and 900 disc in the rear, ZIPP 101 Aluminum tubular and clincher wheelset and ZIPP 303 Aluminum clincher wheelsets are introduced. New decals released, Silver oval with Red ZIPP surrounded by swoop. Alphina oval spokes now used. Lighter, better aerodynamics. Clincher rim bonding method is re-engineered. New 282/102 black, straight pull hub set is introduced. Made by Edco in Switzerland, they are a unique design for ZIPP. All MTB products discontinued to focus on road product line.
1998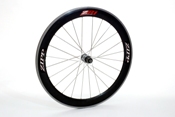 ZIPP introduces wheelset program for first time with ZR1, ZR, ZV and ZV1. Ti spokes are used on ZR1 and ZV1 wheelsets. Stainless Steel on rest of wheels. Hubs used are the model 217/100 for ZR1 and ZV1 and the ZR and ZV used the model 377/182 hubs. First rims of 440 and 360 in new style where the side-wall protrudes beyond the braking track are introduced. The widened, bulged shaped sidewall is designed to deepen the shape without changing depth, giving aerodynamic advantages and provides a softer ride. 377/182 hub introduced.
1997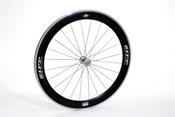 515 MTB rim is released. Wide appearance is new style rim. Year begins with old style rims, switches to new style late on year. New style rims all have white decals with red outline of ZIPP and all red rim name. New ZIPP 530 and 500 clincher is available late in year. This is the first new style rim shape on deep section wheel.
For ZIPP regular wheels, ZIPP 217 (220g) style hubs are in use for both Shimano (all splines are the same size.) and Campagnolo (one larger sized spine.) The ZIPP 100 (99g) is in use on the fronts.
1996
The ZIPP 340 (700c) and 310 (26inch) decaled in a red fade. ZIPP deep section wheels are available in pure white decals on black background. Deep rims are old style with triangular
1995
ZIPP 340 (415g) rim introduced late in the year. ZIPP 217 hub is introduced, is lightest hub on market at 220g. The ZIPP 217 hub is joined by the front model 100 (104g) and rear model 185 (198g) rear freewheel hub. Now available in Shimano and Campagnolo versions, you can tell the difference by the splines on the bodies. Choice of spokes is offered: Bladed Stainless Steel or Union Bladed Ti Spokes. 3000 wheelset discontinued.
1994
ZIPP Ballistic hubs redesigned with tighter tolerances. Hubs flanges are now Silver rather than Gold of earlier models. End caps are also larger and not interchangeable with earlier Gold versions. Carbon fiber center hub sections is 1.125inch oversized, the same as before. Weights are Front Ballistic hub 103g, Rear Ballistic is 298g for road cassette, and 198g for rear screw on freewheel.
ZIPP 145 Front MTB hub is released. (145g) All Deep Section 58mm 440 and 400 decal colors are changed to White lettering on Black rather than Yellow/Green. Rim shape is triangular. ZIPP Mid-V rims are introduced. Tubular rims are 38mm deep, featuring light weight 348g to 400g rims. Decals on ZIPP 340 (700c) and ZIPP 310 (26inch) are Red on the left side and fading to white on the right side.
1993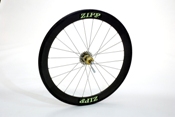 First ZIPP "Ballistic" hubset offered. ZIPP "Ballistic" hubs have gold metal flanges with oversized (1.125 inch) carbon center area. Front is 103g, Rear is 298g for road cassette, and 198g for rear screw on freewheel. Uses DT Swiss spokes. 3000 wheelset offered with track axle, 7spd or 8spd convertible to front wheel versions. Please note that many wheel sets are sold as "kits" resulting in ZIPP rims with other peoples hubs and spokes!
1992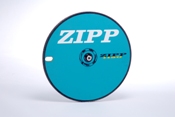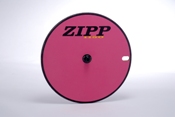 ZIPP 440 700c Tubular wheelset goes into production. Rim is 58mm deep, with straight flat sidewalls leading up to inner diameter. The shape is triangular. Rim has an alloy metal ring that nipples pull against covered in carbon fiber. Appearance is otherwise the same as on the ZIPP 400. Uses black American Classic front hubs and rear screw on freewheel hubs with "J" bend Swiss DT spokes. All rims, both the 400 and 440, have Yellow/Green decals. 440 rims weighs approx. 485-500g.
1991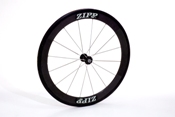 ZIPP 400 26inch Tubular wheelset goes into production using black American Classic front hubs and rear threaded screw on freehubs. 58mm deep rims. Bright Yellow/Green decals on all rims. Original decal versions were hand cut. Appearance is woven carbon fiber on sidewalls with different brake track. 3000 wheelset available in 11 colors
1990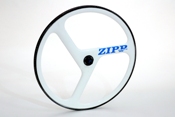 The 3000 three spoke wheel is available with adaptable front/rear screw on 7spd or 8spd freewheel. First prototype ZIPP 700c 440 deep section rim is shown. Yellow/Green decals. 58mm deep rim with straight sidewalls leading to carbon over metal section. Uses black American Classic hubs with front only and rear threaded screw on freewheel. Uses DT Swiss spokes.
1989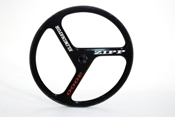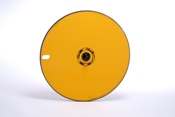 ZIPP 3000 three-spoke wheel released. Original version known as ''Eliminator", then name changed to 3000. Available in front and rear type of wheels with threaded wheel axle and freewheel cassette body in 4 colors.
1988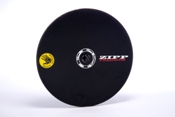 First discs made were called "Predator", they were black with a Kevlar tire bed. After approx 100, the name was changed to 1100.