Unlock the full potential of your AXS groupset by adding power. Our power meters are accurate, easy to install and are an outstanding upgrade option for both indoor and outdoor riding. With accurate power data, you can know if you are making the training progress you're aiming for. With Quarq's premier power measurement technology available at all levels of AXS cranksets, you'll have the technology to get real results everywhere you ride.

Know Your Powers
You can learn a lot about yourself with a power meter. The first thing most people learn is that without a power meter you can't accurately gauge how strongly you are riding. Some days you feel weak, but the power meter numbers tell a different story—one of consistent endurance. Or, you may feel strong and fresh, when in reality, your power meter reveals that you just have a light, steady tailwind giving you a push.
Here's a short list of major benefits made possible with a power meter:
TRAINING EFFICIENCY — Greater training gains in less time? Yes, please! Power meters track power output so you can perform repeatable interval efforts instead of going too soft and slowing your training progress, or too hard and burning yourself out. Plus, your loved ones will also appreciate the additional free time you'll have to spend with them.
UNDERSTAND YOUR CAPABILITY — Are you ready for that big ride or race? An accurate power meter removes any doubts and replaces it with reliable data you can trust. Be confident in the knowledge that your fitness improvements are real.
TRACK TRAINING PROGRESS — What gains are you making? Use power meter data to know when you are ready for the next stage in your training.
MANAGING TRAINING STRESS AND RECOVERY — If you are dedicated to training hard, you can pretty much guarantee that you will overtrain at some point and sabotage your hard-earned progress. Power meters help you to know when you need to rest to keep the gains you've worked hard for.
CONSISTENCY INDOORS AND OUT — C

ontinue to use the trainer you likely already have while gaining power measurement capability when riding indoors! This gives you access to virtual riding

platforms like Zwift.
HOW TO INSTALL A SRAM AXS POWER METER
The spider-based power meters attach to AXS cranksets using a simple 8-bolt interface. To install one, remove your driveside crank arm using a hex wrench long enough to apply the 60 Nm of force required to back out the fixing bolt.
Then remove the eight Torx T20 bolts that attach the crank spider or chainring assembly to the crank. If applicable, we recommend removing the chainrings using a Torx T30 wrench before removing the eight spider fixing bolts.
Lift the non-power spider or chainring assembly off the crank and replace it with the power meter version. Install the eight new Torq T20 bolts supplied with the power meter and torque them to 4 Nm. If you have a Force AXS or a RED 1x crankset, now install the chainrings and torque the four Torx T30 fixing bolts to 12 Nm.
Reinstall your crankset and torque the 8mm hex fixing bolt to 54 Nm. Just be sure to place the chain on the small chainring before doing this.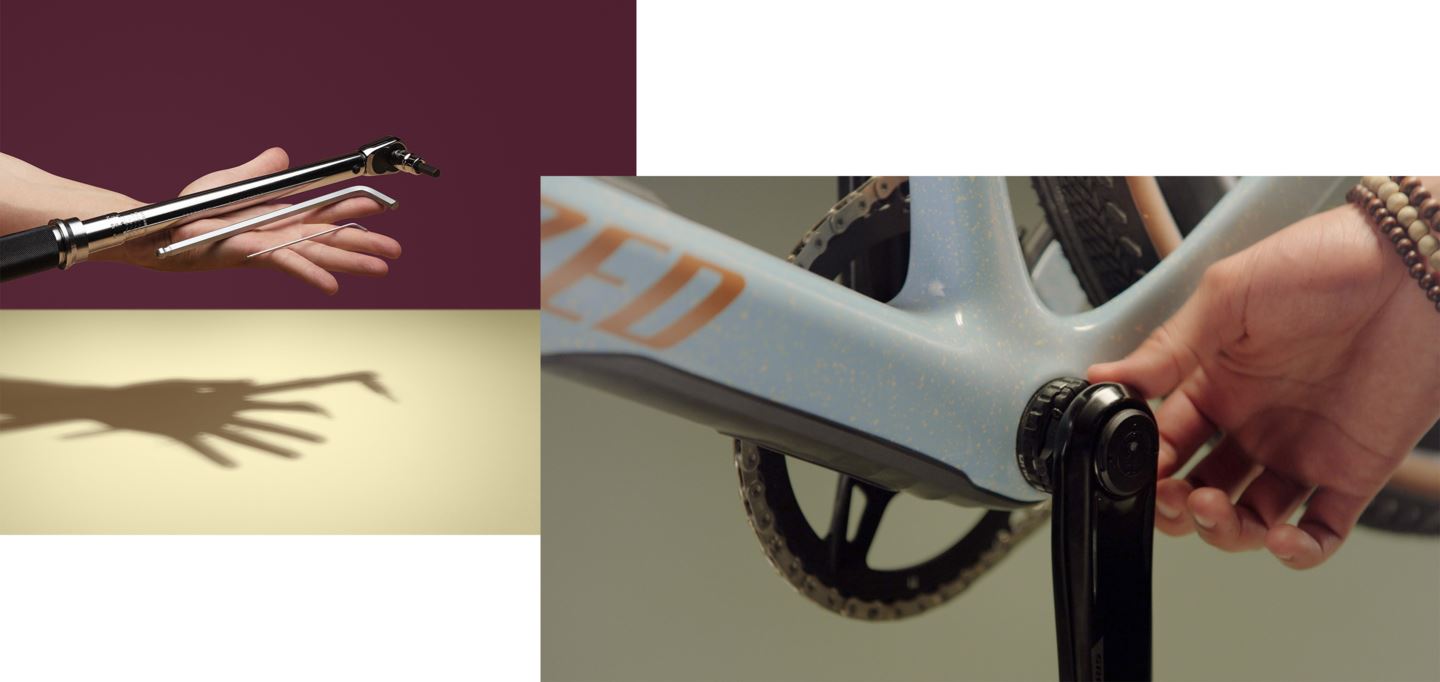 The spindle-based power meters are integrated into the DUB spindle, so upgrading is even easier. To swap out your non-drive side crank arm to an AXS power meter upgrade, turn the 8mm hex bolt on the drive side arm counterclockwise until the drive side arm comes off, then pull the non-drive side arm and spindle out of the bike. Pick up your new AXS power meter upgrade arm and spindle, grease the spindle, and slide it into the BB. Then install your drive side crankarm by torquing it to 54 Nm, set your preload, and go ride!
To purchase a power meter, contact your authorized SRAM dealer.