Words by José Been; Photos by Photo Gomez Sport
It was one of the biggest moves of the cycling transfer season. Multi-time world champion Annemiek van Vleuten left Mitchelton-Scott to join Movistar Team. We caught up with the Dutch rider at the first training camp with her new team in Spain.
"It feels like your first day at school," she says with a smile. "A new school and a new language as well. Thankfully my first impressions are exactly how I had expected it be at Team Movistar. One of the reasons I chose this team is the family atmosphere they have. About seven years ago I met some of the men's team riders at the Sierra Nevada and that atmosphere was clear then too. We are on a joint training camp here and I feel so welcomed by everyone, all the riders and the staff. Many already came up to me and asked how I was doing. There is a sense of warmth in this team that I had anticipated but when it is confirmed in the first few days you meet each other for the first time it feels really good."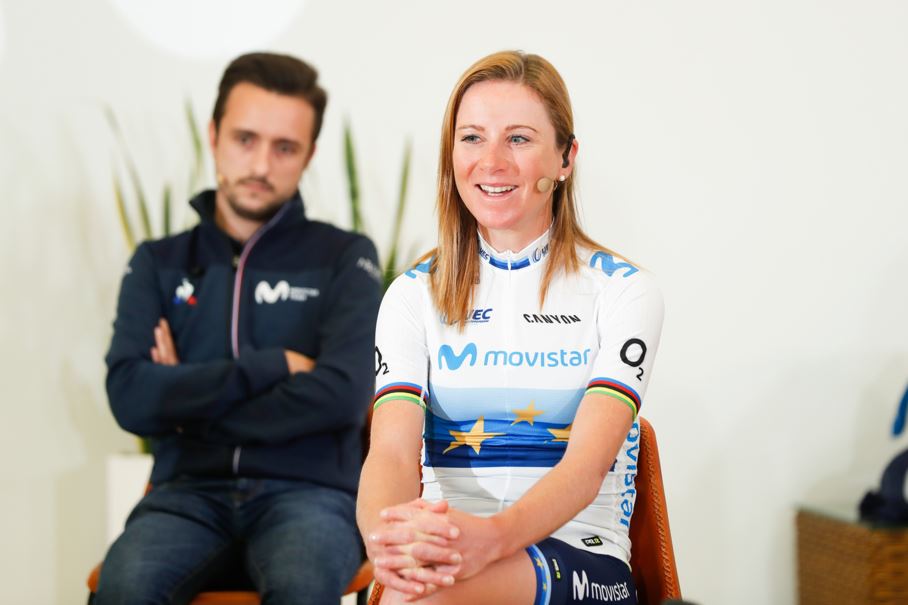 Abarca Sports, led by Eusebio Unzué, has been around for over four decades with title sponsors including Banesto and Movistar. At the end of 2017, the organization decided to start a women's team. When the opportunity arose to become a UCI Women's WorldTour team it was a no-brainer for the team management. Eusebio's son, Sebastian, took over management of the women's team, and the team underlined their ambitions by signing Van Vleuten for the 2021 and 2022 seasons.
"I saw the cartoon-like team picture they posted early January and it shows my cartoon figure right in the middle. That says something. There is no difference between the men's and women's teams here. We are not an extra to the men's team but we are one team. That was clear to me from the start," she says with enthusiasm.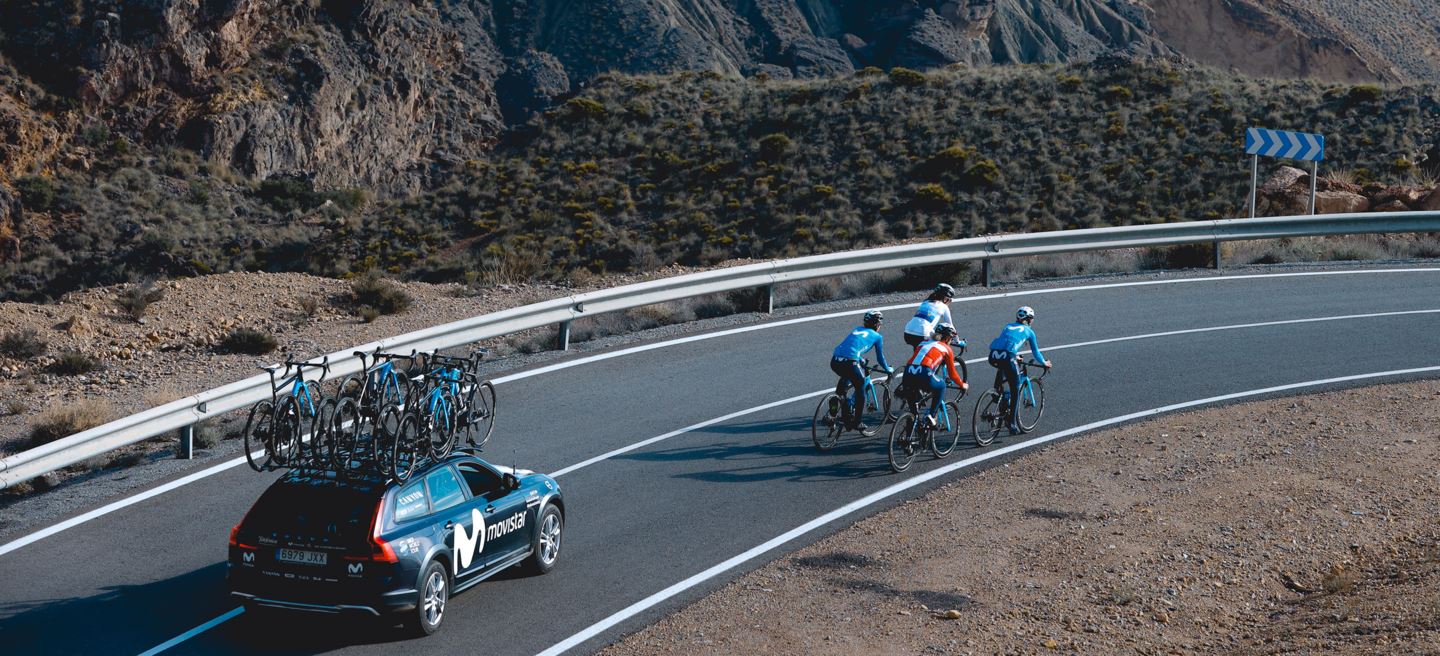 "Pablo Lastras explicitly chose to become sports director of the women's team. Last year he left the Tour de France and travelled to the Giro Rosa to get to know the team. Abarca Sports wants the complete project. That is one of the reasons I chose Movistar."
It's not because I wanted to train with the men but I wanted the shared expertise of a combined team. The scale that we are working on is bigger with performance management, wind tunnel testing, new trainers etc. That benefits both teams and it benefits me too.
Van Vleuten already took her brand-new Canyon with Zipp wheels and SRAM RED eTap AXS to the wind tunnel and was impressed by her new ride.
"Canyon is an innovative brand as are SRAM and Zipp. The wheels really add to the look of the bike. SRAM offers different possibilities with the 1x technology and the 12-speed cassettes. There is still a lot of things I need to test and try but the fact the possibilities are there makes me happy. I also love the wireless eTap AXS. No more fear of broken cables when I take my bike on the plane."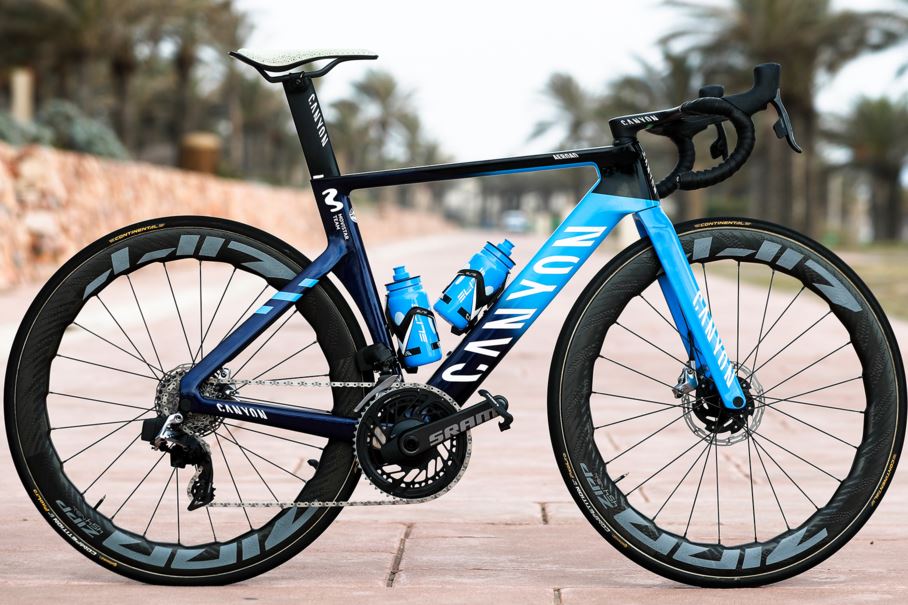 Change can be scary, even if you are Annemiek van Vleuten and have won so many races. In this all-important Olympic year, she decided to switch teams, get new teammates, ride new bikes and learn a new language and culture at the same time.
"I was a bit apprehensive at first but that has turned around completely."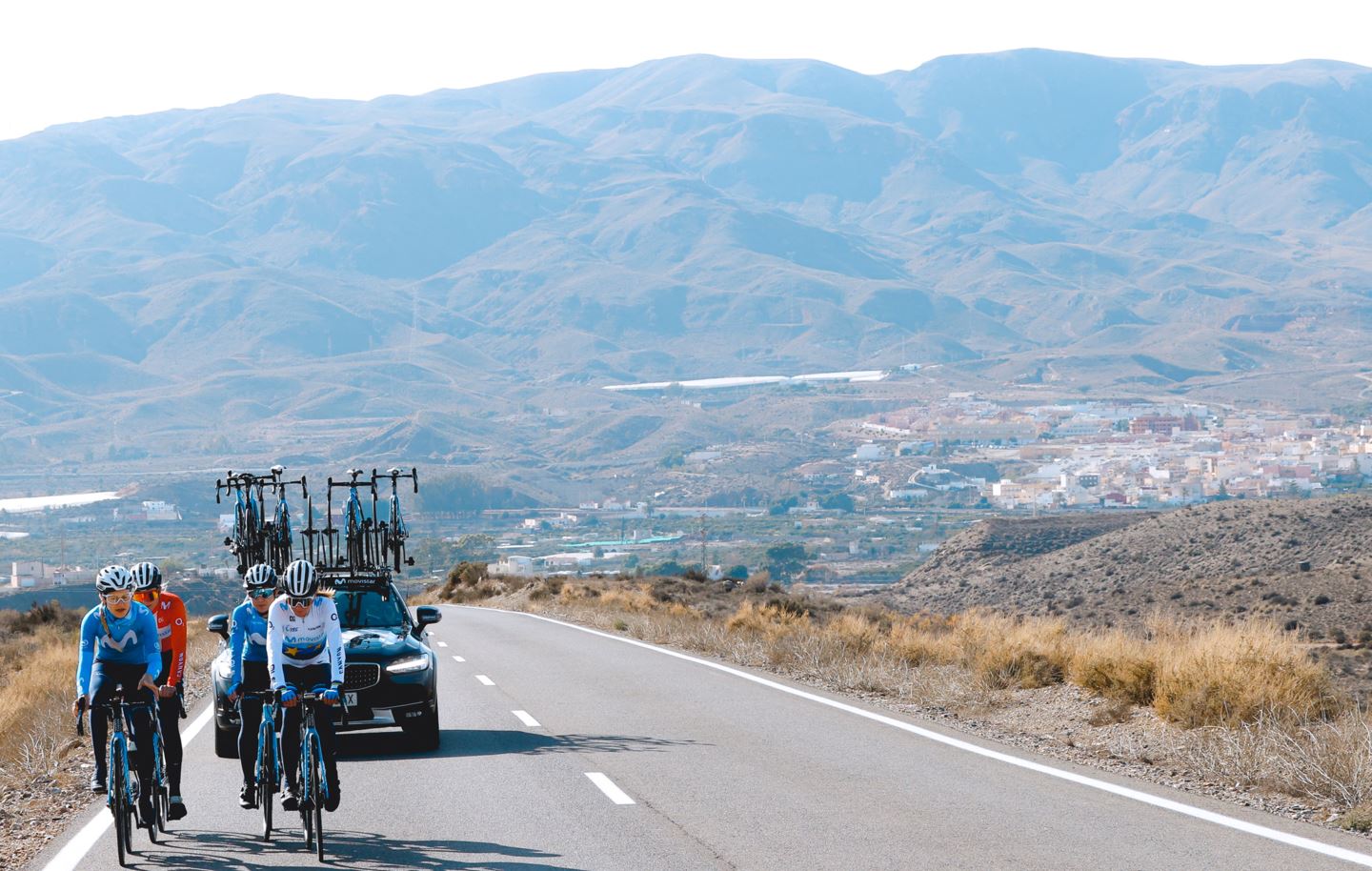 Standing still means you are going backwards, is a saying in the Netherlands. I now feel the change will really benefit me. The only thing that stayed the same is my Garmin.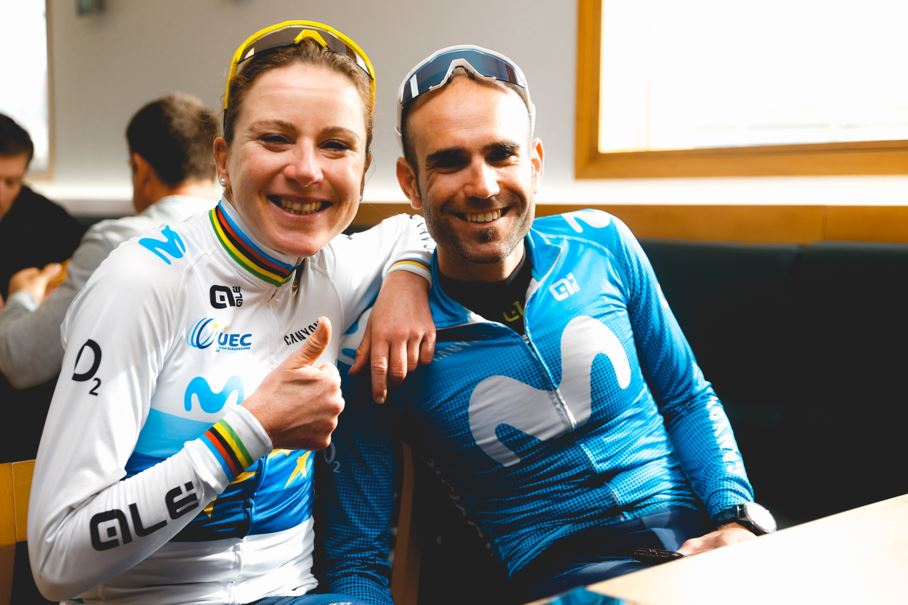 If you could actually hear a spring in a step in a voice, it would be how Van Vleuten comes across. You feel the enthusiasm about the things ahead in every sentence. She is energized by the whole range of new possibilities.
"I like discovering new things, meeting new people, learning about different cultures. It gives me so much energy. Movistar offers me so many opportunities to get better. I am really looking forward to working with a trainer like Patxi Villa. We already met and get along really well. I will also keep working with my Dutch trainer Louis Delahaye so it will be a good symbiosis. There is so much expertise I can now benefit from, both on the technical side and on the performance side."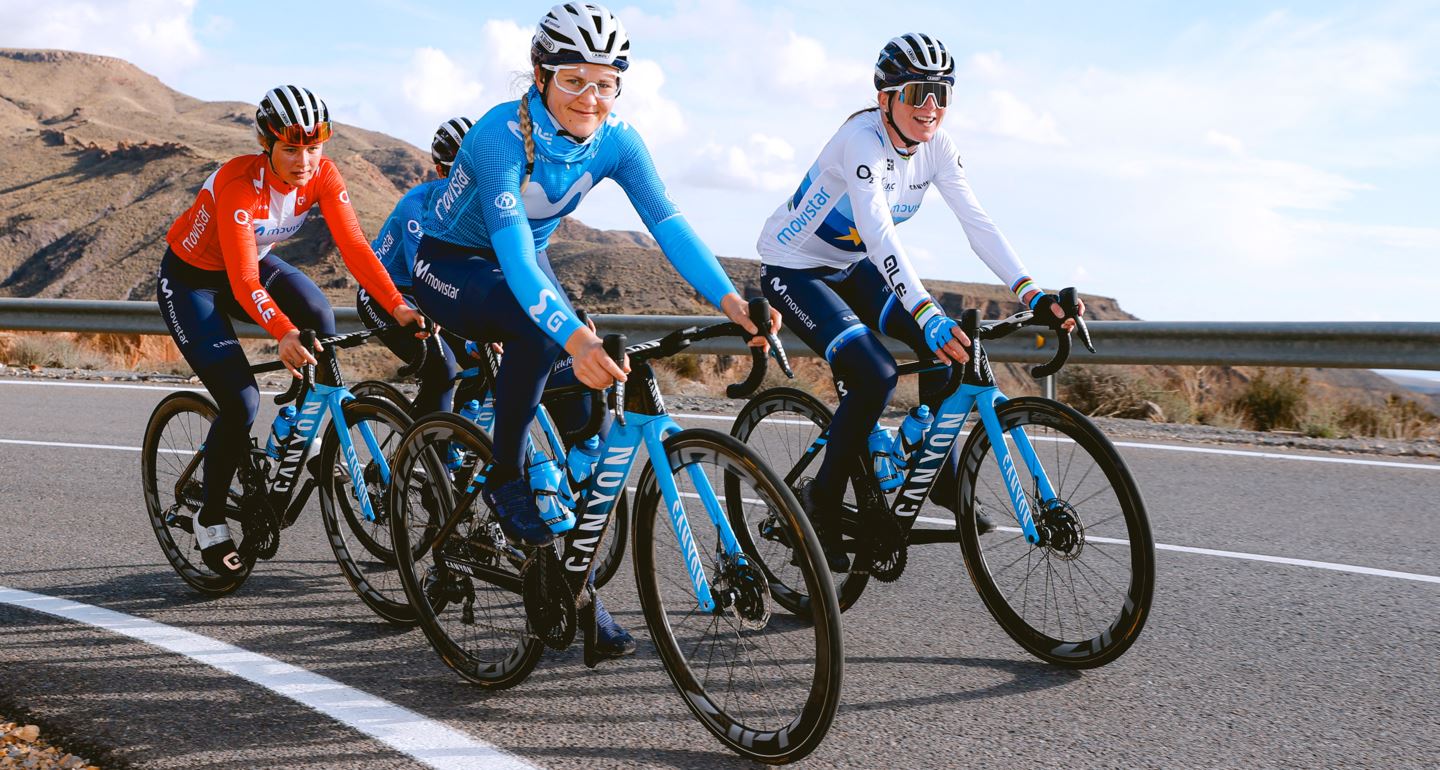 After years in a Dutch or English-speaking team Van Vleuten finds herself in a Spanish team for the first time. During her travels to Colombia, she learned the language but the first day back is always difficult. But just like everything the current European champion does, she approaches it with joy and energy.
"Some of the women don't speak any other language but Spanish so that took me straight out of my comfort zone on day one. I did bring my Spanish language books with me and see this as a great challenge. I would love to become fluent in this language during my time here."
She is arguably the biggest star the team has ever signed. Van Vleuten looks forward to sharing her extensive experience with the other women on the team.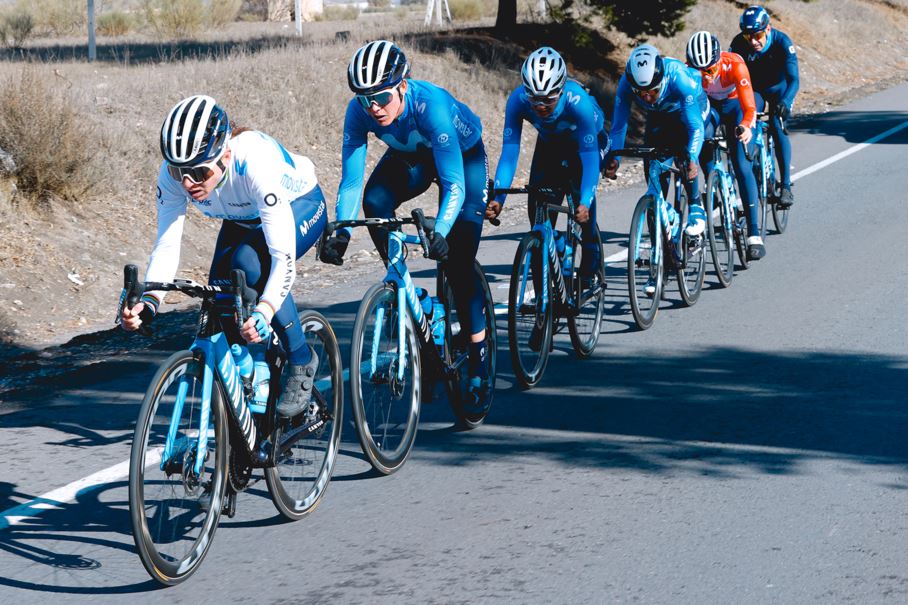 "I did notice that some riders were a bit impressed at the beginning but luckily that went away very fast. When we train together, I try to chat and help the others with some tips. Everyone has their own level and talents here."
Van Vleuten will kick off the season on the cobbles at Omloop Het Nieuwsblad, a race she won before. She targets Strade Bianche again and goes to Tour of Flanders, two races, you guessed it, she already won before. After that she goes to the Ardennes for the Amstel Gold Race, Flèche Wallonne and Liège-Bastogne-Liège.
"There are many things different this year but some things stay the same. Between races I go back to altitude at Tenerife like I always do and this time some of my new teammates come along. In May I will discover some races I have never done before like the Vuelta a Burgos and some one-day races in the Basque Country. I am really looking forward to discovering new races with my new team. The Spanish races are important to Movistar of course."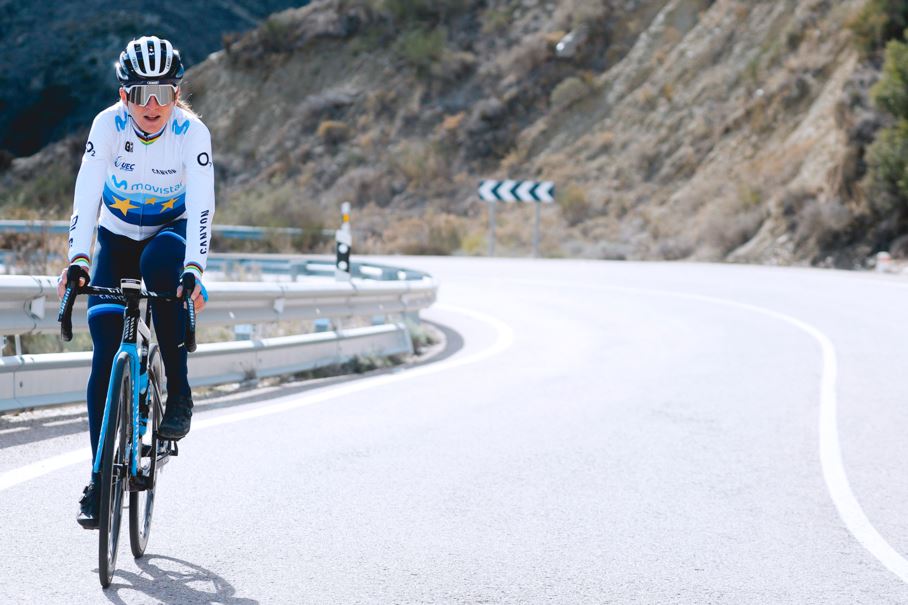 This year is important for van Vleuten. Everything she does is with Tokyo on her mind. In Rio de Janeiro in 2016 she was on her way to a gold medal. She discovered that day she could do more than she ever thought possible. A horrible crash crushed her dreams. In 2021 she wants to try again.
"After the races in May we will decide the road to Tokyo, if the Olympics do take place. I am going for both the time trial and the road race. Which one do I want most? I don't really know! A time trial gold medal is 100 percent your own work. If you fail, it's your own fault. If you win, it's your win. In a road race there are so many more factors to take into account. A road race gold medal after a really special or epic race will also be amazing, especially for the spectators who usually enjoy road races more. I can't choose! What I do know is that this year will be all about being as ready as I can be for those two races," Van Vleuten concludes.