FAYETTEVILLE, ARK.—One by one or in small groups, Hagens Berman Axeon riders arrived at team training camp to see their new bikes for the first time. They'd stroll from the hotel to the college-town courthouse square where the Axeon team trailer was set up.
Around the corner and—bam!—into view came more than a dozen Pinarello®'s equipped with SRAM RED eTap AXS™.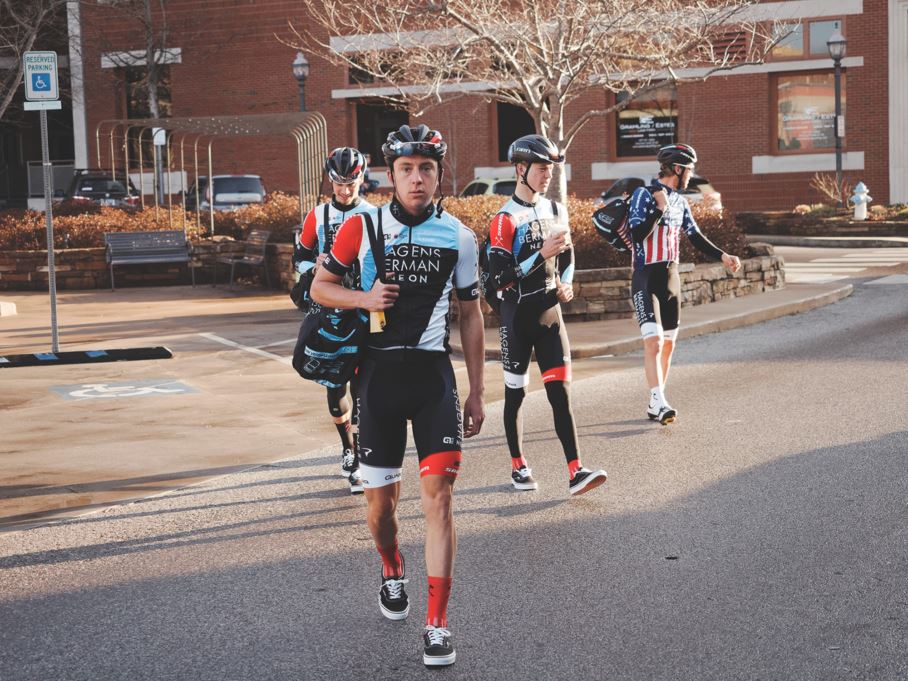 "It was sweet!" exclaimed US road national champ Jonny Brown.
"Oh, I love them!" Dutch rider Maikel Zijlaard said of the new team bikes.
"To walk around that trailer and see a bike that perfectly matched the kit, was just the coolest thing on the planet. It's one of those WorldTour moments," American Thomas Revard said. "It just looks clean. eTap has always looked clean, but somehow they made it even cleaner. I didn't think it was possible to push that bar even higher."
The chainring, he noted, looks like a saw blade. "That's just friggin' cool!"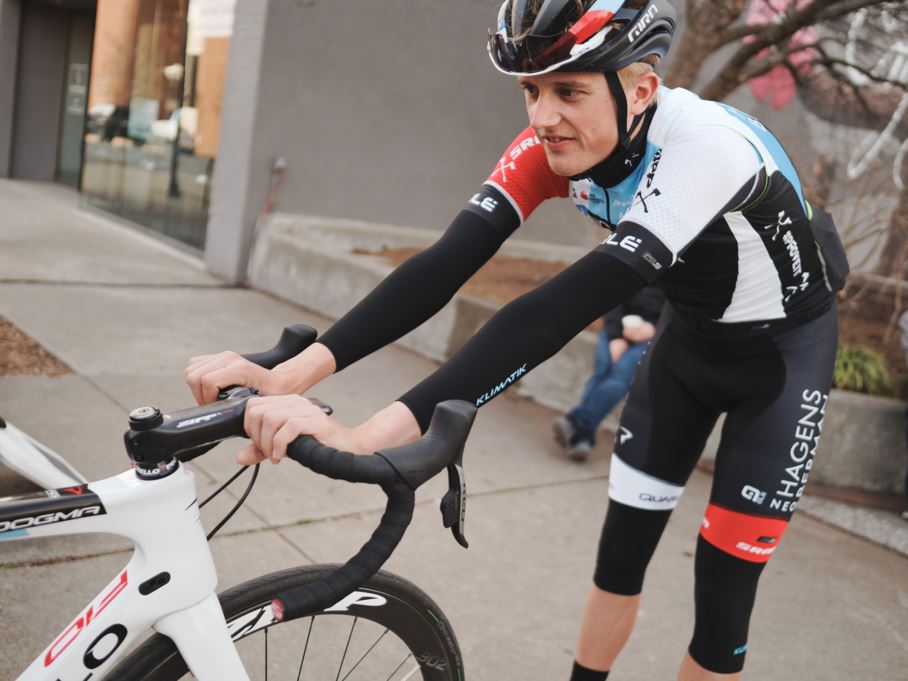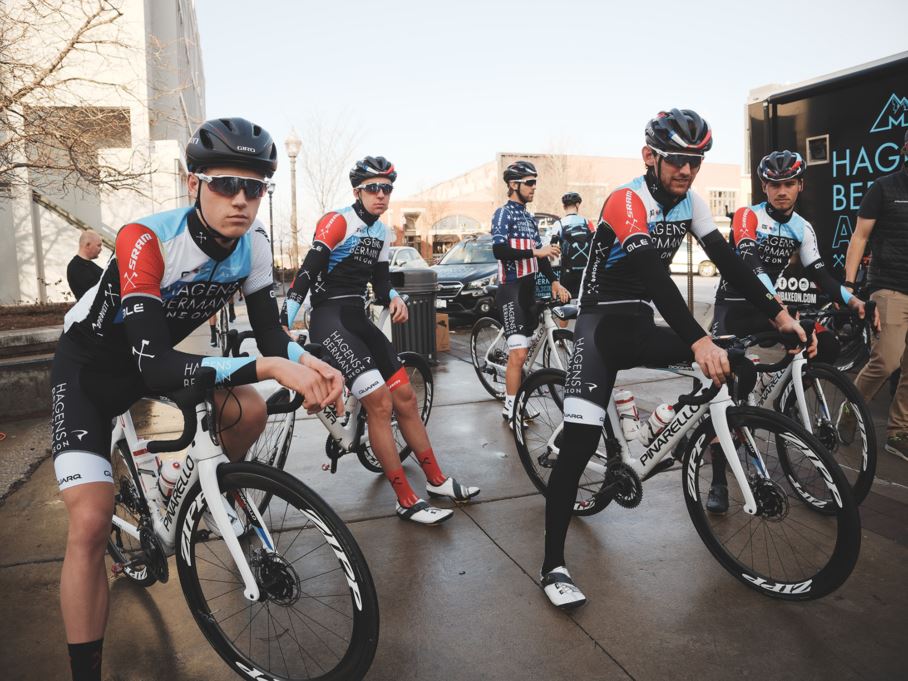 It was youthful exuberance meeting cycling science. The U23 racers of Hagens Berman Axeon are a focused bunch at training camp, with sights set on the season ahead. The end goal is a career in top-level pro cycling. They love the bling-factor of high-tech racing bikes, for sure, but also analyze changes in equipment. One thing that immediately stood out to several of the riders at camp was the gearing and shifting improvements with eTap AXS.
Gearing They Want
Hagens Berman Axeon team mechanic Tre Wideman noticed the riders studying the changes in their bikes. "I always look at the bike from the drive side. I get down on the same level as the bike," he said. "To see the guys doing that, too… they were getting down."
Wideman found himself asking riders, "have you noticed how quiet your drivetrain is out on the road?"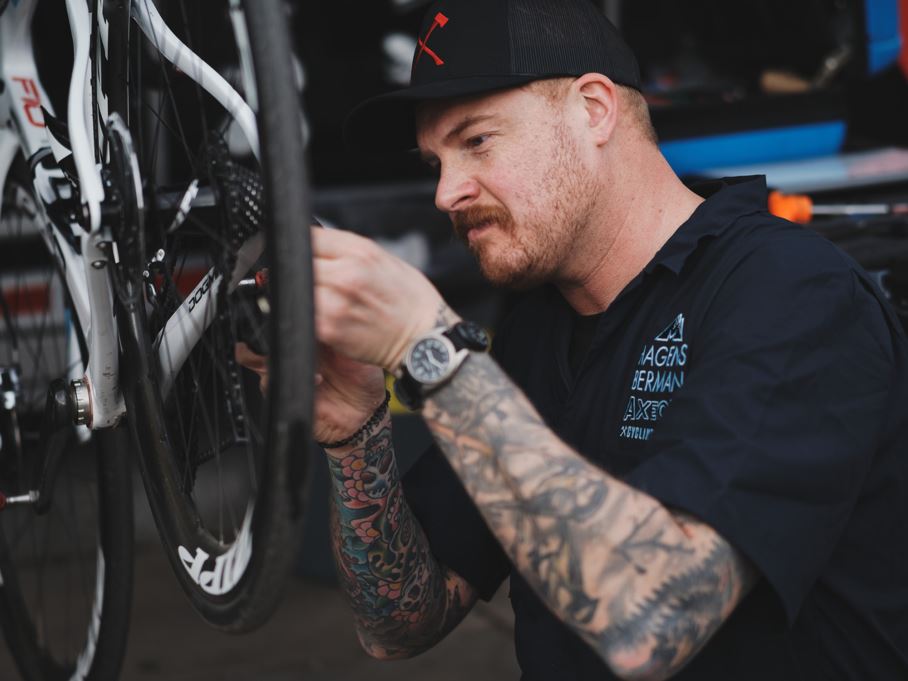 One specific area of interest was the eTap AXS "big-little" gear—50t front with the 10t rear cog.
"Back at home, there were lots of times where I was spinning out my 53-11. Especially when you have a tailwind, you run out of gear," said Revard, who's grown his cycling power on ever-windy Indiana country roads. "Having that 50-10 is just amazing. It's like being on the TT bike with the 55-11. To have that on a road bike… it allows you to push that extra gear a little bit further and just allows you to get more speed out of your equipment." Teammates Zijlaard and Garrison also praised the 10-tooth cog for providing that extra kick at high speed.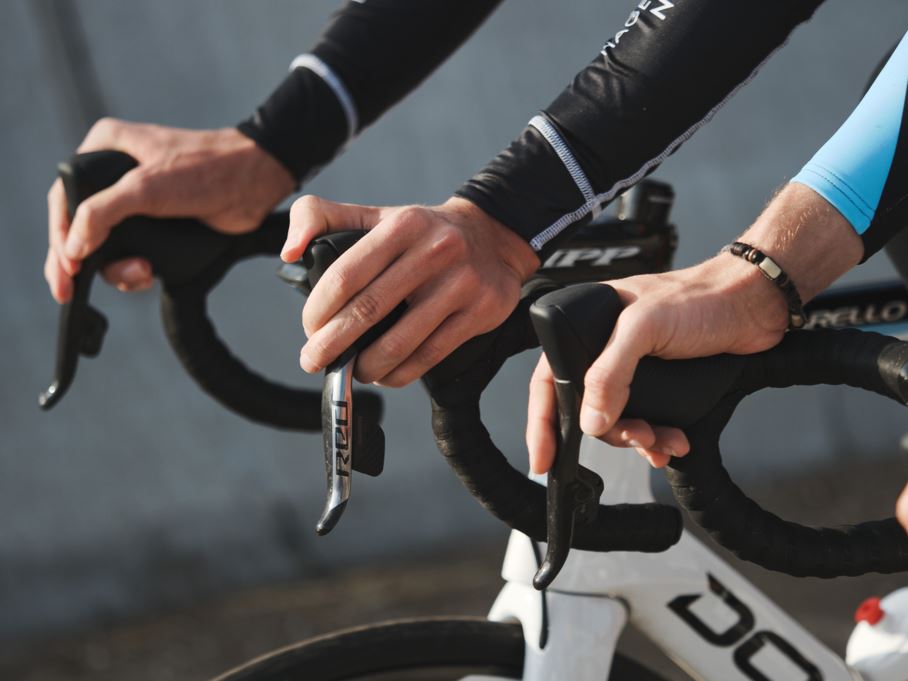 Jonny Brown commented on the steps between gears for the new group, "You can definitely tell going down that there aren't big jumps between gears, which makes a big difference because you're not jumping from, say, your 26 down to whatever," Brown said. "It's just a smooth transition."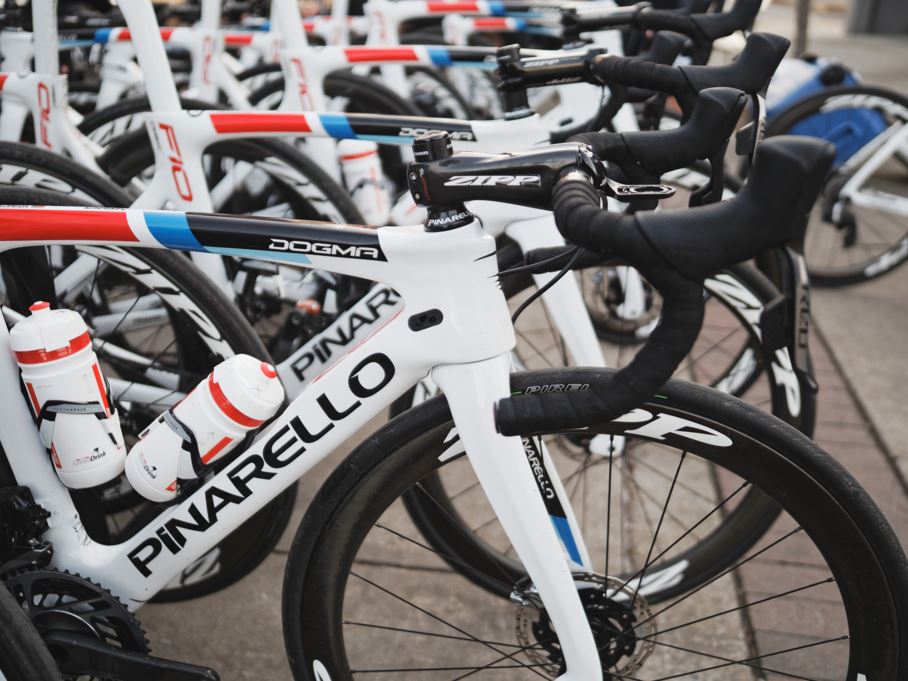 Partners in Development
Hagens Berman Axeon's transition to eTap AXS began with a single groupset last November. SRAM Road Sports Marketing Tech Dan Stefiuk delivered one pre-production setup to head mechanic Eric Fostvedt and walked him through the build process at the team service course in Colorado. SRAM works closely with pro teams in developing and proving new gear. Everything on a pro cycling team is intensive—from the high volume of bike builds and cleanings to the high demands racers place on their equipment. If it works for the pros, it'll work for the rest of us.
"We built a bike in my size so I could ride it. To me, that's a big part of it, to participate in the build and see. Then get on the bike and ride it," Fostvedt said. "I was riding that bike by Thanksgiving. That's where I can shake down lever adjustment, micro-adjustment. Right off I noticed the faster shifting on the rear derailleur. The response time is faster. The overall component group is quieter."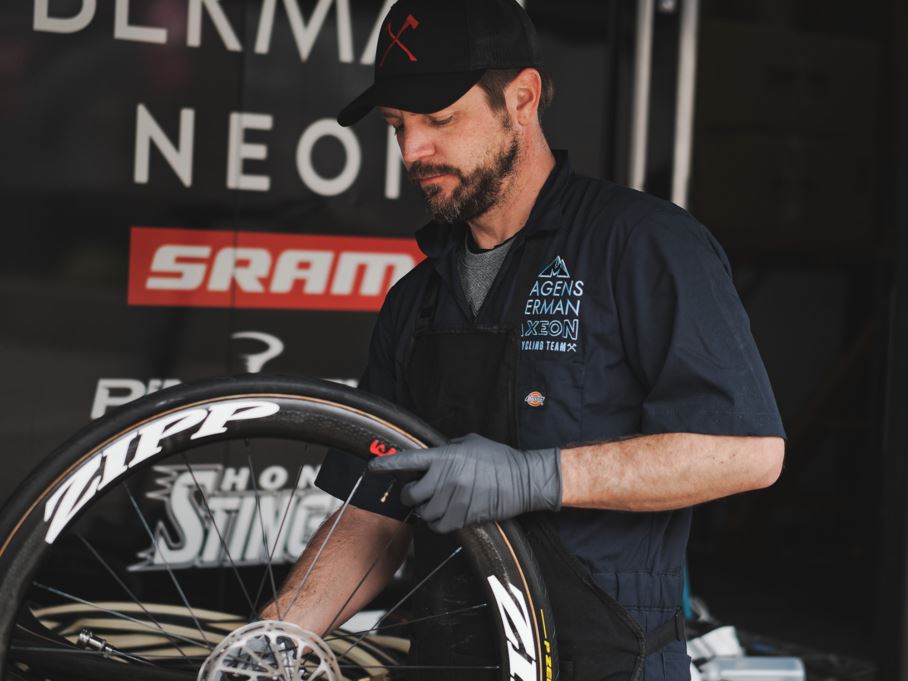 Then came the delivery of the new Pinarello framesets. Wideman and Fostvedt got a crash course in everything eTap AXS.
Their jobs include educating riders on the groupset and how to get the most of it. That includes simple tips such as getting into the habit of keeping batteries fully charged and efficiently packing your bike for travel. It also included letting them know about the new AXS app that allows riders to customize their components.
"One of the beauties of the system is that you can do it, or you can't do it, but you're still going to enjoy the experience," Fostvedt said. "It doesn't force you to use the app to make the bike work properly. But if you really want to dive into it and really understand the process of what you're doing and add a little personalization to the group, you can customize it in that way. I think a lot of people, both pro and amateur recreational cyclists, are going to enjoy that customization."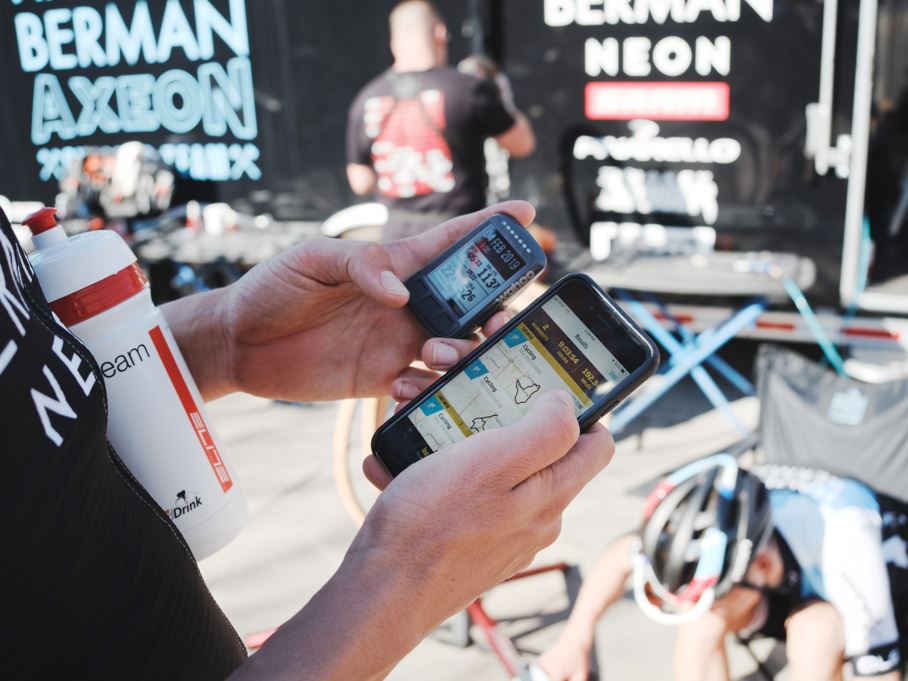 A New Road Ahead
As training camp in Arkansas drew to a close, air temperatures plummeted as rain and snow came to the area. The riders did an indoor training ride in the morning and visited the Chrystal Bridges Museum of America Art in the afternoon. The friendly tour guide, who was told she was with a group of young pro cyclists, pointed out several images of bicycles in the sprawling museum.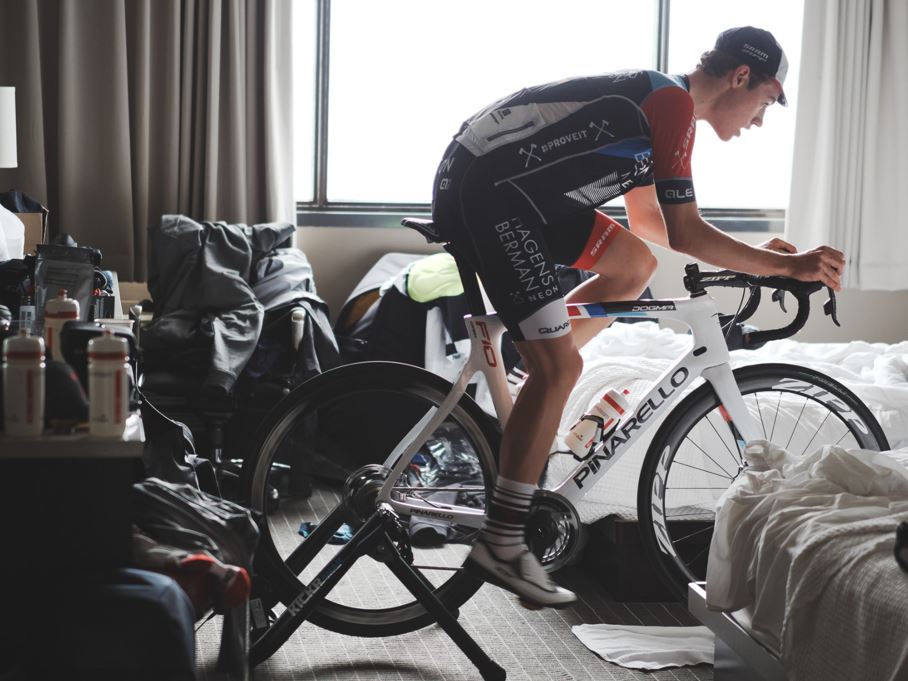 Indeed, the bicycle—the ultimate human-powered machine—has long captured the artist's eye. The bicycle always can be reinterpreted, made anew.
"Is it a better gear? Can you produce more power? Can you have different gearing jumps?" Fostvedt asked rhetorically. "Sometimes, you have to shatter the glass so you can rebuild it in a different way and change that mentality."
Fostvedt and his fellow mechanics, though, didn't have time for the museum trip. They were back at the hotel breaking down and packing 16 new RED eTap AXS bikes for the team's next destination, the Tour of Colombia. The next morning would begin with a pre-dawn trip to the airport.
It was time to race.
Follow Hagens Berman Axeon on Instagram @HBAxeon. #PROVEIT
All photos © Davey Wilson