"Pinch me. Is this real? Am I going to wake up on the side of the track and realize this is all a

dream?

"
Moments after Vali Höll realized that she won not only her second World Cup race but clinched the World Cup Overall title in the process, she stood there in disbelief. Surrounded by her best friend and godmother Angie Hohenwarter, her SRAM and RockShox family, and her biggest fans, Vali's season of trials and tribulations suddenly became a dream come true.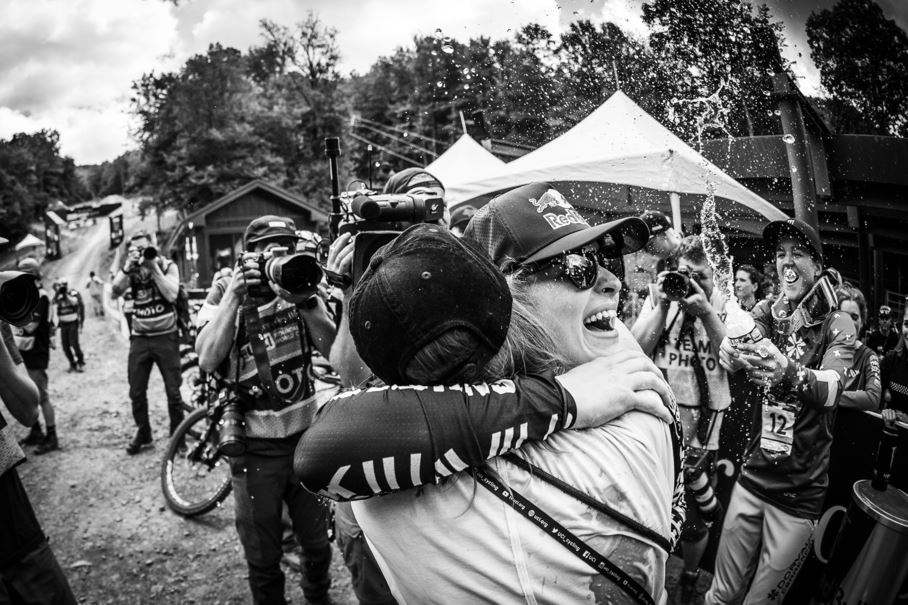 I still don't really get it. I'm celebrating like I did for my first World Cup podium, but now I've just won my second World Cup and the Overall. This season was so rough for me and I never dreamed that this would ever happen at the end. It's unbelievable.

–Vali Höll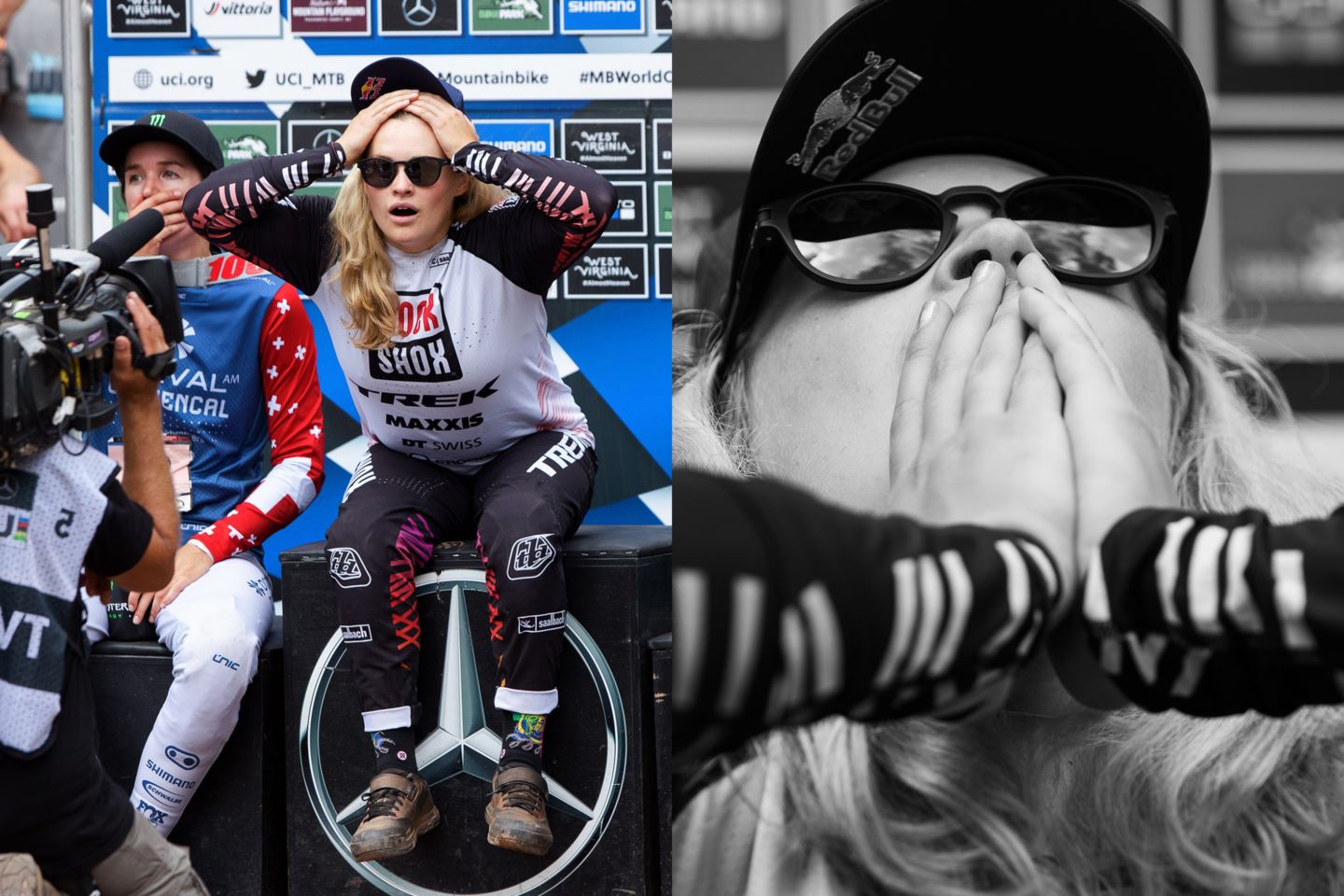 Entering the ranks of the Elite Women as a 2X Junior World Champion and Junior World Cup Overall winner, Vali carried the weight of heightened expectations on her shoulders. Would she be competitive on the sharpest end of the sport out of the gate? All of her bystanders would say yes without a hint of hesitation. But if you asked the 19-year-old rider mid-season, she felt like she was still finding her stride.
"I had struggles after Les Gets and Maribor – I didn't feel like I wanted to race any more. I had no fun. But I had good friends around me which made me appreciate what a sick life I have. I learned that the happier and more chill I am, the better I ride my bike."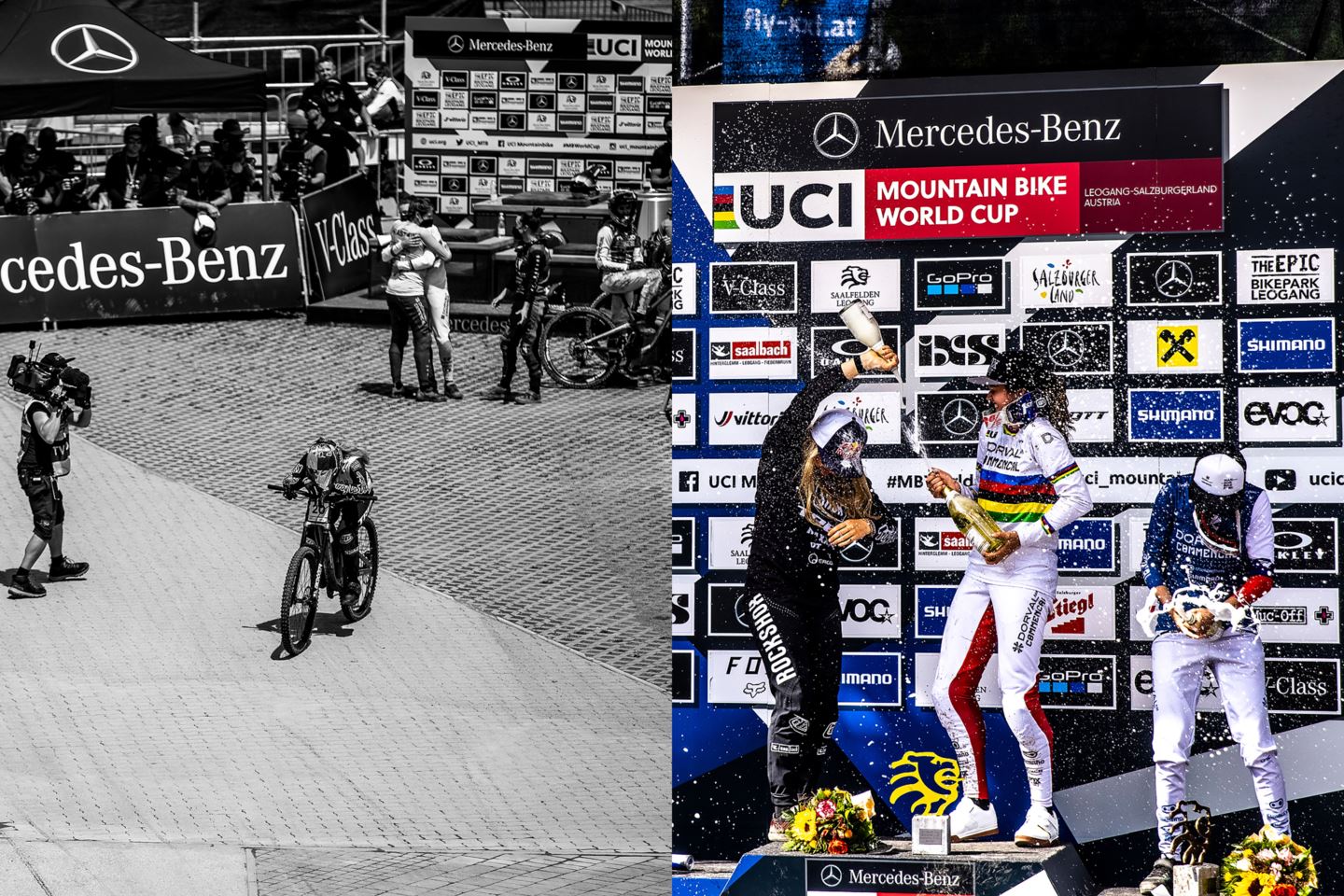 I learned that the happier and more chill I am, the better I ride my bike.

–Vali Höll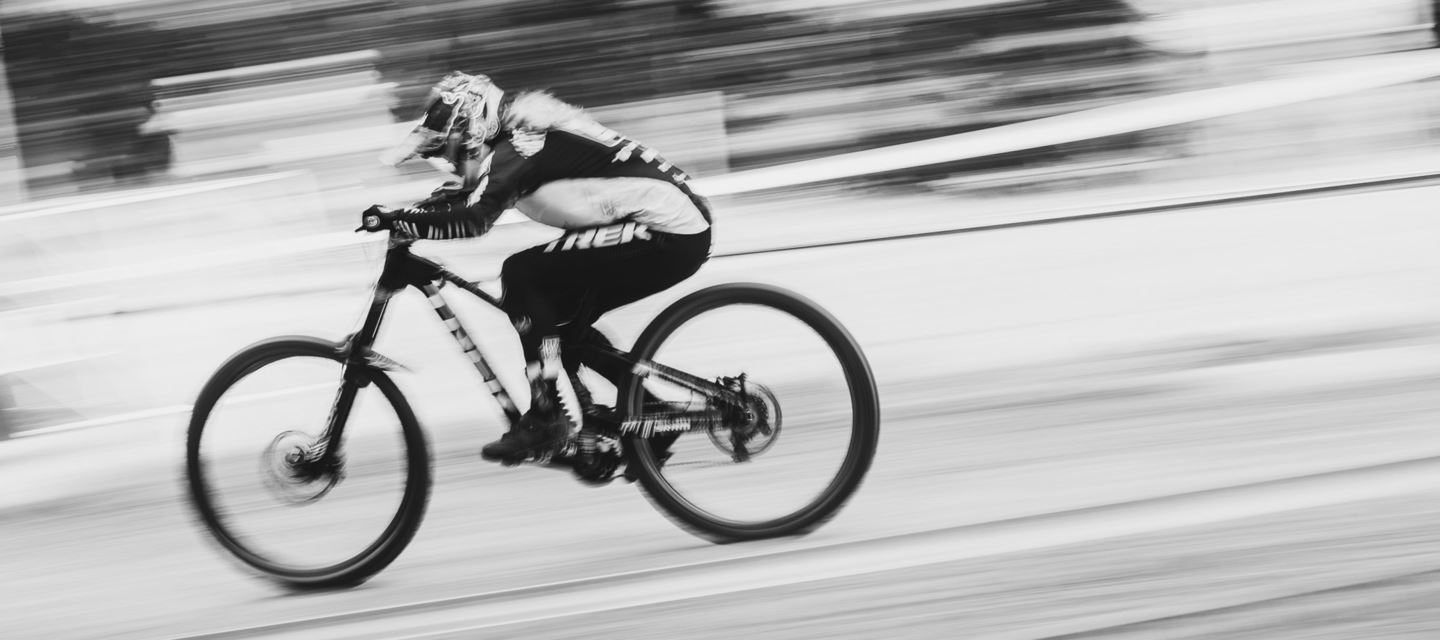 Leading into the World Cup Finals in Snowshoe, Vali's racked up respectable results for her rookie season. Despite some crashes, Vali brought home a silver from Leogang and a bronze from Lenzerheide, bookmarking a 6 th place and 5 th place in Les Gets and Maribor. A heart-wrenching 12th place at World Championships in Val di Sole left Vali feeling defeated and ready to cash in on a season that time and again set the bar high in qualification rounds but leaving her feeling defeated after crashing in finals. The talent and speed was there. But confidence wavered.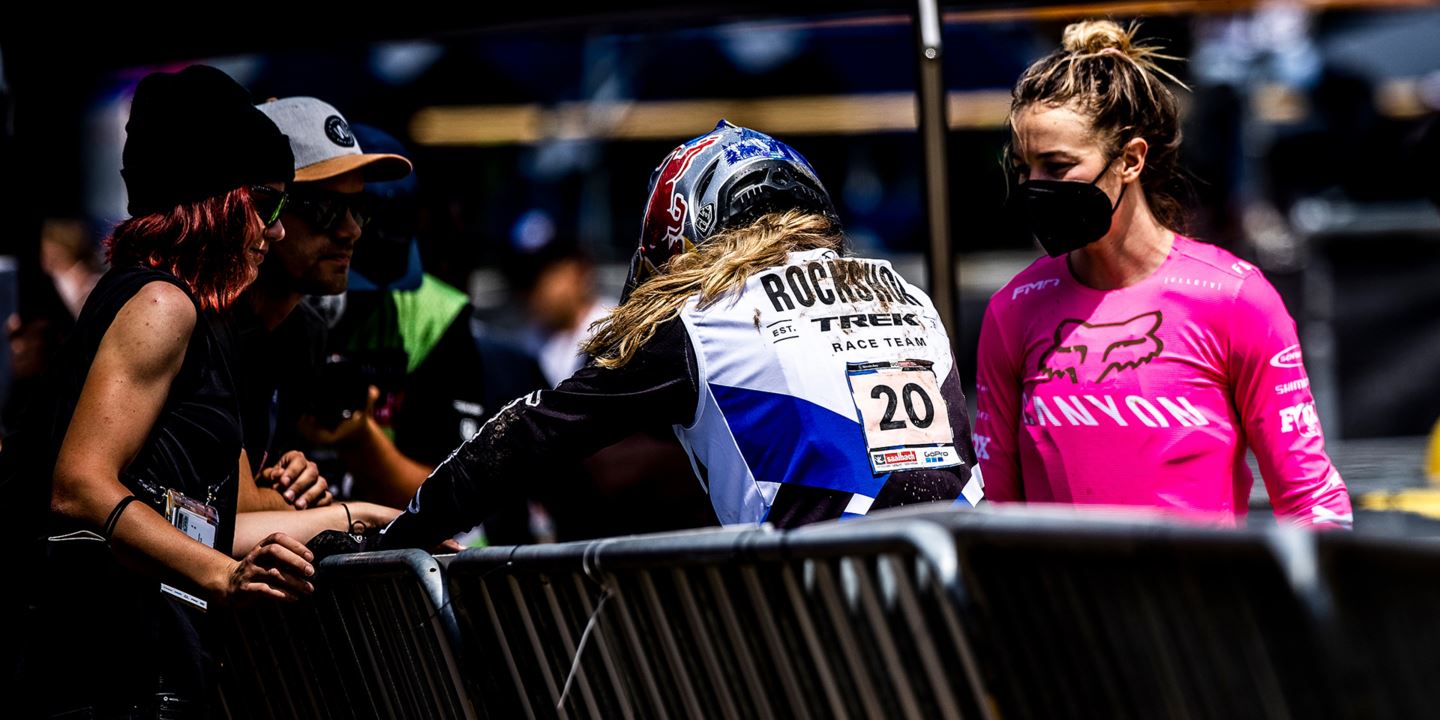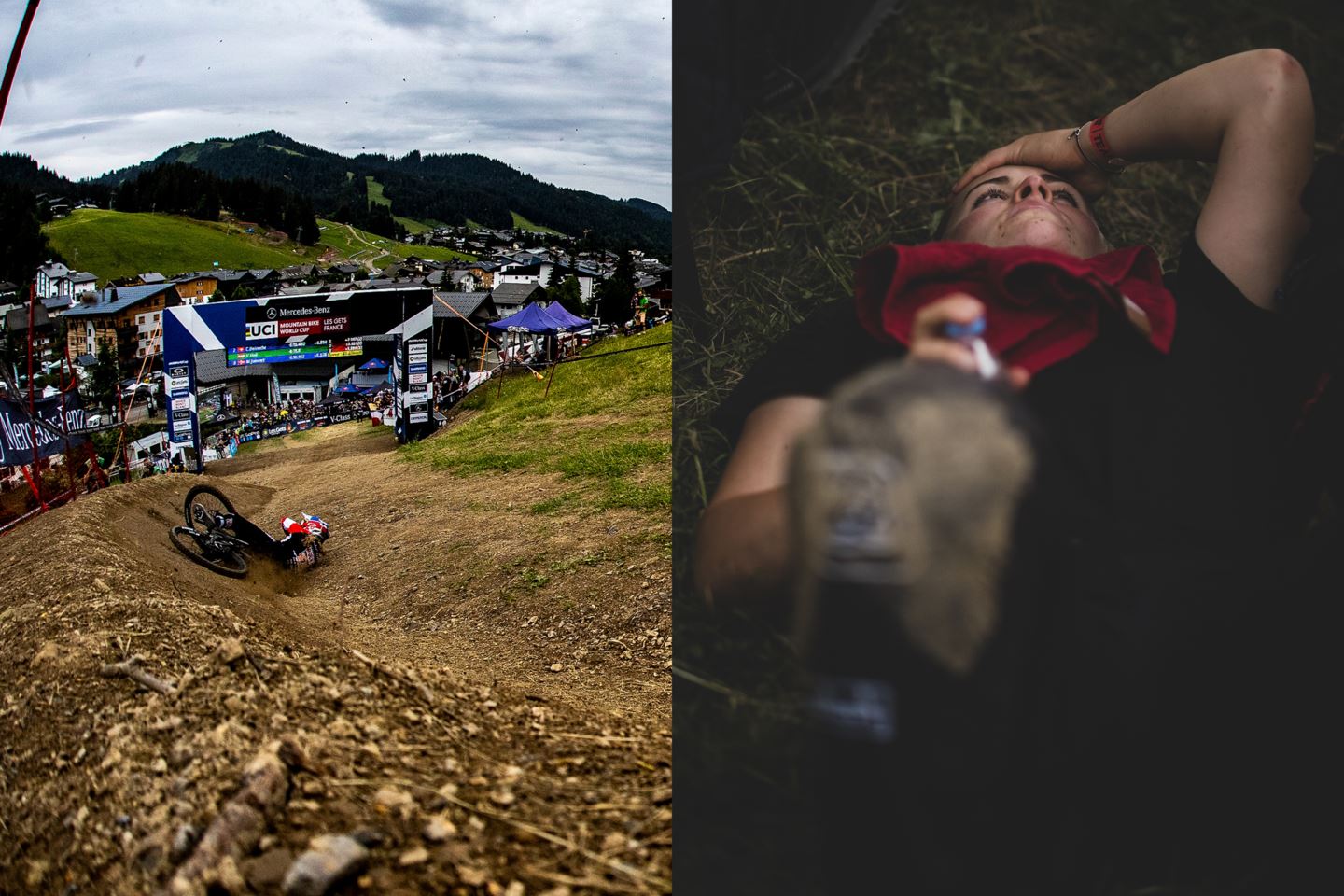 Mat Gallean has been wrenching with Vali since 2017 and has created a strong level of rapport over the years. "She trusts me, I trust her. I can try stuff and she'll ride it eyes closed, no problem. I think that's a good advantage that we have together. We are also super similar in size, so my bike is the same set up – bars, brake position, levers, seat height. It's really easy for us to transfer between the two bikes and that's a great advantage."
When Vali arrived to Snowshoe, she was ready to ride safe and lock up 4 th place in the Overall and focus on next season. Mat told her, "No Vali, you can still win, anything can still happen. It's never the end until the end."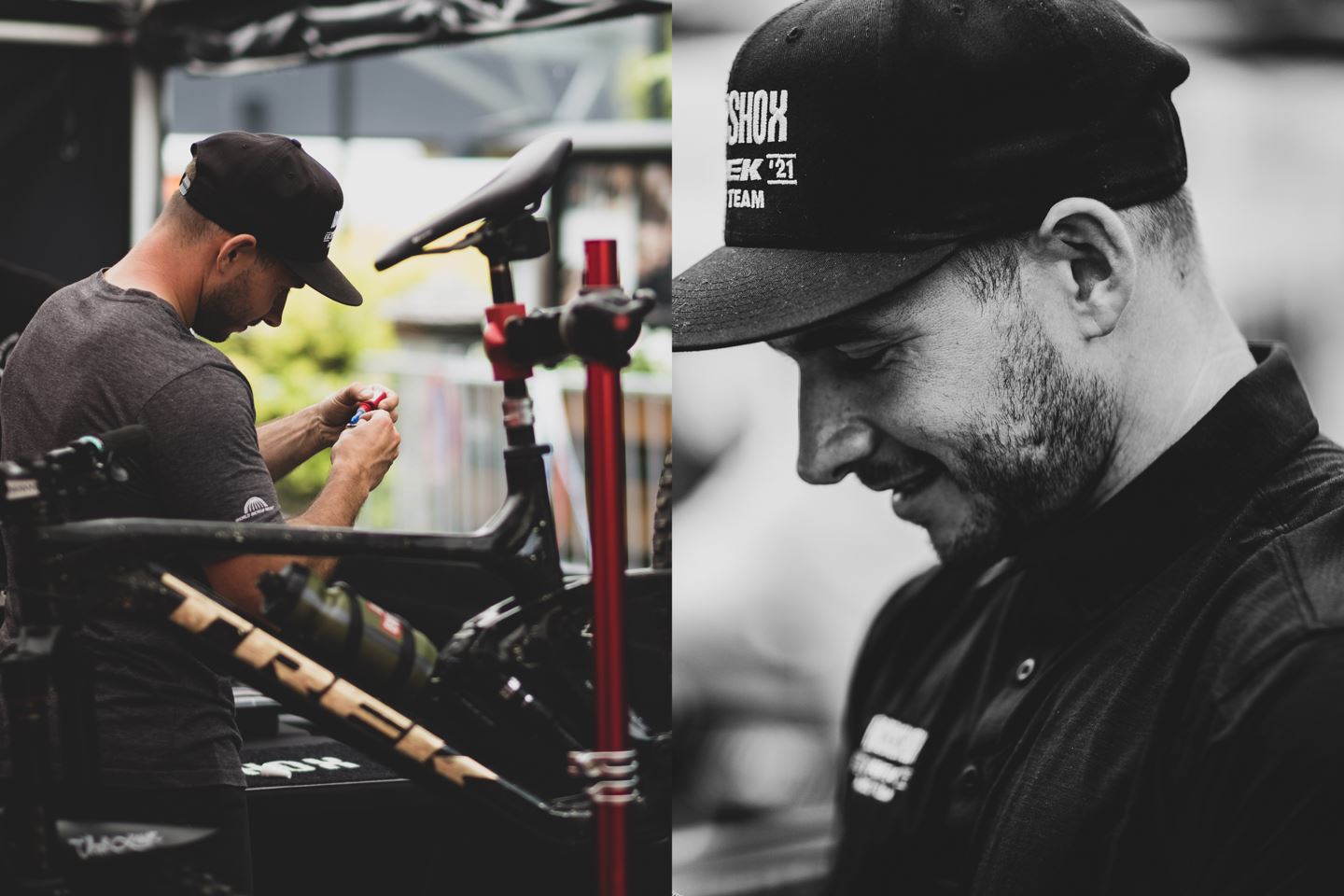 "PomPom was flying. She's on a different planet at the moment with the rainbow stripes and a lot of confidence. It's cool because it pushes me to push myself a bit more. Even if it's not going your way, every race is a new race. Always give your best."
While it's hard to see your competitors crash, it's also part of racing. It's the price we pay to push our limits and knowing that at the end of the day, there's only one winner. Today was Vali's day.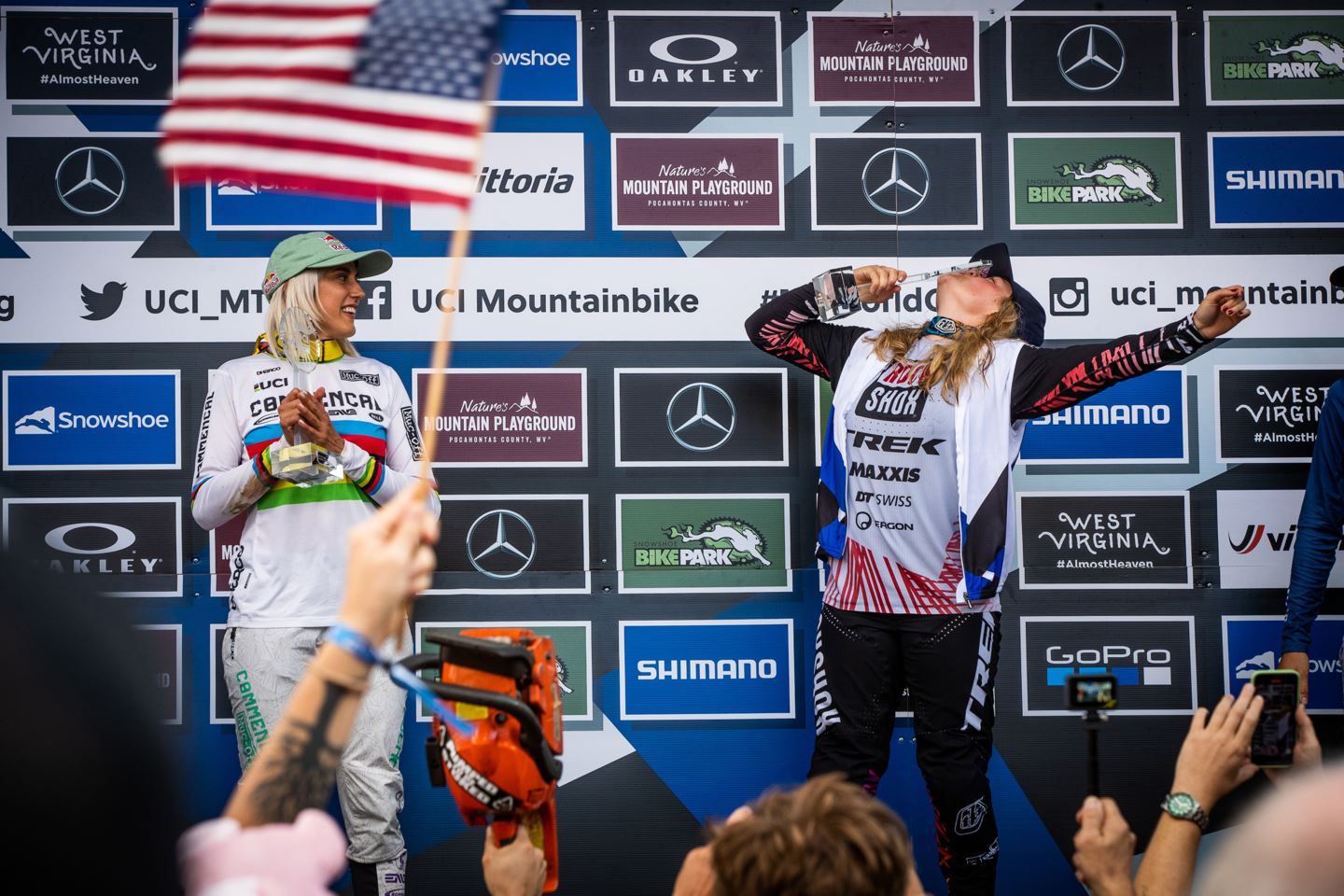 Even if it's not going your way, every race is a new race. Always give your best.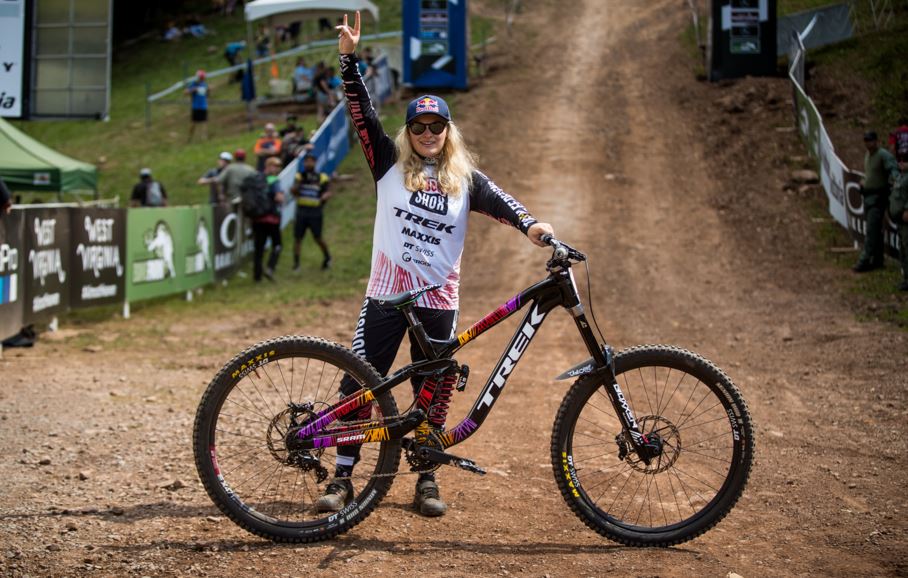 Vali

Höll

's winning bike, a custom-painted Trek Session decked out with a SRAM X01 DH drivetrain, Code RSC brakes
, 

RockShox front and rear suspension

, and Descendant 

handlebar

, 

stem

, and 

seatpost

.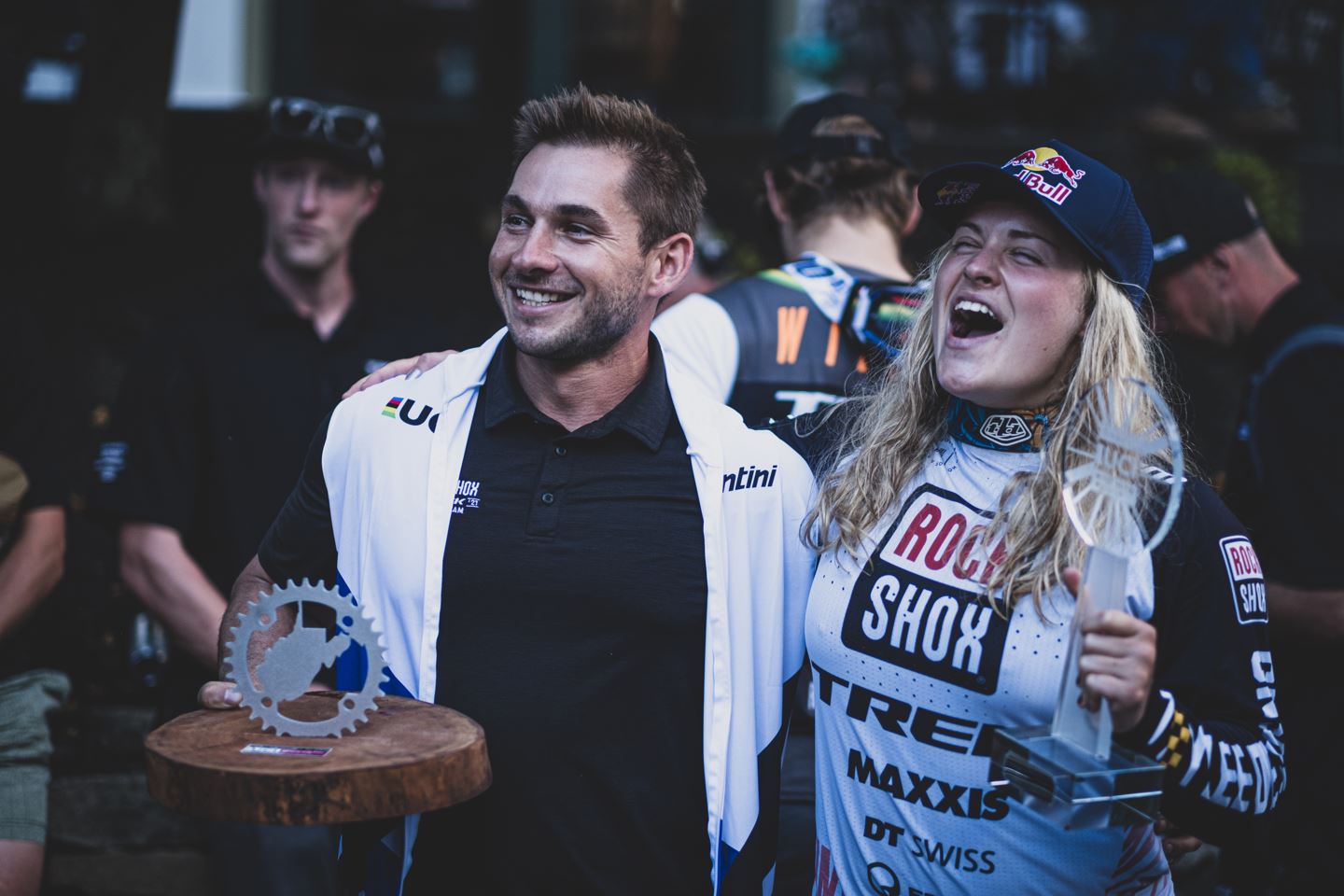 Jamie Edmondson arrived in Snowshoe aiming to best his results with two solid race runs. Feeling the culmination of the season's learnings come into fruition, Jamie finished 24 th in DH Finals – his best result of the season.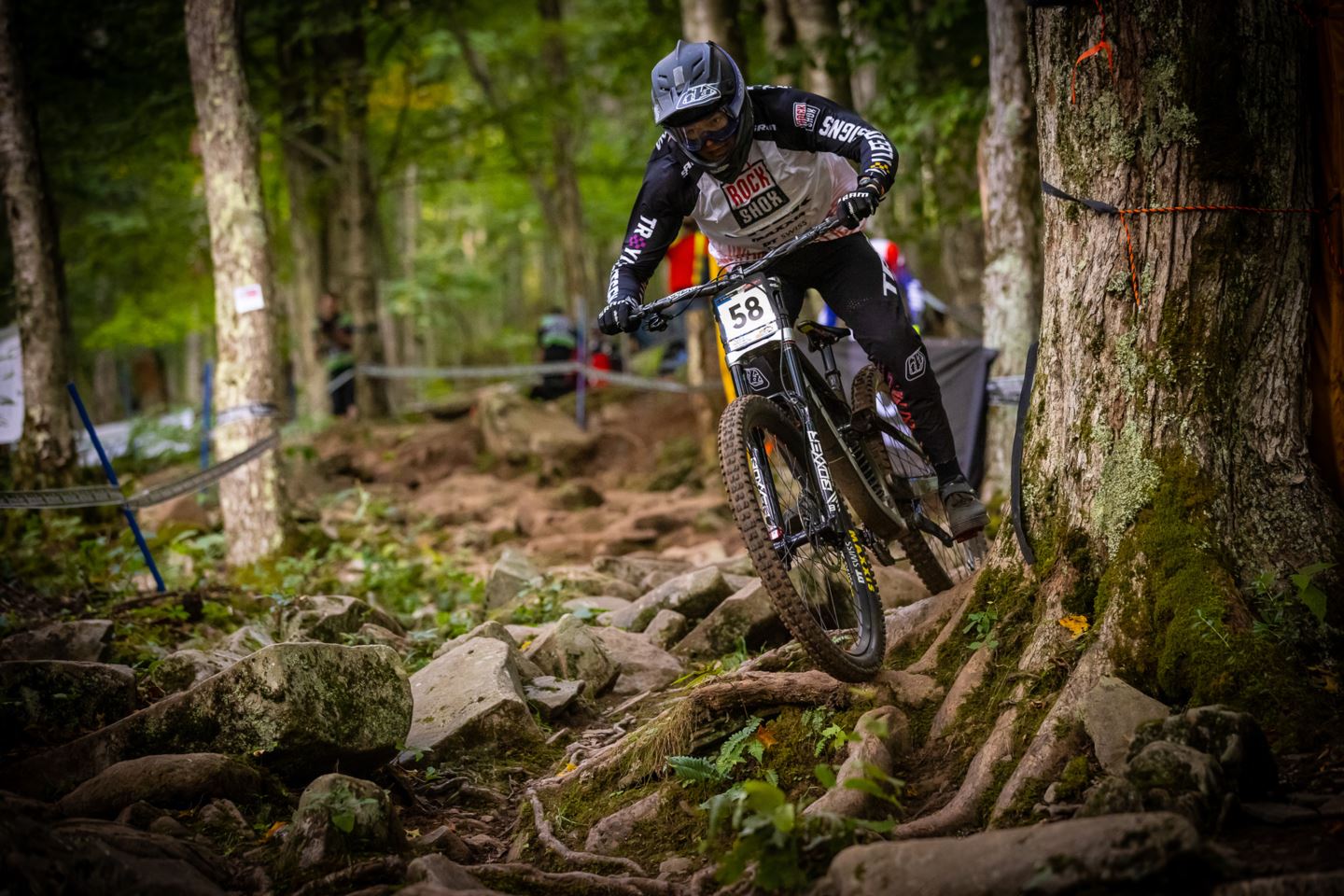 I went all out from the start. It paid off in a few spots and cost me in a few spots. Overall, I'm happy with my run and happy with how I'm feeling on the bike. It's almost a shame to end the season so early.

–Jamie Edmondson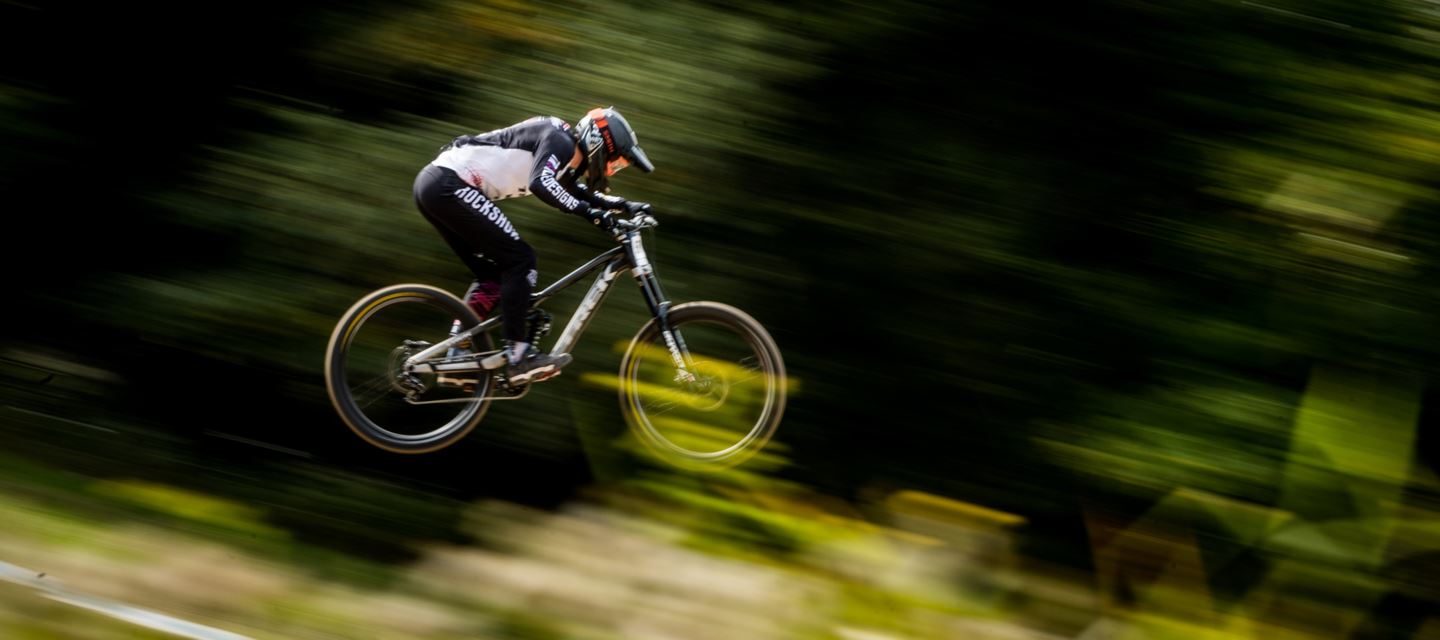 The off-season is a time to rest, rejuvenate, reflect, and refine for the next season. Jamie and Vali head straight into a test session, and then back home to their respective homes to catch up on life with friends and family. While Jamie will be found scooting on his dirt bike, Vali is headed to the South of France to catch up and ride with friend and mentor Cecile Ravanel as well as Mat Gallean.
"It's the first winter without COVID hopefully and I can actually enjoy not being in school and travel around. Last winter I sat at home because I was injured, it's going to be the first off-season where I can chill and not rehab. It's gonna be nice."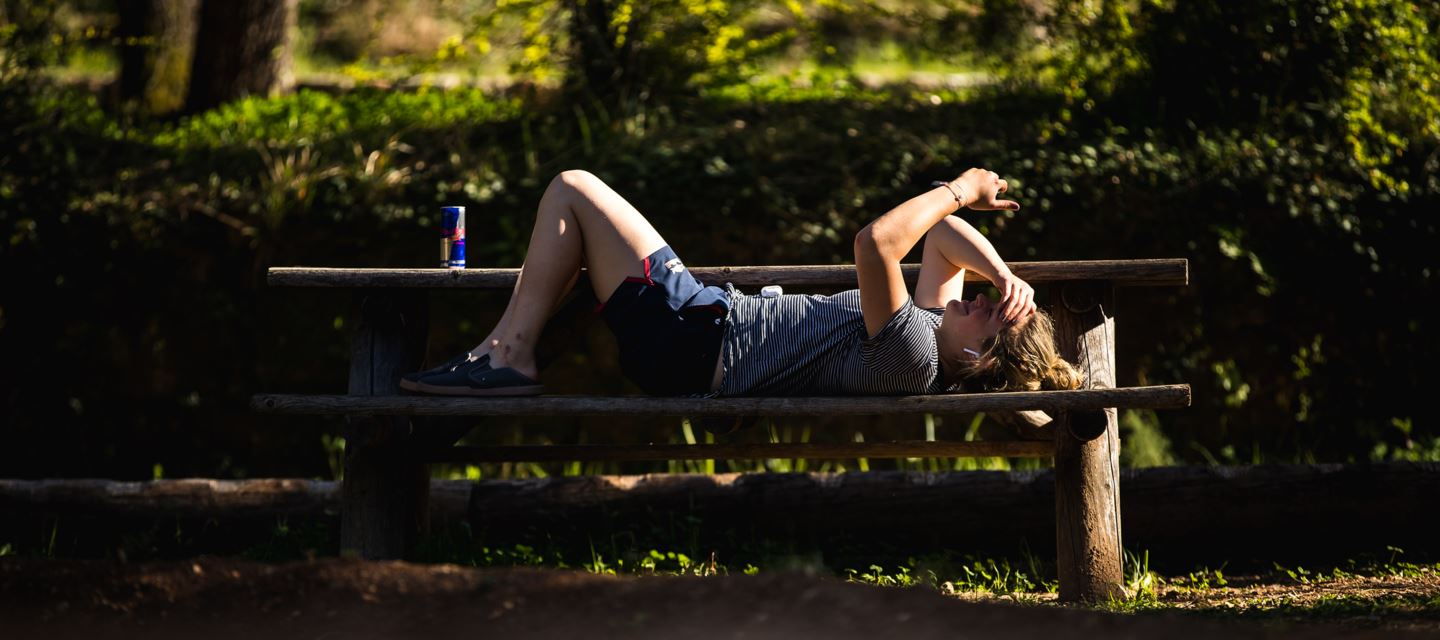 Looking towards 2022, the story behind the RockShox Trek Race Team is just beginning to unfold. From someone who has been very close to Vali since the beginning, Angie Hohenwarter has seen the peaks and valleys of Vali's career.
"From the little kid, to the little princess, to the World Cup, I feel so thankful for the journey I've taken part in. I'm glad for her that she accomplished her goals arriving at the top of Elite Women racing. I wish her only the best for the future that she will race much more and enjoy riding – that's the most important thing – to have fun."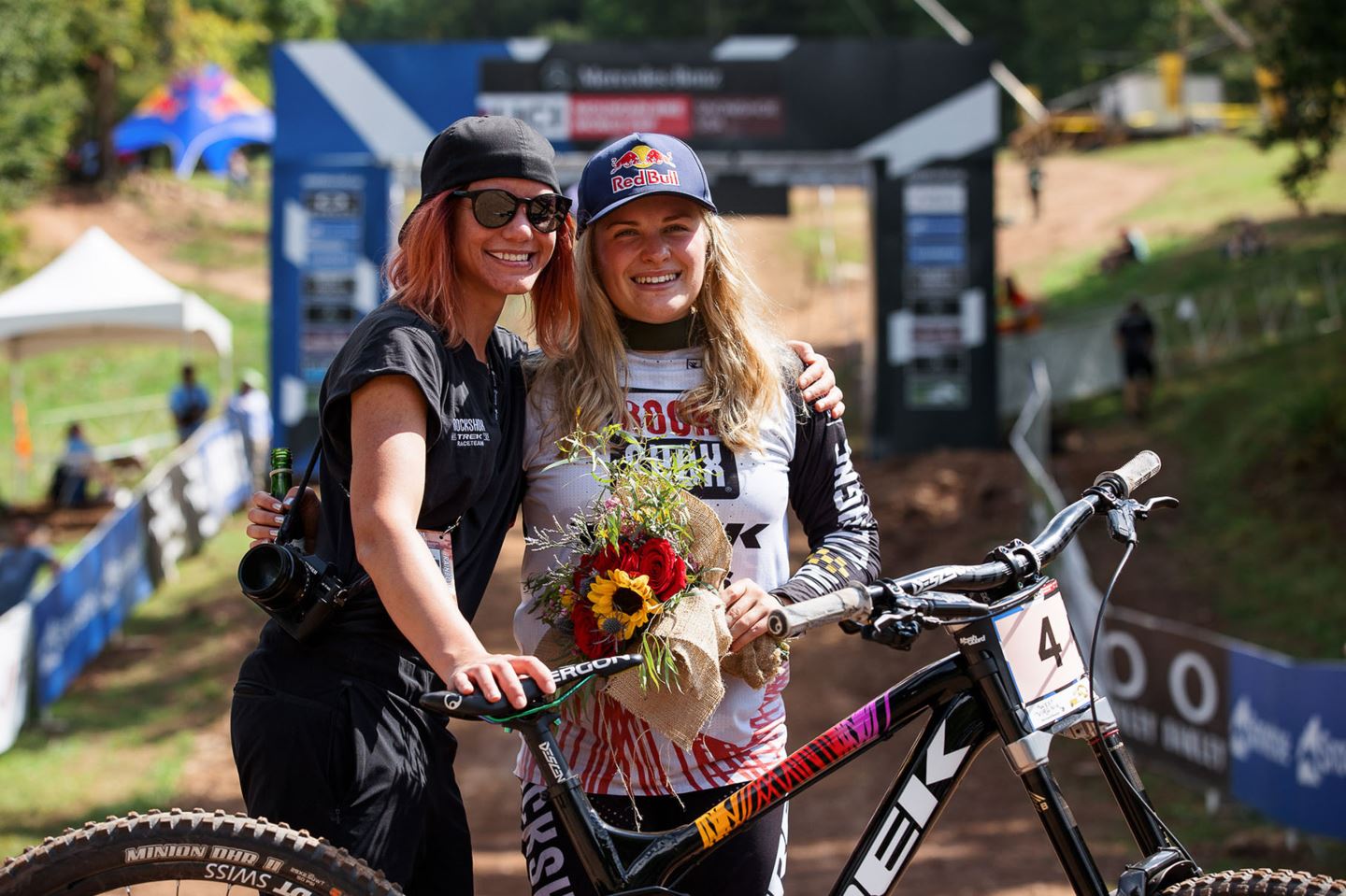 I wish her only the best for the future that she will race much more and enjoy riding – that's the most important thing – to have fun.

–Angie Hohenwarter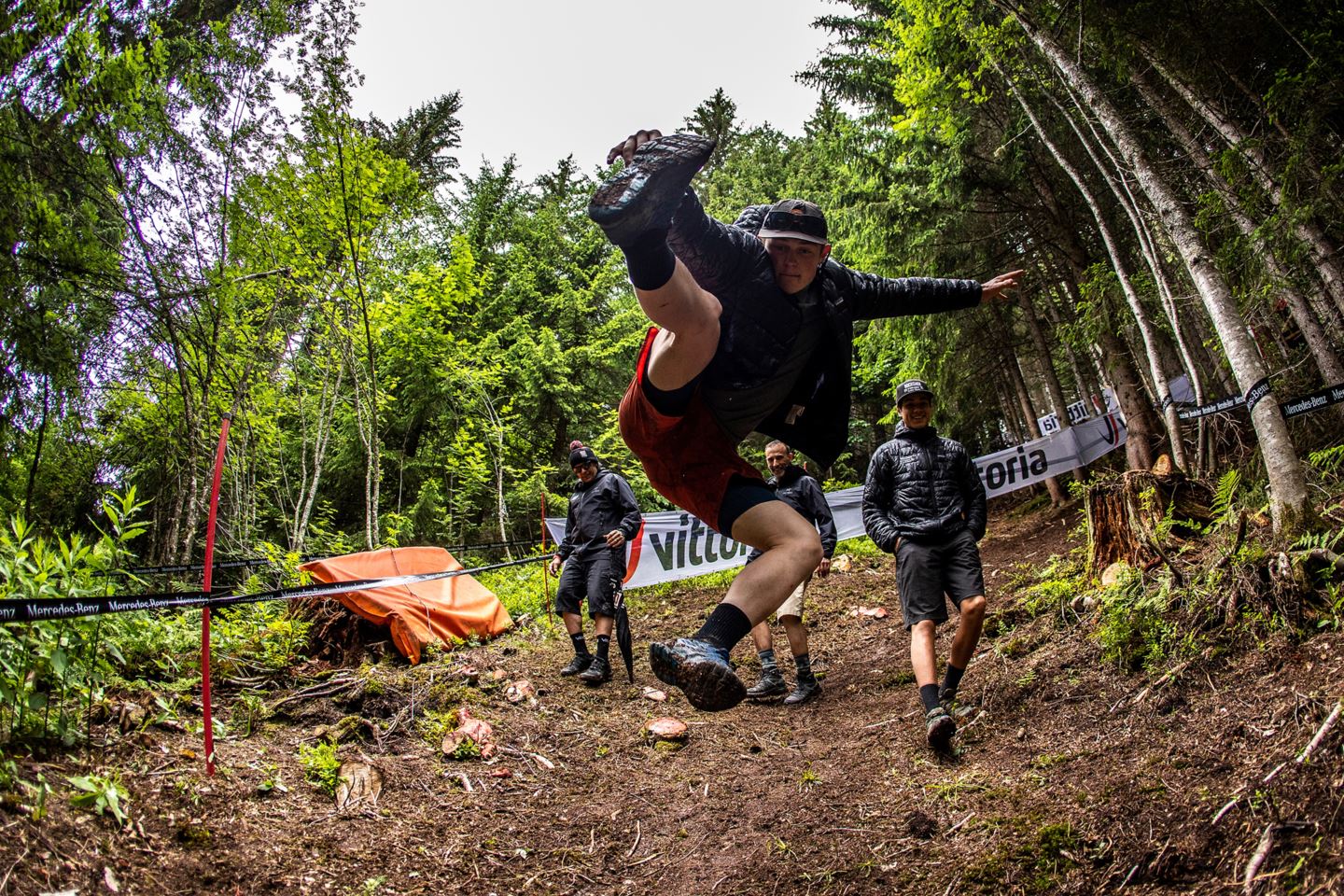 We're excited to see Tegan Cruz join the team in 2022 for his first year of racing Junior DH on the World Cup circuit. As the team grows and mature, we know there is nothing but stories to unfold, new titles to be won, and dreams to come true. It's only a matter of time.
Youth and glory, lets go racing!

Words by Sarah Rawley. Photos by Sven Martin and Angie Hohenwarter.