"Wow! It's even smaller than Derby!" That was my first thought as I drove down the final hill into Maydena.
I had loved my previous visit to Tasmania, albeit it was short, so I was excited to see the Australian island return to the EDR Calendar with not one, but two locations. I raced the Derby EWS in 2019 and, although I saw little of the country as we drove straight from Hobart to the venue and left after nightfall to fly out again, I could tell it was a diverse landscape full of lush vegetation, beautiful coastlines and flattened wallabies. I was excited for the opportunity to return with more time to explore.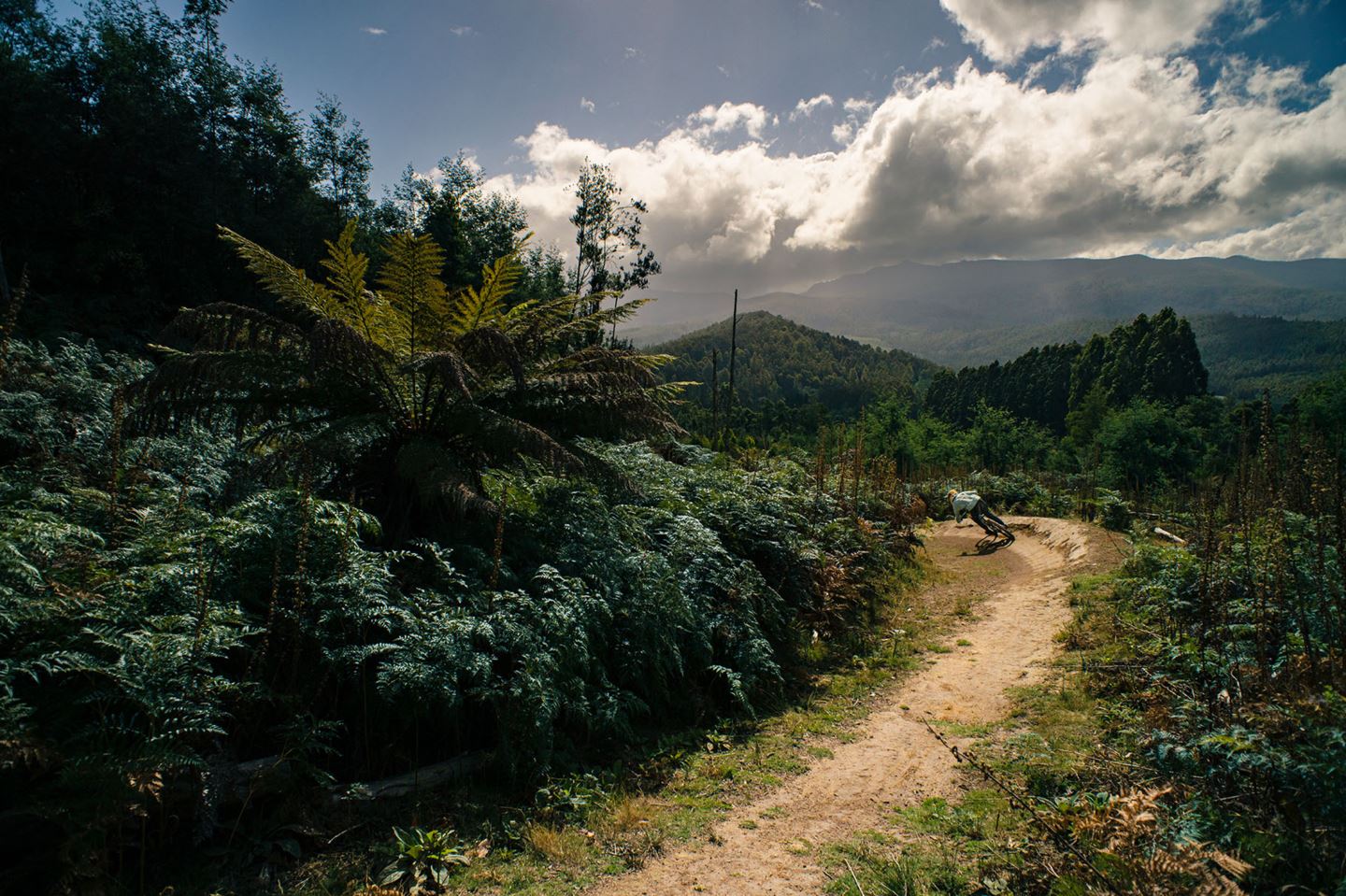 An almost abandoned mining town in the northeastern mountains, Derby has been rejuvenated through their trail network that has become an acclaimed international riding destination. An amazing success story for proponents of mountain bike tourism. Maydena, another resource-based town with a dwindling industry and population, is the site of a new bike park designed and operated by Dirt Art. I guessed this would be another 'positive-impact-of-biking' story and I was eager to meet everyone involved and check out this new potential riding mecca. I had a ton of questions about the process to create Maydena and the impact of two world-class destinations on the island, and what that meant for the whole Australian riding community.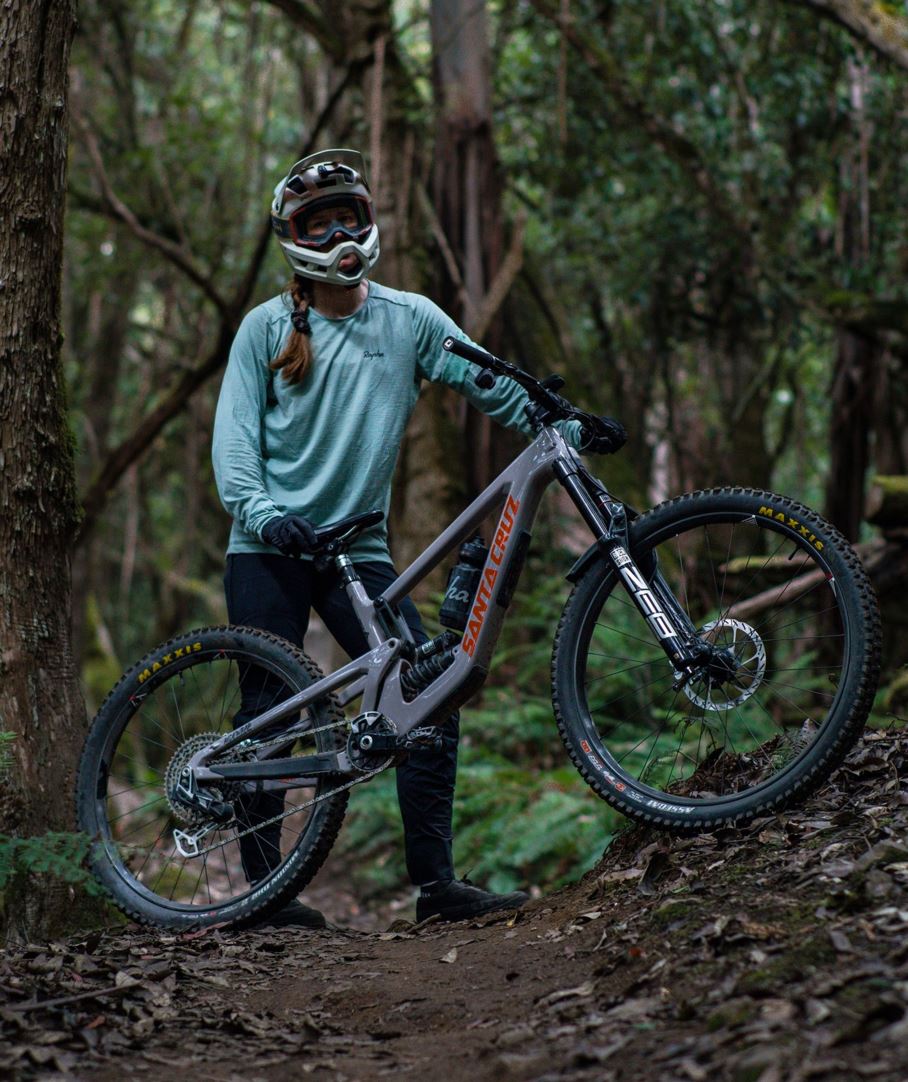 In the early 1900s Maydena provided access to mines, and in the late '40s, the Australian Newsprint Mills built a small town to house the workers for their logging projects. Maydena grew to be a thriving mill town with schooling and community facilities provided. By the late '80s however the workforce had been drastically reduced and a few years later the mill closed altogether. The school was closed and we arrived shortly after the old swimming pool had been backfilled. A story not unfamiliar to many of us from areas rich with natural resources.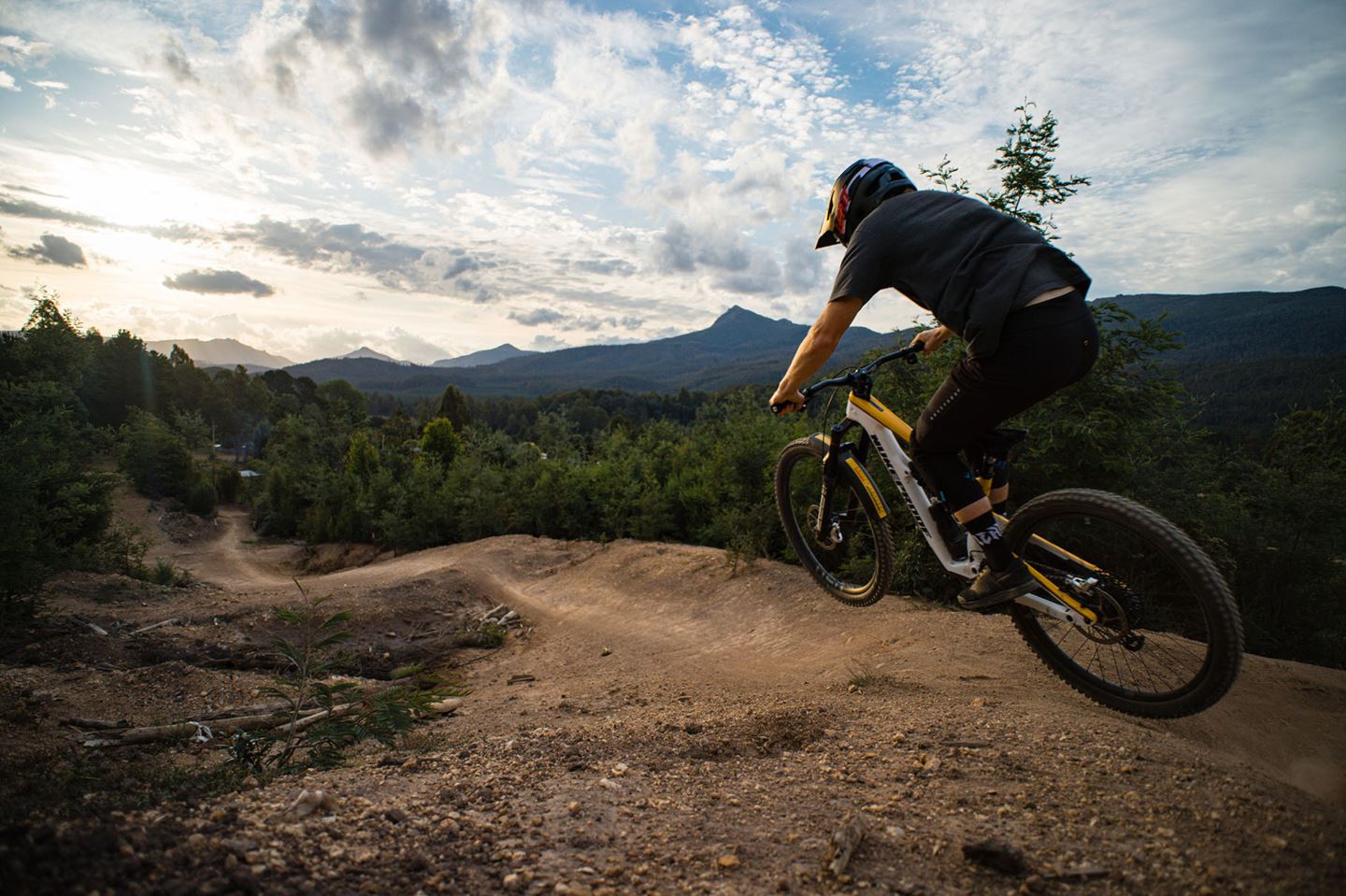 Sitting near the Styx Valley, surrounded by dense, staggeringly beautiful, jungle-like forests filled with giant old-growth native trees, Maydena was turned to ecotourism and, when Parks and Wildlife Service invited operators to put forward proposals for the site, Simon French's Dirt Art won their bid to move forward with a mountain bike park. Despite the park designation, there are still active logging parcels and we arrived right in the middle of a controversy as Sustainable Timber Tasmania prepared to log an area including old growth trees, as well as to clear an area directly abutting the bike park boundary. This was cause of a good deal of concern, not only just to the Maydena biking community, but to many Tasmanians committed to environmental protection. The park community is strong, however, because, despite having to overcome fires, floods, threats of logging and push-back, they have managed to build an absolutely incredible network of trails.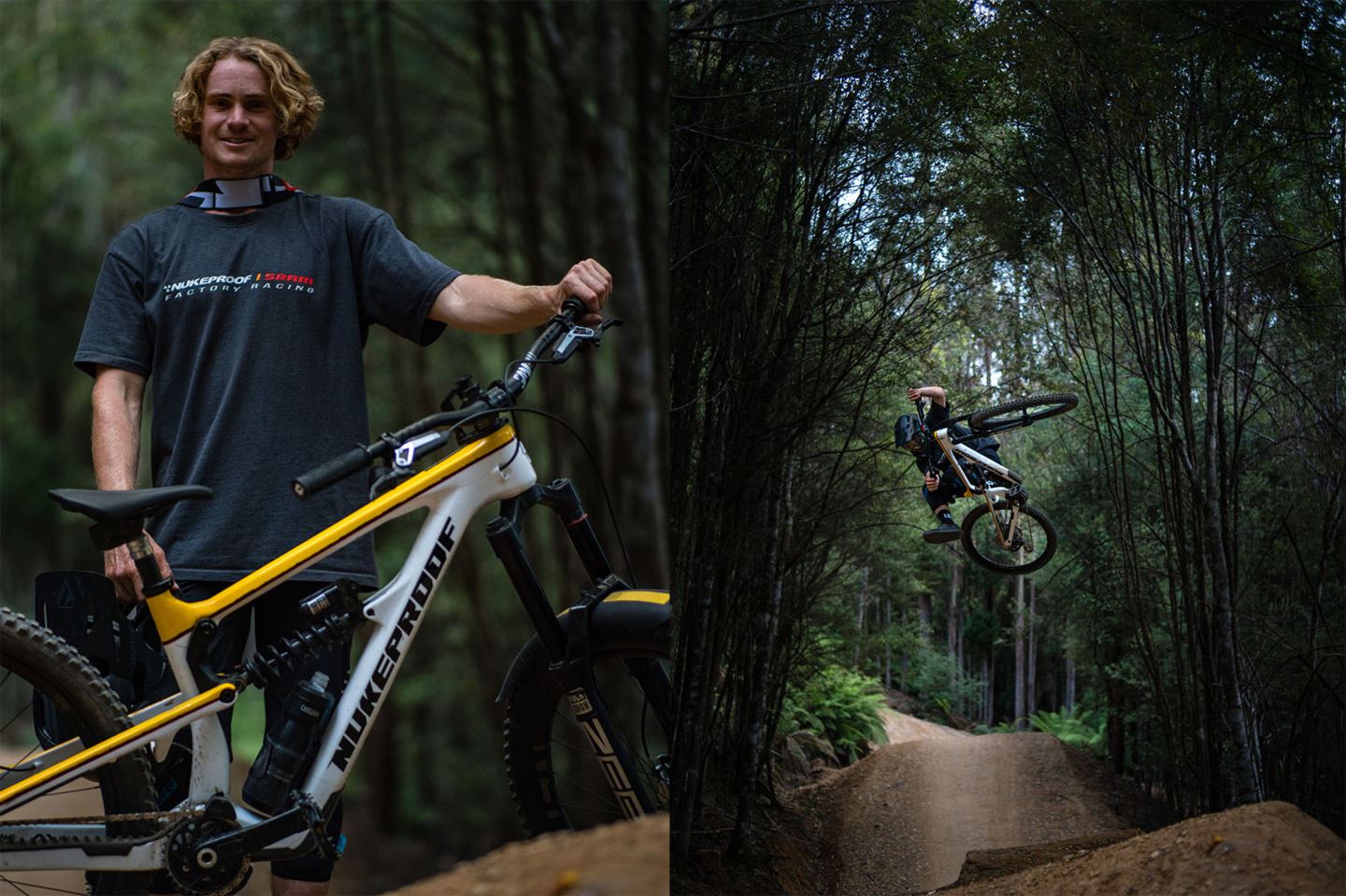 Only 1.5 (as opposed to Blue Derby's 3.5) hrs from the airport and offering 820m of vertical drop and over 80 km of trail, Maydena Bike Park is quickly becoming the top riding and training destination in all of Australia. Young riders are choosing to live in Maydena to use its challenging terrain to better prepare for World Cups. Living in a small, remote town full of trails offers an opportunity to focus on training and work with fewer distractions and, therefore, the chance to, I quote, "stay out of trouble"! These riders share houses at the base of the park and sneak in laps on breaks or after shifts. Many of them are inspired by the local hero, Dan Booker. Dan has built at Maydena since its inception, and is proving to the local youth that dreams can come true having landed a place on the Nukeproof SRAM Factory Racing Team.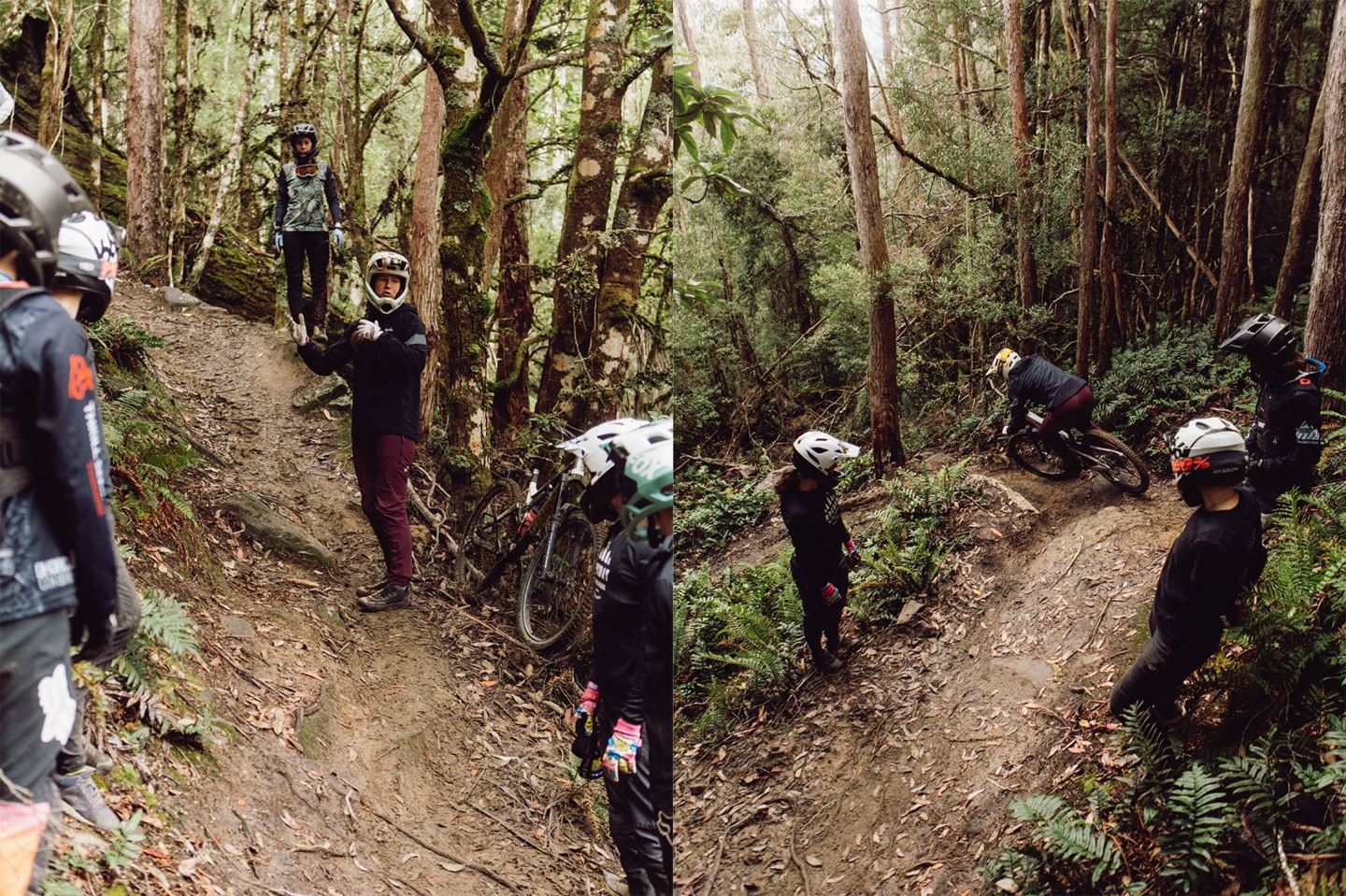 Spending time here felt like being let in on a secret and we quickly felt part of the crew. The local groms are quick to learn your name and aren't afraid to hang with the big kids. Alpine, our new 3-year-old friend, could often be found on his trampoline with 18, 19, 20 year olds entertaining him with their advanced flips and tricks. Maydena is a place where the kids go home when it starts to get dark and everyone looks out for one another. It felt familiar, like I was living a distant memory of my own childhood.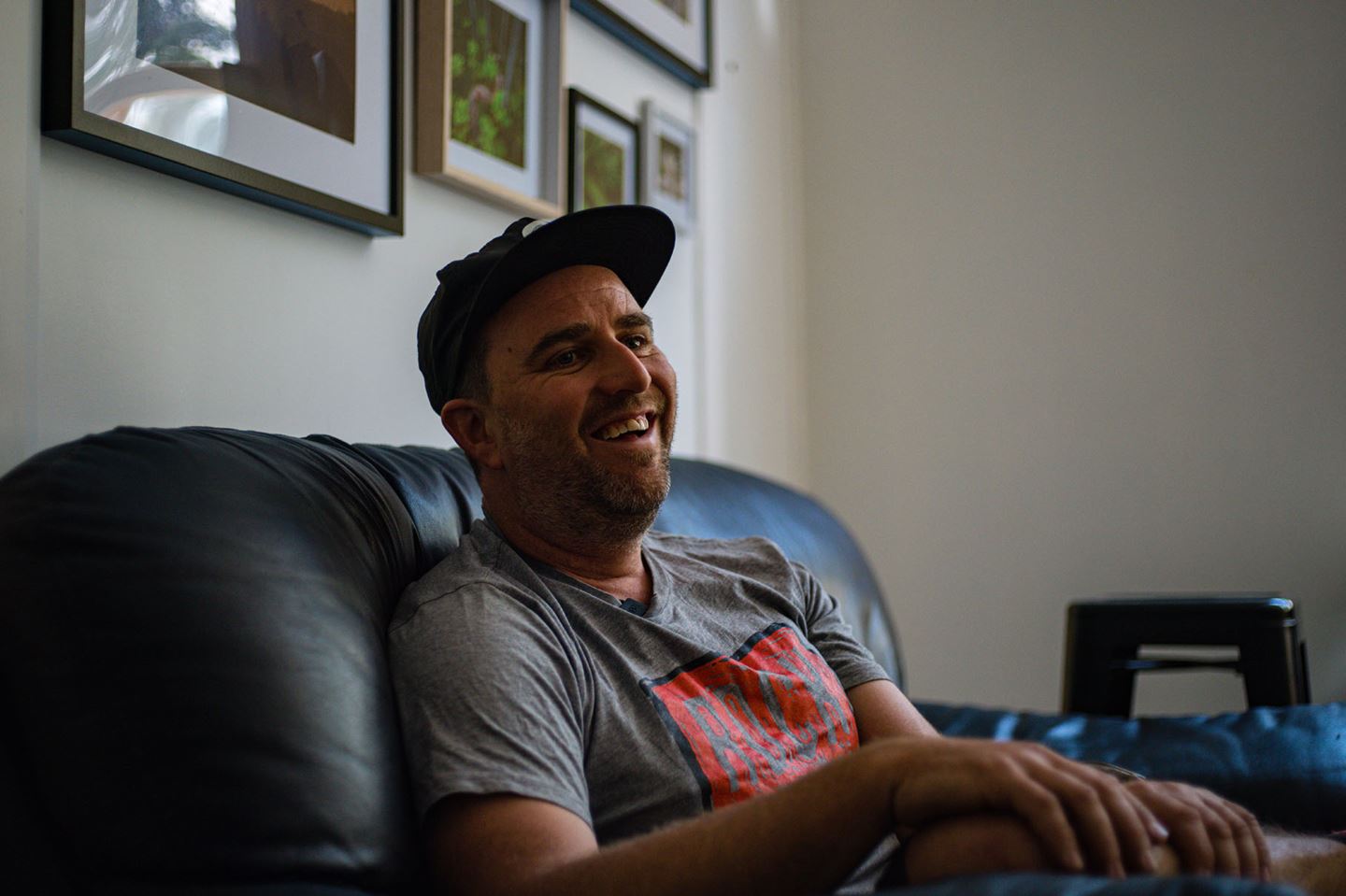 Simon French, owner and founder of Maydena Bike Park, along with the General Manager, Rhys Ellis are the type of people to admire. They took a massive risk by moving to this tiny corner of the world because they had the foresight to see the potential in this terrain. And only five years after opening, the entire world showed up to Maydena when they were chosen to be the host of the first ever Enduro World Cup. Not only did they play host, they raised the bar for every other venue.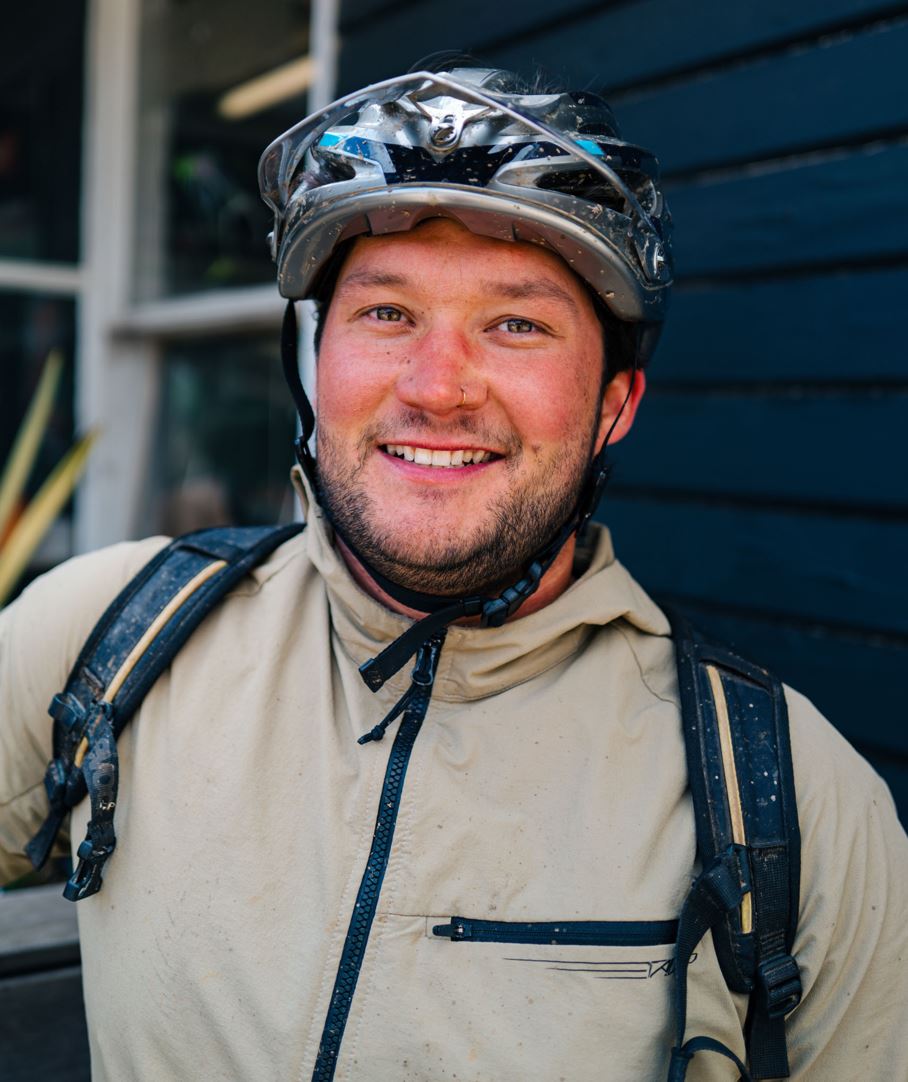 The park was built for riding, but it is building community too. The integration of old and new can have challenges and the growth of Maydena around the bike park is no exception. They have, however, been thoughtful for the greater community in their development, integrating facilities like a free pump track, free mid-mountain access (by pedal only) and have plans to add further amenities to the town.
Maydena is a community built by believers and dreamers, both in 1947 and now, it's just that with the times, that dream has changed.
Words by Miranda Miller, Photos by Graeme Meiklejohn