By John Watson
Owens Valley, the Mojave, and Death Valley have been the backdrop for many stories here on the Radavist, but there is one region in particular that has interested me in regards to both the terrain and the history. The Inyo Mountains are ripe for adventure-seekers looking to get off the beaten path of Death Valley National Park or the Eastern Sierra. It can be a very isolating place: the roads are rough, rugged, with little to no cell reception or provisions. If you can, however, access this zone safely, you will be rewarded with unsurpassed views of the Eastern Sierra as the backdrop and colorful geological features abound.
I spend my free time exploring this region for routes that are suitable for travel by bicycle and to be honest, very few have proven to be fruitful in such endeavors. The area is plagued by roads so steep that even an equipped 4×4 can overheat, or miles upon miles of rock gardens, and sand traps. Not to mention the complete absence of water. To ride in this zone, you have to be prepared, both mentally and physically. It's a region that challenged the native tribes as well as the prospectors who were driven by the desire to strike it rich. There's a bigger tale here before we dive into our story, that needs to be told. One that hits close to home for us at the Radavist.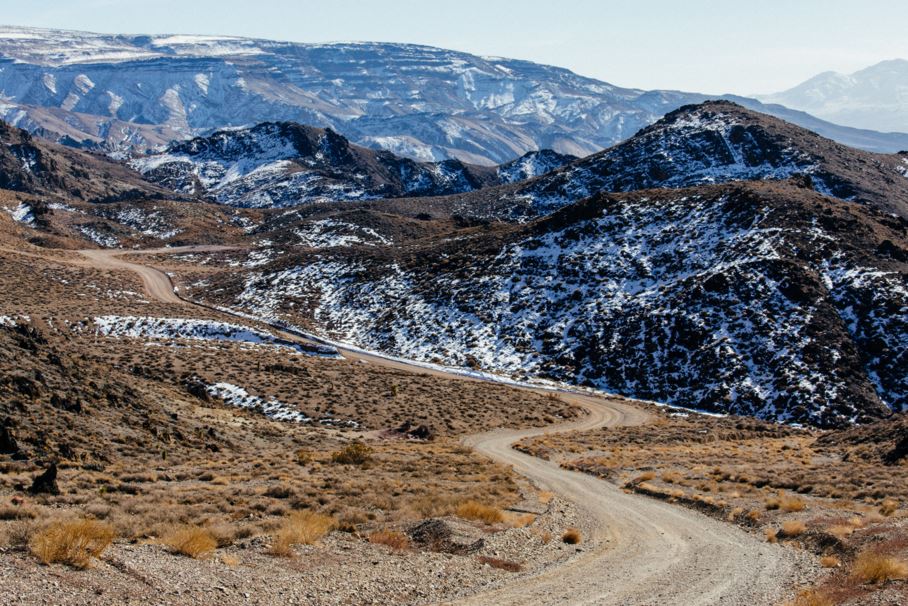 A Quest for Water
The great sprawling metropolis of Los Angeles County would not exist in its current form if it had not been for Owens Valley. In many ways, water is a catalyst for growth. Civilizations have long been founded alongside rivers and streams as this made both food and water acquisition easy. For Los Angeles, existing in the High Desert of Southern California, in a Mediterranean climate, its few rivers would not be able to supply its inhabitants alone. This prompted William Mulholland, an Irish immigrant turned self-taught hydraulic engineer, to try his hardest to educate Los Angele's ever-growing population to conserve water, but in short time, Los Angeles had sucked its only river dry. In his quest for water, he turned to Owens Valley, just 230 miles outside the city limits.
Between 1911 and 1923, Mulholland and his Los Angeles Department of Water and Power agents purchased 95% of the Owens River's water rights in secret, prompting a 233-mile long aqueduct which spanned across the Mojave Desert and into Downtown LA. It was only a matter of time until the Owens River-fed Owens Lake dried up, prompting the local farmers and ranchers to sabotage the aqueduct numerous times with dynamite. These people were the original eco-warriors, fighting to save the land from Mulholland and his cronies, who in 1927, declared war, using the only way possible to seize the water, by brute force.
This is the history of Owens Valley, Owens Lake, and in many ways, the history of Colonization of the Great American West. For those interested in this topic, you can read all about it in Cadillac Desert, the book by Marc Reisner.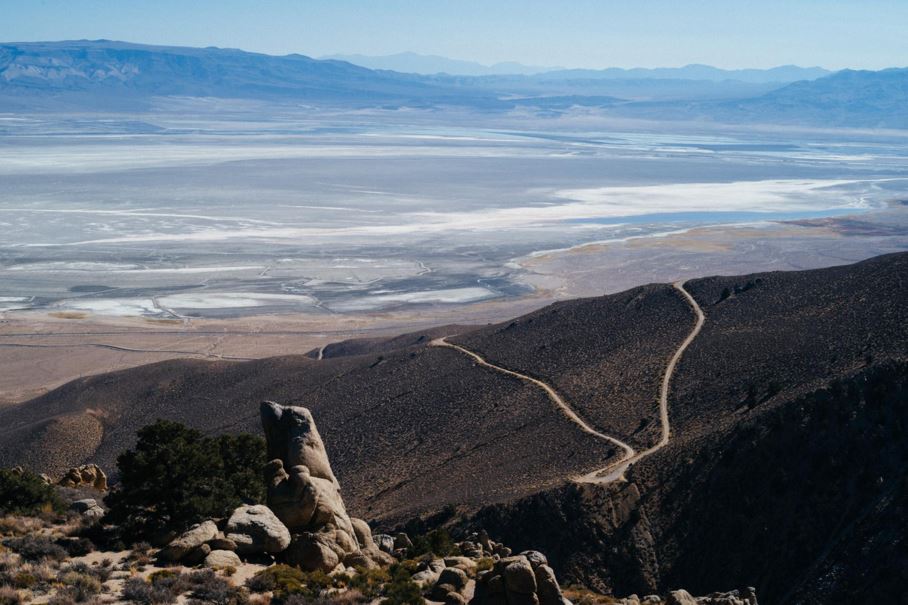 Payahuunadü
There is a sign on US Highway 395 as you enter Owens Valley that reads "Reimagine Payahuunadü," or the indigenous tribes' word for "Land of the Flowing Water." Unfortunately, the rivers are hardly flowing and Owens Lake is now dry, exposing its bed to the sun and wind, creating the largest single source of dust pollution in the United States. Elders in the local tribes feel as though the LADWP is sucking the color and life from this valley. Payahuunadü is the homelands of the Paiute and Shoshone, which still inhabit this area.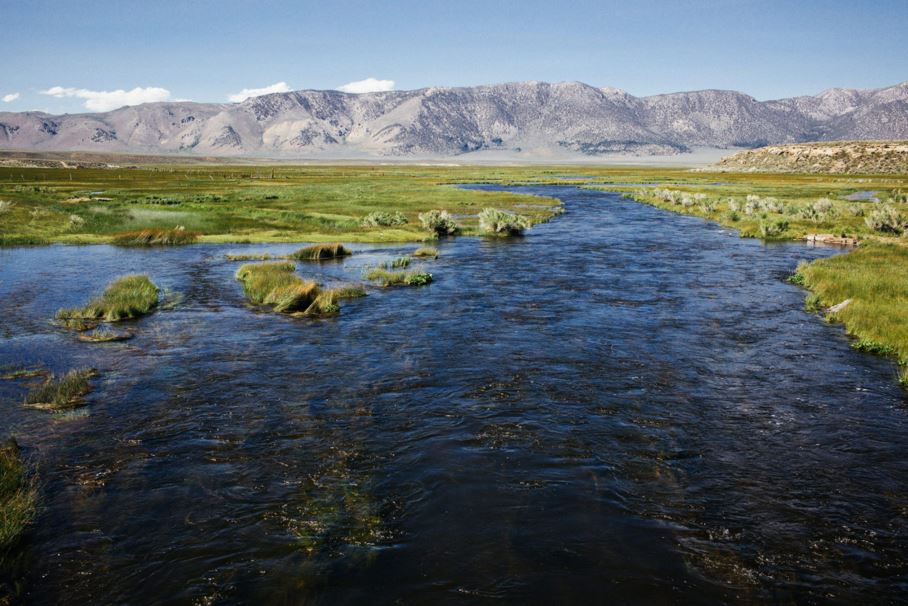 The Great Angelino Guilt
When I moved to Los Angeles in 2015, I was already aware of this history. I read Cadillac Desertwhile I was in college, studying architecture. I was interested in urbanism, the writings of the great modern architectural theorists, and sustainability as a whole. Nothing could prepare me for what I would see as I began to explore Owens Valley, the Mojave Desert, and Death Valley National Park. If you spend enough time in this unique region, you'll quickly learn that when someone asks you where you're from, you avoid those two words, Los Angeles, as much as you can. For many inhabitants of Ownes Valley, LA is responsible for deaths associated with Valley Fever, blinding dust storms, and the dried up bed that was once Owens Lake. As someone who is far from an Angelino, or a Californian for that matter, I couldn't help but feel immense guilt for recreating in this area, at not only the expense of LA's water but also the Indigenous tribes of the region. I wasn't around 100 years ago as these events unfolded, but was my existence in Los Angeles somehow contributing to this mess? It's something that I've thought about a lot while camping, off-roading, and cycling through the valleys and mountains surrounding Owens Valley.
It's important as journalists and photographers that we share this history, to give it context and pay our respects to the people who once called this land home.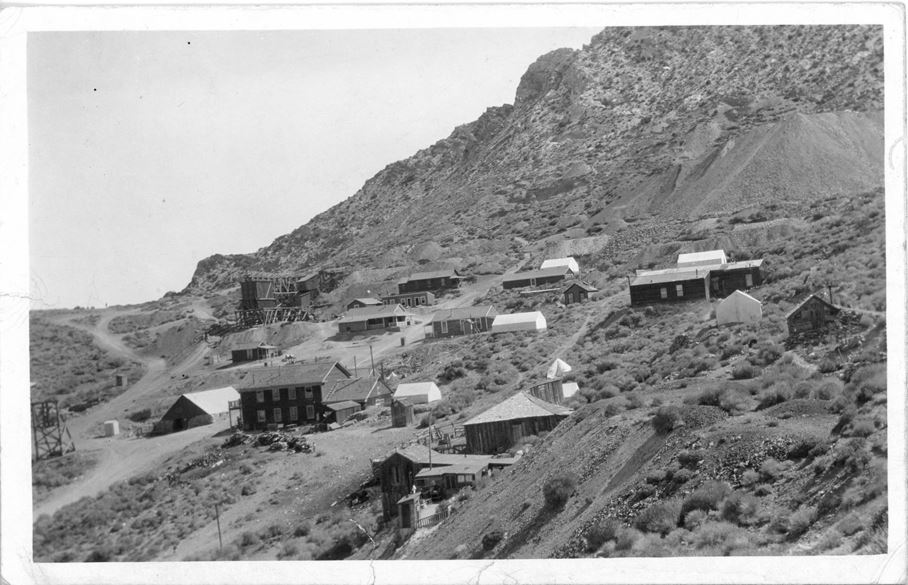 The Tale of Cerro Gordo
Like water, Los Angeles has a long history of mineral extraction from Owens Valley: from borax and salt from Death Valley and the famous 20 Mule Team, to gold in the Eastern Sierra. In 1862, a Mexican prospector named Pablo Flores struck silver in what is now known as Cerro Gordo, a mine on the western slope of the Inyo Mountains, roughly 30 miles, or 50 kilometers southeast of Independence, California. It was the first major silver strike in Owens Valley and it was the beginning of a massive operation that would last until 1877.
First things first, however; mining crews needed to get through the canyon to begin digging. Previous attempts to erect the mine had been thwarted with natives kidnapping five Mexican prospectors, killing three of them, and releasing two only because they promised to never return. Promises didn't hold weight back then, not when compared to the value of silver. The natives had won the battle, but the war for Cerro Gordo was far from over. When Fort Independence opened in 1862, the US Army sent troops into Cerro Gordo to eradicate the native population, allowing the mine to open. Much like Mulholland and his cronies taking the Los Angeles Aqueduct by force, the US Army had just secured the area, forcing the natives further back into the mountains and into what we now call Death Valley National Park. The cost of this displacement on subsequent generations is undoubtedly immeasurable.
Like many mines in the area, Cerro Gordo was boom or bust, with the value of silver dropping drastically, forcing it to close for good in 1877. However, for the years it was open, there was a steady stream of mule teams transporting silver ore from Keeler, the town that was established at the base of Cerro Gordo to run the smelters, to Los Angeles, 275 miles away, with many of the loads yielding $300 per ton.
In early 1872 the Los Angeles News stated, "To this city, Cerro Gordo trade is invaluable. What Los Angeles now is, is mainly due to it. It is the silver cord that binds our present existence. Should it be unfortunately severed, we would inevitably collapse." Much like the water from Owens River, Los Angeles owes its very existence to the silver pulled from the Inyo Mountains and the mining town known as Cerro Gordo.
In the early 1900s, high-grade zinc was found in Cerro Gordo, rejuvenating a mine that had all but exhausted the silver supply. The facilities were run until 1938. In the years since, Cerro Gordo has been a ghost town, with very few inhabitants other than caretakers who were present only to ward off vandals. The site includes a number of buildings, which are still present today, including remnants of the original Union Mine. Up until recently, a few of its buildings could be rented by overnight guests including the 1870 Belshaw House, the Bunkhouse, built in 1904, and the old American Hotel, built in 1871. Recently, new owners purchased Cerro Gordo, where they hope to preserve the history and offer getaways for people looking for solitude.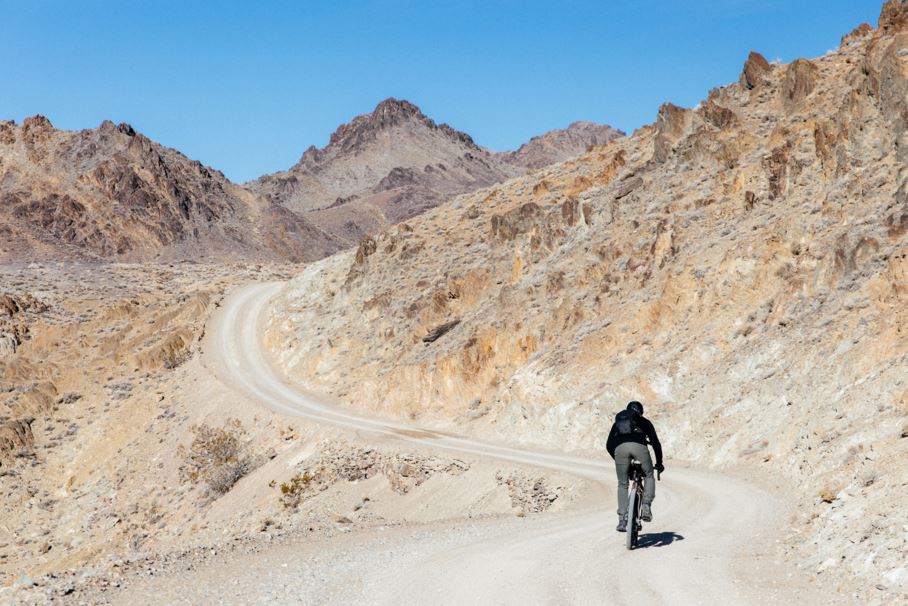 Ride Reportage: An Inyo Ascent
Typically, on rides like this, I'll camp in the Lone Pine area, but with hotels aplenty, there are also options for less rugged means of R&R. It is, as you may have guessed, a big day to undertake this ride, so a good night's sleep is of the utmost importance. Breakfast is served early at the Alabama Hills Cafe, so get a breakfast burrito and a cup of coffee to go for under $10. The drive from Lone Pine to Keeler as the sun rises is one out of a Western movie – and probably was, given Hollywood has shot many movies in the area since the 1920s. Horses run through neighboring fields, kitfox dive from the roadside into their burrows beneath rabbitbrush, and redtail hawks circle overhead looking for their first meal. Once you reach the sleepy town of Keeler, you turn off onto Cerro Gordo Road where a small parking area makes for excellent staging grounds. Sip your coffee and watch the sun cast its light across the valley onto the Eastern Sierra and over what little remains of Owens Lake.
At an elevation of 8,300 feet, Cerro Gordo is anything but easy to get to. The climb itself begins just outside the town of Keeler, California (3,602′) and with little to no warm up, climbs straight up a cut road through alluvium deposits. Upon entering the first of several canyons, it quickly becomes apparent that you're in for a long one. What's most striking to me is the geological formations along the road, crust upheaval towering sometimes hundreds of feet above your head. It's both awe-inspiring and somewhat disorienting at the same time. With visual distractions enveloping you on all sides, all it takes is a rock or a hole to jar you back to reality. Or in this particular instance, ice.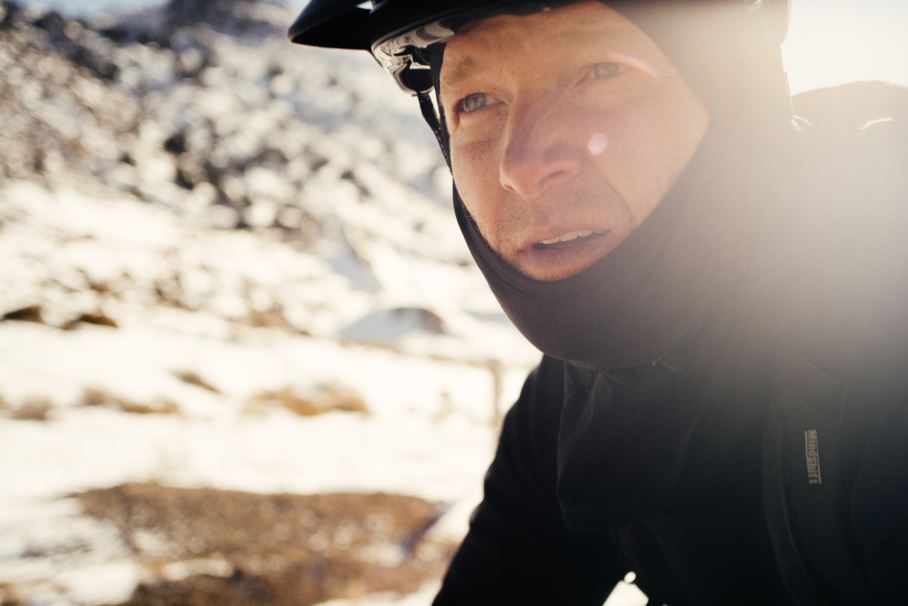 Which brings me to a very important point, dress for massive temperature fluctuations. Depending on the time of year, it can be sunny and 60º in the valley and snowing and 25º at the top. Mother Nature's temper tantrums are legendary in the Inyo Mountains and it's always best to be prepared for the worst of them. It is highly recommended to carry a rain shell, an emergency blanket, and apparel that will handle these aberrant temperature fluctuations. We'll go over more equipment protocols later in this story…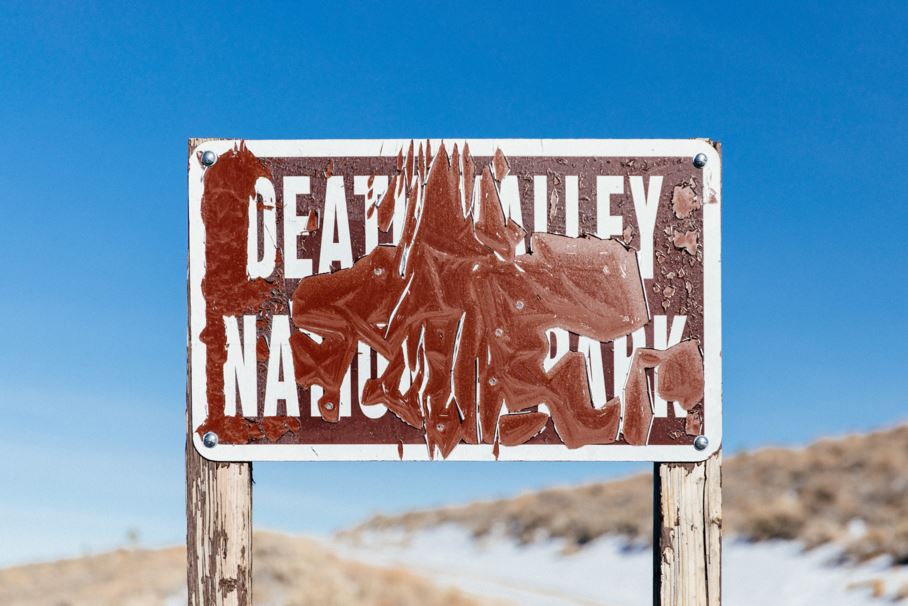 After approximately 8 miles, you'll reach the Ghost Town of Cerro Gordo where all that awaits you are textures in the form of high desert patina. There is no potable water here, so be sure you pack all you'll need for the ride. Take a break, eat lunch, and poke around the abandoned buildings. Please obey the Leave No Trace principles at all times and obey any posted signage. On the eastern side of the slope, the "road" continues down through juniper and piñon trees, around boulders, through washes and down to White Mountain Talc Road, a long, false-flat climb that used to be yet another mining route in Death Valley National Park to an old talc mine. Look closely and you'll see talc scattered in the drainage in white and red chunks. Once you enter Death Valley National Park, you know you're almost done with this climb.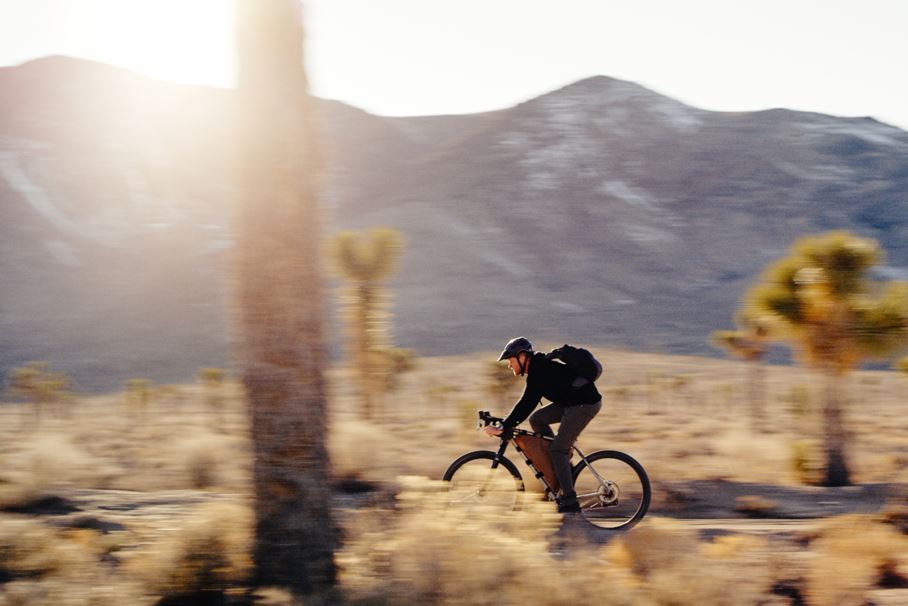 From the top, it's all downhill, with literally 40 miles of downward-trending roads left to tackle, 20 of which being pavement back to the car. Here's where the scenery shifts yet again, from evergreen trees to fields of Joshua Trees, a yucca native to the Mojave, as far as the eye can see. The roads here can vary with recent rain, but if it's been dry you can expect a ripping descent all the way to Highway 190 and the staging area where you parked. 54 miles and over 6,000′ later, you're right back where you started. Hopefully, there's still daylight left!
Cerro Gordo's mining operations may be closed for good, but as modern-day prospectors, we can mine for memories, photos, and stories.
These experiences might not fund a city as silver once did, but not all roads need to be silver or gold to solidify the feeling of a true adventure.
Equipment
Rides like this create an interesting dialog when it comes to equipment. Is it a road ride? Or a mountain bike ride? With everything we do over here at the Radavist, this discussion is relevant when it comes to selecting the right bike from your stable. Looking at this ride, it raises a few concerns, mainly being the steepness of the Inyo Mountain's western slopes. With an average grade of 9.3% and sections that sustain over 18%, a standard or compact road gearing is out of the question for us mere mortals, especially considering the need for clothing, food, water, and other provisions. The descent down from Cerro Gordo is very rocky and rugged as well. I wouldn't recommend anything smaller than a 1.75″ or 2″ tire. Overall, a mountain bike seems more than appropriate, with a wider range of gears and bigger tire clearances, but then what about the 40 miles of road riding on the other side of the mountain?
Drop bar mountain bikes, or monster cross bikes are such capable vehicles for rides like this. They allow for multiple hand positions, varied riding positions, bigger tires, and extended gearing. The problem is, getting road shifters to work with mountain bike derailleurs has always been tricky. Until SRAM AXS...
I cover the technical details of the bike HERE.
Rides like this continue to move and to motivate me, so much that stories like this take a lot of physical and emotional energy. Thank you for following along. I wouldn't have been able to share it without the help of those listed below…
This project was created with support from SRAM. Thanks to James Adamson of Drop Mediafor the video work, Moots for loaning their Baxter frame for this project and Brent Underwood from Cerro Gordo for the help!