Photos and words by Caleb Kerr
The more in need of a shower I am, the more slowly time moves. I want to enjoy every moment of life to the fullest, so finding ways to slow down time through adventures is a worthy pursuit. I grew up both cycling and camping, and bikepacking has always had a striking appeal of merging the two. Up until now, however, I'd never actually tried it. Plus, it checks the critical "in need of a shower" box.
I admire the perseverance of those who cover thousands of miles unsupported over brutal terrain on epic journeys. I'm not sure I have the time or desire to tackle something of such epic proportions, but I firmly believe that fitting adventure into my everyday life is both very doable and endlessly rewarding. And so a new frame bag and a few borrowed bags later, I was ready to roll on my first bikepacking trip. If you're also diving into bikepacking for the first time, you may appreciate some of what I learned along the way.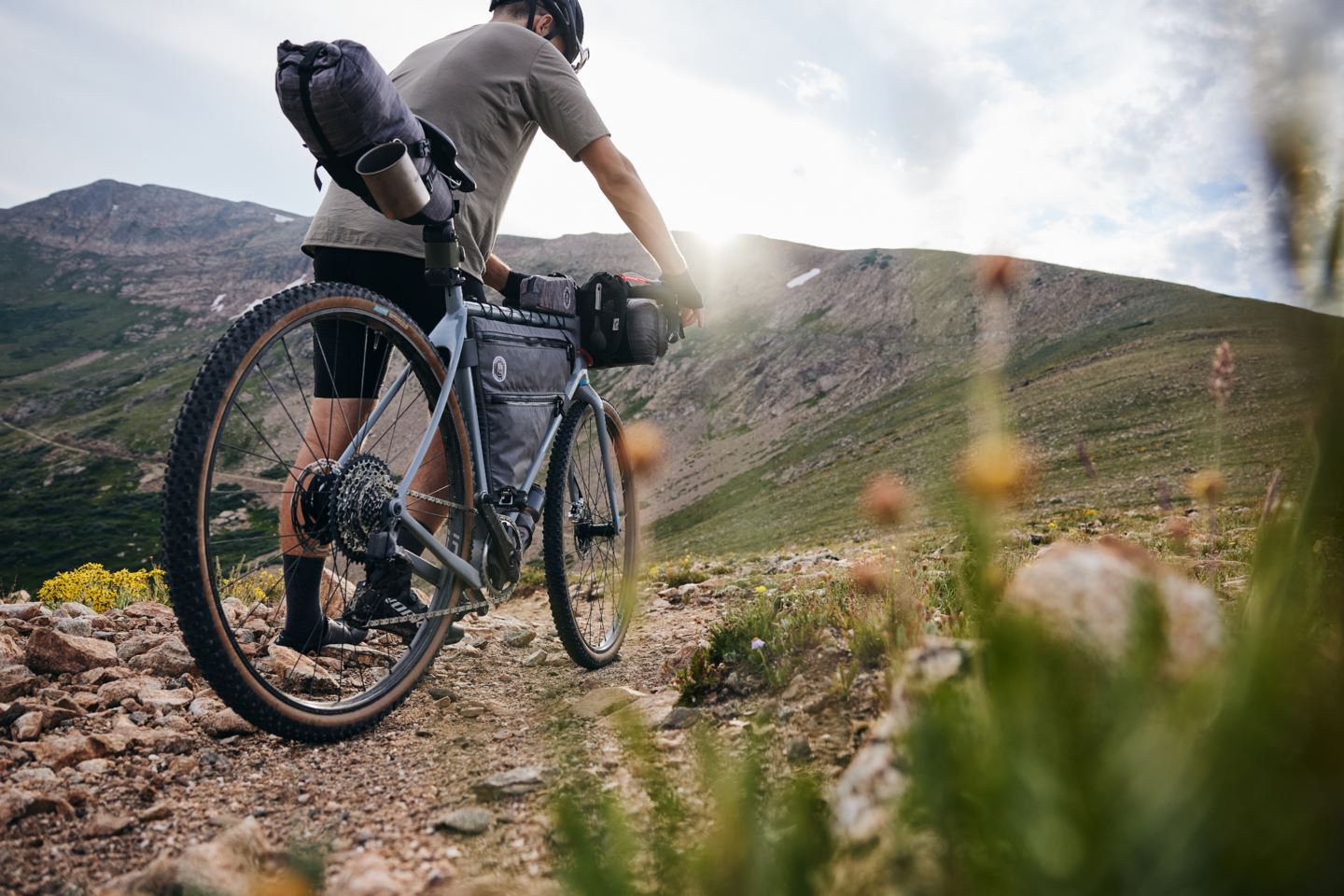 Bring a friend.
Riding with friends is better than riding alone anyway, but for your first time out, not having to face challenges alone can make everything more fun (If you sense some foreshadowing here, you are right). I figured I should recruit someone who has done it before, so I brought experienced bikepacker Josh. There's also the obvious safety benefits of not being off-grid totally alone. Your mom would also tell you to bring a friend. Riding with someone more familiar with the area is also helpful in working out the route. As my first trip, I was more focused on finding a fun and scenic place to ride and camp, and less concerned with covering lots of miles.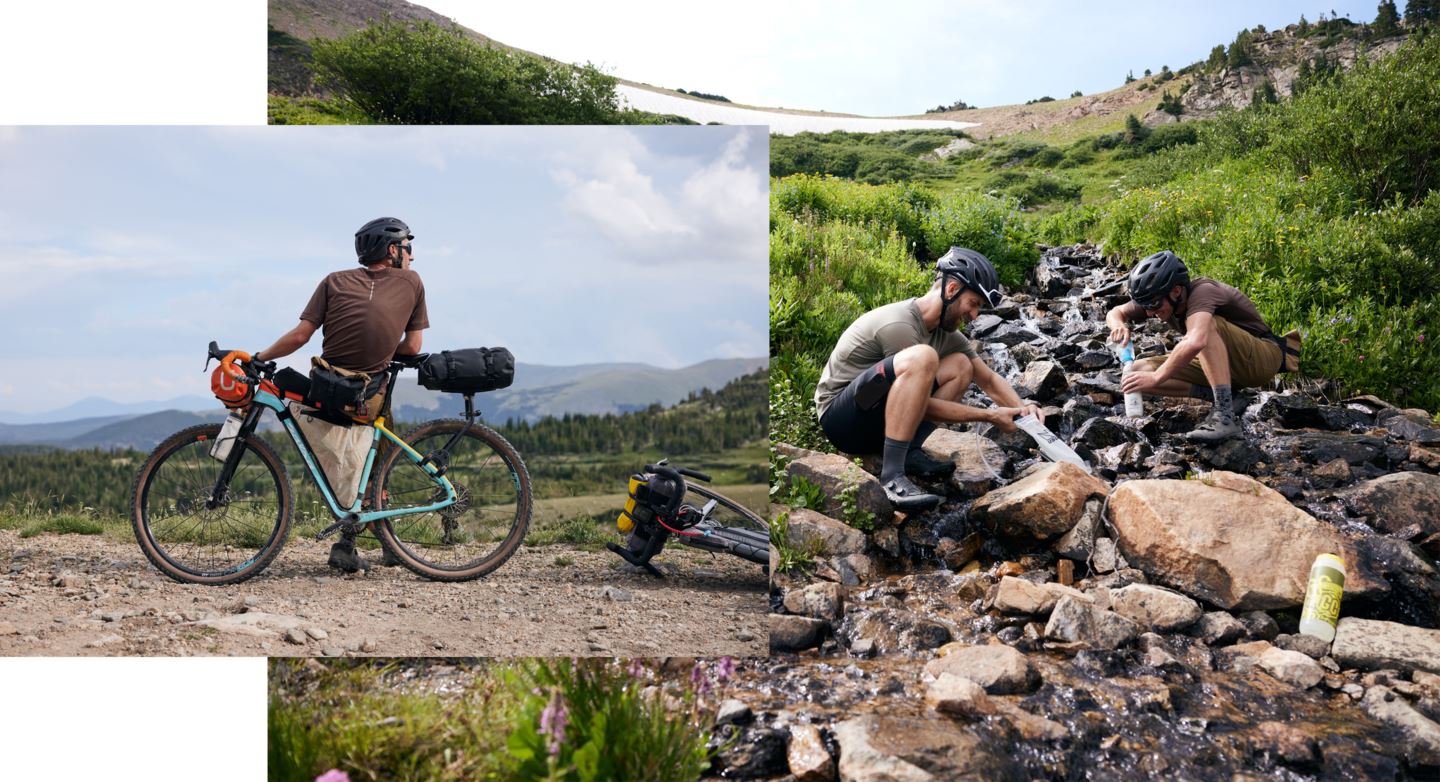 Ride a bike suited to your route.
There is no one correct bike for bikepacking, but having a bike that is suited to your route does matter. Our route ascended Rollins Pass from Rollinsville, Colorado, not far from Boulder. It was quite demanding and required a capable steed. While 3,000 feet of climbing over 20 miles isn't much on paper, the rough 4x4 trails with big, loose rocks made for slow, technical riding.
My OPEN WI.DE. with RED XPLR eTap AXS sports a 10-44T cassette and a 38T chainring. This bike doubles as my gravel race bike, so having gearing that can race one weekend and handle bikepacking the next is fantastic. The Zipp 101 XPLR wheels with knobby 42mm Rene Herse tires and TIME XC pedals also ensured the bike was up for the challenge.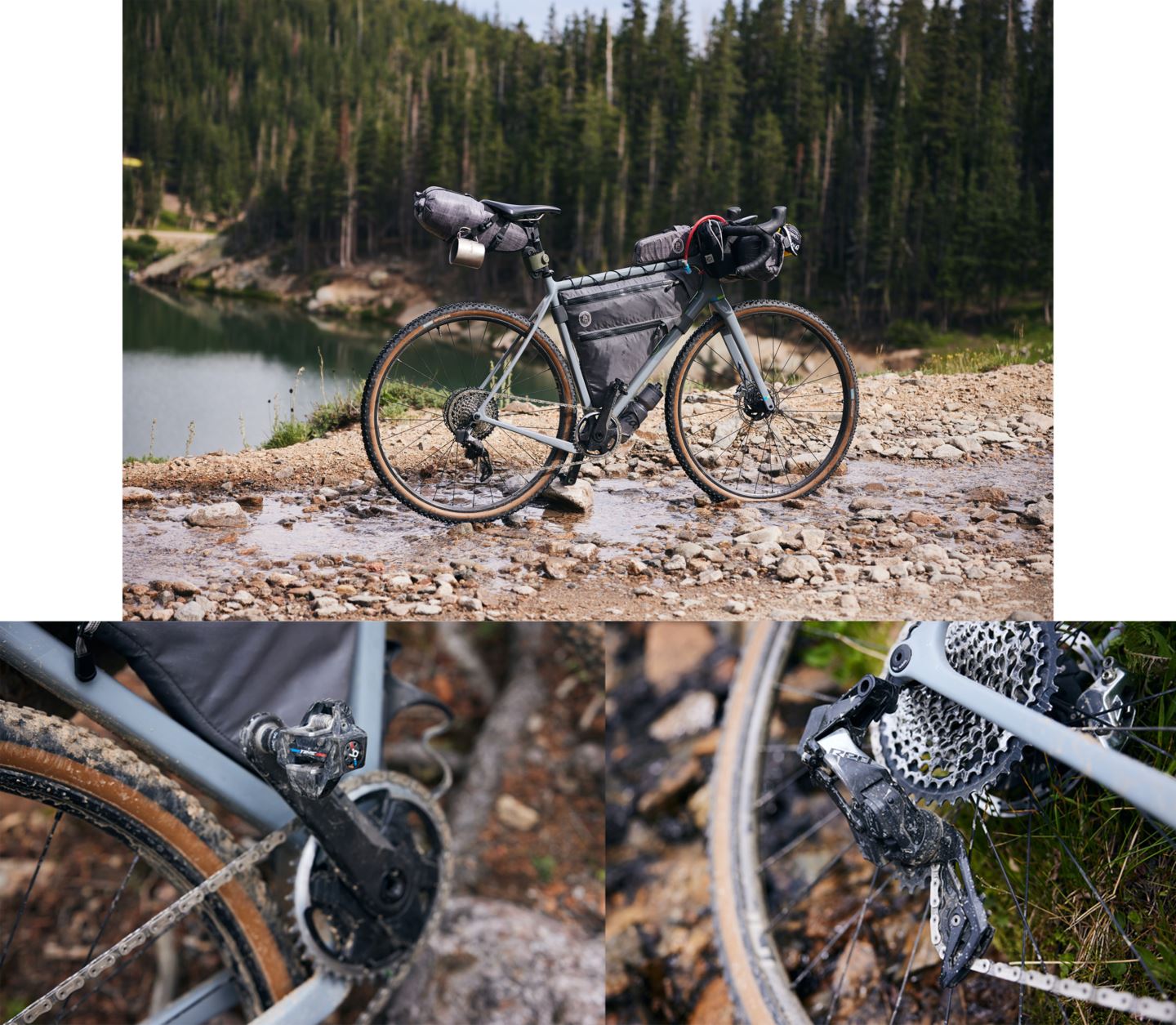 Don't sweat packing the right stuff.
When packing gear on your bike, I'll save you some trouble: You're not going to pack the right stuff, so don't sweat it. Make sure to not forget the essentials—tent, food, etc.—but there's a razor-thin line between being overpacked and being underprepared, and you're going to be one or the other, so just accept that it's not a perfect system. I've come to terms with the fact that I'm a gear junkie, and love to scrutinize every gear decision, so overthinking this was an easy trap for me to fall into. Don't stress about getting it perfect on the first try, but take notes for the future on what worked well for you.
Bear in mind that packing for a single night ends up demanding almost as much gear as a multi-night trip because you still need the same core set of gear, so don't expect to run super light just because the trip is short. If your legs can take it, it's better to start off a little bit overpacked, and as you gain experience, remove items you don't need. I'd rather have a jacket and not need it than be cold and wet on the mountain. A few creature comforts are worth the weight too—a deck of playing cards, a flask of mezcal, perhaps. Don't deprive yourself of some entertainment; your bike is already heavy.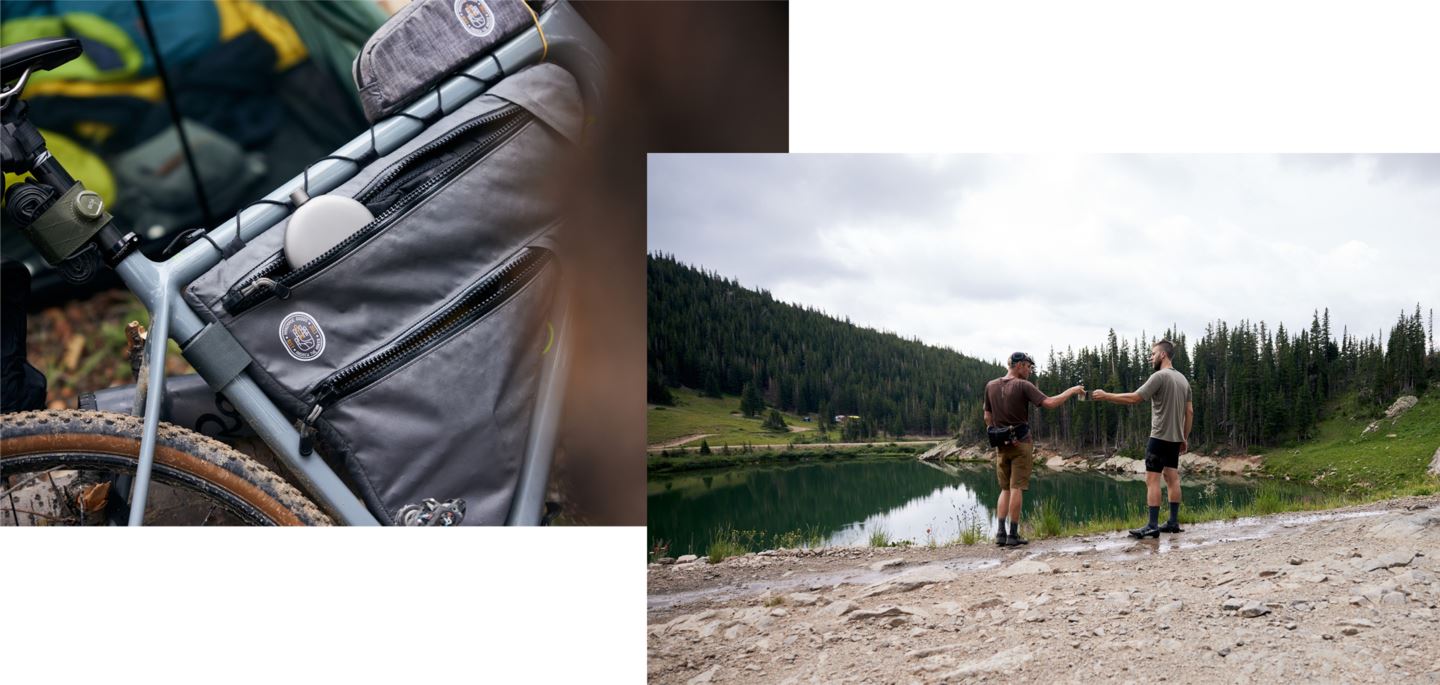 It's not a race.
The most surprising part of this ride for me was the actual experience of riding the bike, a bike that I've ridden for thousands of miles. I am pretty attuned to how it acts. At "race weight" it's around 18 pounds, but jumped to 45 pounds when fully loaded. I expected the extra pounds to simply make the effort harder, but it actually made the bike feel more planted with better traction and more inertia to keep rolling over the loose rocks, maintaining a relatively straight path through chaotic terrain. What it lost in nimbleness, it gained in momentum, which felt powerful and stable. Being able to keep everything moving while at a comfortable cadence requires adequately low gearing, and my largest cog (44T) really earned its keep. I found the whole rig incredibly pleasant to ride and handle.
Sure, the heavy bike meant riding slower. I found riding a heavy bike uphill all day was a mental shift away from my typical goal of riding fast. Instead, it was slow burn. I just kept spinning my legs and kept my heart rate lower than normal, and I felt like the Little Engine That Could, slowly but surely making my way up the mountain. It's not a race. Go whatever speed feels good, take in the scenery, take breaks, and enjoy the ride. Just like the good Texas barbecue back home in Austin, good pacing is slow and low.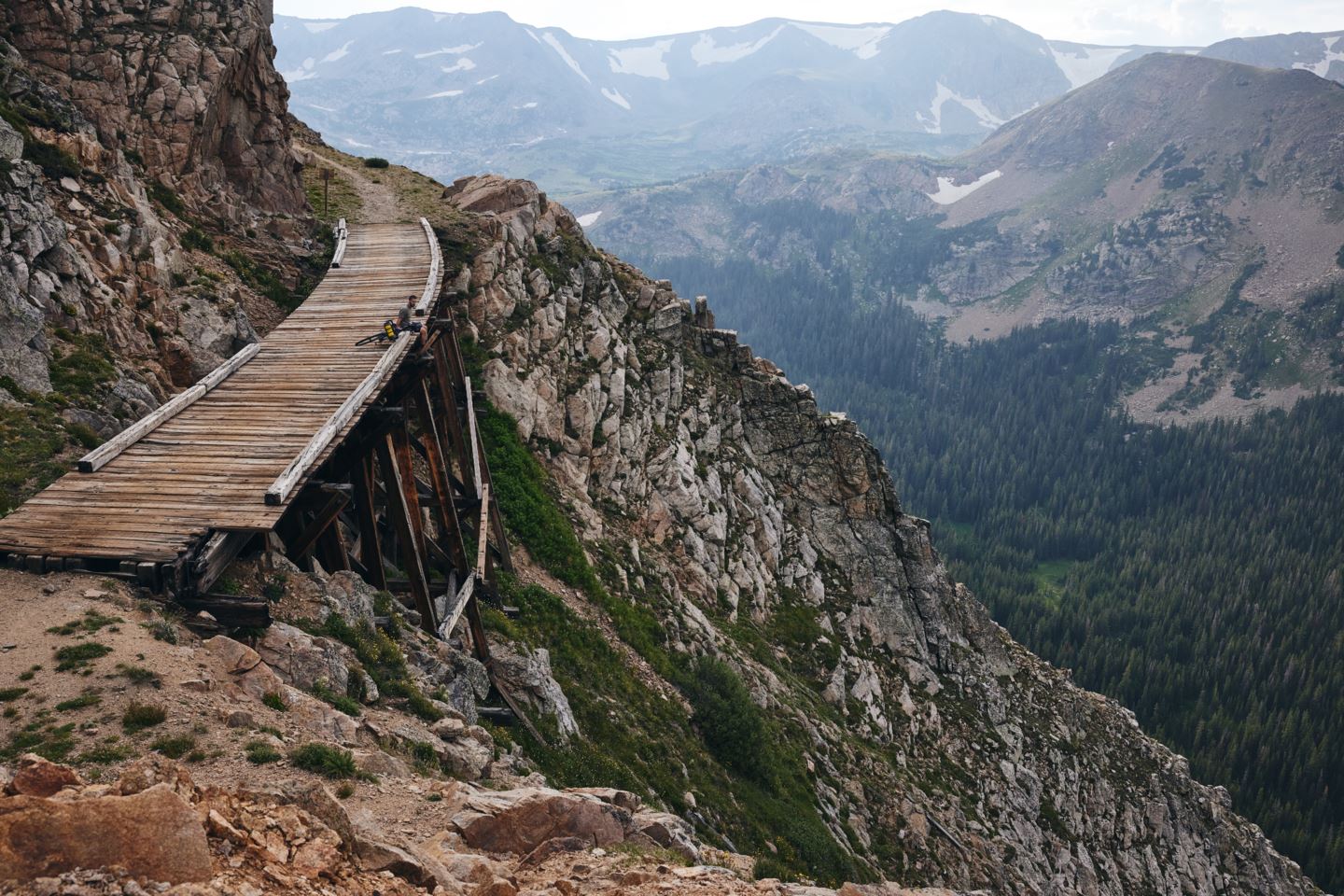 Give yourself plenty of time.
We made it to the summit of Rollins Pass, topping out at 11,700 feet after a short but brutal hike-a-bike section at the top, but the juice was worth the squeeze.
We were having such a good time riding and taking photos, that we severely overestimated what kind of distance we'd be able to cover, which resulted in a very rushed campsite setup as dusk turned to night, and the mosquitoes came out in full force. Even knowing we were going to move slow, we still undershot it. So, give yourself plenty of time to enjoy setting up camp once you arrive.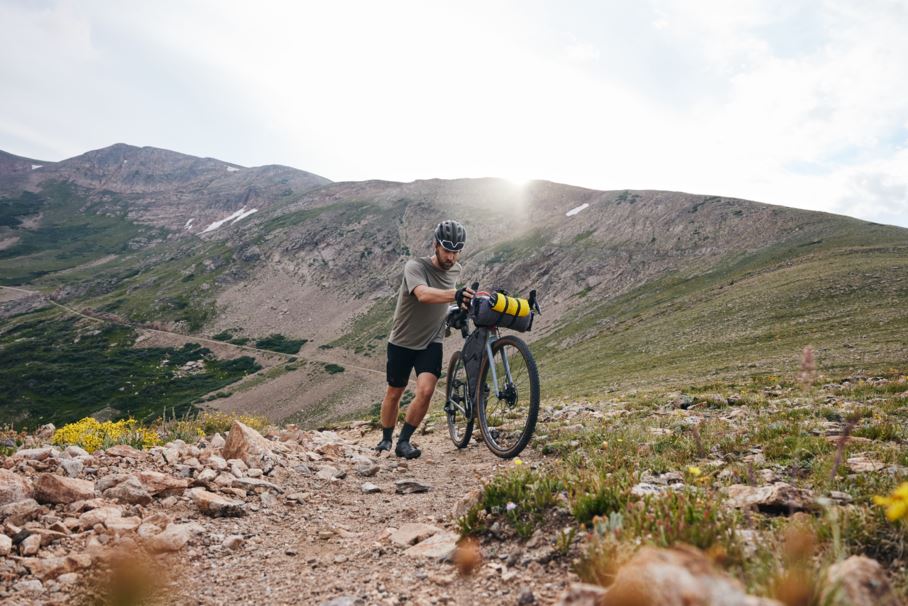 Listen to your gut.
Our route was an out-and-back, so on the ascent we had scoped out a great campsite by a lake, then a quarter mile up the trail, saw three large moose. As it turns out, the moose agreed with us that the lake was a good spot. This resulted in me hearing, as I was dozing off to sleep in my tent at 11:00 pm, a loud clattering noise and Josh whispering from his tent, "I think that's a moose. What do we do?" We had a quiet back-and-forth about whether we should stay or pack up our tents and move to a new location further away. Ultimately, we didn't know the answer. So we followed our guts and decided to pack all our gear back onto our bikes and find a new site.
When we got out of our tents in the pitch black and looked 50 yards away toward the lake, sure enough, six wide-set eyes were staring back at us. We then rode the sketchiest one mile of our lives with underpowered headlamps as our only source of light, until we looked for a new site. It could have been fine to stay, but listen to your gut. We didn't know what the right call was, and still don't, but we put pride and fatigue aside, and relocated to give the moose their space.
Our new site was terrible. I punctured my sleeping pad on a sharp stick (thankfully a patch fixed it), and it was on a pitch so steep that we spent all night sliding down to the foot of our tents. 0/10. Do not recommend. Lesson learned: Avoid large wildlife next time.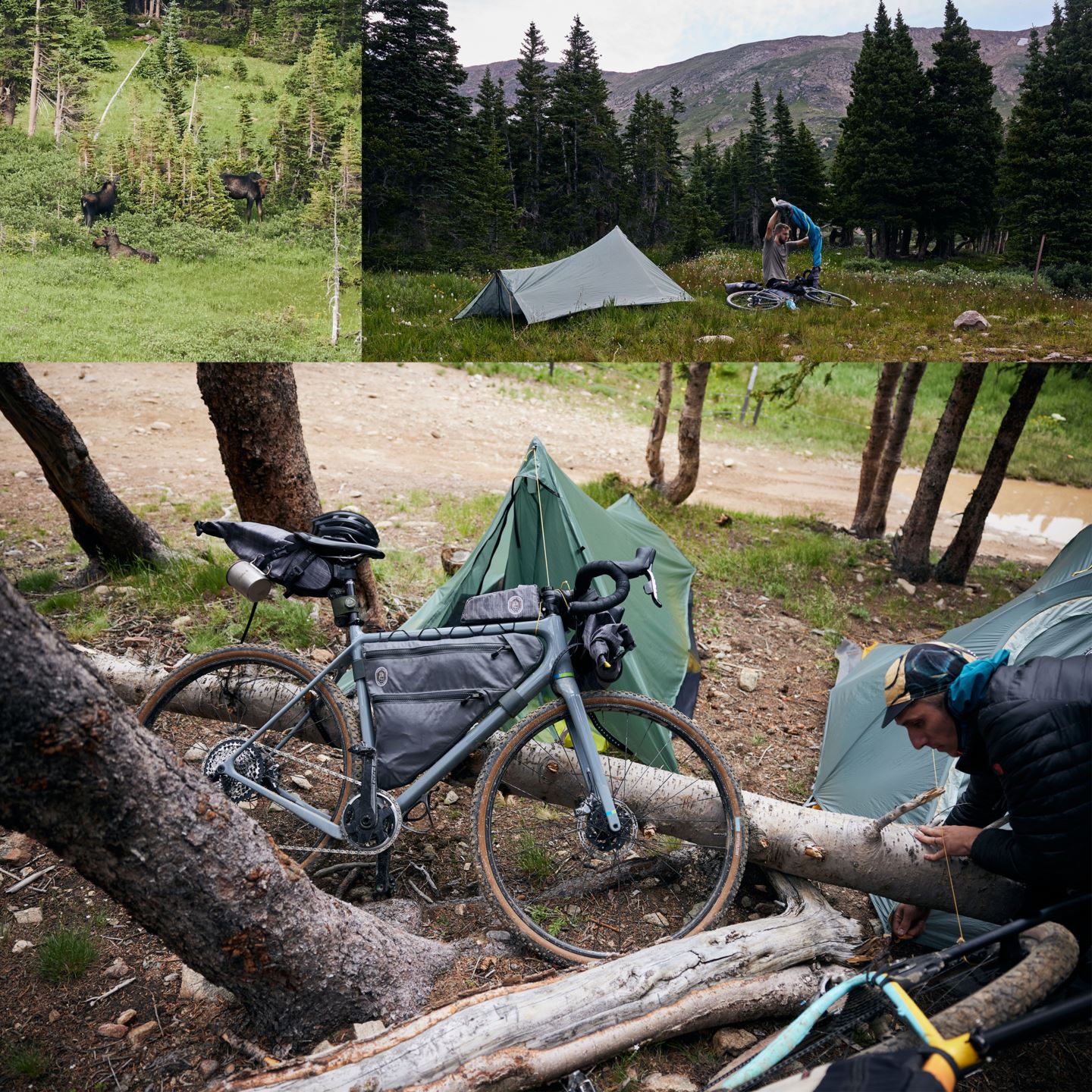 Emails can wait 'til tomorrow.
In the morning, after filtering water and making coffee, the ride back down was fast and easy. The rain only rolled in for the last few flat miles before getting back to our cars. A piping hot cup of coffee and breakfast burrito in Nederland made up for the terrible night of sleep, followed by a short drive back to Boulder.
Time can slip through your fingers if you don't keep track of it, weeks and months blending together as we enact our daily routines over and over. But I find that life doesn't fly by when I shake things up, even just for a day. Each sip of instant coffee and bite of a dehydrated beef stroganoff tastes better than a five-star meal when you are on top of a mountain and got there under your own power. Emails can wait 'til tomorrow.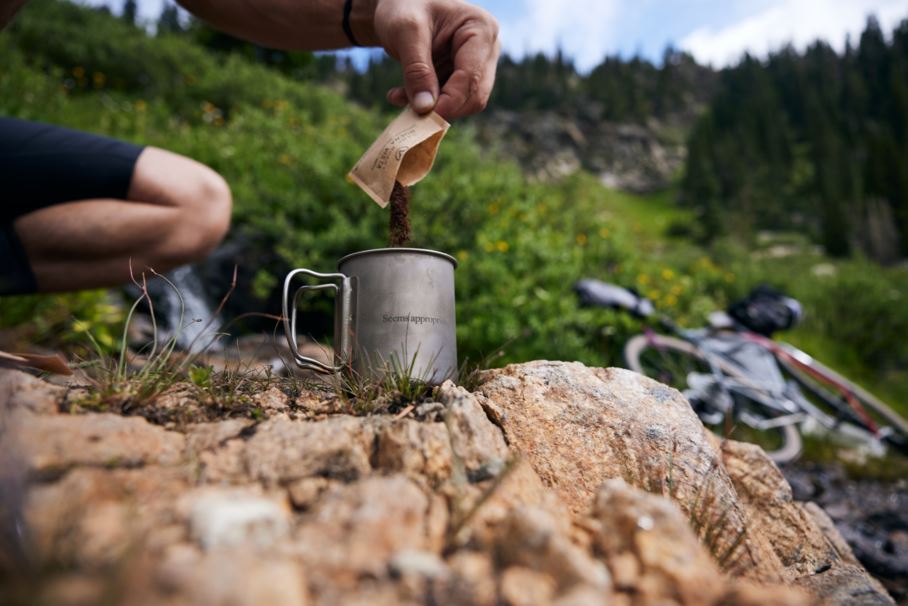 Caleb Kerr is a photographer based in Austin, TX, who likes to work and play in the American West with his camera and bike. When he's in Austin, you can catch him on Saturday mornings riding with Breakfast Club. You can find his work at calebkerr.com and @calebkerr.