By José Been
She rides around in the distinctive jersey of the Pan American champion, wears Christmas lights on her helmet and brings her dog Mia to the cyclocross races. For Maghalie Rochette, cyclocross is serious business but also something to have fun with and fun about.
We talked to the Canadian rider while she prepares for the World Championships later in January in Oostende, Belgium, the heartland of cyclocross.
"It's really simple," she says. 'If you want to improve in the sport of cyclocross you need to be in Belgium. When I first came here it was pretty daunting. This is the biggest and strongest rider field in the world. The racing here is the best of the best and that challenges me every week again. Being away from home is hard and also the fact you need to find your place in a new country and a new peloton isn't always easy."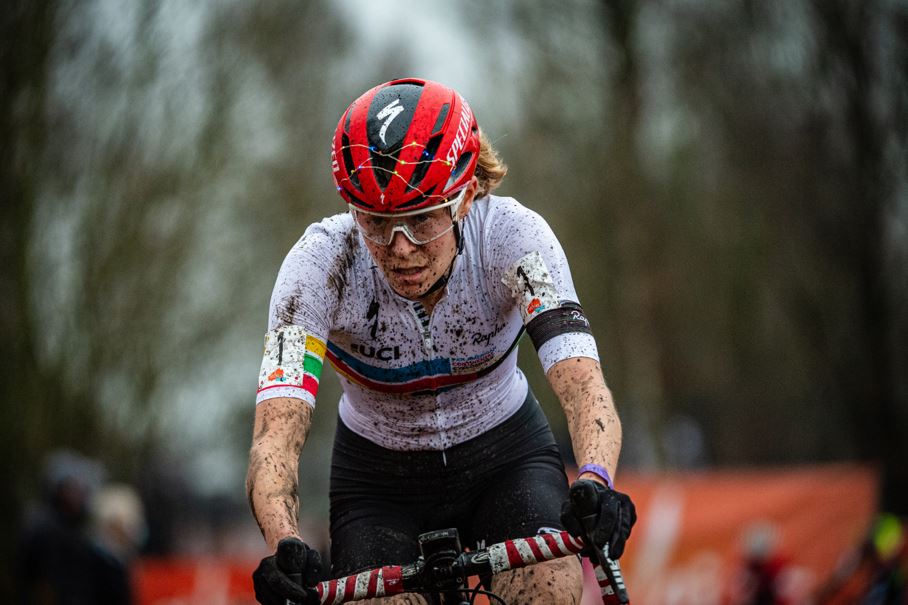 Photo by Billy Ceusters
At home you know where to train, where to get your food, the peloton knows you. Going to Europe is getting out of that comfort zone in many aspects of life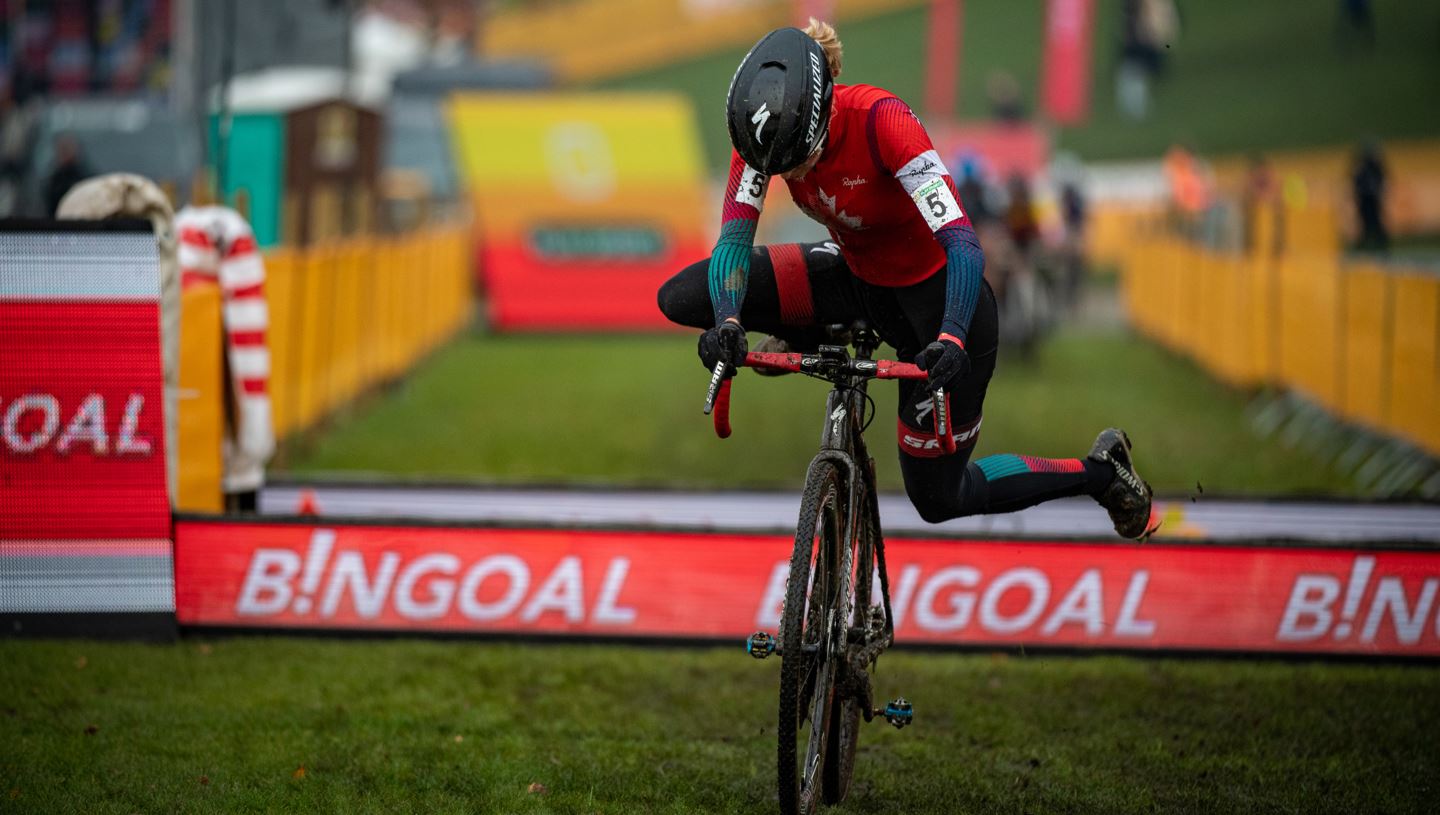 Photo by Billy Ceusters
Rochette doesn't travel alone though. Together with boyfriend/driver/mechanic/soigneur David Gagnon and Duck Tolling Retriever Mia she forms her own team: Specialized Feedback Sports. SRAM has been supporting her for the past three seasons.
It all started many years back in a town just north of Montréal. Rochette comes from an active family and did a myriad of sports when she was younger. During her high school years, she started with triathlons until a foot injury ended that pursuit. She started focusing on the bike more and more. When a friend introduced her to a local cyclocross race one day it was love at first sight.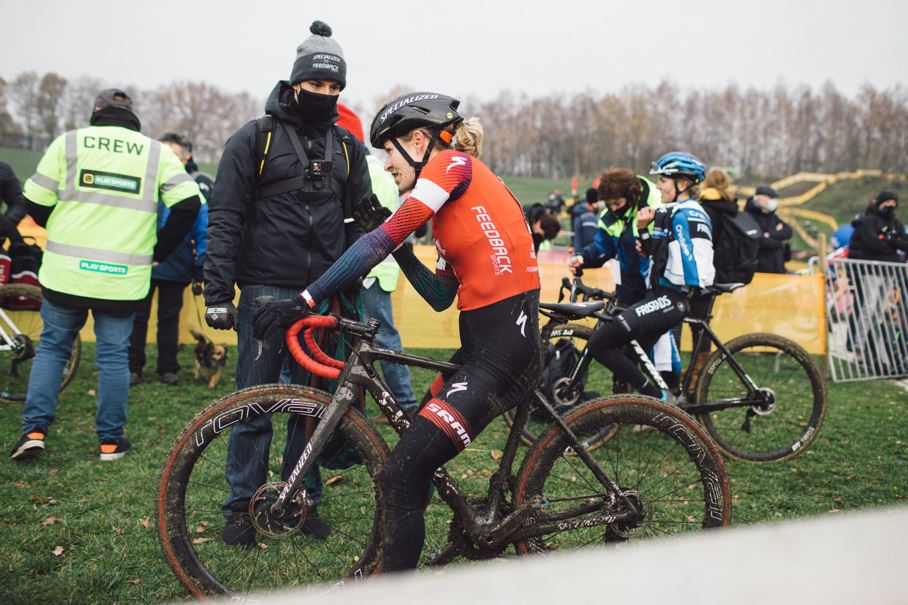 Photo by Balint Hamvas
"I was working in a running store so I had a little bit of money. I bought a cheap cyclocross bike and was hooked right from the start. The races are short and intense. I just love it. I started to train specifically for cyclocross as well and started racing in the United States. When I felt ready, I made the step to Europe too."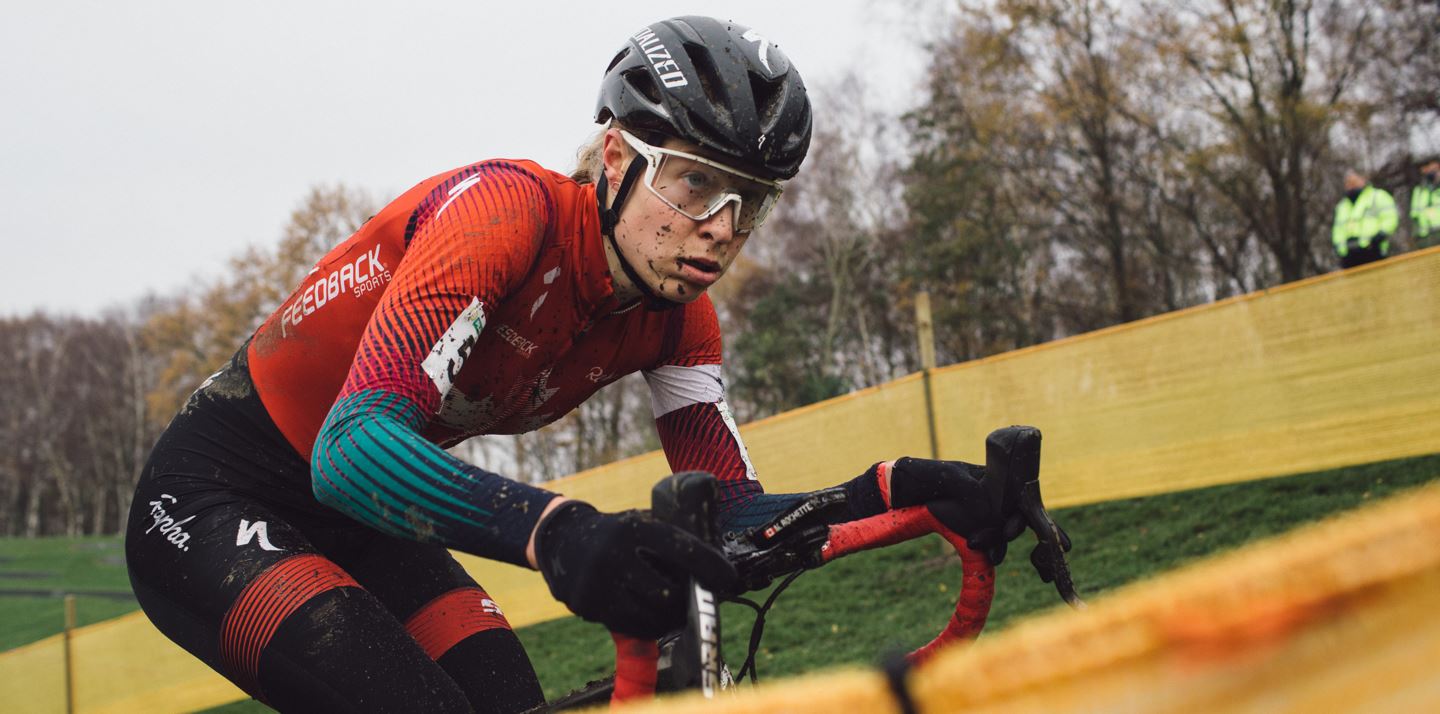 Photo by Balint Hamvas
The cross scene in the United States and Europe, centered in Belgium, are totally different, Rochette explains. "Cyclocross races in the US are events. People arrive there on a Friday night with the whole family. Everyone enrolls in a race, from the smallest kids to the parents. At night they camp together and have BBQ's with other contestants."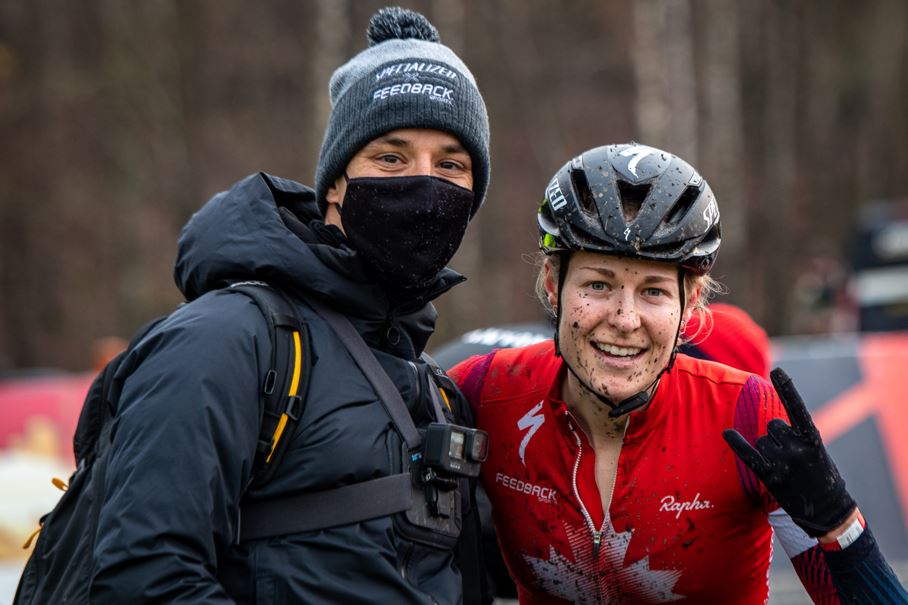 Photo by Billy Ceusters
It creates a great vibe. When the pros race, they are the spectators but because they have also ridden the course, they feel more connected to the riders. In Belgium going to a cyclocross race is leaving your home in the morning and going back at night

Photo of Mia and Maghalie by Lizzie Haumesser
North American racing has been almost nonexistent during the COVID pandemic. The riders and the crowds really missed it, Rochette knows for sure. She hopes the sport will bounce back next season.
"The way I see it this could go both ways. In North America most teams are sponsored by bike-related industries. They mostly weathered this crisis because cycling has become really popular. I was talking to the CEO at SRAM the other day and we both hope this boost in cycling will have a long-lasting effect on our culture towards bikes. We hope it creates changes in the north American bike infrastructure. On the other hand, the lack of racing could scare sponsors away. The World Championships in Fayetteville, Arkansas and the rumored UCI World Cups in the US next year could be a lifesaver for the sport."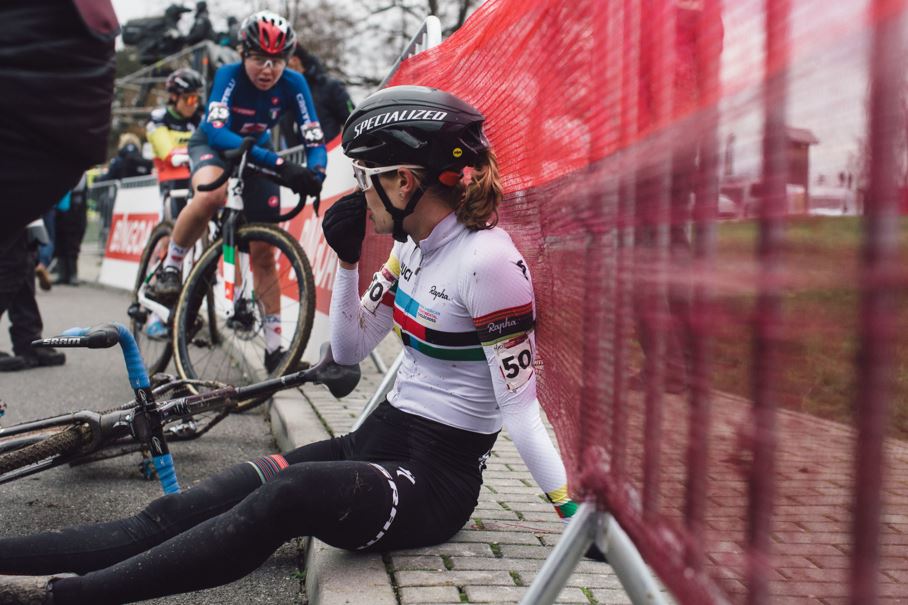 Photo by Balint Hamvas
Rochette wants to give a shout-out to Katie Compton, the 15-time American champion who has been part of the European and North American cyclocross scene for many years.
"She was the first American rider making her mark in European races. It takes time to gain respect in the European peloton. Katie really paved the way for me and other North American riders. She still takes time to share her tips about racing with me but also about living in Europe. It shows she is an amazing person as well as an amazing athlete. I am very grateful for her help and hope the cyclocross world gives her the biggest of goodbyes next year in Fayetteville."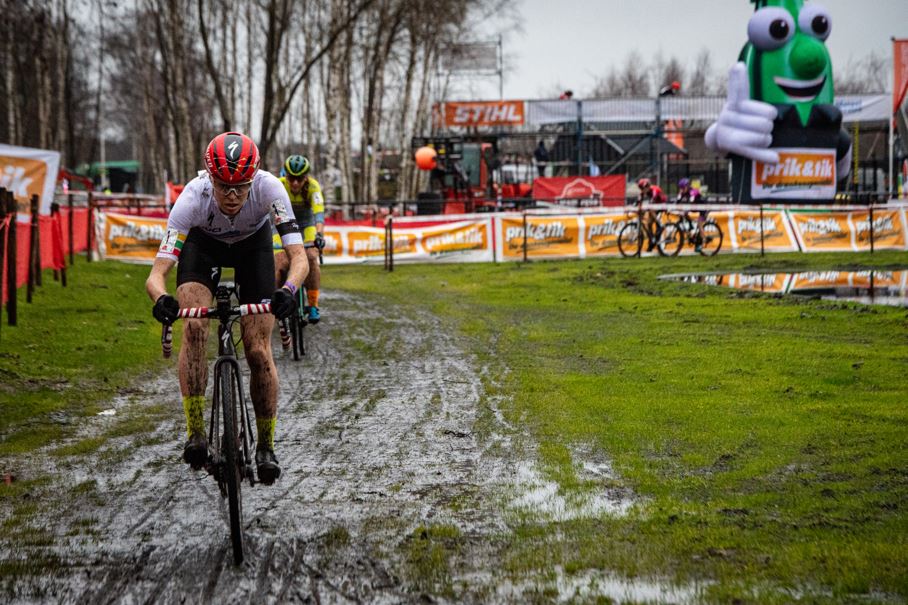 Photo by Billy Ceusters
Rochette got her biggest win on American soil. In September 2019 she won the first UCI World Cup of that season in Iowa City. She made the difference on a steep hill for which she did some special preparation.
"Next to my house in St Adele is a ski hill. It's a short effort of about 45 seconds. I knew that the course in Iowa had the same sort of hill called Mt. Krumpit. The men could ride up but I knew the women would run, especially when the surface is muddy. I did many, many repeats up that ski hill next to my home to prepare. And won that race in Iowa."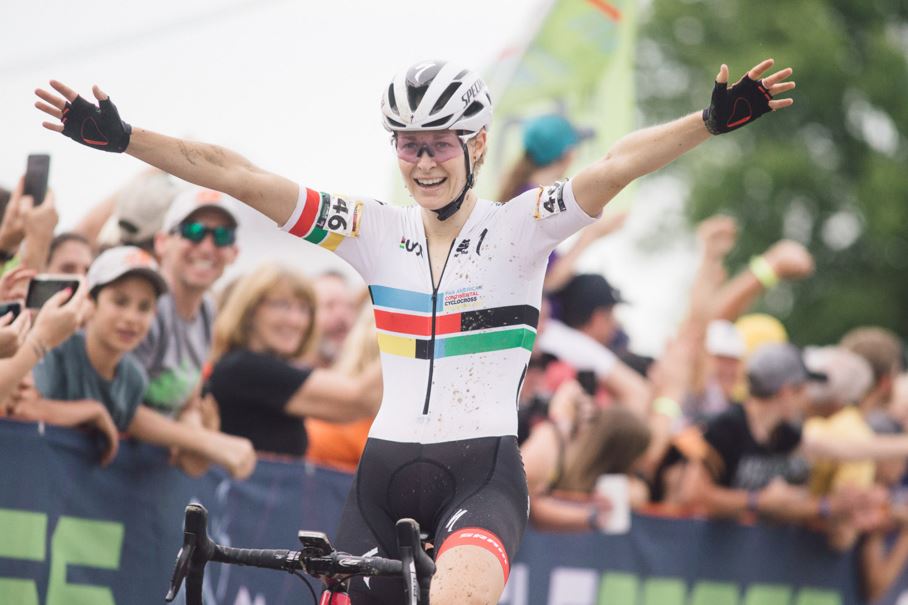 The best results for an athlete are not always reflected on the results sheet. Rochette has won many races in North America but this year it was a European season only for the Canadian rider. She singles out two races she is most proud of.
"My second place in an early season race in Switzerland just behind Denise Betsema stands out. Also, the Superprestige in Boom was a great race this season. I only learned recently Boom means tree. Isn't that funny for a cyclocross race? It was a cold day and a hilly course. I sometimes struggle to keep my position in the pack but here it was every one for herself straight away. I was almost at my peak form I wanted for the very hilly World Cup race in Namur. Unfortunately, I got injured before Namur but that seventh place in Boom gave me the confirmation I had it in me and that I was on the right path."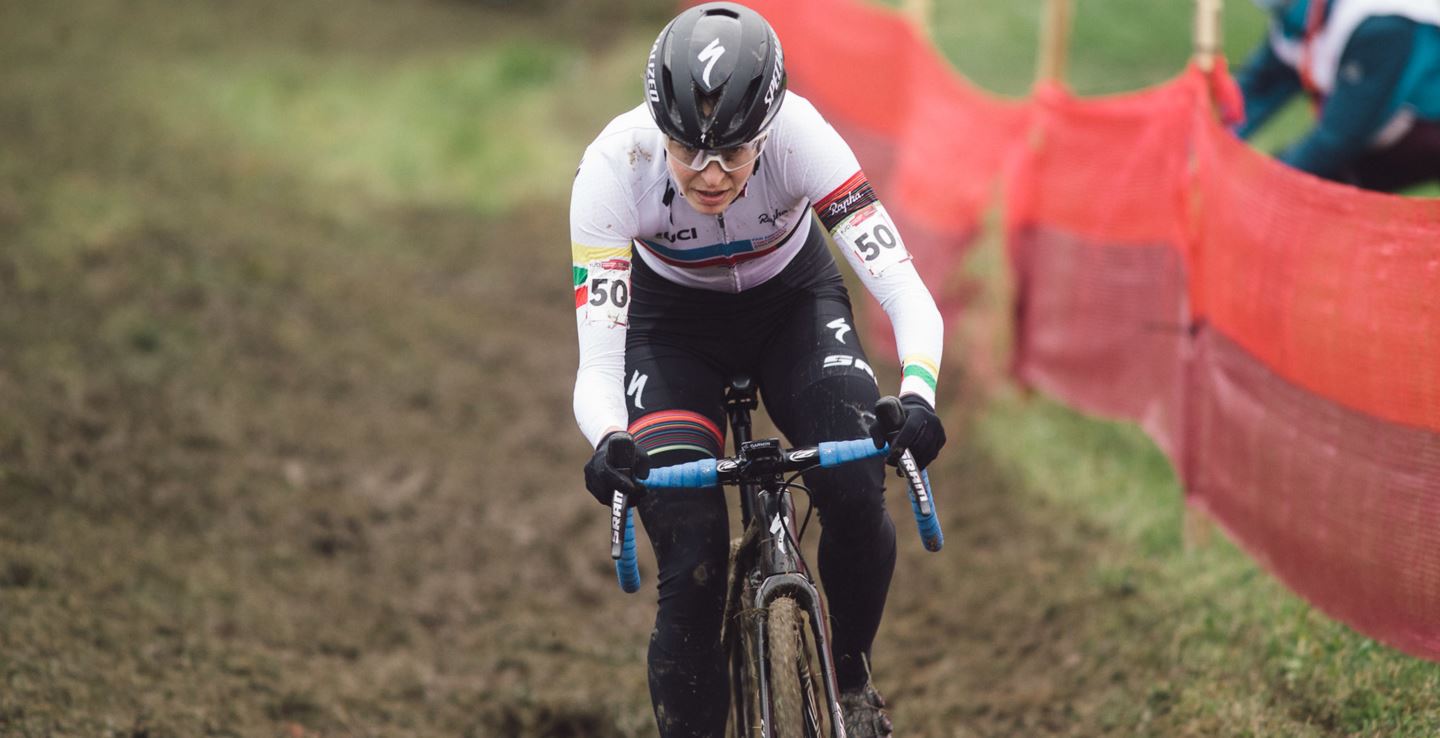 Photo by Balint Hamvas
Boom was also the place where Rochette found out how versatile eTap AXS can be.
"I had been riding a SRAM RED eTap AXS 1x with a 38t chainring. I didn't want to go any smaller to be honest. Maybe that was a psychological ego thing? In Boom the course was so hilly that, before the race, I wasn't sure about the 38. I quickly had David move the 48/35 2x crankset and front derailleur from my training bike to my race bike. I stayed on the 35 inner ring all race and found out how great that was.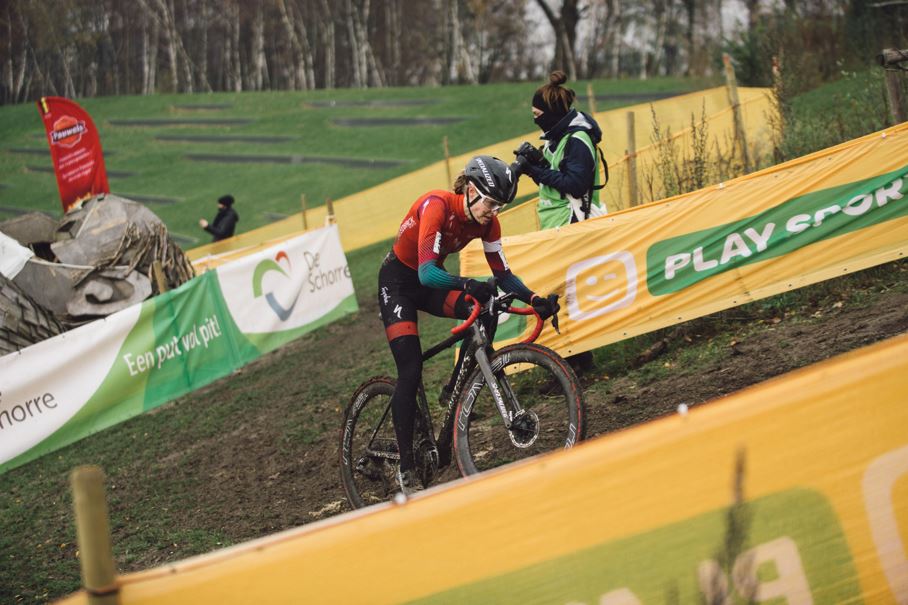 A rare shot of a SRAM athlete racing CX on 2x. Photo by Balint Hamvas
Now I usually race a 36t and I find that gives me the entire ratio I need, especially with the 10-33T 12 speed cassette.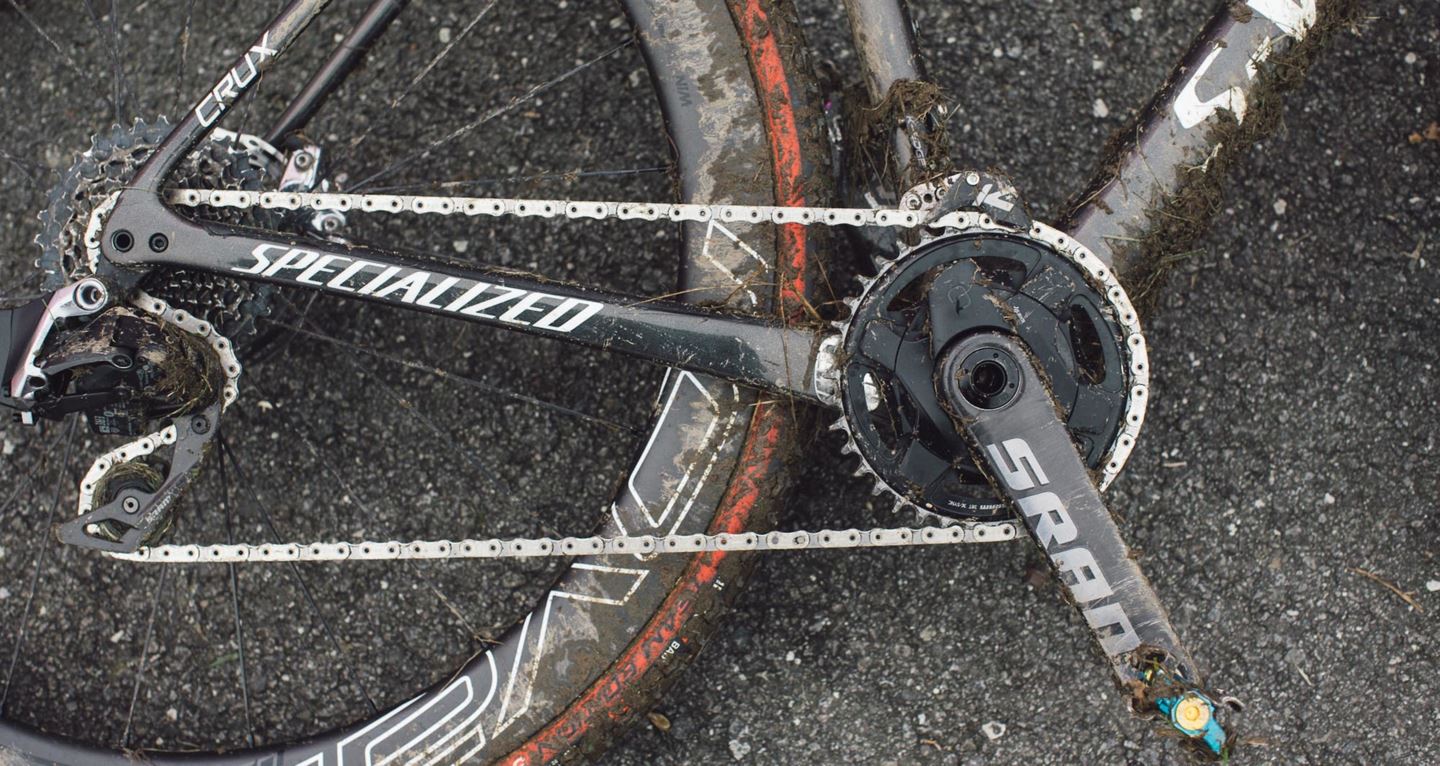 Photo by Balint Hamvas
"There are races like Zolder where you have such a fast flat start that a 36 makes me spin out of control. That's where I use a 38 now but on other races the 36 ring is great. Riding 1x also means I have one less thing to think about, namely when to change up front while racing. That's a bonus in a 45-minute super intense race where you have to make so many decisions already."
Next up for Rochette are the World Championships in Oostende. In 2017 she finished fifth on the technical, rocky and slippery course in an old quarry in Bieles, Luxembourg. Oostende, on the Belgian North Sea coast, is going to be a sand course.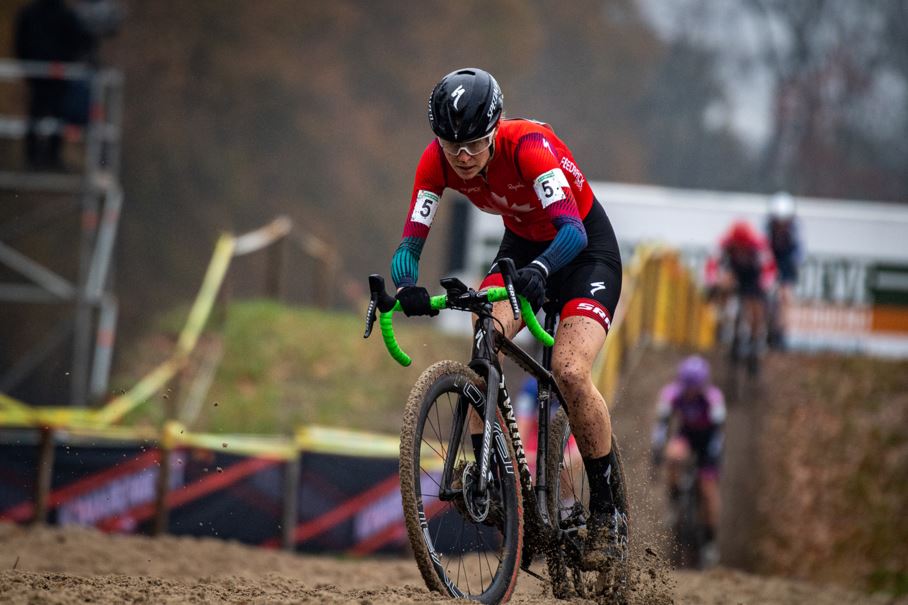 Photo by Billy Ceusters
"Maybe the course doesn't necessarily suit me well but that's cyclocross too. You have a different course every week and you need to be good all-round. Also, the World Championships are always a special event. It feels like a brand-new day with brand new possibilities. I am a good runner so that could be a bonus in the sand that day. I see the World Championships as a last chance this season. I had an injury and the season was already short so I want to take this last chance to finish the season strong."