She's young but she's already making her mark. 18-year-old Katie Clouse may have only just started college, but she has years of CX racing experience under her belt. Having already won multiple UCI Elite races, she added Collegiate and U23 National Champion jerseys to her closet this season. We checked in with the rising star after her first preride of the World Championship course in Dübendorf, Switzerland, ahead of the U23 Women's World Championship race on Sunday.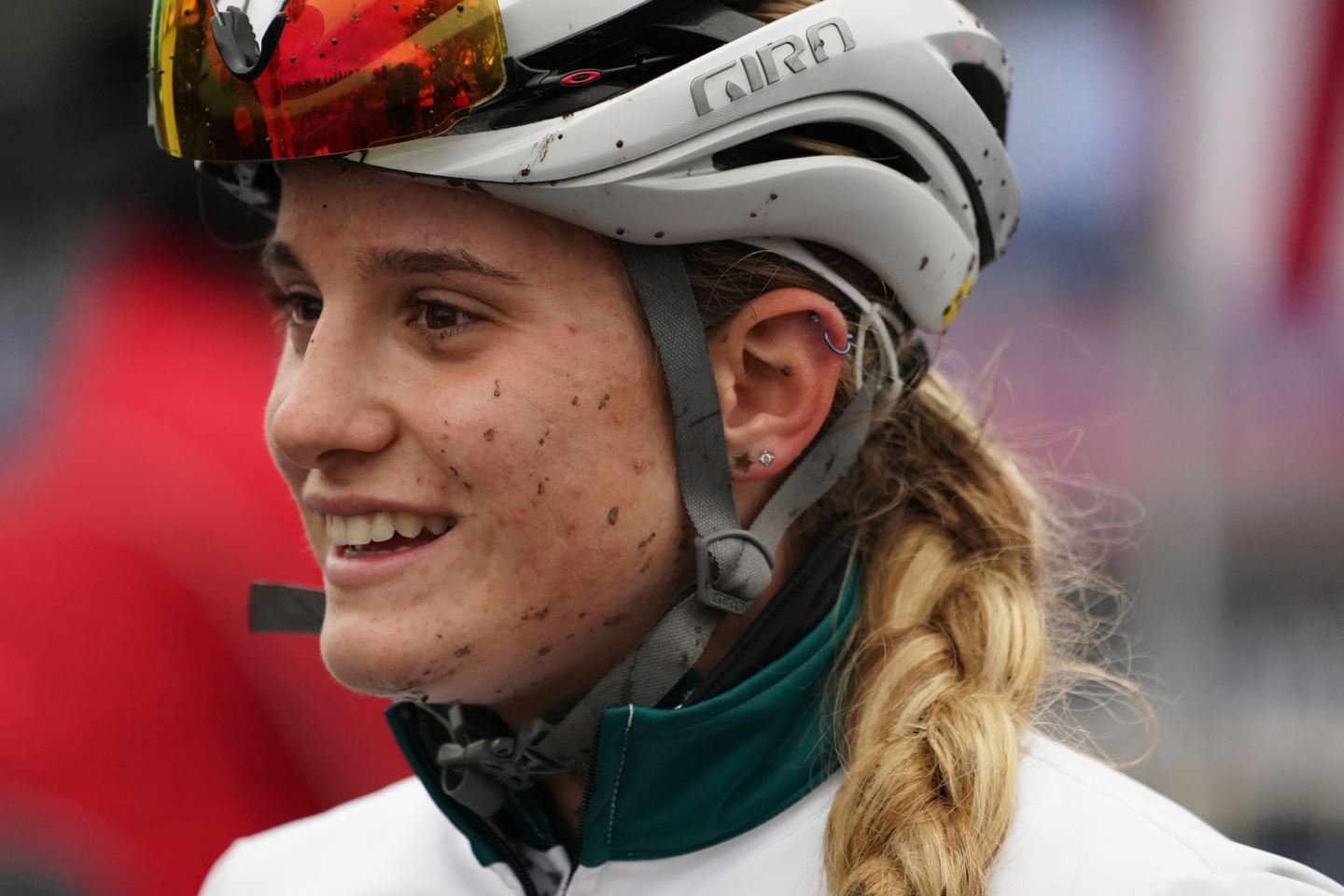 You've been racing for a long time, but this is your first year with Cannondale-Cyclocrossworld.com, a big team. What's it been like being a part of that group and working with Stu Thorne?
It's been awesome. It was a big change, but the support is incredible. Working with Stu, and having Stephen [Hyde], Curtis [White] and Kaitie [Keough] as my teammates has been awesome. They've provided a lot of help and I've made a lot of changes in my program, and I've seen a lot of improvements. I've learned a lot from them this year. It's been a year for learning and growing.
You had a huge weekend at US Nationals (winning the Collegiate and U23 races). How did that feel?
It was great! I felt really good that week, so I was happy with the result. I hadn't been feeling the weeks before, so it was a good confidence boost to come to Nationals and do well.
Is it difficult going into a weekend like that as the favorite?
Yeah, there's always gonna be pressure for Nationals, but I'm trying to teach myself to calm down before races. When I get too nervous or anxious I just start crashing a lot, so I'm trying not to do that anymore!
What's the plan after World Championships?
I'll take a couple weeks off, but then go right into road and mountain training. It's a full year of racing.
Do you prefer to be constantly in race mode rather than taking a big rest period?
Yeah. I thought about wanting to specialize in just one discipline, but I couldn't see myself not racing for six months. I like racing all the time; it keeps it fun. I love training, but I don't want to do it for months at a time, and not be able to race and see how I perform.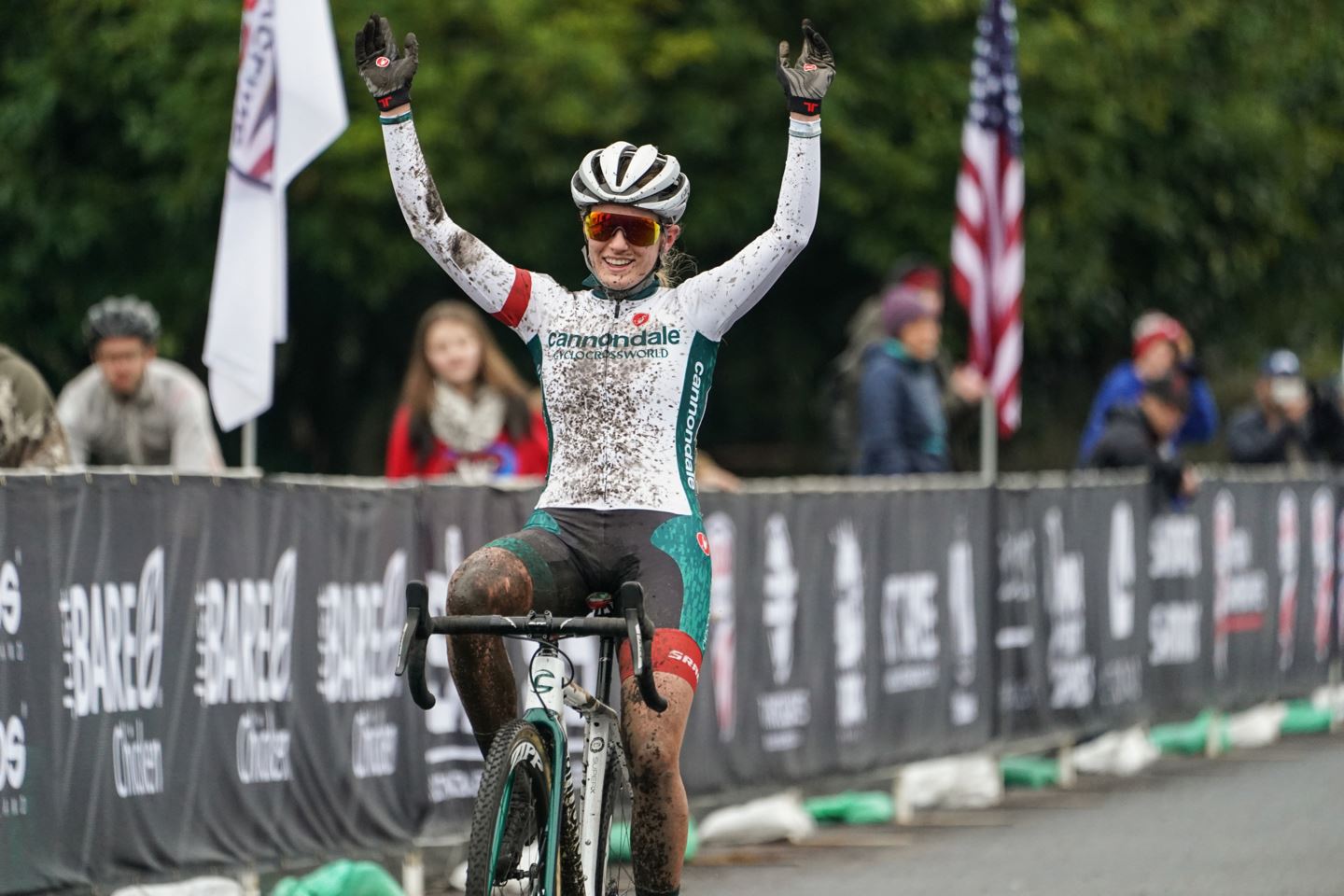 You started college in the fall. How has it been balancing schoolwork with a full race program?
Yeah, it's been interesting! [laughs] It's been hard, but I'm balancing it, and working with professors, and they've been good with me and my schedule. I go to Colorado Mesa and cycling is a varsity sport there, so they've been helpful. I'm in pre-nursing right now, but…[laughs] we'll see!
What are your expectations for this weekend?
A big goal is the podium. It depends on how I feel and how the race plays out. I don't really know what the course will be like yet, because I think it will be totally different than today's preride. It's so bumpy out there, but it's going to rain the next few days and I hope it gets muddy. I don't like bumps! I want some ruts.
Do you generally prefer mud?
I like fast racing, but I like technical stuff too. Lots of ruts, cornering, mud; I like that. I'm really working on my power. The long stretches of tractor-pull stuff are not my specialty, so it'll be interesting. I feel like it's going to get like that. Right now it's super bumpy; it's impossible to ride! I was going to do some intervals, but did them on the trainer instead!
What's your favorite thing about eTap AXS?
I love 1x! And just thinking one hand easier, one hand harder, it's so cool.
How do you like racing on 303s?
I love them! They're light, reliable, and awesome. They're great to race on. Having great product has been one of the biggest things about coming to this team.