Wine and cheese. Massages and pan flute music. Monster trucks and old RV's… some things that might seem like mismatches at first, turn out to be perfect pairings. Like putting a mountain bike drivetrain on a drop bar bike.
There's something almost magical about taking a drop bar bike on a crazy adventure. Like connecting a rolling highway to a gravel back road by riding through some old jeep tracks. Or, riding 20 miles (32km) to a dirt road that goes up a mountain where you take a couple of singletrack shortcuts to get to the top before bombing back down the other side and then pedaling 40 miles (65km) home on tarmac… Yeah, that's the kind of riding we're talking about. And even if you take the fun of riding an incongruous bike out the equation on a mission like this, the fact remains: a drop bar bike with a mountain bike drivetrain is still the best tool for the job.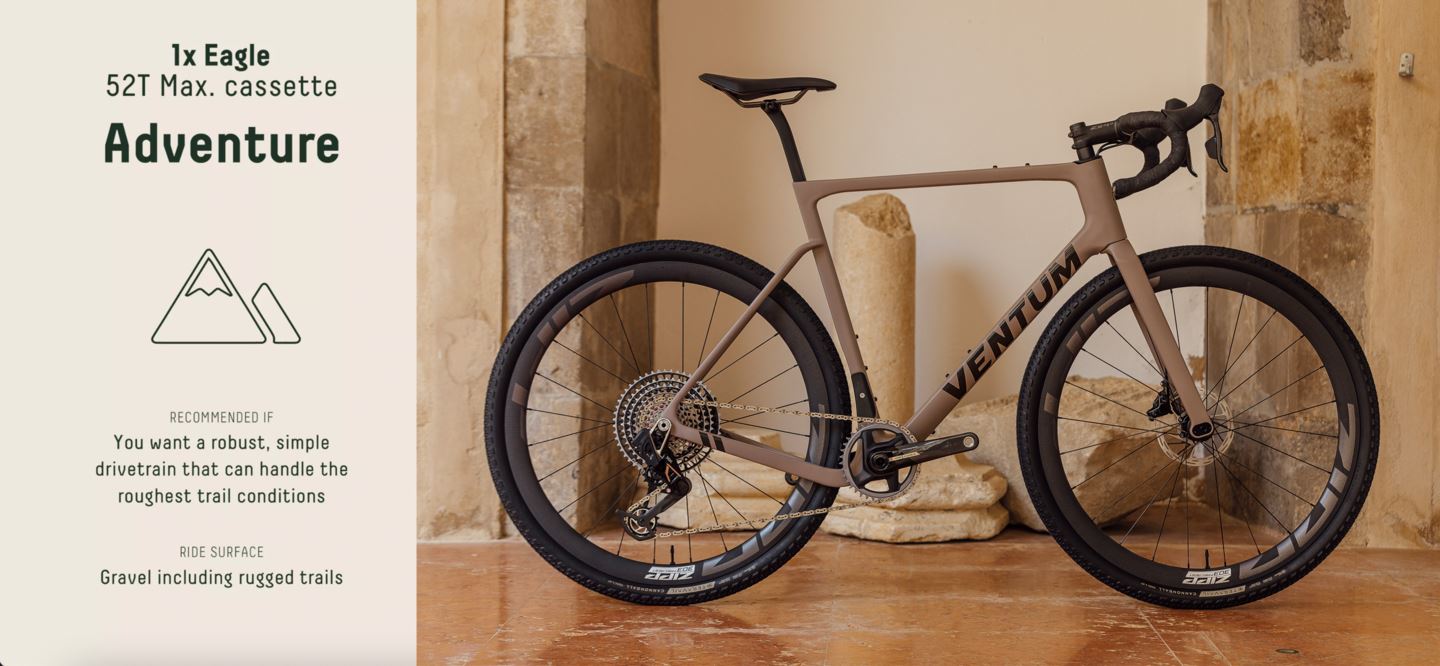 We hear your protests, "You can't have a short business haircut with a fade on the sides and at the same time have a long waterfall of flowing locks in back and have people take you seriously." To which we say, 'You are correct. That's exactly what we were going for.'
So when you want to do something that's both a little bit country and simultaneously a little bit rock and roll, we recommend combining a pair of AXS drop bar levers with an Eagle AXS rear derailleur, Eagle chain, 10-50t or 10-52t Eagle cassette, and your choice of either an Eagle or road AXS 1x crankset to build the raddest drop bar bike on the block.
That's right. Business up front and party in back. Ride it with pride.
If the latest MTB technology is what you crave for gravel, you can absolutely build an Eagle Transmission drop bar bike as well. With a Universal Derailleur Hanger (UDH) compatible frame, combine a Transmission drivetrain with a road crank and controls for the most robust wireless setup possible. And yes, it's a race-worthy drivetrain too. Just ask Keegan Swenson, who won the 2023 edition of SBT GRVL on one.
Maybe mechanical shifting is more your style? We've got you covered there too. The new 12-speed Apex Eagle mechanical drivetrain allows for a totally unplugged experience. Go for a cable-actuated Apex Eagle derailleur and matching drop bar shifters for classic DoubleTap mechanical shifting with the widest range 1x12 gearing.
Whether you're gearing up for gravel, bikepacking, adventure, or all of the above, an Eagle drivetrain will get the job done on your drop bar bike. Go ahead and get the best of both worlds by mixing and matching road and MTB parts.
Need help figuring out your ideal adventure setup? Chat with us.
If you've already built your dream adventure bike with AXS, show it off in the AXS Owners Group.