Today's drop bar bikes are faster and more capable. Riders want a bike with the wide range gearing to match their wide range of cycling pursuits. But, range is only one half of the equation; they also want a drivetrain that offers the right gear for any situation.
So, SRAM has developed X-Range gearing: four 2x chainring sets and five cassettes that cover all riders' needs, from WorldTour to endurance and gravel.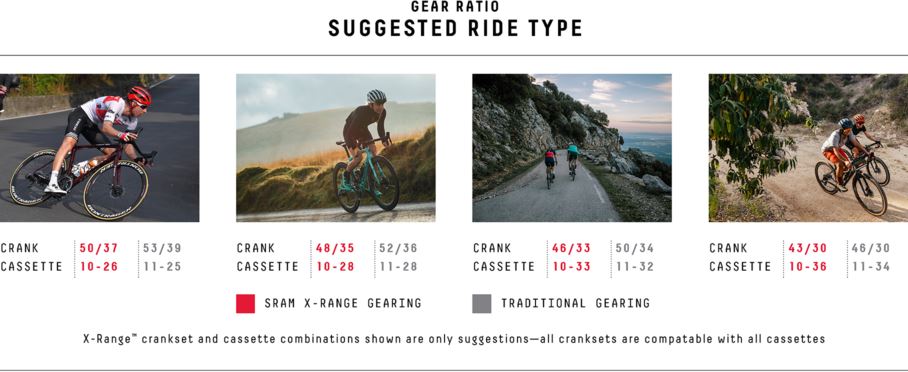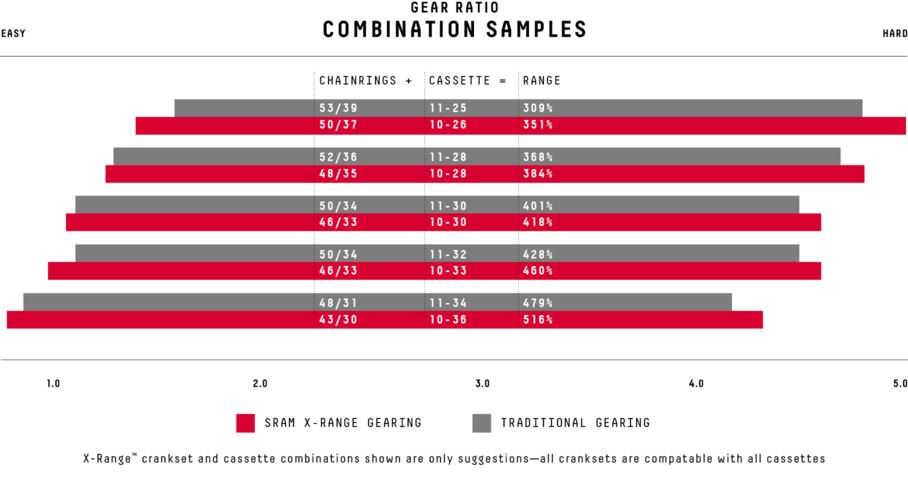 X-Range achieves wider range and tighter jumps by going to a 12-speed cassette, but also by moving some of the gear range from the front of the drivetrain to the back. We've employed smaller chainrings with a consistent 13T difference, while giving the cassettes a 10T-start for wider range (up to 10-36, or 360%!). That means you can stay on the same ring longer, requiring fewer front shifts, which are inherently less efficient than rear shifts. And when a front shift is executed, the smaller jump is smoother and allows you to get to the right cadence with fewer compensation shifts in the rear. Fewer, faster front shifts make it easier for you to find the right gear, and that's a distinct performance advantage relative to traditional drivetrains.
So based on your current gearing, what X-Range 2x gearing is right for you? This gear calculator may help:
By starting X-Range cassettes with a 10T cog, we're able to keep the cogs and chainrings smaller overall, eliminating the potential weight gain of a wide-range 11-tooth start drivetrain. It's the best way to expand range and keep small jumps between cogs, something Spanish climber Enric Mas of Movistar Team appreciates.
"The idea of smaller steps between the gears should benefit a rider like me who relies on a consistent cadence when I time trial or climb."
Nobody else can do this:

X-Range gearing expands where and how you can ride, which former pro Fraser Young knows from putting it to the tallest test on Taiwan's steepest roads every single day.
"I've used systems in the past where there are some bigger gaps between the gears. It's not as consistent and not as even, and for me AXS has been eye opening. It's so much better than what I was using before. It does open up a lot of areas that you couldn't ride in the past by having that wide gearing. Even a strong rider, if they want to ride all day, you're going to get tired at the end of the day. By having those low gears, you can spin up the hills more and it's much easier to do a long one."
So X-Range will make mountains less daunting, but what about a bunch sprint at your next crit? Let Movistar team captain Barbara Guarischi ease your mind.
"Everyone was thinking, "oh, there's no 52 or 53! But, if you compare a 48 with the ten tooth...I believe this setup with the 48 is perfect. I race with a 48, and sprint with it, and it's enough. I don't believe anyone can claim they need more."
More range, tighter jumps, and smoother shifts. What's not to love? With X-Range, getting everything you've always wanted in a drivetrain has never been simpler.