YOUTH + GLORY: EPISODE 7
The World Cup saved the best for last with back-to-back World Championships and Finals one week and 500km apart. True to their mantra, Vali Höll, Jamie Edmondson, and Tegan Cruz brought the Youth and sought the Glory, showing up to both events in full mast to put it all on the line for the two biggest titles of the year and wrap up their season.
After Vali won her second World Cup of the season in Mont-Saint-Anne and said, "Anything is possible now." She was right.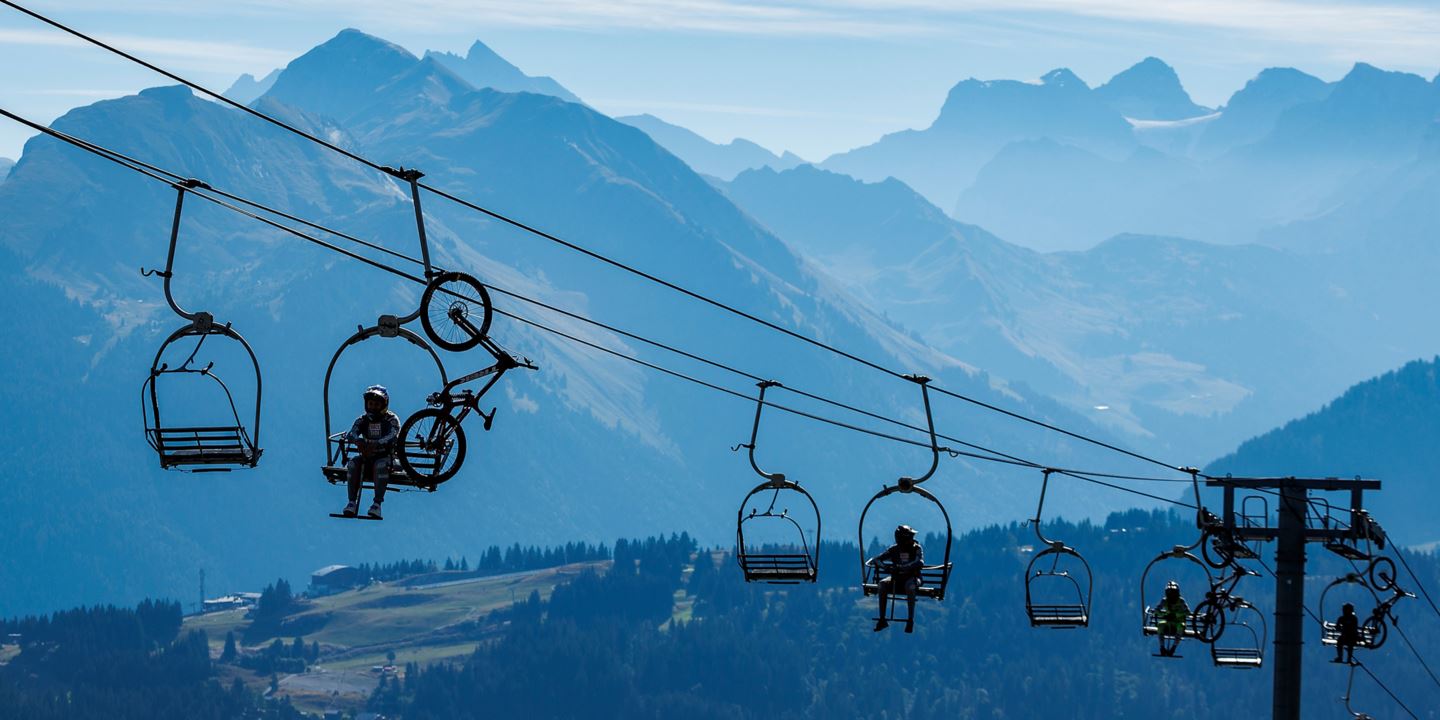 WORLD CHAMPIONSHIPS: LES GETS, FRANCE
World Championships is a different beast from any other World Cup race. Go big or go home. There is no strategy to make it down for the sake of points towards the Overall. It is entirely about who is fastest on that day. Earning a set of rainbow stripes as a World Champion is something that stays with you forever.
Flying their countries' flags on their jerseys, Vali, Jamie, and Tegan were surrounded by the sport's biggest fans in Les Gets, France. Vali and Tegan represented Austria and Canada with brand new chrome red Trek Sessions.
For the athlete having those rainbow stripes is recognized around the world as—you're the best.

–John Dawson, Race Team Manager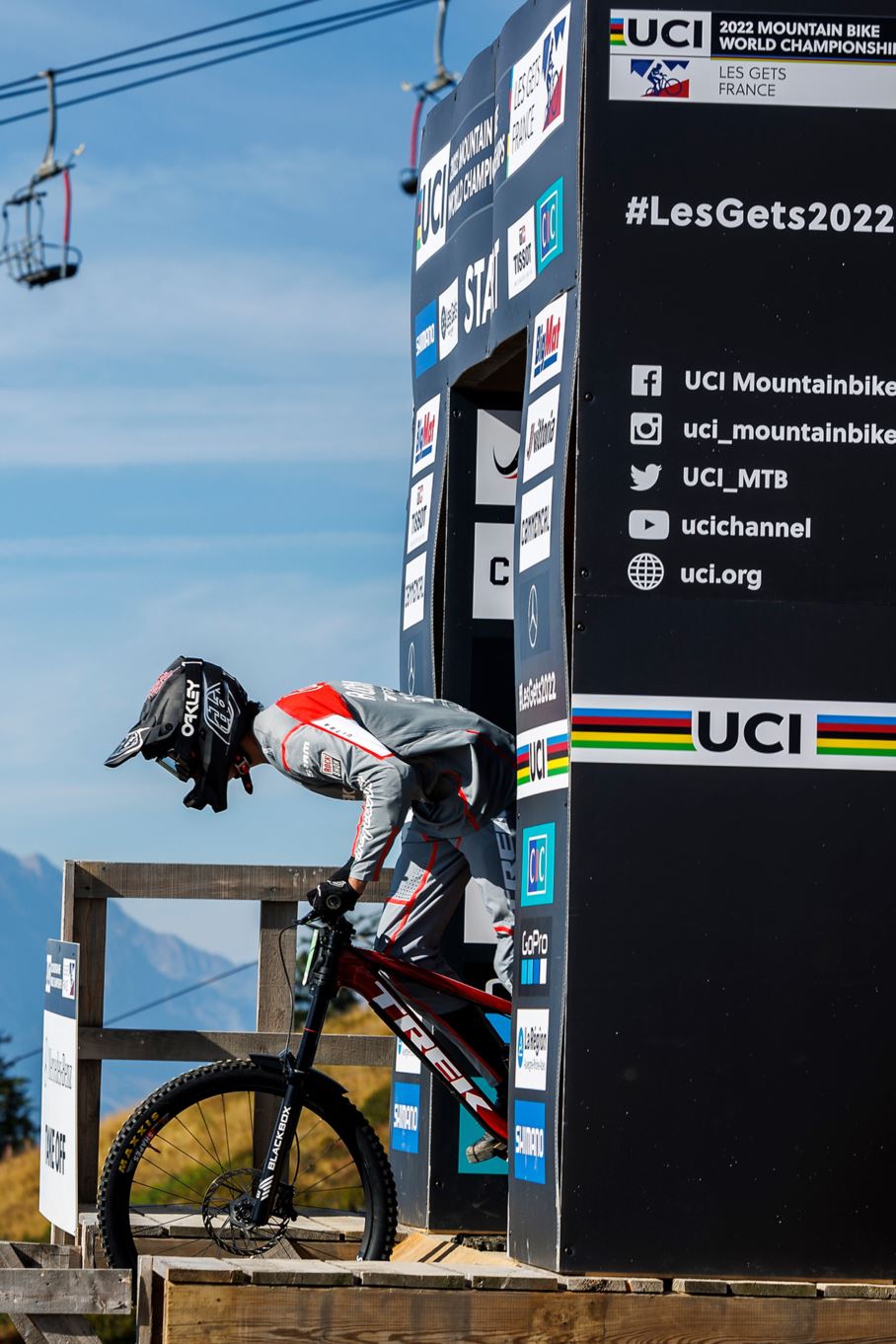 PRACTICE
The classic race track remained relatively unchanged from previous World Cup events at Les Gets Bike Park. Last season introduced a variety of fresh cut, steep and technical sections in the woods. Throughout dry conditions in practice, the track became rougher and rougher. Come Thursday morning right before Qualifications, Tegan crashed on his warm-up run, terminating his week of racing.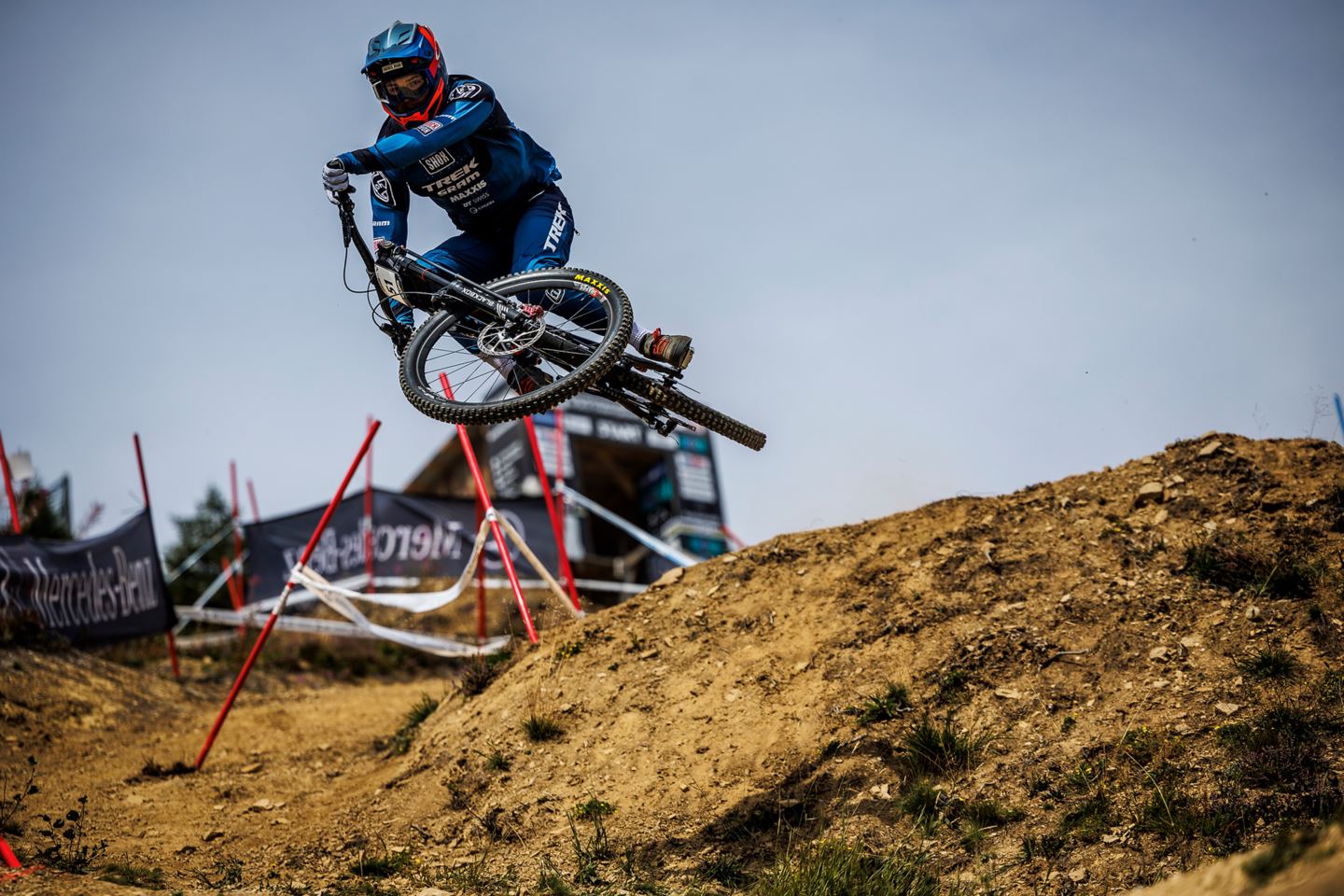 QUALIFICATIONS
While results from Qualifications do not decide the start order for the World Championship race, it can set the tone for speed on the track and whose baseline is going fastest. With Tegan on the sidelines, Vali and Jamie lined up in the start gate.
Vali's steady but conservative run down the course put her in 4th place, 7.861 seconds behind Myriam Nicole, a two-time World Champion favored to win on home soil.
Jamie came down the track in 42nd place, happy with a solid run but aiming to improve his standing come race day. With one more day of practice between Qualifications and Finals and precipitation in the forecast, things were about to get spicy.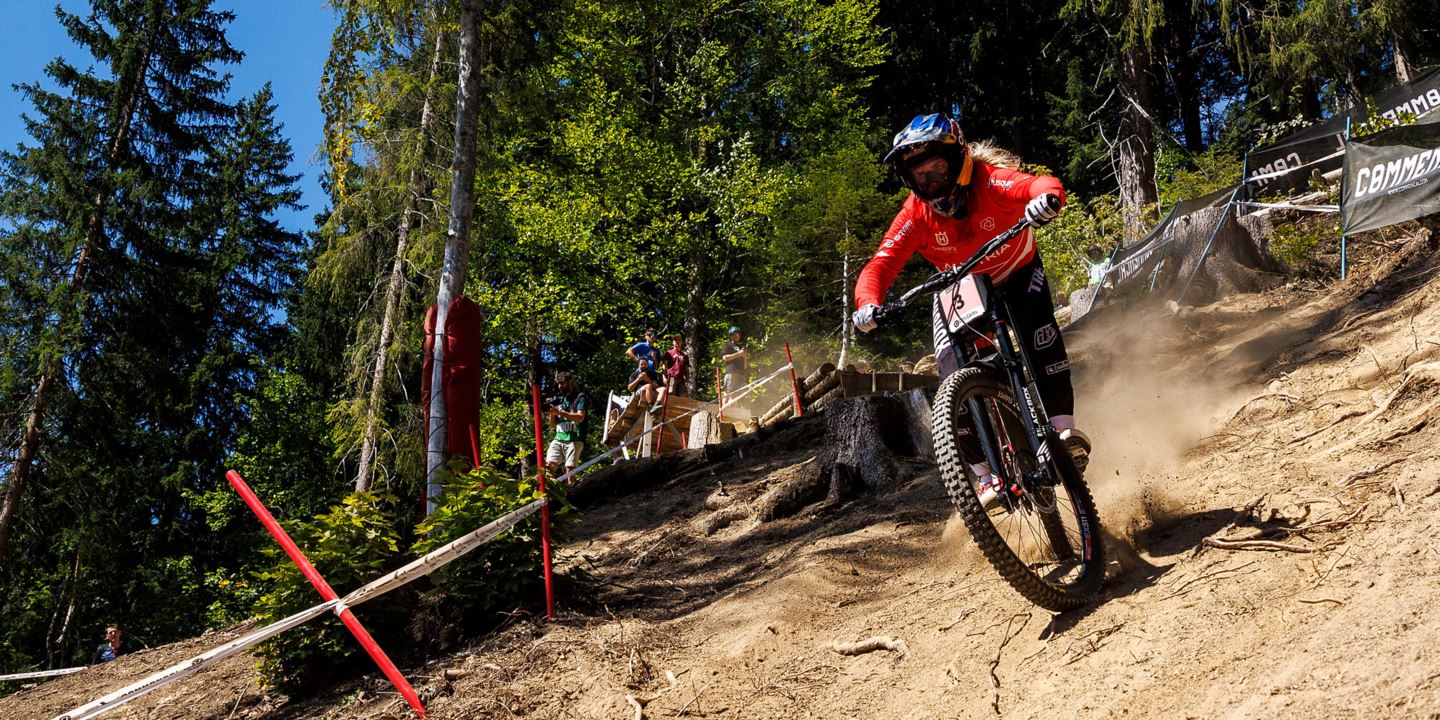 RACE DAY
The perfect conditions prevailed for race day with Friday's precip clearing by Saturday morning. Back to dry, dusty conditions, Vali lined up in the start gate with two riders to go—both World Champions the previous three years.
Laser-focused on her run ahead, Vali rode seamlessly from top-to-bottom, coming into the hot seat just .906 seconds ahead of Nina Hoffman. Holding her breath, Camille Balanche and Myriam Nicole dropped one after the other. With every split going red for her competitors, Vali held her breath. Myriam crossed the finish line 3.447 seconds behind, making Vali the 2022 UCI Downhill World Champion for Elite Women.
VALI - P1
JAMIE - P46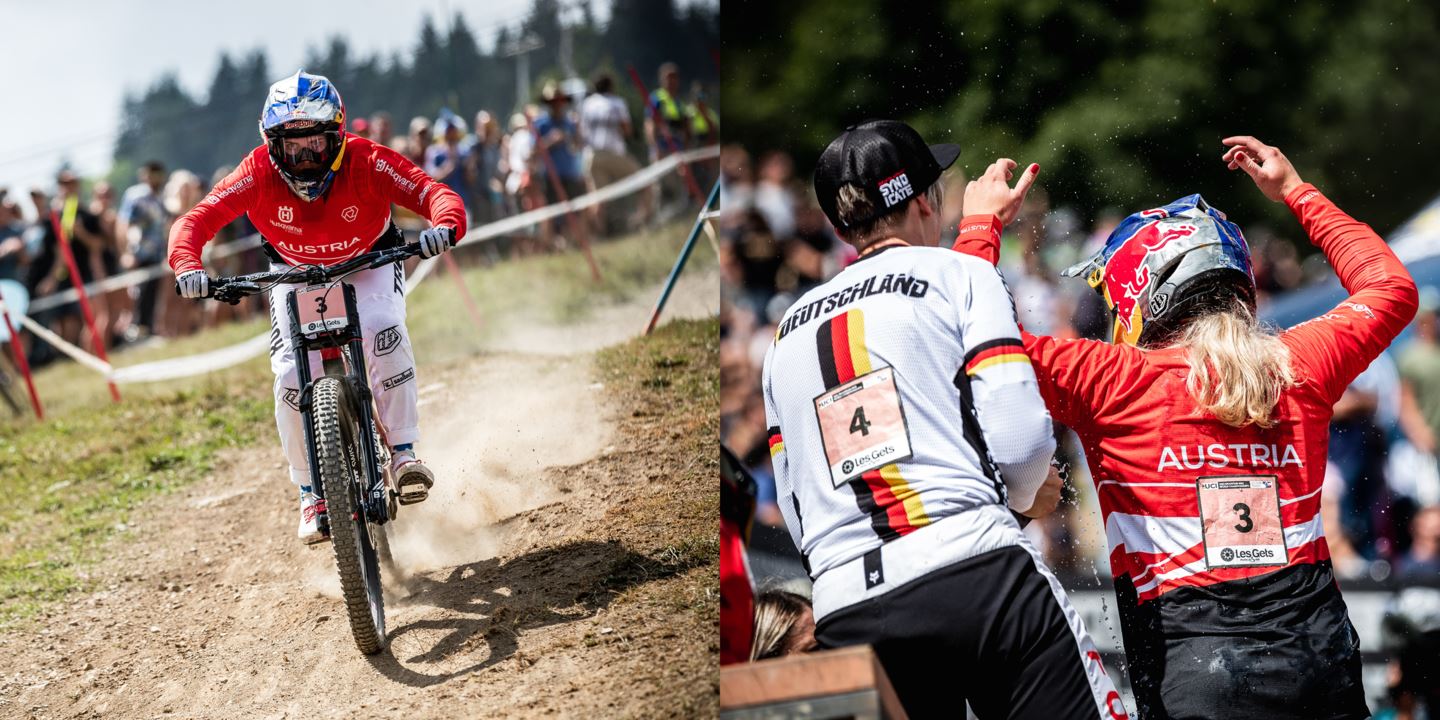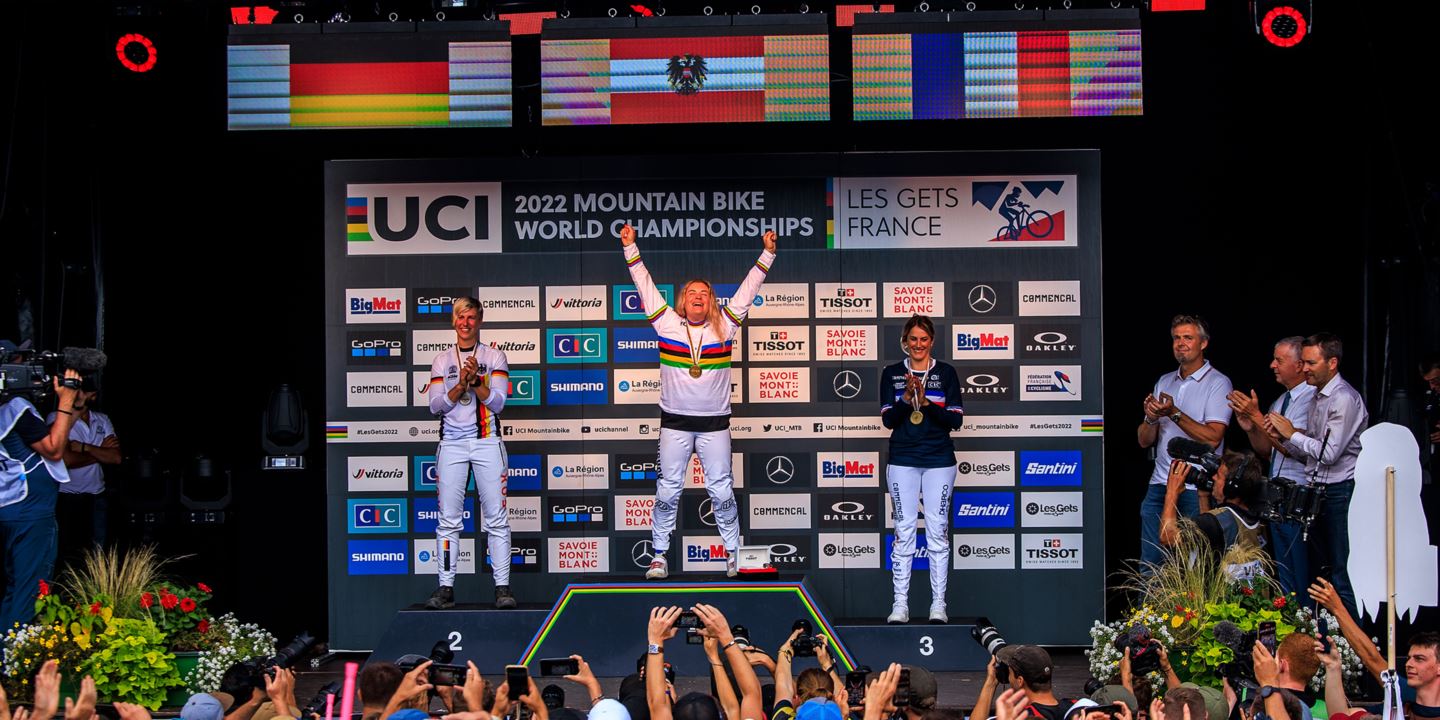 ROUND 8: VAL DI SOLE, ITALY
The celebrations from World Championships swiftly shifted into preparations for World Cup Finals in Val di Sole, Italy. Known for a heinously technical and challenging track, there was no rest for the weary as riders dove straight into track walks and practice. While it was not going to be a shoo-in, the potential for claiming a second consecutive World Cup Overall title was not out of the question for Vali.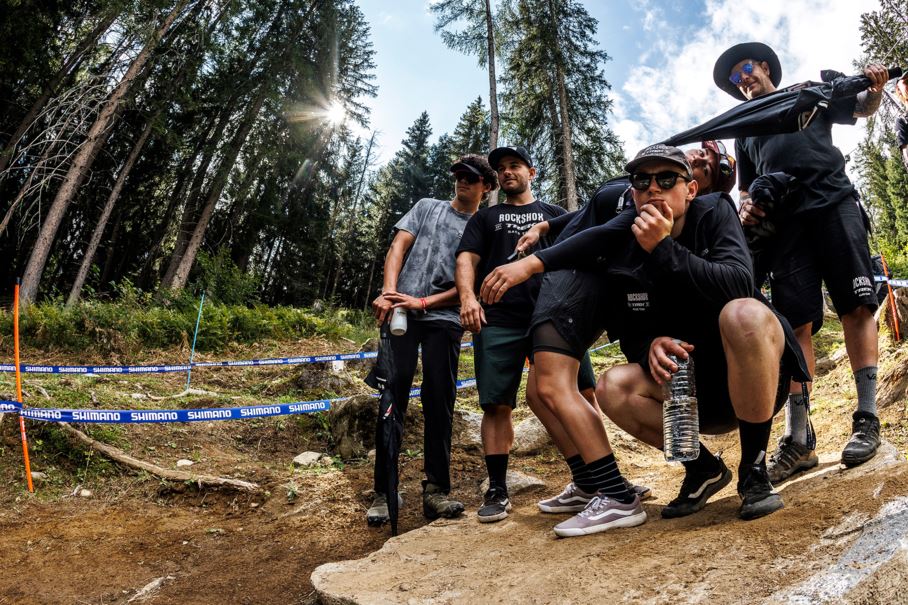 PRACTICE
The full crew was back together including Tegan after a quick recovery from his crash in Les Gets. Val di Sole's brutal track is hard on the body even when you're feeling fresh. Making it through practice was a testament to scouting good lines, commitment, and even a little rainbow-powered confidence.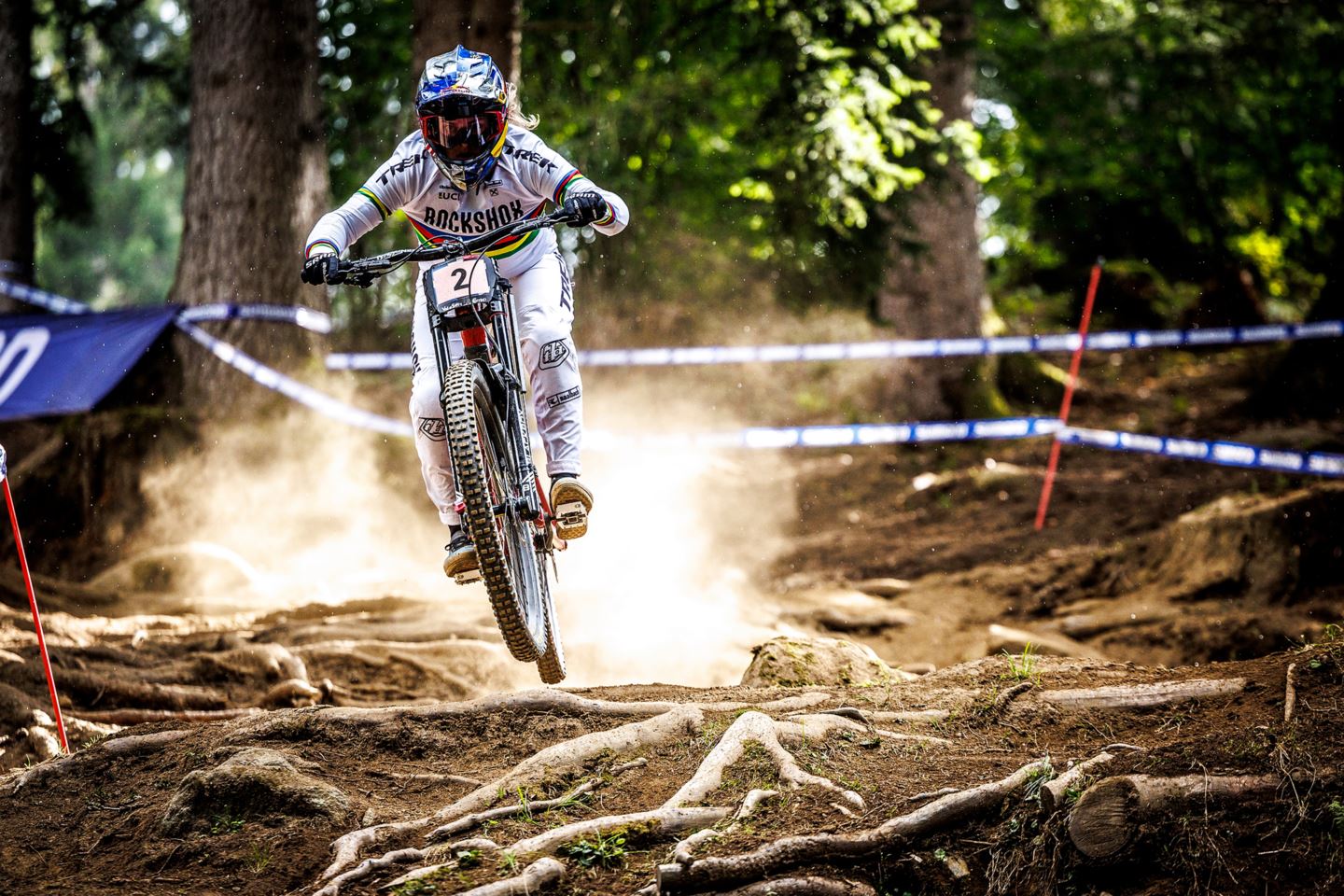 QUALIFICATIONS
Vali led the Elite Women's field with a 4-second margin in Qualification. While her closest competitors struggled to put down a solid run, Vali found her stride through the section that plagued her World Championship run in 2021.

Tegan held onto P11 for Junior Men. Jamie had a rough go in Qualifications and a crash took him out of contention for Finals.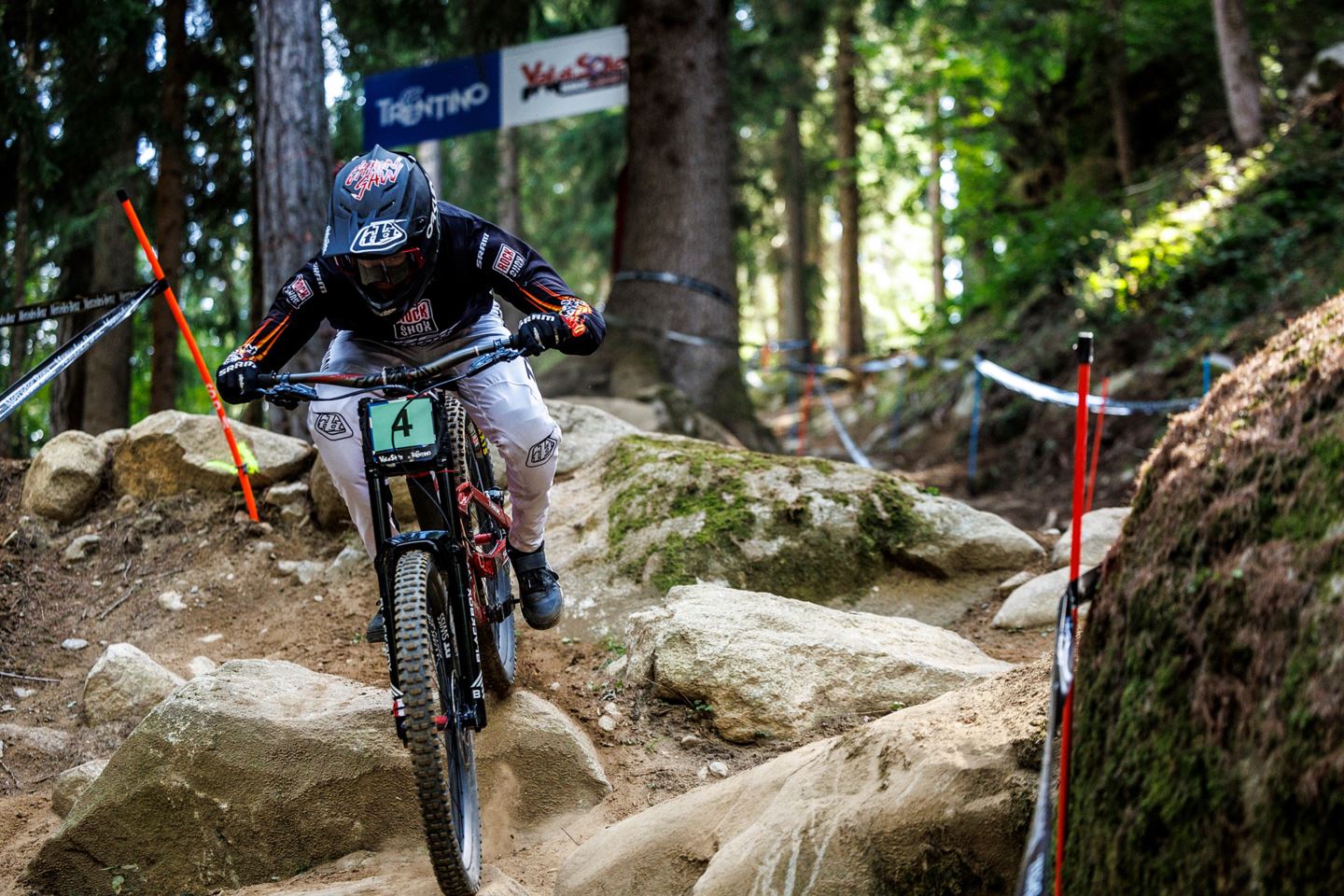 A BIKE FIT FOR A WORLD CHAMP
As soon as Vali hung up her bike after Qualifications, Mat Gallean went straight to work on building up a very special bike for the final run of her season. Fit for a World Champion, a custom-painted Trek Session donning the rainbow stripes and a touch of sparkle was unveiled Saturday morning.
Frame: Trek Session
Fork: RockShox BlackBox
Rear Shock: RockShox Super Deluxe Coil Ultimate
Seatpost: Truvativ Descendant
Handlebar: Truvativ Descendant
Drivetrain: SRAM X01 DH
Brakes: SRAM Code RSC
Rotors: SRAM HS2
Tires: Maxxis DHR11 DH Casing
Wheelset: DT Swiss Ex 511 with 240 Hubs
Saddle: Ergon SMD2
Grips: Ergon GFR1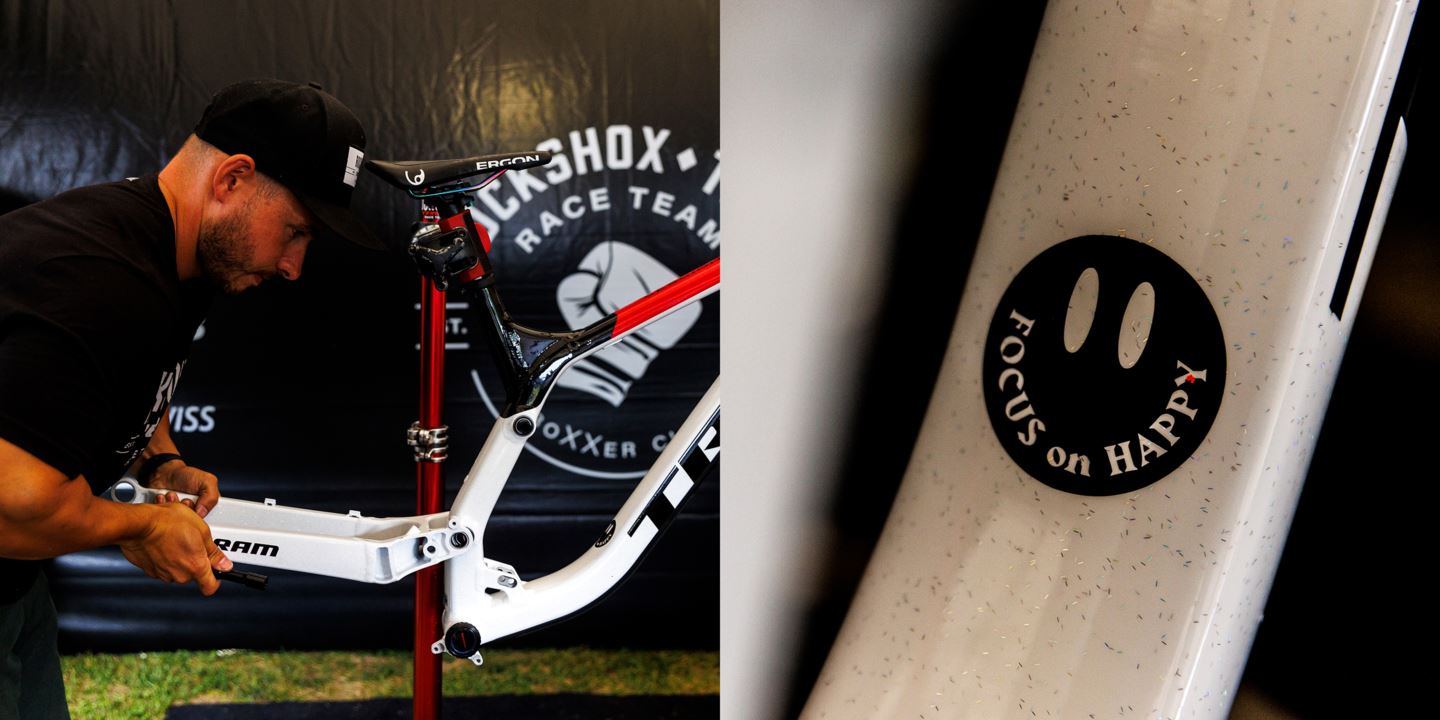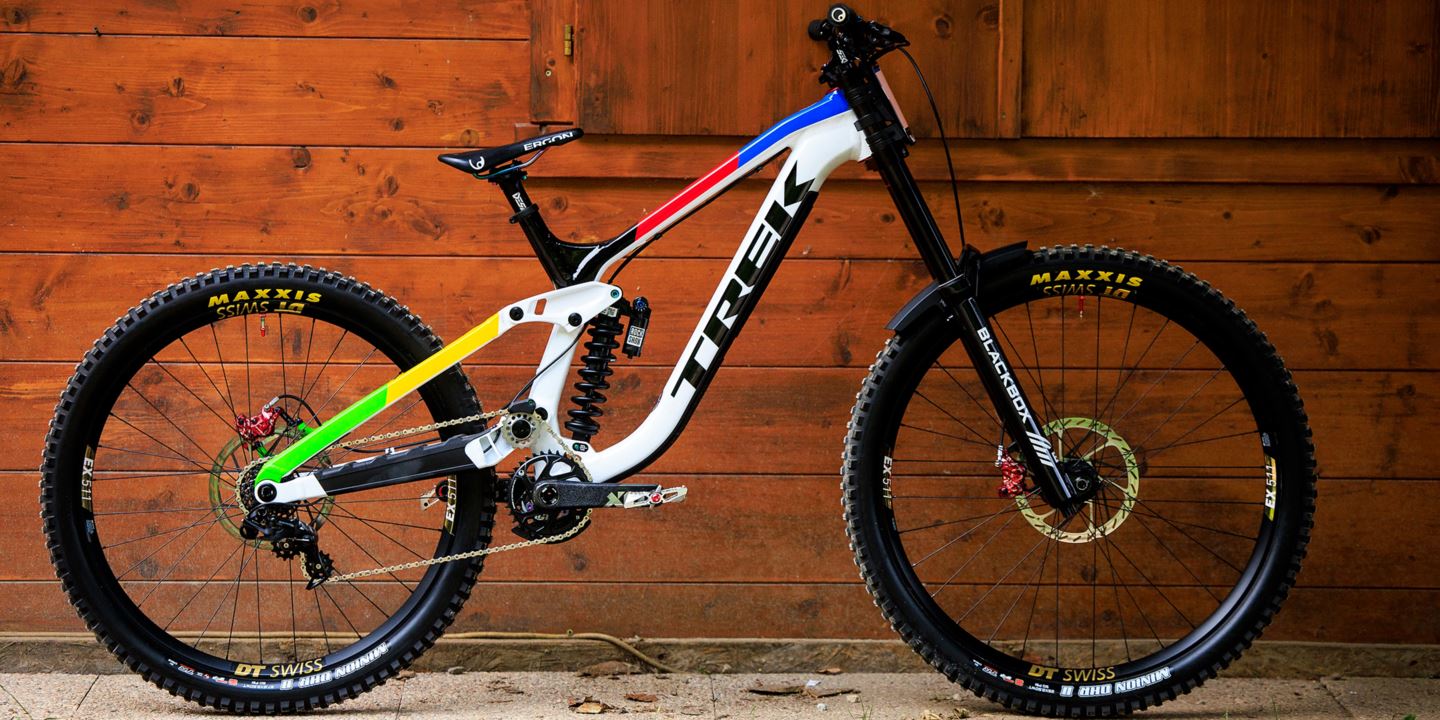 RACE DAY
With the World Cup Overall title on the line, Vali sent it down Val di Sole's track with intention. A solid run put Vali into 3rd place in Finals and with how the points stacked up, a bronze medal for the 2022 World Cup Overall. Jamie finished the season 58th in the Elite Men's Overall and Tegan Cruz held onto 4th in Junior Men.
FINALS
VALI - P3
TEGAN - P11
OVERALL
VALI - P3
TEGAN - P4
JAMIE - P58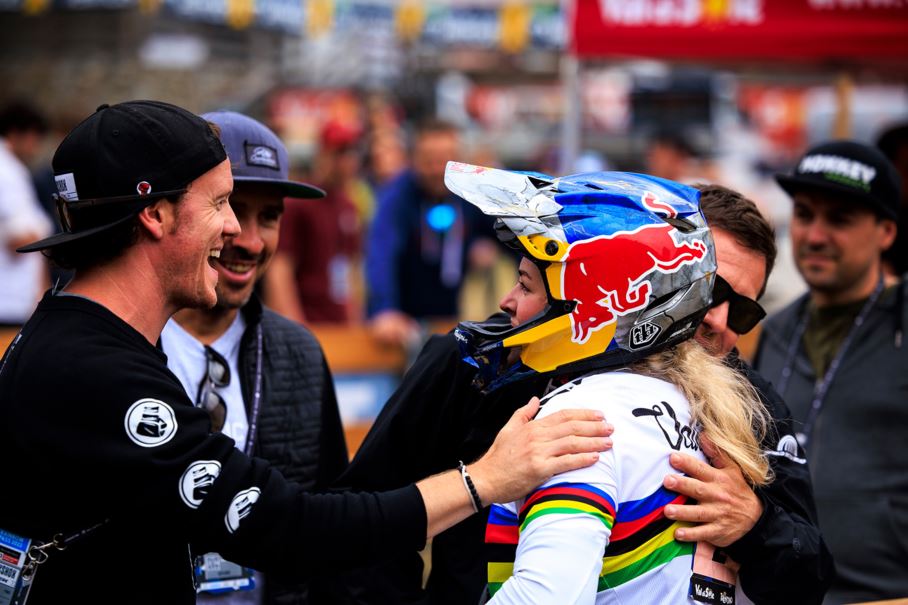 I'm so happy to end the season on such a high. Being third in the Overall and being World Champion after this season is amazing. I grew a lot as an athlete and I know exactly what to do for next season.

–Vali Höll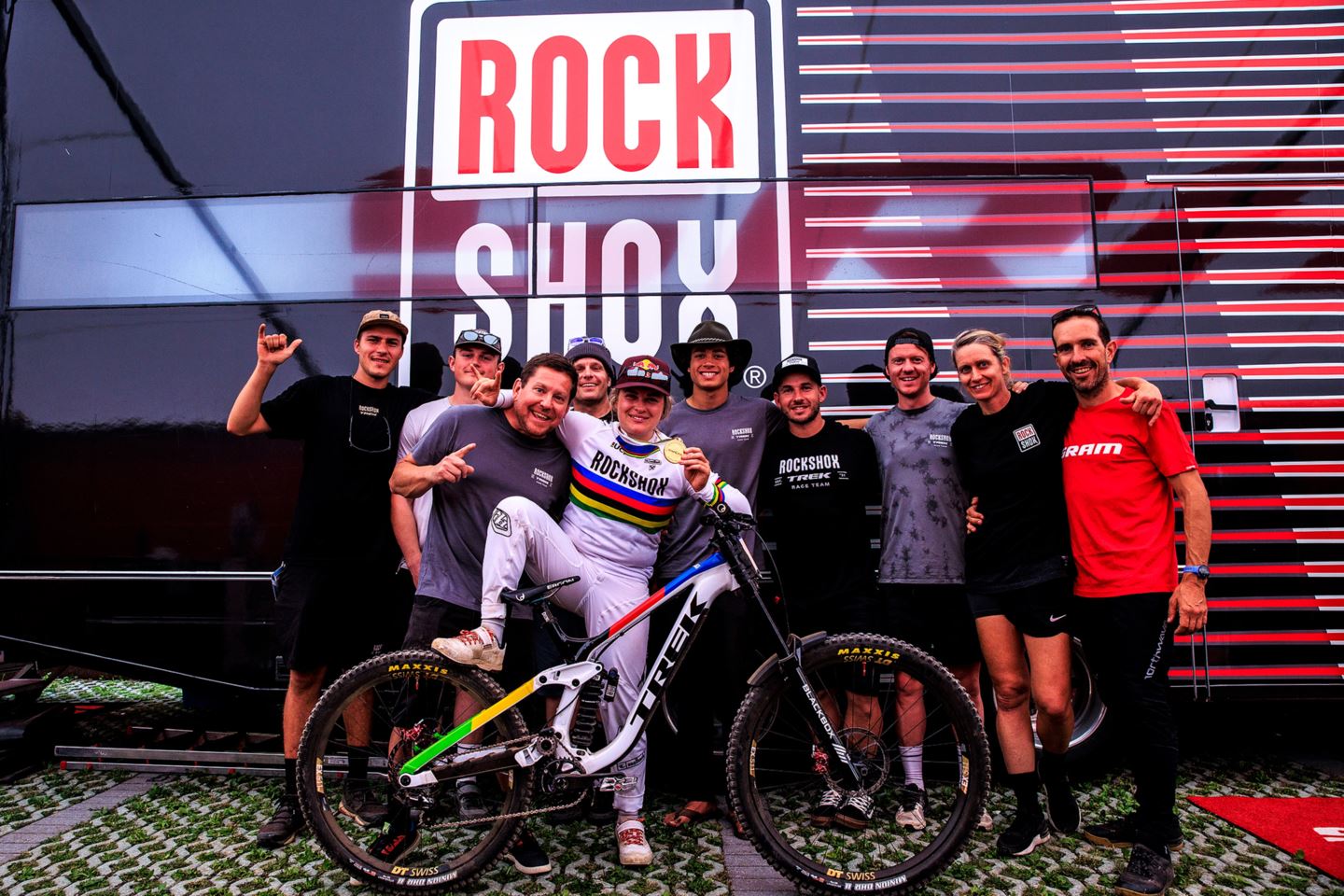 While not the fairytale story from 2021, it speaks to how a season can transform a rider. Clean runs, rainbow stripes, and happiness—the foundation for looking forward. It takes a village and the RockShox Trek Race Team couldn't do it without the passionate team behind the racers.
John Dawson
Greg Coombes
Mat Gallean
JT Evans
Sven Martin
Kuba Gzela
Cecile Ravanel
Cédric Ravanel
2023 will mark year three for the young team who is growing up into accomplished riders and a list of accolades. With nine months until racing commences again in Leogang, Austria, there's a whole lotta off-season to ride, train, and come back stronger and for the wiser.
Congrats RockShox Trek Race Team on a successful season! Until next time...
Photos by Sven Martin and Ross Bell. Words by Sarah Rawley.