The needs and expectations of mountain bike riders are constantly evolving. Systems have become more efficient over the years, becoming easier to install and simpler to operate. All in the effort to get more rad times on the trails. This progression delivers a better ride experience at the end of the day, but without the proper information, this can cause some confusion.
To meet this demand, SRAM offers DUB MTB Wide, a crank option with a wider spindle and the resulting wider 55 mm chainline, allowing frame manufacturers to achieve the goal of maintaining short chain stays with wider tires and stronger frames.
This all still centers around our DUB spindle platform.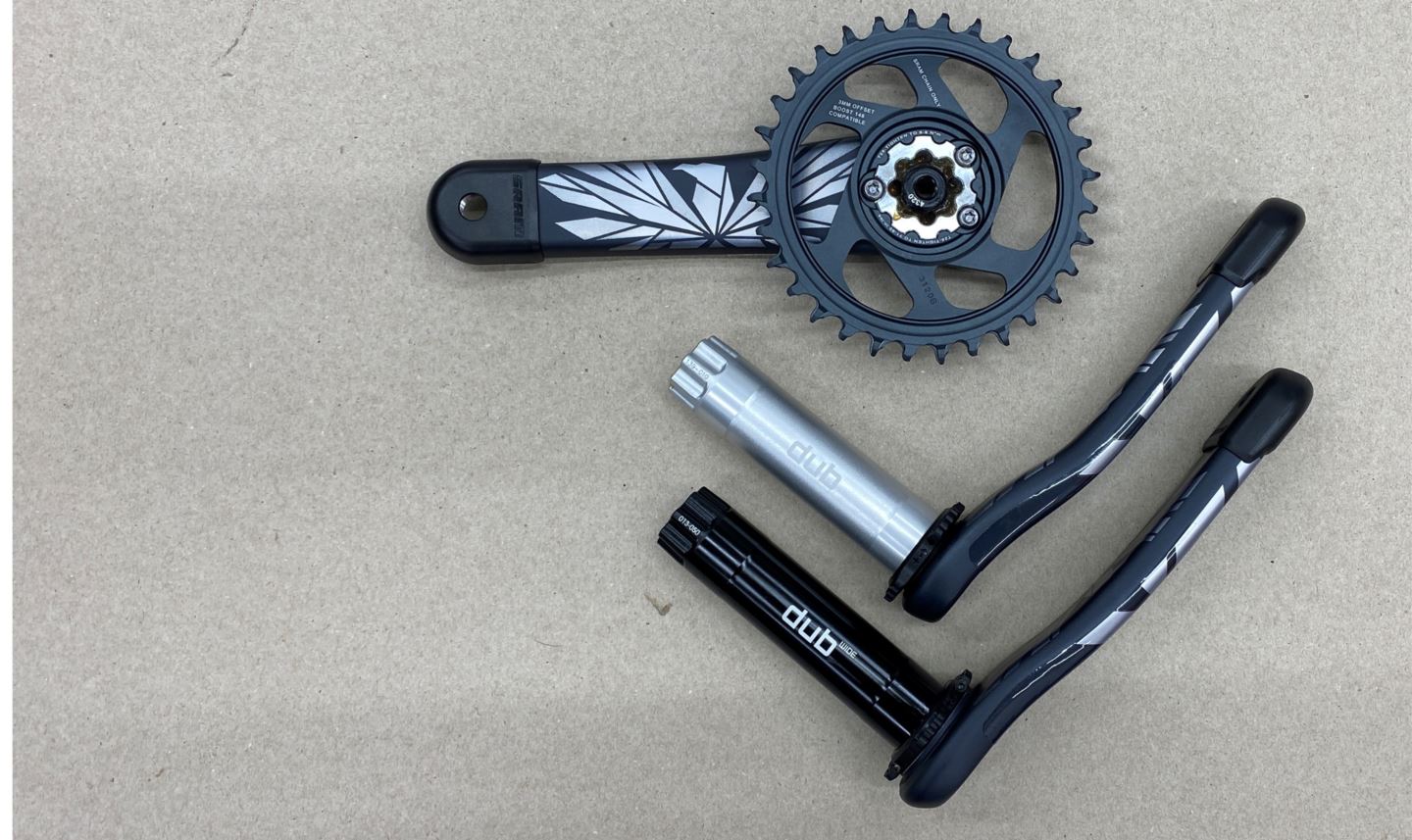 So, what is a DUB MTB Wide crankset?
The DUB MTB Wide crankset is named after its comprehensive design, which creates a new chainline and increases the clearance between the chainring and the frame. This enables greater optimization of the chainline for gearing and provides frame manufacturers more clearance for tire sizes in the rear end of the frame.
The spindle of the MTB Wide crankset is 6 millimeters wider than a crank with a 52-millimeter chainline, pushing both arms out 3 mm on either side. As the MTB Wide crankset uses the same chainring as non-wide cranks, this also moves the chainring out 3 mm on the driveside to achieve the 55mm chainline.
The 55mm chainline has been specifically chosen for our latest SRAM Eagle Transmission groupsets, allowing for superior alignment of the chain between the chainring and cassette. This design option has also been selected by frame manufacturers and will still apply to Eagle and Eagle AXS drivetrain. As a result, all bikes fitted with UDH and compatible with SRAM Eagle Transmission require an SRAM DUB MTB Wide crankset to deliver a 55 chainline.
Can't I just use older Boost cranks?
No. If your bike has been designated as a CL55 or chainline 55, our MTB Wide cranks are the only crank option that will work. The MTB Wide crank from SRAM utilizes a wider spindle and Q-Factor to clear the bicycle chainstays and allow for the correct position of the chainring. Using a standard Boost crank could cause irreparable damage to your bike's chainstay or seatstay, posing a risk of injury or death to the rider.
Can I upgrade my existing bike to wide?
MTB Wide with a 55mm chainline may not be an upgrade for existing riders. Most new bikes will be built around a 55mm chainline, which is achieved through differences in the design of the bicycle's chainstays and rear end. It is only necessary for frames built around this design and requiring increased clearance. As always, check the specifications when in doubt.
Many frame designers who leveraged the benefits of MTB Wide when designing their new frames also updated to the Universal Derailleur Hanger. Therefore, if you see a mountain bike with a UDH, it is likely designed to take advantage of the space offered by a 55mm chainline.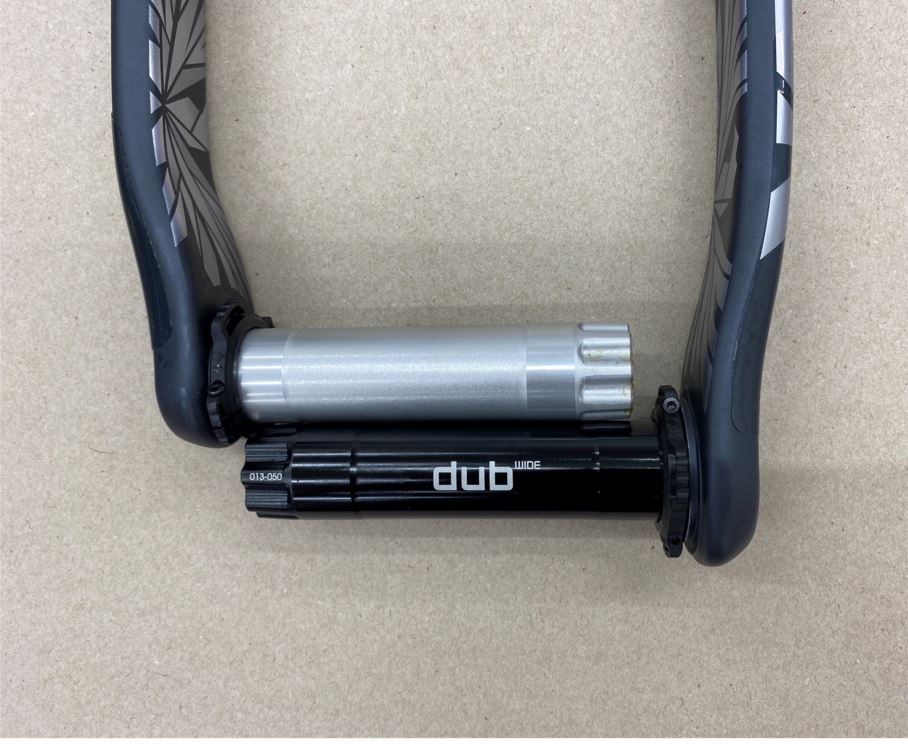 DUB v.s. DUB MTB Wide
Which version DUB spindle do I have?!
The easiest way to see which spindle you have on your bike is to look at the text written next to DUB on the spindle.
If your spindle says:
Just 'DUB' = Standard Boost (52.5 chainline) using a 148mm rear dropout width

'DUB' + 'SL' = Super Light cranks, these come on our XXSL and XX1 model cranks and are our lightest spindles.

'DUB' + 'Wide' = CL55 bikes using a 148mm rear dropout width

'DUB' + 'SB+' = Super Boost using a 157mm rear dropout width

'DUB' + 'Ai' = Specific spindle designed for some Cannondale Bikes
Is MTB Wide the same as Super Boost?
No, MTB-wide and Super Boost are not the same standards. While there may be some overlap with specific cranksets, they generally require specific crank, bottom bracket spacers, and hub dimensions. It's important to note that MTB Wide and Super Boost are not interchangeable, so it's best to check with the frame manufacturer on which setup is required to complete a build.
However, there is an area of overlap with the latest SRAM Eagle Transmission technology, which uses the MTB Wide spindle and CL55. Since there is only a 1.5mm difference between the chainline on SuperBoost (56.5mm) and MTB Wide (55mm), when installing Eagle Transmission on a Super Boost bike the MTB wide crank will be used.
How do I select bottom brackets and spacers?
To make sure you have the correct bottom bracket and spacers for your MTB Wide setup, it's best to consult the user manual or refer to the DUB Bottom Bracket finder document on sram.com/service. The MTB PDF can be found here: 'Choose your MTB Bottom Bracket'. For a wide setup, you'll need spacers that are 3mm longer on each side, but the actual bottom bracket remains the same. Here's an example of the differences between MTB Wide and standard cranksets for SRAM Eagle Transmission on a frame with a threaded bottom bracket:
DUB BSA Spacer Chart
| FRAME SHELLINTERFACE ANDWIDTH (MM) | CRANKSET | OUTER LEFTSPACER (MM) | INNER LEFTSPACER (MM) | INNER RIGHTSPACER (MM) | OUTER RIGHTSPACER (MM) |
| --- | --- | --- | --- | --- | --- |
| BSA (68) | MTB | - | 2.5 | 2.5 | 4.5 |
| BSA (68) | MTB Wide | 3 | 2.5 | 2.5 | 7.5 |
| BSA (73) | MTB | - | - | - | 4.5 |
| BSA (73) | MTB Wide | 3 | - | - | 7.5 |
| BSA (73 w Chain Guide) | MTB | - | - | Chain Guide | 2 |
| BSA (73 w Chain Guide) | MTB Wide | 3 | - | Chain Guide | 5 |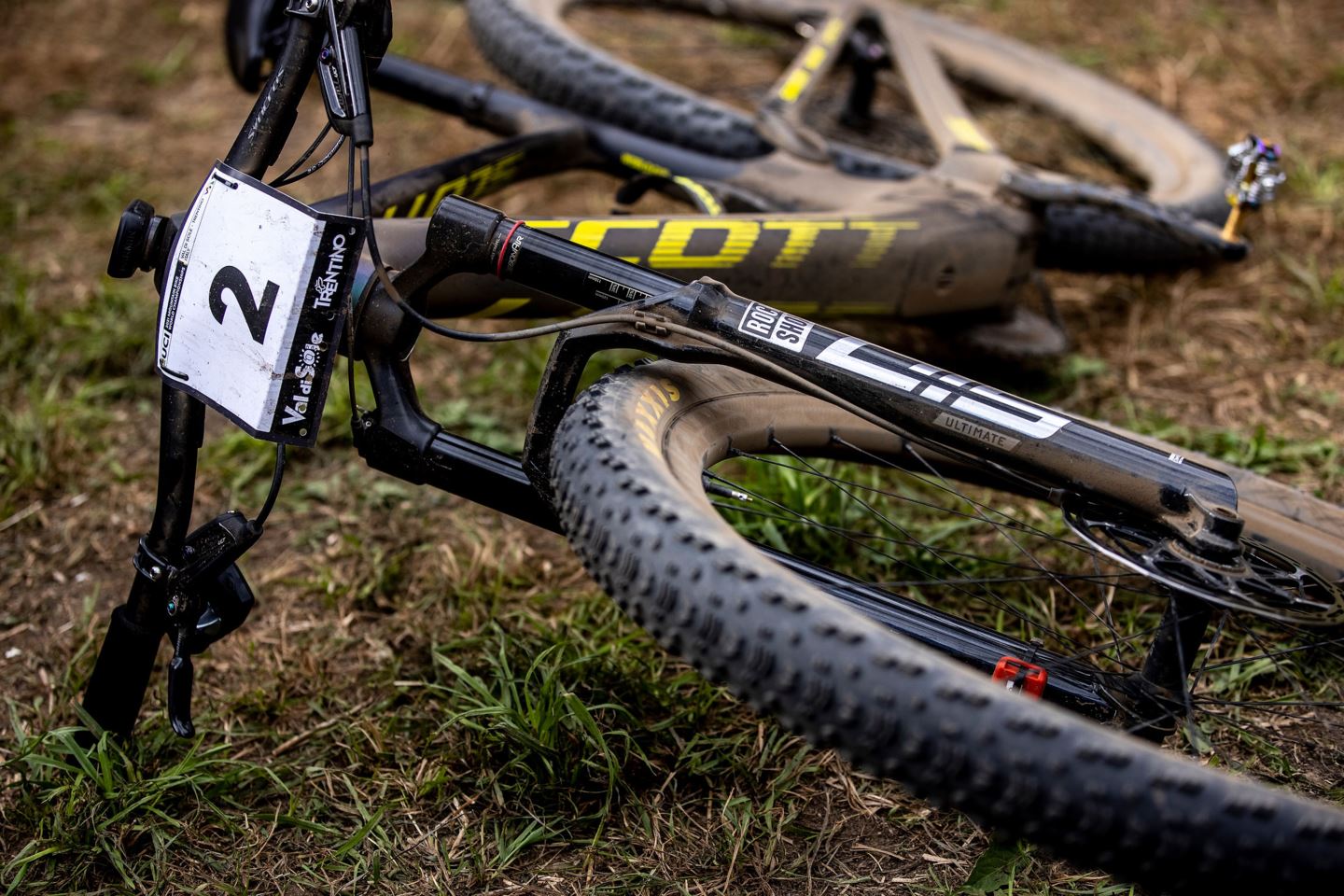 Q-Factor for DUB Wide
In cycling, Q-factor refers to the distance between the pedals on a bicycle. More specifically, it's the distance between the outside of one pedal attachment point to the outside of the opposite pedal attachment point. It's an important measurement because it can affect a rider's comfort, efficiency, and even injury risk. Finding the optimal Q-factor for a rider depends on factors such as body shape, riding style, and personal preference.
With the standardization of CL55 and the introduction of a wider bottom bracket interface, the Q-Factor for most of our cranks has changed. Previously, a Q-Factor of 168mm was more common, but with CL55, this has increased by 6mm (as mentioned earlier, this required the spindle change) to bring CL55 Q-Factors to 174mm.
If you're a SRAM Eagle Transmission rider who prefers a narrower Q-Factor, which is often the case with cross-country riders, don't worry. The SRAM Eagle XXSL Transmission is available with a 168mm Q-Factor option for riders. This crankset offers a narrower stance at the cranks and uses a 0mm offset chainring to maintain a 55mm chainline.
Looking for more information?
SRAM has fantastic learning resources, such as our service website and SRAM Tech YouTube channel. Our Rider Care team is also there to assist if you need more.