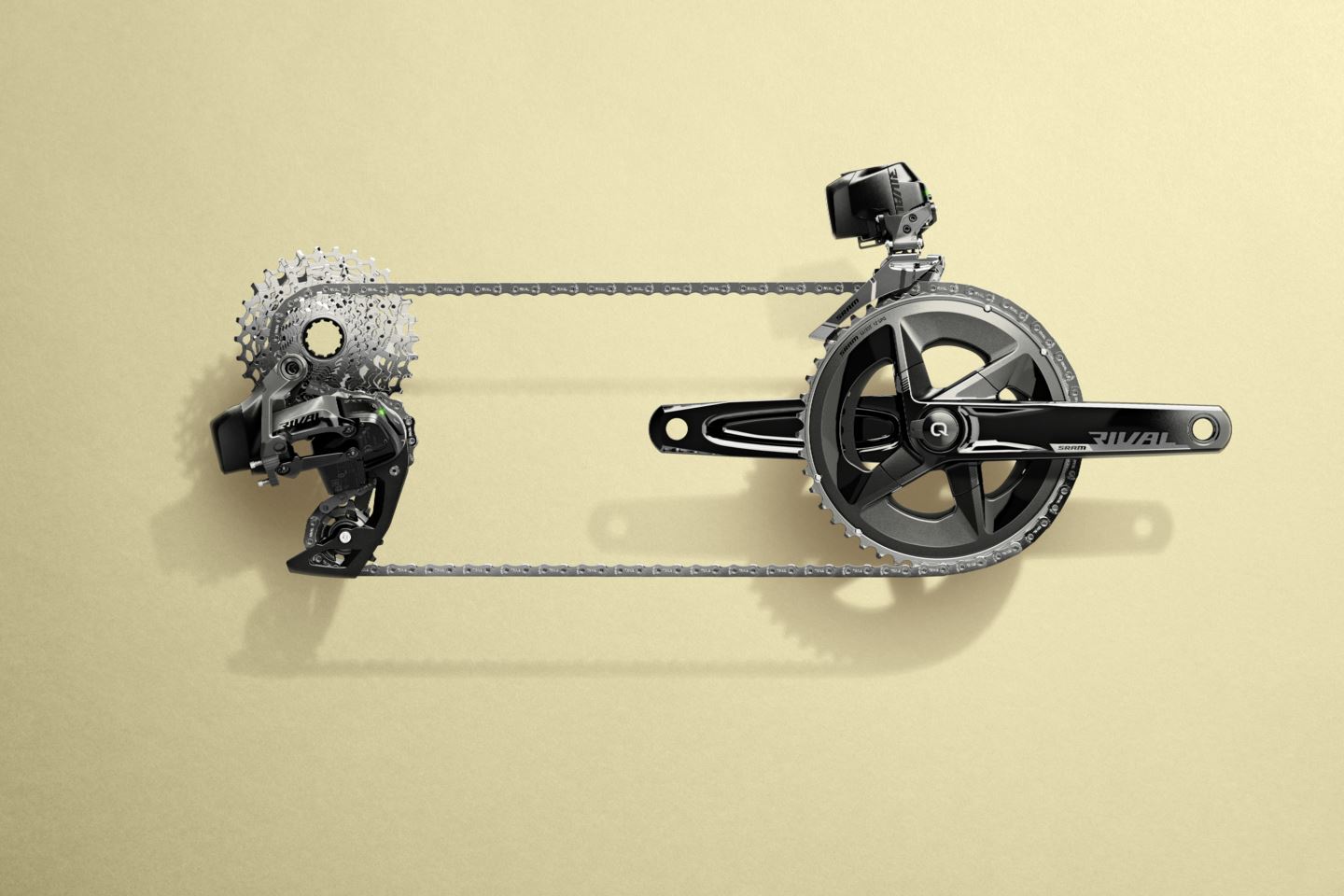 AN INTUITIVE SHIFT
Your controls are designed for intuitive shifting right out of the box. The left shift paddle moves the rear derailleur inboard – easier gear. The right shift paddle moves it outboard – harder gear.
Riding 2x? Press the left and right shift paddles simultaneously to activate the front derailleur. This shift logic can even be customized, but we'll get to that later. First, let's cover how to shift:
CHARGING AHEAD
Batteries are interchangeable between front and rear derailleurs and only take an hour to charge. They even last for about 60 ride hours, so you have enough power for a weeklong tour or a weekend in the backcountry.
TECH TIP: Transport your bike with the red battery blocks installed to extend battery life and protect your AXS components.
BATTERY STATUS, SIMPLIFIED
Every time you shift, an LED light will flash on your derailleurs and shifters, indicating the battery status of each component. Charging batteries once a month will be more than enough for most riders.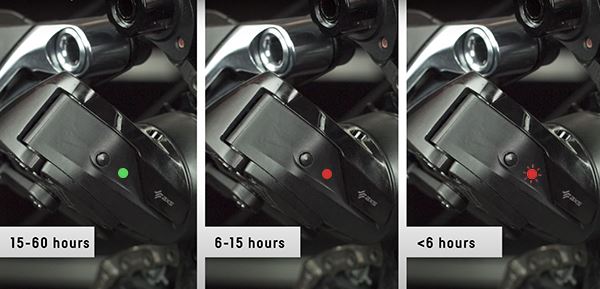 STAGE 1 - THE PERFECT PAIR
Your SRAM AXS components met with a wireless handshake to exchange info and establish trust with each other. If your Rival eTap AXS system is set up and shifting well, then it's already been paired. Explore below to learn about AXS pairing.
AN INVISIBLE INTERACTION
The rear derailleur is the ride leader of your AXS system, to which the other components are paired for easy communication. Without a shift cable in the mix, Rival eTap AXS derailleurs receive shift signals instantaneously using a proprietary signal, called AIREA. In return, you get a lightning quick and secure connection ride after ride.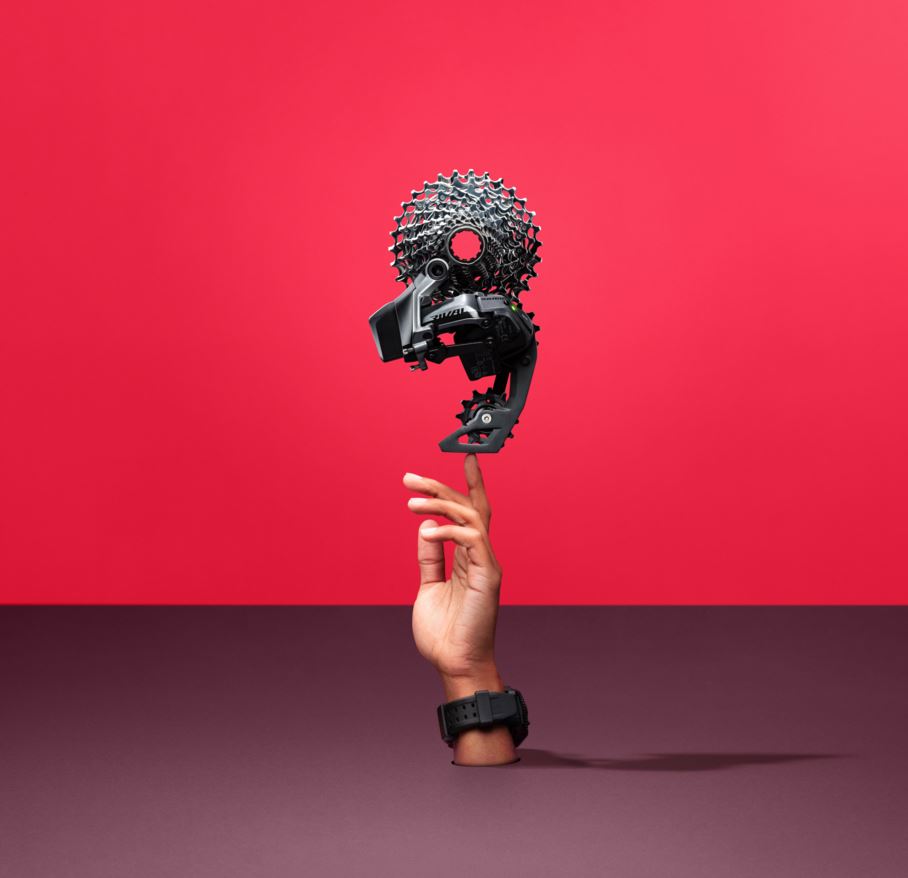 EASIER THAN ONLINE DATING
Pairing AXS components only takes a minute. If you're just setting up your Rival or want to learn more about how your components communicate, pick the appropriate pairing video for your drivetrain.
THE PERFECT PAIR
AXS components make a great team, but the perfect pair is about you and your drivetrain riding as one. If your paired drivetrain stops shifting, don't panic, and try the steps below. It's probably something as simple as a derailleur battery that needs charging or controller battery that needs replaced.
Check the battery status by pressing the AXS button on each part. No light? That battery is out of juice.
If the batteries still have power, re-pair the system.
If each AXS component has power and the system is paired correctly, update the firmware on each component using the SRAM AXS App following these steps.
STAGE 2 - INSTANT CONNECTION
Let's spin through the perks of connecting your Rival components to the app, creating a bike profile, and adding a little in-app personalization for your new ride — because it deserves it.
THE PERKS OF BEING CONNECTED
Much like social media profiles allow us to connect and stay up to date, your bike can have a SRAM AXS App profile that allows it to stay current with firmware updates, personalized shift settings, and real time battery levels. Download the app now: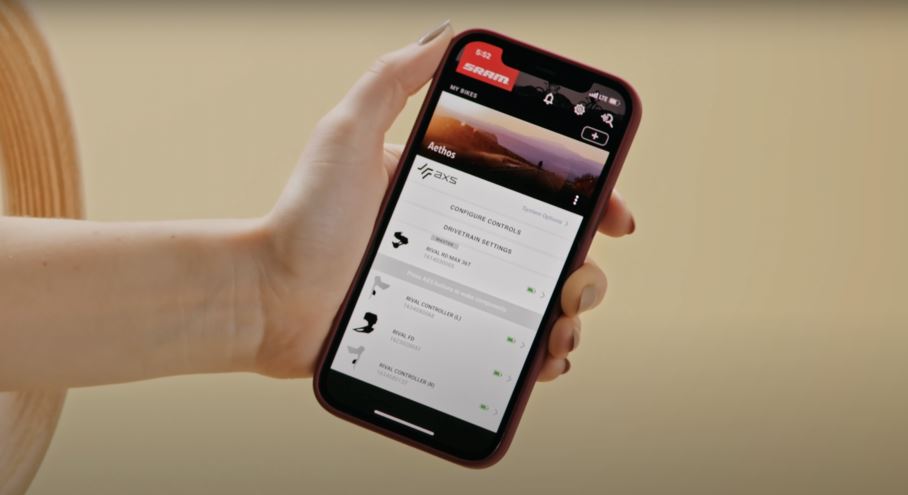 CONNECT
Make sure your system is paired and follow this quick five-step process to connect and create a bike profile. In just a few minutes you'll be tapped into all the SRAM AXS App has to offer.
YOUR BIKE. PERSONALIZED.
Don't miss the chance to give your bike profile some character with a pic and a name. Need ideas? Try something fun, like Optimus Climb, or a famous Tour de France summit finish, like Ventoux.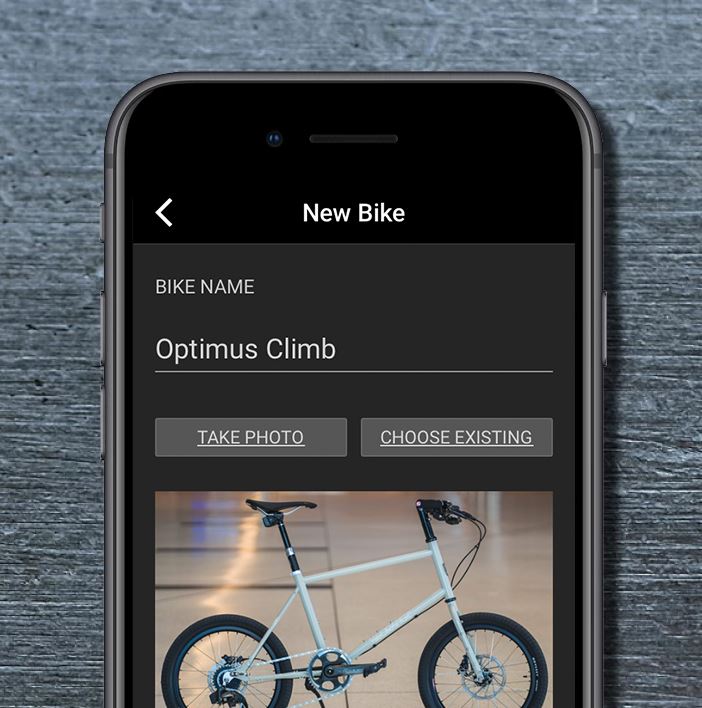 STAGE 3 - (APP)TITUDE
You and Rival make a great team. Tuck in as we discuss the perks of staying connected with your drivetrain via the AXS App.
STAY CURRENT
With components connected to the app, you can ensure they get all the benefits that each firmware release provides.
TECH TIP: Each AXS component has firmware, so it's recommended to occasionally check on the status of each Rival component in your bike profile. We may have improved battery life or shift profiles.
BATTERY LEVELS. CHECK.
You checked battery status and there's still plenty of daylight. With all that power left in your legs and on your AXS, there's nothing stopping you from extending your ride.
TECH TIP: You can swap front and rear derailleur batteries on 2x AXS systems, since front derailleurs use less power due to infrequent shifts.
CHOOSE YOUR (SHIFTING) ADVENTURE
Want to forget about all this and focus on your ride? Try reassigning the shift controls to match your shifting style. Take a deeper dive into the details and try it out before your next ride.
STAGE 4 - ENHANCE YOUR RIDE
Your bike is faster when it's yours. That's why eTap AXS is designed with brake lever reach adjust and enhanced shifting modes. With shifting and braking tailored to you, you can still enjoy the journey, just faster.
DIAL YOUR REACH
With a 2.5mm wrench, you can tailor your shift-brake lever position by turning the reach adjust screw underneath the hood. The shift and brake lever move together. Adjusting made easy.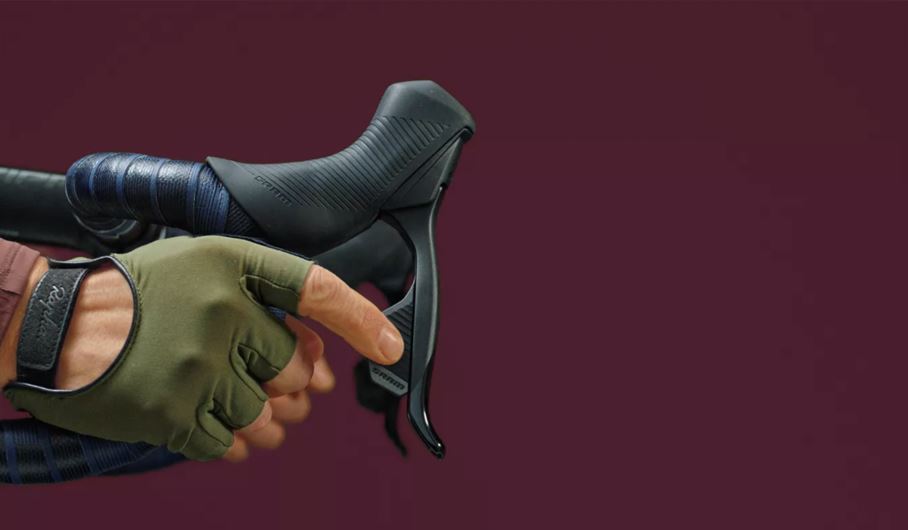 SEQUENTIAL SHIFT
Sequential shifting leaves the decision of when to shift the front derailleur to the system. You only think about easier or harder.
TECH TIP: You can override the shift setting by manually actuating a front shift.
COMPENSATING SHIFT
Keep your cadence smooth when shifting the front derailleur. With this setting, you program AXS to shift the rear derailleur one or two cogs when you make a front shift, to compensate for the front derailleur's larger jump in gearing.
TECH TIP: Don't forget to select the proper cassette size in the Drivetrain Settings menu to optimize the enhanced shifting setting for your drivetrain.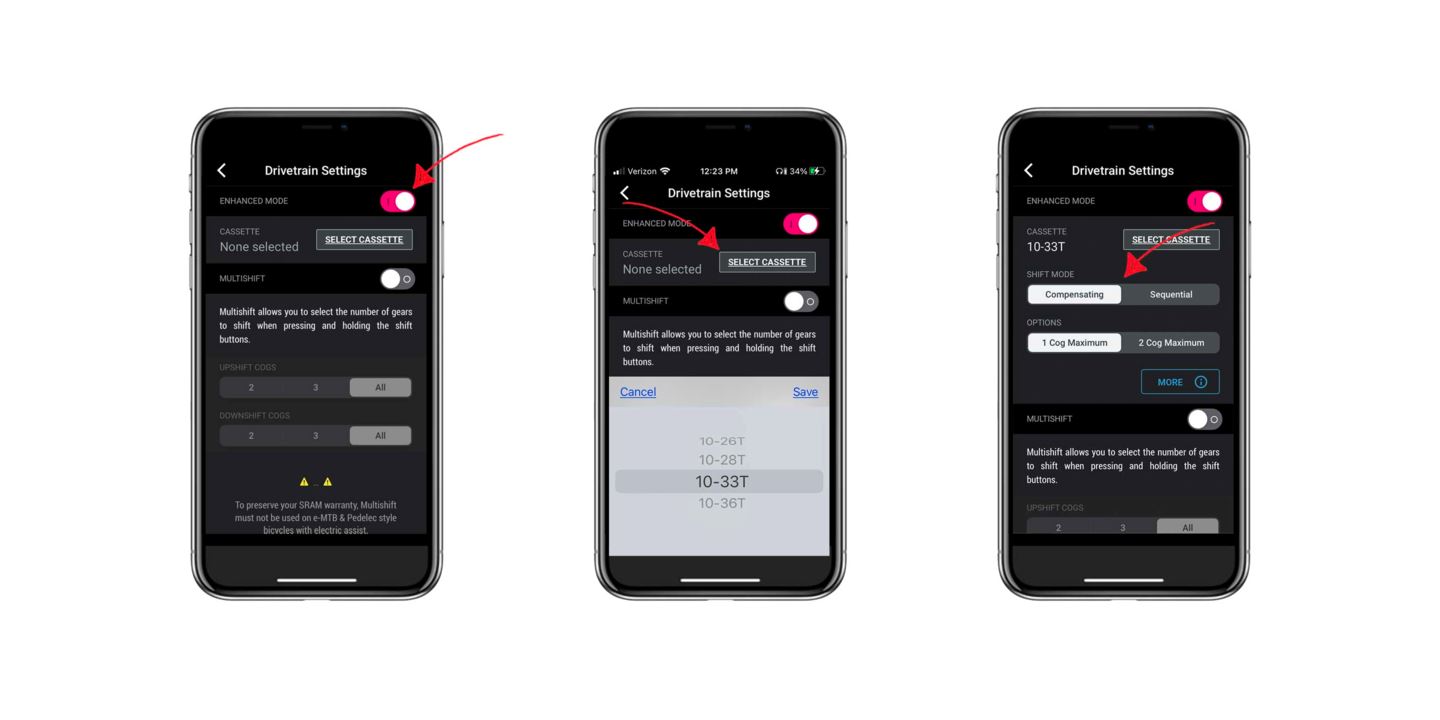 STAGE 5 - DATA!
What do you do after your ride? If it's normal to hop off the bike, grab a favorite drink, put your feet up, and check your ride data, then this info is for you.
RIVAL, MEET CYCLING COMPUTER
The rear derailleur is the most social component in your drivetrain. Not only does it communicate with your whole AXS system, it can also bridge to the outside world. We've partnered with Garmin, Wahoo, and Hammerhead so you can connect your Rival eTap AXS components to your head unit, making your bike smarter.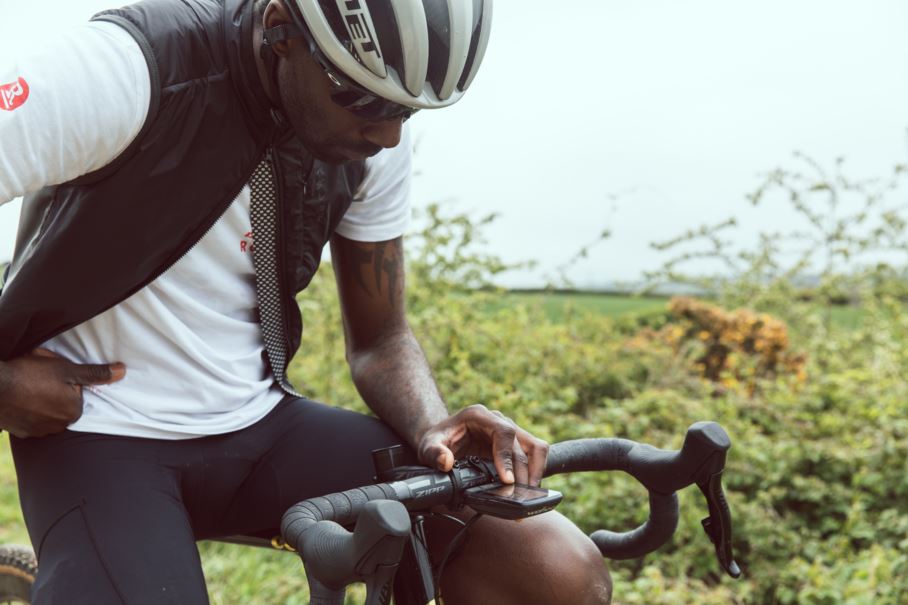 REAL TIME RIDE INFO
Depending on your cycling computer make and model, you may be able to keep track of derailleur battery status and gear indication in real time. Check in with your head unit manufacturer for details.
RIDE. REVIEW. REPEAT.
Want to know if your gearing is right for you? Pair and link a head unit, then sign up in SRAM AXS Web to receive ride reports that tell you how much time you spend in each gear, and more.
SHOW OFF
Now that you've learned all you need to get riding with your Rival, share a photo of your new bike in our SRAM AXS Owners Facebook Group.