So you are looking at a fresh rotor or rotors for your bicycle? Excellent - we want to make the process as smooth as possible. There are a few variables that come into play when selecting your rotors. Please use the simple steps below to help determine your needs.
Already know what you're looking for? Use the links below to skip ahead.
STEP ONE: Identify Mounting System
Two main ways for your rotors to mount to your hub are ISO 6-Bolt and Centerlock. It is essential that your rotor mounting matches your hub mounting for optimal placement, performance and operation.
ISO 6-Bolt
ISO 6-Bolt is an internationally recognized standard for hub and rotor manufacturers to ensure cross-compatibility by using consistent bolt-hole spacing and thread pitch. As the name suggests, this rotor offers six bolt holes in the center, which align with a six-bolt hub. With SRAM rotors, there will be T25 Torx head bolts with brand-new rotors.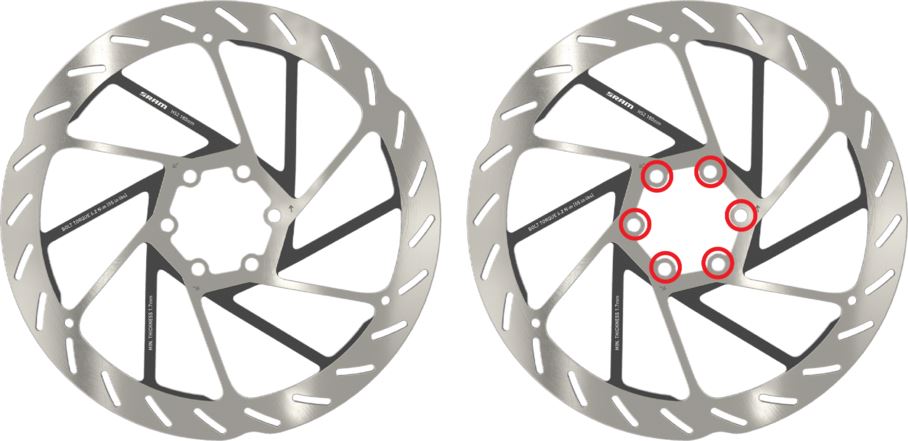 The mounting points are highlighted in red
Centerlock
Centerlock is a newer standard that uses a notched interface between the hub and rotor and is attached by a locking ring. These rings can come in different sizes depending on the use of the rotor, i.e. road or mountain.
The notched interface utilizes a cap or as we call it, a locking ring. Please refer to your manufacturer's information on whether the wheel or rotor supplies this lockring.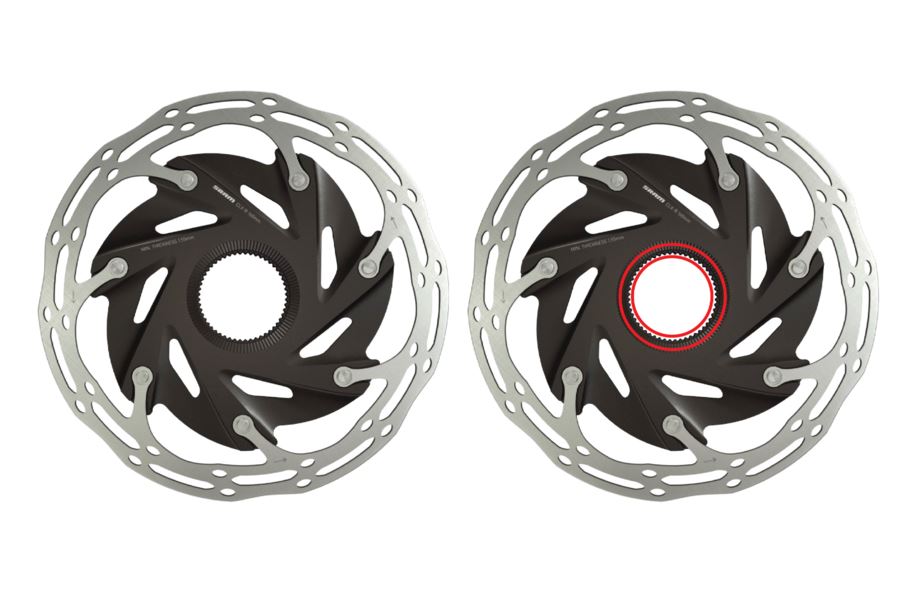 Centerlock mounting is circled in red
STEP TWO: select rotor size
Rotor size is the measurement of the diameter of the rotor. In short, the larger the diameter of the rotor, the more leverage over the wheel it will have and, thus, more power. If you are looking at replacing like for like, then look at the readings below.
What size am I currently using?
Not sure about your existing rotor size? Well lucky for you, SRAM marks the size on their rotors to streamline replacement or upgrade.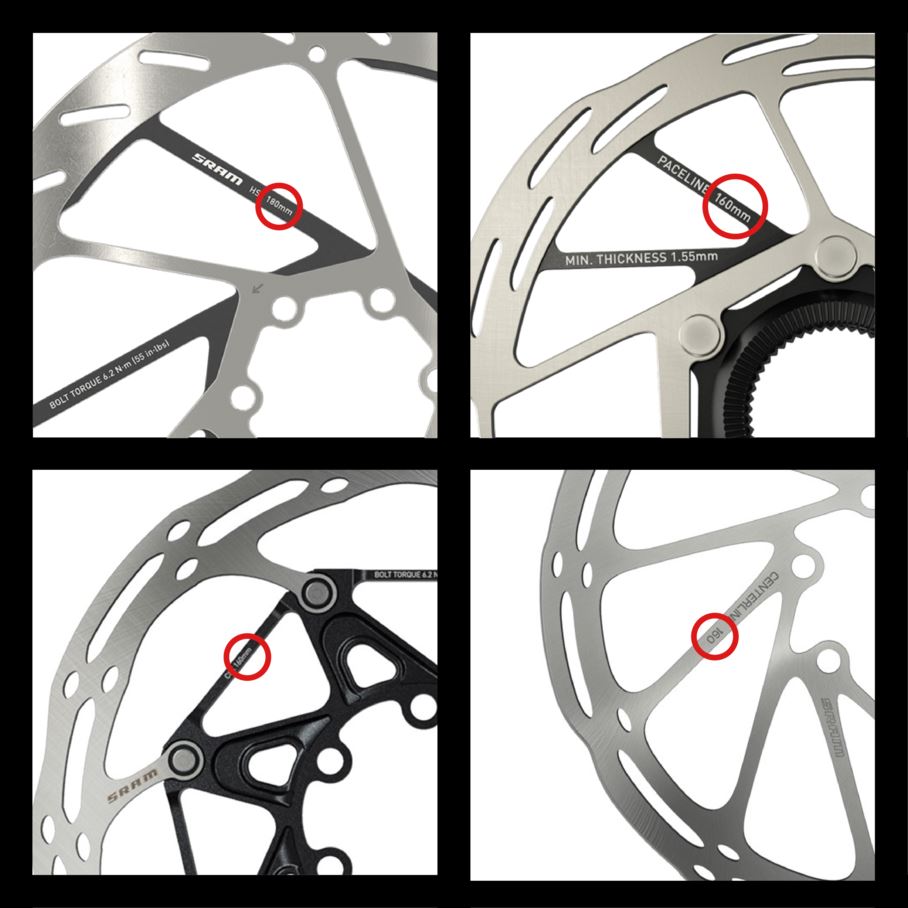 (optional) I want to change my rotor size.
Going bigger or smaller can dial in your brake setup for your personal needs. As easy as it may seem to change rotor size, there are a few key points you will need to consider:
Consult your bicycle owners' manual as to any specifics around maximum rotor size. The minimum and maximum of road and mountain bikes will generally be drastically different.
If you are using a mountain bike, consult the fork manufacturer. RockShox (our favorite) has each fork's minimum and maximum rotors listed in their Front Suspension Specifications.

Once you have figured out if your bike can change, you will need to find which new mounts you need to accommodate that new-sized rotor.
Not sure where to start?
Maybe you're building a new bike or unsure if you should change the rotor size. SRAM has some helpful guides for rotor size options for MTB and road bikes based on rider weight. Of course, many other factors come into play, such as your bike's ability to run specific rotor sizes and the terrain and speed you are riding. Nevertheless, this is a great place to start.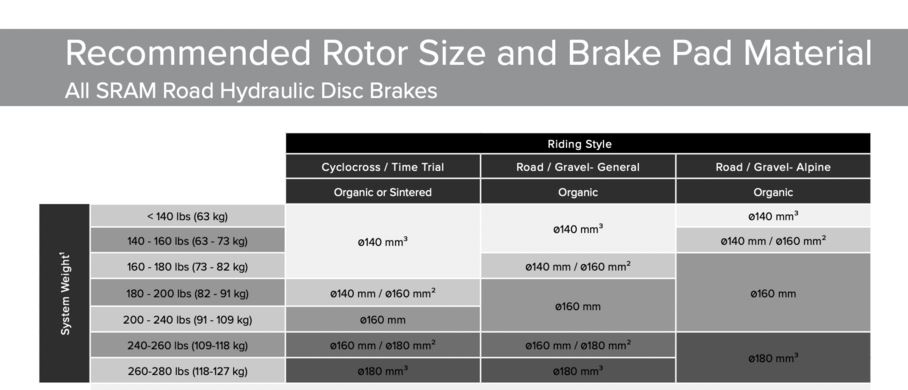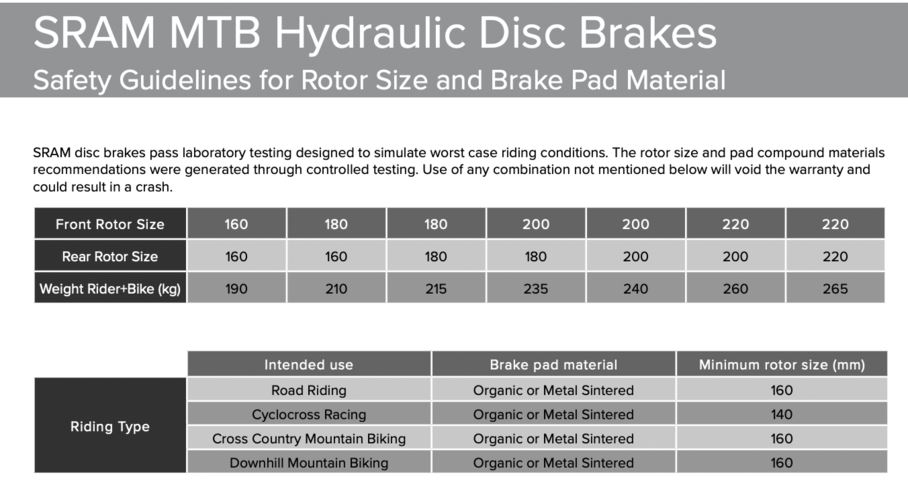 Rotor Offerings

Rotors come in wide varieties of brake track and spoke patterns. Some rotors are designed with specific purposes, such as being thicker for more aggressive applications like MTB, or more aerodynamic for road, while others work great in either scenario.
Some brake tracks have specific designs and cutouts to assist with cooling and reducing sound. See below for a list of rotor models and sizes for their intended use:
Road and Gravel specific rotors
SRAM Paceline: 6 bolt or Centerlock | Available in 140 or 160mm. (1.85mm thickness)
SRAM Centerline XR: 6 bolt or Centerlock | Available in 140 or 160mm (1.85mm thickness)
MTB specific rotors
SRAM HS2: 6 bolt or Centerlock | Available in 160mm, 180mm, 200mm or 220mm (2.00mm thickness)
Road, Gravel or MTB
SRAM Centerline X : 6 bolt or Centerlock | Available in 140, 160 or 180mm (1.85mm thickness)
SRAM Centerline rotors: 6 bolt or Centerlock | Available in 140, 160, 180, 200

≠ 203

(1.85mm thickness) or 220mm (2.00mm thickness)
STEP THREE: Installation
To help with the proper installation of your rotors, please review our two manuals below for both MTB and Road disc brakes.
Looking to learn more?
We have two other brake articles to help riders with getting the right spare parts for their SRAM Brakes.
SRAM has fantastic learning resources, such as our service website and SRAM Tech YouTube channel.