Sometimes it's the little things that really make a groupset stand out. Beyond the machined and polished goodness that we all know and love about eTap AXS components, there are some pretty cool Easter eggs and lesser-known features. Learn all about the special capabilities of RED and Force eTap AXS in the list below.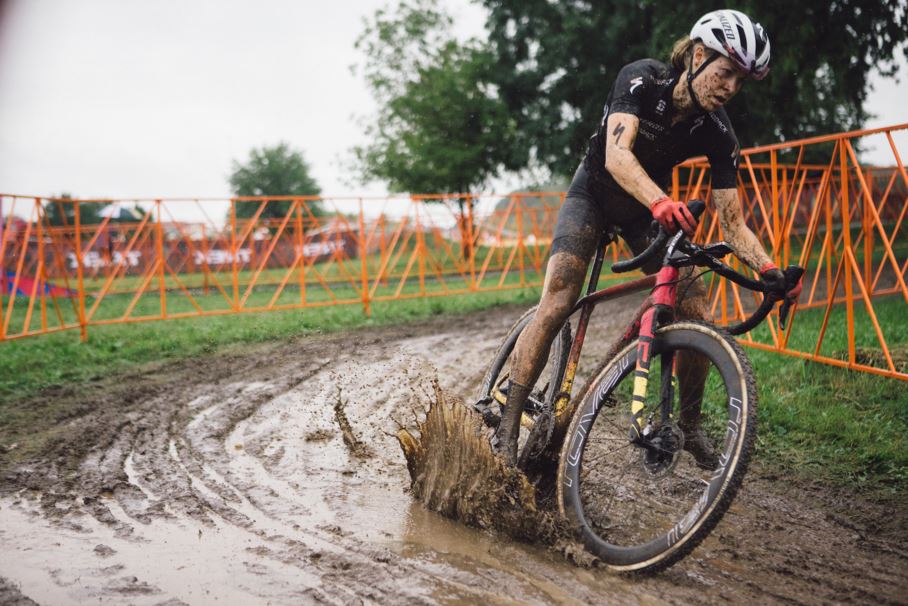 Photo by CyclePhotos.co.uk
1. GO AHEAD, GET IT WET
We know you aren't riding your bike underwater, but we want to make sure that you can ride in a torrential downpour and have rock-solid reliability, so we made all of the AXS shifting components fully waterproof, even in water up to 1 meter deep. So, drive your car through dumping rain with your bike on the roof of your car without ever worrying about the shifters and derailleurs.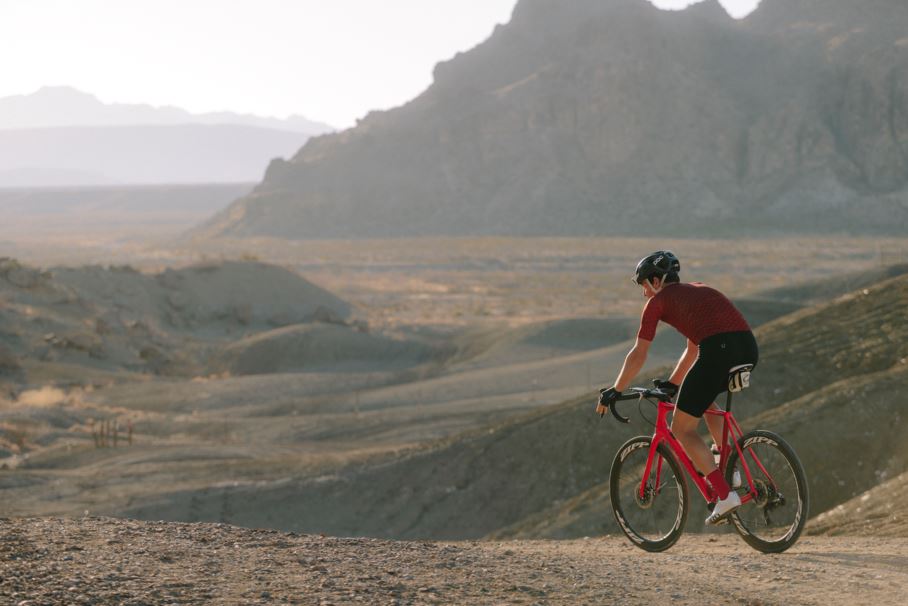 2. NO WORRIES RIDING ROUGH ROADS
When your eyes feel like they are bouncing out of your head on a washboard gravel road, we believe that worrying about chain drops should the last thing on your mind. eTap AXS rear derailleurs have Orbit™ fluid dampers in RED and Force, and a clutch in Rival, that keep your chain secure and quiet. BONUS: This super simple damper requires no maintenance or adjustment… ever.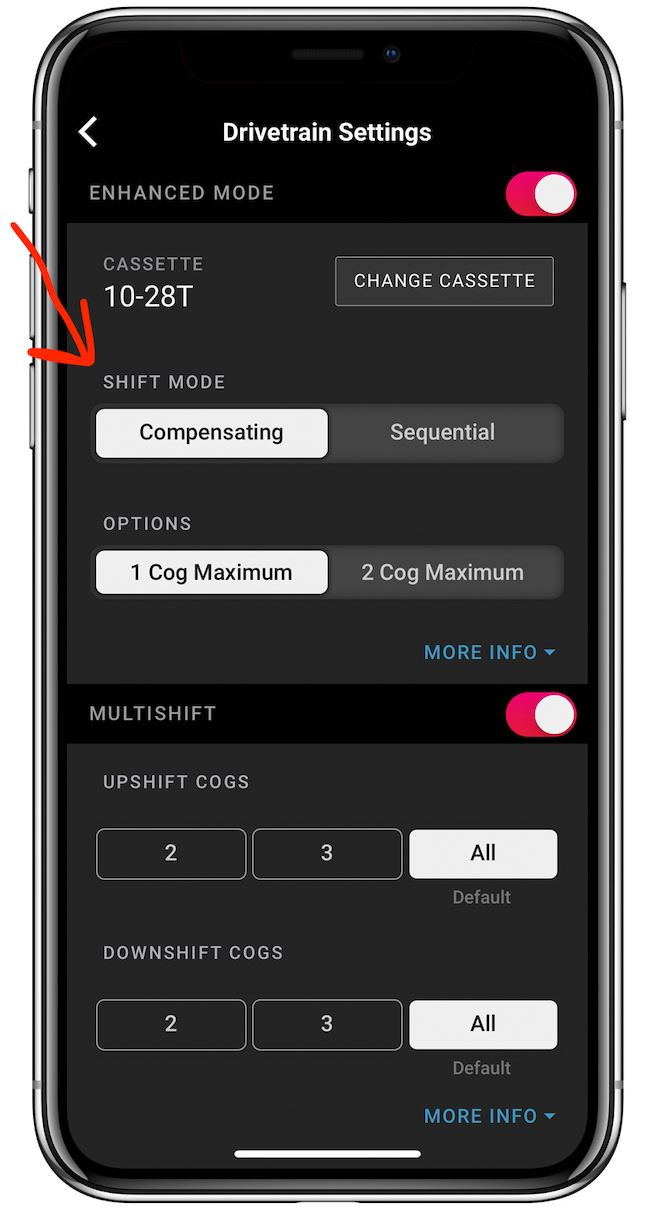 3. SHIFT MODES TO MATCH YOUR RIDING STYLE
Don't want to think about your front derailleur? Sequential mode is your jam. Press the right shift paddle for a harder gear and the left for an easier gear… and that's it. In this mode, the front derailleur will shift automatically for a super simple shifting experience.
Maybe you just want to avoid having to make rear compensation shifts to maintain your cadence after a front shift? We've got you covered there too with Compensating mode.
Both of these modes are available using the free AXS mobile app.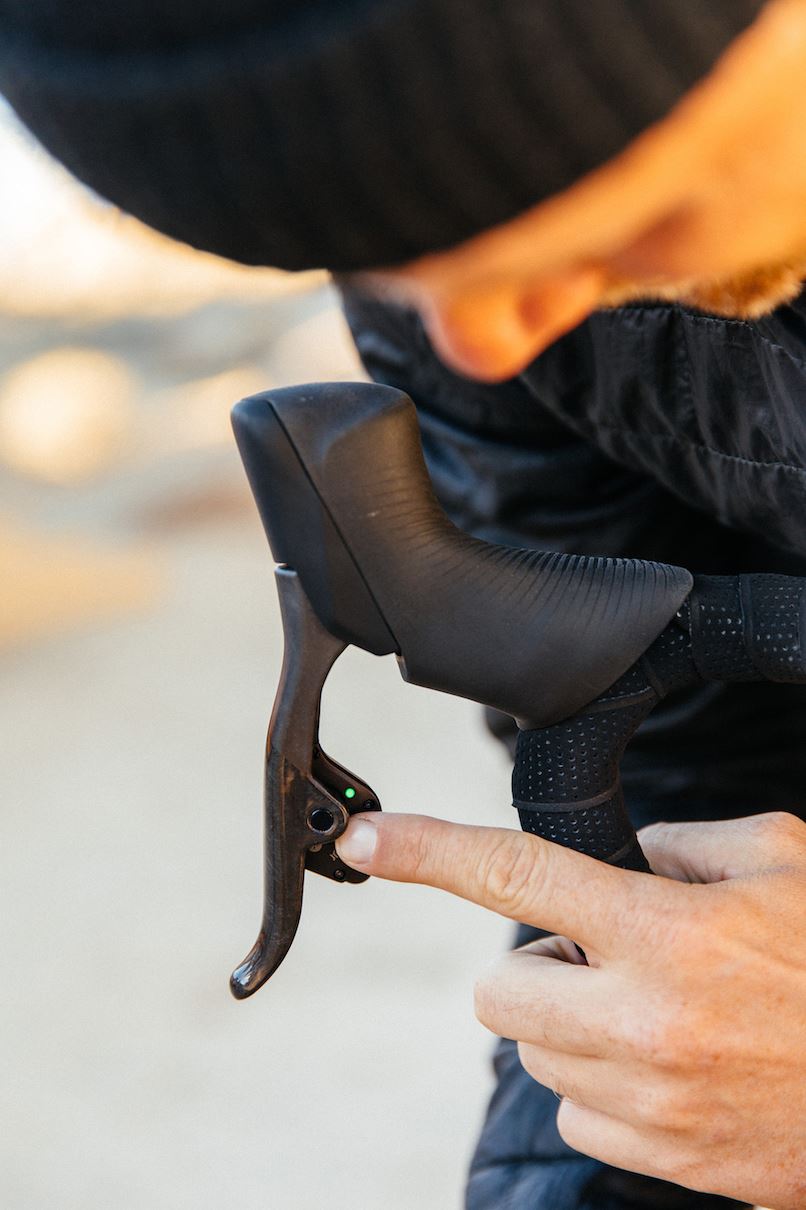 4. WANT TO CHANGE SHIFT MODES DURING A RIDE?
It's no problem to quickly switch between an enhanced mode and full manual shifting for a portion of your ride. Once you've selected an enhanced shift mode in the AXS app, you can use the AXS buttons on the backs of the shift paddles to turn this mode on and off. The button on the right lever turns it on. The button on the left lever turns it off.
If your enhanced shift mode was automatically deactivated when you removed a derailleur battery for charging, turn it back on by pressing just one button, the AXS button on the right shift paddle.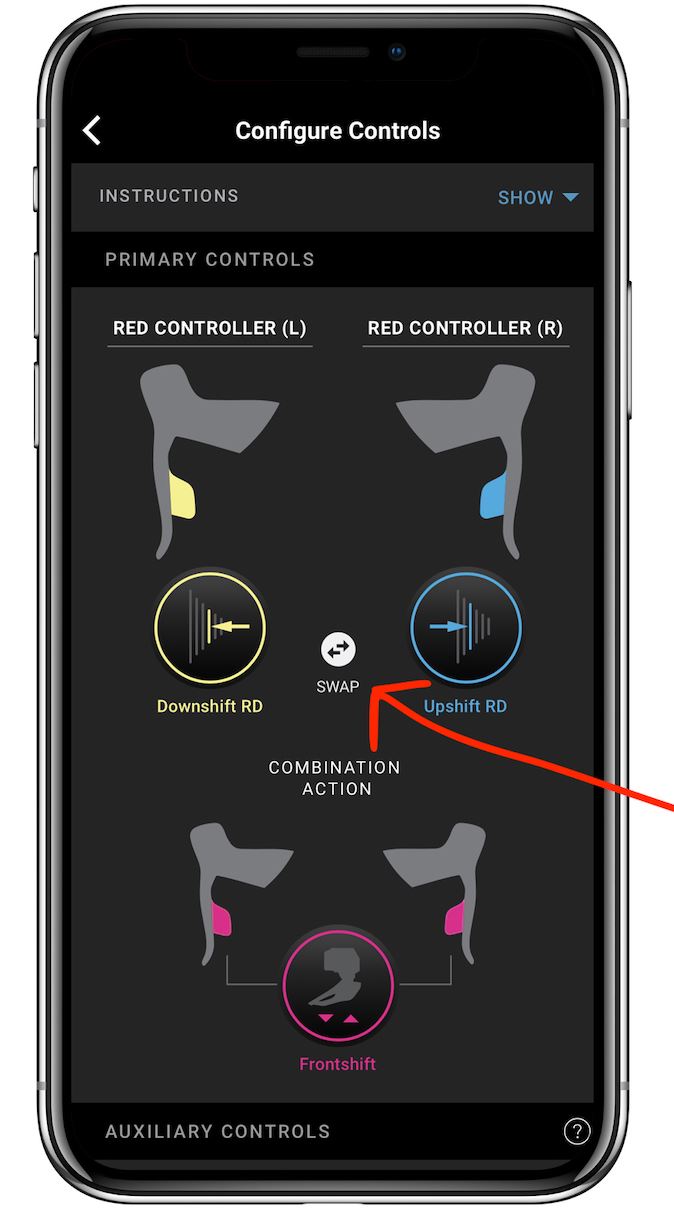 5. PERSONALIZE YOUR SHIFT BUTTON FUNCTIONS
So, you think you should move to a harder gear with your left hand? That's cool. You can reverse the standard eTap shift logic in the AXS app. Make the right lever shift to an easier gear and the left lever to a harder gear if you prefer.
Additionally, on RED and Force you can have remote shifter buttons, like Blips, MultiClics and Clics, perform a different function than the lever they are plugged into. Change it using the AXS app. Some fun options:
Use a Blip remote shifter to actuate a Reverb AXS dropper post
Shift your front derailleur by pressing one remote shifter button
Any AXS shifter can also pair with eTap AXS Wireless Blips for fully wireless remote shifting options.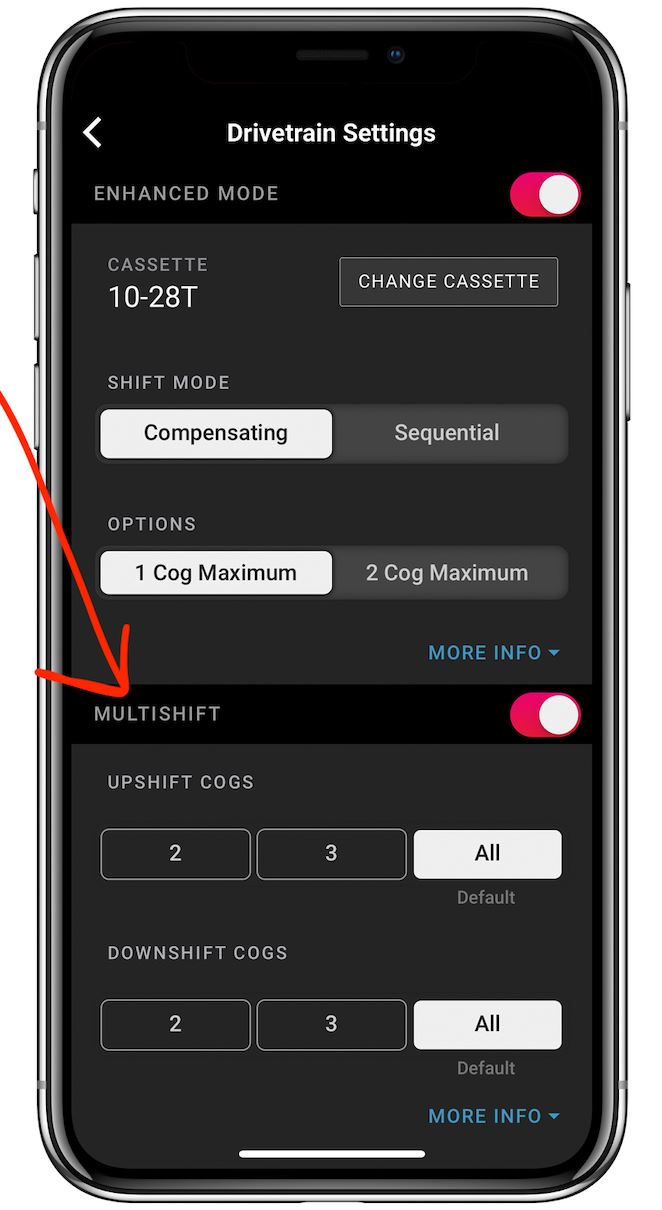 6. EVEN MORE SHIFTING OPTIONS
Straight out of the box, if you hold down a shift paddle then the rear derailleur will keep shifting repeatedly in that direction until you lift up your finger. We call that a Multishift, and it can be programmed to work the way you want it to. Want the derailleur to stop after 1, 2, or 3 shifts? You can use the AXS app to do it.
This is a cool feature for cross racing or just winter riding in general. Whether your shift paddles are caked in mud and/or your hands are numb or wrapped in thick gloves, your rear derailleur will stop right where you want it to when holding down the shift paddle.
The ability to turn off Multishift also makes the groupset compatible with e-bikes. Performing one shift at a time protects the drivetrain components during the high wattage accelerations that e-bikes are prized for, so you get the most miles possible out of your drivetrain.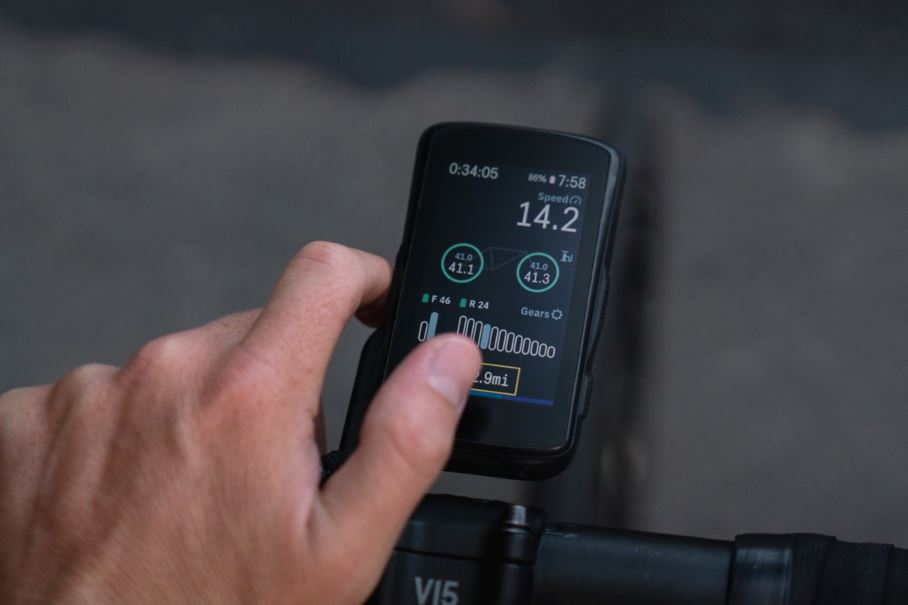 7. SEE WHAT GEAR YOU ARE IN WITHOUT LOOKING AT YOUR DRIVETRAIN
Modern GPS head units can show you what gear you are in so that you can keep your eyes on the road. Additionally, AXS components track how many shifts you make on each derailleur and when you do them. Trying to make it up a climb faster and experimenting with different cadence or gearing for specific sections? You can compare different rides on the same road to see what works best for you.
8. OUR WIDE RANGE CASSETTES ARE AWESOME FOR ALMOST ANY APPLICATION
Math is a beautiful thing. It confirms that a 12-speed 10-33 cassette has the same (technically, a tiny bit more) range than an 11-36 11-speed cassette—and does it with much tighter steps between gears. In fact, the 10-33 cassette has 1-tooth jumps between the six highest gears. If you want to go even wider, our 10-36 cassettes have a huge 360% range!
This means that with the 10-33 cassette you can assemble a really wide range 2x drivetrain—down to a 1:1 ratio for climbing with a 46/33 chainring set—without sacrificing steps between gears. And the 10-36 cassette gives you ratios below 1:1 on 48/35 or 46/33 ring combos.

But here's the math that might really surprise you. With a 1x drivetrain using a 48t chainring and a 10-33 cassette, you get the same gear range as a 2x drivetrain with a 53/39 chainring set and an 11-26 cassette! That means with this 1x AXS drivetrain configuration you get a bike that's more aero, lighter weight, cheaper, and easier to set up all without sacrificing tight steps between gears. It's perfect for TT/triathlon, crit racing, cyclocross, and more.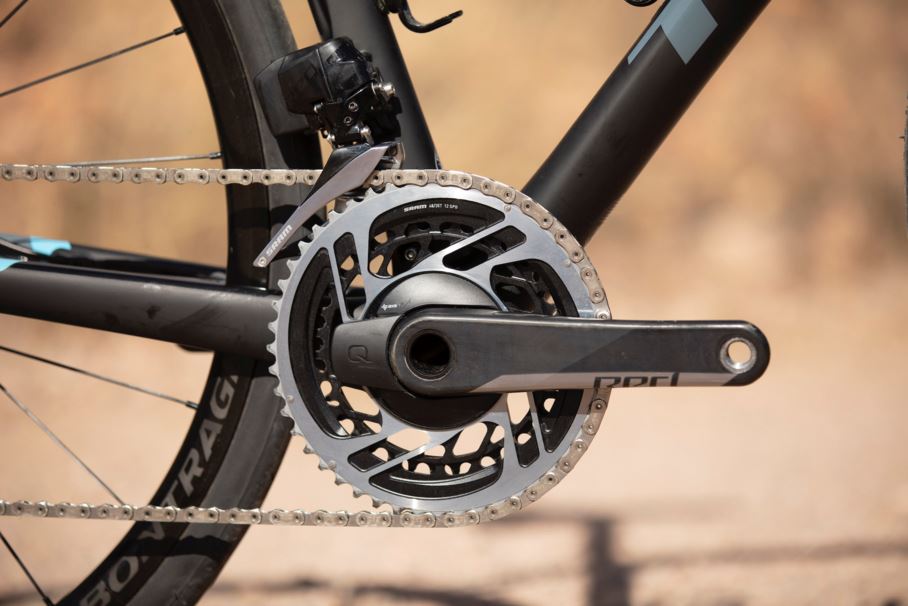 9. DIALED IN FRONT SHIFT PROFILES FOR EVERY GEAR COMBINATION
eTap AXS knows where the chain is on the cassette and adjusts front derailleur movement accordingly for an ideal shift, every time.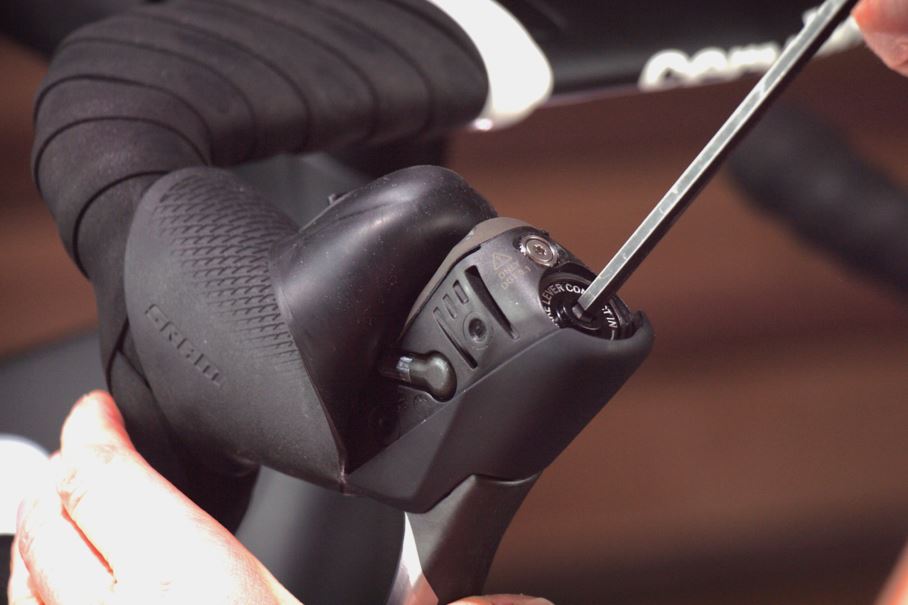 10. GETTING THAT PERFECT BRAKE LEVER FIT AND FEEL IS SUPER EASY
The expression, 'Fits like a glove' could also be said, 'Fits like an AXS brake lever.' With Contact Point Adjust on RED and Force (5mm hex under the top of the hood) and Reach Adjust on all levels (2.5mm hex from below the shift lever), AXS disc brake levers can be adjusted to fit your hands perfectly. And it's super easy to do. Takes just a few minutes, tops, to get your lever fit dialed.
THIS ISN'T THE END
Because eTap AXS firmware is constantly evolving, free new features and capabilities are being added all the time. This makes the free AXS App the gift that keeps on giving!
To upgrade your bike or find a new one with eTap AXS, check out our dealer locator and bike finder below: