When RockShox handed Steve Peat a prototype BoXXer fork, the former plumber was just 22 years old, a relative newcomer in pro downhill racing, and he'd just won the first World Cup of the season. It was 1996 and only a handful of these new, downhill-specific forks existed. Each prototype was hand-machined by one of the most skilled craftsmen in the business, with no spare parts and limited field testing. What could go wrong?
Even though Peaty had a reputation as a hard-riding, hard-partying Englishman, he was one of the first to bring BoXXer to life at the highest level of the sport. Over the years, he was one of many great riders who made downhill racing history with the sport's most decorated suspension fork.
But this story isn't really about Peaty … or Nicolas Vouilloz, or Greg Minnaar, or Danny Hart, or Sam Hill, or any number of other legends that rode BoXXer to victory over the years. This is about the evolution of a technology that changed downhill racing.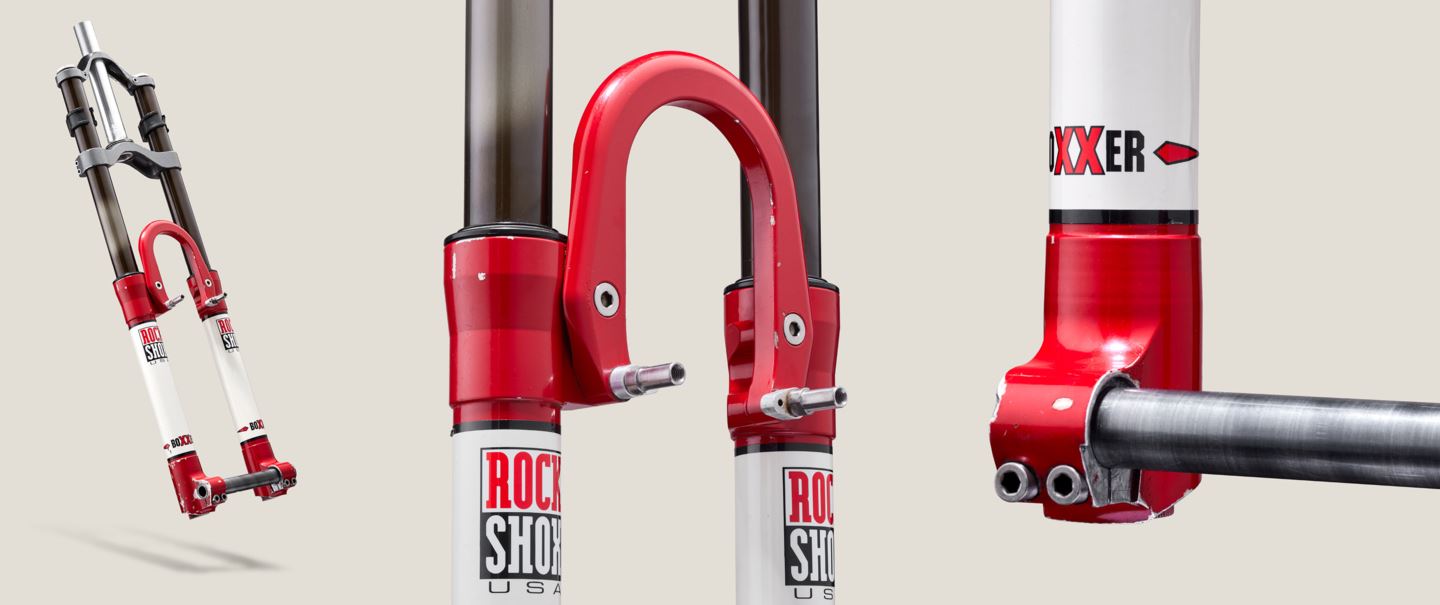 Today's park rats and racers would probably laugh at the original BoXXer, released in 1996 to professional athletes only. Only 20 prototypes were made, and they came with coil springs, 150mm of travel, 32mm stanchions, two separate cartridges for Rebound and Compression damping, and posts for V-brakes. V-brakes? Yep, but still this was a futuristic suspension fork. The double-crown design was a quantum leap forward in stiffness and control. Though its travel would be stingy by today's enduro standards, it was almost twice that of the Judy DH, it's precursor.
As downhill racing boomed in the mid-90s—a counterpoint to cross-country's recent inclusion in the Olympics—the public demanded equipment to help them clock faster runs. In 1998, BoXXer finally went to market with some major improvements, namely open-bath dampers in both legs. Don't worry folks, you could still run V-brakes on this bad Larry.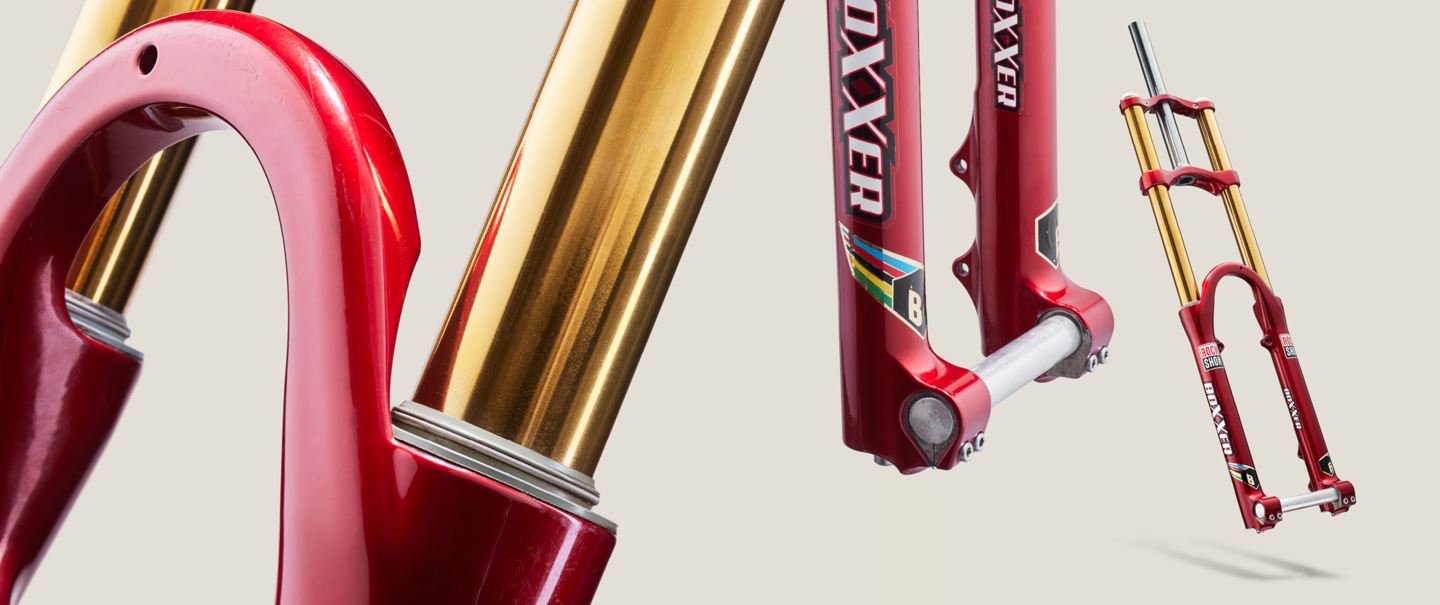 The new millennium saw a couple of significant changes, and we didn't even have to deal with a worldwide computer meltdown. RockShox launched the BlackBox program in 2001 to create and test the most cutting-edge technology at the world's biggest races. While BlackBox would soon become a powerful engine driving the advancement of BoXXer technology, the big news for consumers was the increase from 150 to 180mm of travel for the 2001 model.
The early 2000s BoXXers were also known for their flashy, gold Titanium Nitride stanchion coating, specifically on the 2002 production model. This was the first example of a special coating to reduce suspension friction, and plus it looked like a million bucks. This was also one of the earliest iterations of an air spring, paired with the Hydracoil open bath damper.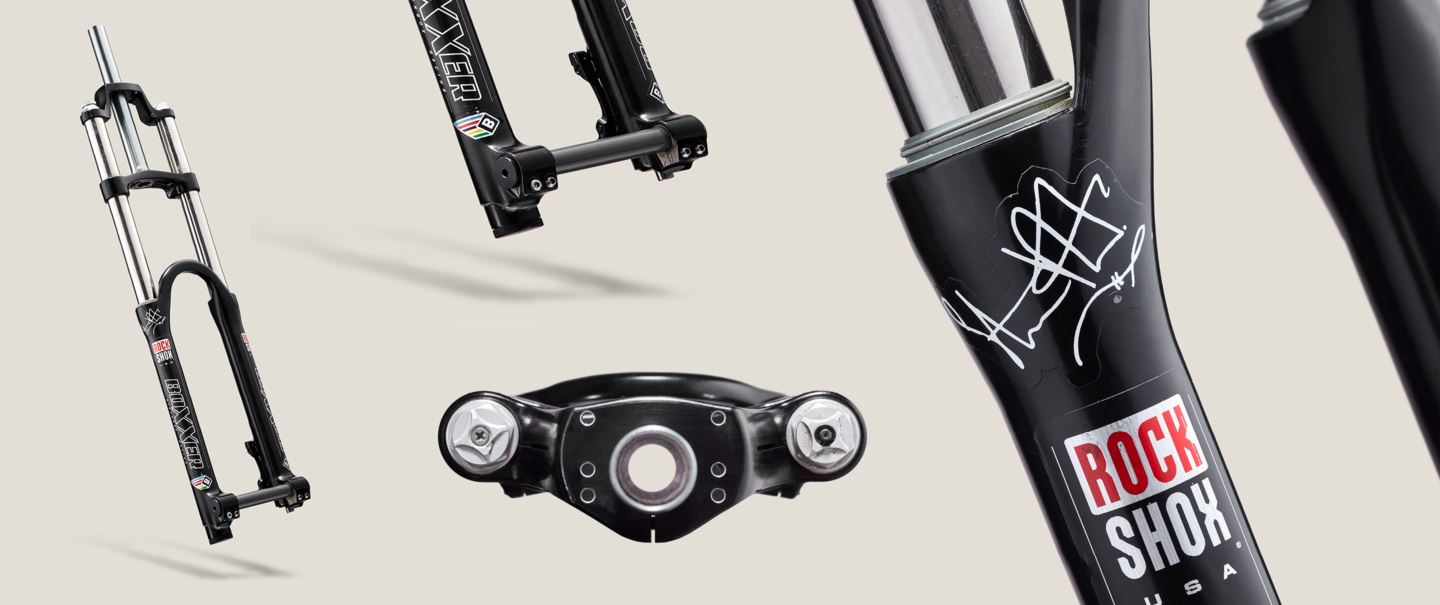 The never-ending quest to decrease friction and increase durability led to a switch from Ti-Nitride to Slippery Silver stanchions for the 2003 BoXXer. These were very unique forks—they were dual-coil sprung with preload knobs on top of both legs. The cartridge-style damper, called the JOE damper, was installed from the bottom of the fork's lower leg through a custom machined hole and featured High and Low Speed Compression on the bottom beneath the cap, with Rebound adjustment on top.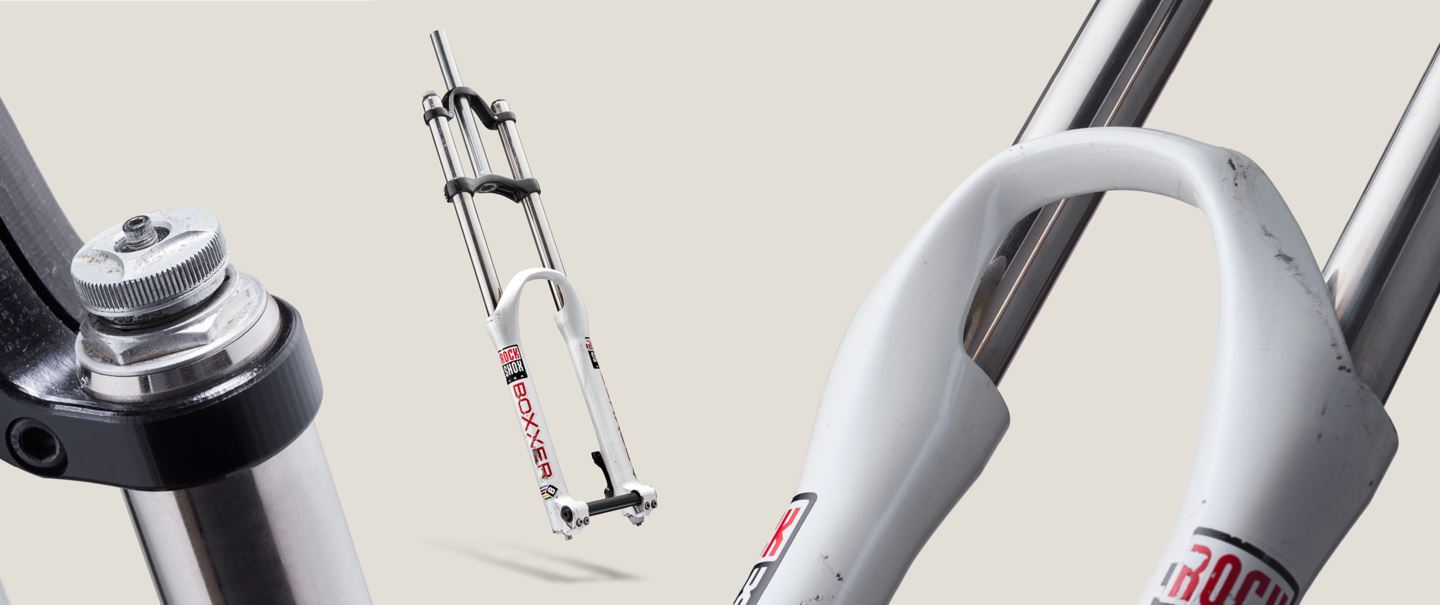 Two years later, World Cup downhill tracks had become exceptionally rough and gnarly. So, BoXXer bumped up to 200mm travel with this BlackBox fork, establishing the new standard for downhill suspension travel. The 2004 BoXXer featured the first prototypes of the new Motion Control damper and introduced a new lower leg casting that was much stiffer than the previous model, leading to better precision and steering control. At this point, some riders began to dabble with a single-sided air spring instead of the traditional coil springs, a sign of what was to come.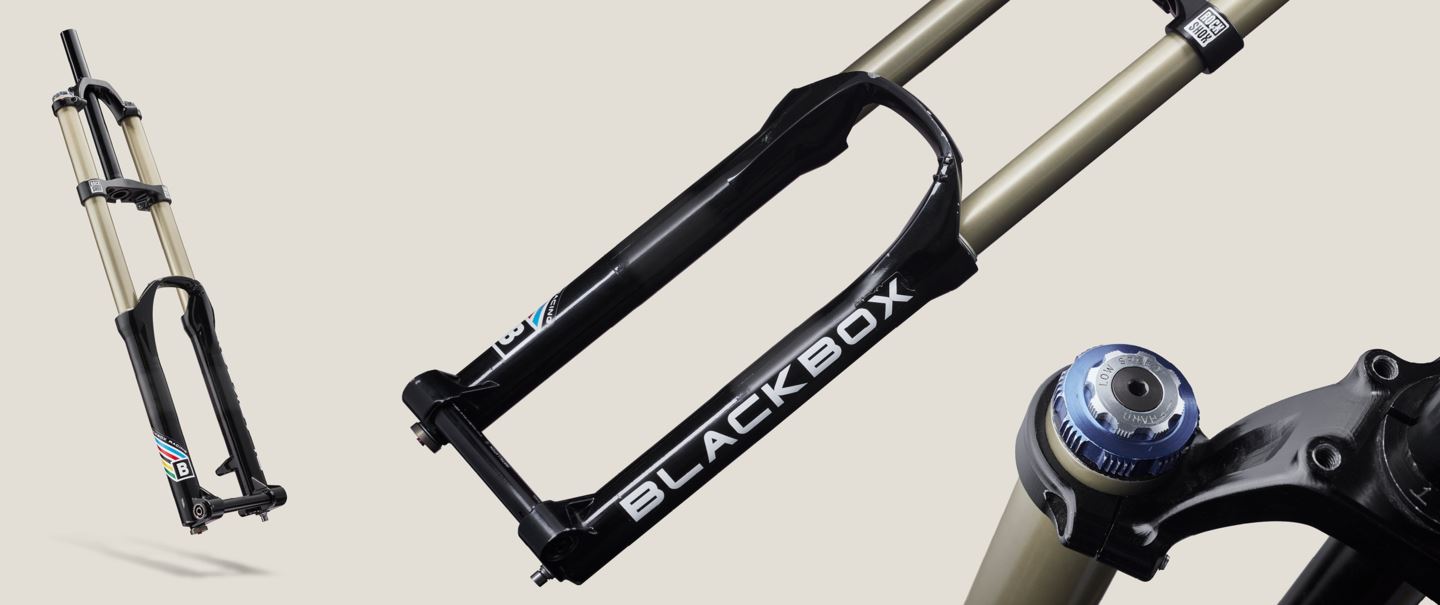 Ten years after the first production BoXXer, it was time for a big makeover. We beefed up BoXXer with 35mm upper tubes for additional stiffness and internal volume. This improvement was first seen on this BlackBox edition fork during the 2008 season. Inside those larger upper tubes, BoXXer was holding the new Mission Control damper. This unit was a huge step forward for downhill suspension technology. It offered a vast range of tunability: High and Low Speed adjustments for both Compression and Rebound. This gave the world's fastest racers far more control over how their suspension handled the rigors of world-class race courses.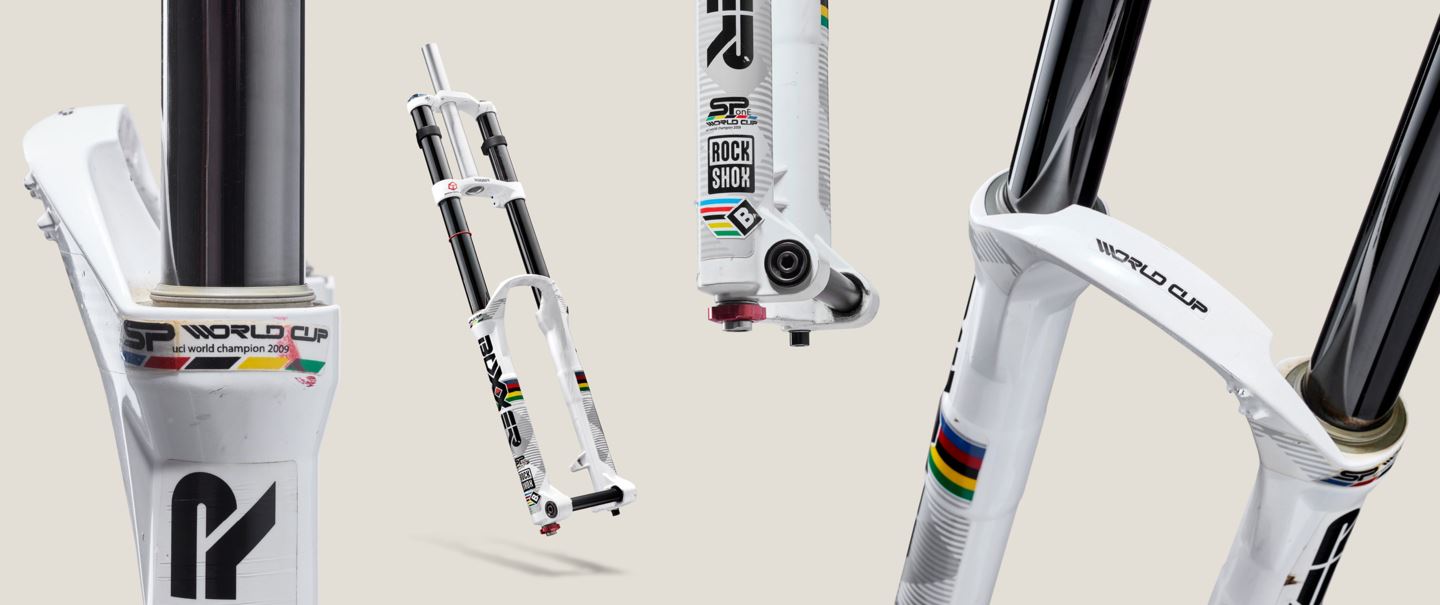 At last, the legend got his World Championship title. Peaty had been a mainstay on the World Cup downhill circuit for more than a decade. All along, he'd been racing with BoXXer. Up until '09, he had four silver World Championship medals to his credit, making his victory in Canberra that much sweeter. For the 2010 race season, we had to deck out Peaty's BoXXer with rainbow bands to commemorate the victory. Also, this fork had the new black DLC (Diamond-Like Carbon) upper tubes, another huge step toward eliminating system friction Although a coil-spring option remained, most pro riders had completely shifted to air springs by this point. This model continued to employ the Mission Control damper as well.
And it wasn't long before BoXXer was ridden to another significant World Championship title. In what would go on to be downhill mountain biking's most legendary and viral race run, Danny Hart flew down a slippery, steep track in Champéry, France to victory in 2011. Apologies to Rob Warner, but LOOK AT THE FORK!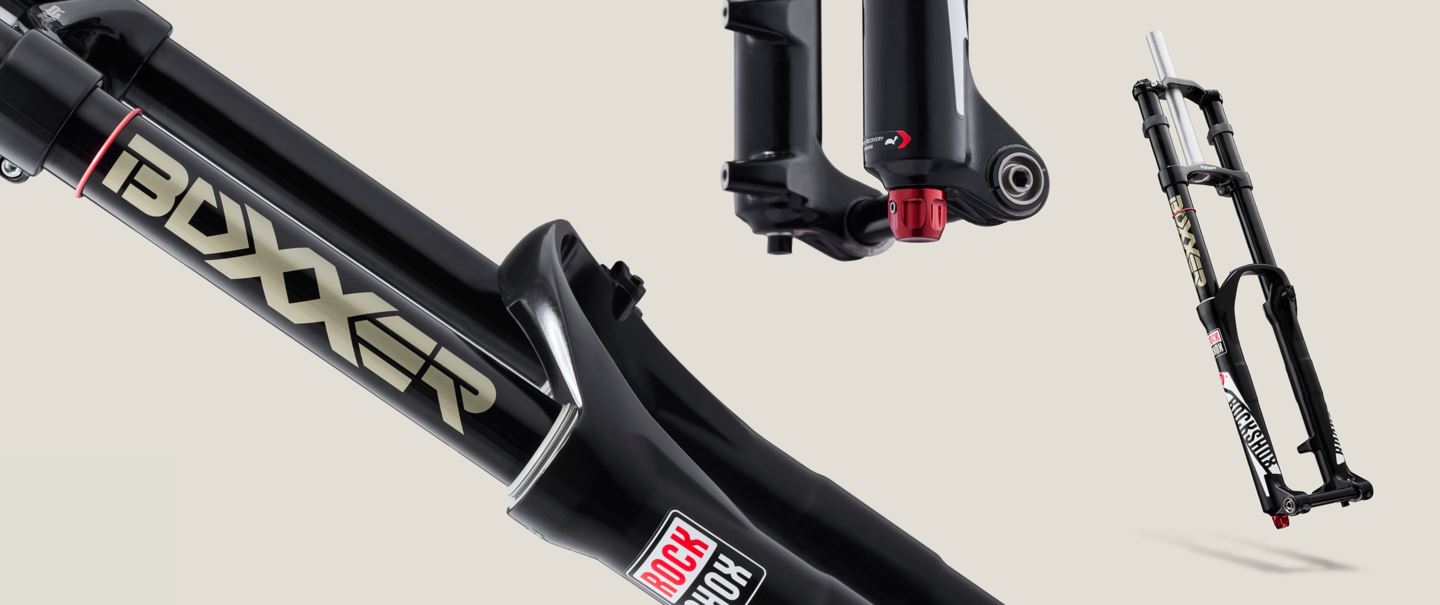 Much like the shift to the Solo Air spring, BoXXer adapted to trends coming out of mountain biking's endurance segment in 2014, offering a fork to fit the larger, faster rolling 27.5" wheels, giving more stability in almost every situation. This model year also saw the introduction of the Charger damper, further improving the fork's adjustment and control. This generation of BoXXer also featured the Fast Black upper tube coating, which you now see across the entire RockShox family of forks.
BoXXer might have been born out of World Cup downhill racing, but by this time, the fork had established itself in the world's biggest freeride MTB competition, RedBull Rampage. In 2014, Andreu Lacondeguy rode BoXXer to victory in the Utah desert. In fact, BoXXer is the winningest fork in RedBull Rampage history.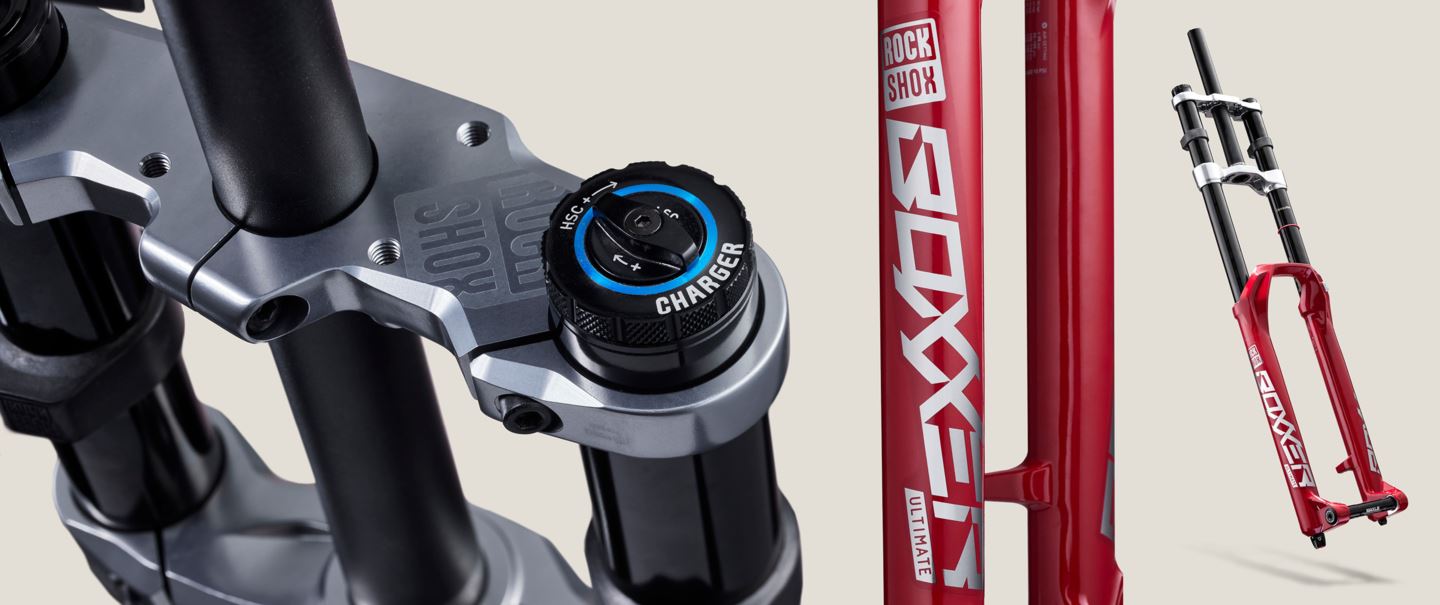 Over the following years, Brandon Semenuk would notch two Rampage wins with BoXXer. Myriam Nicole, Amaury Pierron, and Vali Höll won World Championships and World Cups. The fork continued to evolve and improve, offering the option to run 29" wheels with the 2019 model and the new Charger 2.1 RC damper, our most advanced damping system to date. This gave riders complete control with High and Low Speed Compression and Rebound damping adjustments. By now, coil springs were a thing of the past with the introduction of the DebonAir spring. This high-volume air spring was tuned to produce the linear, bottomless-feeling travel that top downhillers demanded.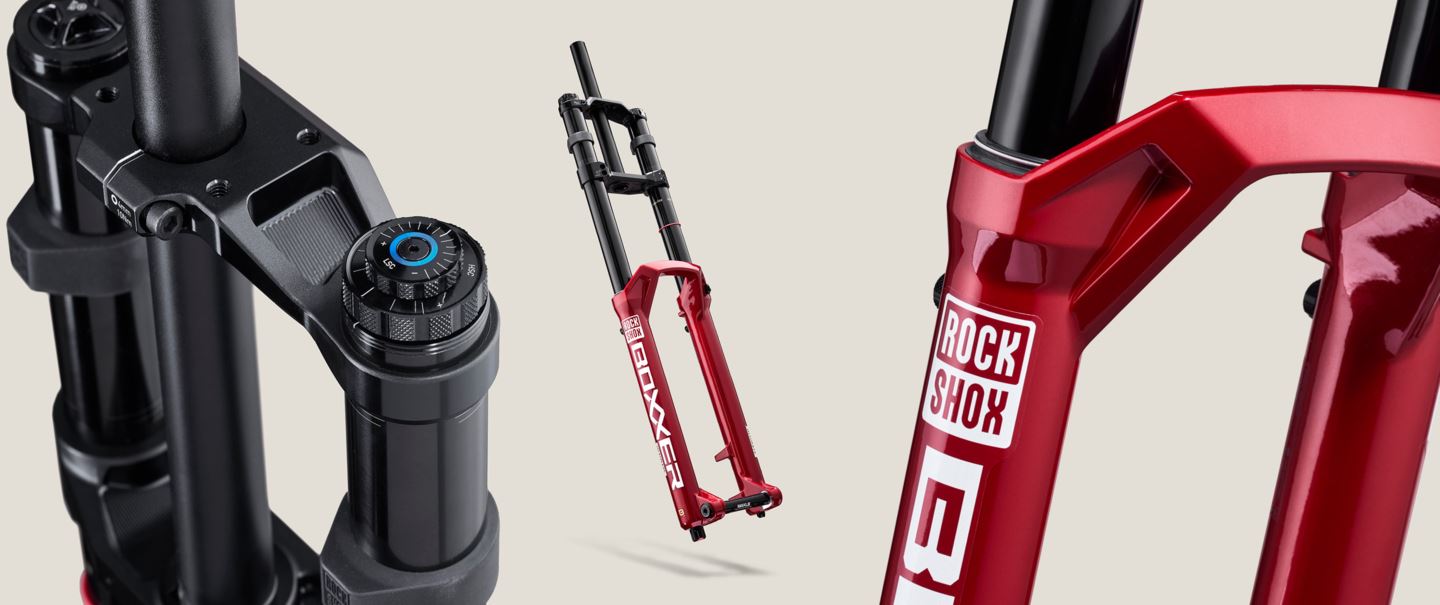 Which brings us to now—the 2024 BoXXer. In development for more than two years, with a significant pivot to a new design based on athlete feedback, BoXXer has taken the podium's top step 8+ times before even launching to the masses. Extensive testing led to a new 38mm chassis, new DebonAir+ air spring with twin tube design, and race-proven Charger 3 RC2 damper with independent High and Low Speed Compression adjustments. Read more about BoXXer's Development.
BoXXer goes well beyond the great champions, past and present, though. Once an exclusive piece of limited-run equipment that was reserved only for the world's best, BoXXer is now prolific at any bike park, anywhere in the world. And with more than 25 years of winning under its belt, BoXXer is the longest continually running production suspension model from any brand in the history of mountain bikes. Not bad, BoXXer.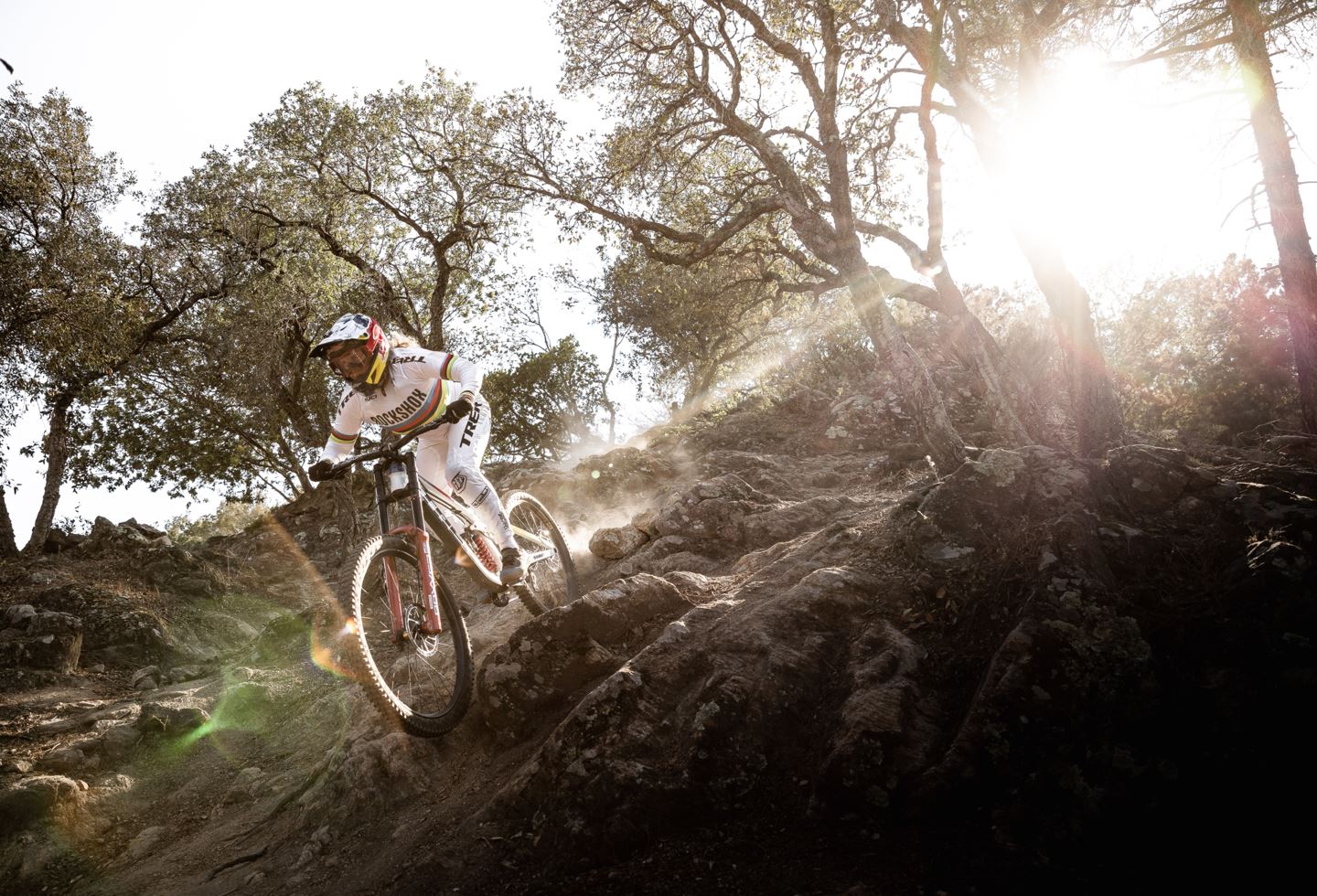 Photos by Caleb Kerr. Words by Spencer Powlison.