If you feel like your SRAM Force eTap AXS cassette or chain is making excessive noise, follow these steps for a quiet drivetrain. We'll go into more details, but the main things are:
1. Check your rear derailleur setup
2. Use wet lube
3. Let the cassette break in
4. Install Stealth Rings
CHECK RD SETUP
The first step to resolving a Force noise issue is ensuring that the setup is correct. If the chain isn't centered on the cassette's cogs, or if the derailleur pulley is too close to the cassette, the system will be noisy. Using the manual as a reference, here are some key adjustments to check:
Use a derailleur hanger alignment tool to ensure that your hanger is straight. A bent hanger will cause inconsistent alignment across the cassette range
Use the microadjust feature to ensure that your derailleur's upper pulley is centered under the cog it's in. Misalignment will cause drivetrain noise
B-gap, or the distance between your cog and upper pulley, affects shift speed and quality, but can also create a noisy drivetrain if it's maladjusted. Shift to the largest cog and check, either with our b-gap tool or by measuring, that the gap is within our recommendations.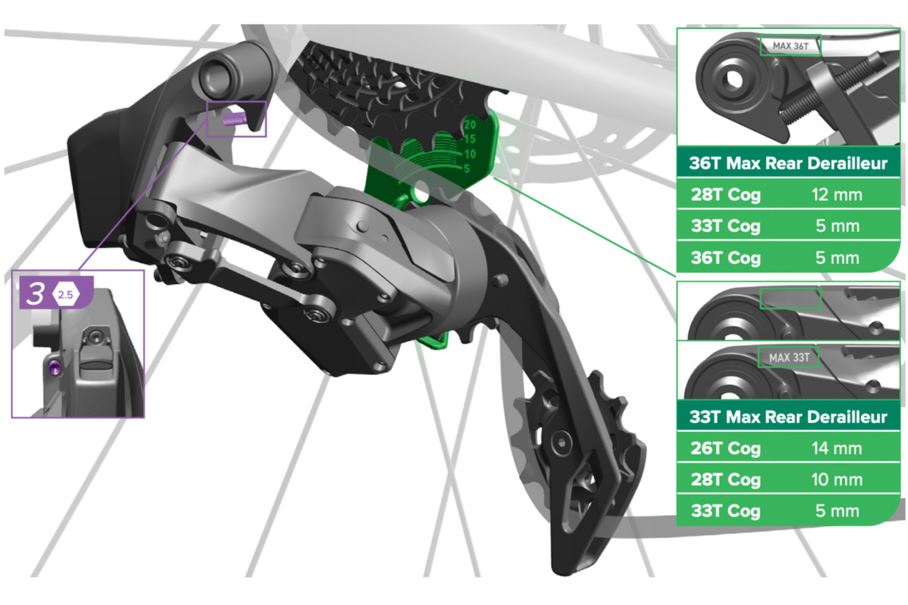 USE WET LUBE
SRAM AXS chains come from the factory with a very light oil installed, but when it comes time to ride, we recommend applying the wet lube of your choice. Wet lube is the quietest lube option, lasts a long time, and contributes to drivetrain durability.

LET THE CASSETTE BREAK IN
The black finish on our XG-1270 cassettes is hard-wearing and looks fantastic. But it does need a little break in period to run optimally. Ride your cassette for a few hundred kilometers to allow the chain and cassette to break in together and cassette noise will disappear.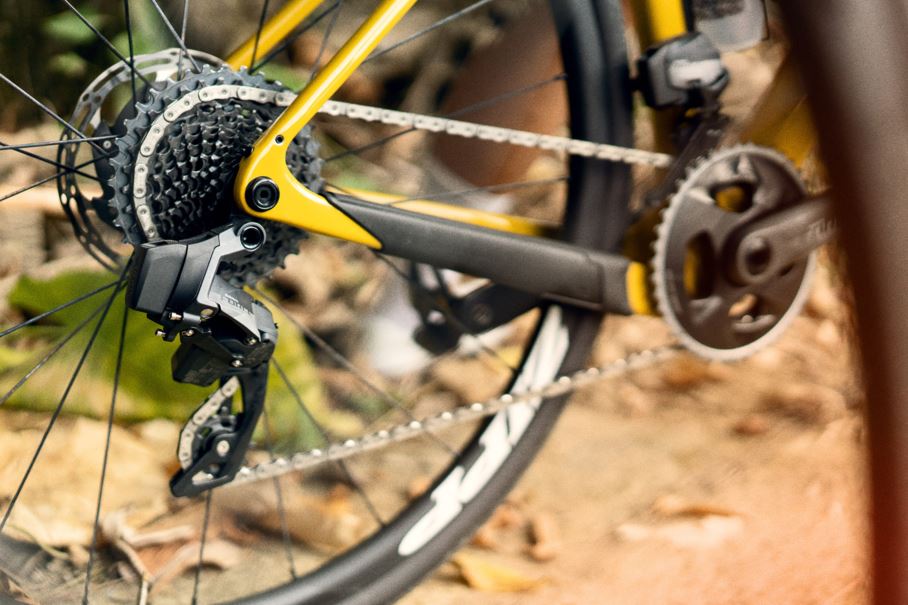 INSTALL STEALTH RINGS
Stealth Rings are vibration-damping elastomer rings that fit between the cogs to reduce noise. Long a feature on our RED cassettes, we've recently introduced them on the small cogs of our XG-1270 Force eTap AXS cassettes. If your Force cassette was manufactured before we began including Stealth Rings and you want to reduce drivetrain noise, have your bike shop contact our Dealer Service department and ask for a set, part number 11.2418.007.000.
If your Force eTap AXS group continues to make noise, please reach out to your bike shop. Their expertise may be just what's needed to get your drivetrain quiet. If needed, they can reach out to our Dealer Service department, and we'll work together to ensure you're happy with your group.